Beauty Bakerie Lip Whips Review & Swatches
Hi friends, hope you are doing well. Today I wanted to bring you my Beauty Bakerie Lip Whips Review and swatches. Beauty Bakerie is a small black woman owned successful indie beauty brand. They are also cruelty free and have vegan options. The Beauty Bakerie Lip Whips are vegan.
Where to Buy
Beauty Bakerie, Ulta
Price
$20
Syruptitous is a PR Sample. Everything else purchased by me.
Beauty Bakerie Lip Whips Review & Swatches Video
Watch the video on Youtube with Closed Captioning in English!
Beauty Bakerie Lip Whips Swatches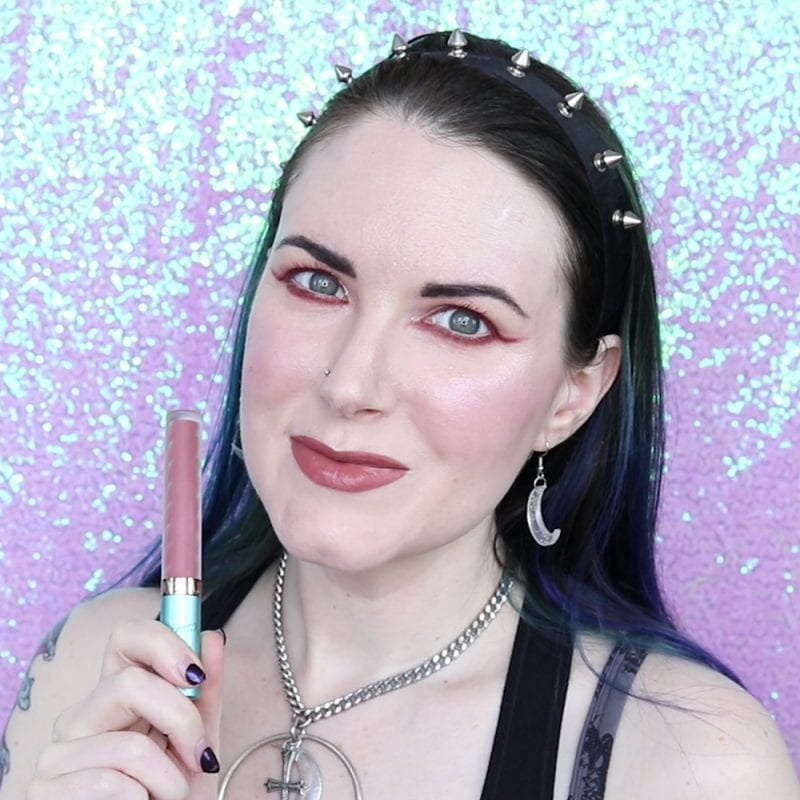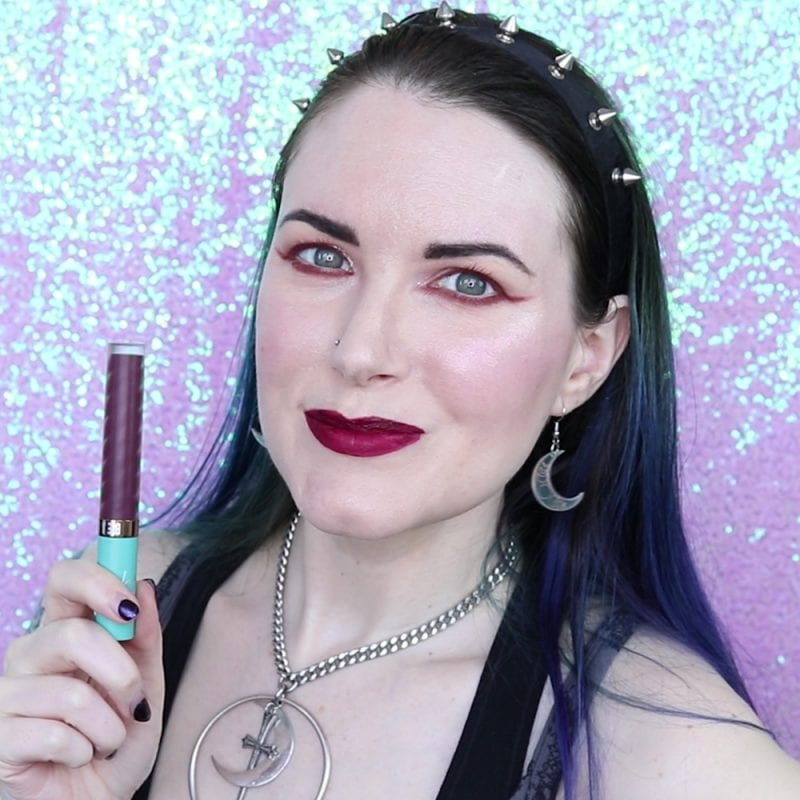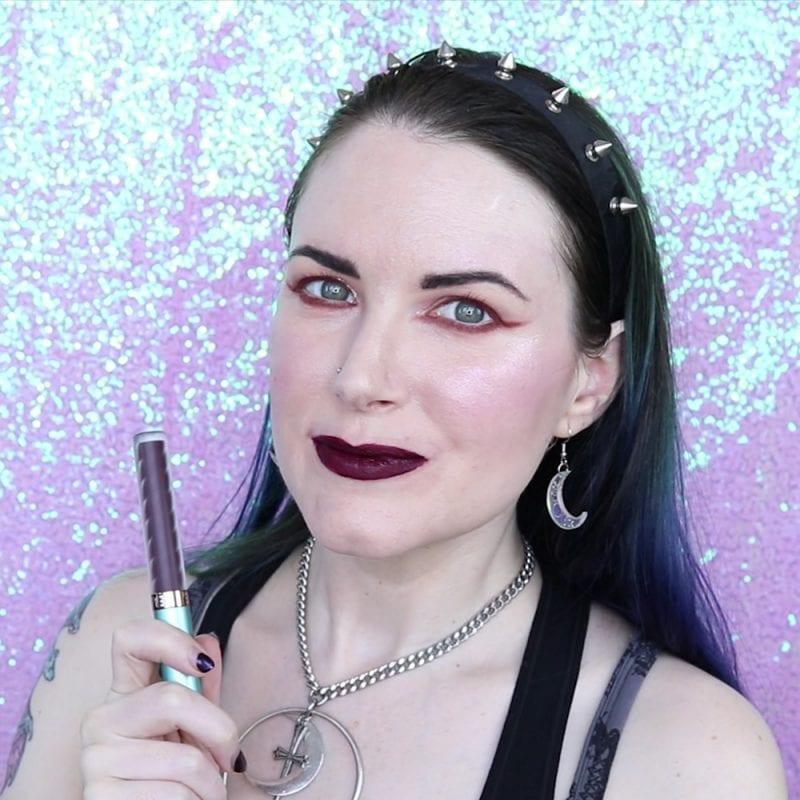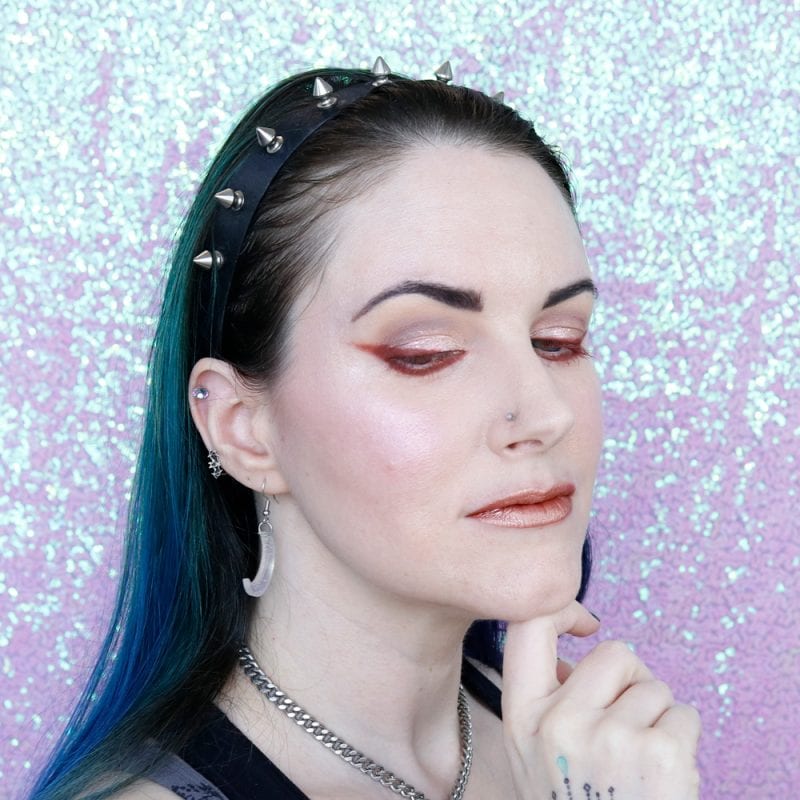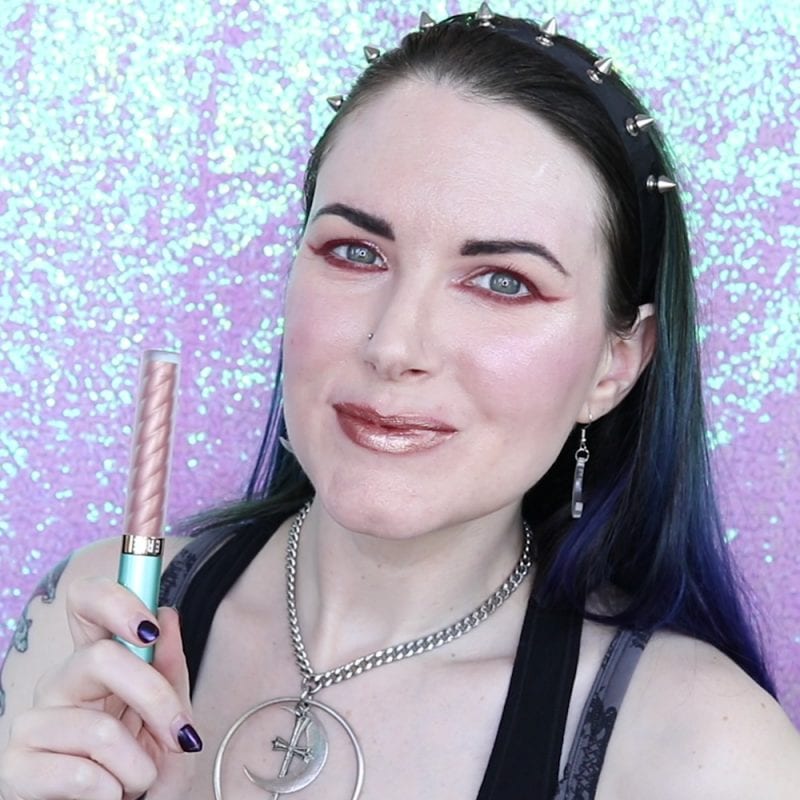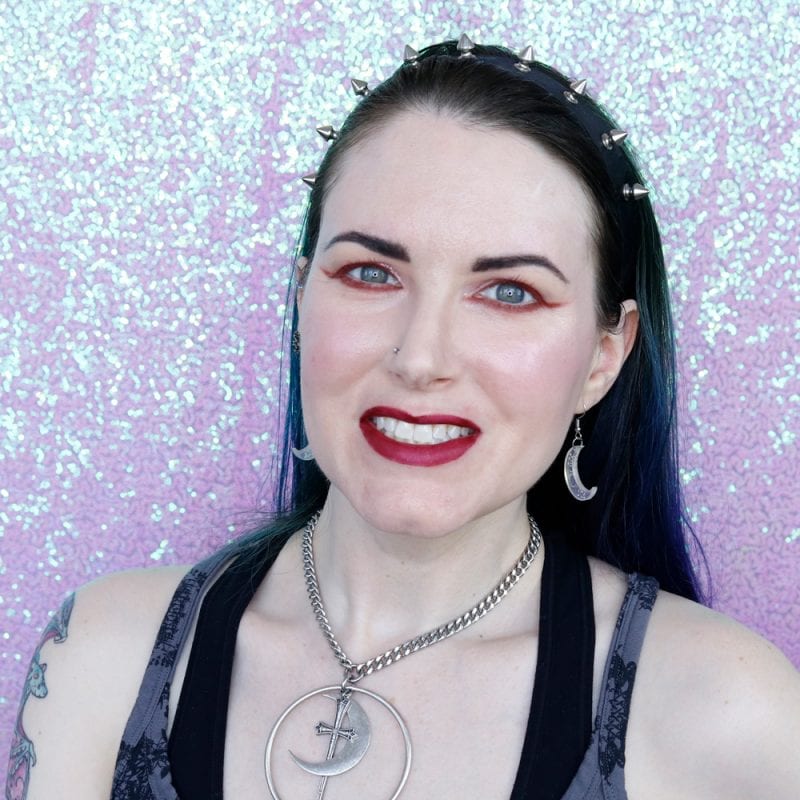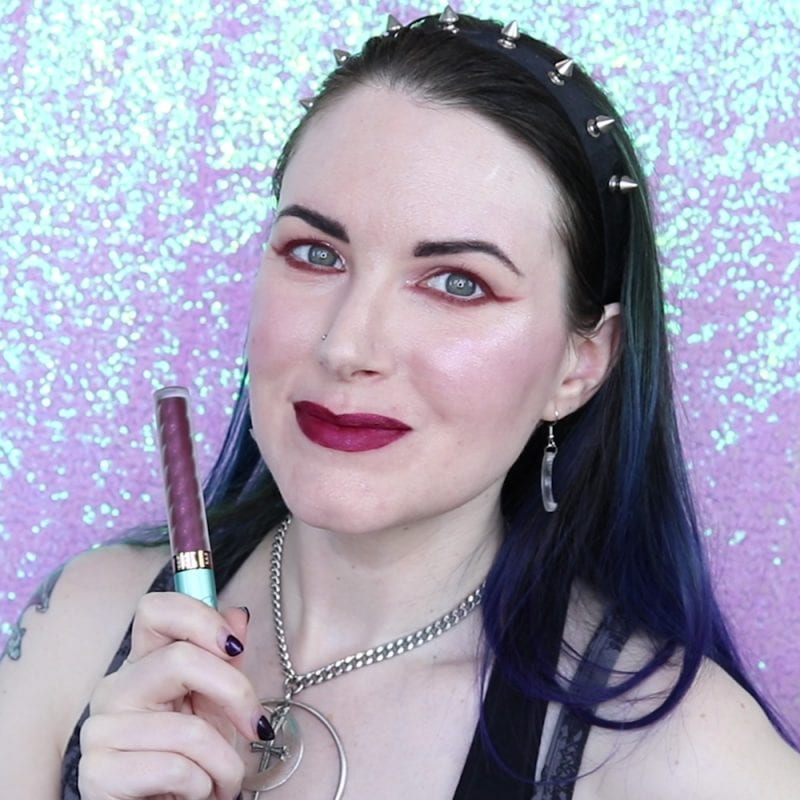 Syruptitous – mauve rose matte (PR sample)
Raspberry Tiramisu – in between red and purple wine matte
She's Just Jelly – deep warm purple matte
Rose Pose – metallic rose pink (this looks like a metallic champagne pink to my eyes)
Berried – metallic red with purple shimmer
Looking for more from me and Beauty Bakerie? See my Cruelty-Free One Brand Tutorial. You may also enjoy my Black Owned Makeup Brands Challenge.
What I'm Wearing
Eyes
Beauty Bakerie Pancake Eyescream primer (I think this was discontinued, use Urban Decay Eden instead)
Black Moon Orb of Light palette (New, Cold, Wolf, Blood)
Tarte Burgundy liner (discontinued, try Marc Jacobs Berry Deep)
Black Moon Starlight 
Marc Jacobs lash primer
Marc Jacobs Garnet mascara (discontinued, try Colour Pop Plum & Get It)
*Urban Decay Blackout brow pen
Elizabeth Mott Black Tinted brow gel
Face
*Clove + Hallow 1 Concealer
Rituel de Fille Nymph blush
Rituel de Fille Moon Pillar blush topper
Rituel de Fille High Priestess highlight
Rituel de Fille the Sorcerer highlight
Rituel de Fille Intuition contour
Lips
*All my Beauty Bakerie Lip Whips (only the shade Syruptitous was a PR sample)
*denotes PR sample
I went for a foundation free look to do these swatches. I strategically concealed under my eyes with the Clove + Hallow 1 Concealer. I've found that this concealer works with my pink overtone from rosacea if I use it sparingly around my face. If I put it all over I look sunburnt. Oh the joys of having rosacea and dealing with a pink overtone. It makes people think that you need to wear pink toned foundations. Sadly they don't work for me. Neutral or cool yellow foundations work best for me since I have a lot of yellow in my neck, chest and body.
Curious about my ancestry? Check out my 23 and me results! I'm Ashkenazi Jewish, Irish & Scottish, French & Scandinavian. Recently my results updated to add trace ancestry from Senegal, The Gambia, and Guinea.
Beauty Bakerie Lip Whips Review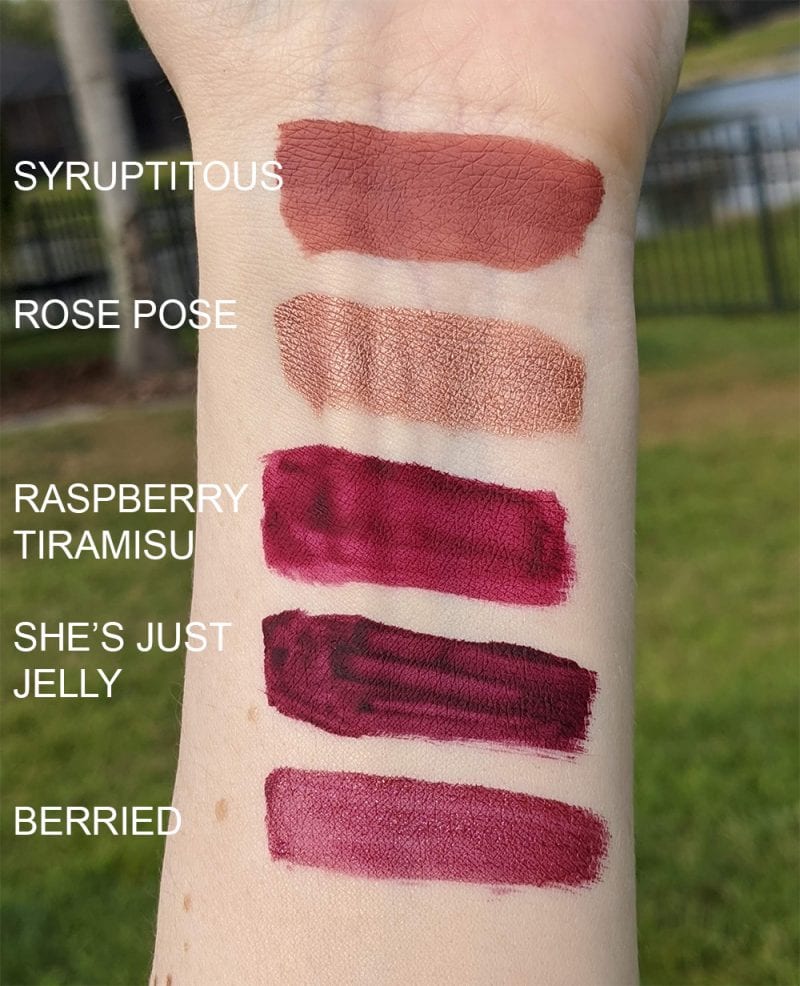 Taken in direct sunlight.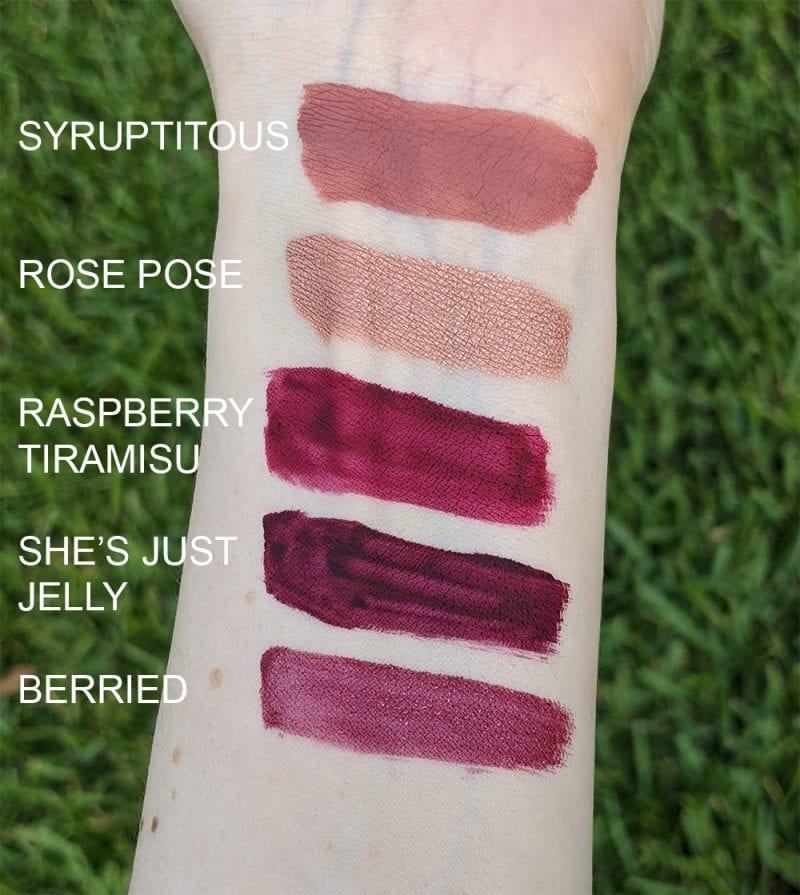 Swatch photo taken in indirect sunlight.
Please watch the video above for my reviews on each individual Beauty Bakerie Lip Whip lipstick formula. My overall assessment is that this water based liquid lipstick formula is very hard to remove and wears well. You will need an oil based remover to take off the Lip Whips, and you may experience staining with the deeper shades. The deeper shades can be finicky to work with but they are absolutely stunning. I honestly love how the deeper hues of She's Just Jelly and Raspberry Tiramisu look in contrast to my pale skin.
The Lip Whip liquid lipstick formula does take a very long time to dry down in my opinion. It has one of the longest dry down times of any liquid lipstick formula that I've tried. It does, however, wear like iron and is very hard to remove. I do find that it feels drying on my lips as compared to Sugarpill, Black Moon, Clove & Hallow or Melt.
Rose Pose is full on metallic shimmer for lips. Berried has a much more subtle shimmer formula. I've seen some people recommend using Berried as a lip topper on Raspberry Tiramisu or She's Just Jelly. I really love the hue of She's Just Jelly, though I don't think it looks purple against my skin tone. On my fair skin I feel like She's Just Jelly is the perfect nearly-blackened burgundy wine. Raspberry Tiramisu is very much a deep burgundy red on me.
Syruptitous is not a color that I would choose for myself, as I fee like it pulls very mauve brown on me. I can wear mauves but browns are often less flattering. Still I am betting that Syruptitous is one of the most popular lipstick colors because it looks like one of the many pinky nudes that I see people gravitate towards wearing for a MLBB (my lips but better) color or a neutral lip hue. Just because it's not my personal preference doesn't make it bad. I've had a lot of people recommend Midnight Truffles (matte black), Figgie Smalls (bright purple), Cranberry Stiletto (vampy red), and Mon Cheri (classic blue-toned red) to me, so those are some shades on my wish list.
Ulta currently carries a limited selection of the matte Lip Whips in the following colors: Versailles, Syruptitous, Sangria Splash, Salted Caramel Mocha, Mon Cheri, Gingersnap, Cranberry Stiletto and Bowl of Cherries. Beauty Bakerie Royal Tea and Rose Pose metallic Lip Whips are the only two shades carried at Ulta.
Looking for more Lipstick Features?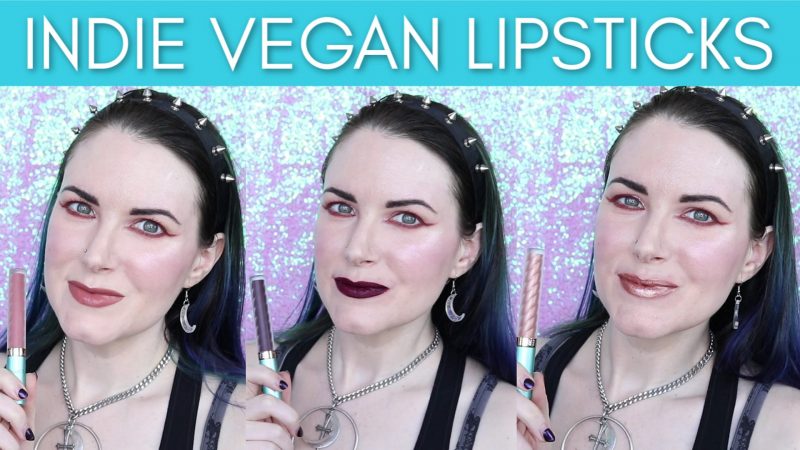 Let me know if you end up trying the Beauty Bakerie Lip Whips! Which color is your favorite?