Work Wear Gothic Clothing
Hey friends! Today I'm happy to be sharing my work wear gothic clothing: office professional gothic lookbook with you. For this video, I raided my closet to create some corporate goth outfits. Most of my adult life I have worked in a casual environment, but a few places that I've worked were very strict. The outfits featured in this video would have been permissible in the strictest places I've worked. These environments are the ones where they required my hair to be a 'normal' color, as well as to have a clear spacer in my labret and a tiny stud for my nose piercing. No rings allowed.
Gothic Music
My friend Erica's band Deadly Nightshade Botanical Society just launched a new gothic music album, the Boneyard! Get it here!
Need some more gothic music inspiration? Check out my favorite gothic music!
Work Wear Gothic Clothing: Corporate Goth Fashion Inspiration Lookbook Video
Please share!
Office Professional Gothic Lookbook
Monday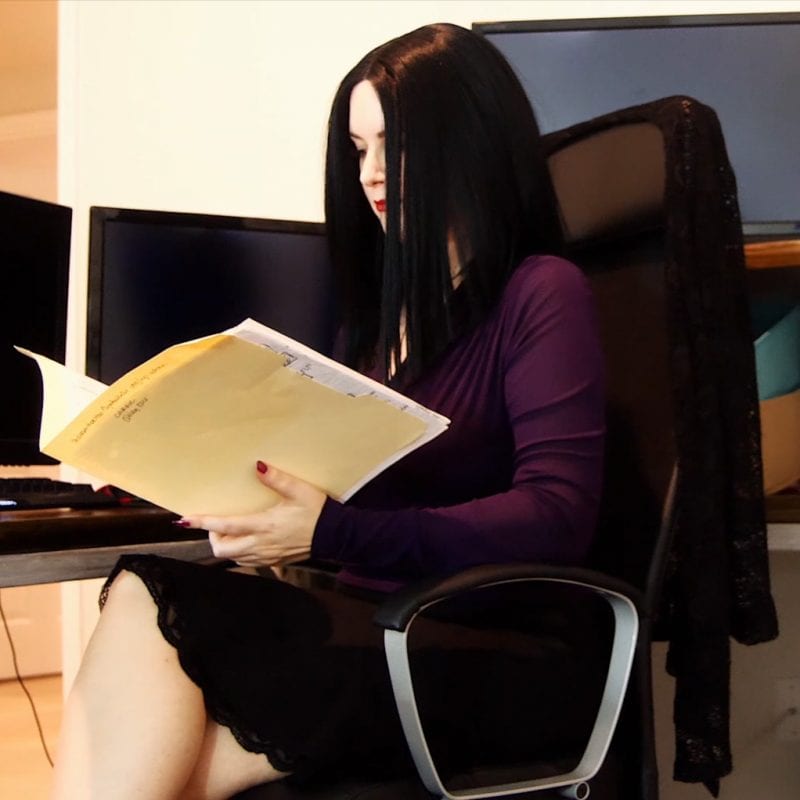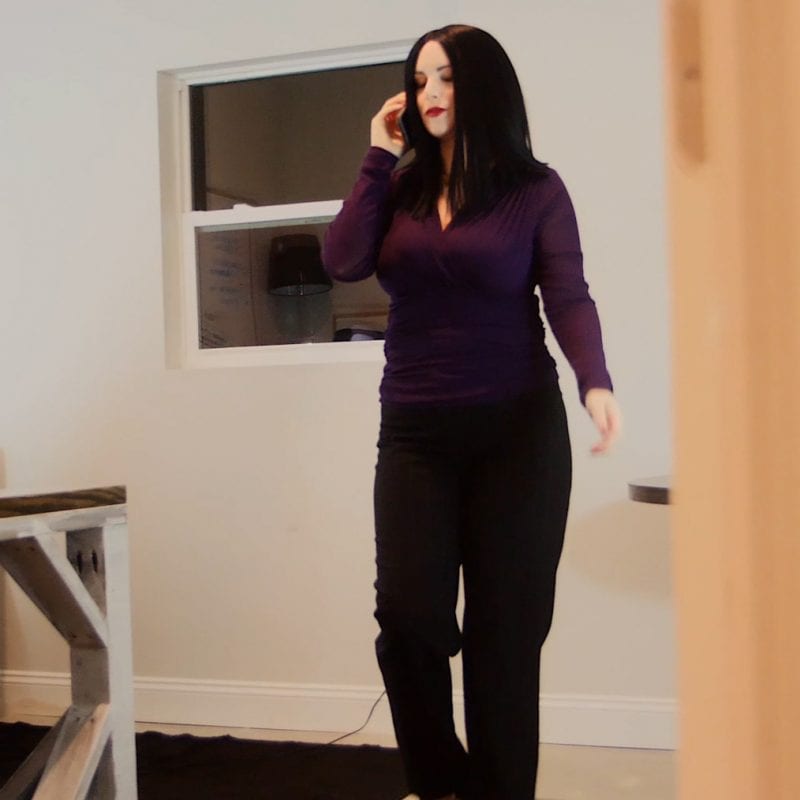 I have 3 of the PattyBoutik v neck empire waist blouses from Amazon in purple, black, and burgundy. They look great with skirts and slacks.  PattyBoutik makes some of my favorite blouses because they always fit my chest in a flattering way.
I wish this ruched skirt was still around! I love it and I think I bought it from Frederick's of Hollywood over a decade ago. It's been a staple wardrobe piece that's lasted me a long time. I tried to find you a few similar styles.
The purple pinstriped black slacks are another pair of pants I'm still in love with and I've had them forever. I think I originally found them at Nordstrom.
Every goth should have at least one pair of Mary Janes. I have issues with my feet bothering me, so I look for brands with good quality shoes like Taos.
Tuesday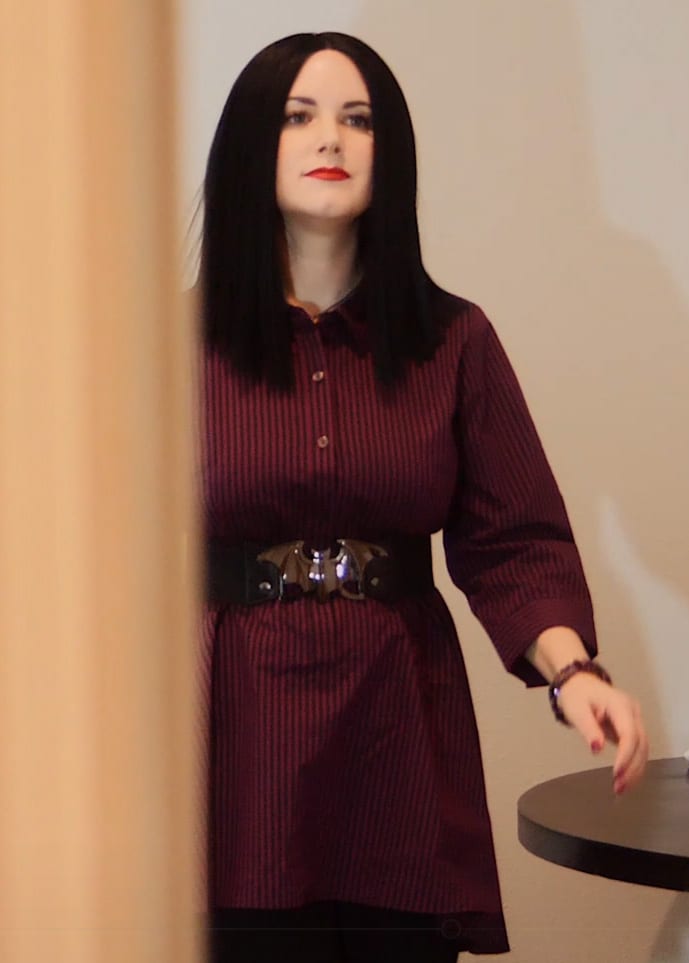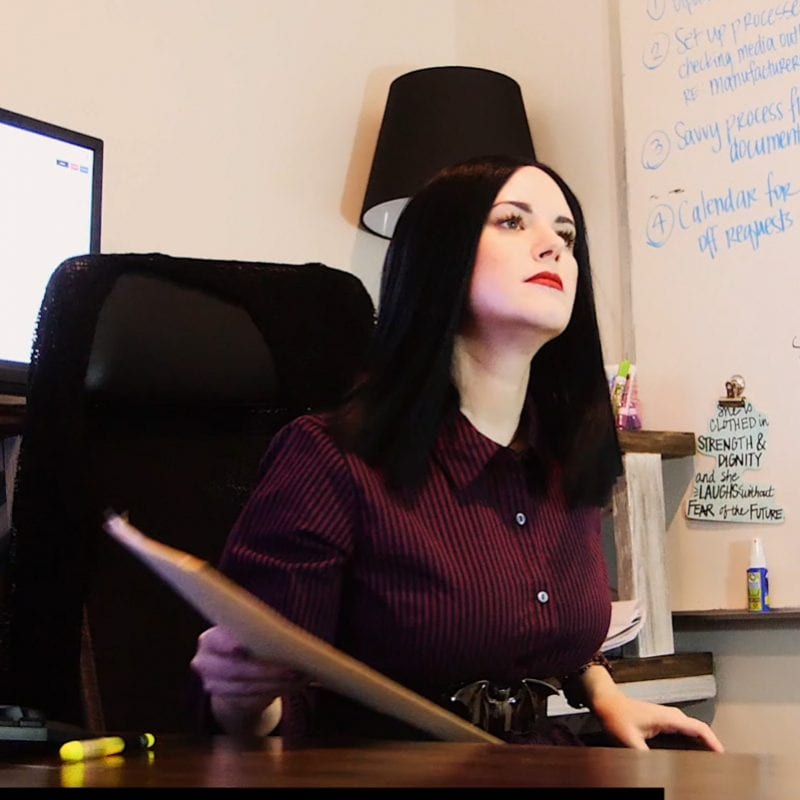 I used to have the cutest burgundy and black striped shirt for an office goth outfit. This Striped Peplum Blouse is similar to the one I used to own. I love the color.
2018 is the year I found out that I love belts. I adore this Kreepsville Black Bat Belt and it works with so many different outfits. Using a statement belt a great way to gothify any outfit.
Wednesday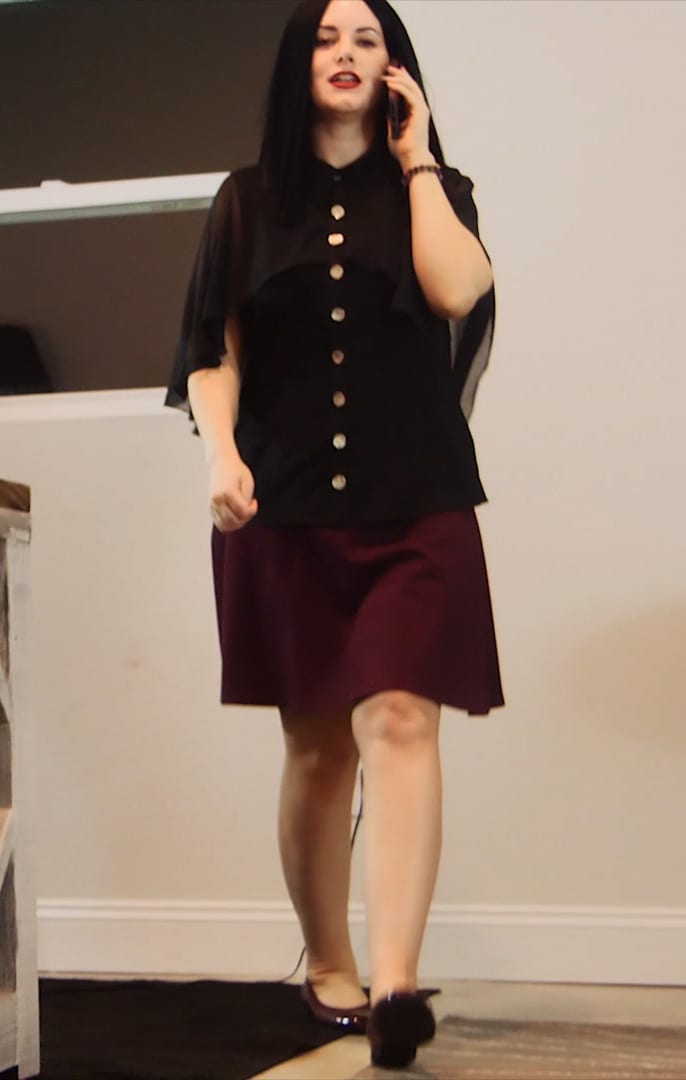 Hell Bunny makes so many cute things that are perfect work wear for an office goth outfit! I love their blouses and own several cute ones from them. The chiffon cape is the perfect touch!
I own this same skirt in burgundy, deep purple & black. It's a great staple piece that's comfortable to wear and goes with a lot. The only way to improve upon the design would be to add pockets.
Thursday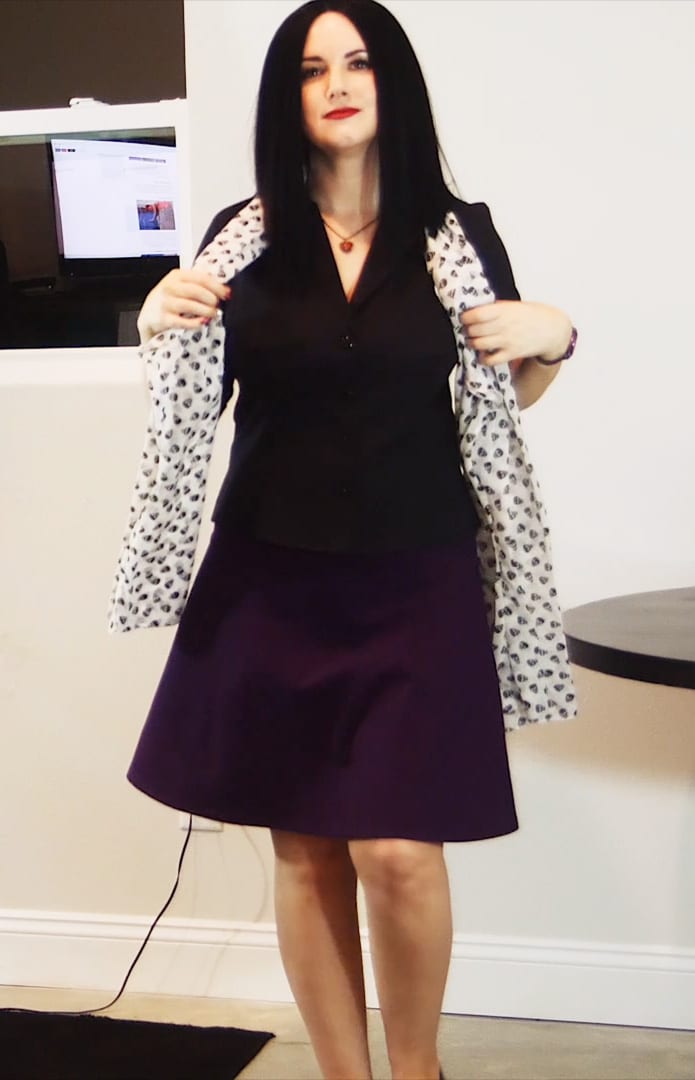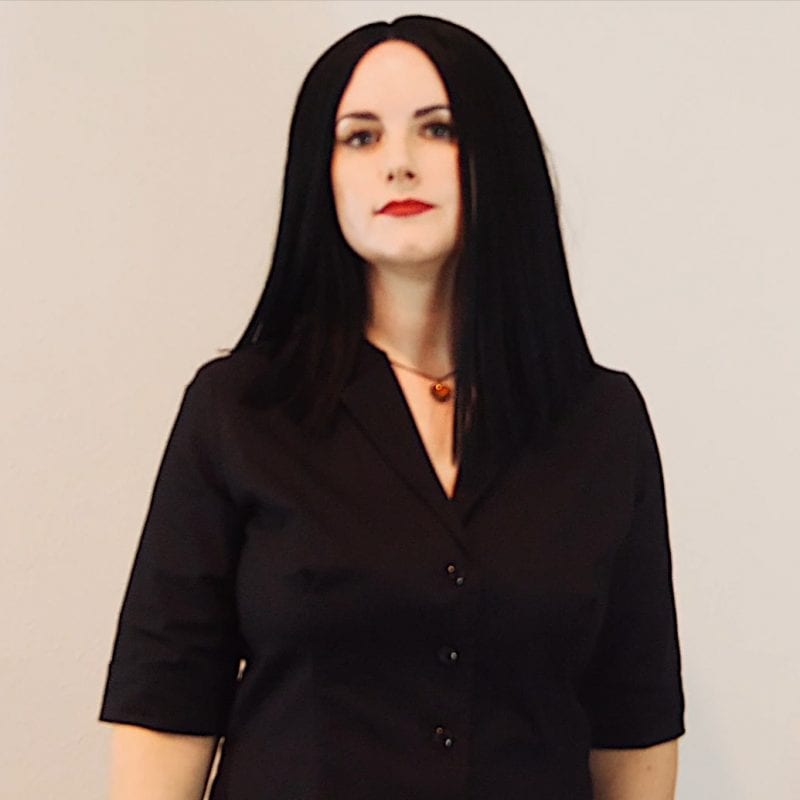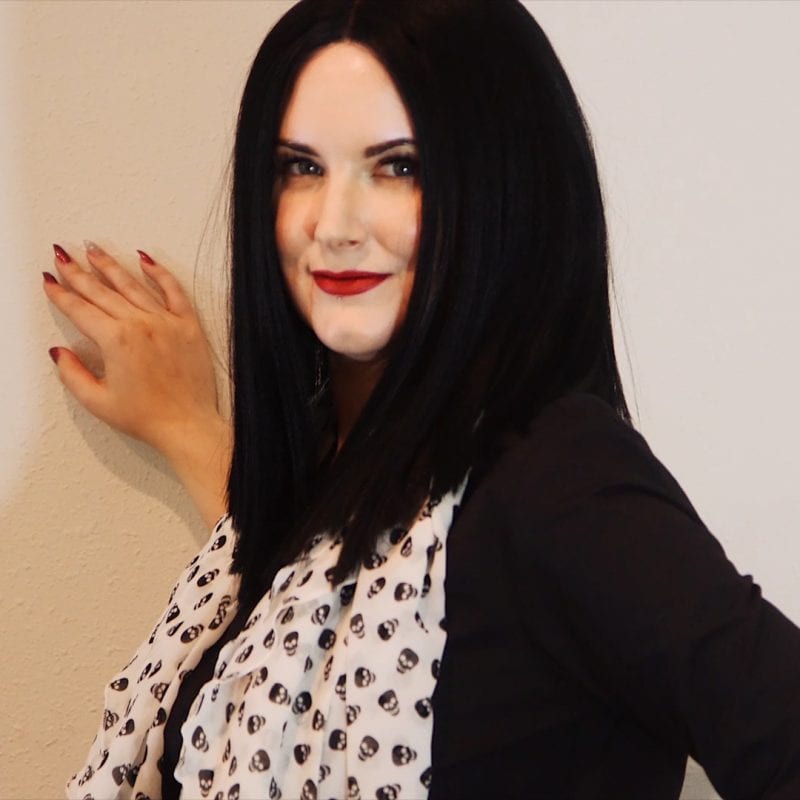 The Revere collar lends a nice touch to the Heart of Haute Gretta Top, leaving you plenty of space for a statement necklace if you like. I wanted to make sure to include a shirt in this style for my office professional gothic lookbook because I love the neckline.
I love my King Legend Skull Scarf! Corinne turned me on to King Legend, a company by the lead singer of Seven Dust. Corinne owns the Cross Scarf, which I also featured in this video. You can wear it around your neck like a scarf, slide your arms through it like a shrug, tie it around like a cover up, and more.
Friday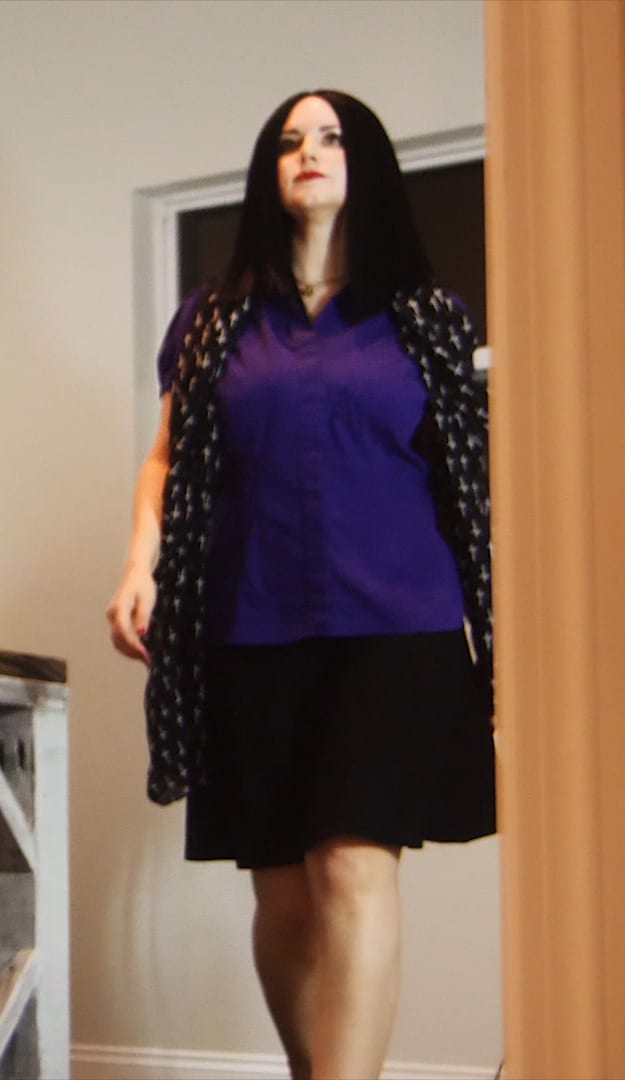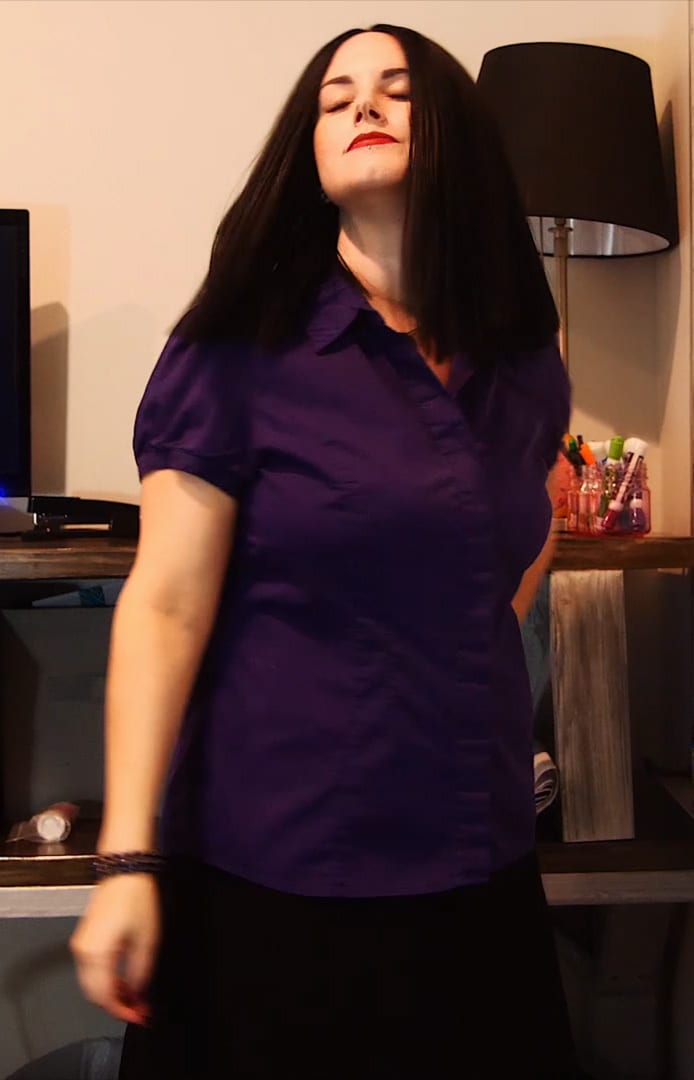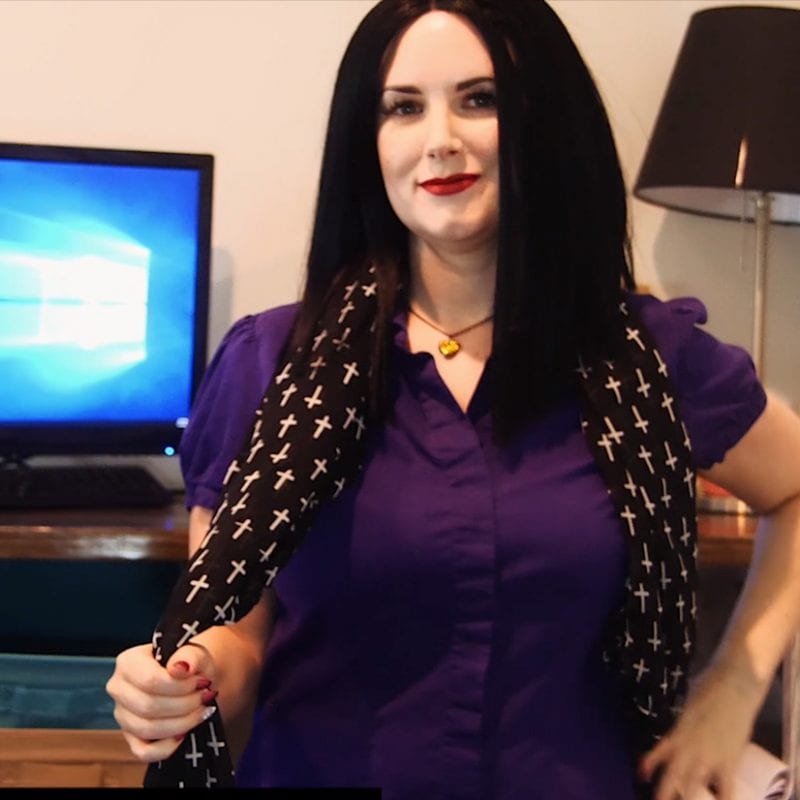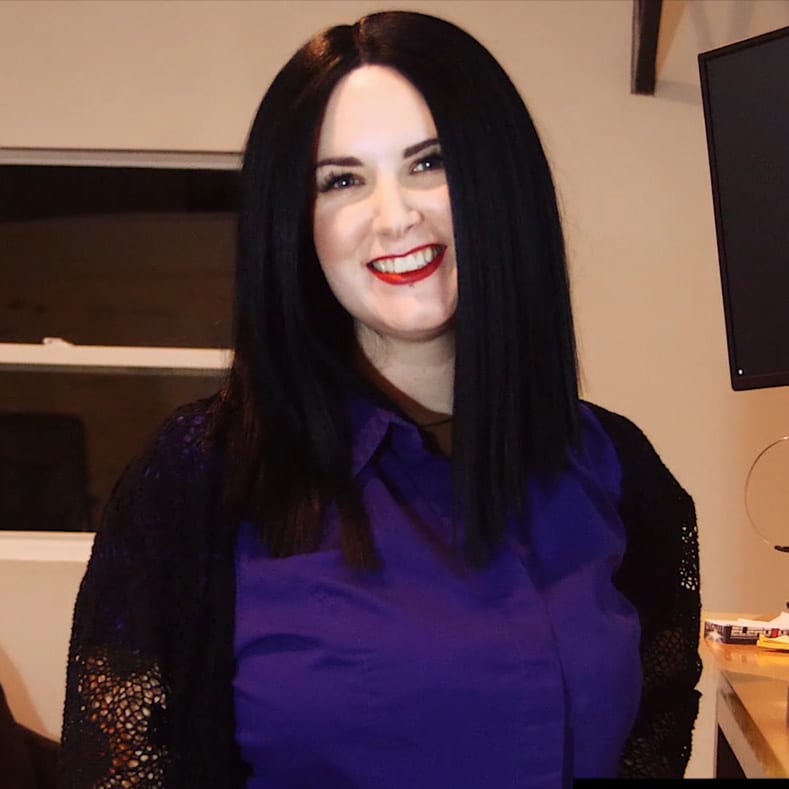 I seriously used to have like 3 dark purple, 2 light purple, and 3 black button down shirts for professional wear for work. Basically, the way my professional side of the closet used to work, I could pair any top with any bottom because they were all in basic black, grey, purple or burgundy.
Gothic Fashion Accessories
I wanted to include some accessories for gothic fashion inspiration. The awesome thing about buying charms like the ones above to is that you can use them to DIY your work wear, casual wear, jewelry and more. That's really how you take any basic black clothing item and elevate it to gothic: DIY it! You can change out the normal buttons for skull or bat buttons. Add a moon accent to your zipper pull.
PattyBoutik
If you are looking for quality work wear at a reasonable price, I highly recommend PattyBoutik. I have bought countless tops from them on Amazon over the years. Their tops are made of a comfortable, stretchy material usually, same with their dresses. And the PattyBoutik pieces that I own are great for more than just work wear! I used one of the pieces from this corporate goth lookbook in my Sabrina lookbook. I'm so excited for the new season of the Chilling Adventures of Sabrina, which comes out tomorrow!
Let me know what you think of my work wear office professional gothic lookbook and what you like to wear in an office professional setting!
More Gothic Fashion Inspiration