Goth Dress
Happy Saturday! I wanted to share my sexy goth dress outfit from last night. Last night we went out with friends. Since I'm feeling more confident about my body these days, I decided to dress up rather than keep it casual. Nyx slipped into a few of these photos too.
KVD Homegirl, Nudestix Raven, Sigma Bubbly & Idun Minerals PR samples. Everything else purchased by me.
Cruelty-free Makeup Look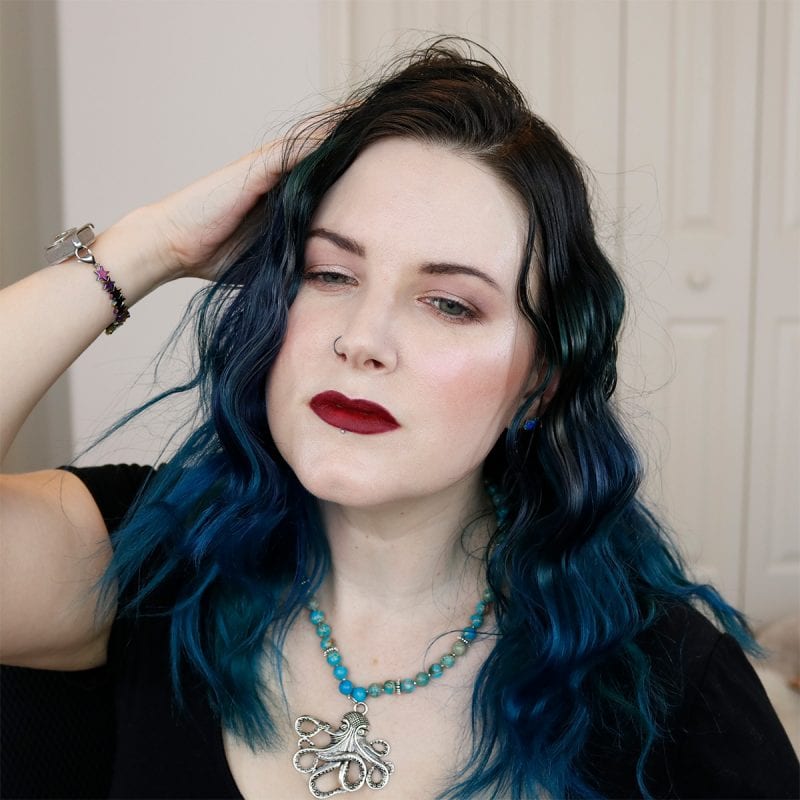 Eyes
Urban Decay Primer Potion
Milani Prep Set Go Setting Powder
Cargo Cosmetics Swimmables Eyeshadow Stick in Botany Bay
Sigma Bubbly Eyeshadow Primer (as shimmery shade on lid)
Viseart Cool Mattes Palette
Idun Minerals Perfect Eyebrows in Dark
Milk Makeup Kush Mascara
Face
Smashbox Primer Water in So Chill Coconut
Milk Makeup Blur Stick
Nudestix Nudies All Over Face Color in Illumi-naughty (highlight)
Nudestix Nudies All Over Face Color in Bareback (contouring blush)
Nudestix Pixi blush
Nudestix Nudies Tinted Blur Stick Foundation in Light 1
Laura Geller Balance N Brighten Powder in Porcelain
Essence Pure Nude Spacelighter
Lips
Kat Von D Homegirl Pencil
Nudestix Raven Pencil
This is the simple makeup look that I put together to wear last night. I wanted my skin and lips to be the focus on the look, so my eyeshadow was really an afterthought. I threw on cool toned mattes with a tiny bit of shimmer on the lid. It's my day 10 of 30 days of lipstick that I've been doing on Instagram.
If you love light coverage foundation, you will love the Nudestix Nudies Tinted Blur Stick Foundation. I'm pleasantly surprised by how well Light 1 works on my pale skin. I was afraid it would be too pink! I think it's actually a great color.
Nyx the Standard Poodle Puppy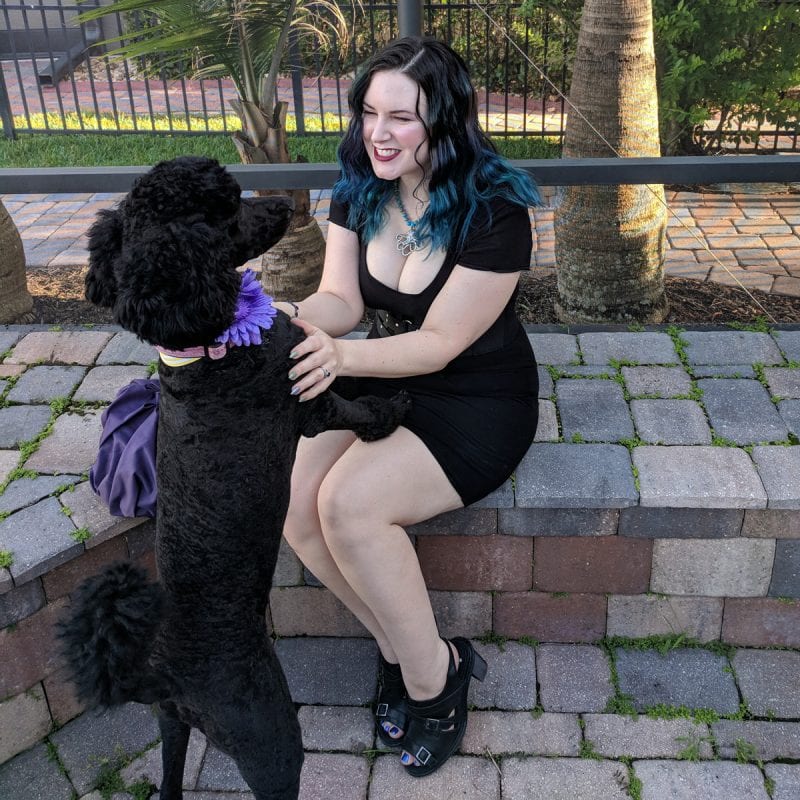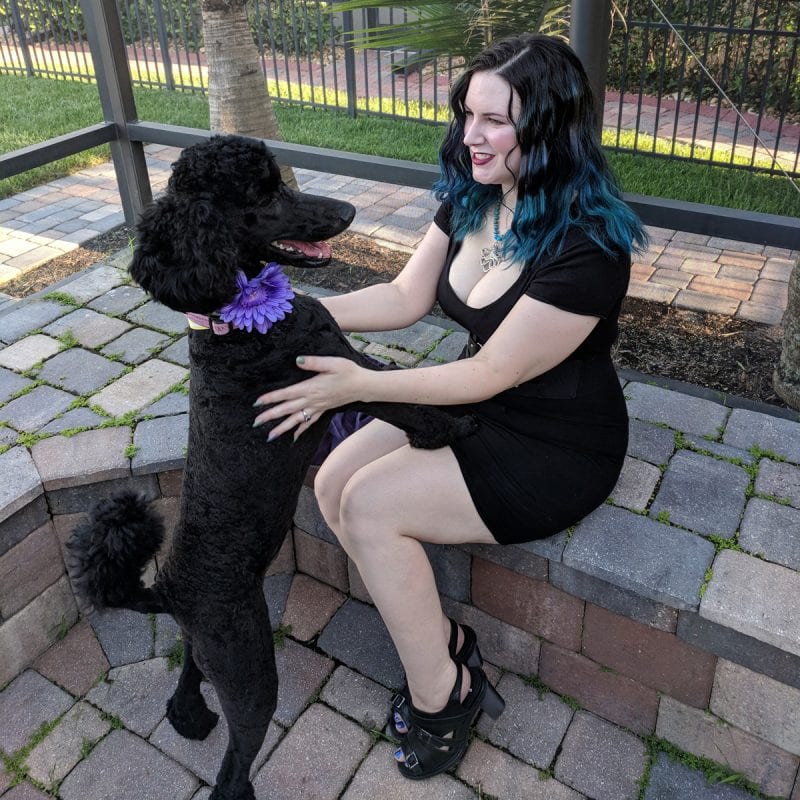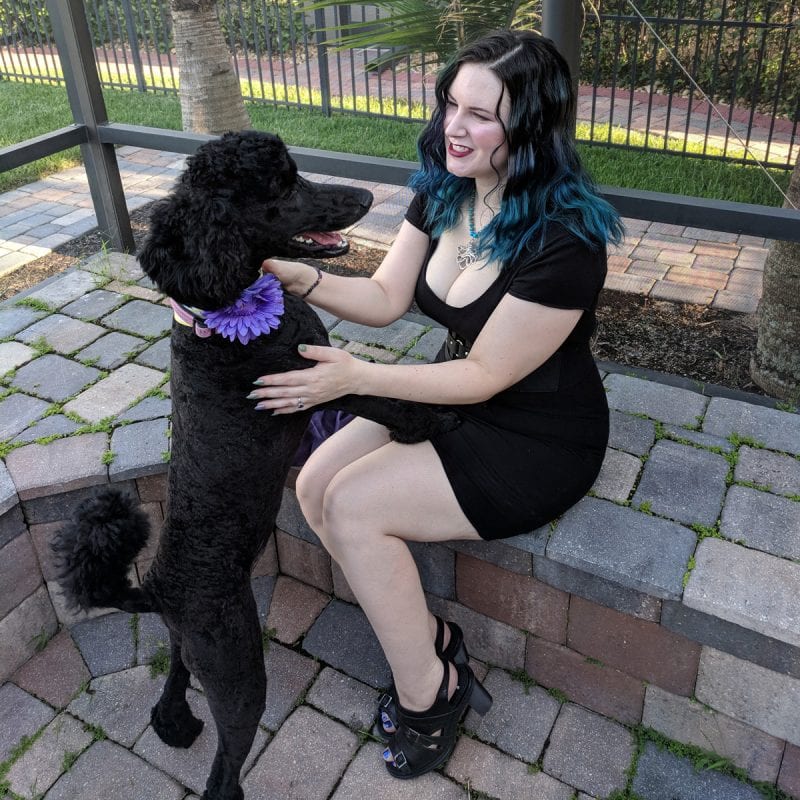 Phaedra and Nyx make my life better. I love my standard poodles. They are such sweet dogs. Nyx loved my sexy goth dress, of course!
Phaedra and Nyx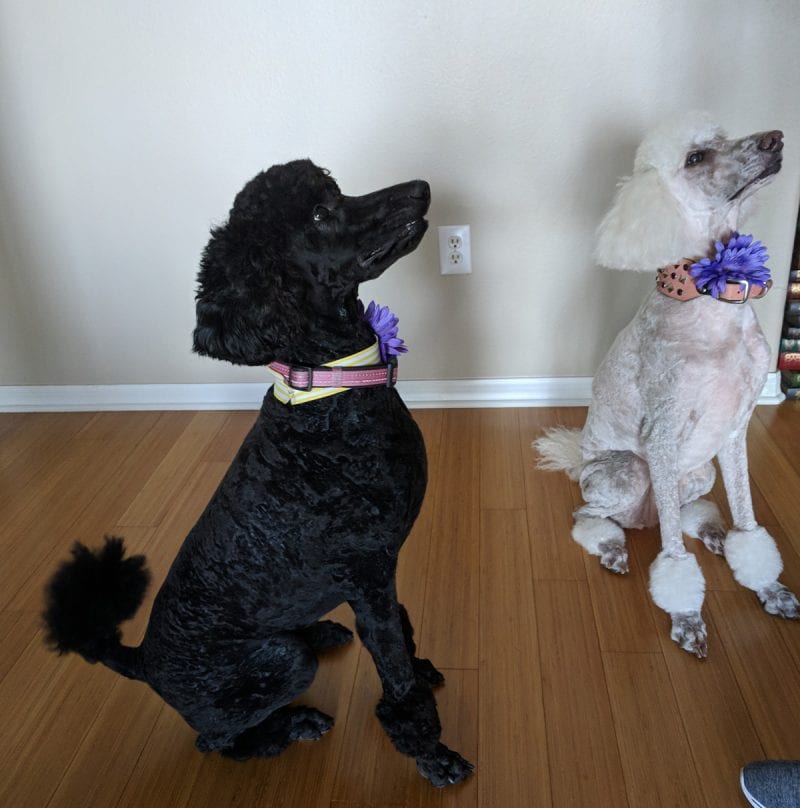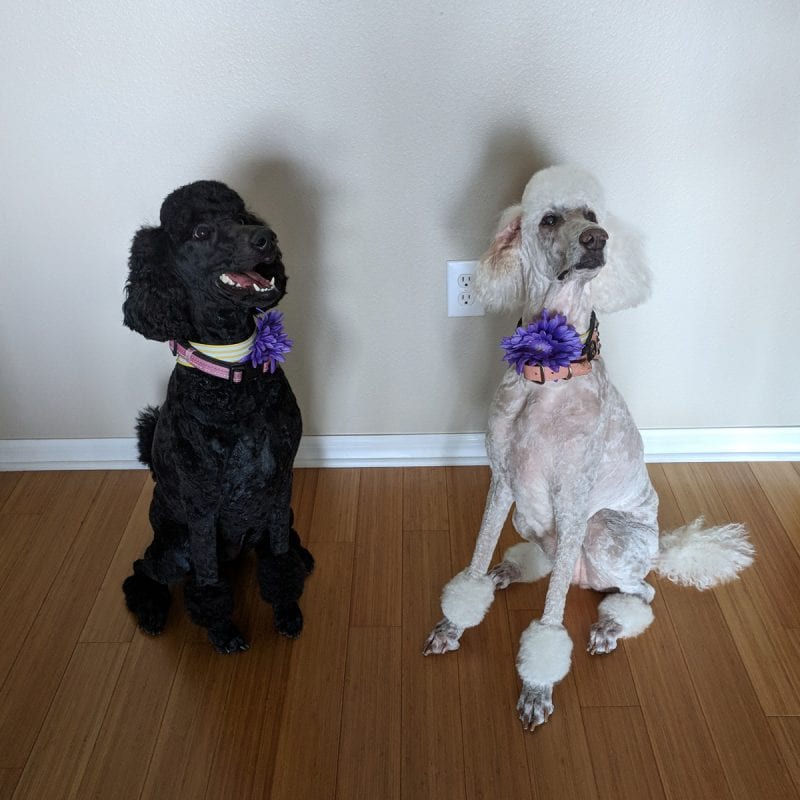 Phaedra and Nyx are now in their summer cuts. This is sometimes called the stripper cut.
Sexy Goth Dress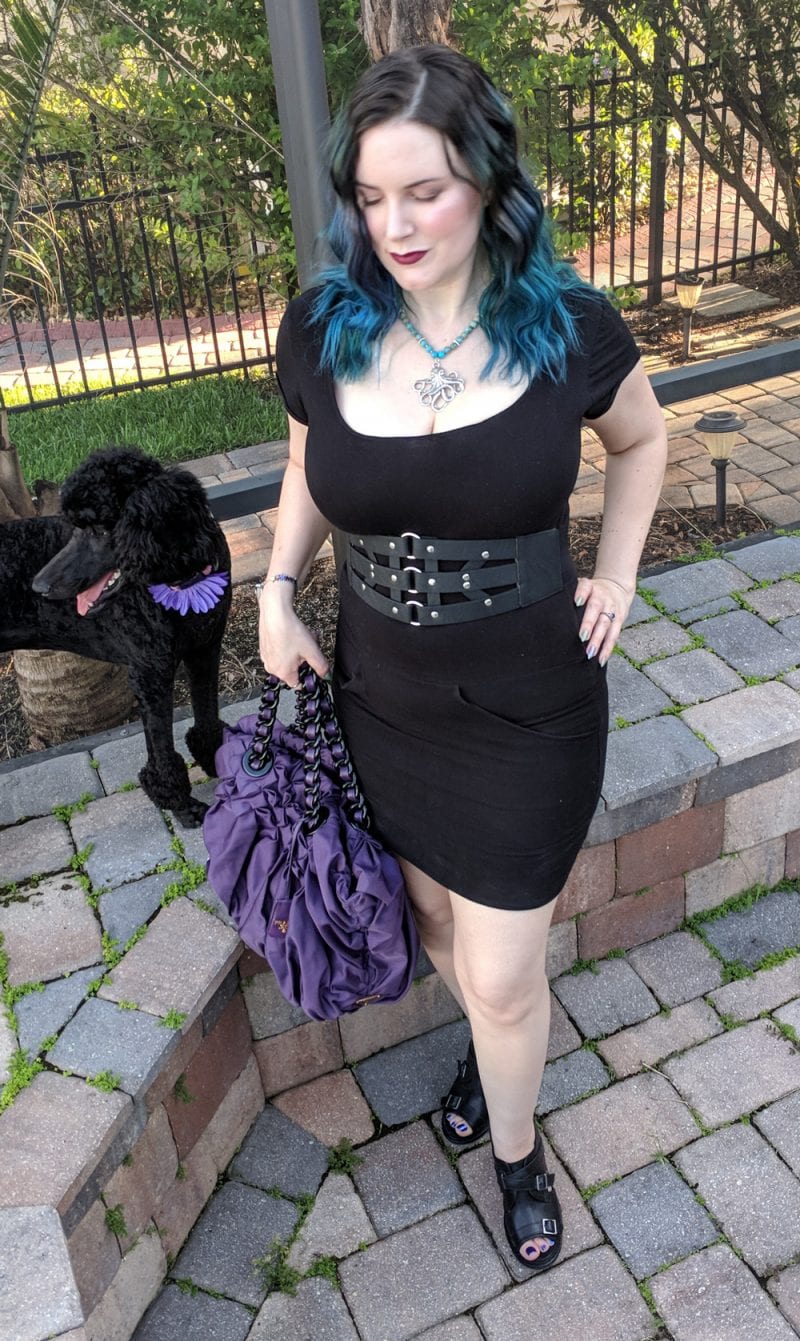 You can see the pockets on this sexy goth dress in the photo above.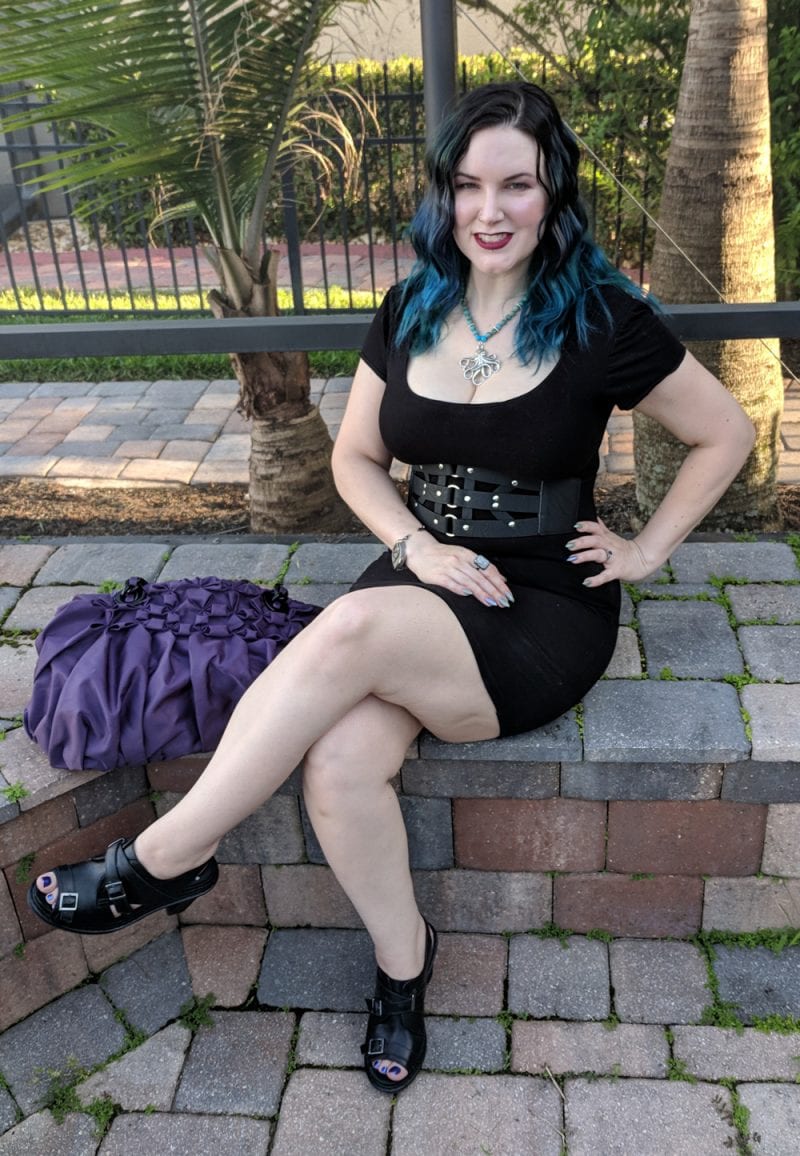 And yes, I could have edited my thigh dimples out. I choose not to because I'm keeping it real. This is what my body really looks like.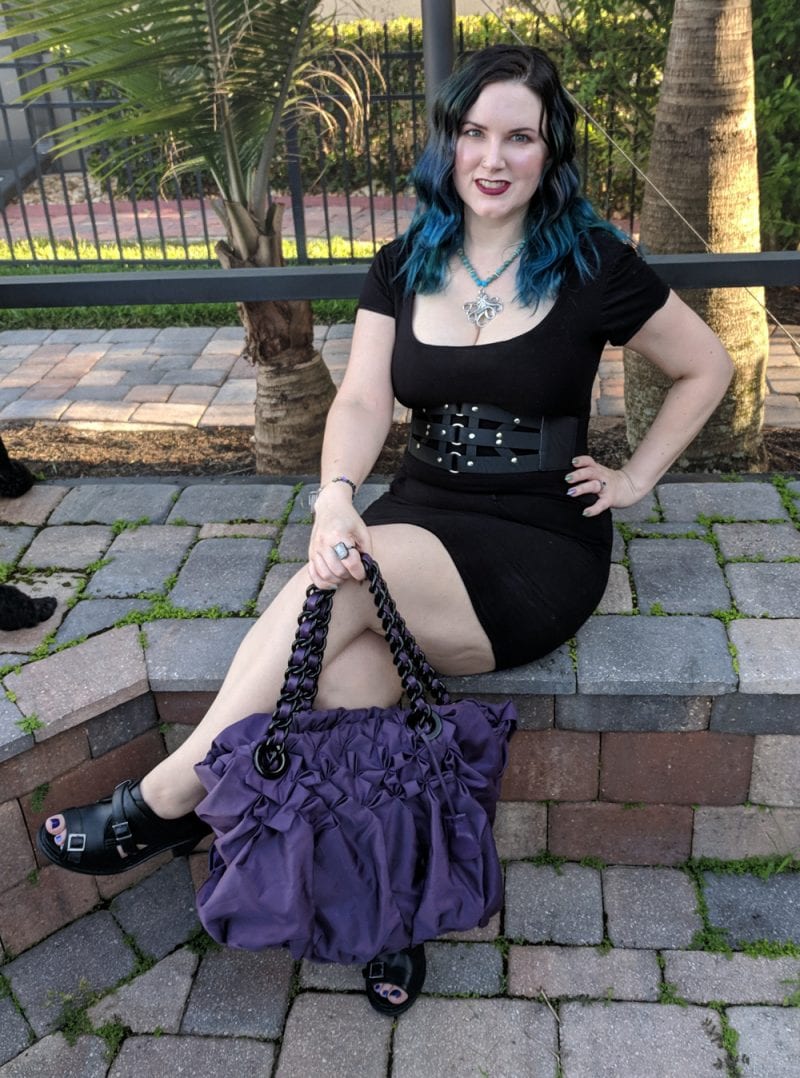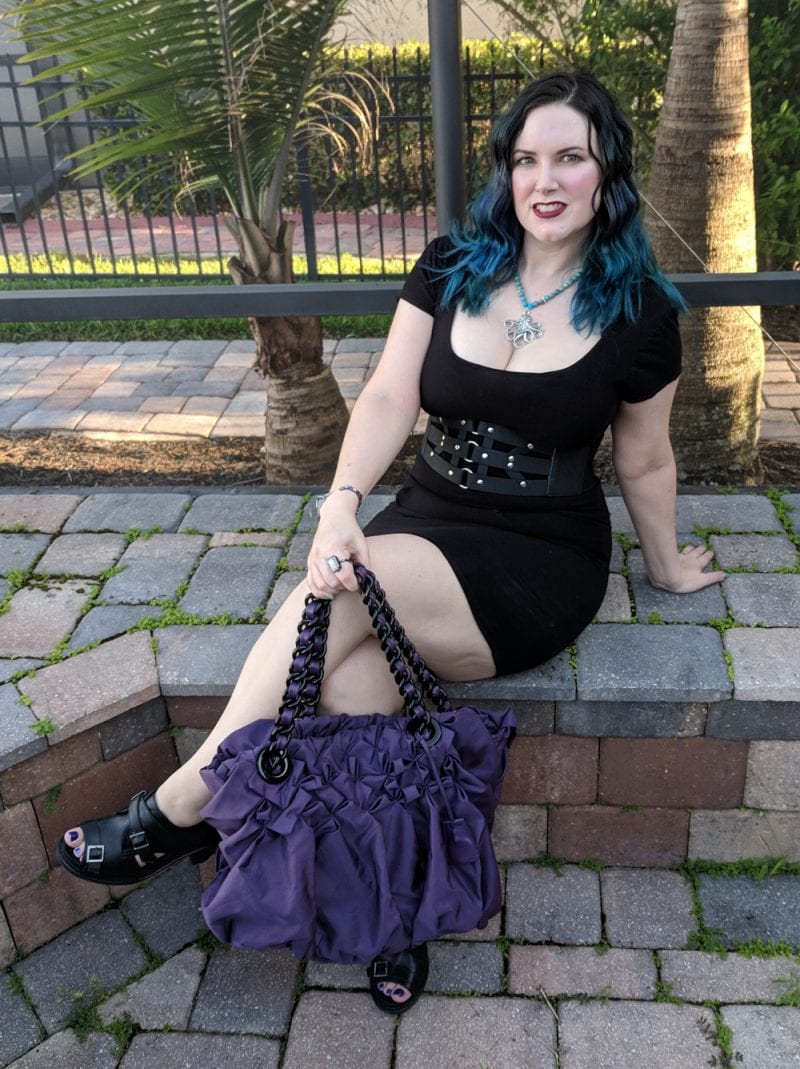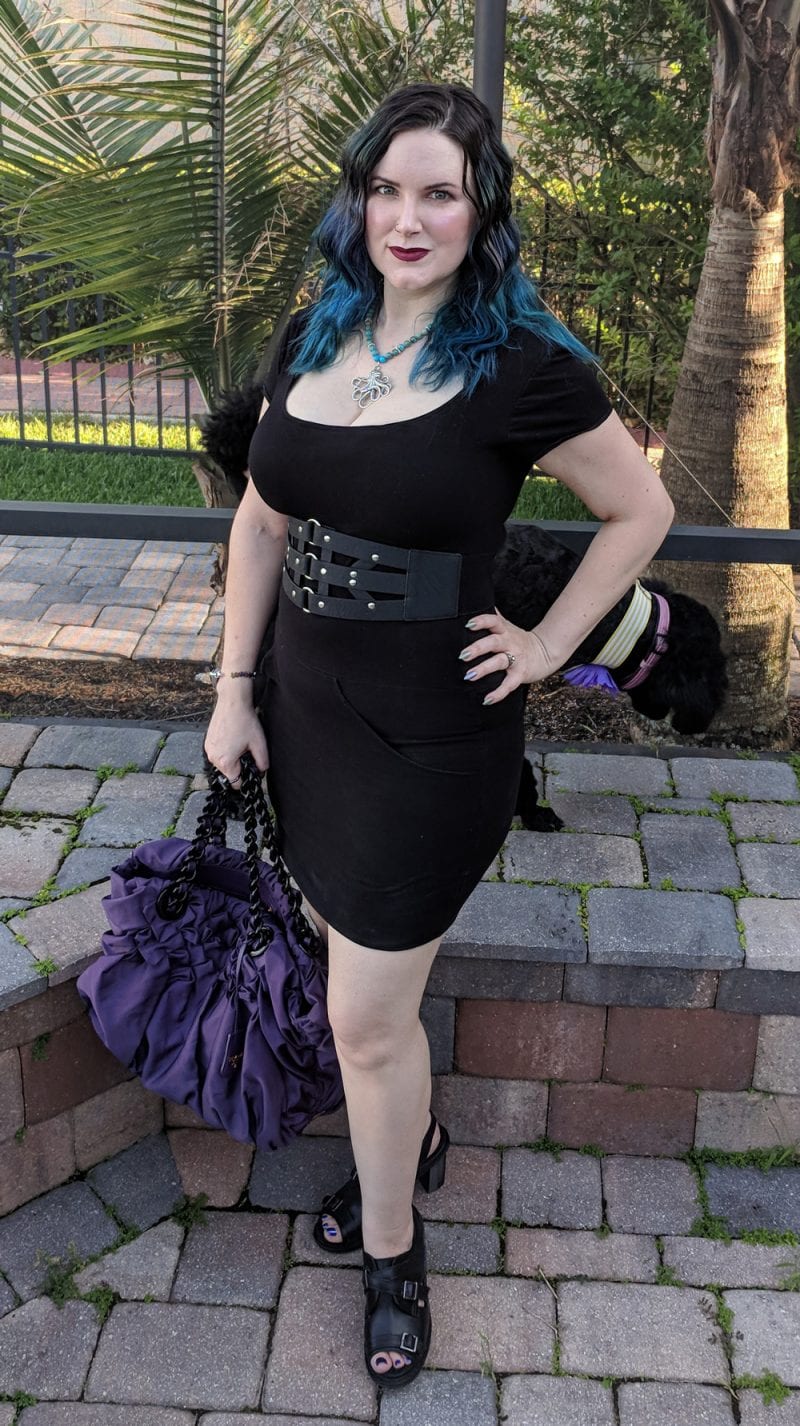 This last photo is my favorite.
Let me tell you about each piece that I'm wearing here.
This gorgeous goth dress is a custom made HerbanDevi Hooded Mini Dress with Pockets. It's $46 on Etsy, which is a steal for comfortable, custom made clothing. While my dress is a lovely solid black, it's available in 20 other colors including Burgundy, Violet, Plum, Red Hot, Charcoal, Khaki, Green, Olive, Chai Tea, Teal, and Navy. There's a color for everyone! I'm thinking about picking this up in Burgundy and Violet because I love the Black so much.
I love the fact that this black goth dress has pockets! So few dresses out there have pockets, so it's always pleasant to find one with pockets. Also, these are pretty stealthy, they're hard to see unless you know they're there. They're big enough to fit my Google Pixel XL cell phone.
All of HerbanDevi's clothes are handmade out of breathable fabrics like organic cotton, bamboo, and hemp. They're blended with spandex or lycra for stretch and comfort. They're honestly perfect for the hot humid weather of Florida. I've been buying from HerbanDevi on Etsy for years and never been disappointed with a purchase. I have several of her shirts and skirts and they've held up well over the years. And did I mention this is a small, woman-owned indie business? I do love supporting those. (see more of the best gothic clothing brands on Etsy)
One final thing I need to point out about HerbanDevi. She makes this sexy goth dress and many other things available in size 0 to size 24. Because everything is custom made, if you happen to have a large rump like I do, clothing made by her will accommodate your exact size and shape. I love that so much!
My handbag is a Prada Tessuto Ruffle Tote in Purple. It's the perfect sort of elegant, unexpected goth handbag. The ruffles make it feminine, which balances nicely against the black chunky straps. I love it with this black goth dress, but it's also great when I'm wearing jeans. It's currently available in Burgundy. And here's a similar purple one and teal one.
I bought my purple Prada bag  secondhand from the Real Real. You can find tons of great luxury handbags on the Real Real. This purple Prada bag has become my daily wear bag. It's such a great size for me. It's 18″ width, 12″ height, 5.25″ depth. It can hold my iPad, wallet, cell phone, makeup bag, sunglasses, hairbrush, mints, keys and more.
The belt is a Torrid Studded Cage O-Ring Stretch Belt that I picked up last Fall. It's still available on Torrid's website. I love this piece because I can wear it with so many different outfits. It's a really versatile accessory for me. It's a size 00 (size 10) from Torrid. Everything else I've ordered from them is size 0 (aka size 12). I am typically a size 12 in jeans. (A little note on size, I am considered plus size because I wear size 12. I'm currently 155 lbs and 5'4″, so I usually shop for petite sizes when possible.)
My heels are Dr. Martens Adita Bondage Sandals and I've had these for several years. Dr. Martens footwear are really made to last. You can find these heels on ebay right now.
My Hydra necklace was handmade by my BFF Jessie. The big grey statement ring is my Ringly Dive Bar ring. The bracelet is my Bellabeat Leaf Urban fitness tracker. I've had my fitness tracker for a year now and I still love it.
I felt so sexy wearing this goth dress last night! Ray loved the entire outfit.
How would you accessorize this dress? What do you think of the handbag? Let me know!
Other Gothic Fashion