Gothic Clothing Inspiration
Hey friends! I am so excited to be able to share my gothic clothing inspiration: August 2018 lookbook with you! I feature 11 outfits. My gothic fashion style is eclectic and has been described as post-Modern Faerie Goth, Romantic Goth, or Witch Goth. I really don't care what you call it, it's what I love!
My friend Thomas of KILLDEVILFILMS filmed it for me, my friend Corinne helped me choose which outfits to share and she helped me with outfit changes, and Corinne's friend Kris Gravez generously let me use his song End of Days.
We filmed this in 4 hours at my house on a day when it was above 90 degrees outside and insanely humid. I was sweating so much I had to towel off in between each outfit and that's why my face is so flushed!
Gothic Clothing Inspiration: August 2018 Lookbook Video
Share if you love this video & want to see more like it!
Black Handbag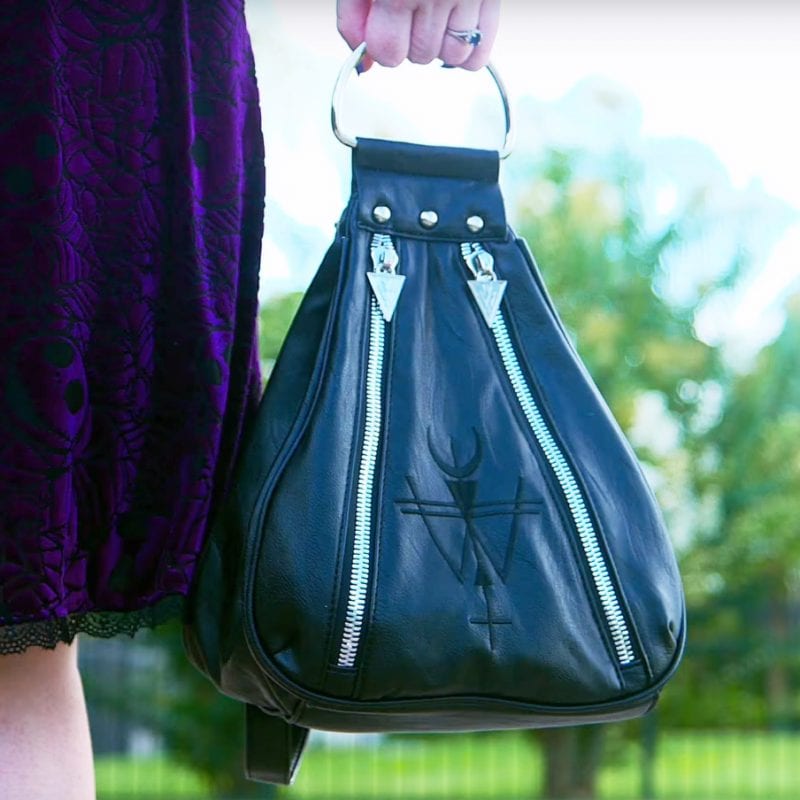 I have been obsessed with this bag since I bought it! I love the design, as it has two compartments and it holds more than it appears it should! It's also got that cut handle detail at the top. I love the zipper pulls and black on black design. It's rare for me to carry black handbags as I normally prefer a pop of color but this has become the bag that I carry the most lately and I'm rarely rotating it out.
Gothic Clothing Inspiration – Ankh Tunic & Ripped Leggings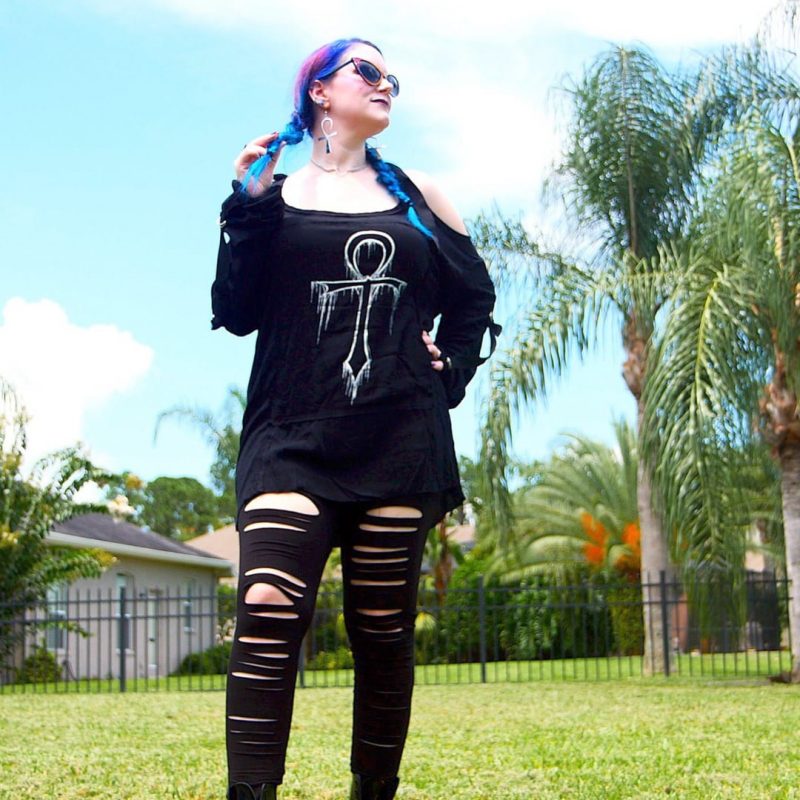 This goth outfit inspiration is very casual and comfortable. The shirt takes its inspiration from a straight jacket, which made me laugh. I crossed the straps in back to make it fit me the way I wanted. I like this outfit with both my biker boots and my Doc Martens.
Gothic Clothing Inspiration – Coven Witch Tunic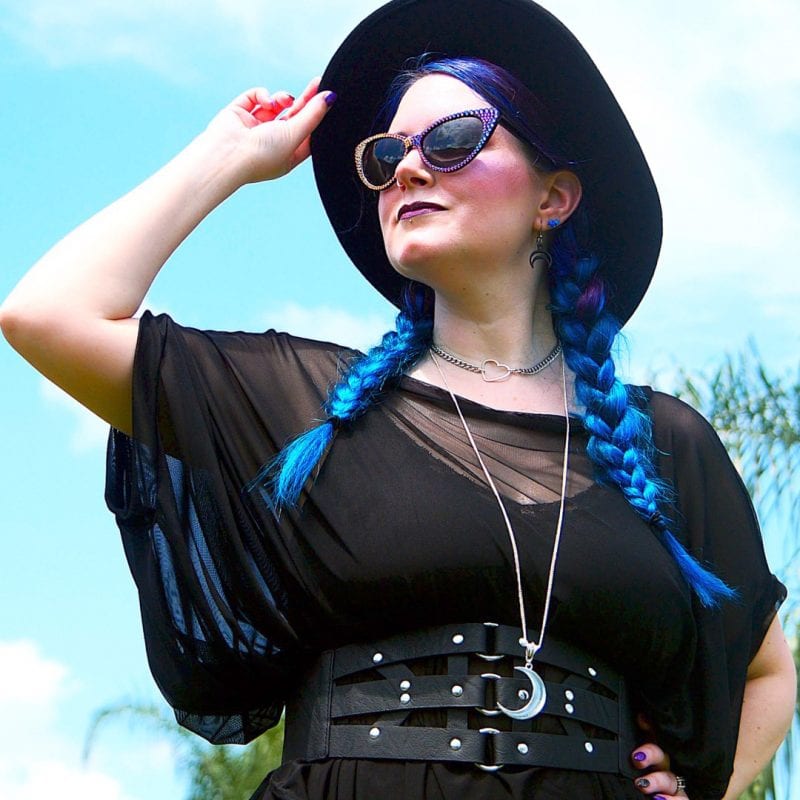 I really do adore witchy style and witch fashion. I feel the little hat plus this sheer tunic really are a great witchy style.
Gothic Clothing Inspiration – Florida Goth Witch Dress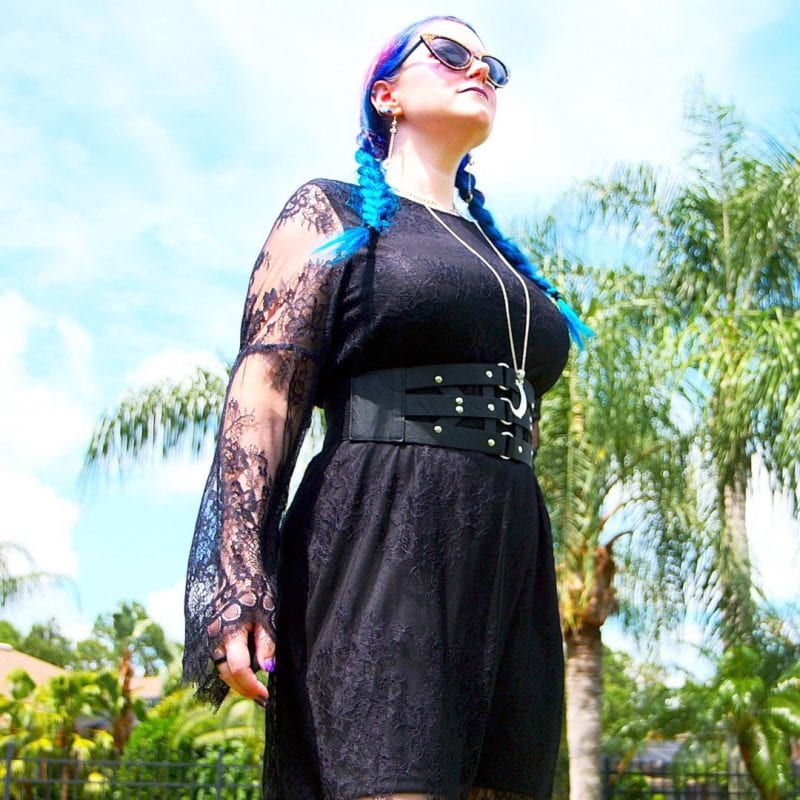 This gothic dress was recommended to me by someone from the PhyrraNyx Facebook group and I love it! It's sort of romantic goth, with the lace detail all over. The sheer sleeves and lightweight fabric make it ideal for hot Florida weather. It's currently on clearance so it may not be available much longer! (see Gothic Fashion at Target)
Gothic Clothing Inspiration – Witch Skater Dress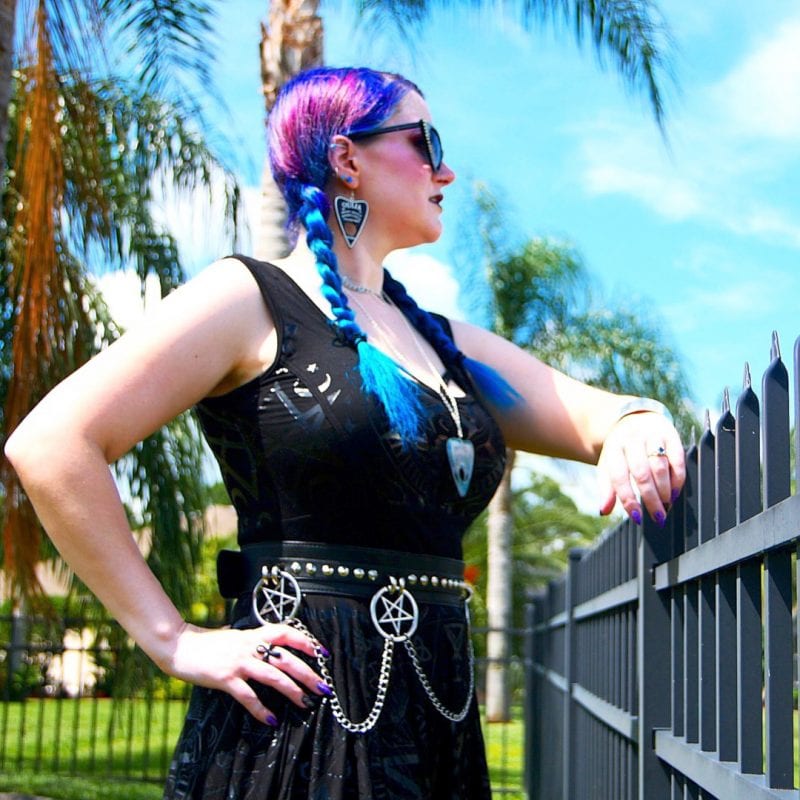 This is such a cool dress with the subtle black on black print. It's also insanely comfortable for the hot summer Florida weather.
Gothic Clothing Inspiration – Black Moon Dress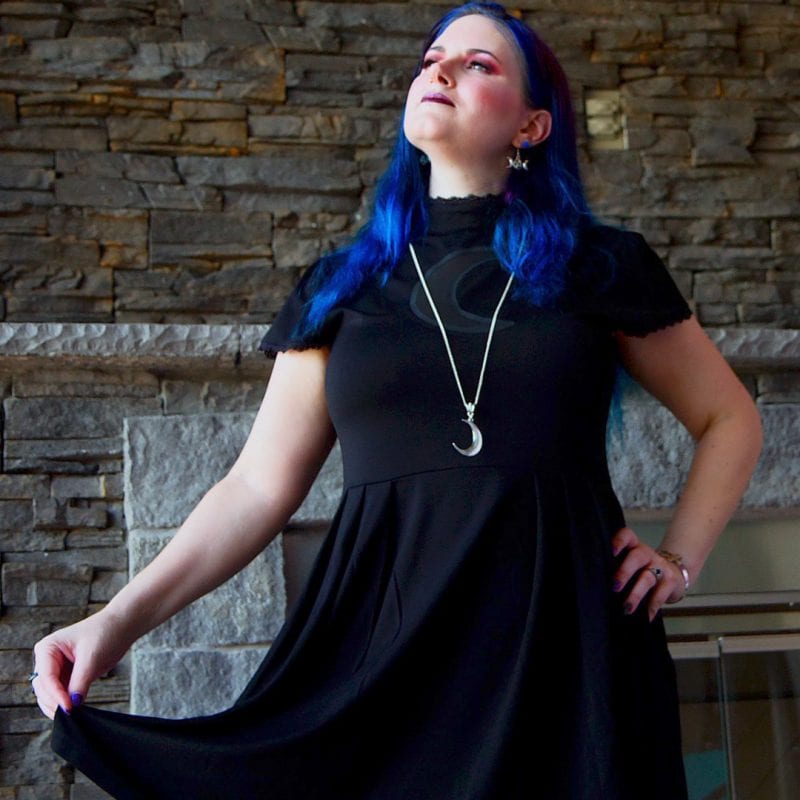 I love this simple black moon dress! It's so comfortable. Plus the black lace trim is cute.
Gothic Clothing Inspiration – Purple Ruched Dress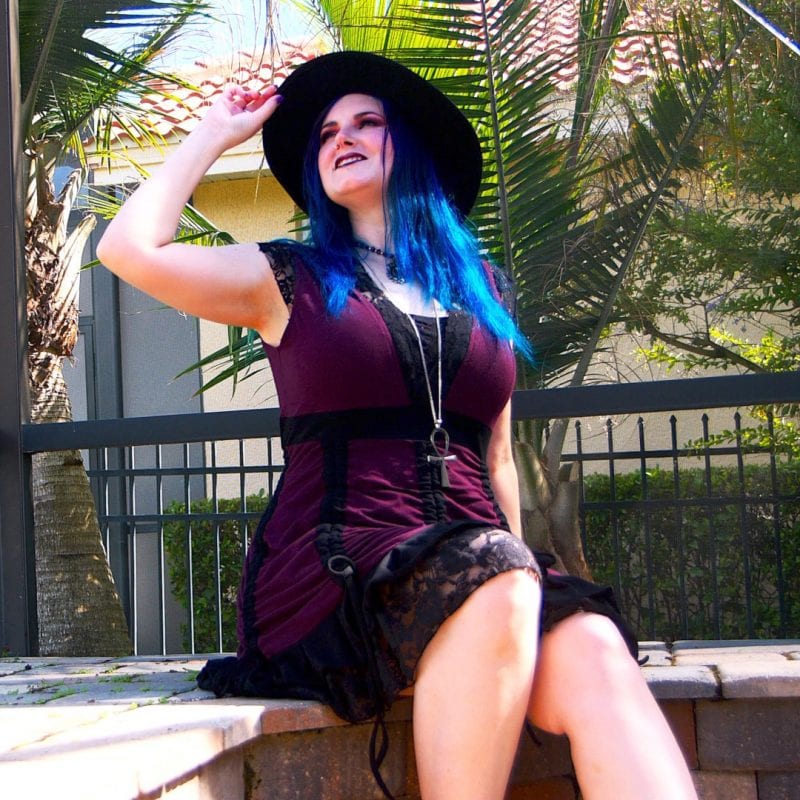 This dress is adjustable and I love the style. I've got a couple of dresses from the Pyramid Collection and they've lasted 10 years, so I've been happy with their quality.
Gothic Clothing Inspiration – Spooky Damask Party Dress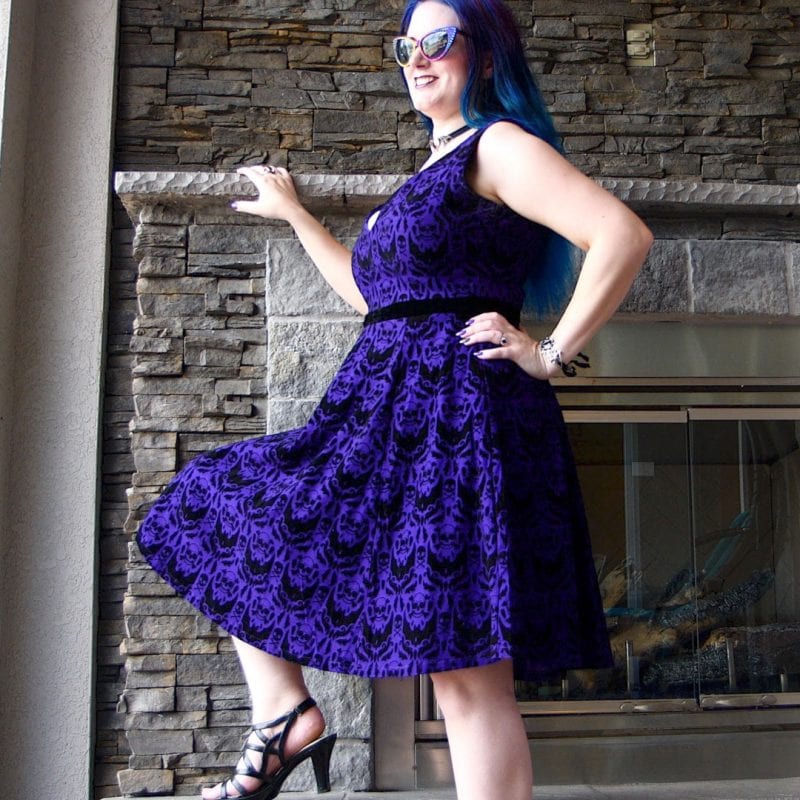 Longtime fans will recognize this dress. I've had it for several years and I wore it to Generation Beauty LA 2016. I love damask print! Finding a dress with damask bat print was a dream come true! Now if I could only find pale grey, pale purple, and black damask print bedding!
Gothic Clothing Inspiration – Moon Witch Dress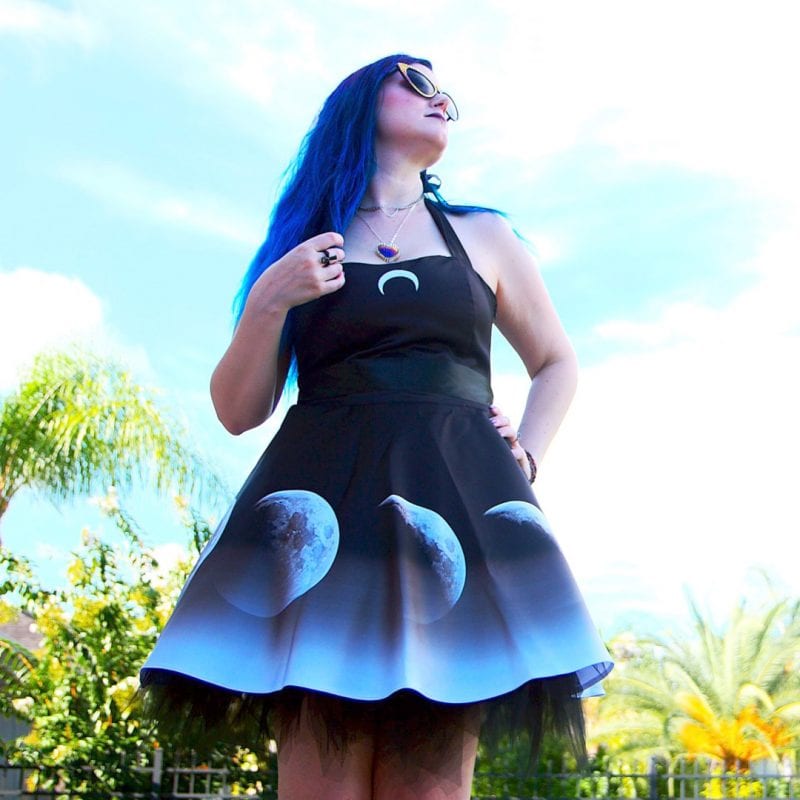 This is a custom, handmade dress from Poland. It's made to my exact measurements. I love the moon phases and fog at the bottom! My new moon phases boots will look amazing with this dress too!
Gothic Clothing Inspiration – Gothic Lolita Dress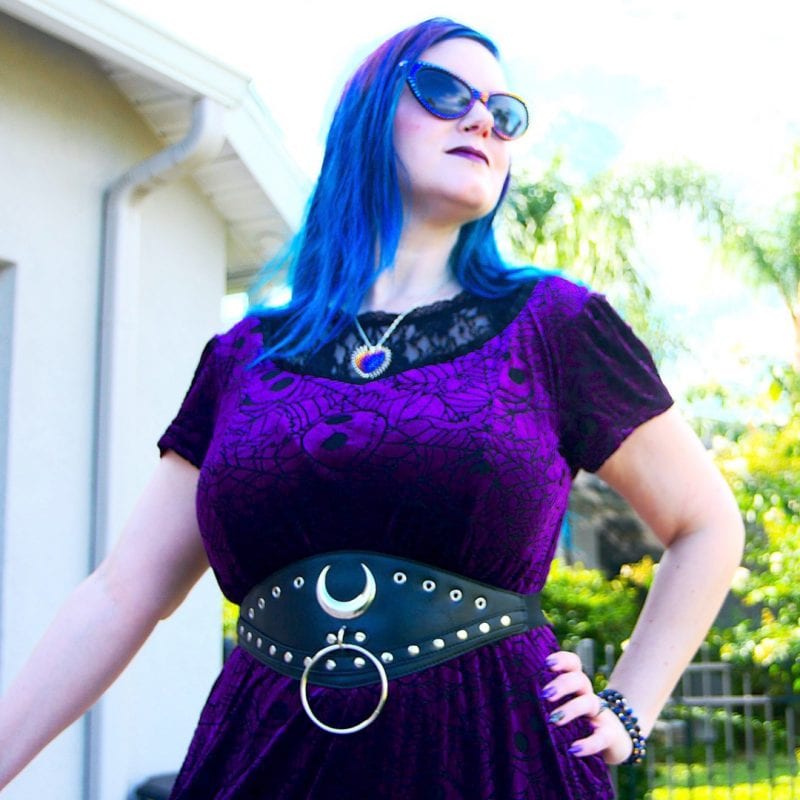 I've got 2 outfits that are close to gothic lolita style and this is one of them. I love the Nightmare Before Christmas Jack Skellinton imprinted into the purple velvet of this dress. I also forgot my little bat lace wristlets that look cute with this outfit.
Gothic Clothing Inspiration – Romantic Goth Lace Dress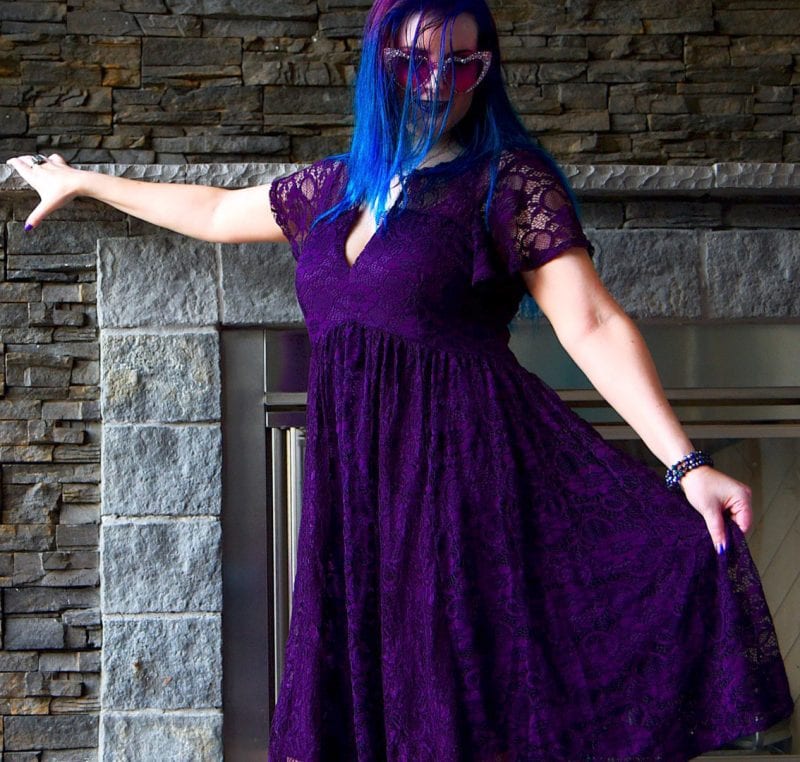 This is a new addition to my wardrobe that I just adore. I really do love comfortable dresses with lace trim!
Gothic Clothing Inspiration – Gothic Party Dress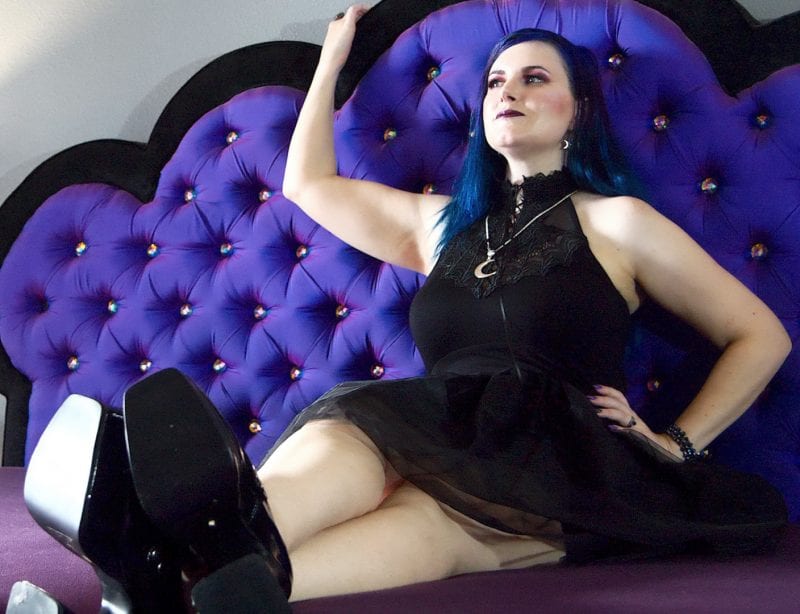 The moment I saw this dress I knew I needed it. I love the black bat design on the chest, the chiffon and tulle skirt, and the comfortable stretch-jersey body. The only thing I dislike about this dress (and I am going to fix it), is that the way they serged the chiffon and tulle into the waistline, it irritates my sensitive skin. By the way, I love these shoes and I've had them for a very long time. They look amazing but hurt to walk in. I have no idea how I used to go clubbing in them.
Cruelty-free Makeup Look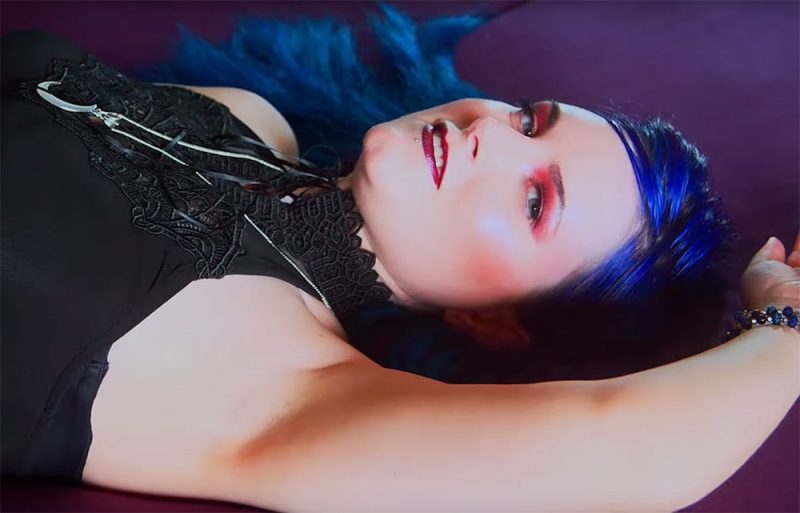 I'll have a separate blog post for you with the makeup I'm wearing in the video. It's primarily
I hope you love this gothic fashion lookbook video as much as I do and use it for goth outfit inspiration! Some of these items, such as my Amazon Ankh Ring and Bunny Paige Sunnies I wear daily. I personally love ankhs, moons, and bats, so I wear a lot of those things! They're wardrobe staples for me.
Despite the insane heat, I had such a fun time shooting this video with Thomas and Corinne. Corinne always makes me laugh and Thomas is very good with his camera.
Which goth outfit is your favorite? Let me know!
More Gothic Fashion