Fall Goth Hooded Dress
Today I'm sharing my Fall Goth Hooded Dress. This is the Killstar Spirit Walker Hood Dress. It's definitely more suited for cool autumn nights (or perhaps rainy springtime) than humid, hot summers in Florida, thanks to the long sleeves. It was pouring rain outside when I took these photos, so apologies for no sunny shots.
Cruelty-Free Makeup Look
Minimal Makeup
Nudestix Nudies Tinted Blur Stick in Light 1
Smashbox Primer Water in So Chill Coconut
Kat Von D Brow Struck Powder in Graphite
Too Faced Melted Metallic Matte Lipstick in Scream My Name
I'm still loving my Nudestix Nudies Tinted Blur Stick in Light 1, even if it is too pink for me in some lights. I really hope that Nudestix will make a more neutral-toned version of this one!
I LOVE the Too Faced Melted Metallic Matte Lipstick in Scream My Name. I've bought like 7 of these so far. They are so good! They last all night. I've also got The Real Teal (metallic teal blue), I Dare You (metallic magenta), I Wanna Rock With You (metallic burgundy), Our Lips Are Sealed (metallic peachy gold), Metal Transformer (prismatic shifting lilac), and Faking It (metallic chestnut rose).
Fall Goth Hooded Dress OOTD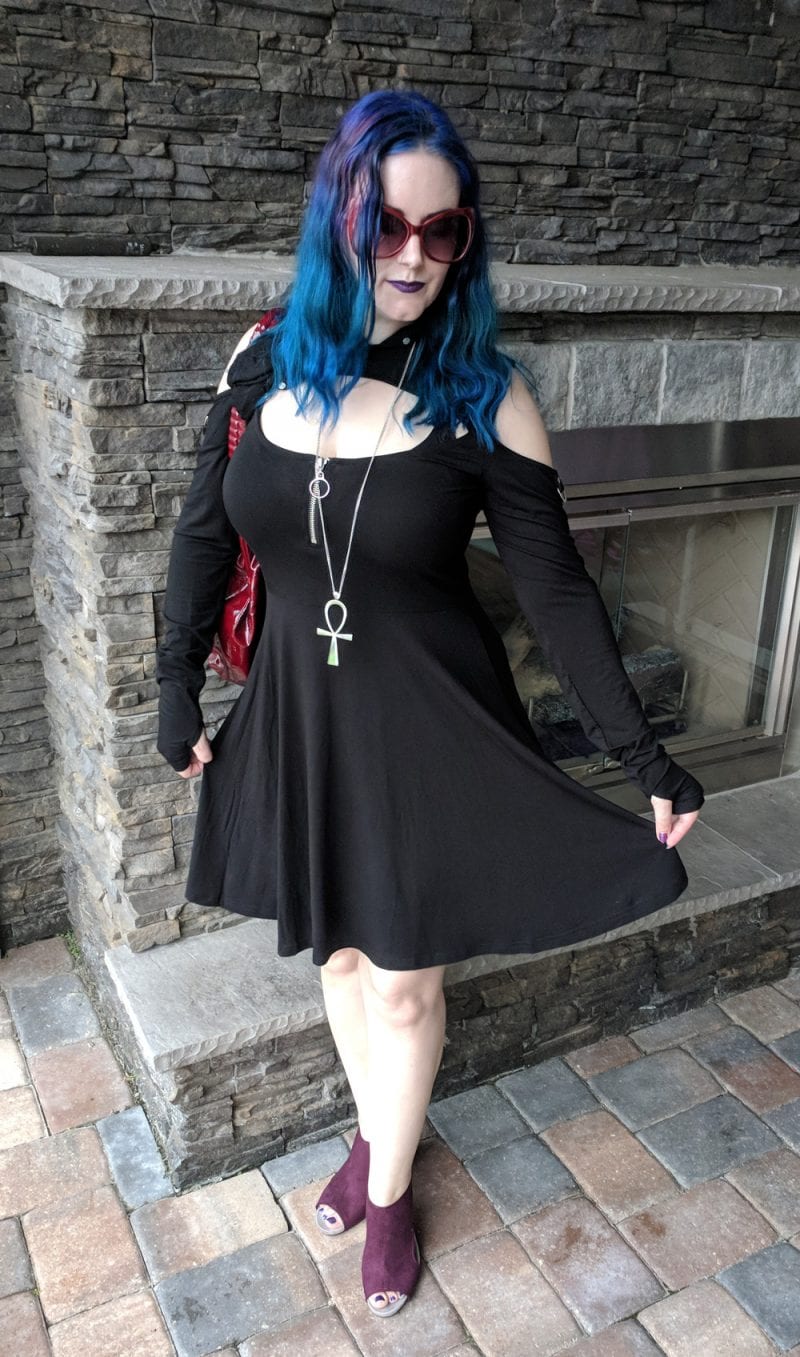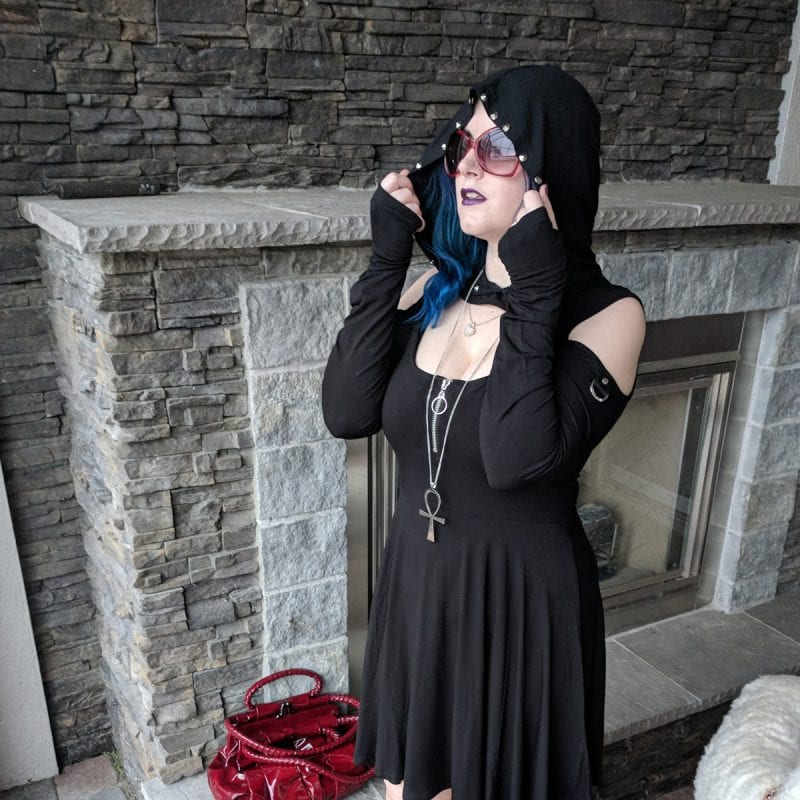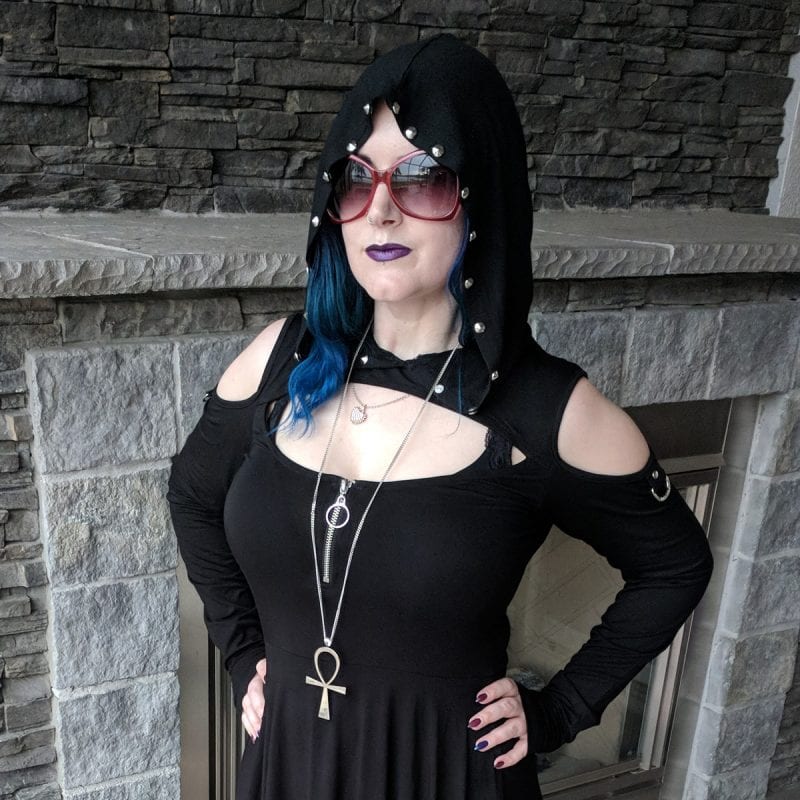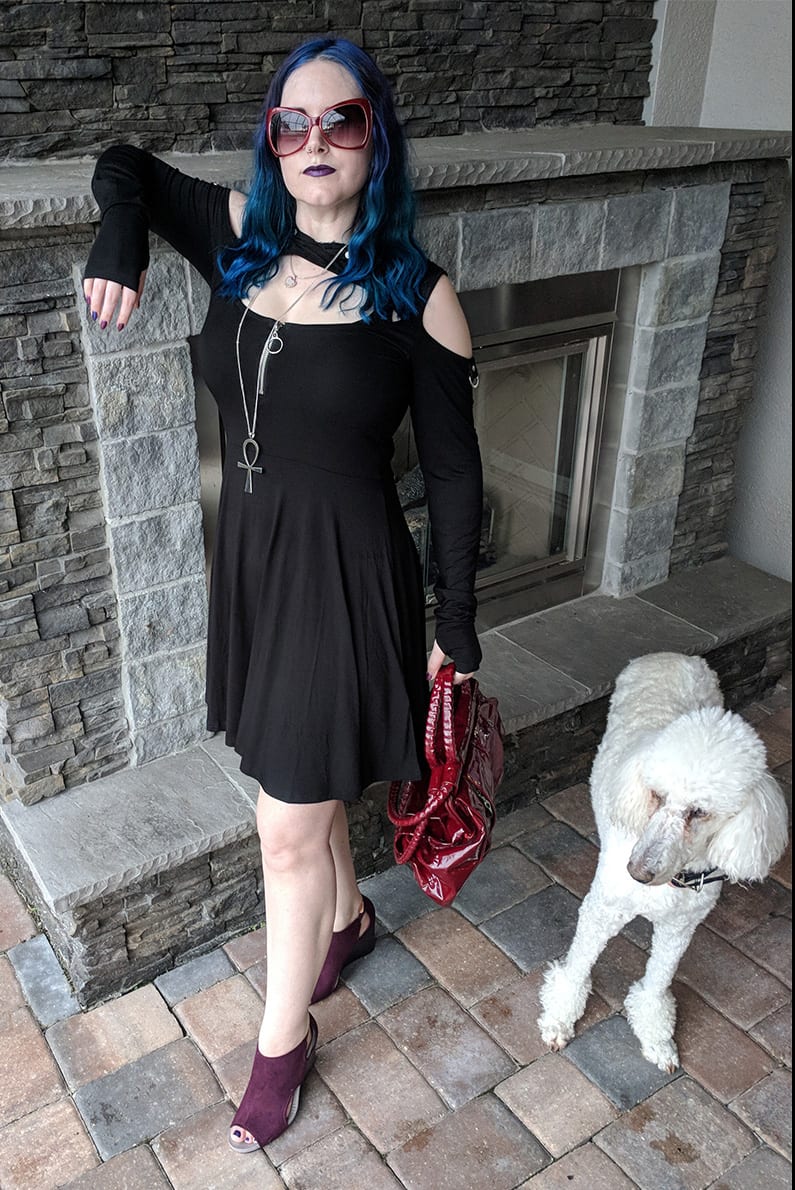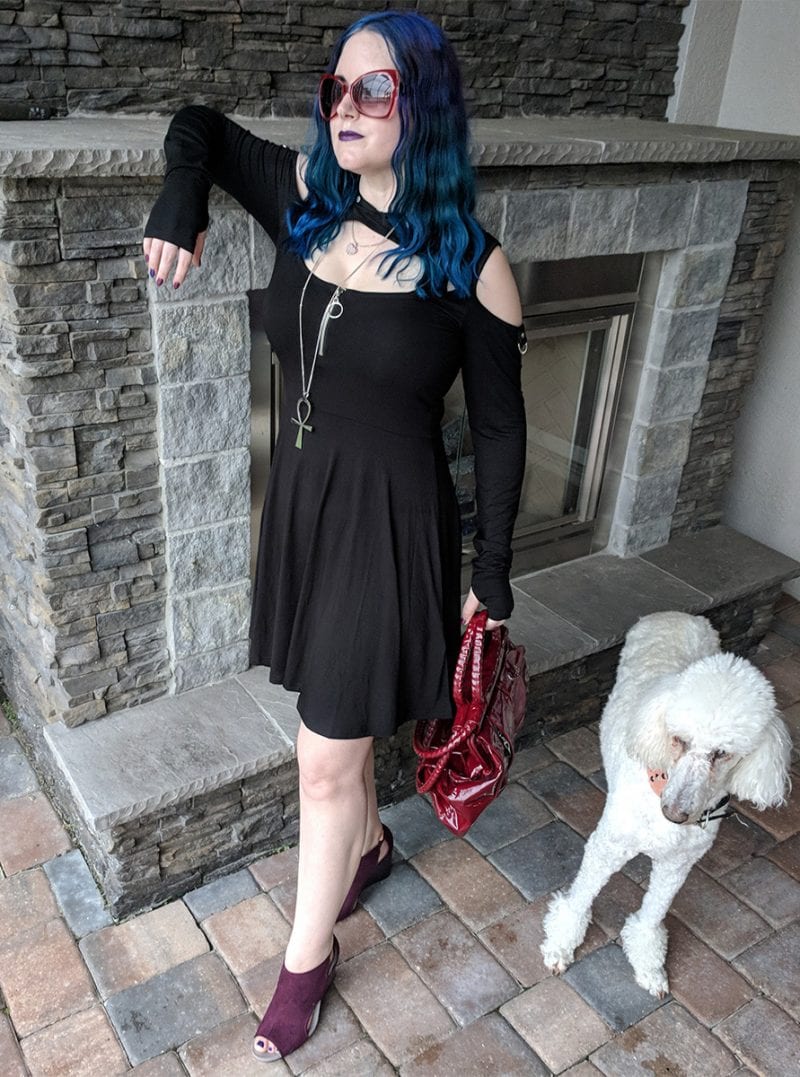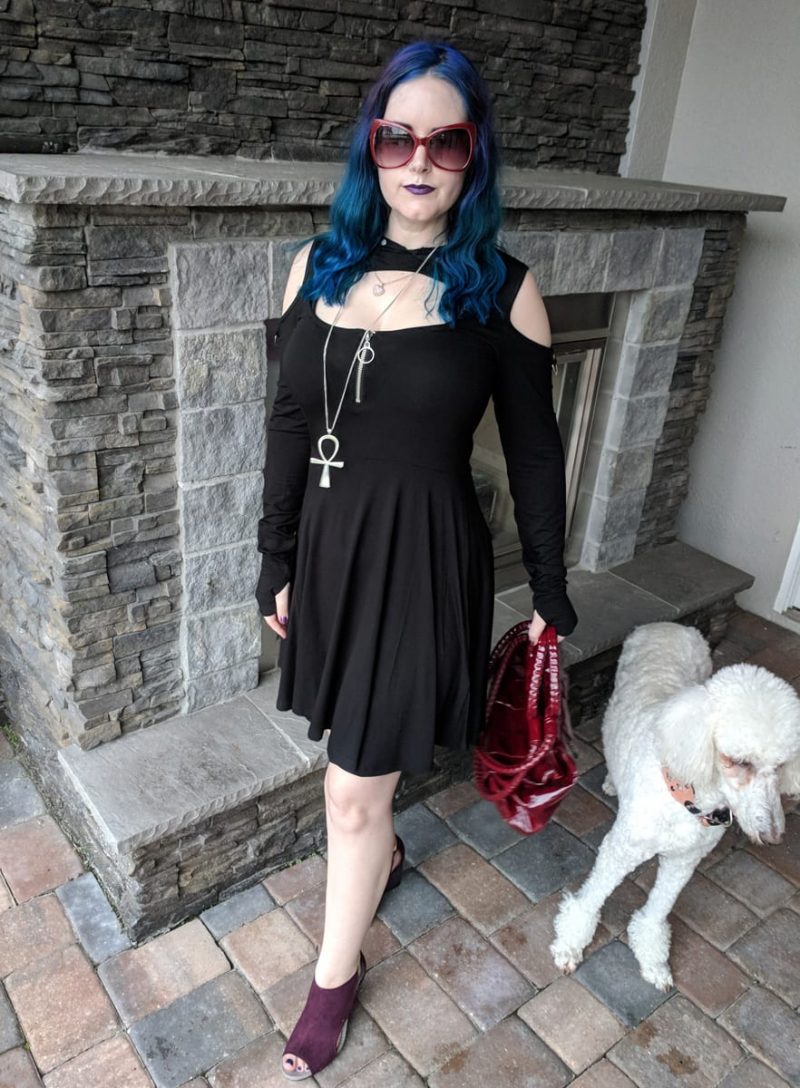 Dress – Killstar Spirit Walker Hooded Dress
Shoes – LifeStride Hinx Wedge Sandals in Dark Red
Necklace – Bunny Paige Micro Spiked Heart Necklace in Aurora
Necklace – Evil Pawn Large Ankh Necklace (similar style)
Sunglasses – Burgundy Sunnies
Handbag – the Real Real Christian Louboutin Loubette Satchel in Burgundy (see other Christian Louboutin bags)
I know you don't need me to tell you how much I love my burgundy Louboutin bag. It's so edgy and gorgeous! I'm currently having feels about this Christian Louboutin bag, though it says it's forest green and it looks black to me! I prefer black to green.
The Burgundy Sunnies are an inexpensive pair that I picked up from Amazon. I commissioned some gorgeous custom burgundy sunglasses from Bunny Paige, so I can't wait until they're here!
My Fall Goth Hooded Dress is ultra comfortable! I bought size Large. I love the soft fabric. It has a bit more weight to it than some of my other Killstar dresses. Between the fabric and the long sleeves, it's too hot to wear this dress during the worst of summer here in Florida. I love the detailing on the sleeves, which have thumb holes so that they sleeves partially cover my hands. With my body shape and size, I love fit n' flare dresses like this!
If you live in a colder climate, I can easily see pairing this dress with a pair of tights and boots for Fall. Maybe like these oilslick boots or these broom rider boots.
I've been addicted to Amazon Prime Wardrobe (see my Amazon Prime Wardrobe Review), which is where I found my LifeStride Hinx Wedge Sandals in Dark Red. These are size 8. I've ordered 3 boxes of shoes so far. This was the pair that I kept from the 2nd box. I wanted comfortable burgundy wine booties and spotted these, so gave them a try. They're really cute and exceptionally comfortable to wear!
My Evil Pawn Large Ankh Necklace (similar style) is a perfect statement necklace. It's long, large, and looks great with this dress. An Ankh necklace like this is a fantastic staple wardrobe piece. One thing I do with my long necklaces like this is pin them back to make them shorter, so that they hit the perfect spot on my torso or decollete.
As today is Friday the 13th, a lot of gothic sites are having sales! Below are some sales I rounded up.
What do you think of my Fall Goth Hooded Dress? Would you wear it?
More Gothic Fashion