WWE Divas Half Up Half Down Hair Tutorial
Today I'm excited to be sharing a special WWE Divas Half Up Half Down Hair Tutorial with you! One of my best friends Mickey is a WWE Makeup Artist & Hair Stylist and he wanted to create one of the WWE Women's signature hairstyles that is perfect for prom or other fun occasions. Mickey mainly works with Nattie, also known as Natalya Neidhart. This is a half up half down hairstyle that is sported by J Lo too! When creating this tutorial we filmed for about 115 minutes, but we chatted throughout the whole thing. Normally this type of hairstyle would take him 35-45 minutes to do at the WWE. We used 1 inch wide sections and lots of sections. However, if you are in a time crunch, do 2 inch wide sections.
WWE Divas Half Up Half Down Hair Tutorial Video
Share if you enjoy!
Want to see how to get my hair? Here's how Cliff & Oz helped me achieve my Purple Gothic Dream Hair.
Need help on how to care for your hair? These are the best cruelty-free hair products & brands I use!
Hair Products Used
LB – Leaping Bunny Certified
v – vegan
* – PR sample
WWE Divas Half Up Half Down Hair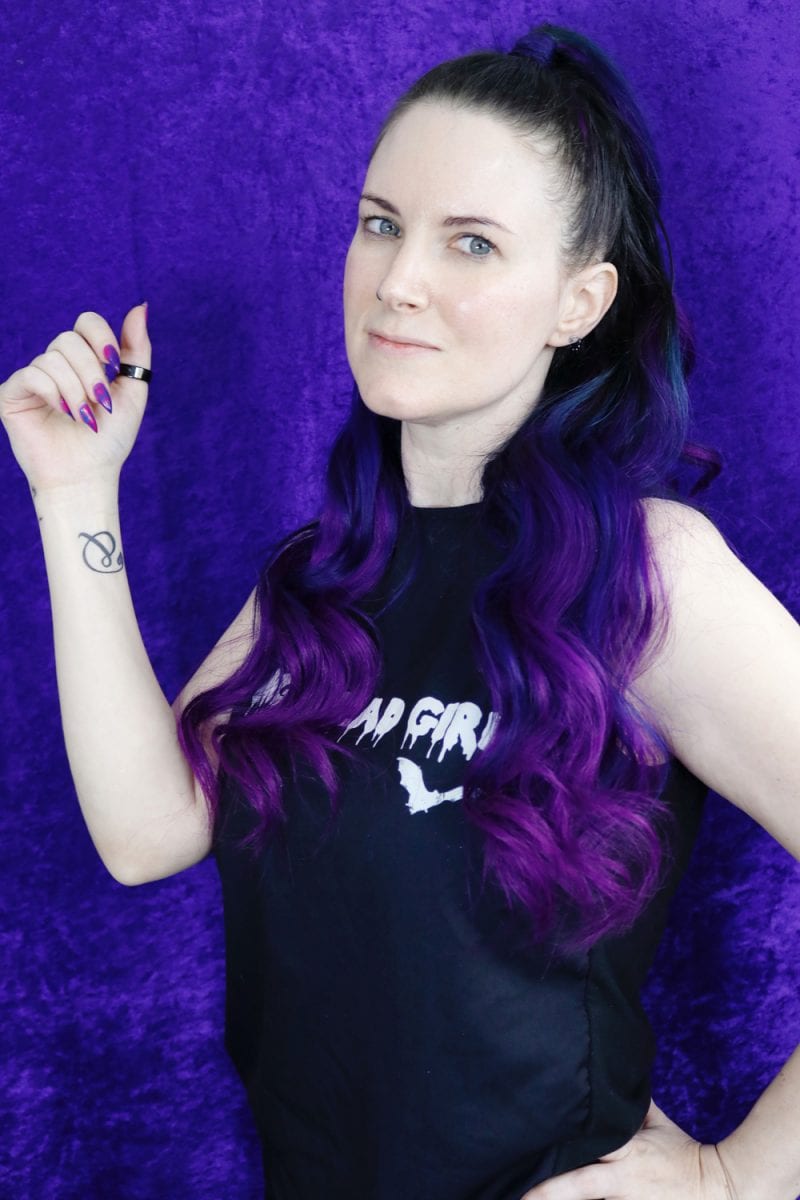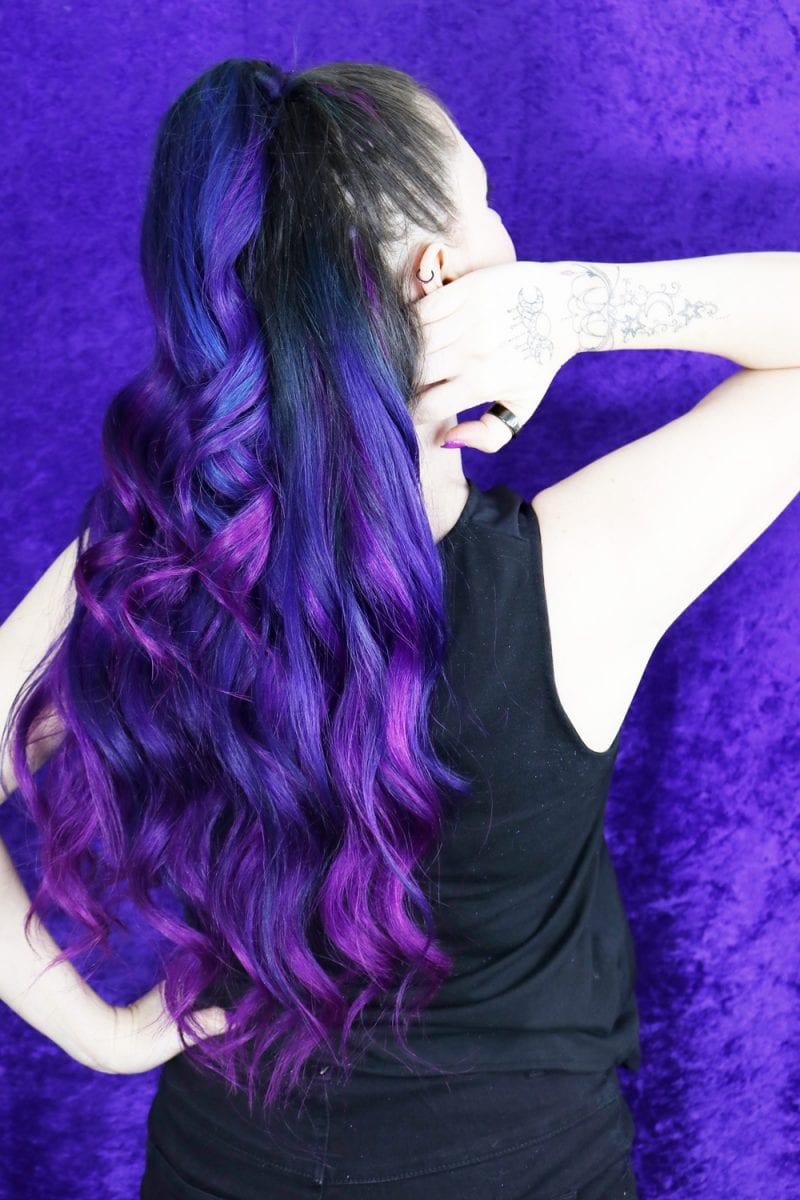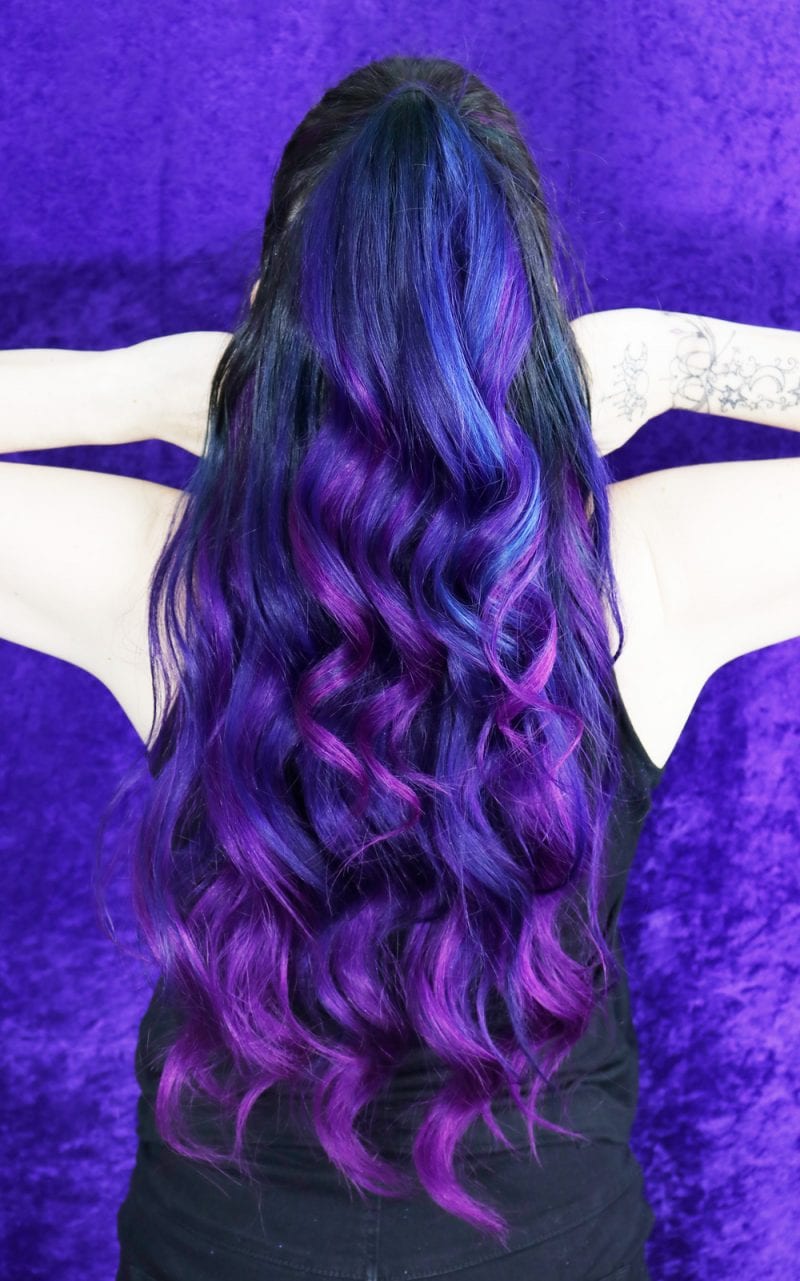 I'm wearing this awesome Living Dead Girl Shirt with Bats in size  Extra Small from Redbubble. Find tons of great designs, including my Hex Squad, Rotten Little Girl, Coven Club, & Spooky Nerd. My personal trainer Tania has a ton of awesome goth fitness designs up too that you see me wearing in my Instagram Stories Outfit of the Day posts like the Bat Fit Crazy, Fitness Bats, Abs are Made in the Cauldron, Should I lift Today?, Moon Phases Weights, Coven of Swole, and more!
Do You Have Hooded Eyes?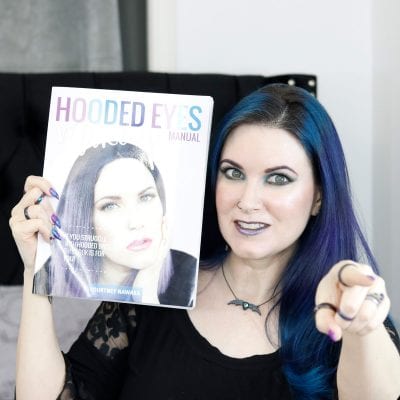 Just in case you're new here or you've miss it, I recently wrote a book called Hooded Eyes Makeup Manual.  It's filled with unfiltered tutorials, a brush guide and more. Don't know if you have hooded eyes? Find out what are hooded eyes!