Bat Shoe Collection
Hey friends, today I'm sharing my bat shoe collection with you. There are so many things you can obsessed about if you're goth. I personally am obsessed with bats more than skulls or anything else. I have a bat tattoo, I want to put a bat house in the backyard, I've got a lot of bat themed jewelry, and I have quite a few bat themed shoes. All of the shoes I'm showing you are size 8. I typically wear size 7.5 – 8.
In case it isn't clear, all of these shoes were purchased by me. All opinions, as always, are my own.
Demonia Bat Witch Shoes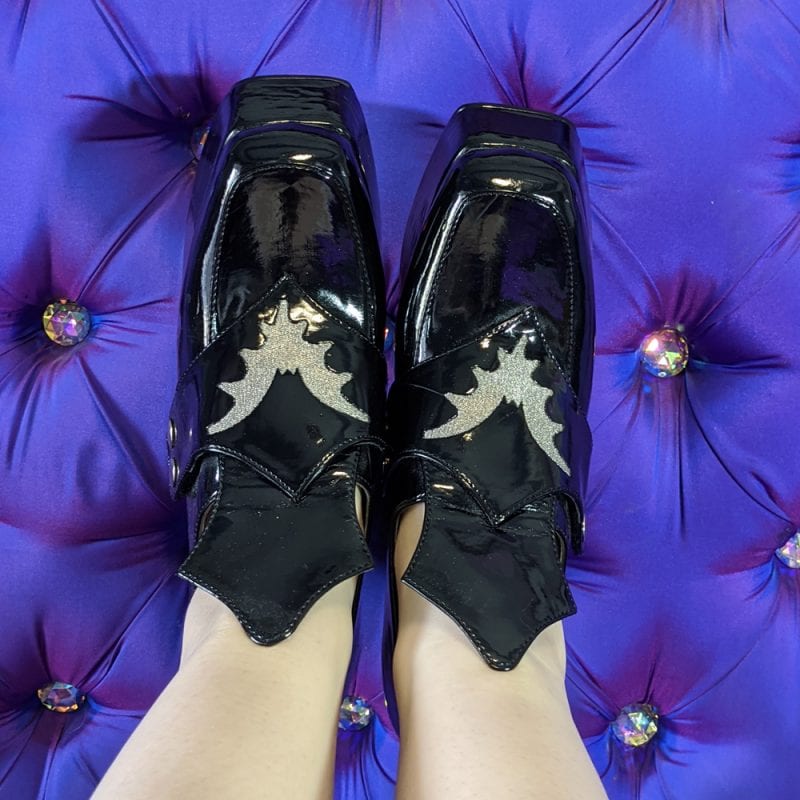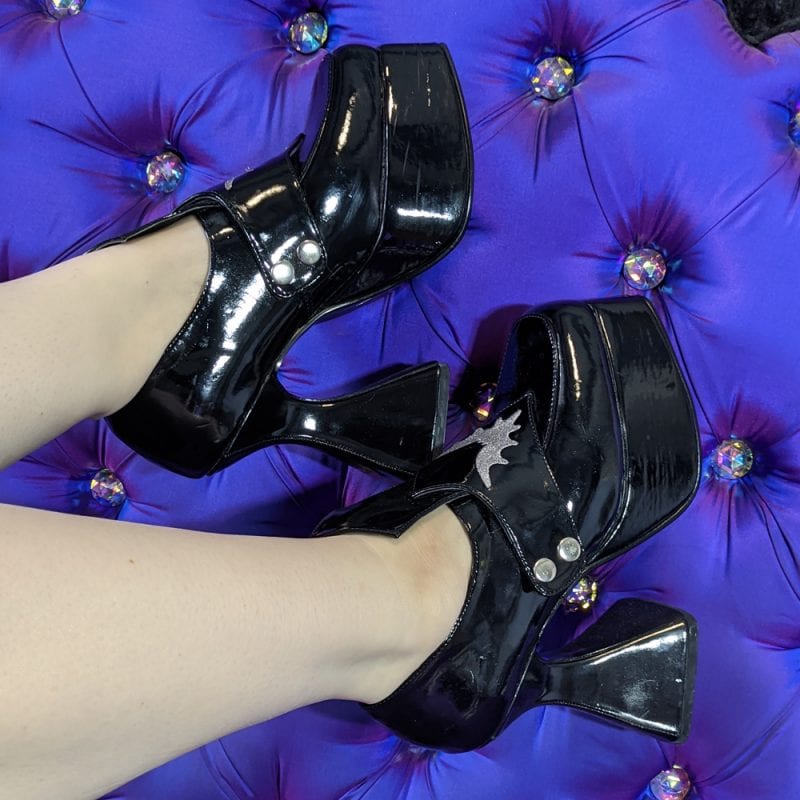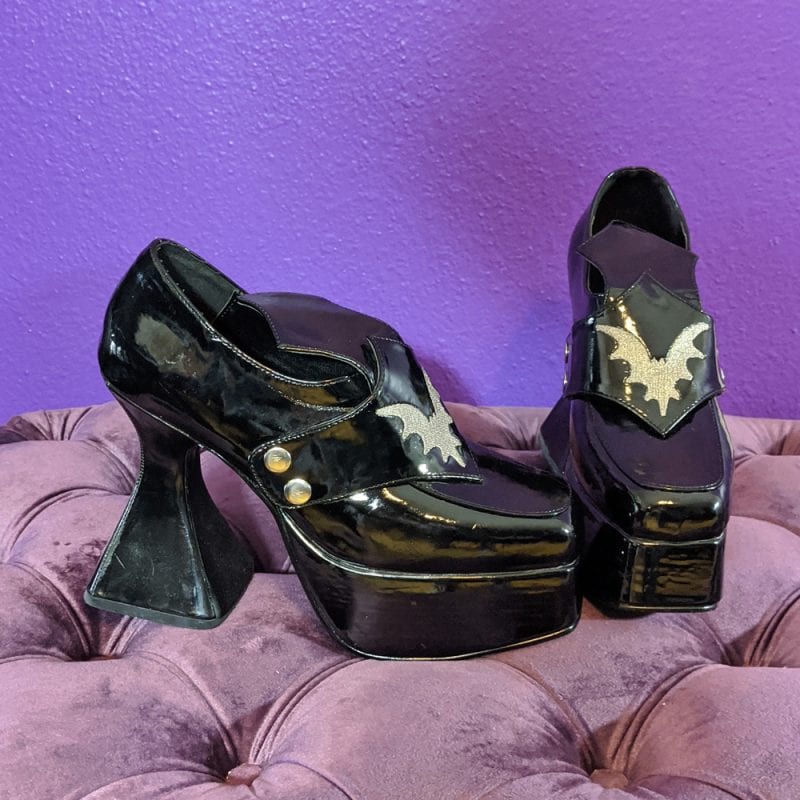 I've owned a lot of Demonia boots and shoes in my life. This particular pair of witch shoes have lasted me for probably 20 years and they're still in really good shape, making them the oldest pair of shoes in my bat shoe collection. I'm pretty sure this was one of the series of shoes that the tongues could be changed out (I want to say they had crosses as another option), but I only kept the bats and not the other options. They're not very comfortable to wear. The footbed usually hurts my feet, but I used to grin and bear it through clubbing in these heels. I need to put some cushion in there and see if it helps.
Killstar Cemetary Lane Heels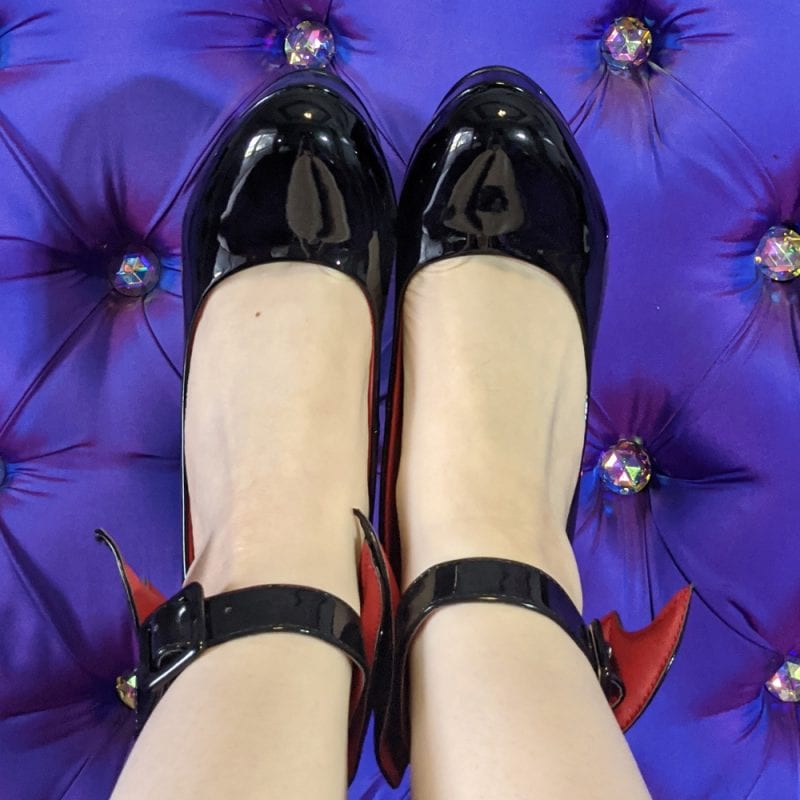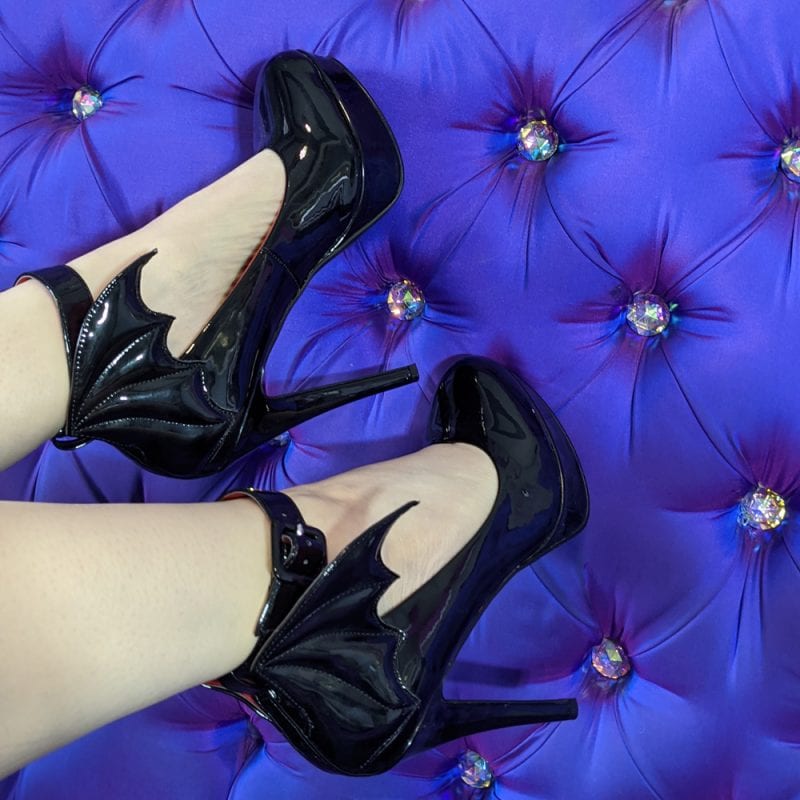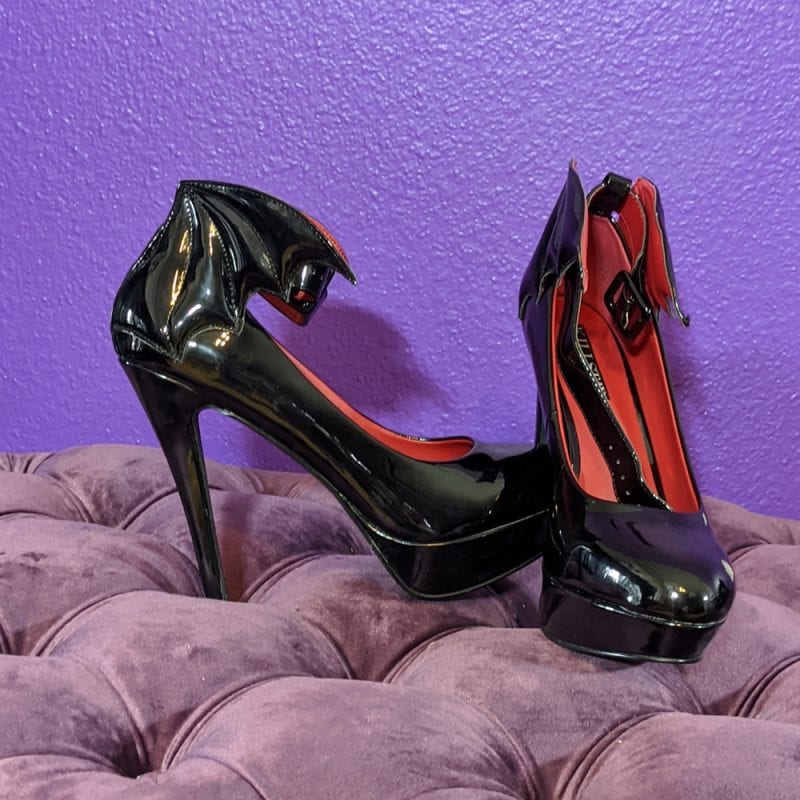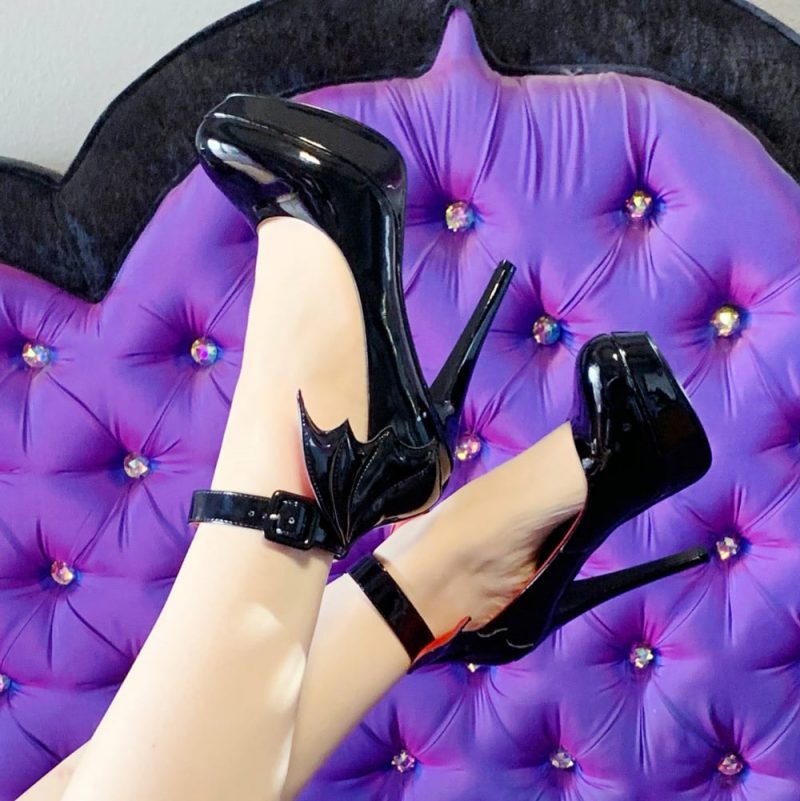 I waited around 6 months for the Killstar Batwing Heels to come back into stock at Killstar's website. I tried to buy the original version of these shoes by Ironfist (Ironfist Black Batwing Heels, currently available at ebay for far less than I paid) ages ago and could never get the person on Poshmark to ship the shoes, which is why I stalked Killstar's site. I personally love these, they make me a lot taller than my typical 5'4″, but I rarely wear tall heels like this because of the lack of arch support and cushion for my feet. I'm such a wuss in skinny heels! I love that they're black patent and match my secondhand Christian Louboutin black patent bag.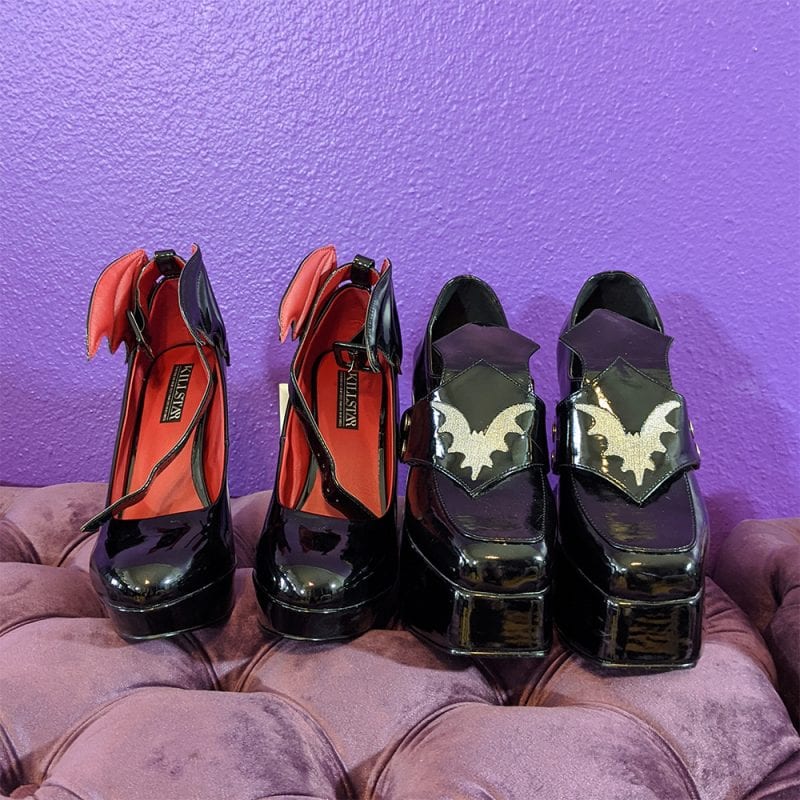 Bat Flats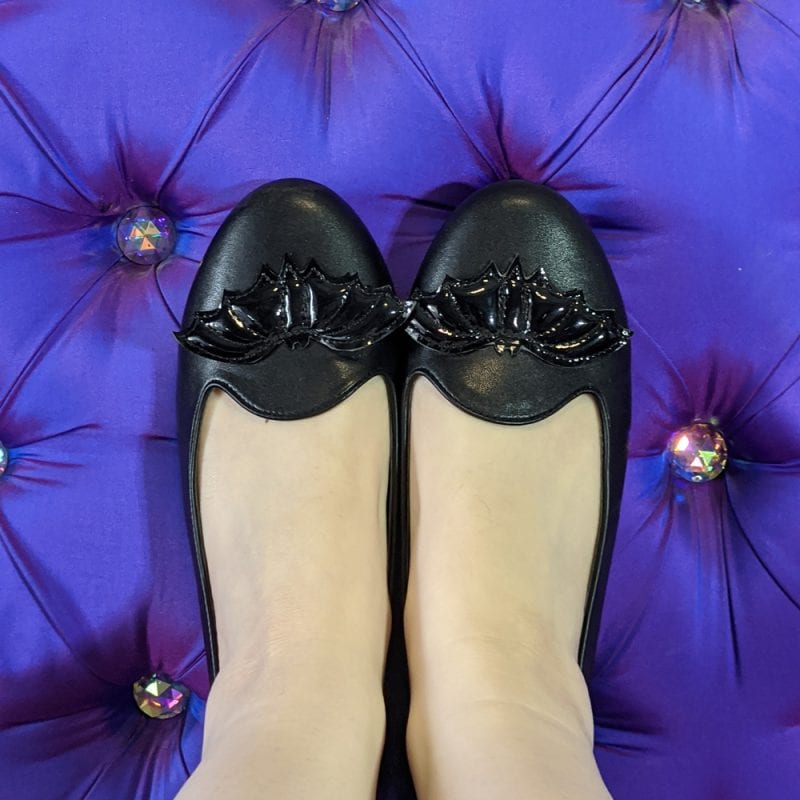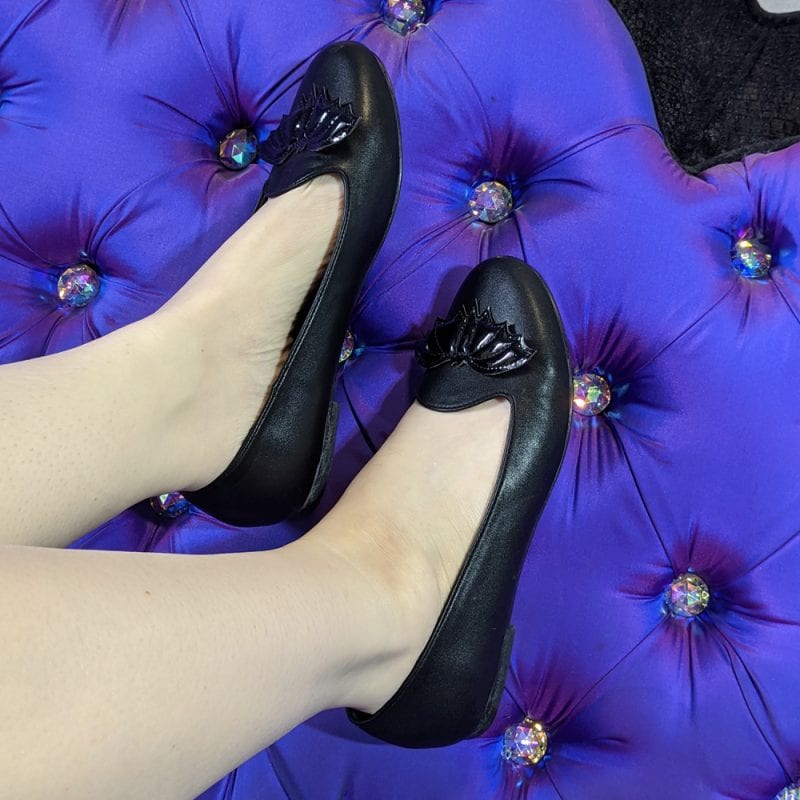 These are my Strange Cvlt Lydia Bat Flats. They're insanely comfortable to wear and I highly recommend the brand. They're matte black except for the big shiny bat.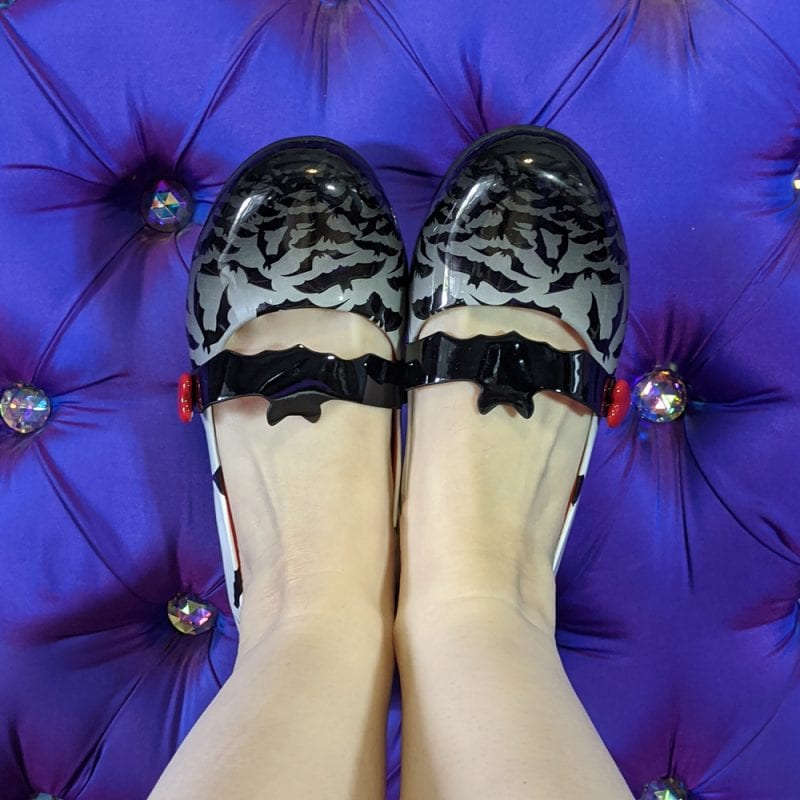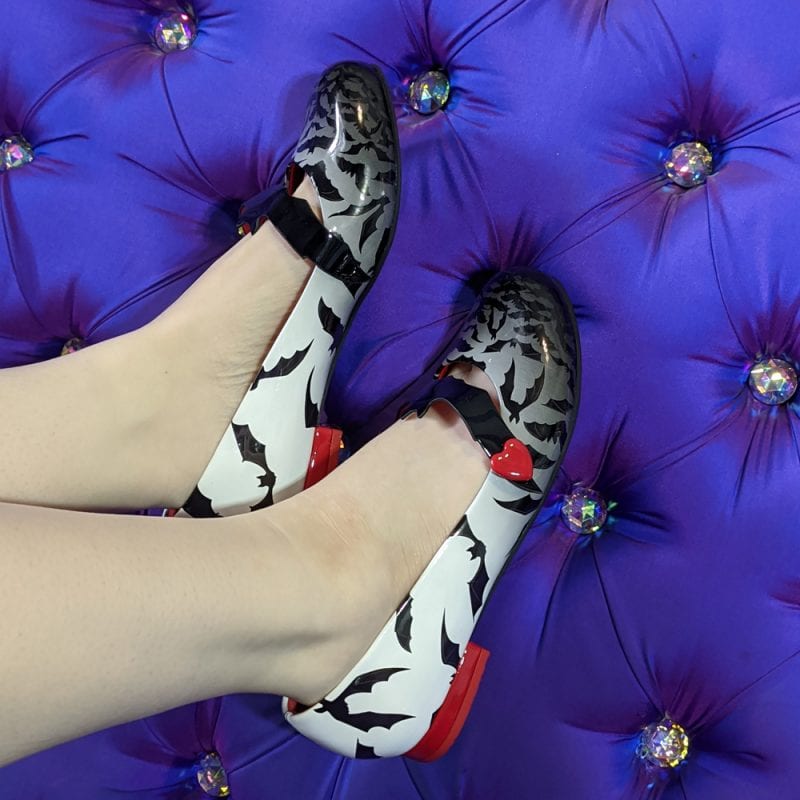 I love these Candypop Batty Flats. They're a little bit big on me so I need to put something in the heel to make them a better fit. I adore the shiny black bat strap across the top and the bat print fade from the toes throughout the shoes.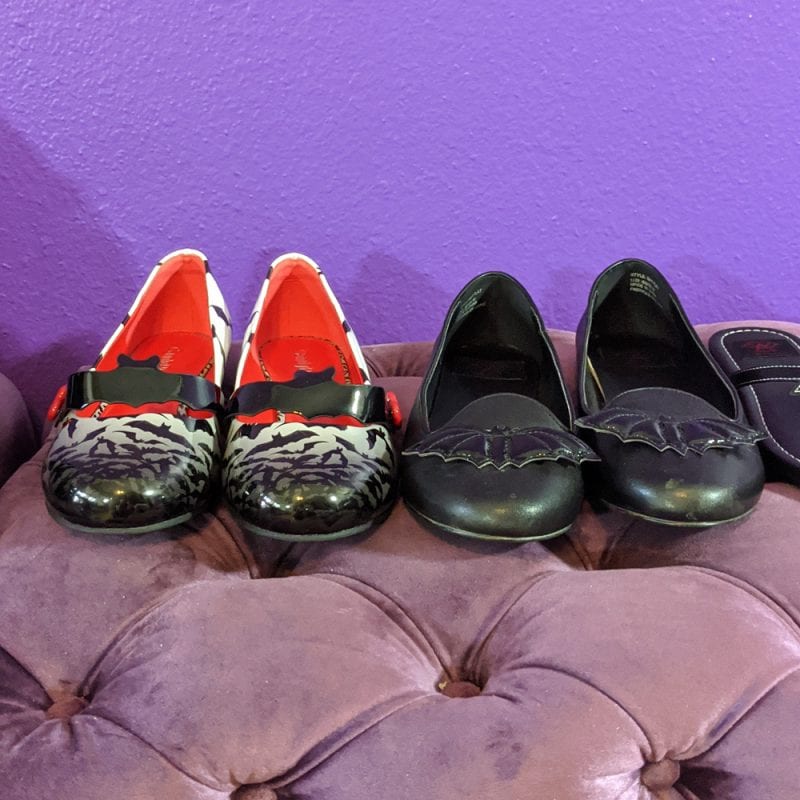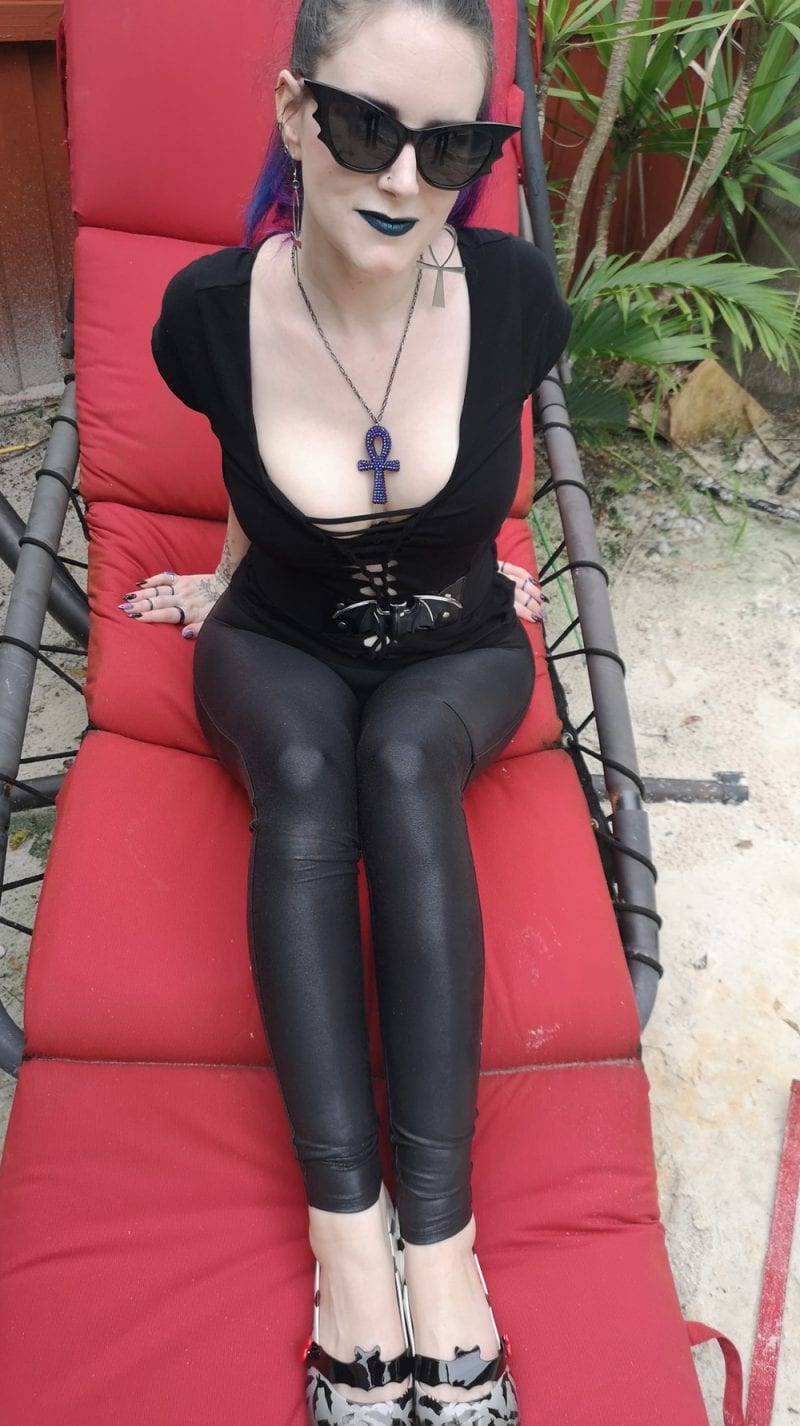 Check out my summer gothic lookbook for gothic fashion inspo!
Bat Sandals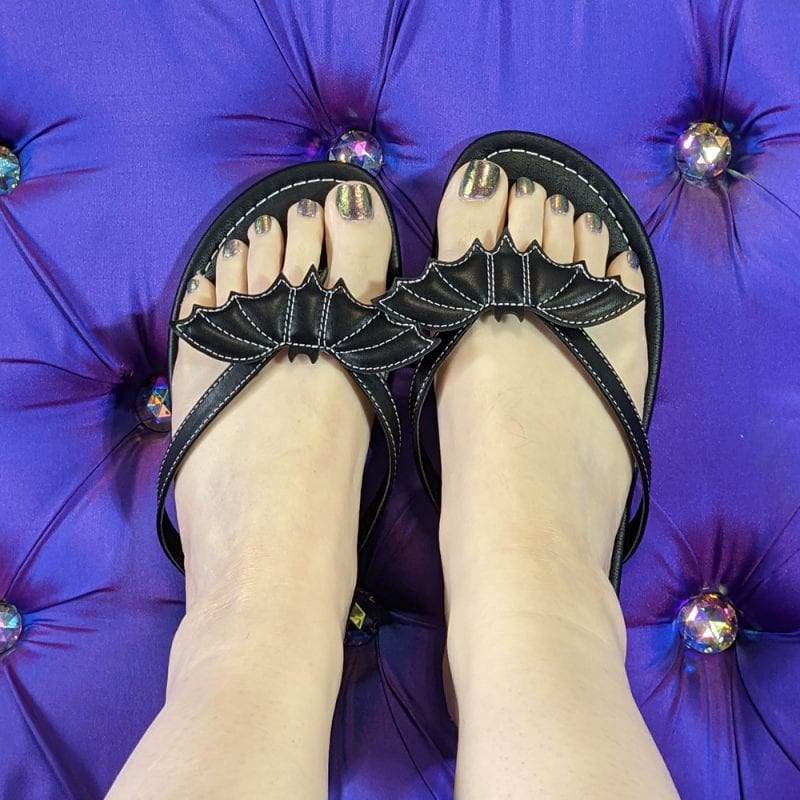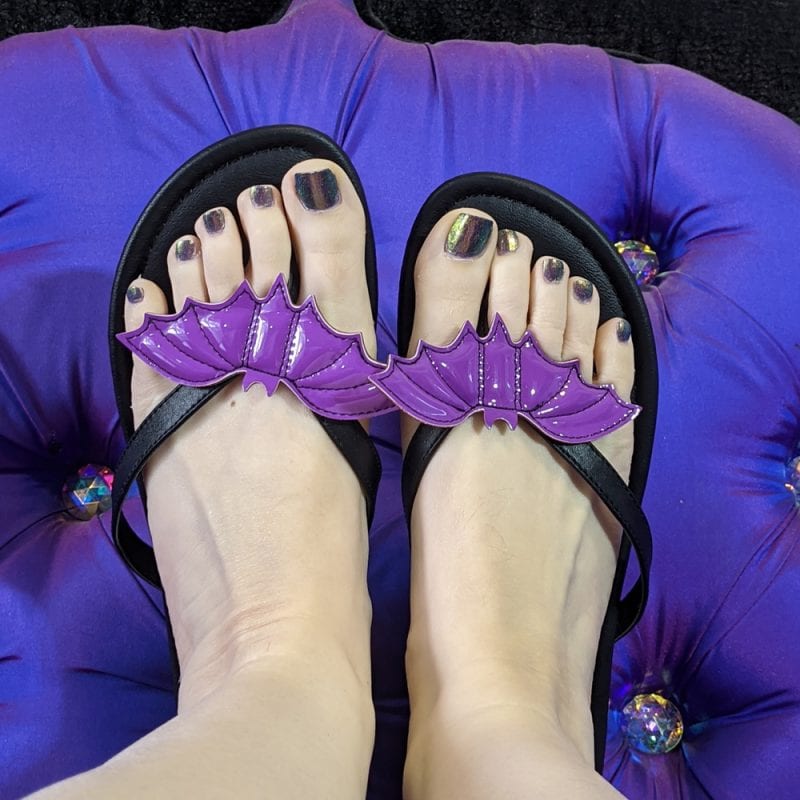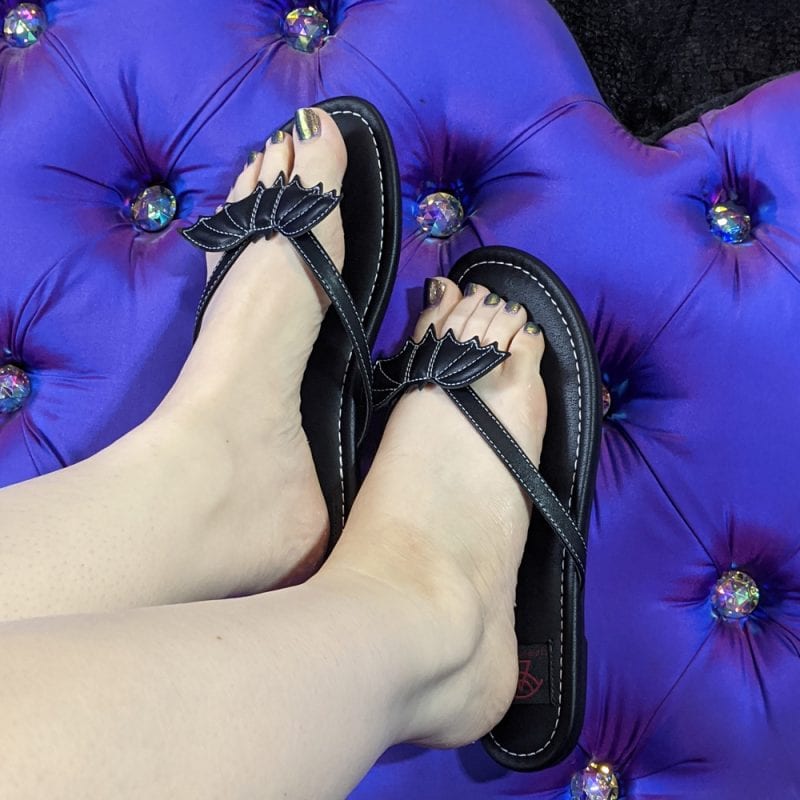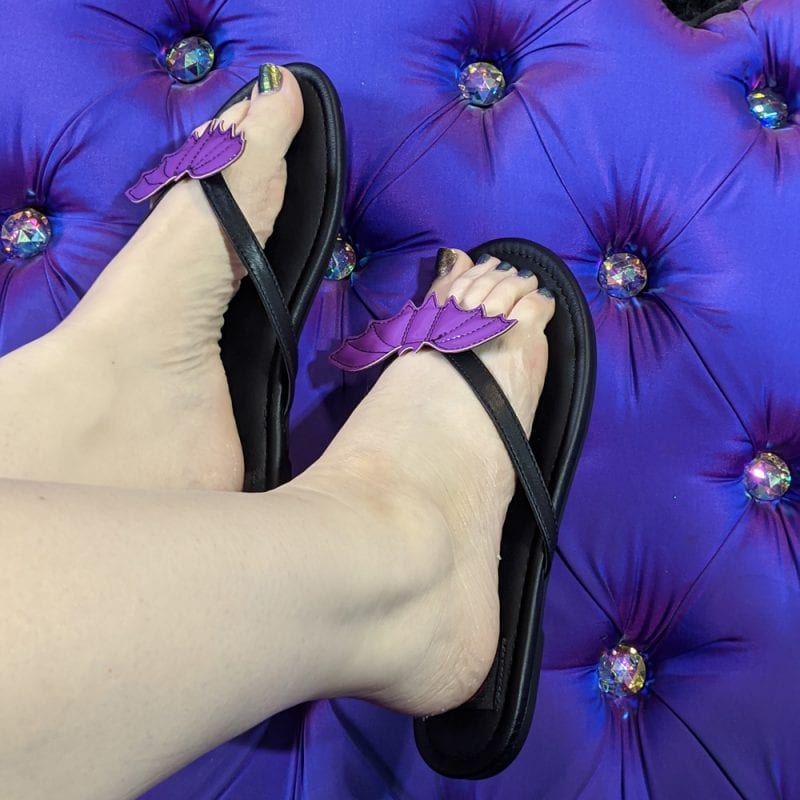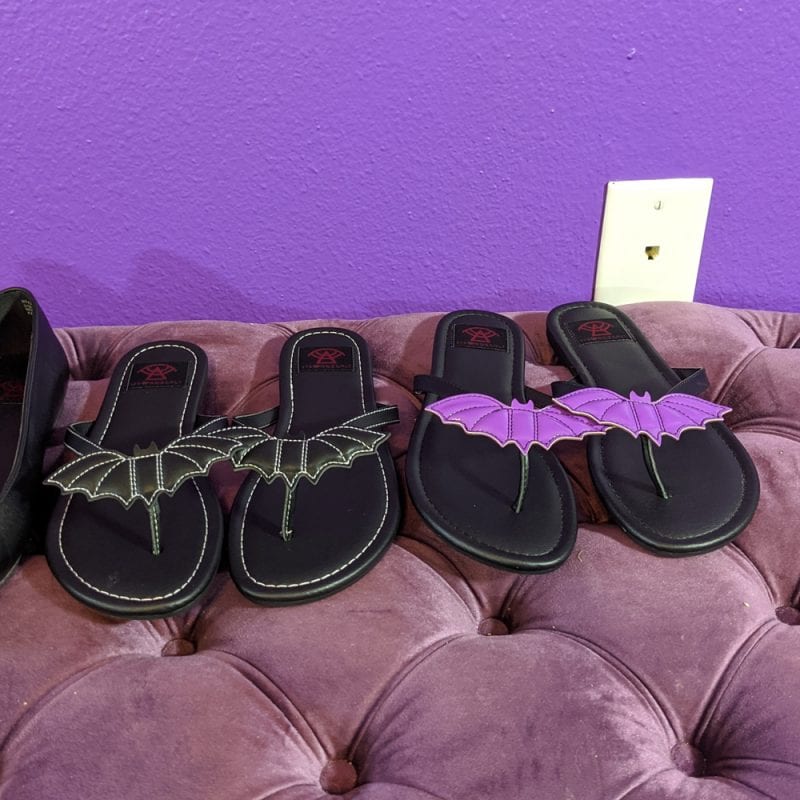 These are my Strange Cvlt bat sandals in black and neon purple, the newest additions to my bat shoe collection. They're super cute! They're quite a bit wider than my feet. I need to see about adding some sort of strap across the top to help them stay on my feet better. You can get the Bat Sandals in a ton of different colors at Strange Cvlt.
My Bat Shoe Collection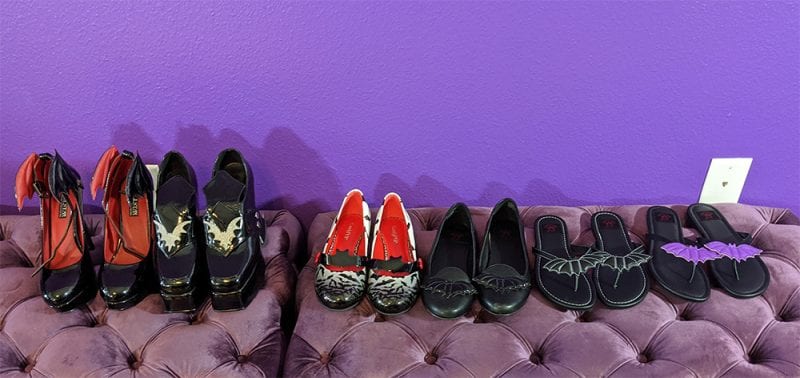 Here's my entire bat shoe collection. I really love the different styles I have. The only 'holes' in my bat shoe collection to me would be a pair of pointy toe bat boots and pointy toe bat heels.
What do you think of my bat shoes? Do you have any cute bat themed shoes? Which pair is your favorite?