Lovecore Fashion But Make It Goth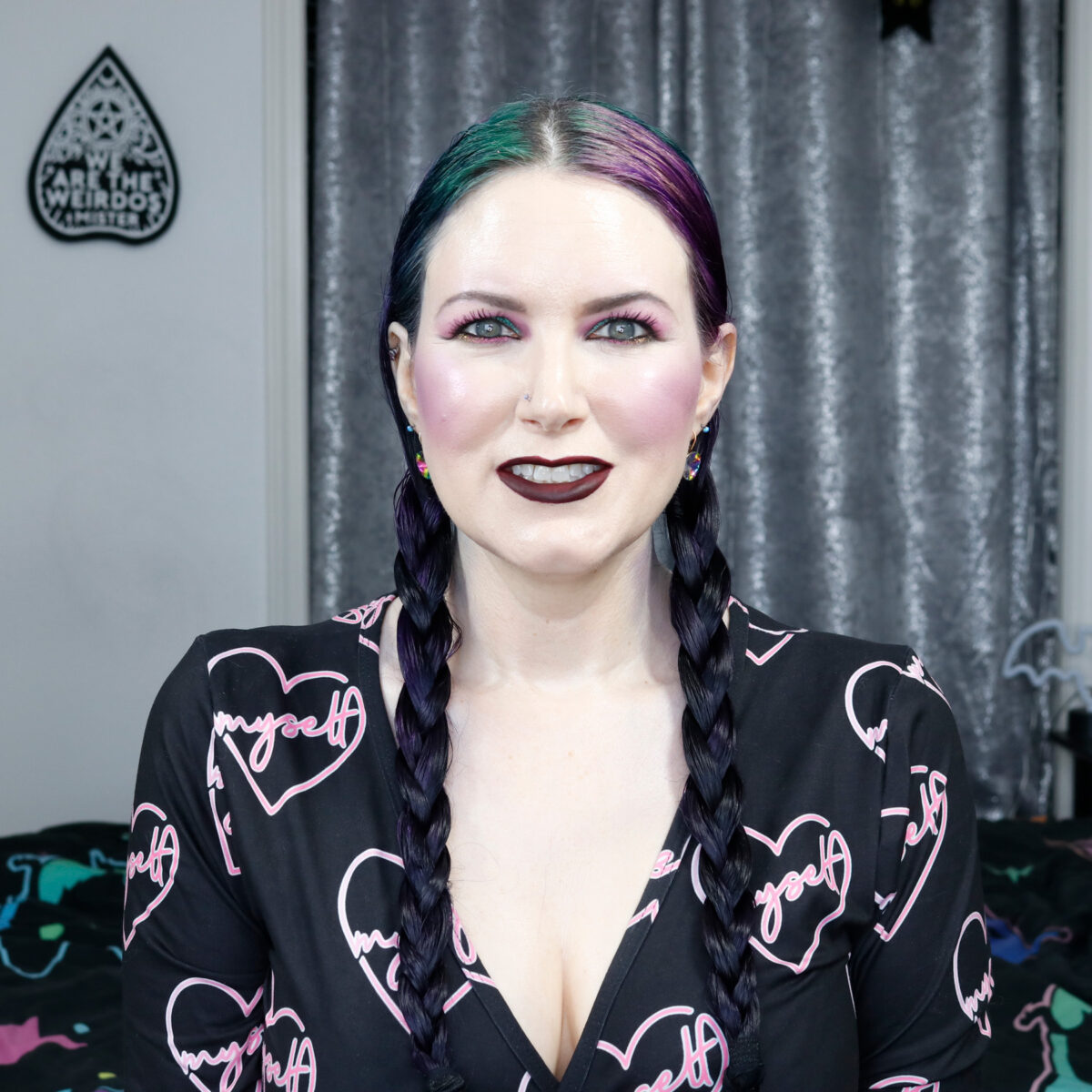 Hello, beautiful creatures! Today I'm talking about Lovecore fashion but make it goth. I'm sharing my take on the trend. As a romantic goth, Lovecore fashion appeals to me because I'm all about the romance!
How Did You Hear About Lovecore?
How did I hear about lovecore? Our magical bestie Carlye introduced us to lovecore when we were in Las Vegas. Carlye bought me a lovecore outfit to wear there, and I bought a dress to match an outfit of hers. Within my gothic wardrobe, I have several pieces that also work for lovecore.
What are the Elements of Lovecore?
The elements that make up lovecore are all romantic! It incorporates hearts, lips, flowers, polka dots, strawberries, cherries, and red and pink hues. I love roses in particular, so I have a lot of fashion pieces with roses on it. My Bunny Paige spiked heart necklaces and studded heart sunglasses work well for this aesthetic.
Purple Lovecore Outfit

This is the purple lovecore fashion outfit that Carlye bought me and she has a coordinating pink one. I'm wearing purple bell bottom jeans; I'm not sure where she found the heart club tops (maybe Shein). I'm also wearing a Foxblood goth cottagecore tie front top, which seems to have been discontinued. You might be able to find it on Poshmark or eBay. The heart sunglasses are by Bunny Paige and I've had them for several years.
Strawberry Heart Outfits


Dave and I bought these strawberry lovecore fashion outfits to match Carlye's outfit. My strawberry heart dress is from Romwe (I do not typically buy from Romwe, Shein, SheGlam, etc for various reasons). Hot Topic has a lot of cuter strawberry dresses that have pockets. I especially love this black strawberry glitter dress. Dave bought this strawberry outfit.
Yes, Dave and I love to coordinate outfits. I'm grateful to have a partner who wants dress up for any occasion.
Demi Loon Pink Cherry Pie Top

I love Demi Loon tops and earlier this year I saw this pink cherry pie top, so I stepped outside my comfort zone into lovecore fashion and bought it. I also have a few of their gothic pinup tops and slashed tops. Pictured here with my Bunny Paige sunglasses, Bunny Paige spiked heart necklace, and Black Milk Black Pushi It Ponte cuffed pants. I wear a Demi Loon solid black top frequently because it goes with almost every skirt in my closet and looks great with pants.
Dark Roses Lovecore Gothic Fashion Outfit

When Dave and I went to St. Louis for his birthday, I brought one of my all-time favorite pairs of pants. These are my Black Milk Dark Roses cuffed pants. I fell in love with Black Milk's cuffed pants when I bought the Dark Roses print, which led me to pick up several more.. Above, I'm wearing the pants with my Blackcraft Cult Green Sinner crop top and my Blackcraft Cult Green Baroque Velvet Kimono (it's technically a haori, not kimono). This entire dark lovecore fashion outfit is made from staple pieces in my gothic wardrobe.
Heart Lovecore Gothic Fashion Outfit

Another of my favorite gothic lovecore fashion outfits features Black Milk Pink Gingham Hearts cuffed pants, Too Fast I Heart Myself wrap top and my Strange Cvlt Black Bat flats. This top is on sale right now for $10! Too Fast makes a lot of my favorite tops and my all-time favorite bat hoodie.
As much as I love the look of my Strange Cvlt Black Bat flats, I find it very difficult to break in their shoes. I'm a highly sensitive person, which sucks sometimes because I feel things that don't seem to bother other people. Strange Cvlt shoes don't ever seem to reform to fit my feet and feel more comfortable, they just remain stiff and  unyielding.
Final Thoughts

I love stepping outside of my comfort zone to try new things. I especially love when I can mix staple wardrobe pieces, like my Black Milk cuffed pants, with different tops to try a trend.
Do you like lovecore fashion? Or cottagecore? What fashion are you drawn towards right now?
More to See