Hello, beautiful creatures! Today I'm sharing some alien festival fashion wear with you! I love all things space related, from Star Trek to Mars Attacks! Thanks so much to Hot Topic for sending me this shirt. See the outfit in action in my Instagram reel!
Festival Makeup I'm Wearing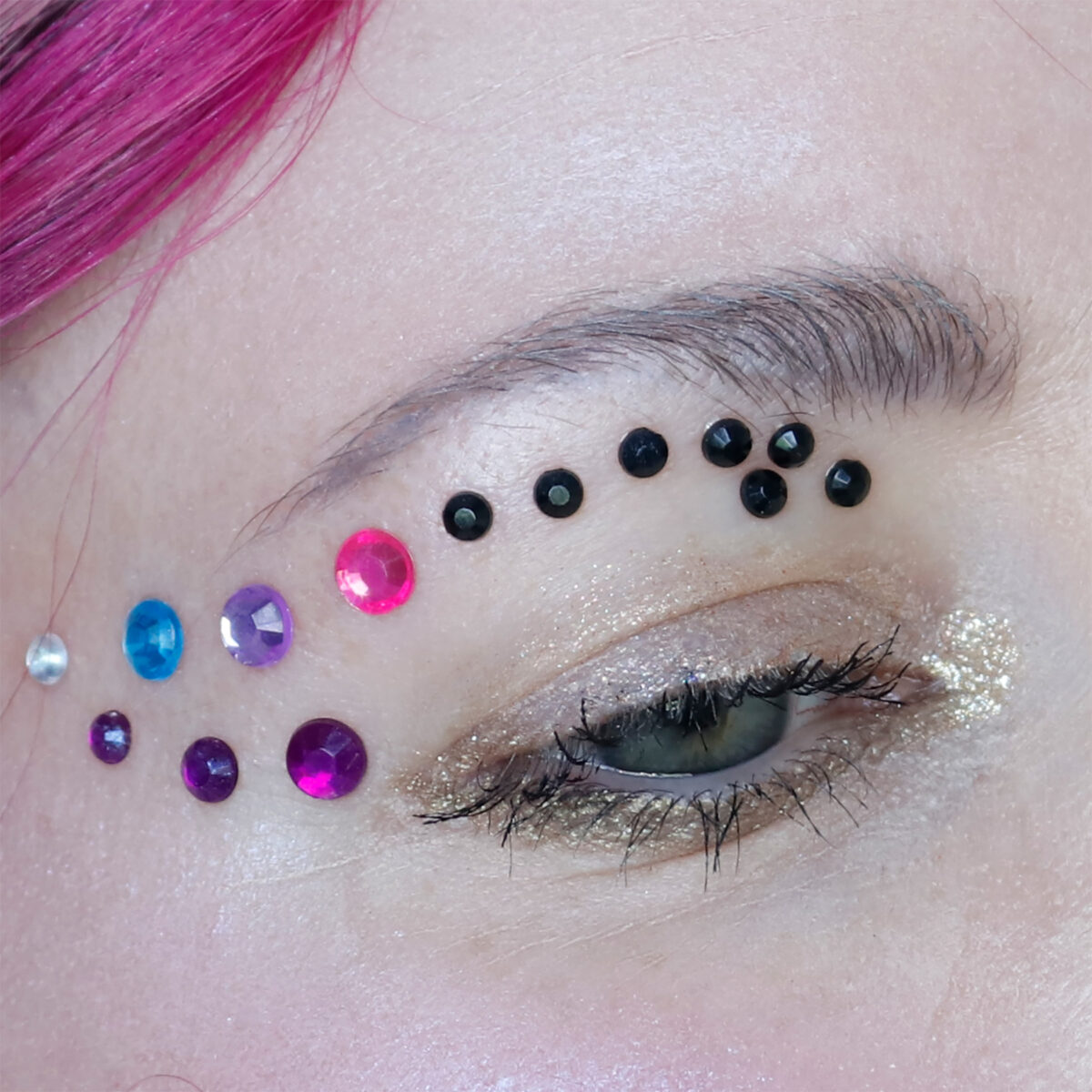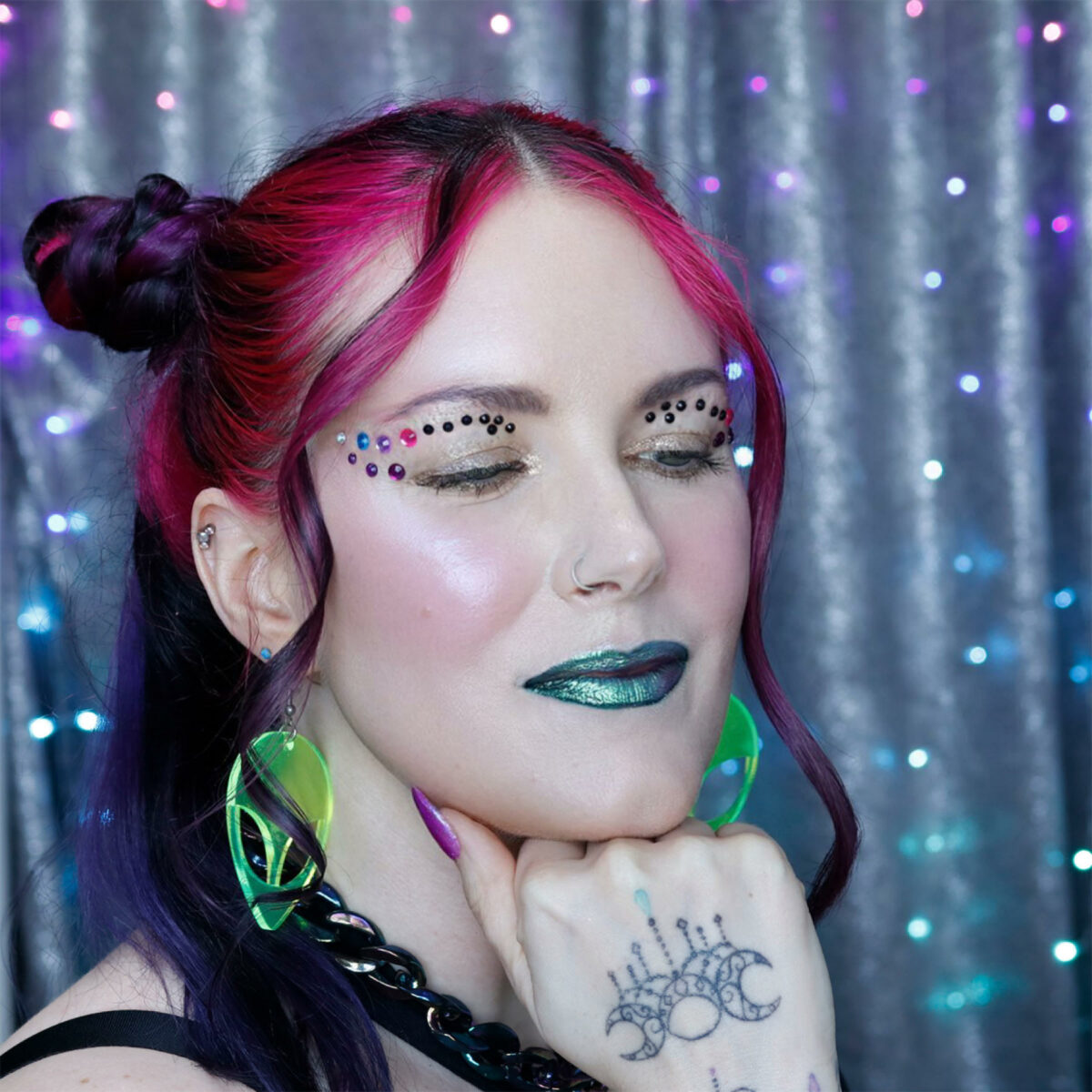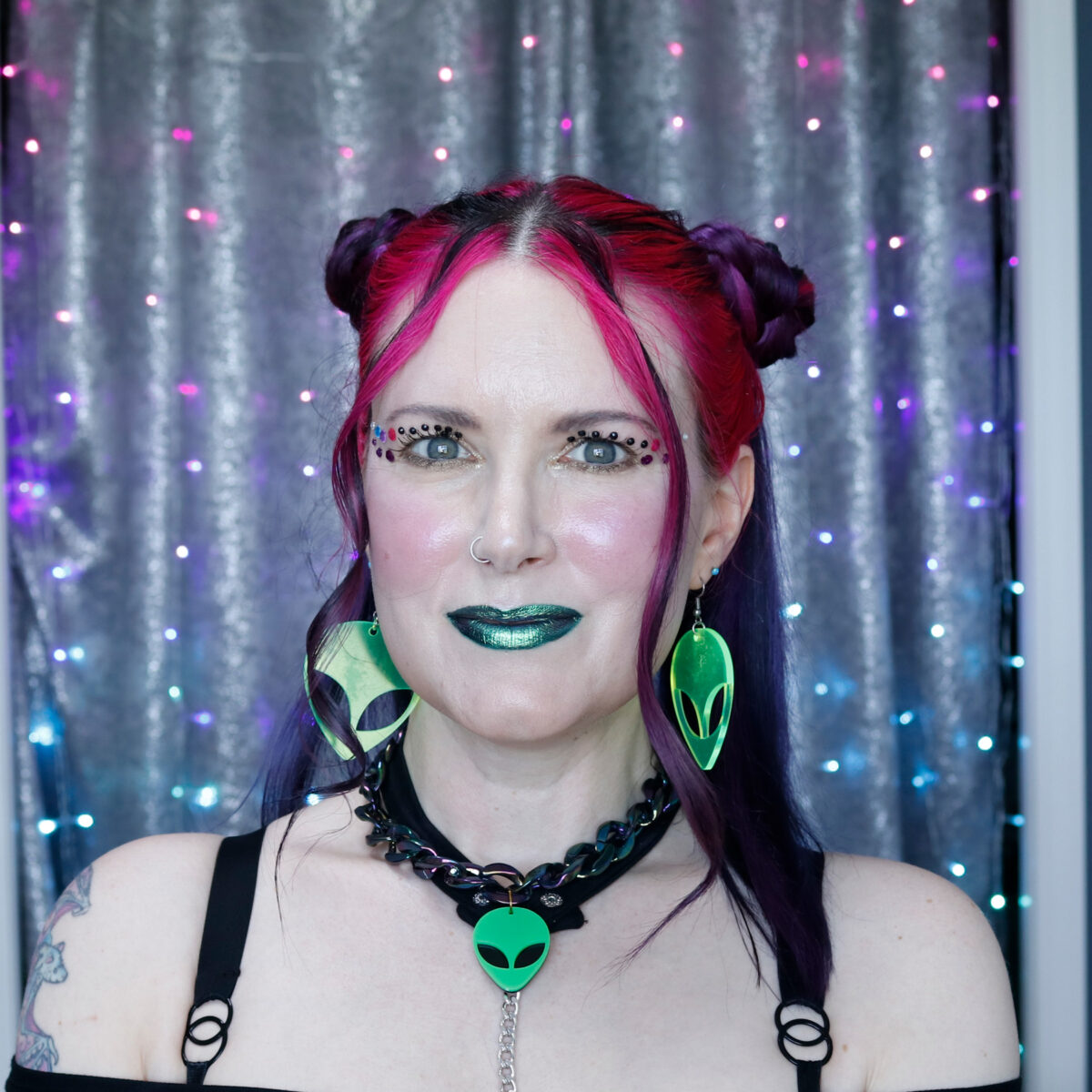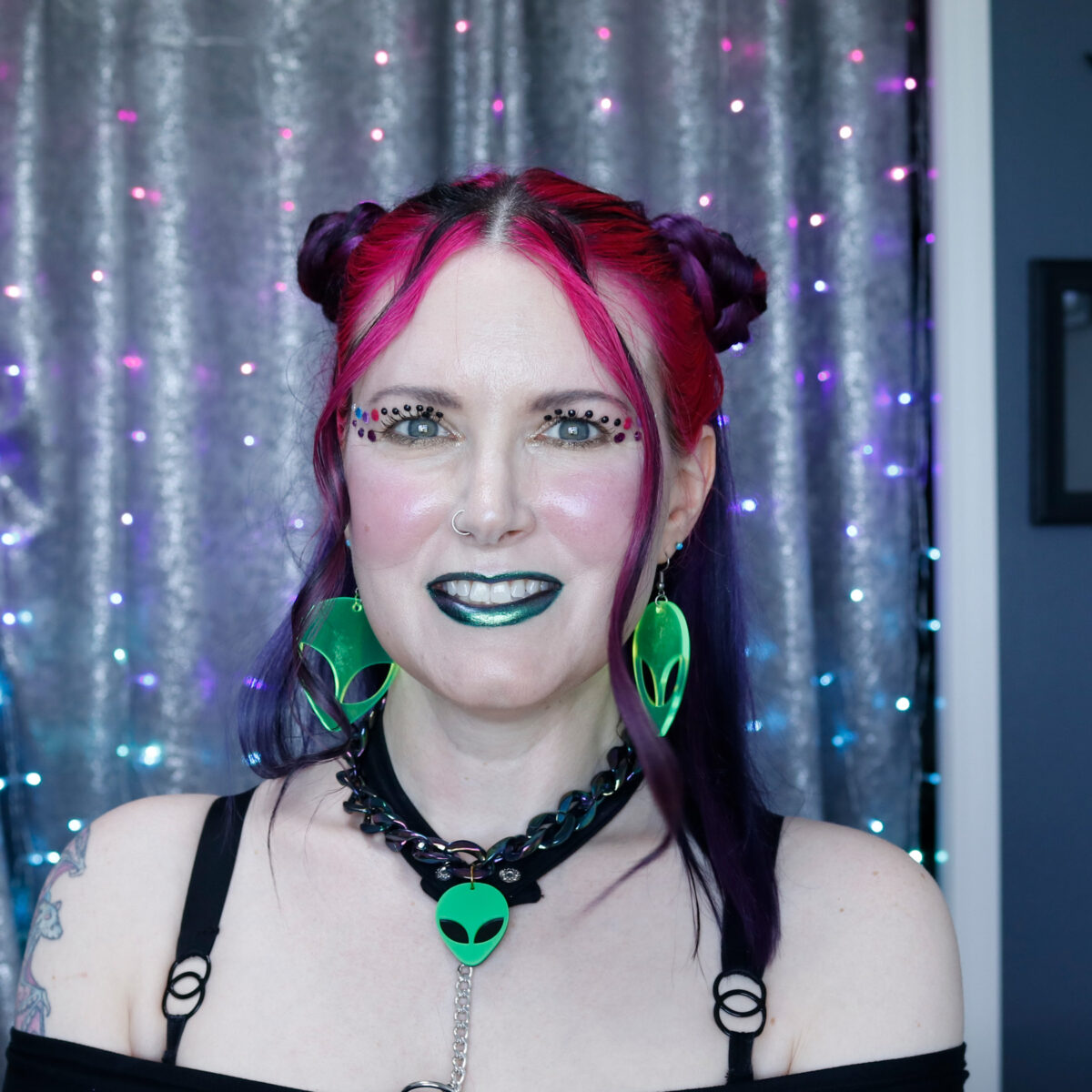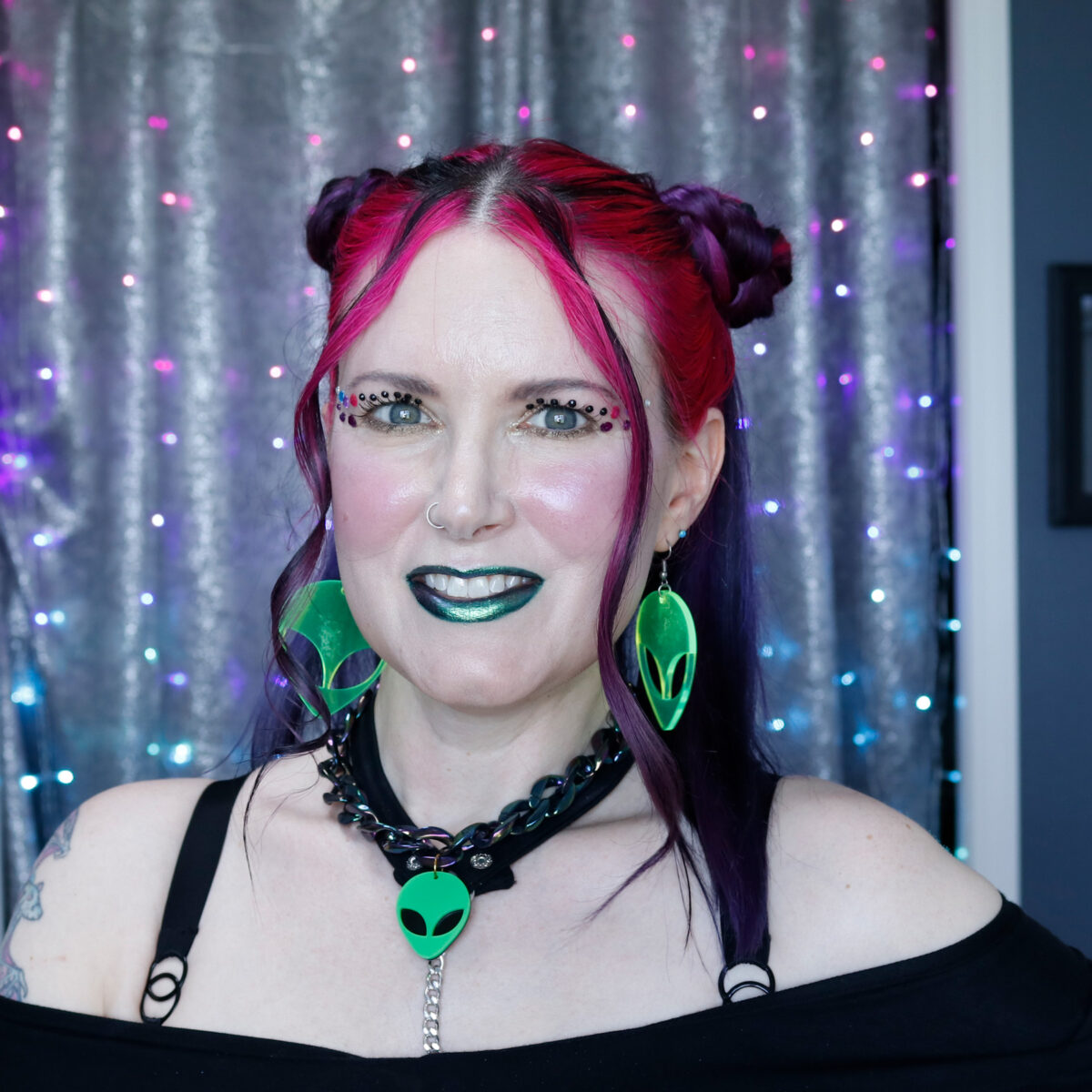 BROWS
Nyx Cool Ash Brown Thickening Brow Gel
EYES
Urban Decay Eden Eyeshadow Primer
Self-adhesive Face Gems
Half-Magic Lil' Beast – lid
Urban Decay Reflect 24/7 pencil (d/c try Stash) – lower lash line
Half-Magic A.S.M.R. – inner corner
Eyeko Lash Alert Mascara
FACE
Wet n' Wild Impossible Primer – forehead and nose
Wet n' Wild Glass Correct Primer – everywhere else
Danessa Myricks Yummy Skin Blurring Balm Powder in Shade 1
Beautyblender Bounce Skin Tint in Shade 1
*Silk Naturals Phaedra cream blush
Half-Magic Spiritually Complex blush
Copacetic Water Rabbit highlighter
Patrick Ta Major Sculpt Crème Contour & Powder Bronzer Duo in She's Statuesque
Silk Naturals Meld Powder in Light
LIPS
KVD Lemmy pencil
Melt Muse liquid lipstick
Karla Chill loose eyeshadow
*denotes PR
I put together a Bisexual Pride festival face gems eye look, which I need to do more often. Self-adhesive face gems are a lot of fun!
For my festival hair I channeled classic anime girl vibes. I divided it into 2 high ponytails. Then I braided the hair about halfway down and looped it over to create a bun, fastened the bun in place with 2 bobby pins, and let the rest fall down to my shoulders.
Alien Festival Fashion







*denotes PR
Festival Fashion Talk

Most of the time I size up when I buy a crop top to make sure that I will feel comfortable in the top. In this case, I should have stuck with the smaller size because of the way this alien crop top has a detachable choker collar and there's a little too much extra chain for my taste. Regardless, I love the alien festival fashion top because it's so adorable! I bought it in size M and I should have bought it in S.
I try to make sure every skirt I buy has pockets because I am so tired of missing pockets. It's an understatement to say I was thrilled to find out that this little green skirt has pockets! The double lace up detail is extra cute.
I found the alien iridescent chain necklace on Etsy and it looks great with the oversized alien head earrings from another etsy seller. The squishable liquid alien purse was too cute to pass up. I love how the bag is filled with alien heads, space ships, and stars.
I've been thrifting shoes from Poshmark lately, in my goal to add more multichrome and iridescent color to my wardrobe. These green-gold multichrome shoes I found are much loved. Another great place to check for festival fashion shoes would be Dolls Kill.
How do you feel about alien festival fashion? Is Alien Core a thing now? What's your favorite festival fashion?
More to See