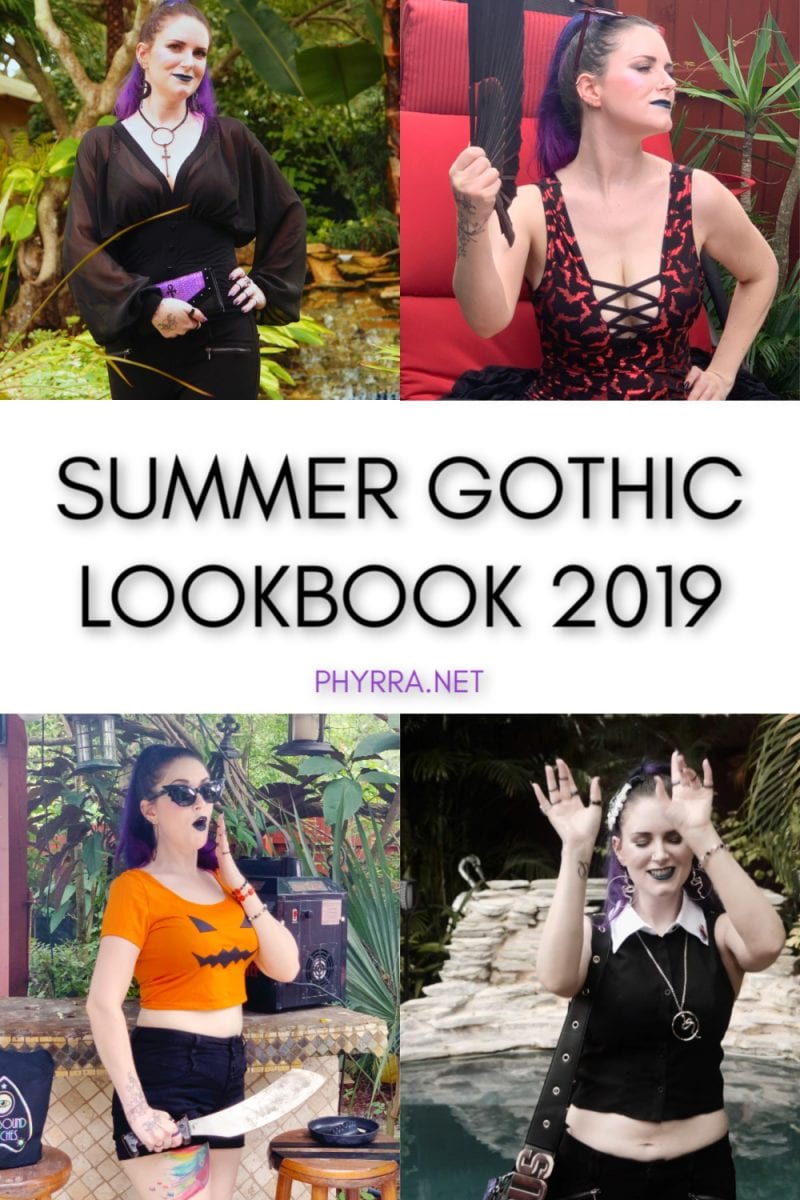 Today I'm thrilled to be presenting my Summer 2019 Gothic Lookbook. I know summer is almost over for us in the USA but it's just about to begin for my friends in Australia and New Zealand, so I hope this will still have appeal! I included many of my gothic wardrobe staple pieces that I wear all the time. In fact, I was joking with a friend that if you went to Dragon Con you saw about half of the items I featured in this video!
Purchased by me.
Summer 2019 Gothic Lookbook Video
Please share!
Summer 2019 Gothic Lookbook Notes
I did my own hair and makeup for this video. My gorgeous purple gothic dream hair was made possible by Cliff Frias, my hair stylist, and Oz from Fabuloz Hair Extensions. My lovely lashes are by Thisha from Totally Polished. My amazing nails are by Diamond from Dazzling Diamonds & my nail wraps are by Espionage Cosmetics.
Many of the pieces featured in this summer gothic lookbook are from Spellbound Stitches, my friend Carlye's company. Carlye and her partner Gloria make cosplay, horror and gothic fashion for people of all sizes and genders! You can find them at Spellbound Stitches and Spellbound Stitches on Etsy.
I'm currently training with my friend Tania of Liftcraft Fitness to be stronger, more fit, and fierce! If you are looking for a new personal trainer, I highly recommend Liftcraft Fitness. She offers personalized virtual training & she travels around the USA. And did I mention she does hair? Learn more at Liftcraft Fitness.
A note on the photos, the photos were mostly taken by my friend Mike Darmanin and a few were taken by my friend Carlye. They have not been retouched other than for color or to resize the image. So all the lumps and bumps are my 41 year old body. My body is a work in progress. Anything with a note of gothic wardrobe staple next to it is a go-to gothic fashion piece for me. I did not put this note next to any of my jewelry, since jewelry is really individual flair and reflects my personal gothic style.
Credits:
Video – Thomas Crane from KillDevil Productions
Makeup & Hair – Courtney Nawara
Styling & Custom Fashion Pieces – Carlye Starr
Photography – Mike Darmanin & Carlye Starr
Music – Pond5
Too Fast Holographic Mermaid Retro Pin Up Bikini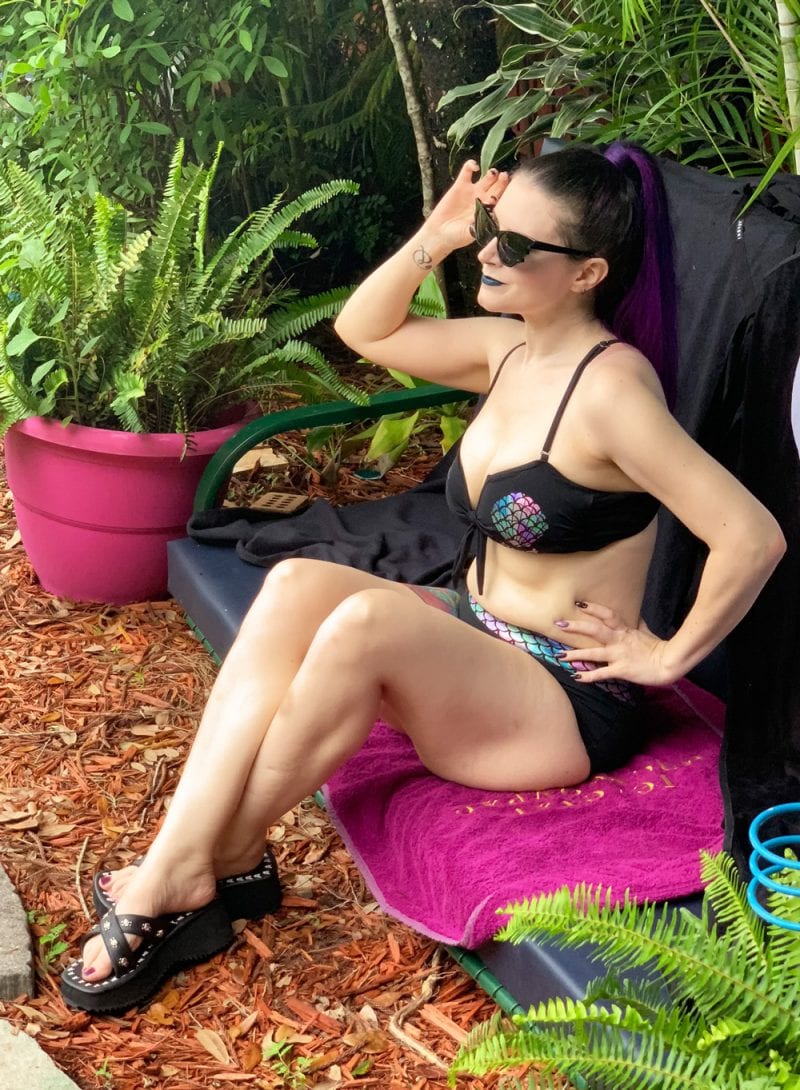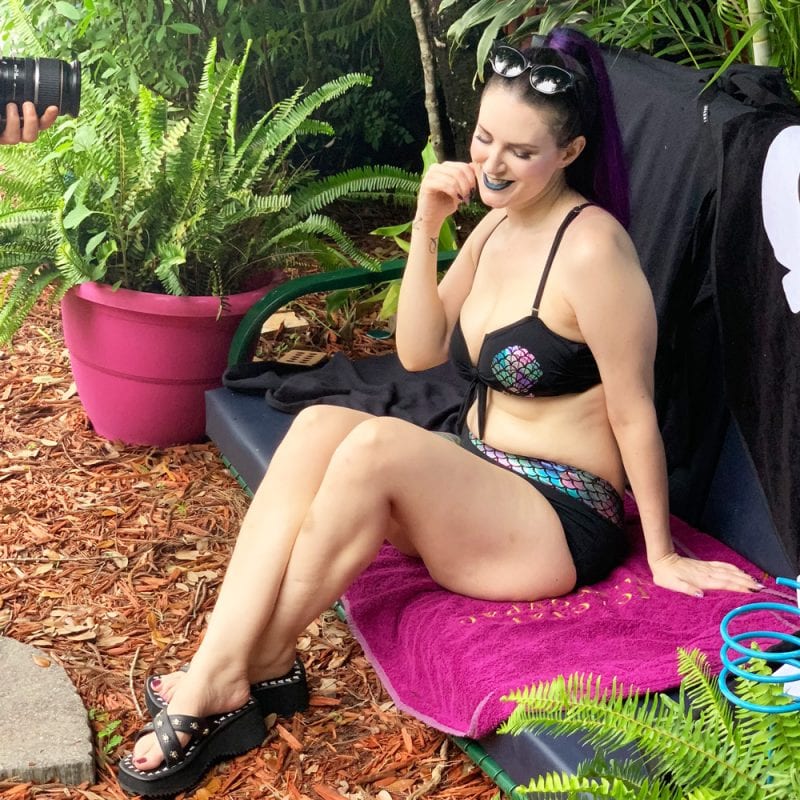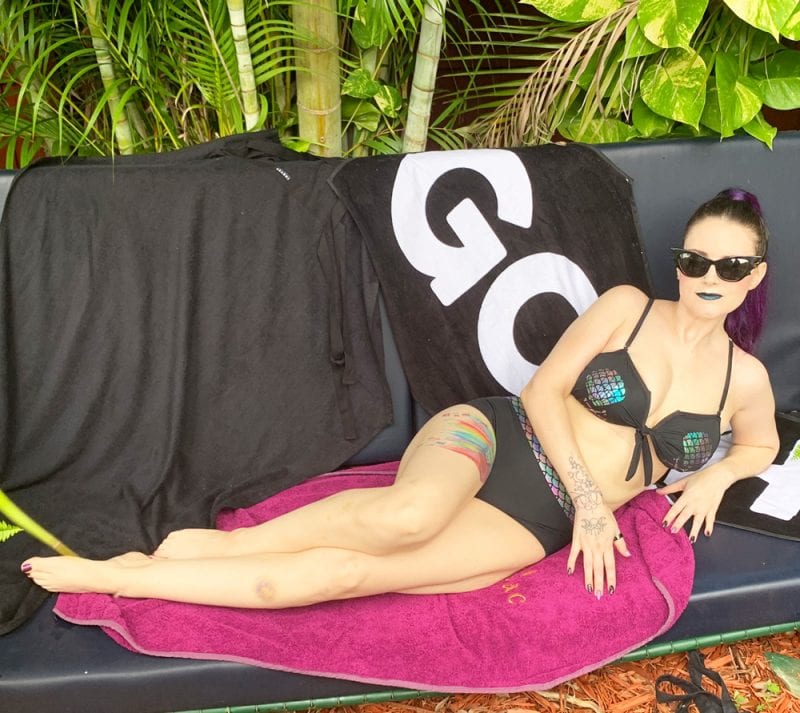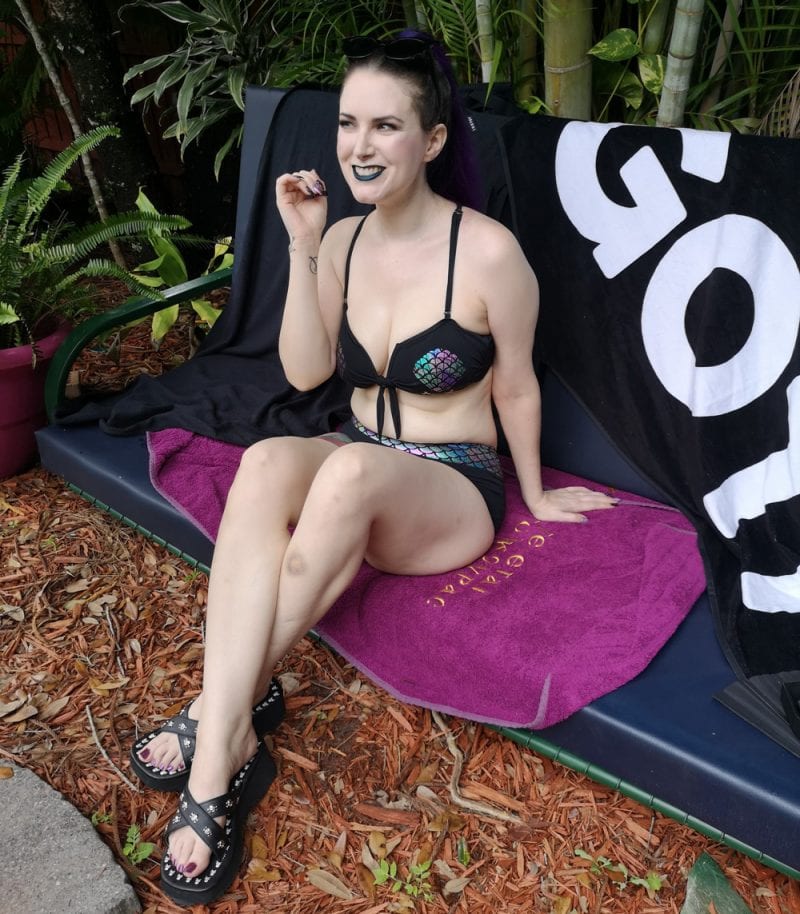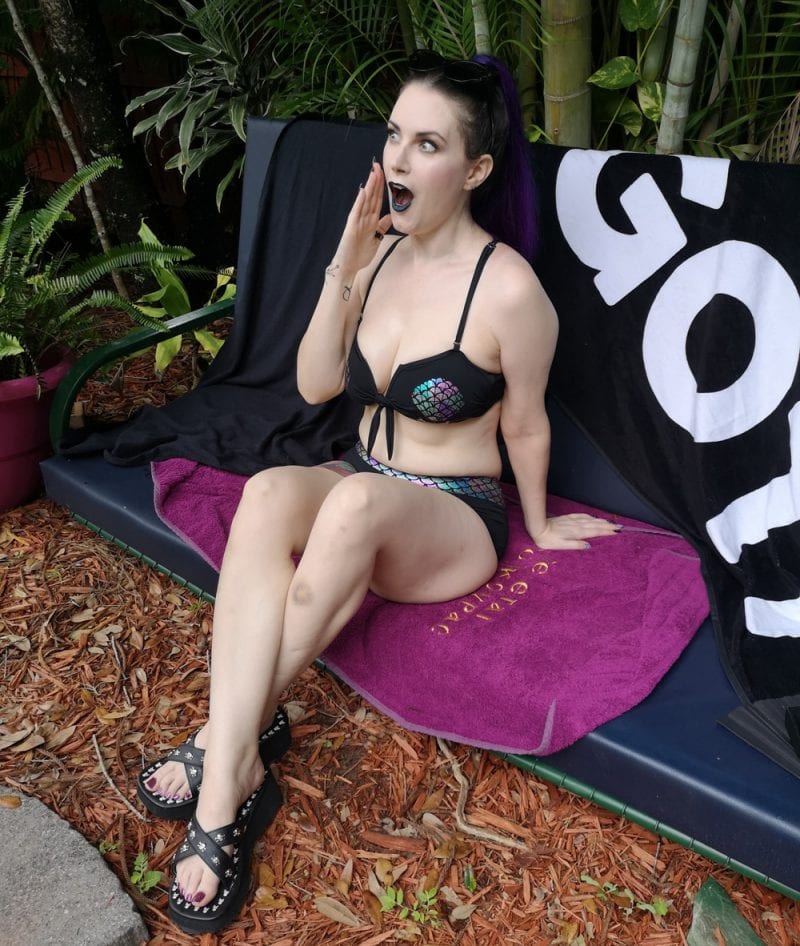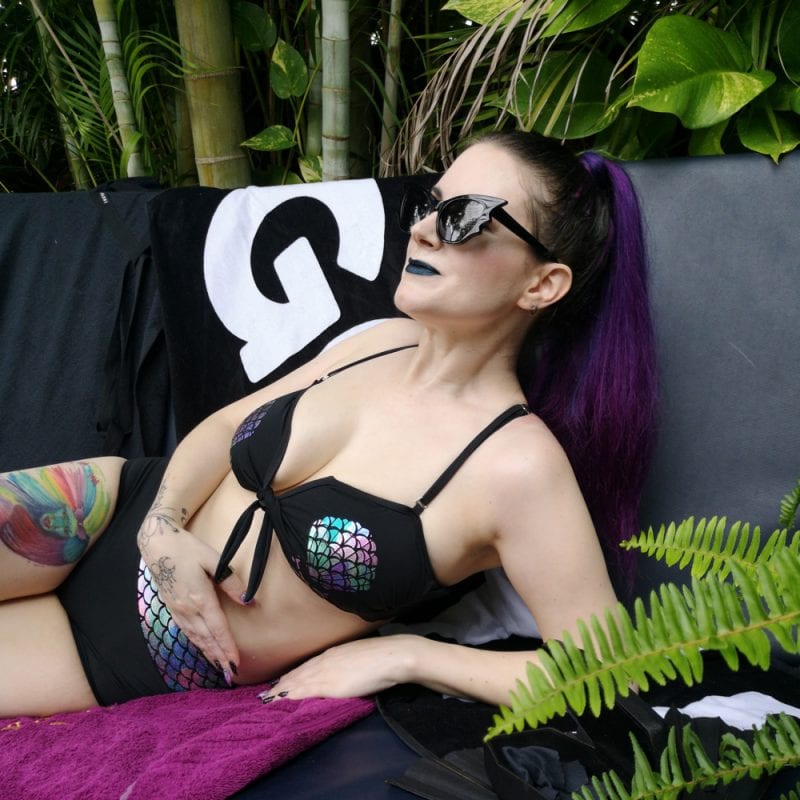 I chose this retro pin up bikini set because of the gothic mermaid vibes! I love holographic anything, so make it black and holographic and you've got my attention. This style is really cute! I'm a huge fan of the cute designs from Too Fast Clothing and the holographic mermaid Bikini Top & Bottom are gorgeous.
I bought 3 different coffin shaped towels because I wanted them for the beach. The purple one you've seen before because I've used it a few times. The Agashi Black Coffin Shaped Beach Towel is definitely the nicest of the 3 as it's a true beach towel and comes with carrying handles and attachments. The Blackcraft Cult one says Goth on it and is pretty basic but nice.
The Demonia Slide Skull Studded Sandals are super comfortable, casual and fun to wear! I own a lot of Demonia shoes and I've been hooked on the brand since the late 1990s – early 2000s thanks to goth clubbing. Learn how I became goth!
Sporty Gothic Bikini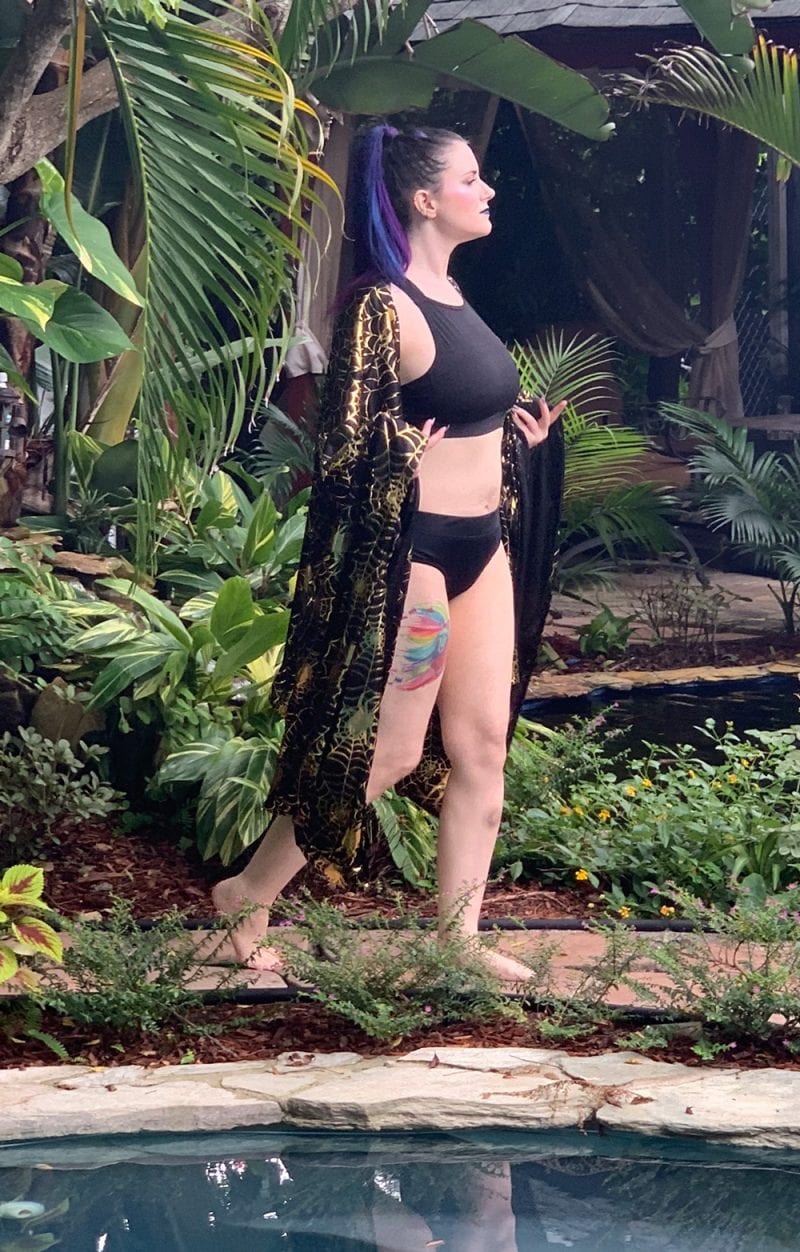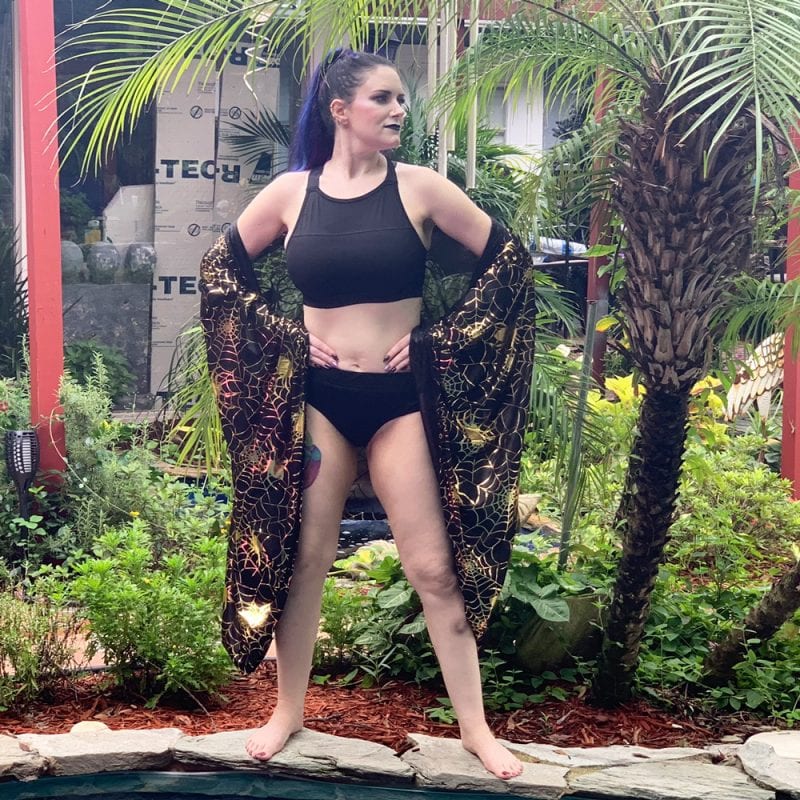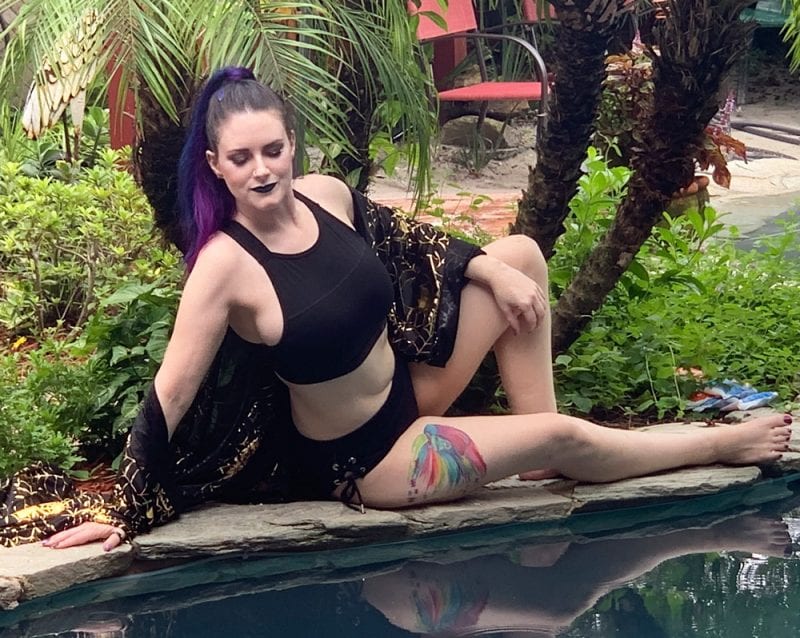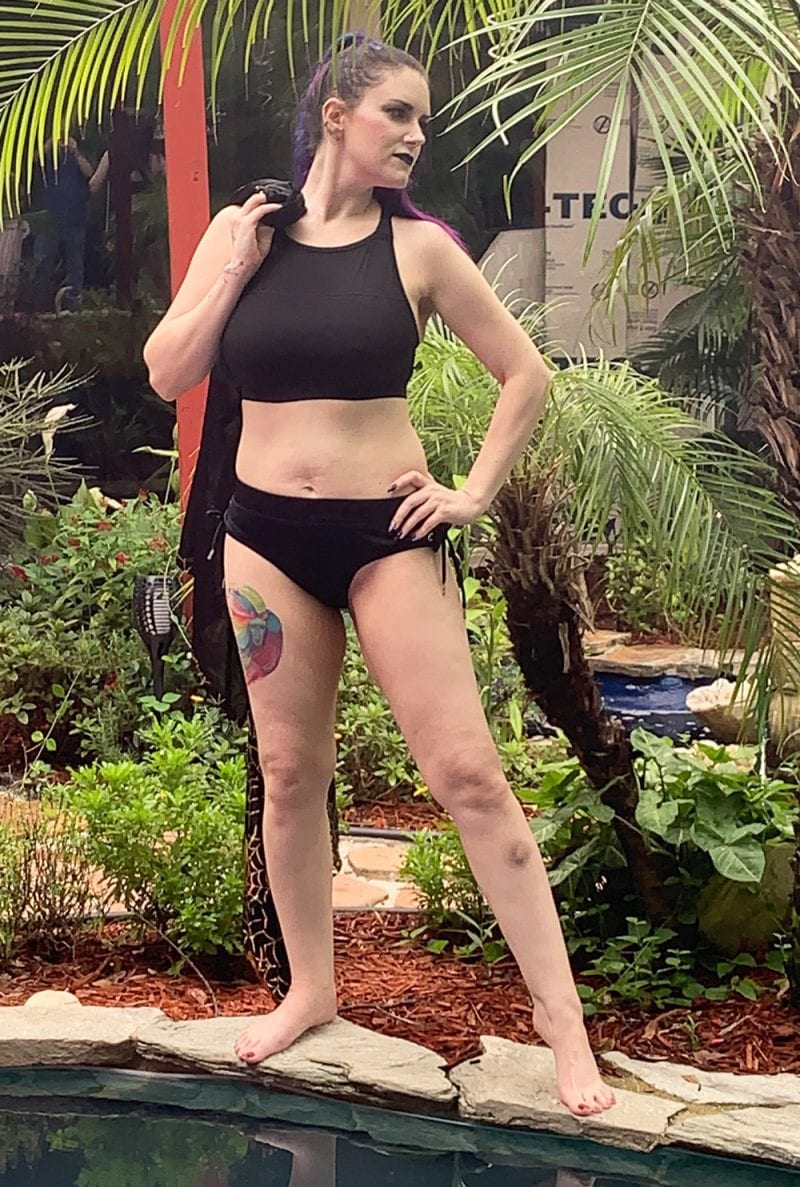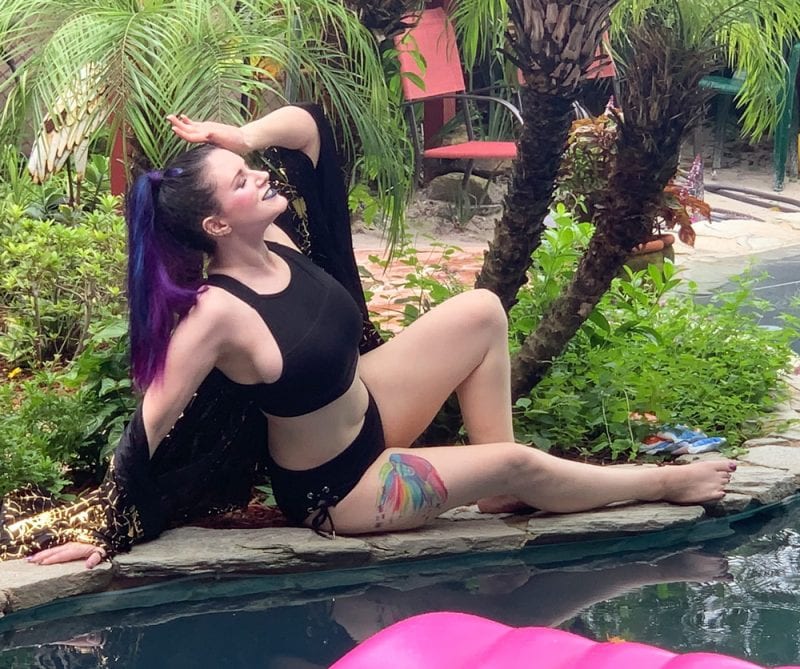 I guess I'm deep in #FitGoth life these days! This is the swimsuit that I wear the most because it's a sporty two piece. I can dive and play in the water in this set without worrying about a wardrobe malfunction. If you're extra chesty like I am (I currently wear a 30FF UK bra size), you'll love this top.
I've been hooked on the comfortable Tomboy X bikini panties, which is what led me to try something from Tomboy X's swim line. I love the Tomboy X Swim Halter Top and that it comes in pure black. The La Femme En Noir Black Trinity Side Lace High Waist Bottoms are actually a little big on me now but still feel quite comfortable and look super cute with the lace up sides.
You know I'm obsessed with my Spellbound Stitches Spiderweb Kimono! I featured it in my Chilling Adventures of Sabrina Gothic Lookbook too.
Lace Up Bats Swimsuit – Summer 2019 Gothic Lookbook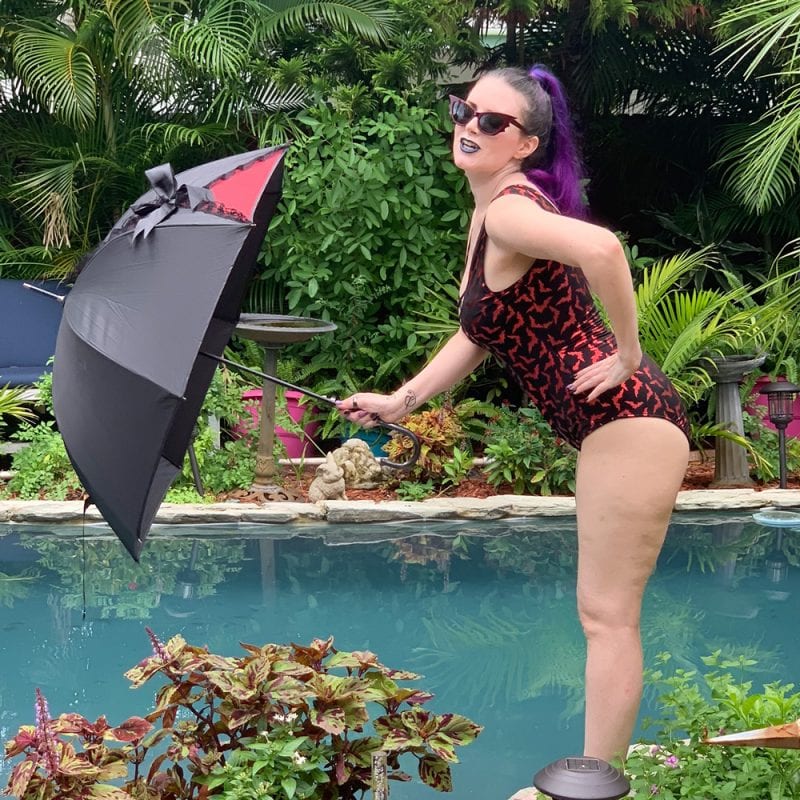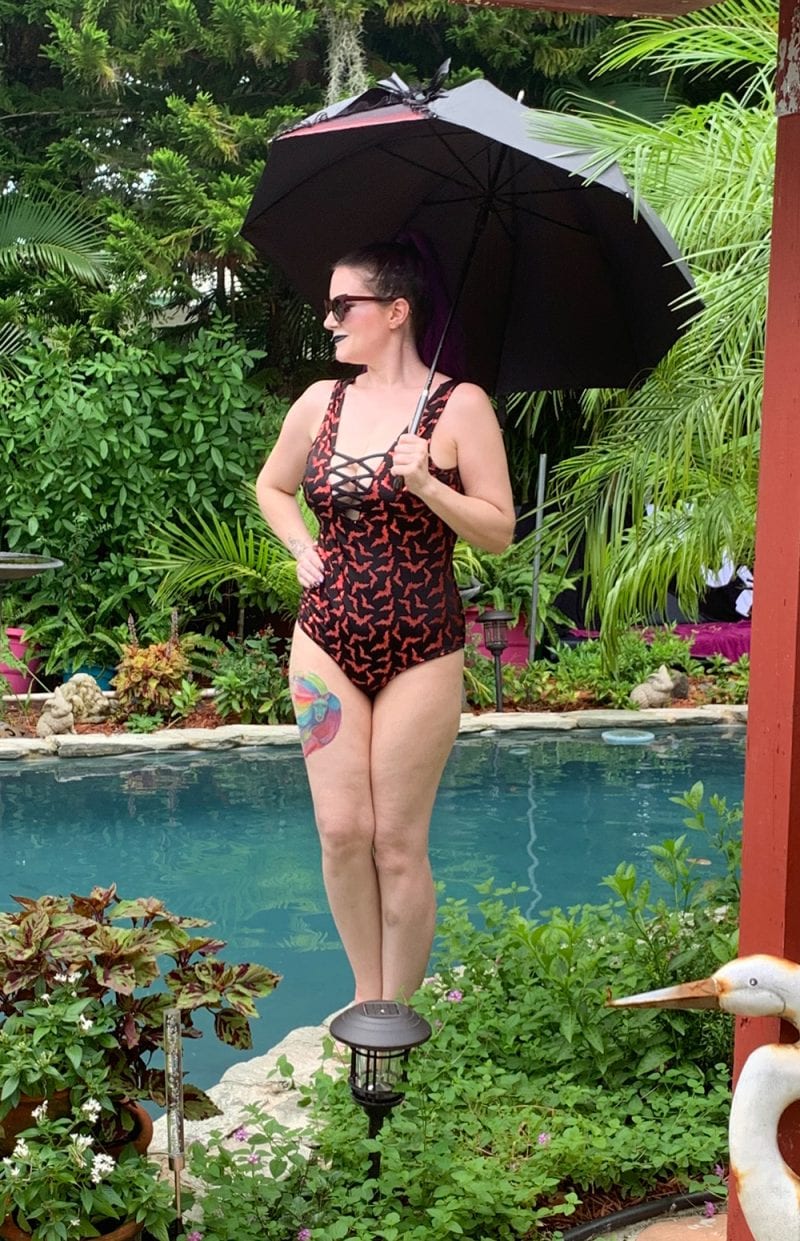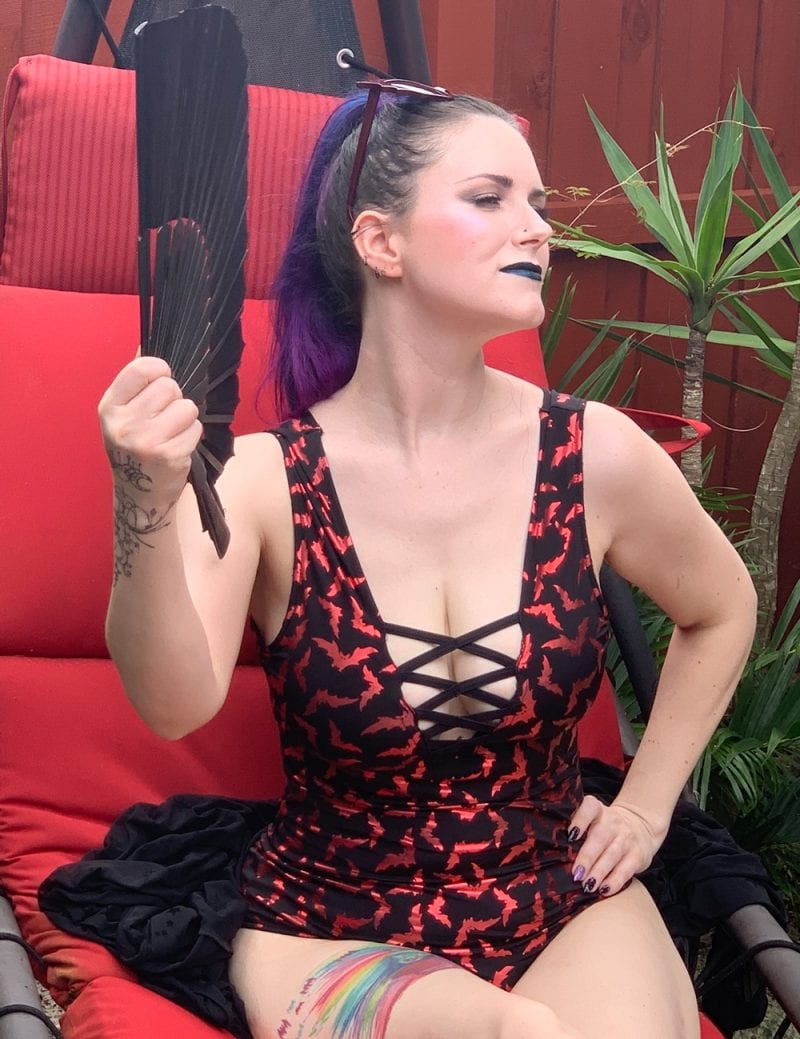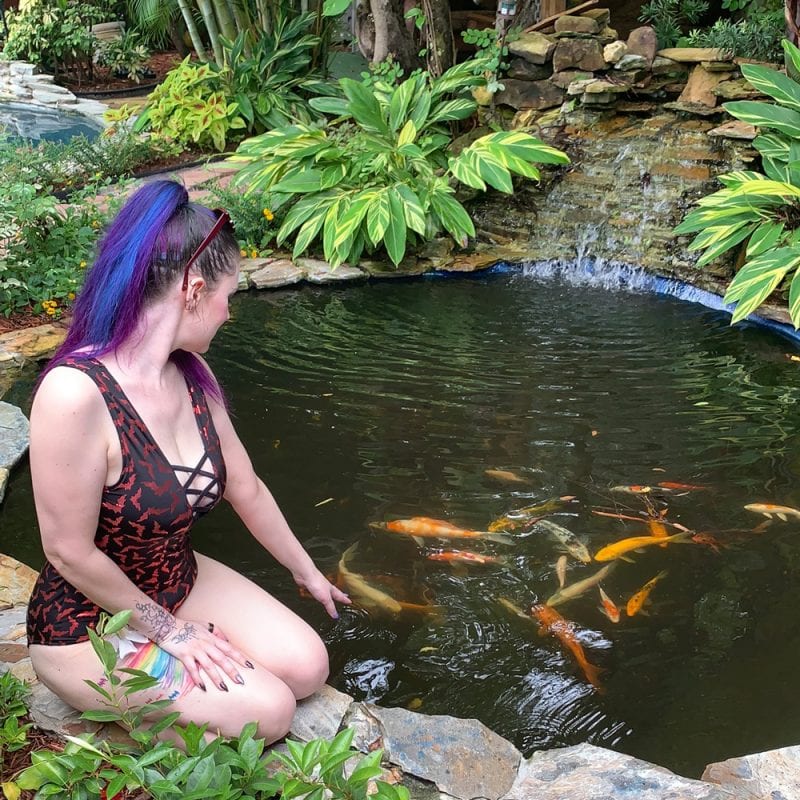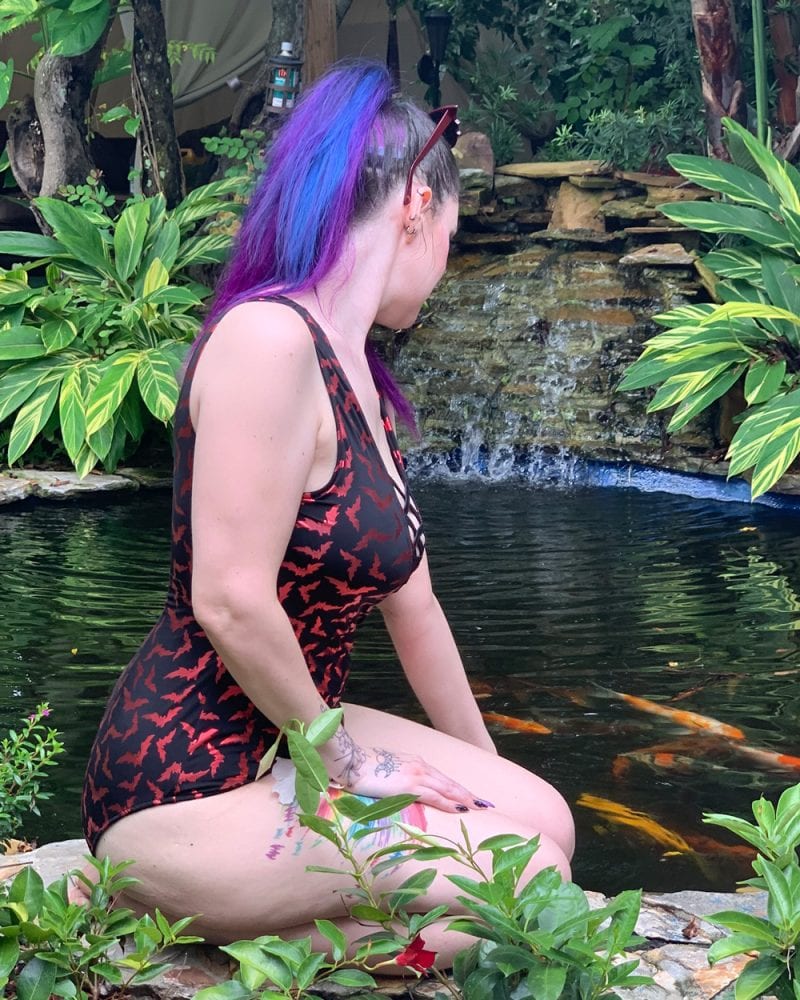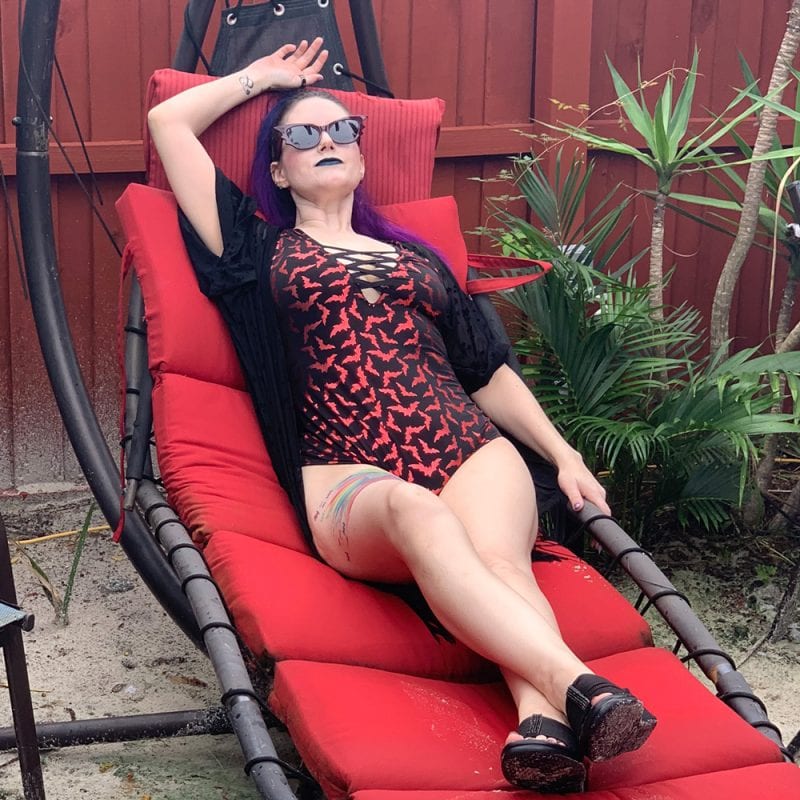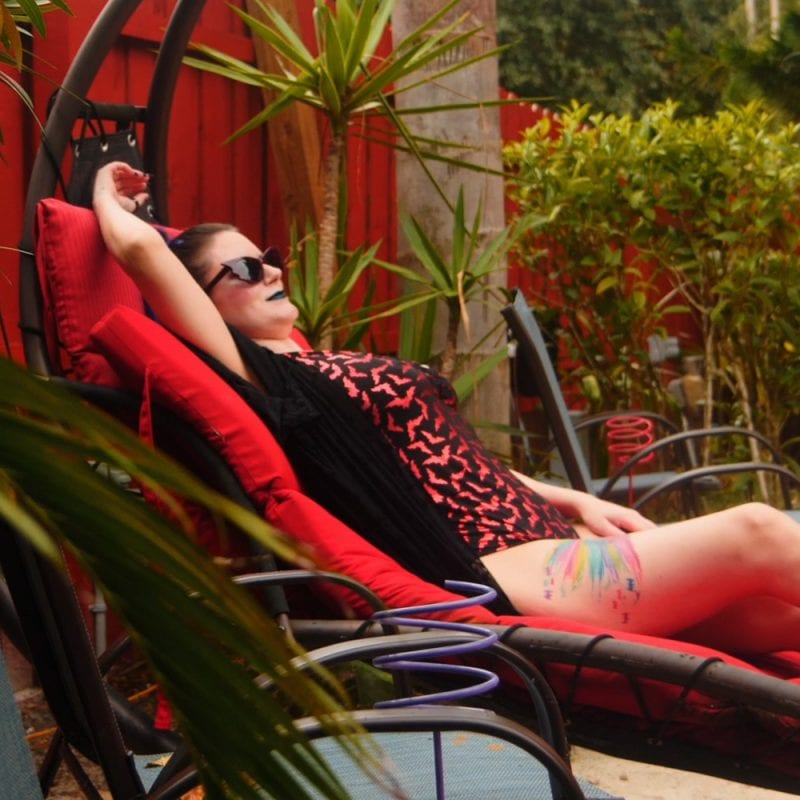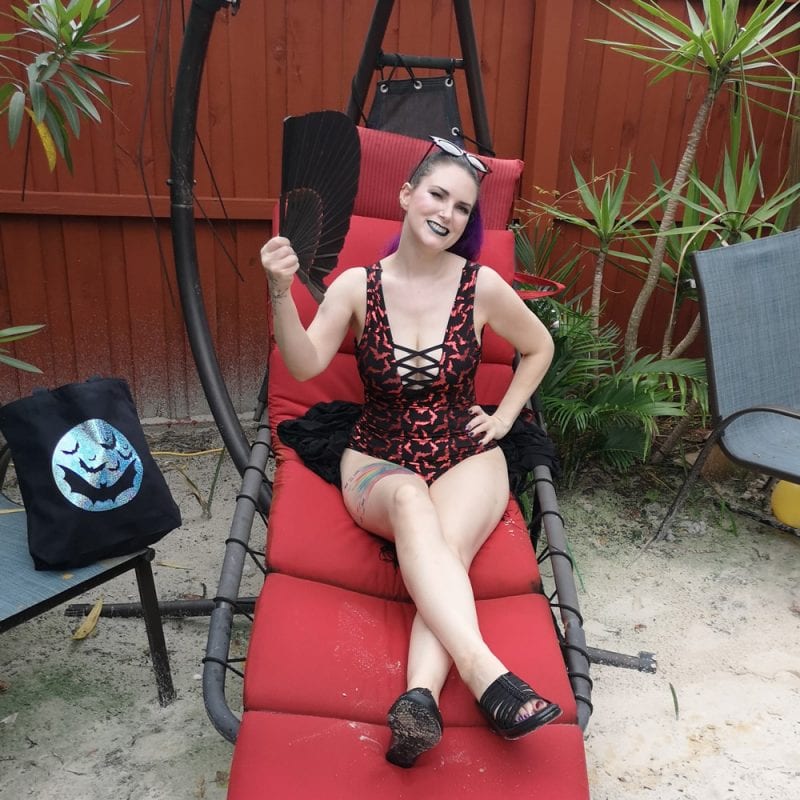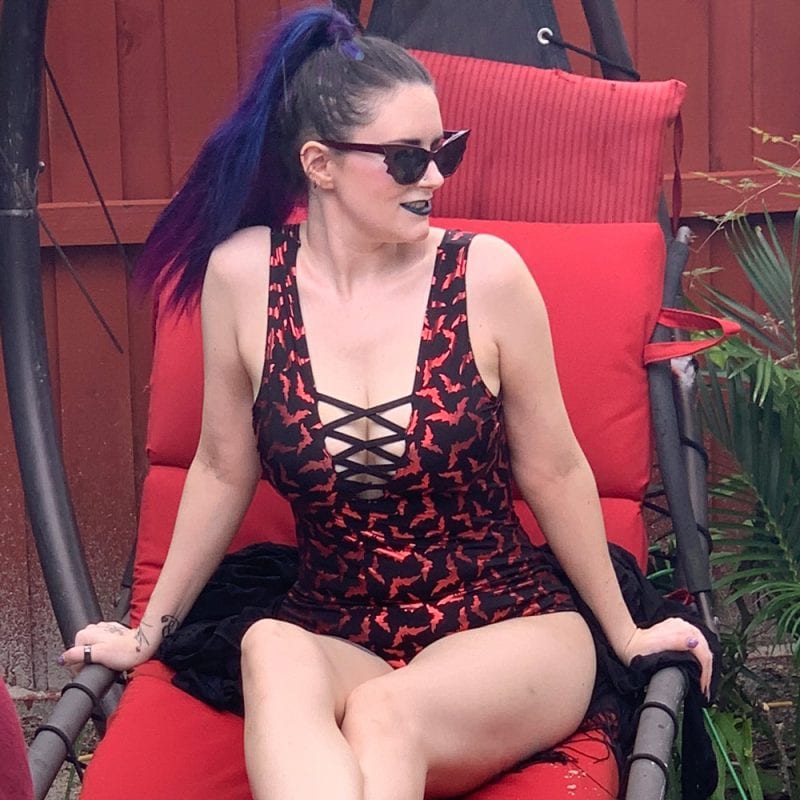 I wanted to include my favorite one piece swimsuit, the Vera's Eye Candy Red Lace Up Bats Swimsuit. First up, you know I love bats. Second, I adore the lace up design (I love lace up, which is why you see it featured frequently in my gothic wardrobe). Third, I know some of you only wear one piece swimsuits and I didn't want you to miss this gorgeous bathing suit!
My Cadmium Rose Star Gothic Witch Kimono with fringe is my staple wardrobe kimono that I wear the most. It's perfect for Florida summers because I can use it in place of a jacket when I'm in restaurants where the AC is freezing, but it's lightweight enough not to make me melt in the sun if I have it on while I'm taking a walk. I love the sheer star print.
I also wanted to share the La Femme En Noir Vamp Batwing Sunglasses. I love these and the black version and wear them all the time. The oxblood is such an unusual color, it's perfect with my burgundy and red pieces.
The Fancy parasol is a Florida Goth classic! I've legit seen people walking around with them on the street and at the beach. In fact, I saw lovely ladies with parasols walking around outside at Dragon Con too! Dragon Con is  convention spread out around Atlanta among several different hotels so you'll end up doing a lot of walking outdoors between the hotels.
Gothic Rings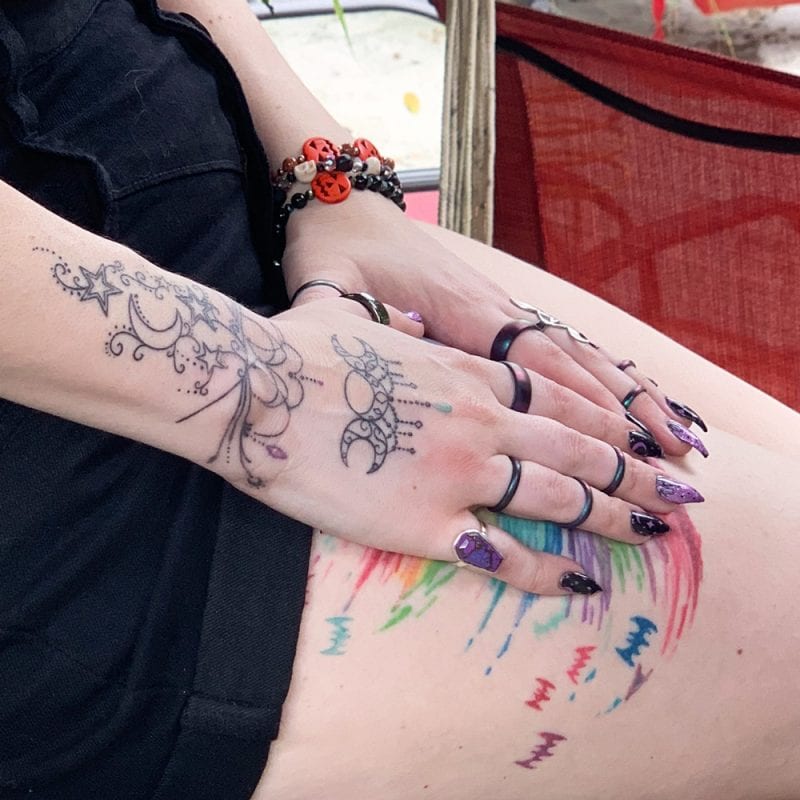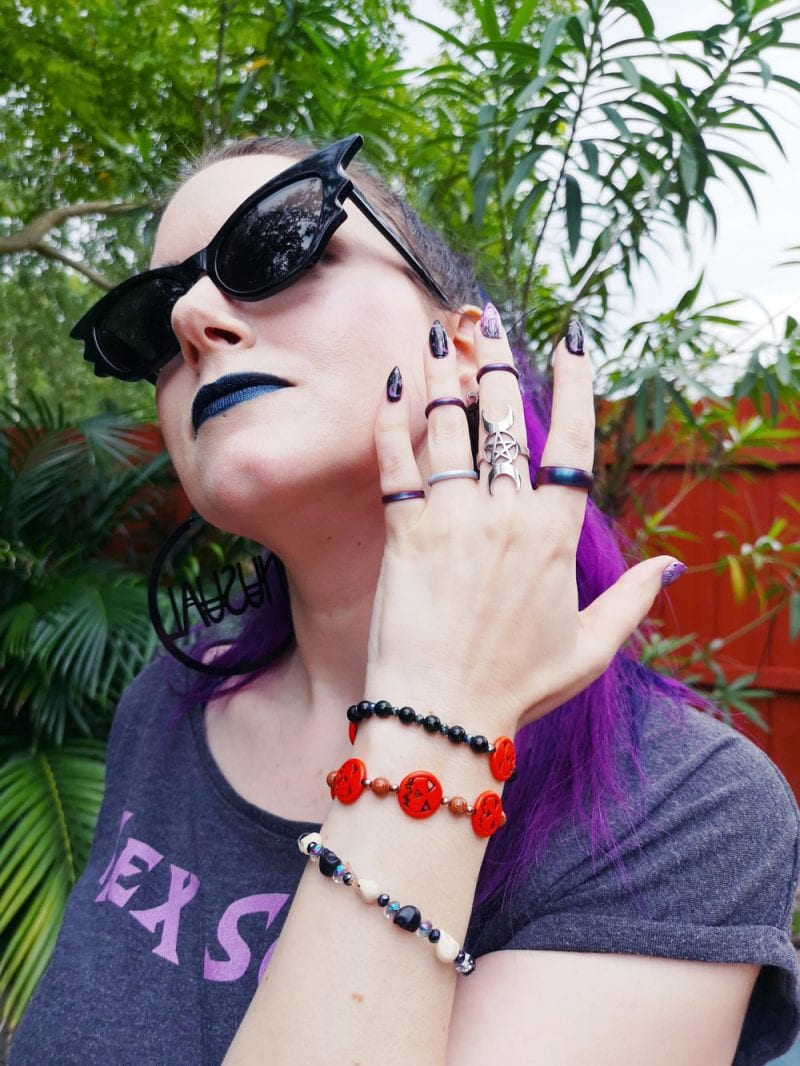 I wanted to include a few close ups on my new tattoos. The wrist / arm part I had done in July, while the hand piece I had done around my birthday. My thigh tattoo is from Valentine's Day this year. My inner wrist tattoo was my first one and I did it on New Years Eve.
The Killstar Trinity Ring has my favorite moon trinity symbol for the Triple Goddess – Maiden, Mother & Crone. People often think of the Maiden as the waxing moon and new beginnings, while the Mother is the full moon and power, and the Crone is the waning moon and endings, death.
You know I'm obsessed with my Enso Mermaid Rings! I have so many of them in various sizes. I love the black with purple to teal blue shift. I also have a white diamond and black pearl Enso rings.
The Purple Coffin Pinky Ring was a fantastic find on Etsy! I did end up getting it resized to make it smaller so it fits my pinky finger better.
I can't say enough nice things about my Oura Fitness & Sleep Tracker. It's the best waterproof fitness & sleep tracker! I love knowing that I walked 24k steps in one day during the convention.
I'm smitten with this adorable Spellbound Stitches Trick or Treat Bracelet Trio! It's perfect for Everyday is Halloween or Horror Couture.
Pumpkin Crop Top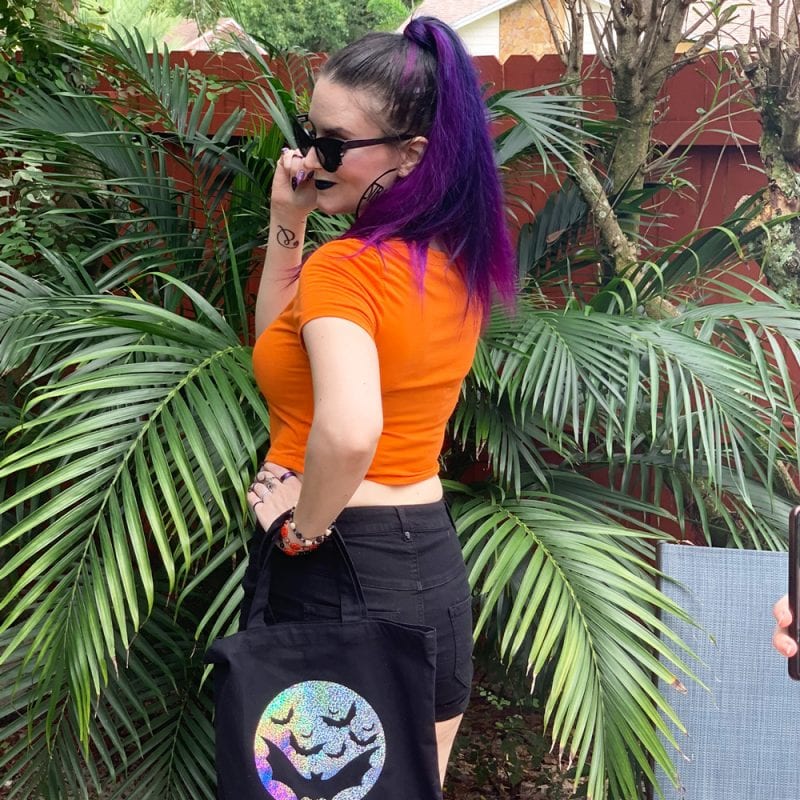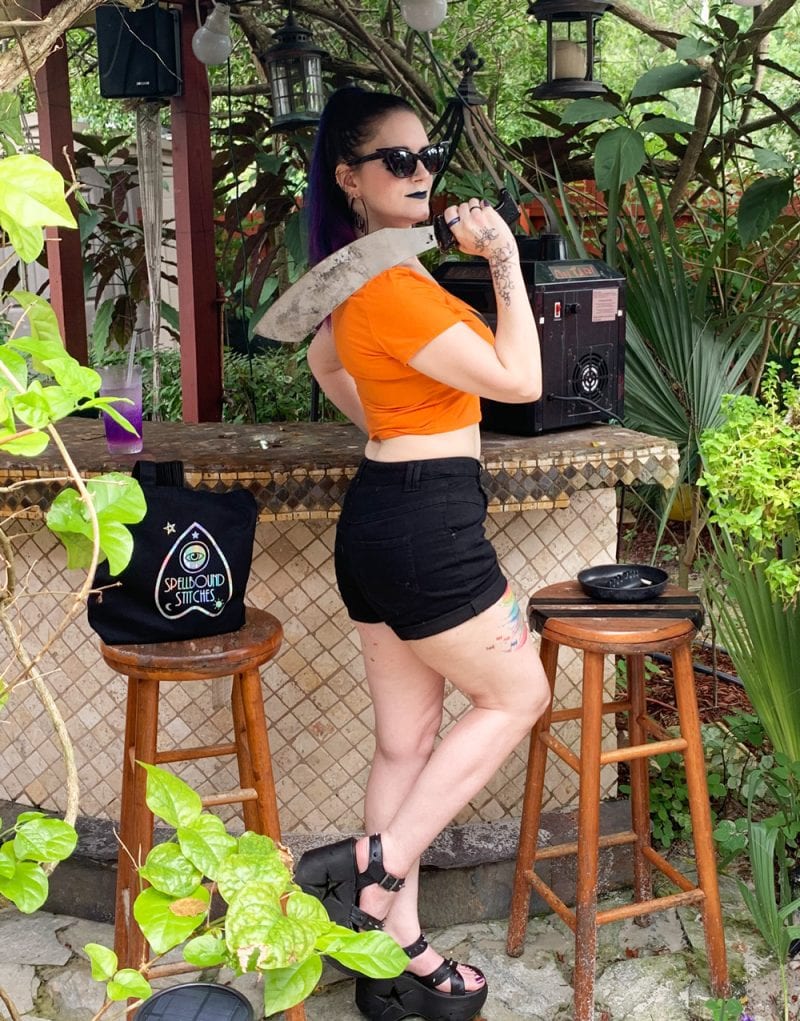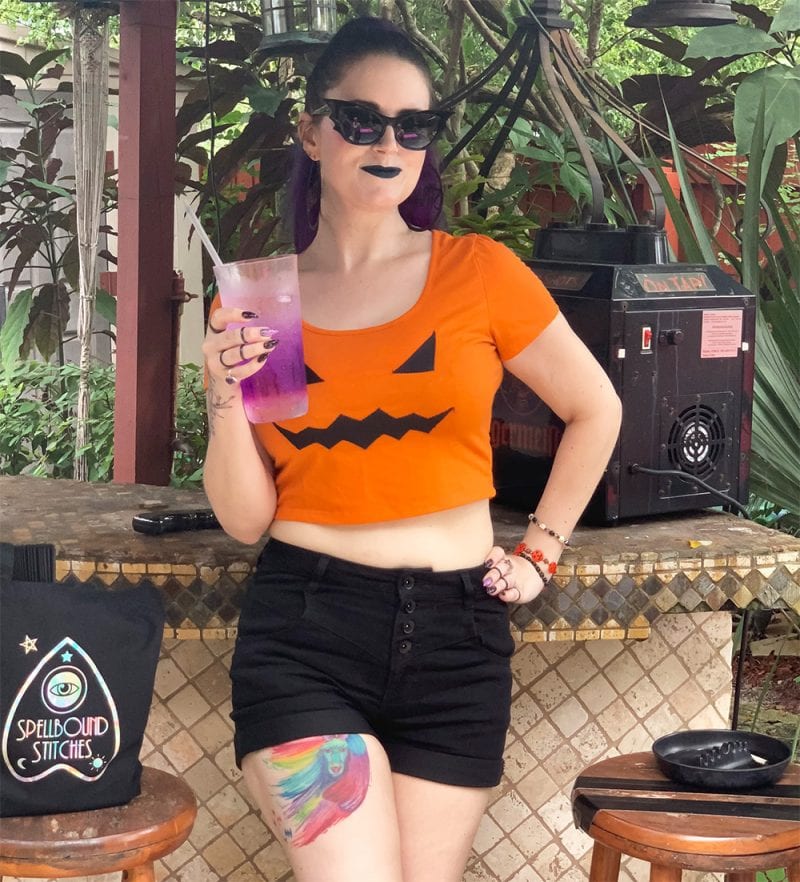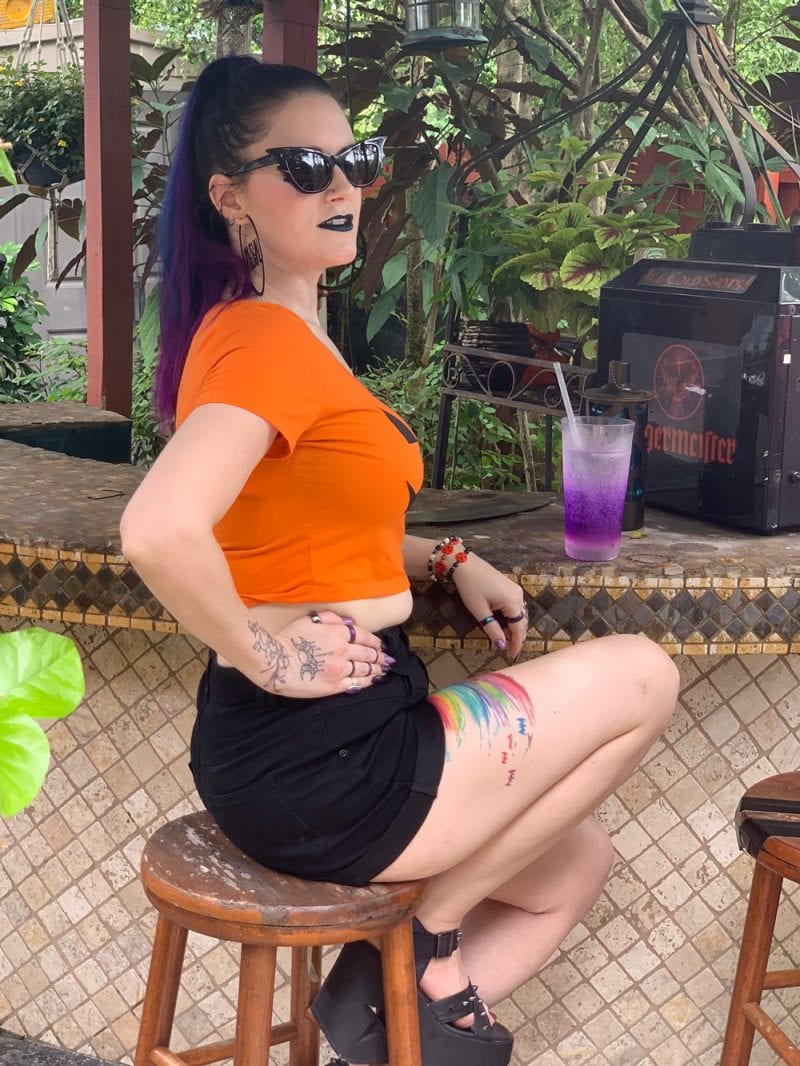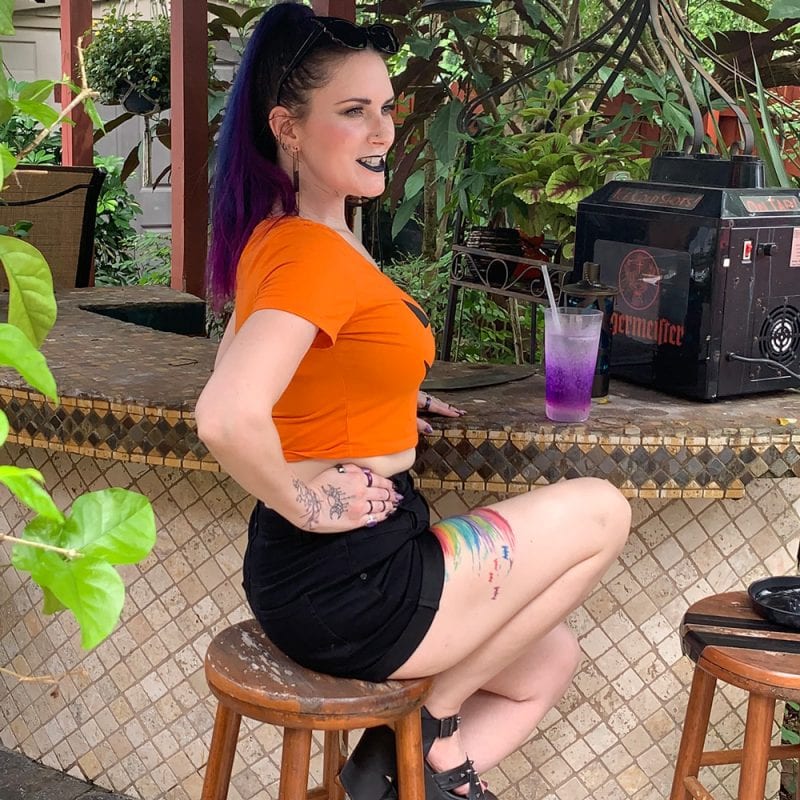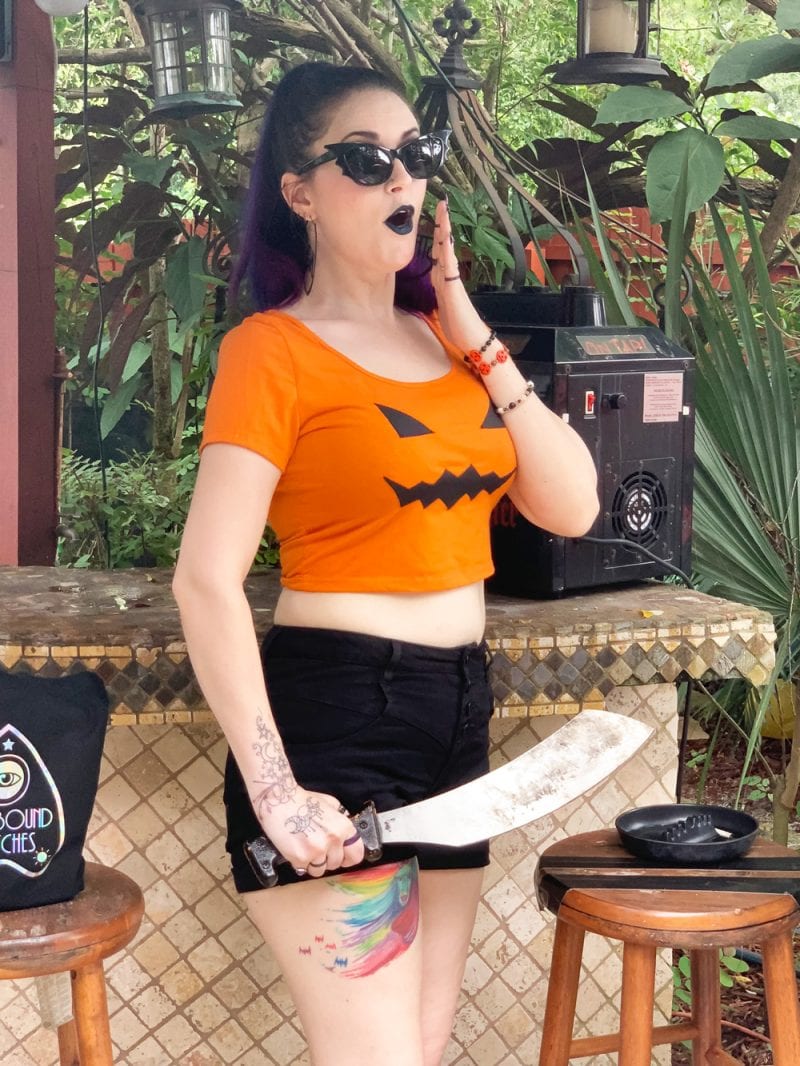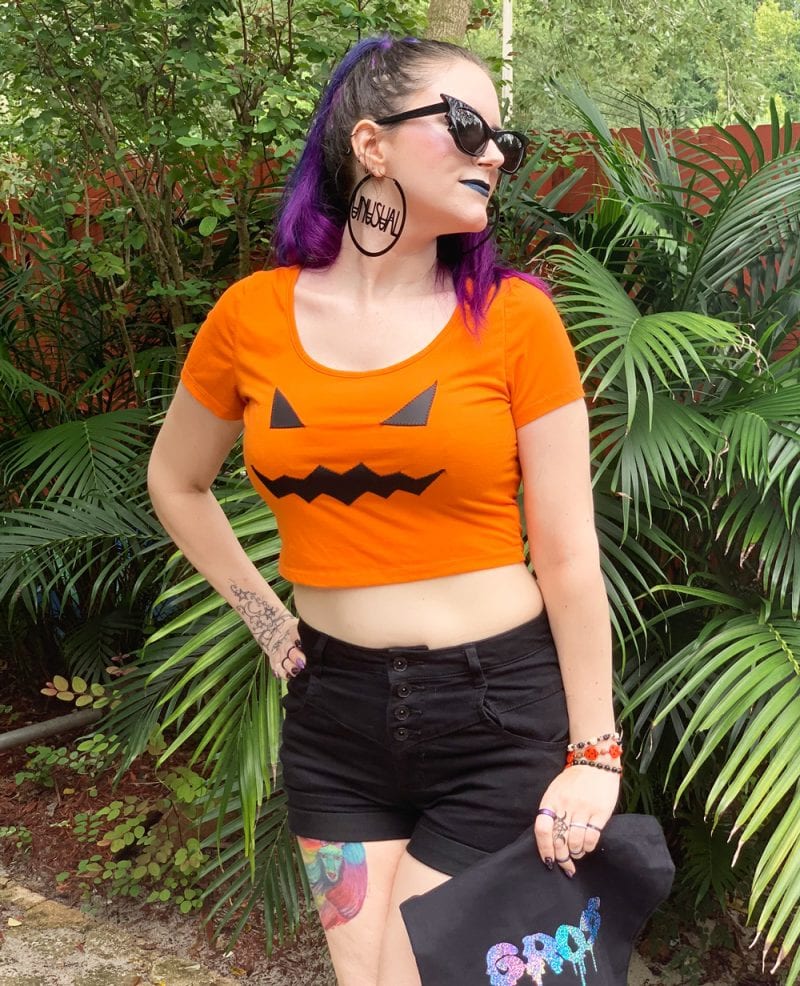 The Spellbound Stitches Pumpkin Crop Top is quite possibly my favorite of this entire set! I don't normally wear orange, but I love how this top looks with my purple hair and the Pumpkin Face itself is really cute on my chest! Spellbound Stitches is an all inclusive indie brand and makes these shirts in sizes to fit everyone!
The Hot Topic Blackheart High-Waisted Shorts are my favorite jean shorts that I've found in years! I bought 3 pair this summer and have zero regrets. Super comfortable and they look great with my wardrobe.
I love large hoop earrings right now and the Too Fast Strange & Unusual Hoops are awesome! I always get compliments when I wear them.
Long time Phyrra fans will recognize the Demonia Studded Star Sandals as they're another gothic wardrobe staple of mine. I love them to bits and they're wearing well.
I was thrilled to be able to feature several of the Spellbound Stitches tote bags! I love her quirky cute designs.
Hex Squad – Summer 2019 Gothic Lookbook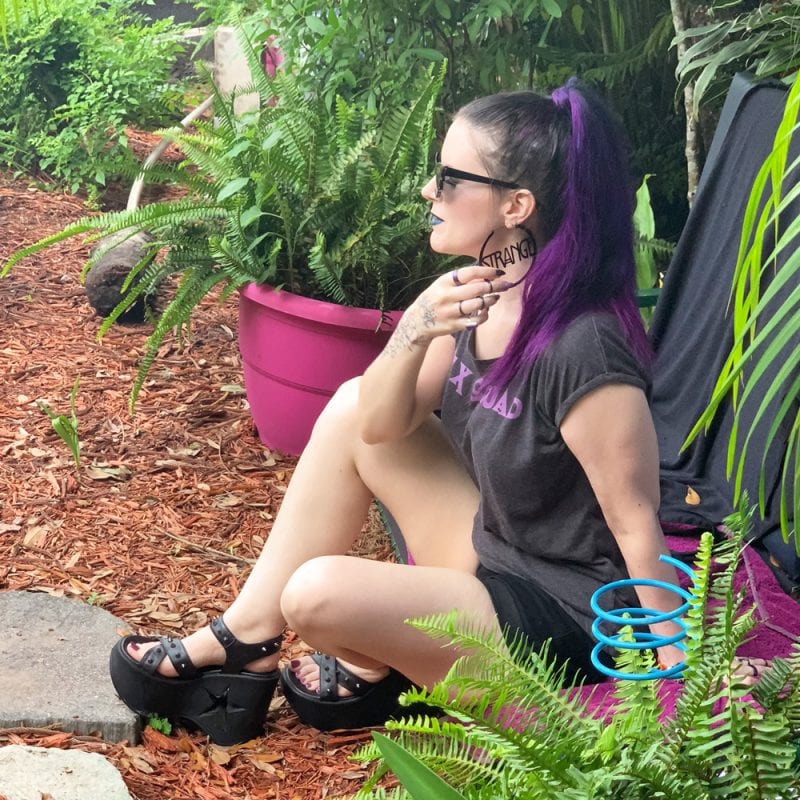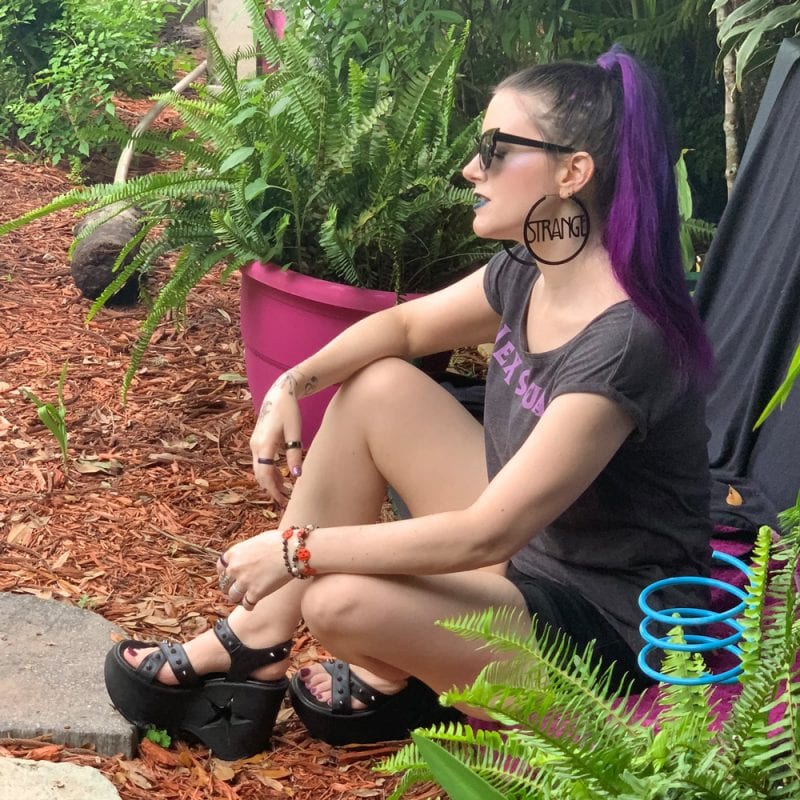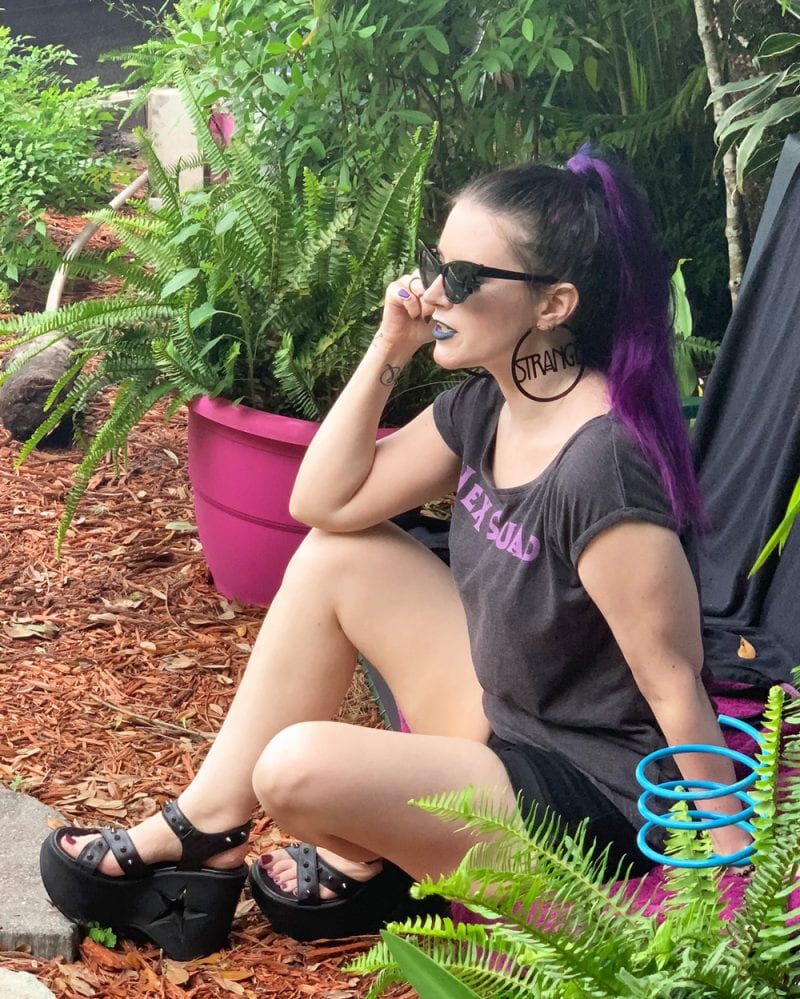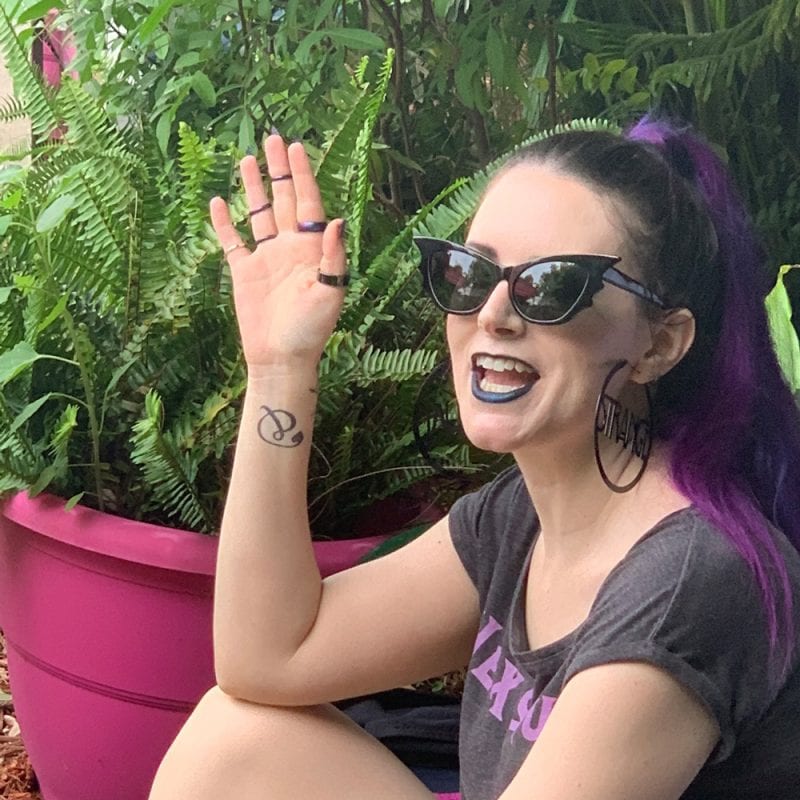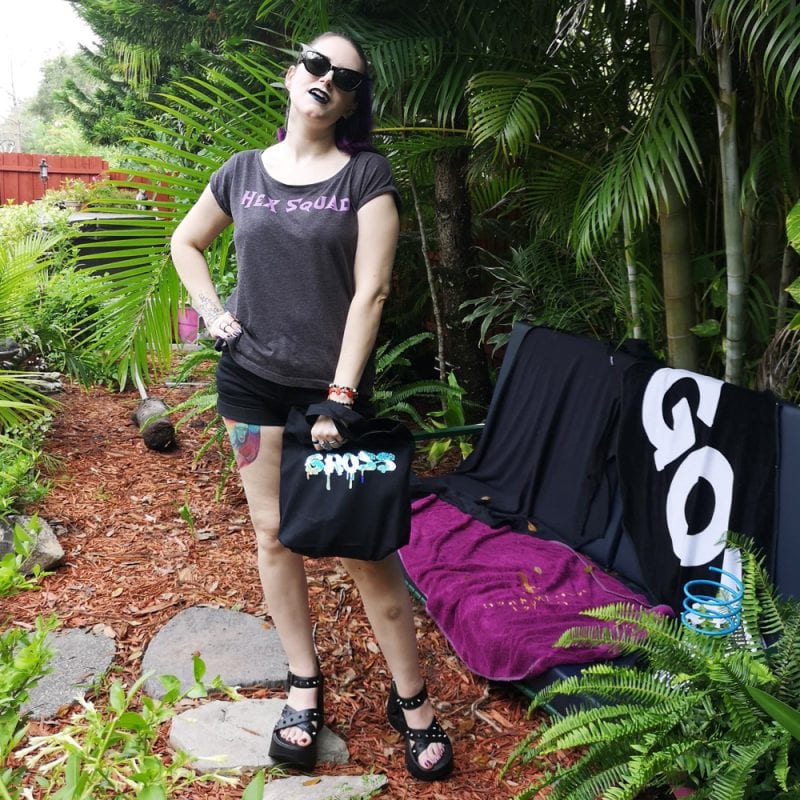 I rarely talk about Phyrra merchandise because I have never been very in your face with it, but the Hex Squad shirt is my most popular design. And now that I've moved to Redbubble, you can get it on an even wider variety of merchandise! You can get it on my favorite sleeveless top style, a drawstring bag, or even stickers!
Bat Fit Crazy – Summer 2019 Gothic Lookbook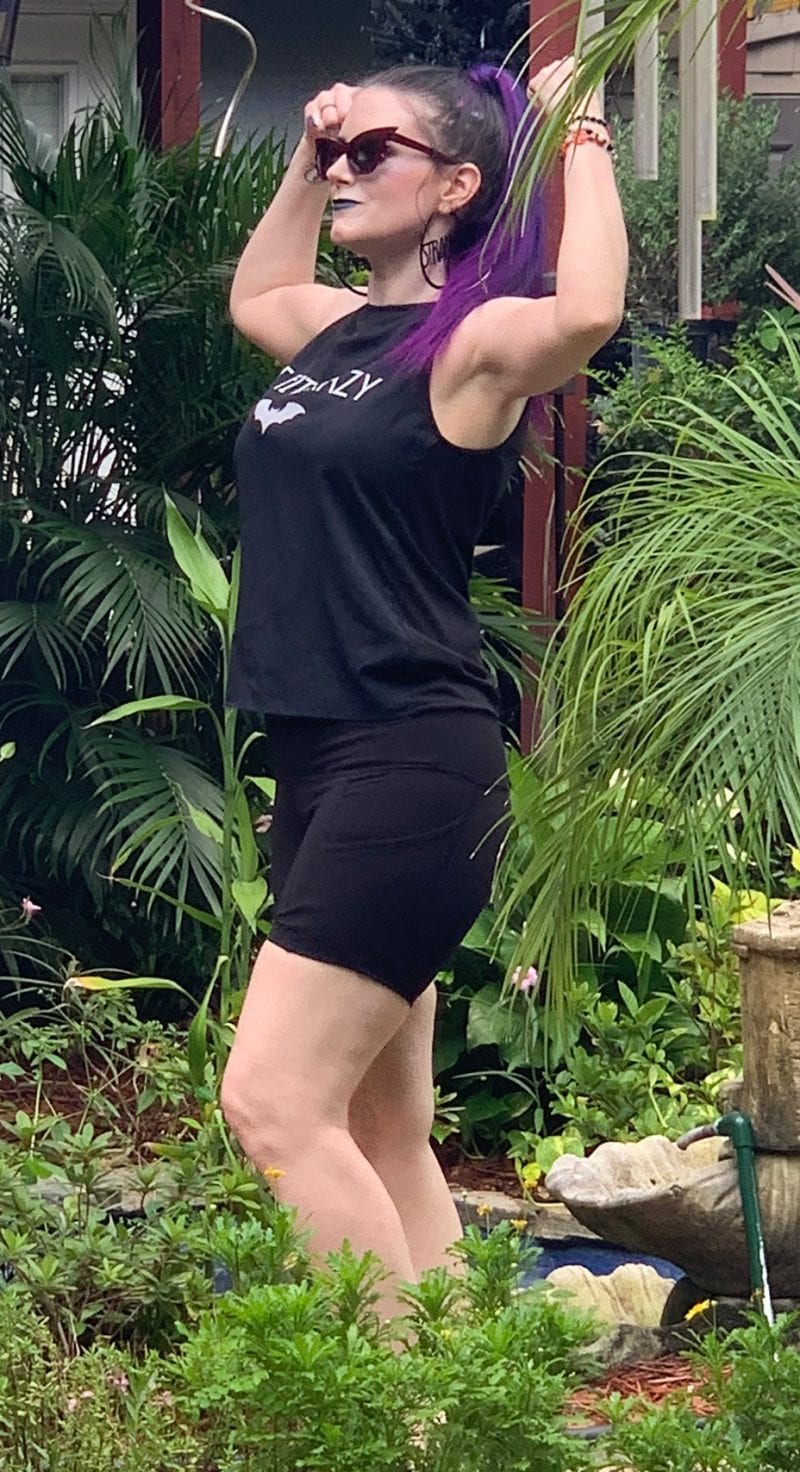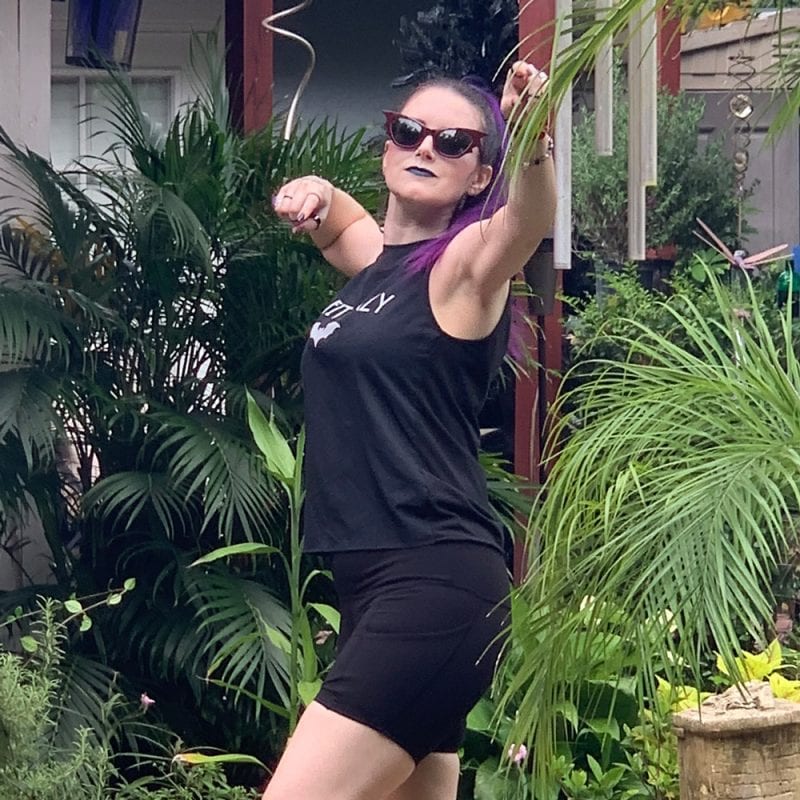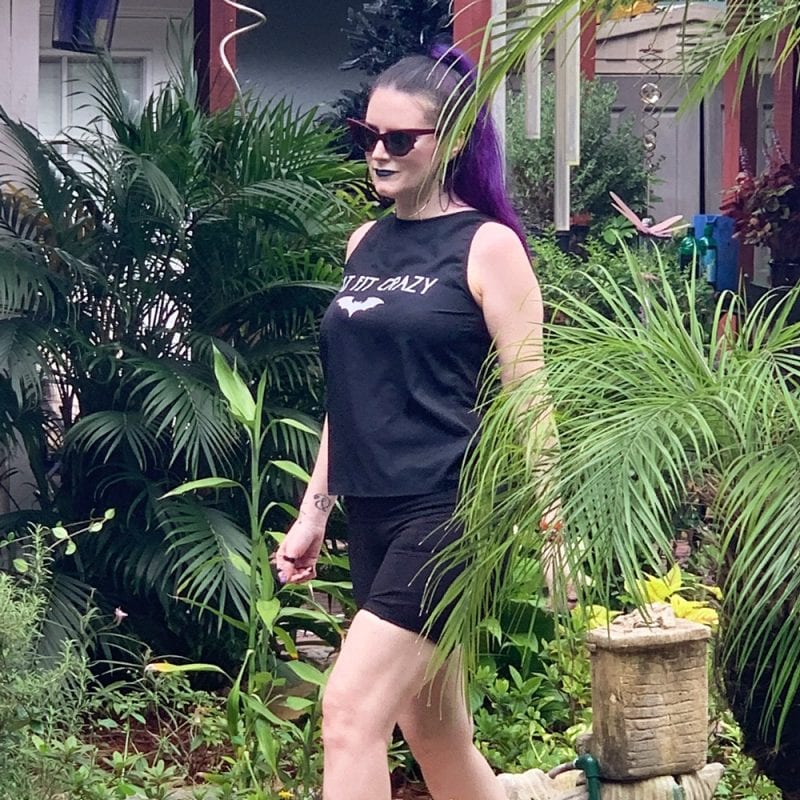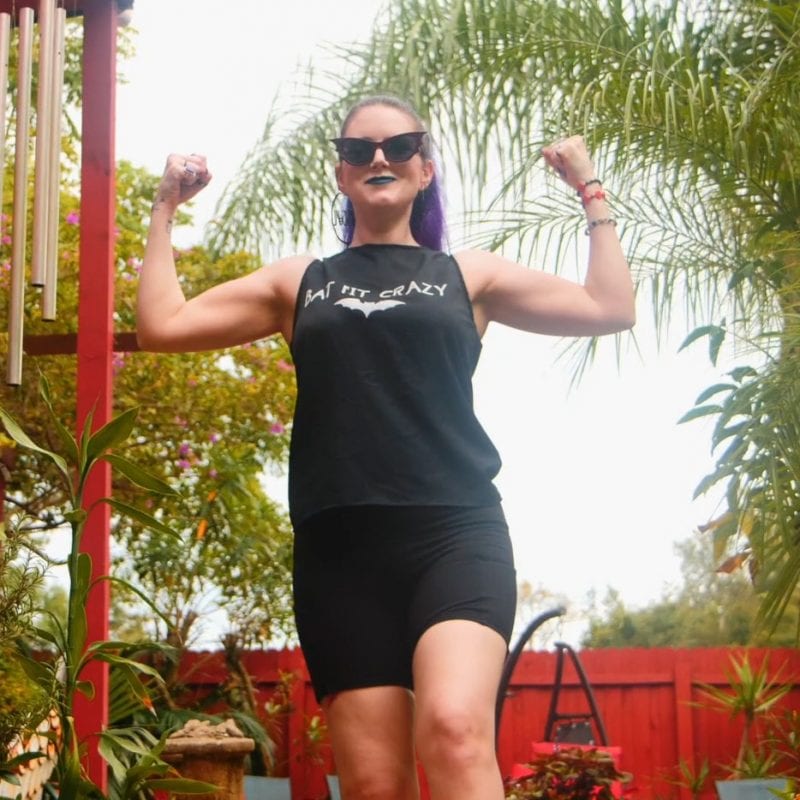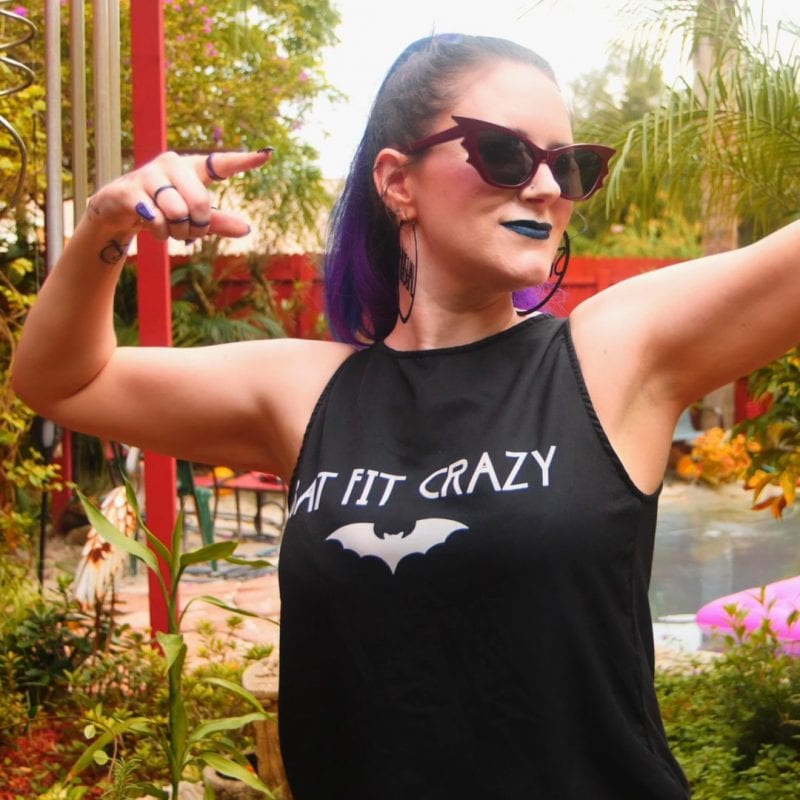 If you've seen many of my gothic fashion features, you'll probably have seen me mention my favorite shorts of all time, ODODOS Black Shorts. These are black high waisted yoga / running style shorts with pockets on each side big enough to hold my iPhone XS. I love these shorts. I swear they're perfect for #FitGoth life because of how comfortable they are, they go with everything, and they're perfect to work out in! So comfortable for hot humid Florida summers.
I've bought several of the Liftcraft Fitness shirts this year but absolutely had to feature my favorite – Bat Fit Crazy!  I love Tania's gothic fitness designs and they are a joy to wear in and out of the gym. Additionally, Redbubble's clothing washes and wears well.
Marste Rio Tank Bodysuit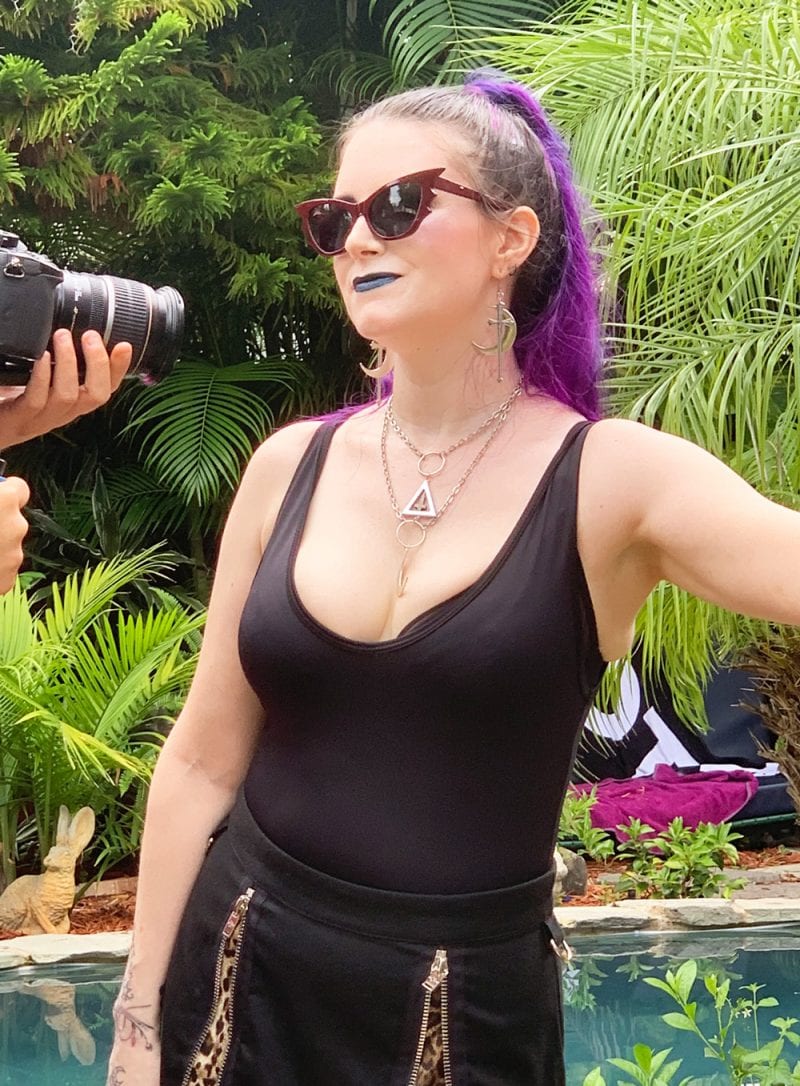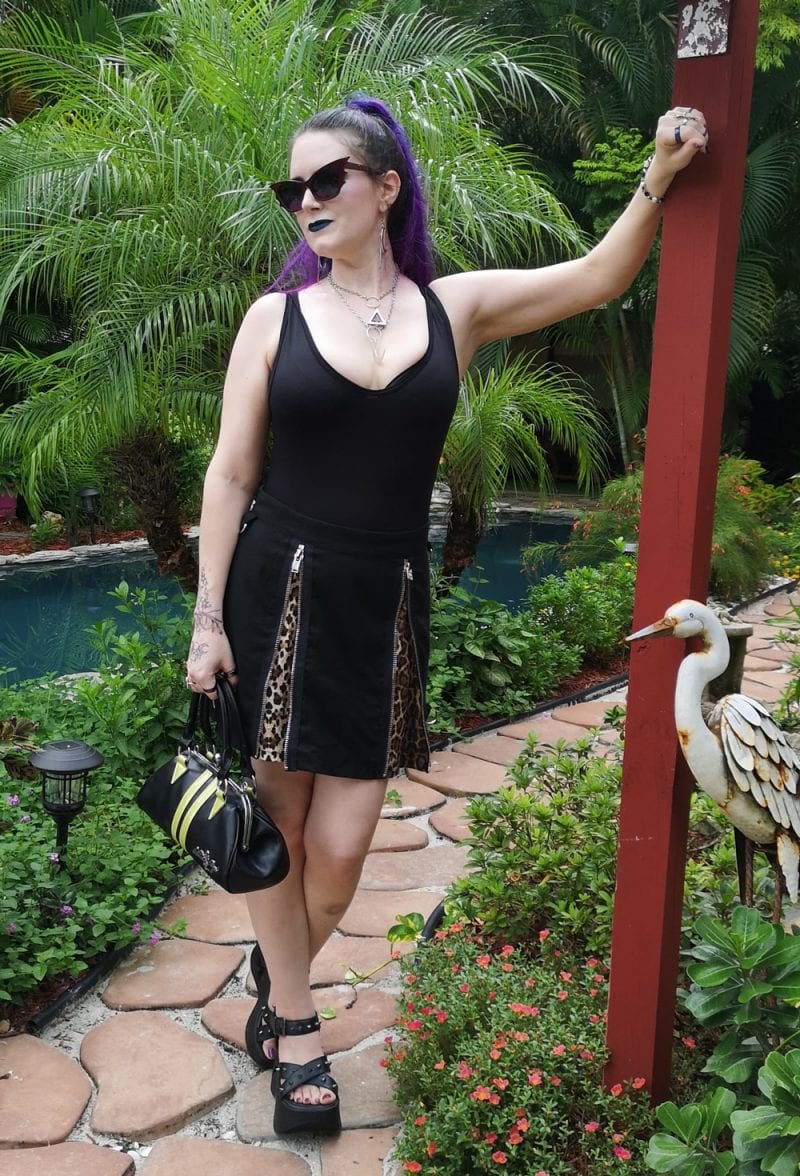 I bought several more Marsté fashion pieces during one of their recent sales. I love the basic black Rio Tank Bodysuit, which is an excellent goth wardrobe staple. It can be dressed up or down depending on your mood. It looks great with my Faux Leather Leggings, the skirt you see above, and jeans.
I really love the Current Mood Leopard Bondage Skirt. I did take off the bondage straps for this shoot but they'd also be cute to wear criss crossed in back. I like the leopard print peeking out.
The Sourpuss handbag is actually Carlye's! Sourpuss makes a ton of different cute handbags and my friend Cin is OBSESSED with them! She can recommend great designs from them in the PhyrraNyx Facebook Group.
The Open the Cellar Door Alchemist Necklace is an awesome layered goth witch statement necklace. It's such a cool design. I paired it with my silver Rhiannon Earrings. I love the sword and moon symbols together.
White Collared Sleeveless Top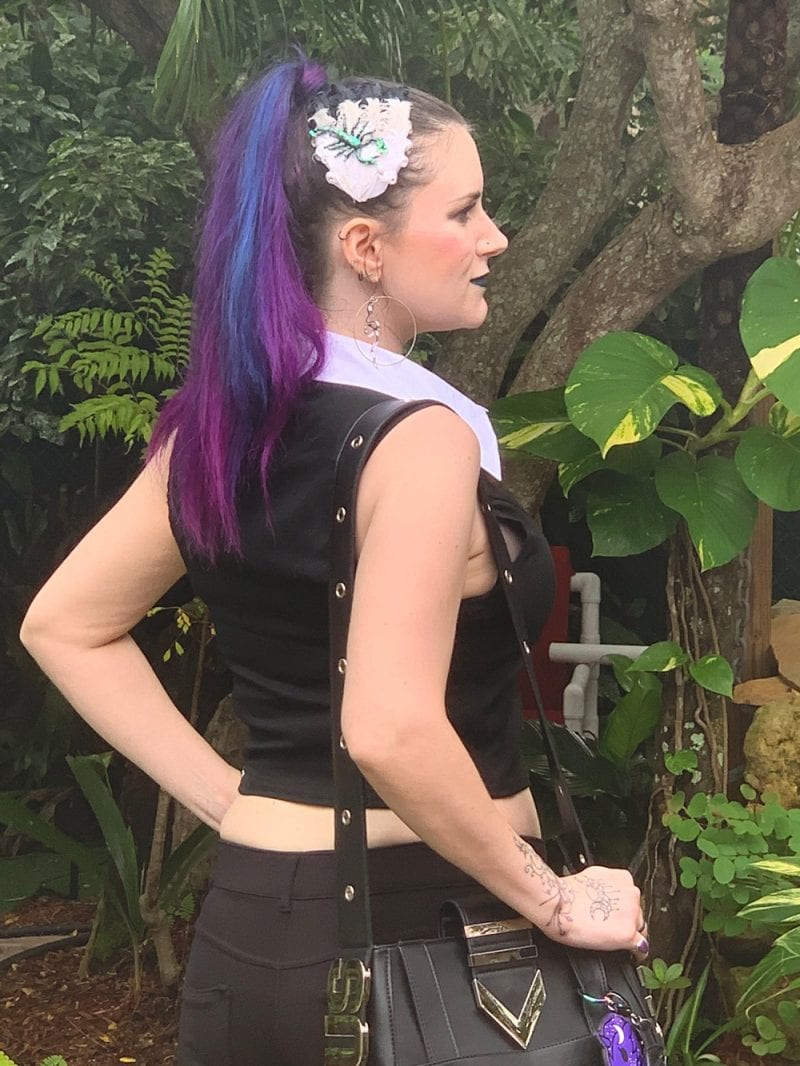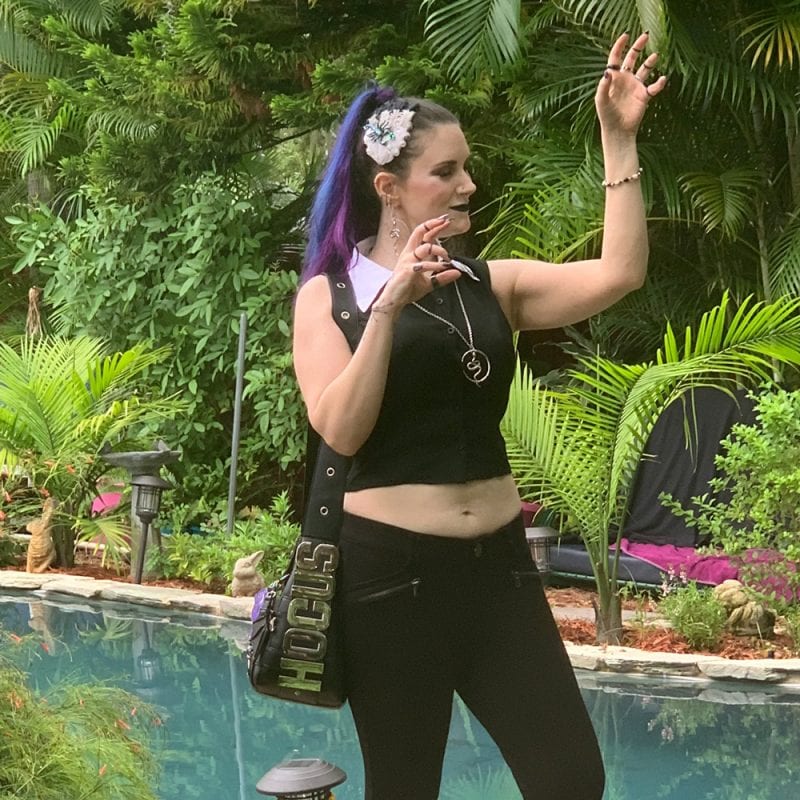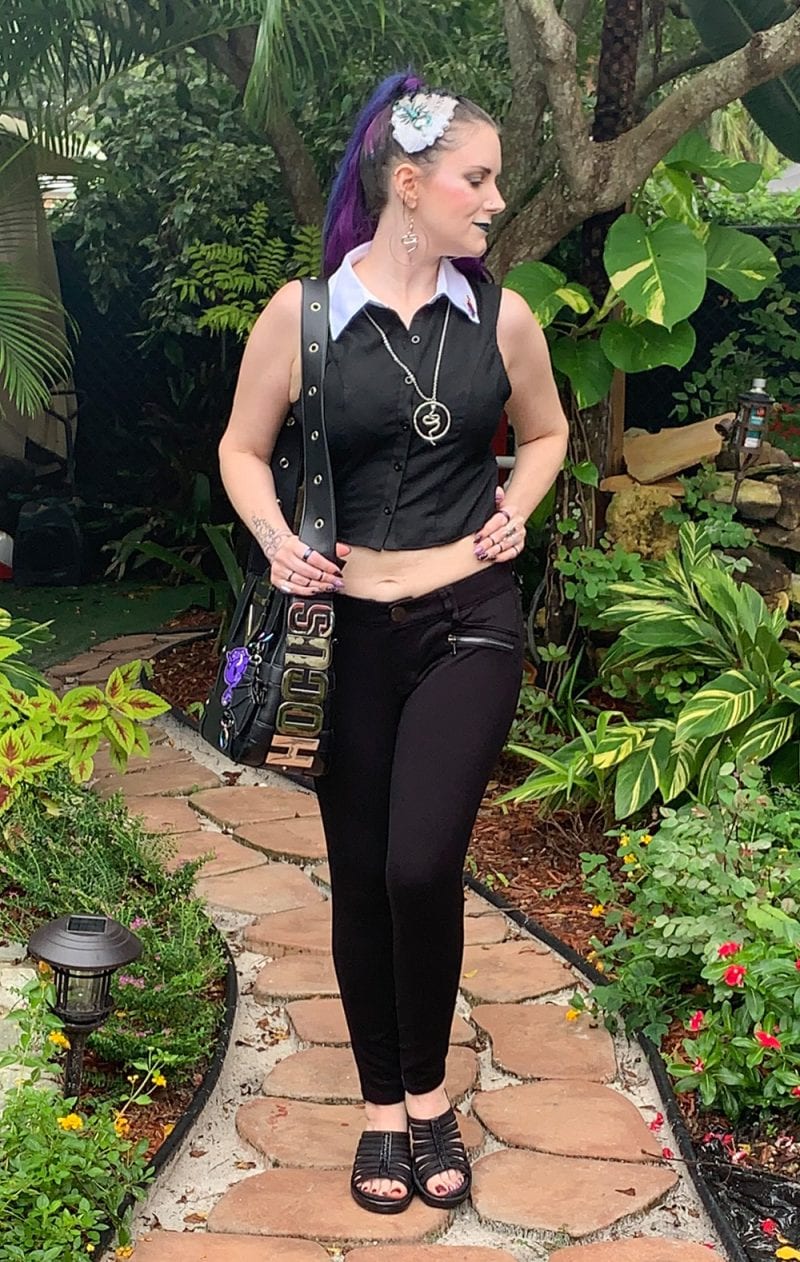 Over the past several years I've been working on my grown up Wednesday Addams wardrobe pieces. I look great in white pointed collar tops and I've amassed a decent amount of them. This sleeveless version from Hot Topic is one of my favorites! I didn't realize it was slightly cropped when I first bought it, but it's the shirt that has helped me to become more comfortable wearing crop tops.
The only shirt I did not get to feature in this summer Gothic Lookbook that I wanted to feature is my Vera's Eye Candy White Collar Top. Unfortunately my washing machine broke and died the night before my shoot with that shirt in it, so I didn't get it cleaned until after the shoot. The reason I love the Vera's White Collar Top more than any of my other pointed collar tops is that its base is made of a stretchy material and it's longer, so it covers more of my torso and it's form fitting.
While I adore my Wit & Wisdom Skinny Ponte Pants, I was sad to see that they'd been discontinued. I went to look for a similar pant style and found the Kut from the Kloth Skinny Ponte pants and they're superior in every way! First, they have working functional pockets on each side (unlike the decorative zippers on the Wit & Wisdom). Second, they fit like a second skin. Third, they have functional belt loops, which I used with my Blake Belladonna RWBY cosplay. Fourth, they look good with everything! I highly recommend these pants! They are a wardrobe staple for me.
When I saw the Killstar Hocus Pocus bag, I had to have it. I love the big chunky Hocus Pocus print on each side of it. The shoulder strap is a little long for my petite frame, but I like the eyelet design.  I can hold just about everything I want or need in this bag, which has major appeal to me.
I really like these Skechers Black Wedge shoes because they're black and sparkly. They give me a bit of height and they're slightly dressier than normal sandals or flip flops.
Ever since I found Open the Cellar Door, I've been enthralled with their designs. I wear the Medusa Hoop Earrings almost daily because I love the sinuous snake design. The Ouroboros pendant necklace is great to match with the earrings, as well as the Medusa choker. I feature tons of their jewelry on my Instagram Stories so be sure to follow me on Instagram. I'm phyrra.
Bishop Sleeve Top – Summer 2019 Gothic Lookbook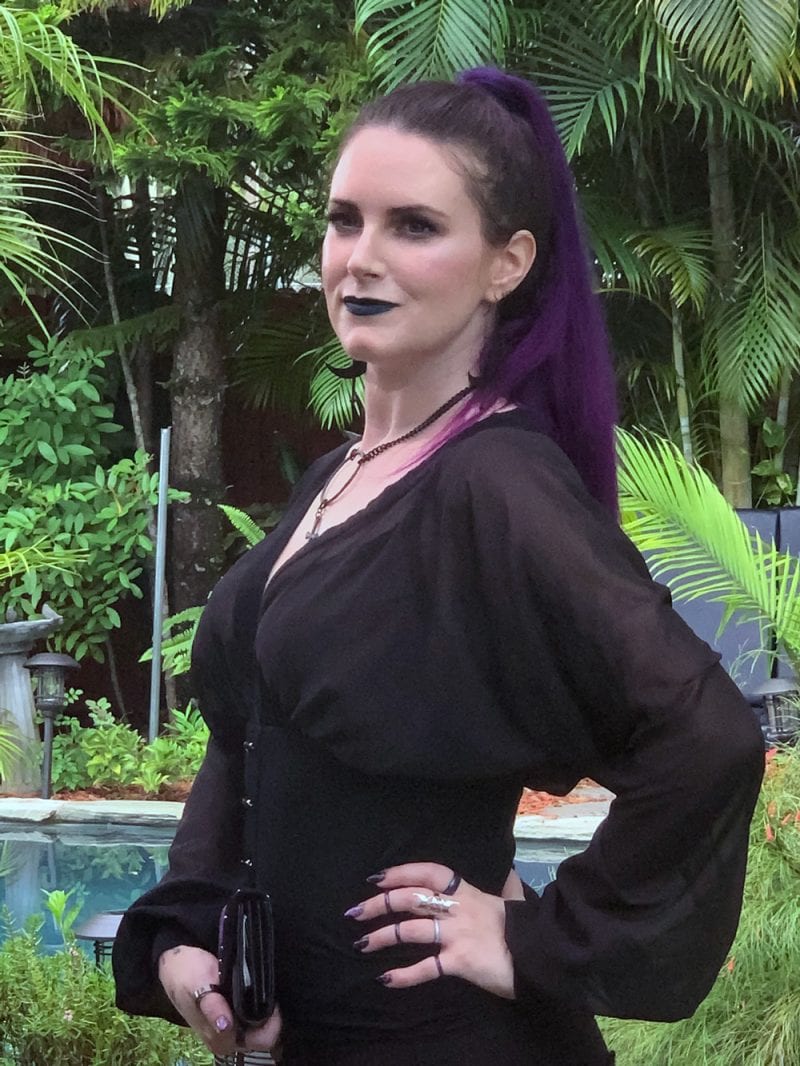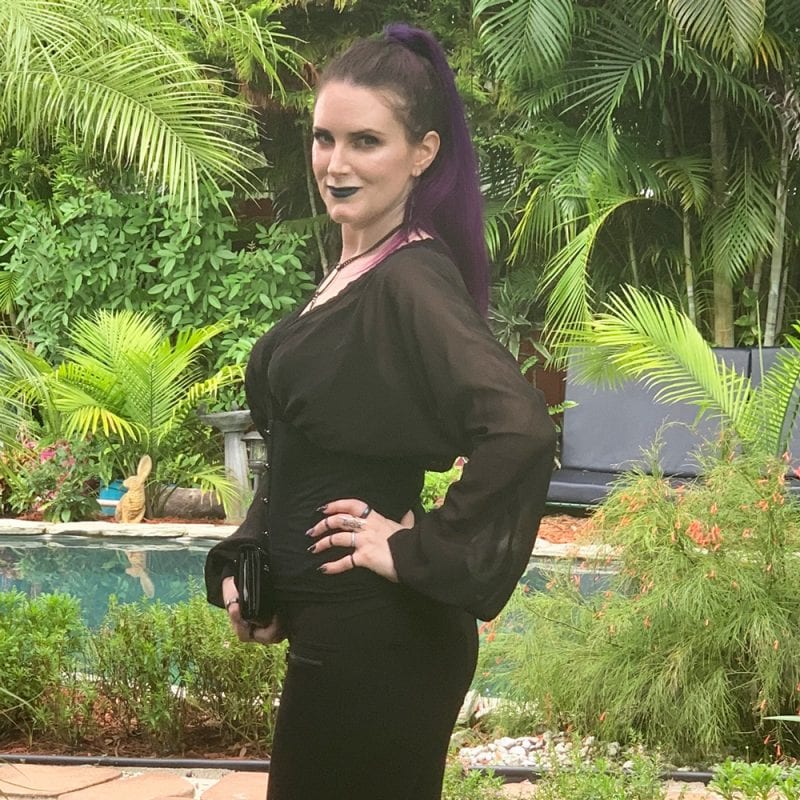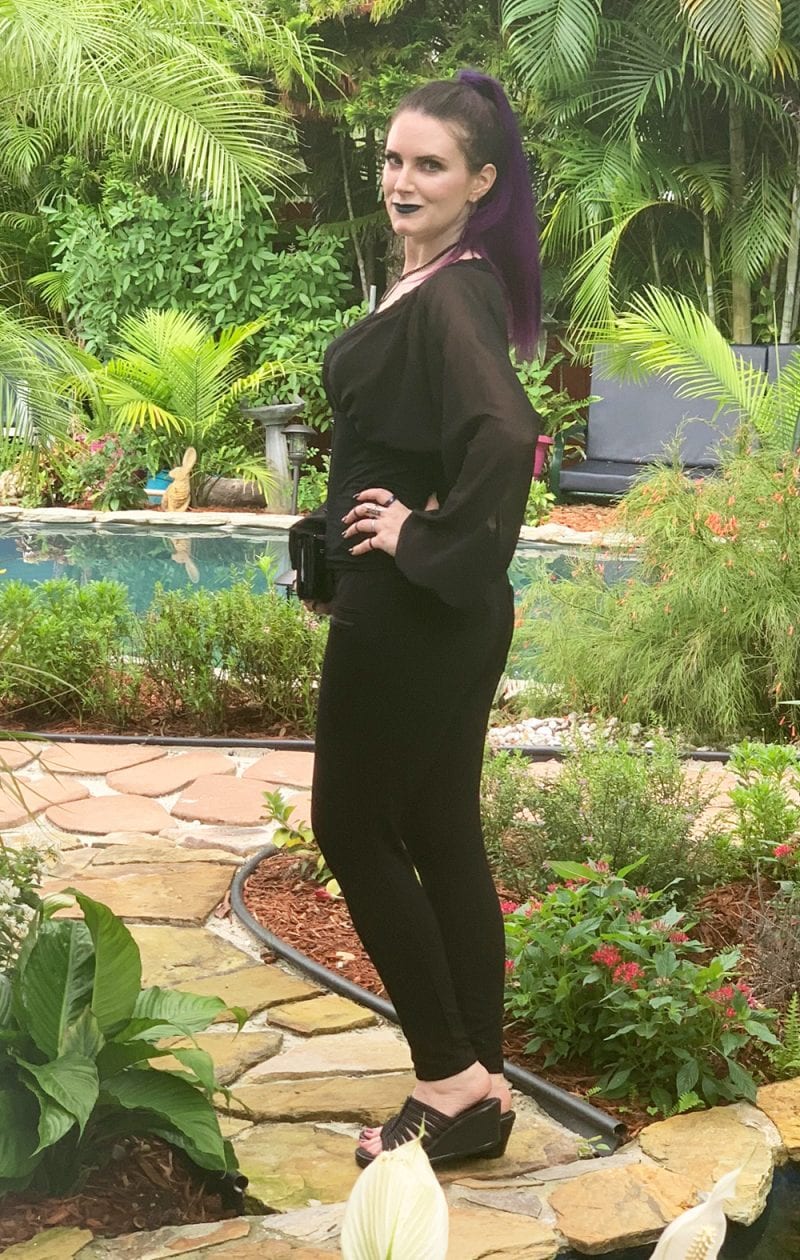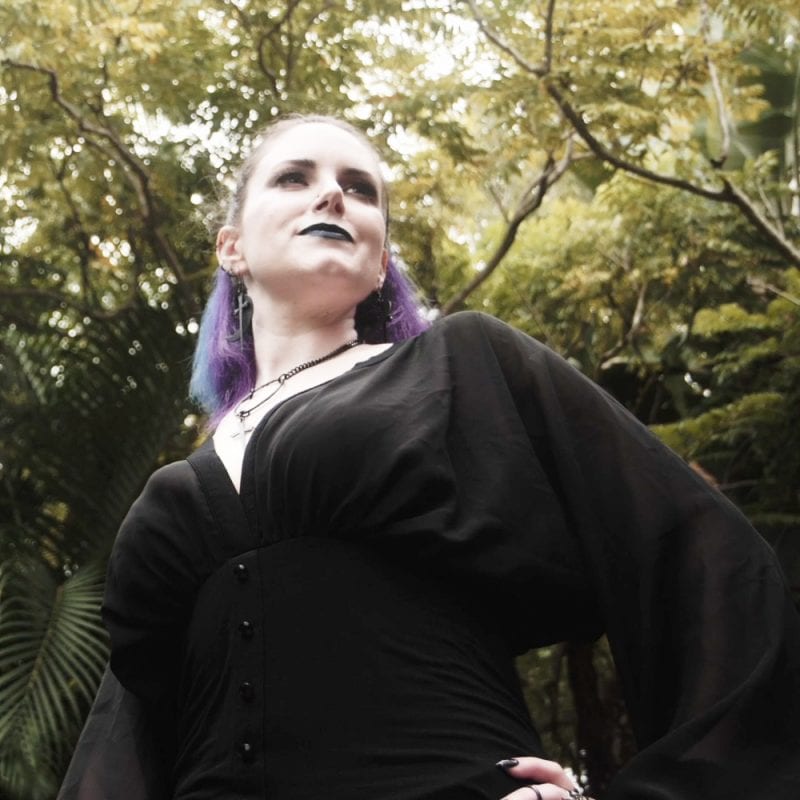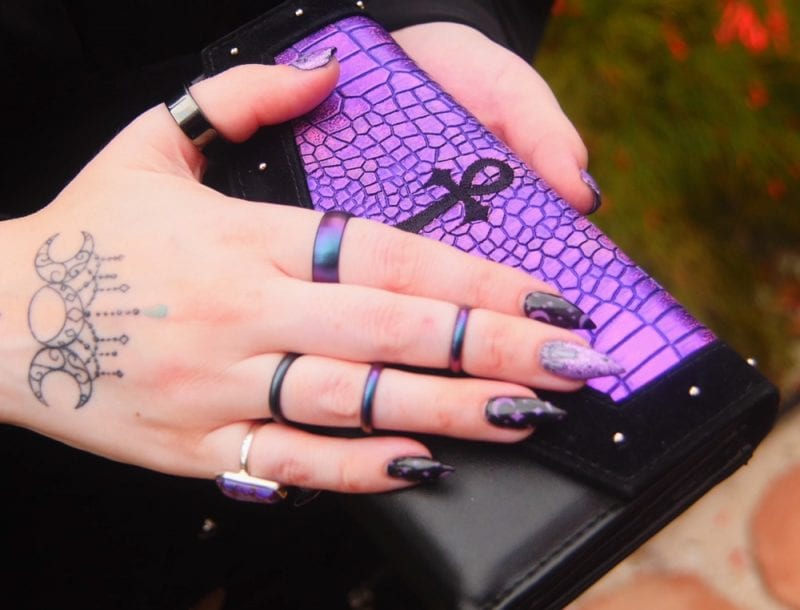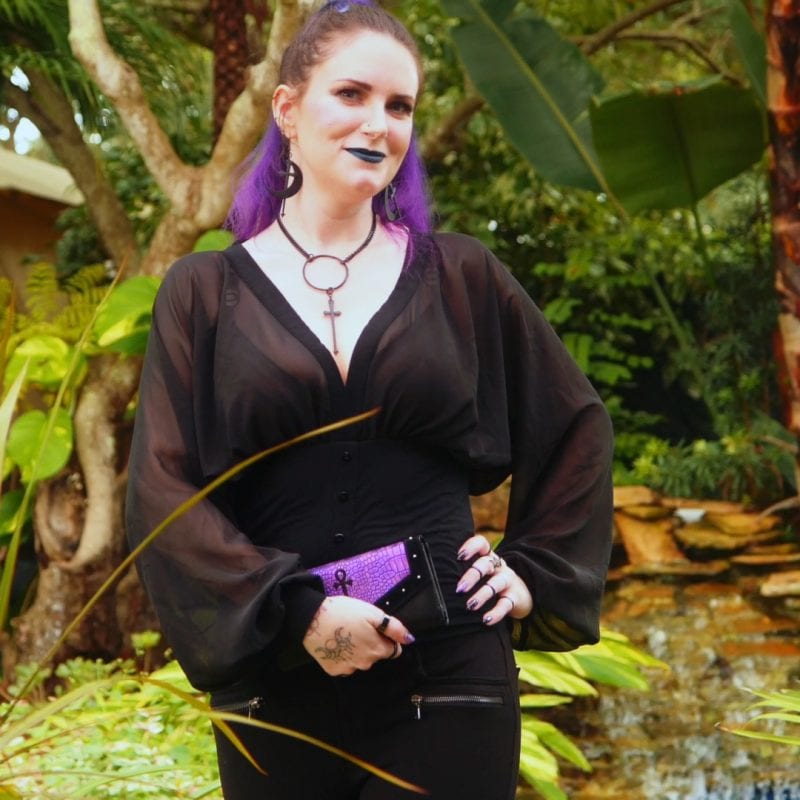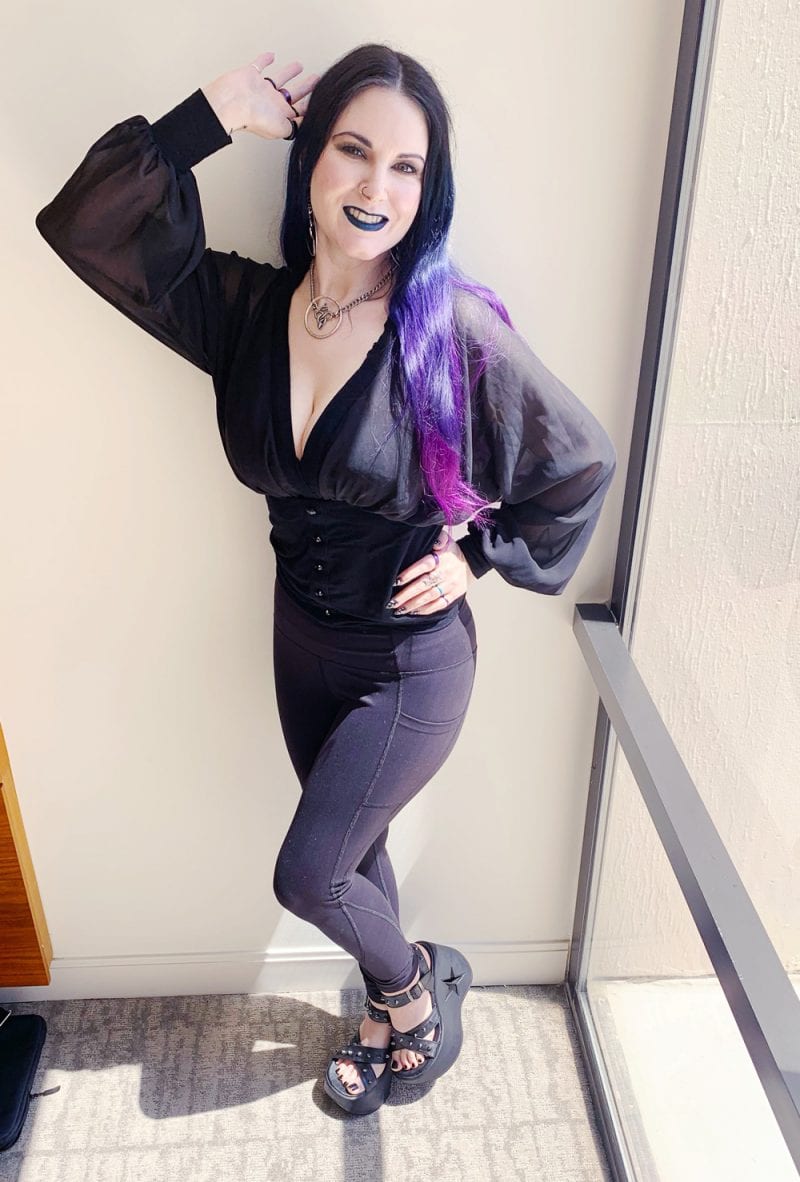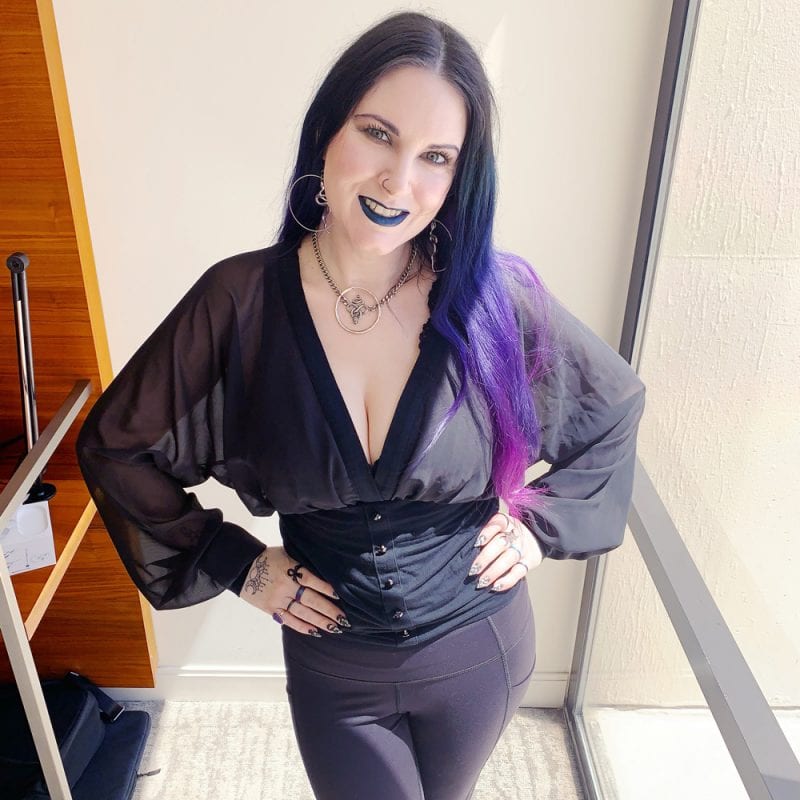 I'm fixated on sheer bishop sleeves because they're comfortable in hot Florida weather and so elegant and gorgeous. My devotion to PattyBoutik is well documented on this blog. I love their shirts and have a ton of them. When I saw this bishop sleeve top I knew I needed it. I've worn it countless times. It looks amazing with the Kut from the Kloth Skinny Ponte pants, leggings or a skirt. The top of the shirt is completely sheer, but the part that goes under my boobs is solid black. It came with a tube top but I never wear that with it. I just wear it with a black or strappy bra. I want this top in purple, burgundy, and teal, too, but the black looks AMAZING.
The Curvy Kate Lifestyle Plunge Bra in 30FF is literally my staple wardrobe bra. It's basically the only bra style I wear these days. I  have it in black, beige, lavender and a teal blue. It's comfortable for me to wear and provides good support for my chest.
The HeathYoga leggings with pockets are my legging staples in my wardrobe. I no longer enjoy wearing jeans, but I adore wearing leggings because I have full range of motion,  I can work out or walk the dogs in them, and they have pockets! Most cute leggings do not have pockets, which makes me sad.
If you are a fan of unique gothic designs, you really need to check out Avelina de Moray. I love my Mahafsoun wallet and I carry it daily. I also bought the men's Black Friday Wallet for Ray & he loves it. I do also have the Mahafsoun handbag and it suffers from the same issue that every bag I've ever owned in this design – the top flap does not easily close, so it's a pain in the ass to carry out of the house if I have to get in my purse for any reason.
Slashed Biker Tee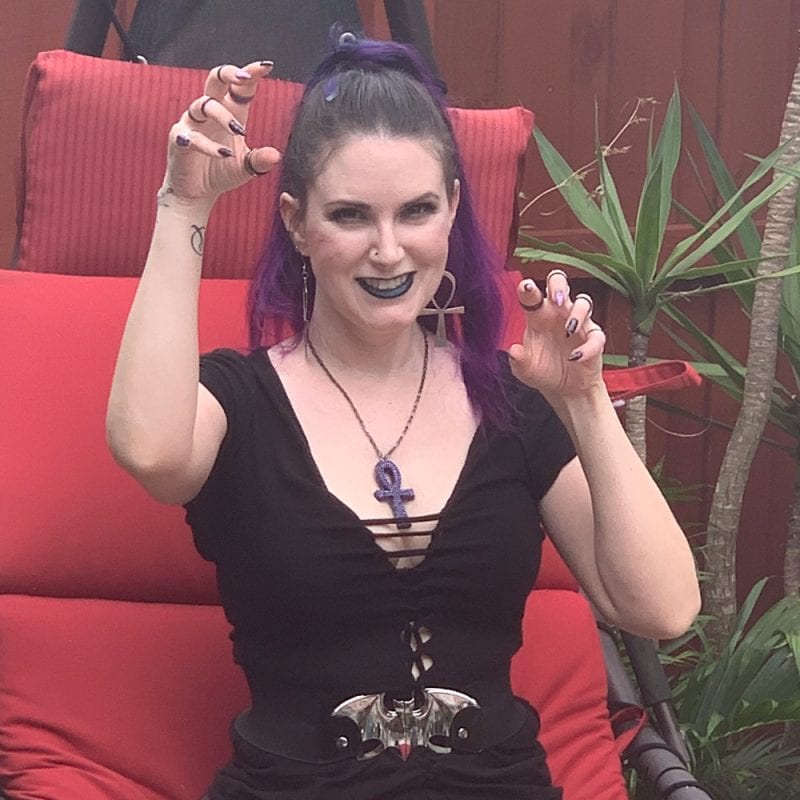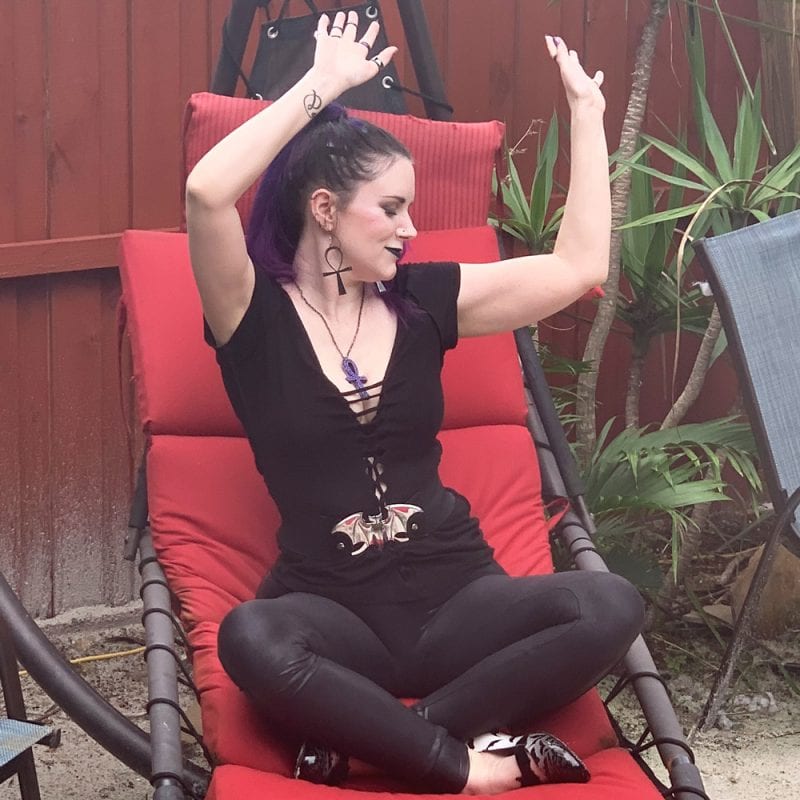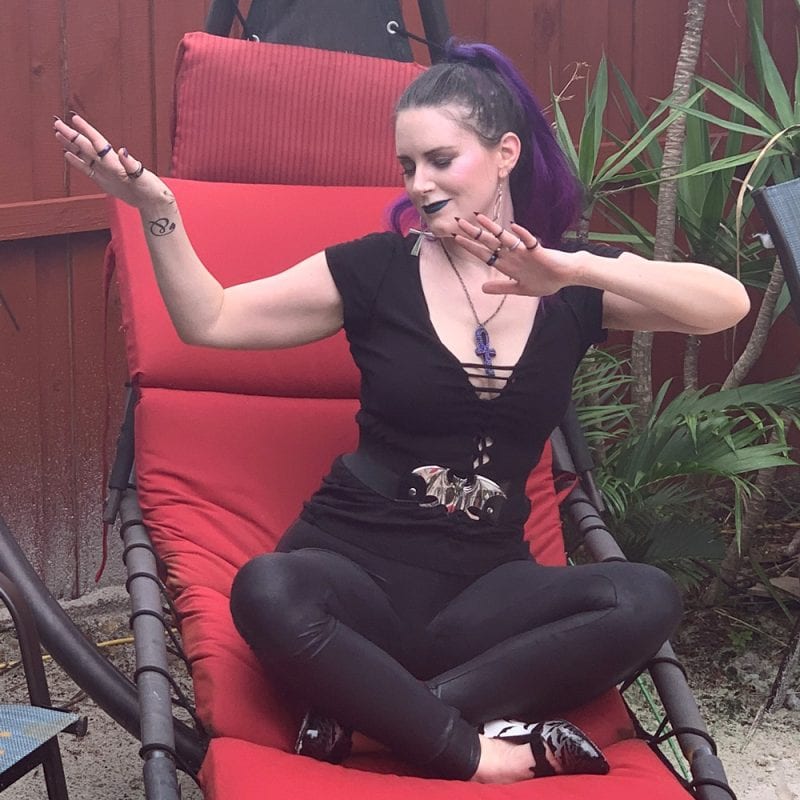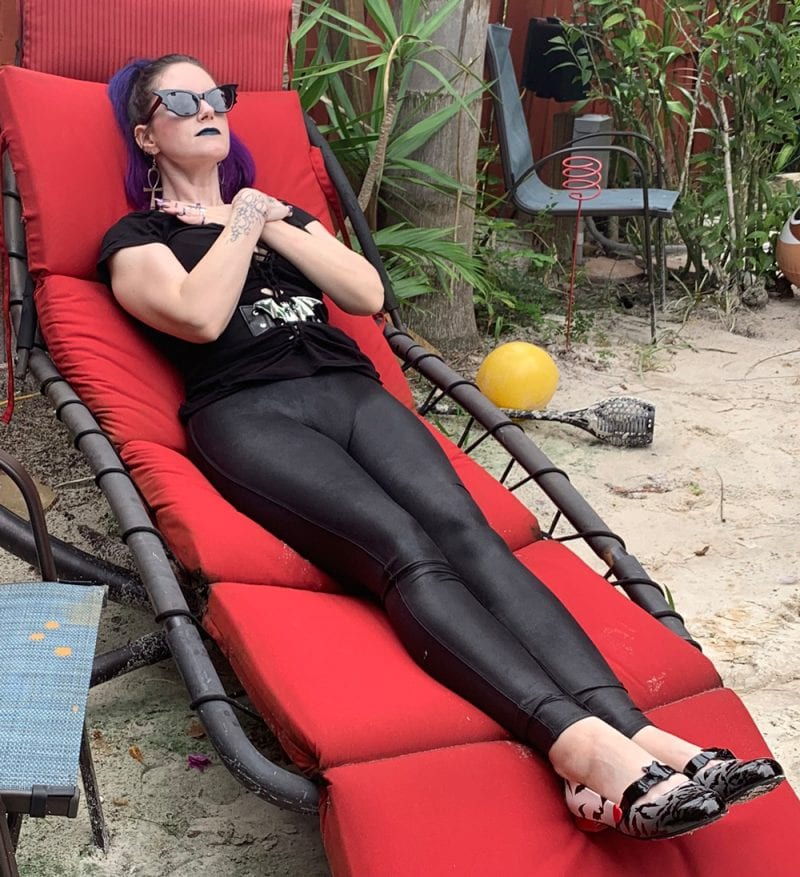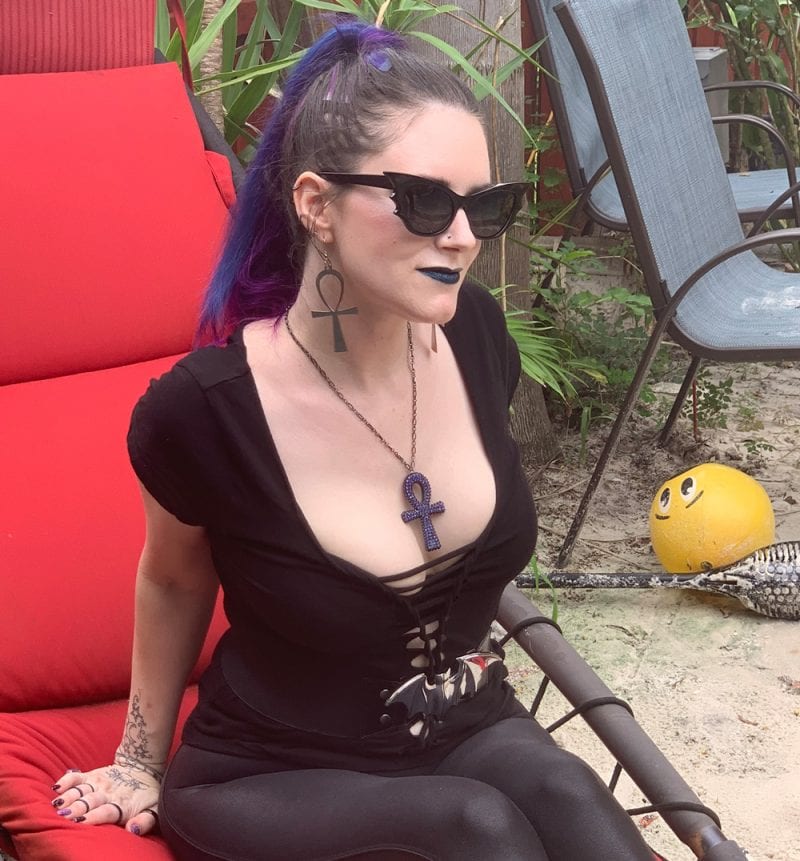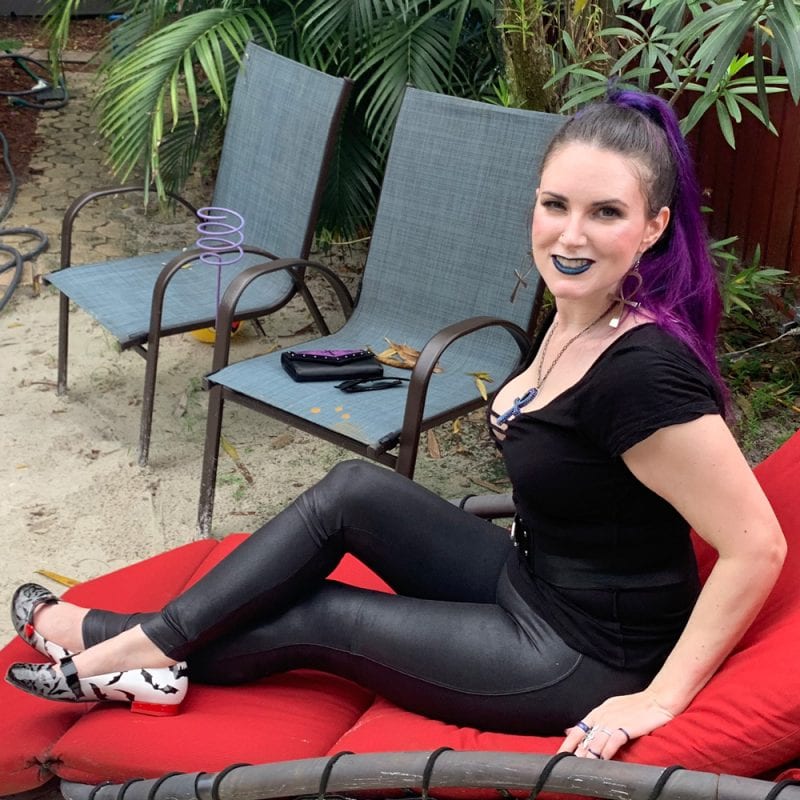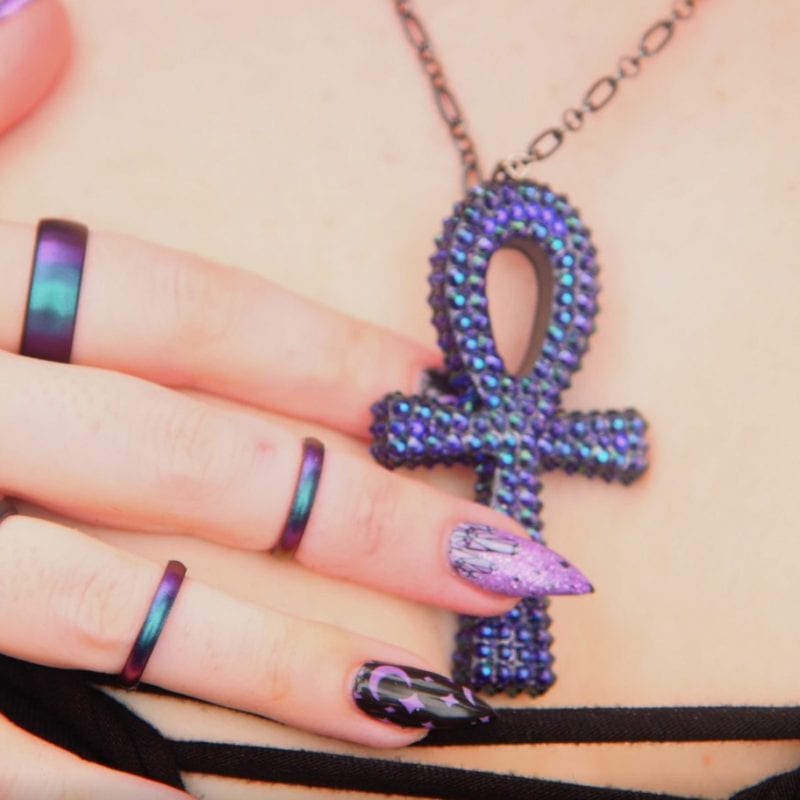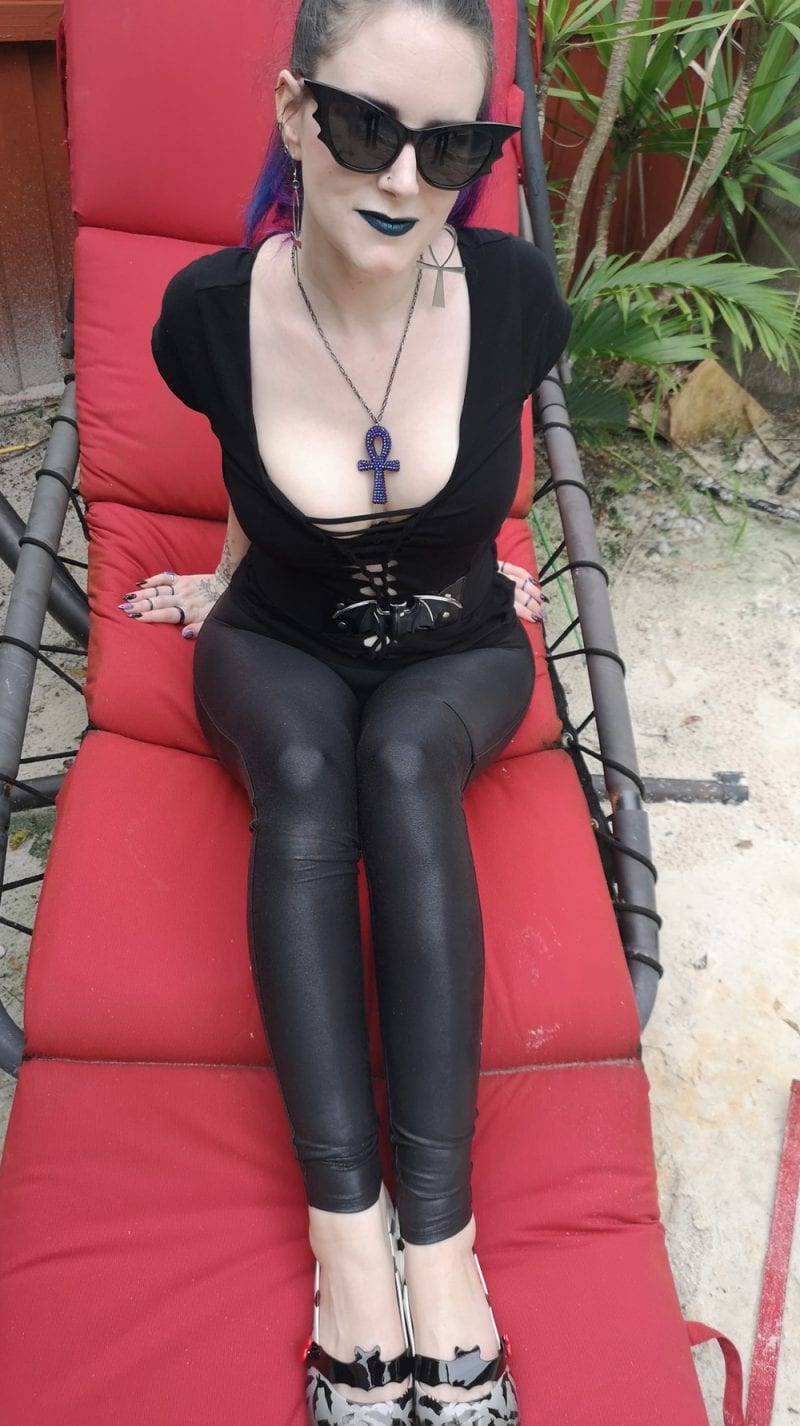 I've found a lot of cute Demi Loon designs on Amazon and many have come home to me. This slashed biker tee is a soft, casual, easy to wear shirt. I originally bought it to wear with underbust corsets, but Ray loves it on me so it gets worn quite frequently.
The Spanx Faux Leather Leggings were my best buy during the Nordstrom Anniversary sale this year! I wanted a pair of faux leather leggings for quite a while and these are so comfortable yet sexy! I wore them at Dragon Con with my gorgon outfit. I have yet to find an outfit they don't work with. I think they look amazing on me.
I'm really tempted to call my Kreepsville 666 Bat Belt a gothic wardrobe staple, because bats are a go-to for me! My personal style includes bats, stars, and moons.  I love these belts and own several from Kreepsville 666, including this bat in black and silver, which you may recognize from my corporate goth fashion lookbook. I've found several of my Kreepsville 666 belts on Amazon, including a cute purple Elvira belt!
I found these adorable Candypop Batty Flats on Amazon and decided I really needed them. I don't own very many flats but thought this was a cute design, even if there is quite a bit of white on the shoes!
My Bunny Paige Phyrra Ankh necklace is a custom swarovski design that Lauren made for me. I love the Phyrra color way! It shifts from blue to purple to teal. If you have a custom jewelry design in mind, definitely reach out to Bunny Paige to have it made!
Big earrings are a thing for me lately, as you've seen. I love having big ankh earrings to wear. They look nice with my Bunny Paige Phyrra Ankh, too!
I hope you enjoy my Summer 2019 Gothic Lookbook! Which outfit is your favorite?