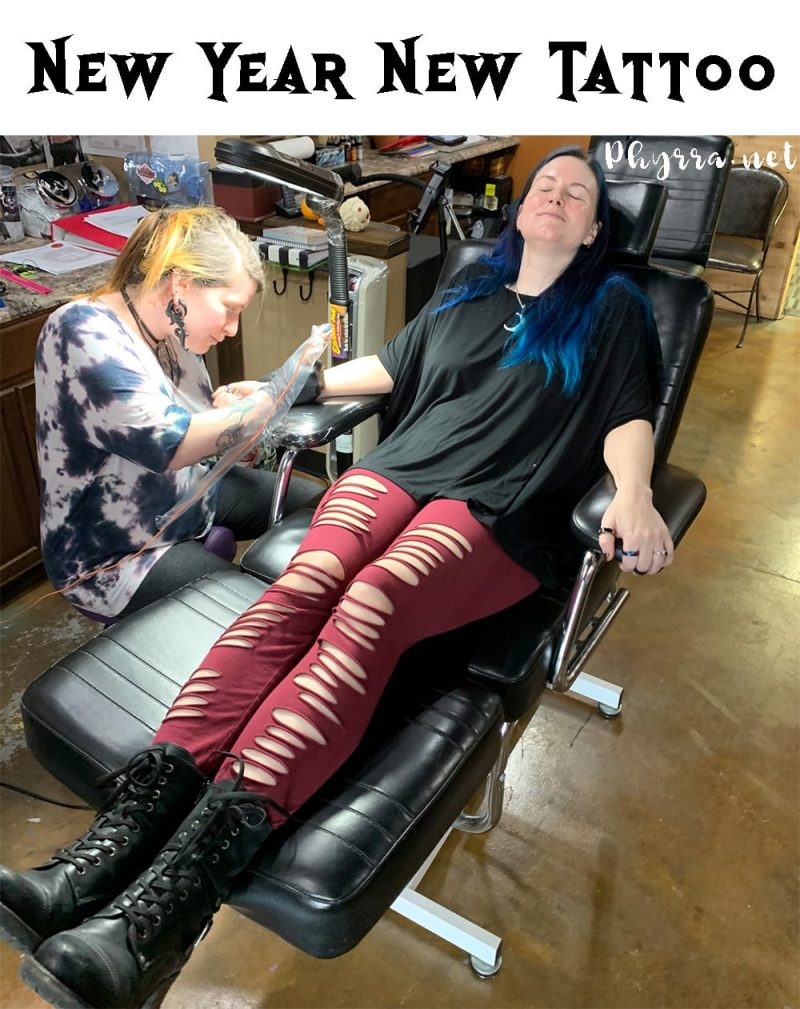 New Year New Tattoo
Happy New Year Everyone! I hope you had an amazing New Years Eve and that you're having a wonderful day today. I wanted to share how I celebrated yesterday. I went to Forbidden Images Tattoo Parlor in Trinity to get my first tattoo. Unless you count my microbladed brows as a tattoo. Watch my microblading experience video!
Zensa PR Sample. Tattoos purchased by Dave. Everything else I'm wearing purchased by me.
Zensa Numbing Cream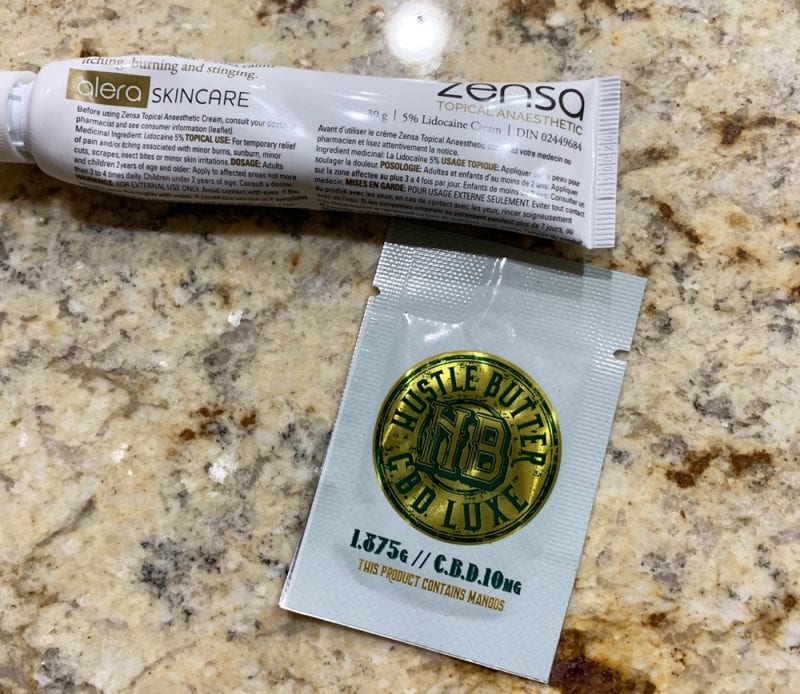 A lovely PR person reached out to me to see if I wanted to give Zensa Numbing Cream a try. Zensa Numbing Cream is a topical anaesthetic with 5% lidocaine. It's pH neutral, so safe to use around sensitive spots. It doesn't interfere with the ink because it does not include vasoconstrictors like prilocaine. It lasts for 2 to 3 hours. It's also safe to reapply after skin has been broken to extend the numbing sensation. Zensa is vegan, cruelty-free, Health Canada Certified and FDA Approved.
When you put on Zensa Numbing Cream, you don't even feel like anything is on. However, the beautiful thing about it is that you can reapply it if you're doing a long tattoo session. The way Stefanee had me apply it was to put it on liberally in a thick layer, then put saran wrap around it for a half hour while we finalized the tattoo design. I love my experienced with Zensa and definitely recommend it if you have anxiety issues with tattooing like me.
You can buy Zensa Numbing Cream from Amazon Prime on sale right now! (30% off) You can also buy Zensa Numbing Cream directly from Zensa. If you can't slip into subspace, it's the next best thing.
Hustle Butter CBD Luxe
Stefanee recommends Hustle Butter CBD Luxe for healing. It has mango in it (which is something to be aware of in case you have allergies).  It also has 500mg CBD isolate made from U.S.A. grown hemp. Hustle Butter CBD Luxe soothes, nourishes, moisturizes and conditions, as well as working as an anti-inflammatory.
Saniderm
My friend Kim brought Dave & I Saniderm tattoo bandages. This is a bandage that you apply to your freshly cleaned and dried tattoo and leave it on for 3 days straight. You can shower but not submerge your arm in water with this bandage. This bandage provides moisture protection, so you don't have to reapply lotion 3 times a day. It protects against bacteria, germs and other things. It also taps into your body's natural healing process. Kim recommends Saniderm or Teraderm bandages.
Forbidden Images Tattoo Parlor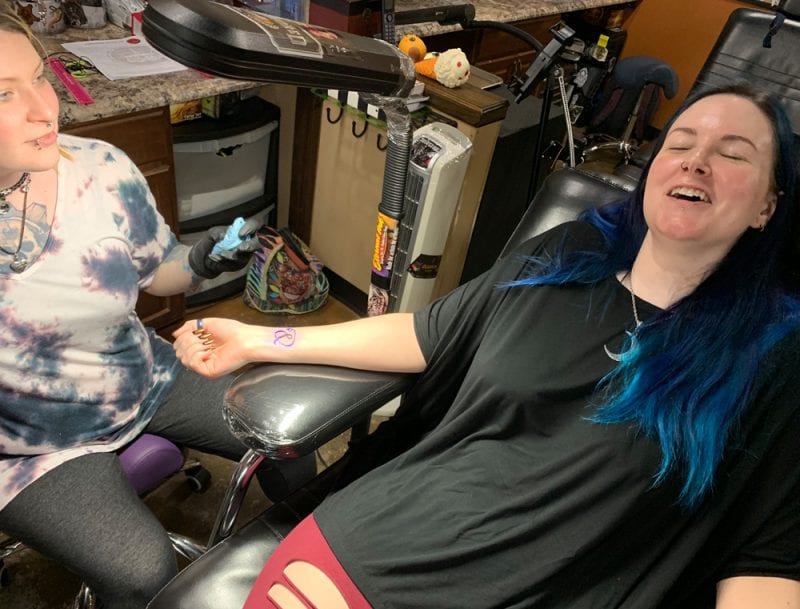 I dressed very comfortably for this outing. I wore my Killstar Blow Out Top, Amazon ripped burgundy leggings, Taos Crave Boots (I swear I live in these boots, they're amazing), Nocturne Street Silver Moon Necklace (DIY your own with these crescent moon charms), my Enso Mermaid Rings, wedding ring, Oura Ring Black and a small silver ankh ring.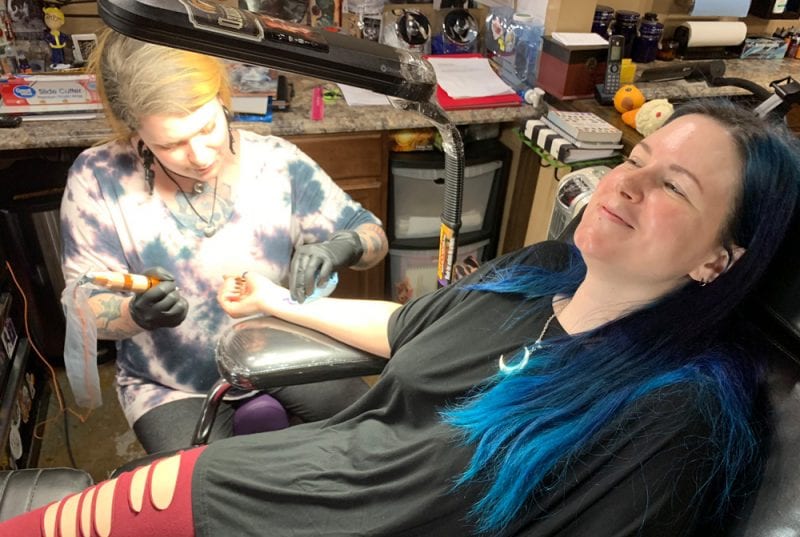 After watching my BFFs Mike, Jessie, Kim & Eric get multiple tattoos this year from Stefanee at Forbidden Images, I knew she was the perfect tattoo artist for me. She does amazing meticulous line work, gorgeous water color pieces, space inspired, stunning tigers, gaming, comic and horror pieces. Check out Stefanee's online portfolio here and follow her on Instagram!
I actually had planned to get a watercolor poodle as my first tattoo but the idea for the ampersand tattoo popped in my mind about a month ago and I decided I needed it first. I talked about it with Ray and Dave to see if either of them wanted to get an ampersand tattoo with me. I explained the meaning of the tattoo to me, why I wanted it and where. Dave decided to join me in getting a matching tattoo in the same spot. Ray declined for now. I think he wants to see how these heal.
Anxiety
To mentally prepare for getting my first tattoo (because oftentimes, new things cause me great anxiety), aside from taking my daily medication, I also took a Xanax XR so that I would be calm throughout the process. As calm as I could manage, at least. Until Stefanee did the test dot, I was so nervous and had sweaty palms. Once she did that, I realized I could handle it and was fine.
My brain did try to play tricks on me at first. It tried saying this was incredibly painful and I kept telling myself nope, it's  not, just a scratching sensation. I did notice that I couldn't really watch her ink me. I could look at Stefanee or Dave and talk to them, close my eyes and listen to music, but I couldn't really watch the gun going into my skin. I had to go first though. I wanted to get it done and over with.
Almost immediately when we started, my adrenaline spiked and I had to eat a piece of candy. Once that was done, I was fine.
Ampersand Tattoo and Meaning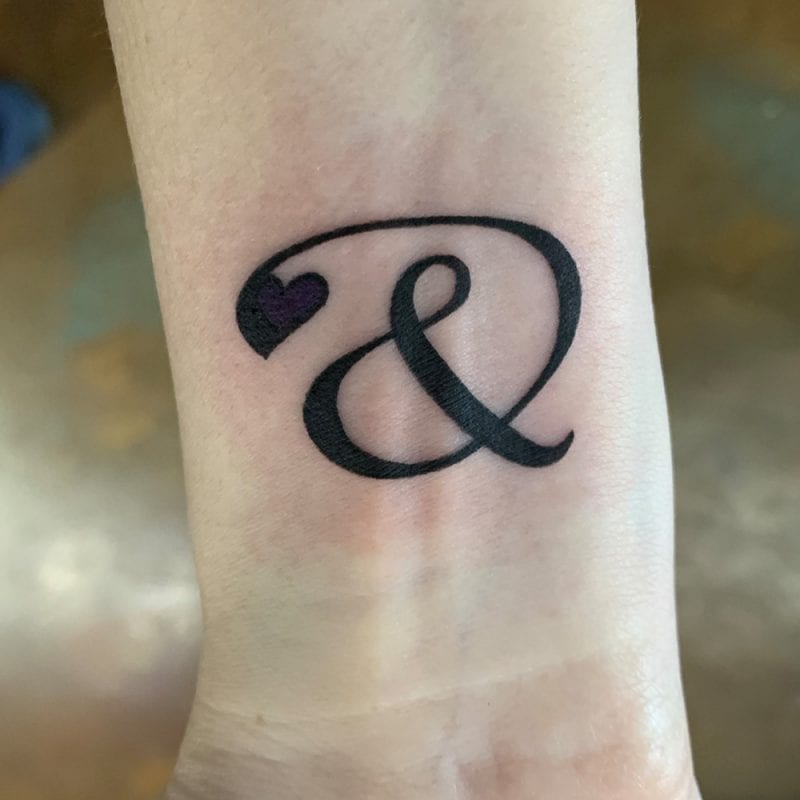 This is my finished ampersand with a heart tattoo after it had calmed down just a bit.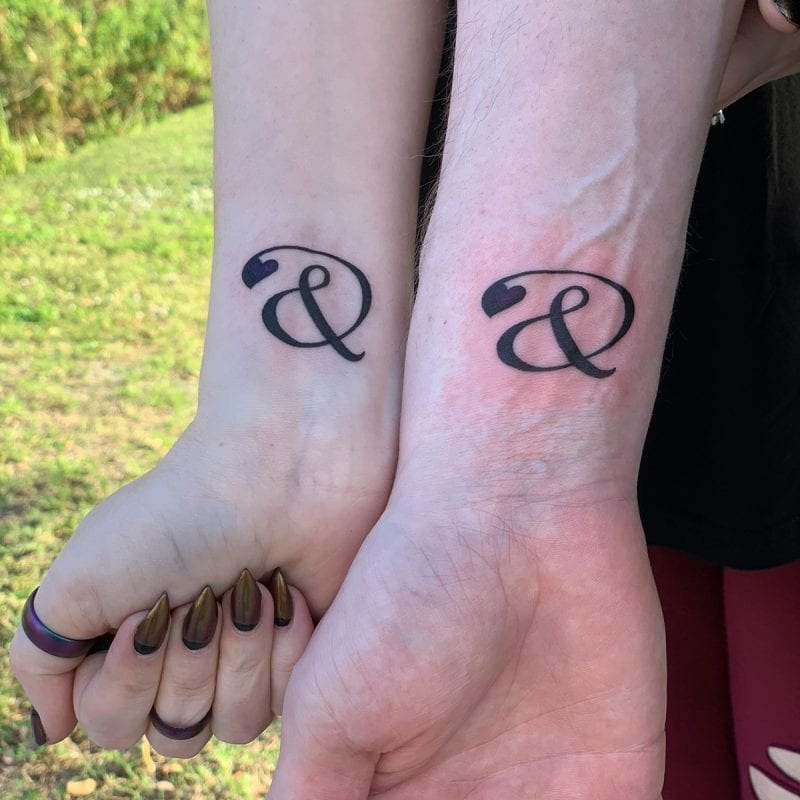 As a pansexual polyamorist, I decided to get this ampersand tattoo for the expression of 'Embrace the Power of And' (which we say a lot). Dave and I looked through tons of designs of ampersands to try to find one that we liked that was recognizable as an ampersand, but still curvy / flowy in design. We added the purple heart since love is at the heart of polyamory. Also, you know I love purple.
Happy New Year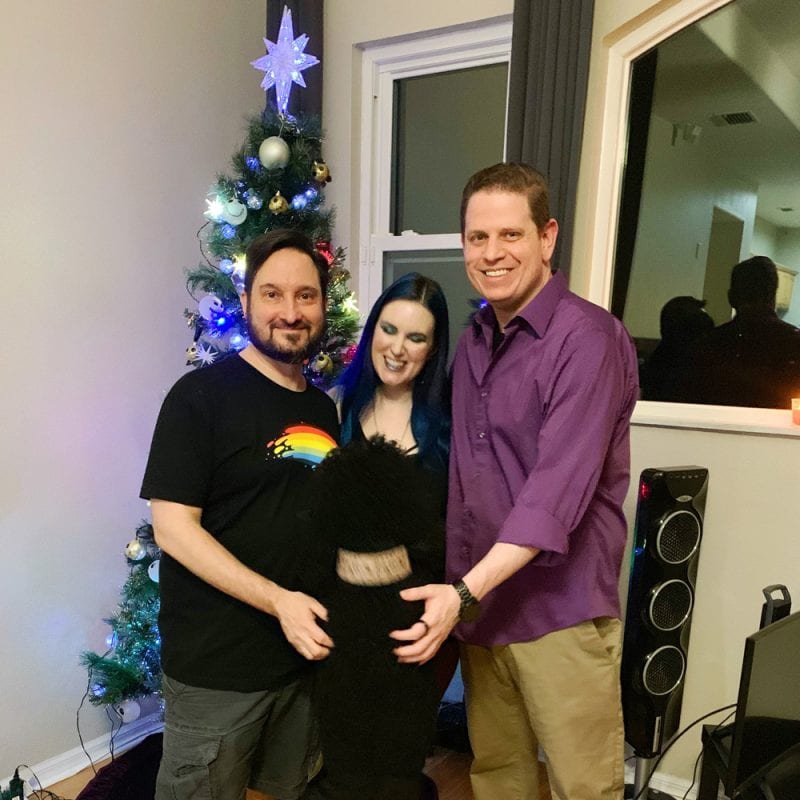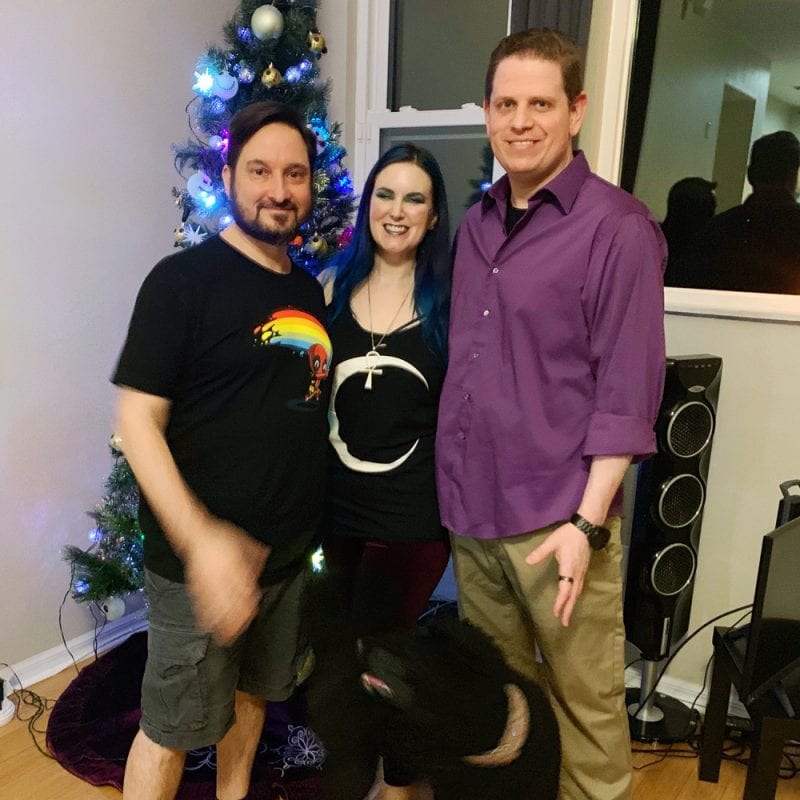 Happy New Year from my family to yours! Phaedra sat this photo out but Nyx had to join in. I hope 2019 is better than 2018! We went through a lot in 2018, from selling our old home, buying a new home, my grandmother passing away (who was like my mom) , and all the travel. I loved Glasgow and Edinburgh!
What I wore for New Years Eve was my Melt Smoke Sessions Tutorial look. I think this eye look has become my default. I've got on a Killstar Keep it Weird top and purple velvet leggings, and a big ankh necklace.
Hooded Eyes Makeup Manual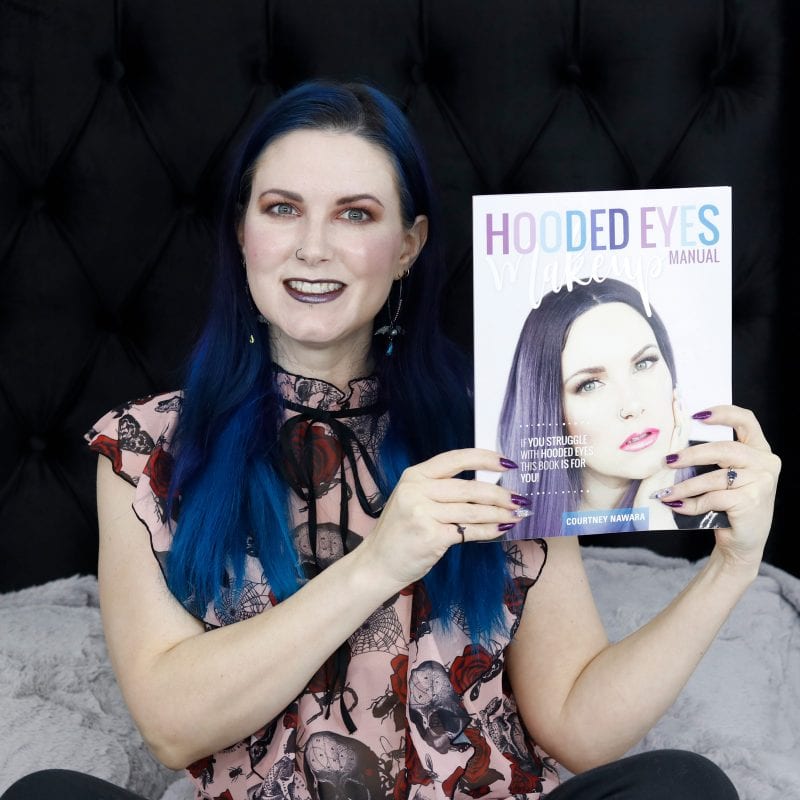 Perhaps my biggest personal accomplishment of 2018 is that I published my book Hooded Eyes Makeup Manual this year. I'd been working on this project for 2 years so I'm thrilled it's done. It literally makes me cry tears of happiness at the outpouring of love and support I've seen for the book. Thank you so much! My book is exclusive to Amazon. You can buy it in print or kindle format.