Life Update & Home Tour 2018
I wanted to share a personal life update on what's been going on with me the past few months and a new home tour 2018. I talk about my current home, which I love and I give you a walkthrough vlog of my new home. I'm very excited about it, I just am extra exhausted from all the extra work in my life right now. Planning a move, fixing all the broken things at my new home because the seller didn't do regular maintenance on the home, setting up the new services for the house, all the calls with the mortgage people, looking at homes, etc. So much of my time has been spent doing all of that. I'm looking forward to being moved into my new place and getting my old home sold. I don't do vlogs very often, but I knew you guys would want a home tour 2018 of my new place, so I included that.
When looking for a new place it needed to have a bedroom for me and Ray, as well as one for Dave, and three offices (one for each of us). It makes sense that each of us needs our own space within the home. I wanted the new home to have a large backyard for Phaedra and Nyx. I didn't want a pool (we have a pool at our current home) because I worry that one of us will sleepwalk into it. Yes, 2 out of 3 people in my home sleepwalk! I figure if I want to swim, I'll just do it at my BFF's house since they have a pool. Anyway, outside of work, my life has been completely taken up by this whole house thing. Buying my first home wasn't nearly so complicated or stressful! This was potentially the most stressful experience I've ever been through.
If you're in Tampa Bay looking for a home, you need to hire Lindsey as your realtor. She is amazing!
Cruelty-free Makeup Look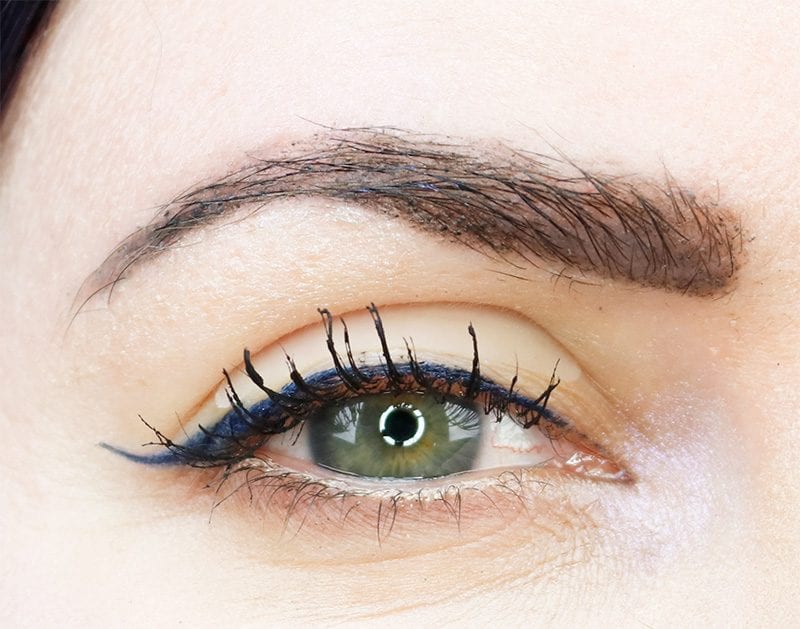 Let's not talk about my clumpy mascara here. For this eye I used It Cosmetics Superhero and it clumped up on me so I tried to detangle it then use a coat of UD Perversion. I should have skipped the Superhero and just stuck to Perversion.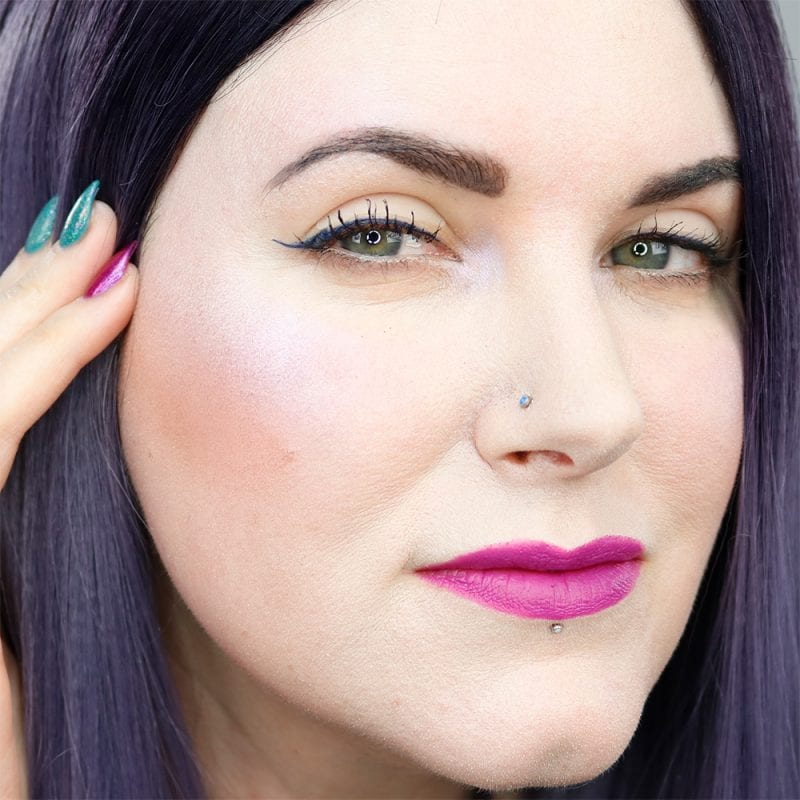 I didn't retouch this image at all so that you could see how my foundation turned out. I feel like my pores look minimized by the application method that I describe below. I still have issues with my foundation +  highlighter looking weird when I try to apply the powder highlighter on top, but the blush and contour look fine.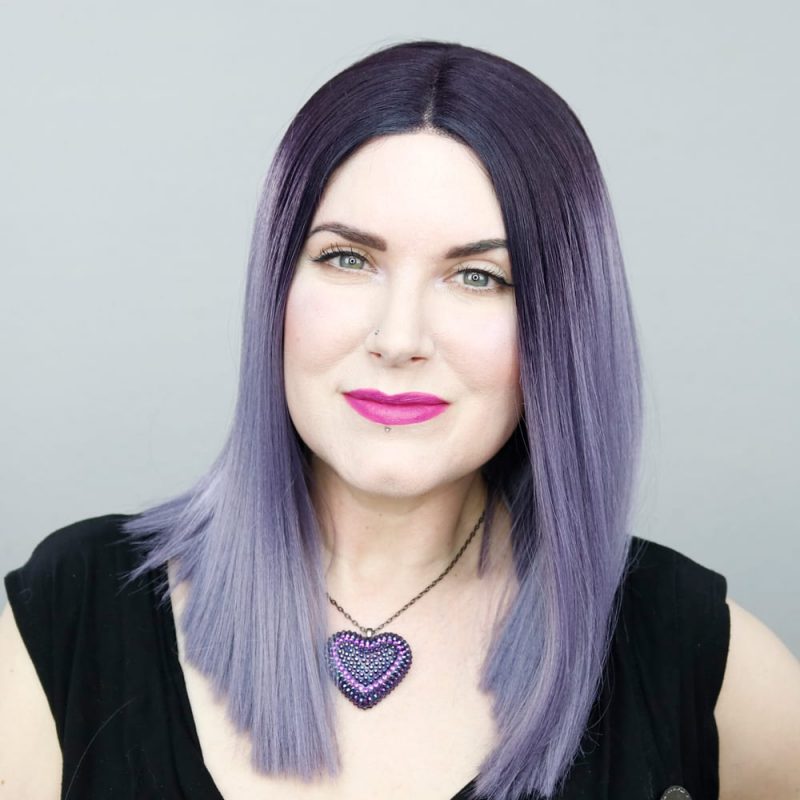 Fashion
Bunny Paige Heart Necklace
Bobbi Boss Yara Purple Wig
Bellabeat Leaf Urban Health Tracker
Eyes
Contours RX Lids by Design Strips
Glossier Lidstar in Moon – highlight under brow
Stila Stay All Day in Indigo – liner
Urban Decay Tease – lower lid
Wet n' Wild White Raven – highlight at inner corner
Urban Decay Perversion Mascara
Elizabeth Mott Queen of the Fill black brow gel
Colour Pop Jet Set Black brow pencil
Cover FX Perfect Pencil in N-Xtra Light – lower waterline
Face
Milk Blur Stick – nose, inner cheeks, chin, forehead
Milk Supernova – highlight on cheekbones, upper lip
Glossier Dusk – cheeks
Hourglass Veil Mineral Primer mixed with Idun Minerals Nordic Veil Foundation in Jorunn
Laura Geller Balance-n-Brighten in Porcelain – under eyes, nose
bareMinerals Gen Nude Blush in Beige for Days – contour
Wet n' Wild the Princess Daiquiries – blush
Wet n' Wild White Raven – highlight
Lips
Urban Decay Frenemy Pencil
Urban Decay Cloud 9 Lipstick
I tried a new foundation application technique for my new home tour 2018 video. I used the Milk Blur Stick to fill in my pores at my nose and inner cheek (by the side of my nose). I then highlighted my cheeks with Milk Supernova, to make my face extra glowy and used Glossier Cloud Paint in Dusk to add some color. I mixed Hourglass Veil Mineral Primer and Idun Minerals Nordic Veil in Jorunn 50/50 to make my foundation, then applied it with a damp Nyx Complete Control Sponge. I used a real techniques Fan Brush to layer WnW White Raven on top of Supernova. I lightly contoured the cheeks with bareMinerals GenNude blush in Beige for Days. Then I layered WnW the Princess Daiquiries as my blush. I only set under the eyes and on the nose with Laura Geller's Balance-n-Brighten in Porcelain.
Home Tour 2018 Video
I hope you enjoy seeing my new home tour 2018 video. I can't wait to finish moving in. I will be filming Phaedra and Nyx's first run around the new yard because they are going to love it!
Have you ever painted a glitter wall? I'm trying to find a good DIY tutorial for it, but so far haven't found a great one. I'm also looking for a DIY guide on how to turn your closet into a murphy bed. Pinterest has a lot of pretty pins on both but very few of those pins seem to link to actual DIY tutorials. If you know of any good tutorials for either of these, please share in the comments below!