DIY Cool Berries Eyeshadow Palette
Today I'm bringing you the DIY Cool Berries Eyeshadow Palette that you requested! I hit up my collection for cool-toned eyeshadows to share with you, primarily in the pinks, purples, mauves, and reds color families. I did include a few greys and taupes because they're also cool toned and in the case of Nabla, I wanted to swatch the entire Christmas Mauve collection I bought. Now, you don't need to buy every single eyeshadow in this post! Pick and choose your favorites from the colors you see here to build your perfect palette.
Makeup Geek PR samples. Everything else purchased by me.
I love my GlamTech palettes! I had them custom made by an Orlando etsy seller, GlamTech. You can get just about any design that you want handmade by GlamTech. These are what I buy now instead of z-palettes. They're more sturdy and I love that I can get custom designs. They also travel well.
Anastasia Beverly Hills DIY Cool Berries Eyeshadows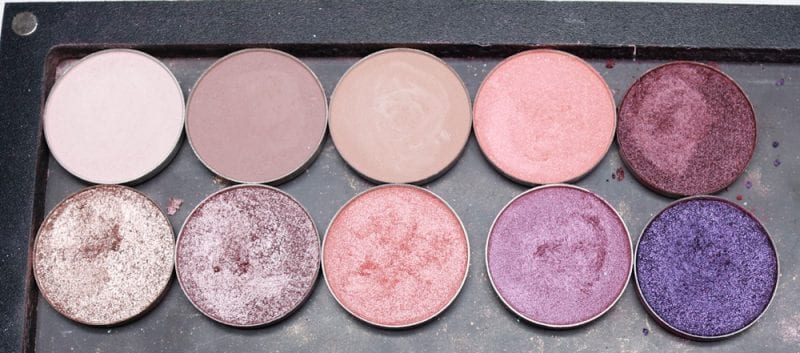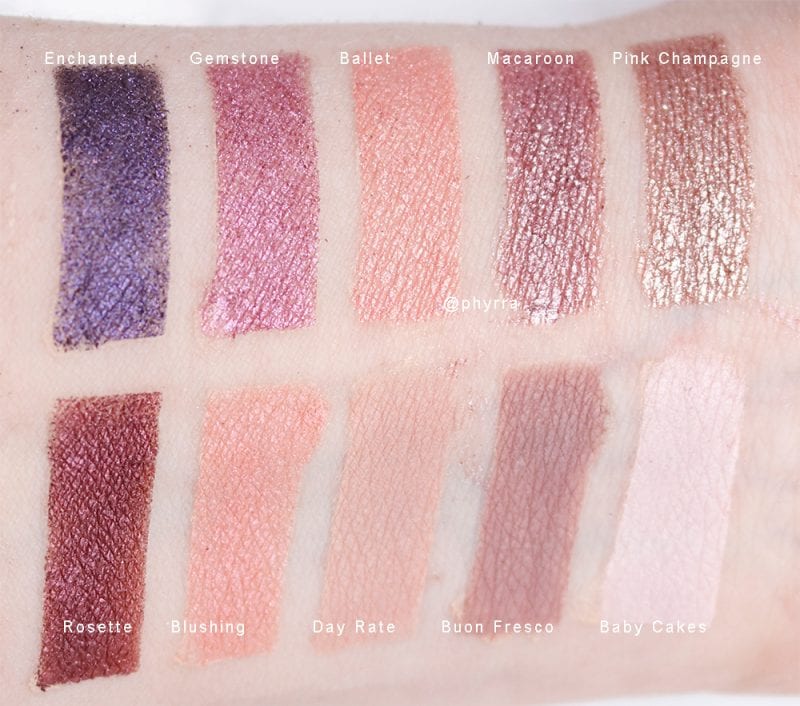 Baby Cakes
pastel pink matte
Baby Cakes is a pastel pink matte. This is a good highlight, base shade or blending out the edges of other colors type eyeshadow.
Buon Fresco
antique lavender matte
Buon Fresco is the perfect sort of pinky taupe matte that I love to use as a transition shade.
Ballet
metallic seashell pink
Ballet is a metallic seashell pink.
Blushing
rosy lilac
Blushing is a soft peachy pink with a subtle pink shift. This can be a transition shade.
Pink Champagne
pinky beige shimmer titanium
Pink Champagne is a pinky beige shimmer. The Titanium finish is one of the best that Anastasia Beverly Hills makes. It's a stellar color.
Macaroon
pastel lavender shimmer titanium
Macaroon is a light lavender pink shimmer.
Day Rate
nude pink
Day Rate is a light nude with pink undertone. This can be a nice transition shade on pale skin.
Gemstone
duochrome violet orchid shimmer
Gemstone is a purple with pink undertone shimmer.
Enchanted
duochrome royal purple shimmer
Enchanted is a rich royal purple shimmer.
Rosette
burgundy shimmer
Rosette is a metallic burgundy with pink shimmer.
I actually have bought a ton of Anastasia Beverly Hills eyeshadow singles (see swatches). I really need to reswatch them all. For this DIY Cool Berries Eyeshadow Palette post, I focused on these 10 shades from Anastasia because I felt like they were the best suited for a berries palette. These are some of my all-time favorite Anastasia Beverly Hills eyeshadows. I especially love Pink Champagne, Macaroon, Baby Cakes, Buon Fresco, Gemstone, Enchanted and Rosette.
You can buy Anastasia Beverly Hills Eyeshadow Singles at Sephora, Ulta and Anastasia's website. They are $12 individually, but you get discounts if you buy 4 or 8 at a time.
Nabla Mauve Christmas Palette & Single Eyeshadows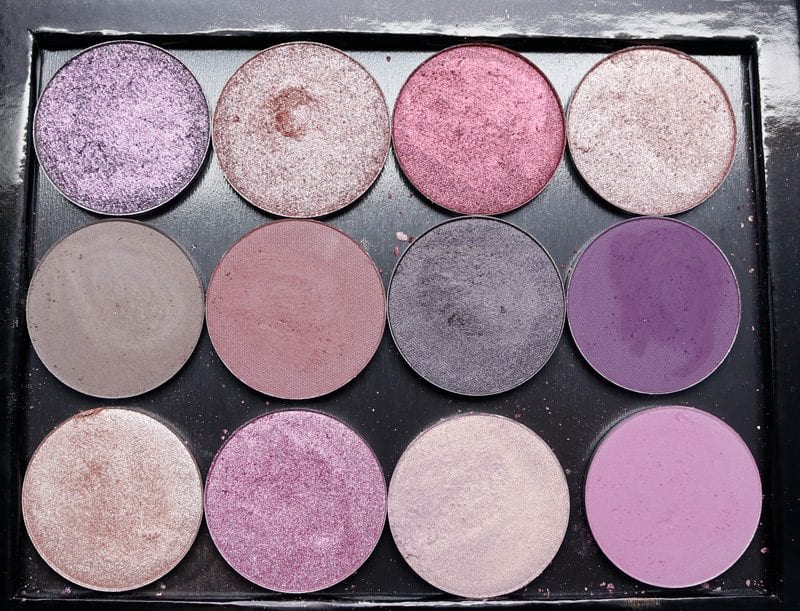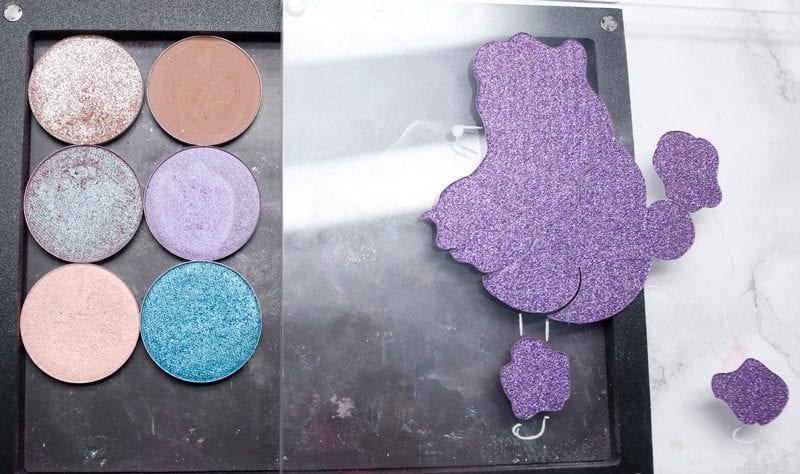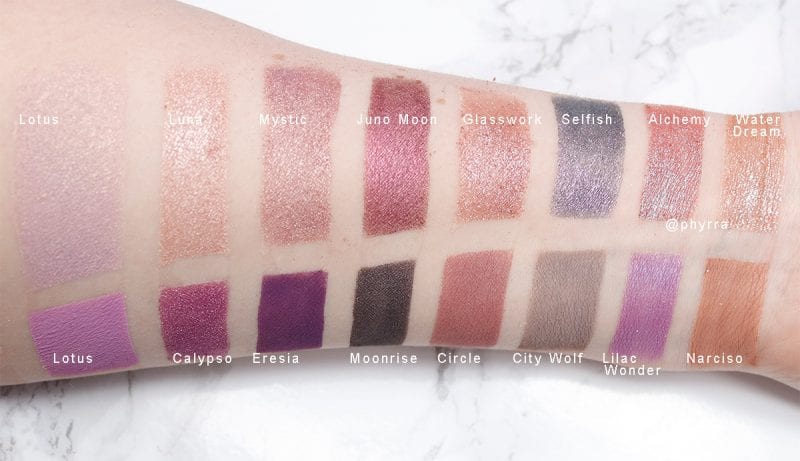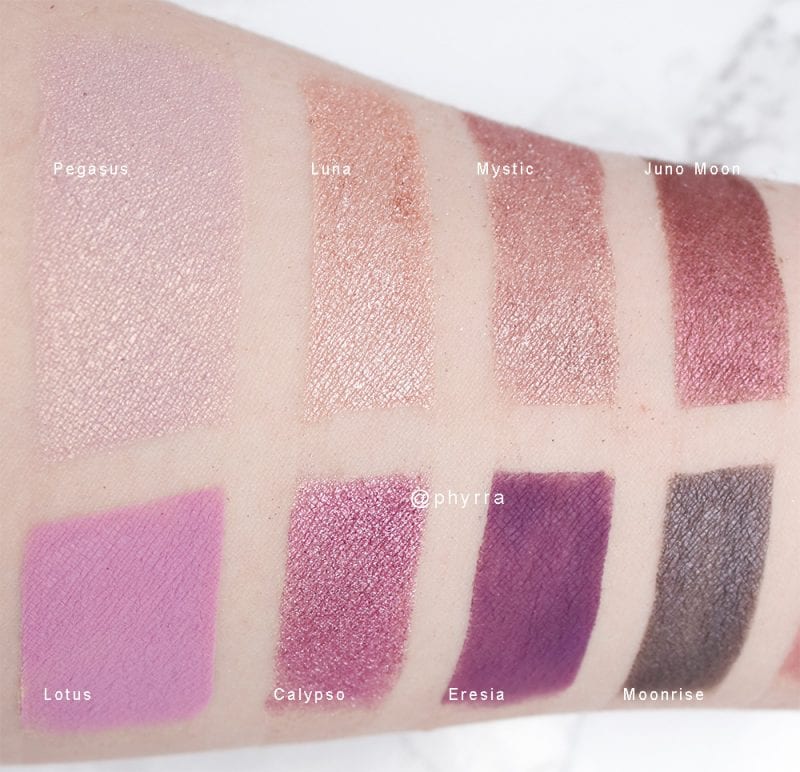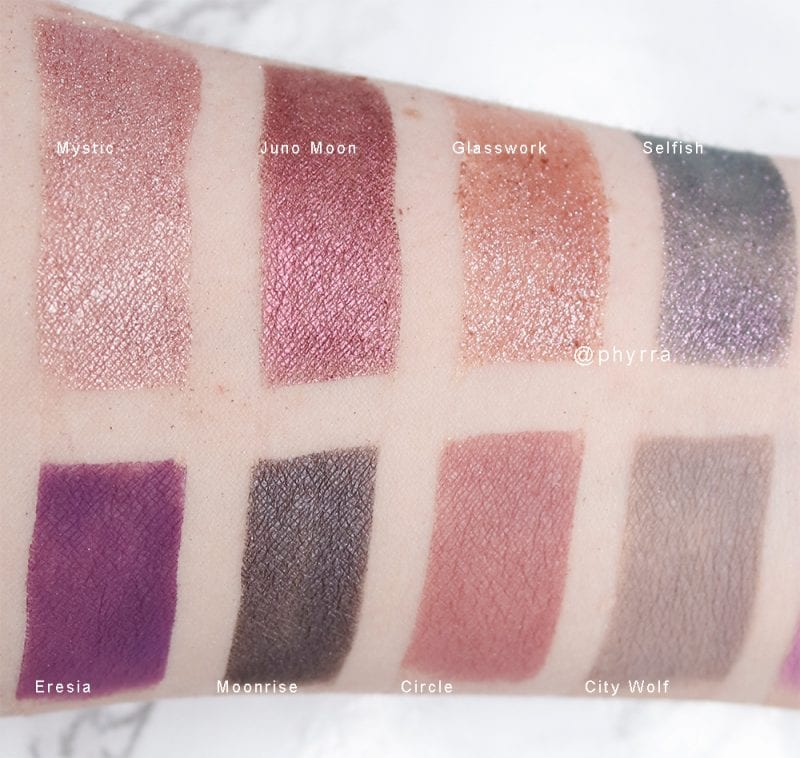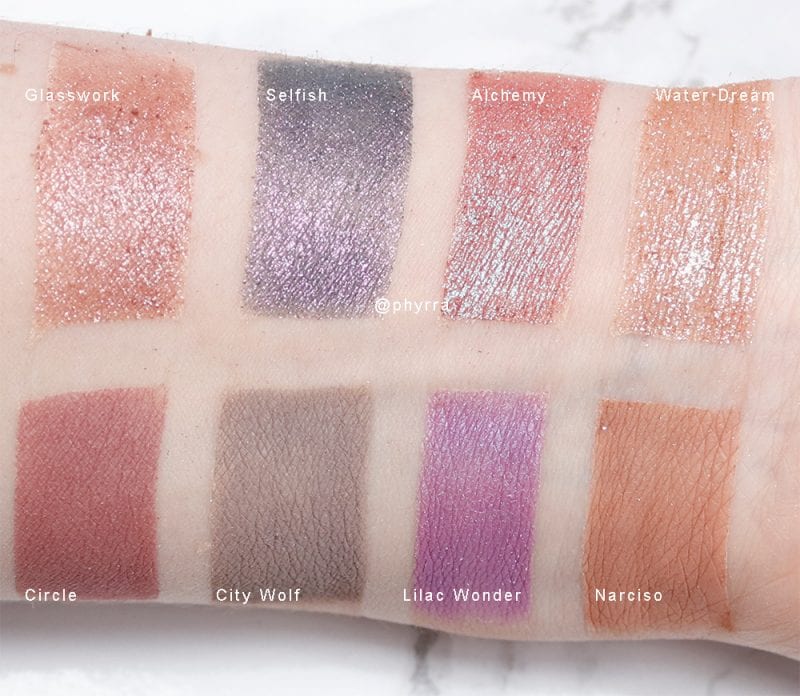 Mauve Christmas Set Shades
City Wolf
Excellent dove-gray with a cool undertone. Soft Matte.
City Wolf is a gorgeous soft grey.
Moonrise
Gunmetal with a hint of violet. Bright.
Moonrise is a complex gunmetal grey shimmer.
Pegasus
Pastel lavender duochrome with strong golden-champagne sheen. Satin.
Pegasus is a pastel lavender with gold duochrome.
Circle
Desaturated mauve of a medium tonality. Soft Matte.
Circle is a beautiful earthy mauve matte.
Juno Moon
Purple cyclamen on an intense rust base. Bright.
Juno moon is a metallic red wine with pink shift.
Calypso
Heliotrope purple with chrome-plated cold violet. Super bright.
Calypso is a beautiful red-toned purple with silver shift.
Selfish
Kaleidoscopic duochrome with a burnt teal base. Celestial.
Selfish is a deep teal blue base with pink violet shift and pink violet sparkles.
Luna
Light pink champagne. Bright.
Luna is a light pink champagne shimmer.
Glasswork
Hazelnut-mauve. Celestial.
Glasswork is a light brownish mauve base with blue shift.
Mystic
Metallic mauve with pink-champagne reflects. Bright.
Mystic is a metallic mauve shimmer with pink-champagne shift.
Lotus
Cool pastel pink. Super-matte.
Lotus is a pinky-purple matte.
Eresia
Warm purple. Super-matte.
Eresia is a warm purple matte.
Singles
Narciso
Neutral light brown with pink undertones. Soft Matte.
Narciso is a light brown with pink undetones matte.
Lilac Wonder
Medium violet with blue, lilac and wisteria sheen. Satin.
Lilac Wonder is a violet purple with blue and pink sheen.
Water Dream
Nude top coat wet effect with reflective pearls.
Water Dream is a light champagne base with super sparkly reflective pearls. Good to layer on top of other shades.
Alchemy
Burnt peach duochrome with fuchsia and teal reflects. Celestial.
Alchemy is a reddish mauve base with teal blue reflects.
For Christmas, I bought myself the Nabla Mauve Christmas Palette and several singles. I swatched most of them for my DIY Cool Berries Eyeshadow Palette since I think they fit right in with the purple, mauve, berry and grey tones. These colors are so gorgeous! I haven't had much of a chance to play with these yet but I especially like Water Dream, Alchemy, Selfish, Glasswork, Mystic, Calypso, City Wolf, Moonrise and Circle.
Nabla is available at NablaCosmetics.com. They vary from € 6,50 to € 9,90, which is about $12.21 USD each.
Sydney Grace DIY Cool Berries Eyeshadows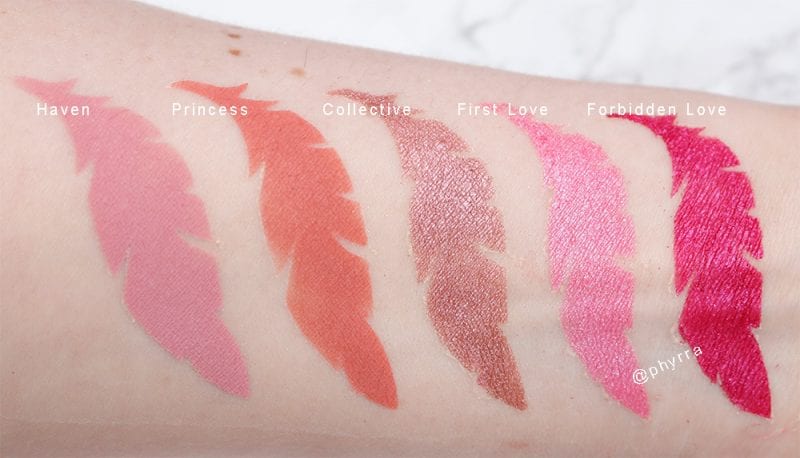 Princess
Princess is a nude pink matte.
Haven
Haven is a light lilac pink with purple undertone matte.
Collective
Collective is a light pink mauve with subtle golden violet shimmer.
First Love
First Love is an intense pink with blue undertone and shimmer.
Forbidden Love
Forbidden Love is a deep fuchsia pink shimmer.
I recently bought my first Sydney Grace pressed eyeshadows because of Angelica Nyqvist. I was impressed by the formula and color selection. I really hate that the website lacks color descriptions for each shade. The pigmentation is so good! I think these colors are perfect for my DIY Cool Berries Eyeshadow Palette selection.
Sydney Grace is available at Sydney Grace Co. They range from $5 to $6.10.
Colour Pop DIY Cool Berries Eyeshadows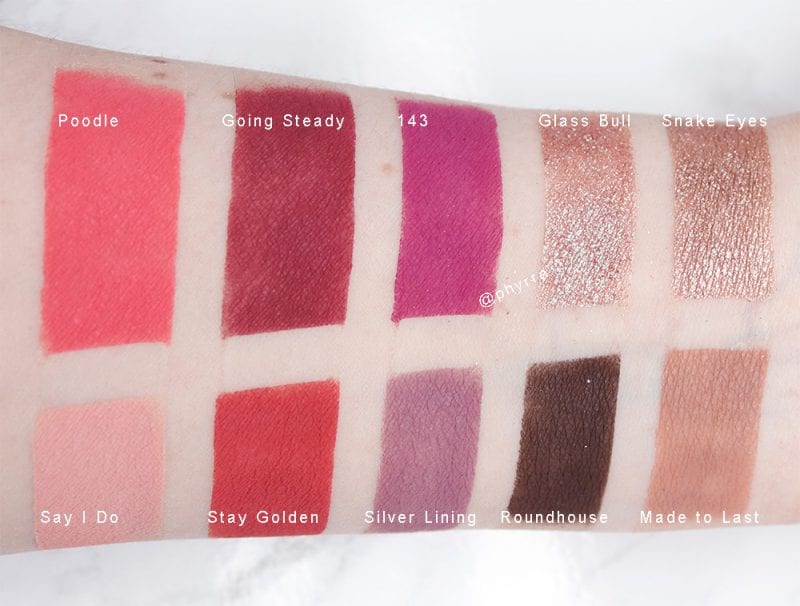 143
intense deep lilac matte
Skip Sugarpill 2AM and get 143. It's an amazing magenta berry shade. It's what I wanted 2AM to be, but 2am always fades on me.
Silver Lining
dusty purple matte
Silver Lining is a faded midtone purple matte.
Poodle
vibrant true pink matte
Poodle is a bright pink matte. I bought this because of Phaedra and Nyx.
Made to Last
neutral mauve matte
Made to Last is a cool nude with mauve undertones matte.
Stay Golden
raspberry matte
Stay Golden is a rich red matte.
Going Steady
dusty wine matte
Going Steady is a burgundy wine matte.
Snake Eyes
pale pink taupe
Snake Eyes is a lovely pink beige taupe shimmer. This actually reminds me of Anastasia Beverly Hills Pink Champagne.
Glass Bull
duochrome lavender icy blue
Glass Bull is a soft lavender base with icy blue shimmer shift. I've worn this color a ton. I love it.
Roundhouse
cool black brown
Roundhouse is a cool-toned blackened brown.
Say I Do
light pink matte (discontinued, boo)
Say I Do is a very light pink matte.
My Colour Pop DIY Cool Berries Eyeshadow Palette shades are gorgeous and so inexpensive! The only problem with Colour Pop is that they discontinue colors so quickly! I thought every color I used was still in stock but Say I Do is not. I especially love 143, Glass Bull, Say I Do, and Going Steady.
Colour Pop Eyeshadow Singles are available at Colour Pop. They're $5 each.
Makeup Geek DIY Cool Berries Eyeshadows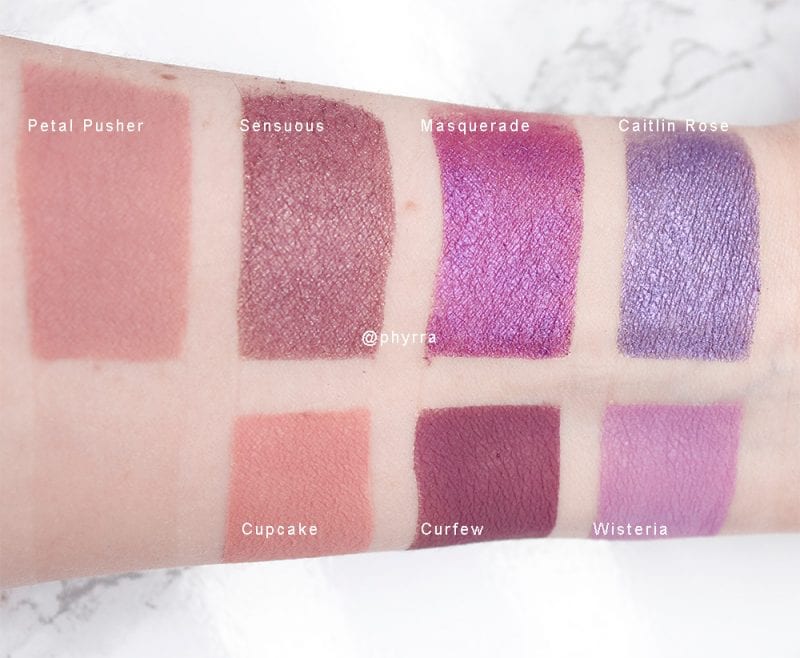 Curfew
medium plum purple matte
Curfew is a beautiful berry purple matte.
Sensuous
shimmery purple with flecks of silver
I don't know why but I swear that Sensuous looks like it has gold flecks, not silver flecks, on my skintone. It's a pretty wine purple.
Wisteria
pale purple matte
Wisteria is a good transition shade, being a light purple matte.
Caitlin Rose
bright amethyst purple foil
Caitlin Rose is a blue-toned purple foil.
Masquerade
bright medium plum foil
Masquerade is the most beautiful color in this set. It's a magenta berry base with blue-toned violet shift.
Cupcake
medium pink matte
Cupcake is a nude pink matte.
Petal Pusher
medium rose brown matte
Petal Pusher is a rose taupe matte.
I love Makeup Geek and when going through my Makeup Geek eyeshadows vs. what is currently available on the Makeup Geek website I got very depressed. Makeup Geek has discontinued so many colors that would have been perfect for this DIY Cool Berries Eyeshadow Palette! Here are the ones I could include. I especially love Masquerade, Caitlin Rose, Curfew, and Petal Pusher. I just couldn't believe the number of purples that Makeup Geek has killed off, like Duchess, Motown, Taboo, and Blacklight, just to name a few. I hope Makeup Geek releases a ton of new eyeshadows soon!
Makeup Geek Eyeshadows are available at MakeupGeek.com. They're $6 to $10 each.
Melt She's in Parties Stack + Assimilate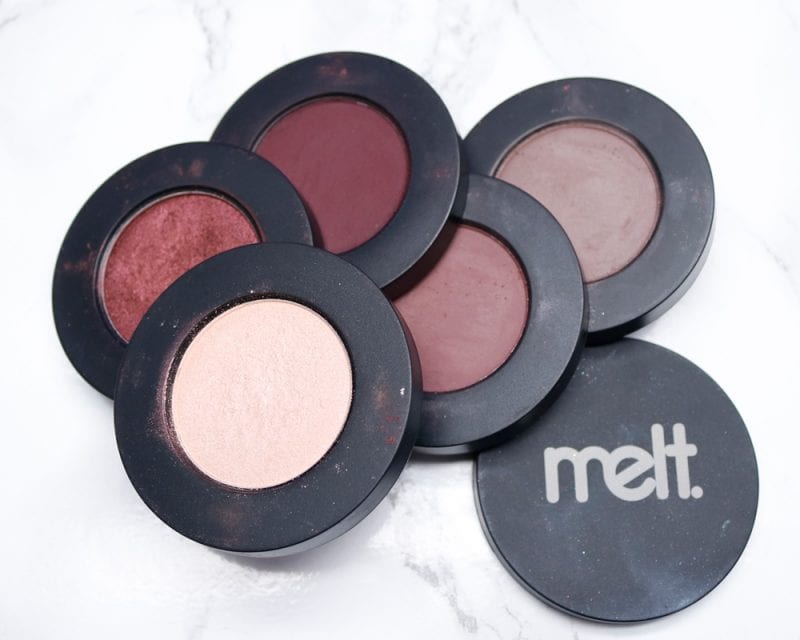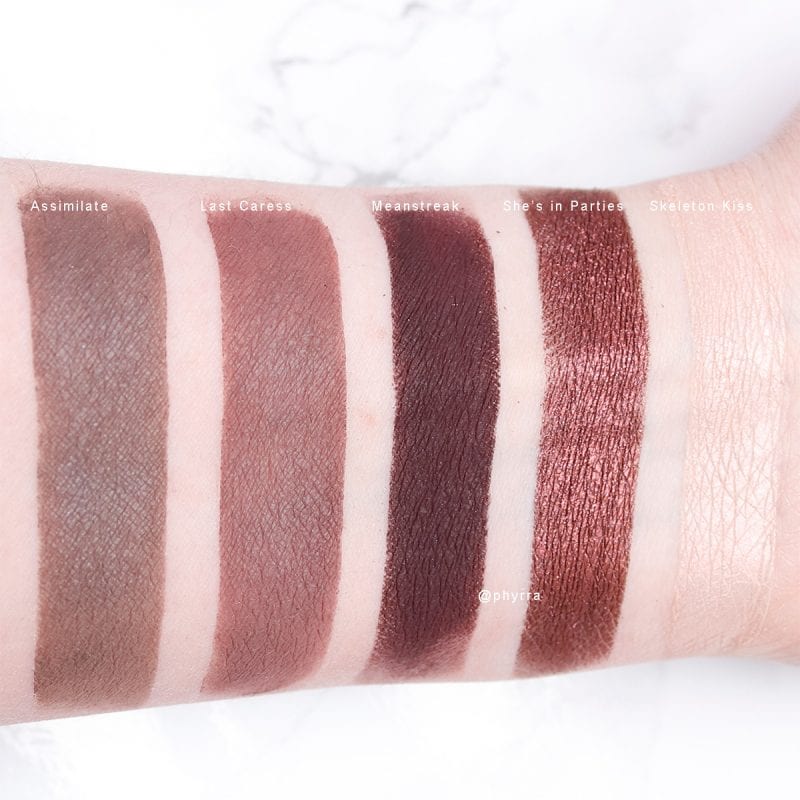 Skeleton Kiss
Creamy bone shadow with a kiss of a rose gold shift.
Skeleton Kiss is a creamy vanilla with rose gold shift.
Last Caress
The perfect mauve-taupe Ultra Matte.
Last Caress is a smoky mauve taupe matte.
She's in Parties
A burgundy frost shade with hints of copper and pink flecks.
She's in Parties is a metallic burgundy with copper and pink flecks.
Meanstreak
She is the prettiest deep plum Ultra Matte Shade.
Meanstreak is a deep plum matte. I use this color all the time, so I had to include it in this post.
Assimilate
Perfect deep taupe matte.
Deep cool taupe matte.
With as much as I love to use the Melt She's in Parties stack, especially Last Caress and Meanstreak, I realized I needed to include them in my DIY Cool Berries Eyeshadow Palette. Last Caress, Meanstreak and Assimilate are more on the smoky, burnt side as opposed to brights, but I think they fit right in. Meanstreak looks very brown-toned plum in the swatch but when you use it on top of a purple shade, all the purple tones come out. It's lovely. See my Melt She's in Parties Stack review.
Melt is available at MeltCosmetics. They're $17 individually or $48 for most stacks.
Sugarpill, Suva Beauty & JD Glow DIY Cool Berries Eyeshadow Palette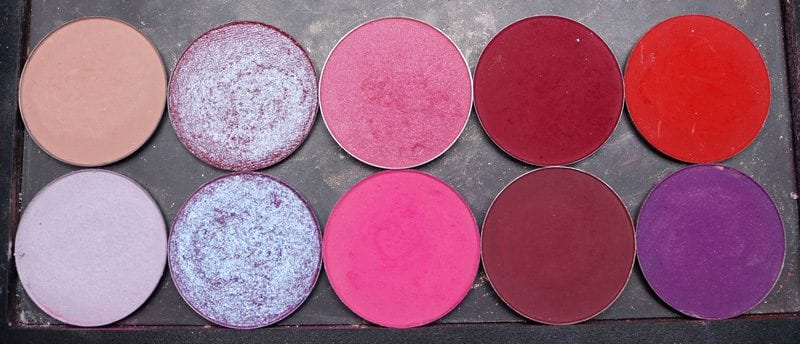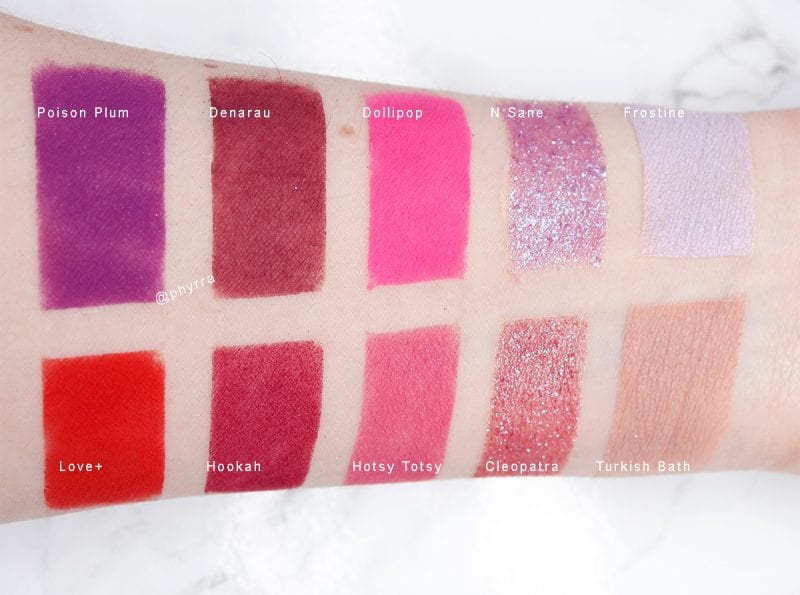 Sugarpill Hotsy Totsy
Sweet magenta with iridescent fairy sparkles.
Hotsy Totsy is a soft sparkly pink. You can easily use this as a blush.
Sugarpill Dollipop
vibrant hot pink matte.
Dollipop is the brightest hot pink matte I own. It can be used as blush with a light hand.
Sugarpill Frostine
pastel lavender shimmer.
Frostine is a pale lavender shimmer. It can be used as a highlighter with a light hand.
Sugarpill Love+
bright red matte
Love+ is the best bright red matte eyeshadow ever.
Sugarpill Poison Plum 
deep purple matte
Poison Plum is a vibrant rich purple matte.
Suva Beauty Turkish Bath 
light beige pink matte
Turkish Bath is a light beige with pink undertone matte.
Suva Beauty Hookah
warm burgundy matte
Hookah is a beautiful rich warm burgundy matte.
Suva Beauty Denarau
cool burgundy matte
Denarau is a gorgeous cool burgundy matte.
JD Glow Cleopatra
Maroon, Teal, Purple, Pink, Orange
Cleopatra has a maroon base and teal, purple, pink and orange sparkles.
JD Glow N Sane
Purple pinkish w/ blue & burgundy Shift
N Sane has a purple base with blue, purple and burgundy sparkles.
I had only a few shades to include from Sugarpill, but I really wanted them here since they're available worldwide. I only own these 3 colors from Suva Beauty, which I love, and definitely needed to be included in my DIY Cool Berries Eyeshadow Palette.
Sugarpill is available at BeautyLish and Sugarpill. They're $11 to $16 each.  Suva Beauty is available at Bloomingdale's and Suva Beauty. They're $11 each. JD Glow is available at JDGlow. They're $7.50 each.
Cruelty-free Makeup Look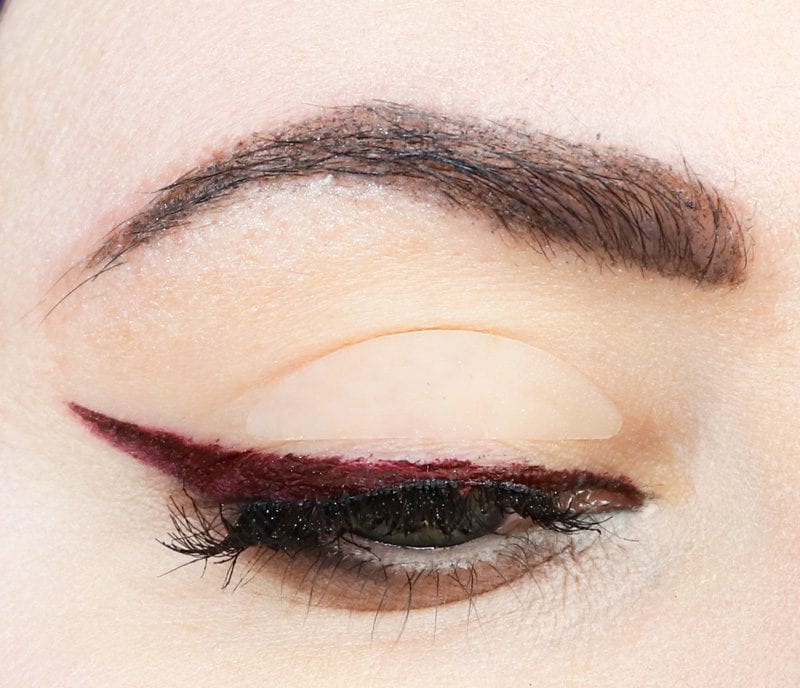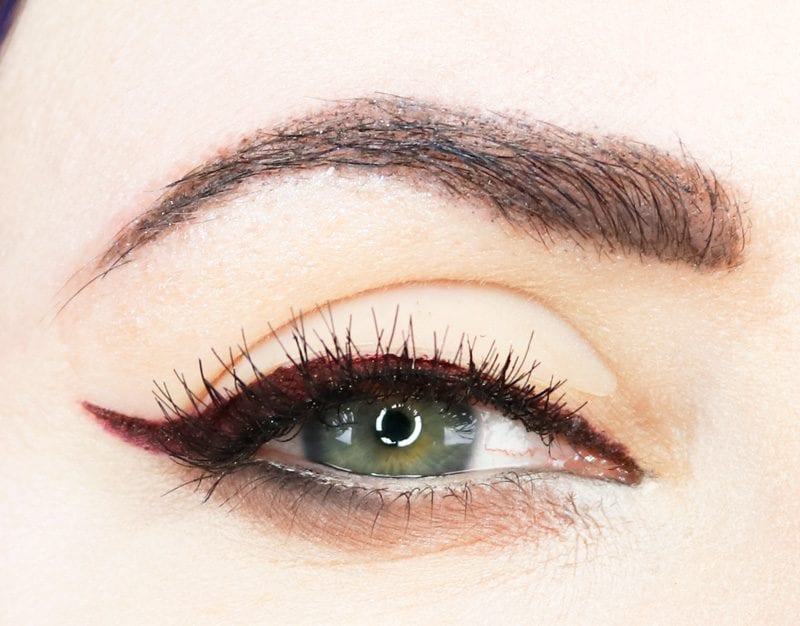 LASplash Medusa liner absolutely deserves to be in this post because it's a beautiful maroon / wine / burgundy / oxblood type shade that's extremely hard to find and goes so well with these cool berry shades. I wish it was available in a pen like the Kat Von D Tattoo Liner in Trooper.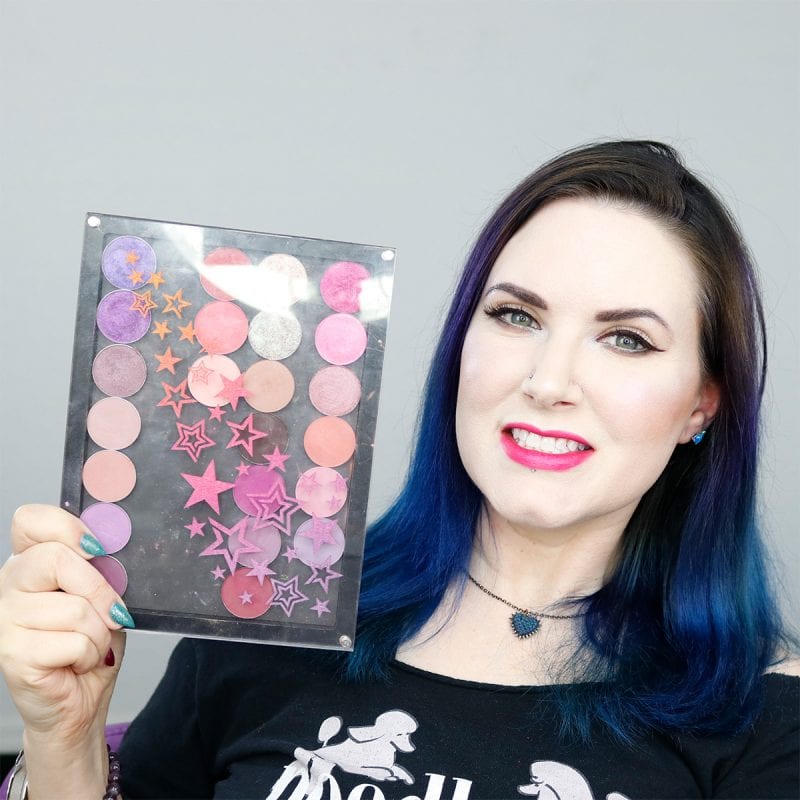 Fashion
Bunny Paige Micro Spiked Heart Necklace
Poodle Pandemonium Shirt
Bellabeat Leaf Urban Health Tracker
Eyes
Contours RX Lids by Design Strips
Glossier Lidstar in Moon – highlight under brow
Urban Decay Laced – inner lower lid
Urban Decay Tease – lower lid
Wet n' Wild White Raven – highlight at inner corner
Urban Decay Pseudonym (UD Gold Griot palette, discontinued) – outer lower lash line
Laura Geller Balance-n-Brighten in Porcelain – inner lower lid
LASplash Medusa liner
Urban Decay Perversion Mascara
Ardell Demi Wispies Lashes
Elizabeth Mott Queen of the Fill black brow gel
Colour Pop Jet Set Black brow pencil
Cover FX Perfect Pencil in N-Xtra Light – lower waterline
Face
Hourglass Veil Mineral Primer
Idun Minerals Nordic Veil Foundation in Jorunn
Laura Geller Balance-n-Brighten in Porcelain
bareMinerals Gen Nude Blush in Beige for Days
Wet n' Wild the Princess Daiquiries – blush
Wet n' Wild White Raven – highlight
Pixi Makeup Fixing Mist
Lips
Urban Decay Frenemy Pencil
Marc Jacobs Flaming-oh! Liquid Lip Crayon
DIY Cool Berries Eyeshadow Palette Video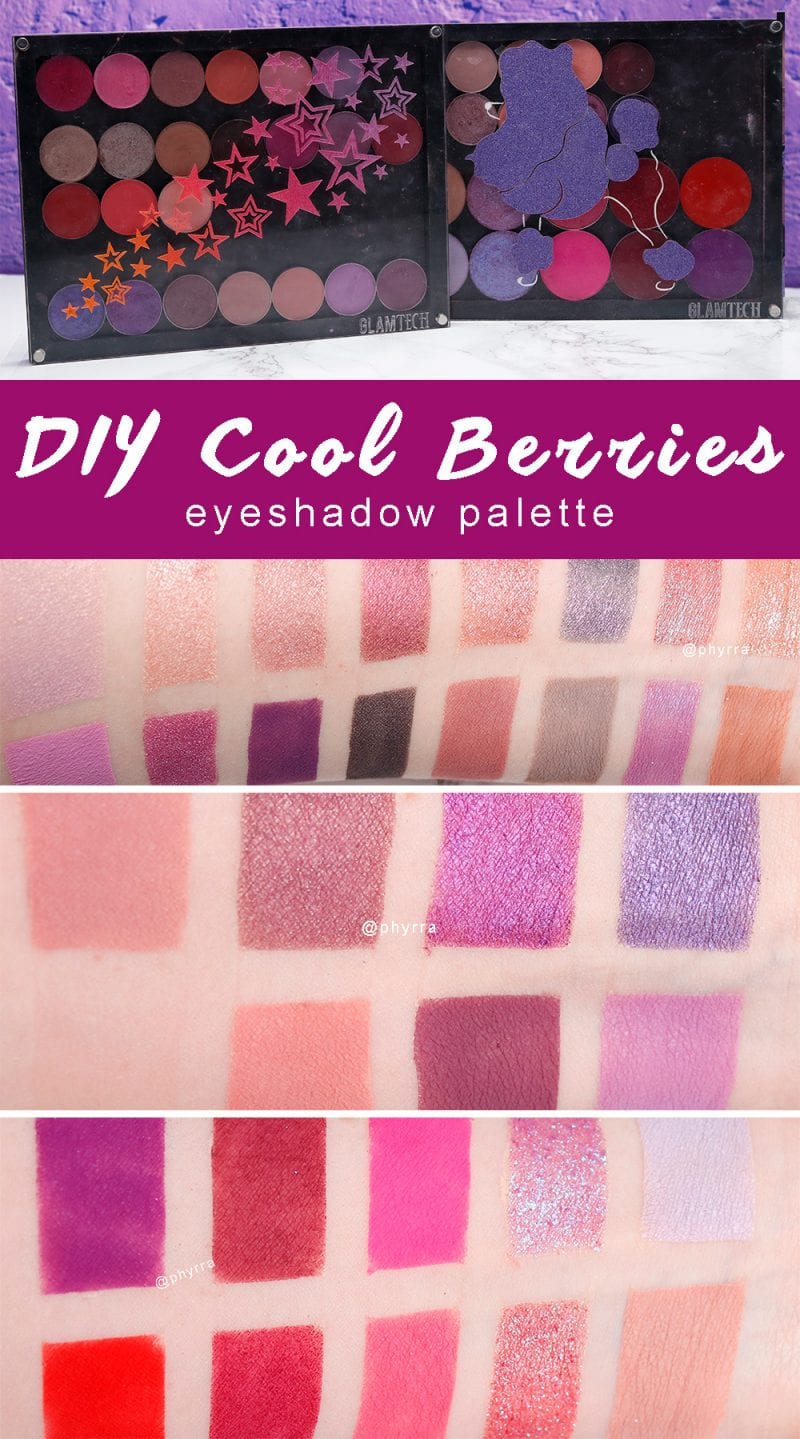 The above video will be live at 12 pm EST on Wednesday, March 14, 2018.
As I mentioned above, you don't need every single color in my DIY Cool Berries Eyeshadow Palette post. I'm sure some of these shades appeal to you more than others. With the exception of Melt Cosmetics She's in Parties Stack being $48, these are all pretty affordable since they range from like $5 to $16. You can put together a great palette with a few of these from each brand.
Which colors do you like best from my DIY Cool Berries Eyeshadow Palette? Let me know below!