Urban Decay Backtalk Palette
Is it a hit or a skip? I've got my Urban Decay Backtalk Palette review, demo, swatches and look to share with you. I put all the colors on my face and eyes so that you can see how they perform. Urban Decay Afterglow blushes are my favorite, so I was thrilled to see the Urban Decay Backtalk Palette come out. I also love cool berry tones (see my DIY Cool Berries Palette). What will I think of this palette? The answer may surprise you!
PR Sample.
Urban Decay Backtalk Palette

The eyeshadows look a lot cooler-toned in the pan than they appear on the skin.

The blushes look a bit more cool-toned than they appear on the skin.
Urban Decay Backtalk Palette Swatches

3 Sheets (pale pink-nude matte)
Bare (light pinky-peach satin)
Curve (metallic rose shimmer with silver micro-glitter)
Backtalk (soft rosy mauve matte)
Shade (deep fuchsia satin)
Attitude (metallic red-copper)
WTF (reddish brown matte)
180 (metallic brown-red)
In my personal opinion, Bare and Curve are too similar to be in the same palette. They look nearly identical when worn on the eyes. I expected Backtalk to be closer in hue to UD Laced, a pinky taupe matte, but it's much much warmer. Shade swatched beautifully and applied beautifully but then faded off my eyes, no idea why. WTF is the most pigmented eyeshadow in the palette. I feel like 180 should be a plum shade, more similar to Melt Meanstreak than a brown. Attitude is very pretty.
I swatched the eyeshadows on Urban Decay Original Primer Potion.

Cheap Shot (medium pink-nude)
Double Take (rich mauve with slight shimmer)
Low Key (pink-peach)
Party Foul (light pink-nude shimmer)
I applied all the blush swatches on bare skin. Normally I wear blush on top of foundation but was asked to swatch these without any other products so that you could see the 'true color.' Below is my naked face in a mix of daylight + studio lights. No retouching was done at all so you can see all the flaws in my skin. I have rosacea, serborrheic dermatitis (around the sides of the nose and at the inner eyebrows), and some acne texture from rosacea on the cheeks.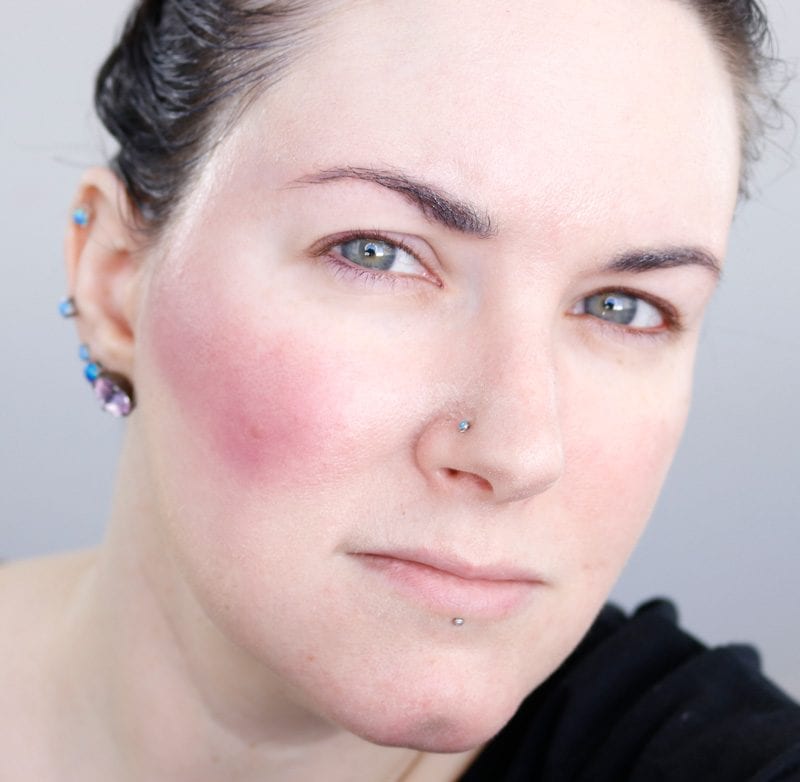 Cheap shot is completely matte.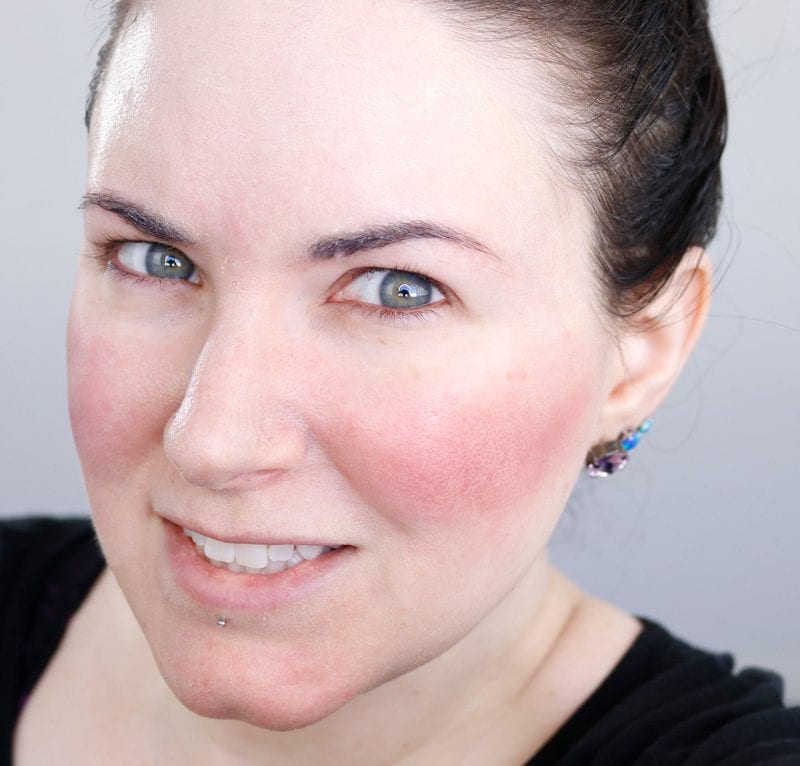 Double Take has a subtle sheen to it but mostly reads matte on the skin.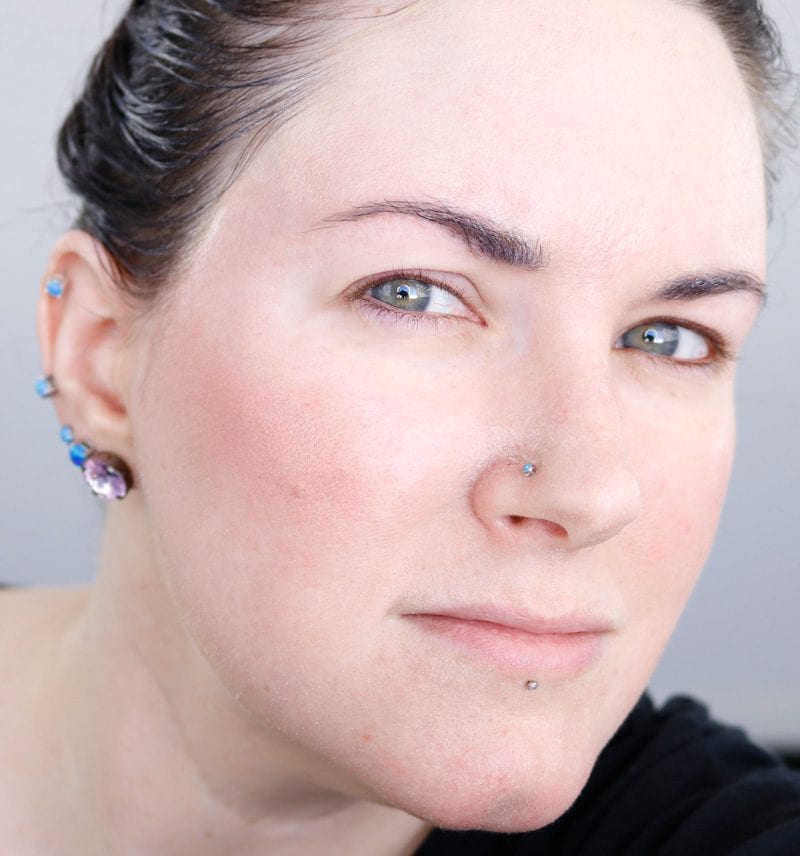 I think Low Key is the most flattering of the 4 cheek products on me. It gives just a subtle hint of pinky-peach color on my pale skin and I think it looks lovely.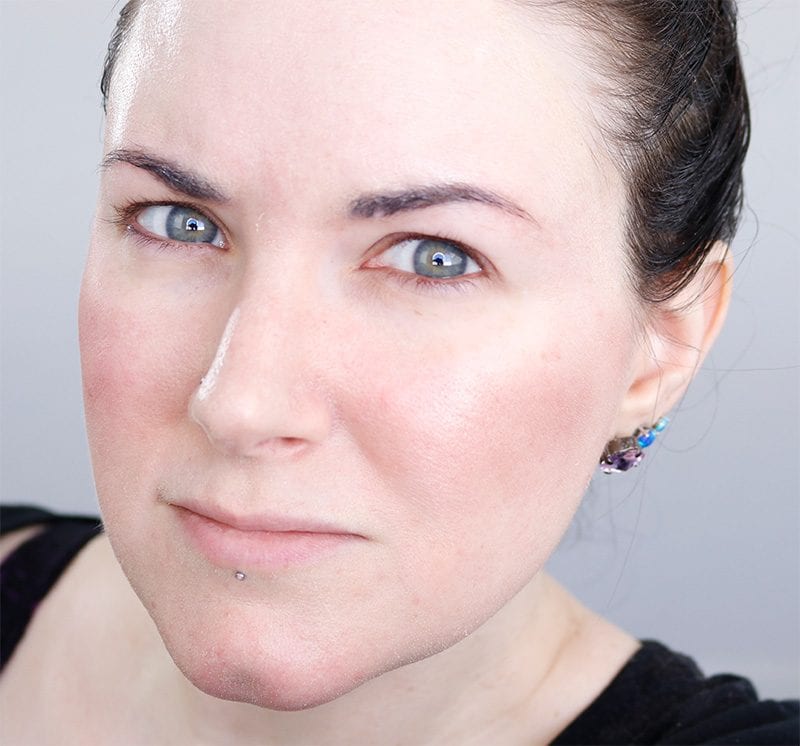 Party Foul is a very soft pink-nude blush on me.
Urban Decay Backtalk Palette Comparison Swatches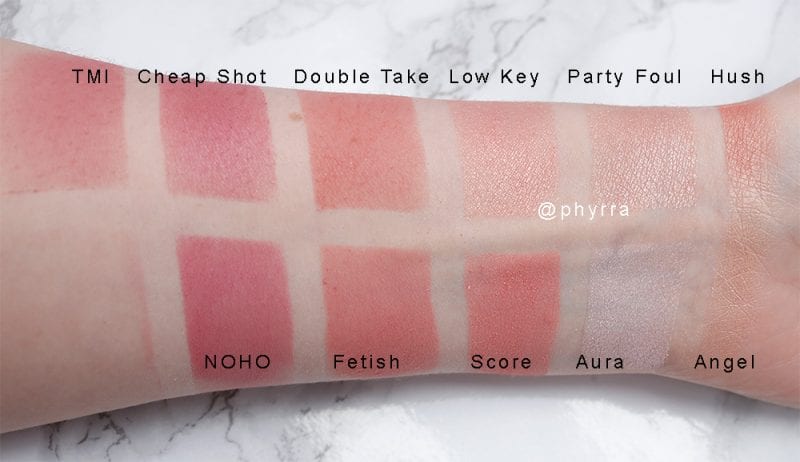 For the Urban Decay Backtalk Palette blush comparisons, I compared Cheap Shot to the permanent color TMI and the Basquiat cheek palette NOHO. I compared Double Take to the permanent color Fetish. Low Key is in the same color family as Score but much lighter than Score. I compared Party Foul to Aura, which is not similar at all. Out of curiosity I also swatched Angel and Huge, from the Gwen Stefani Cheek palette to see how they fit in with the cheek colors. There are no dead on dupes, just colors in the same color family.
I love that the UD Backtalk Palette has unique shades.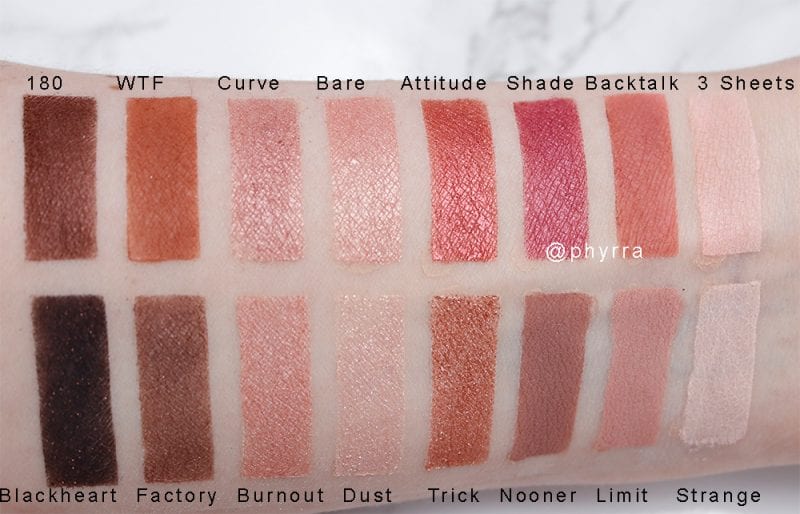 I know people were thinking that the Urban Decay Backtalk Palette would be a dupe for the Urban Decay Naked 3 Palette, but it's not. Naked 3 is cooler toned and more muted in comparison. 3 Sheets and Strange are similar, with 3 Sheets being warmer. Bare and Dust are similar, with Bare having better performance.
Cruelty-free Makeup Look with UD Backtalk Palette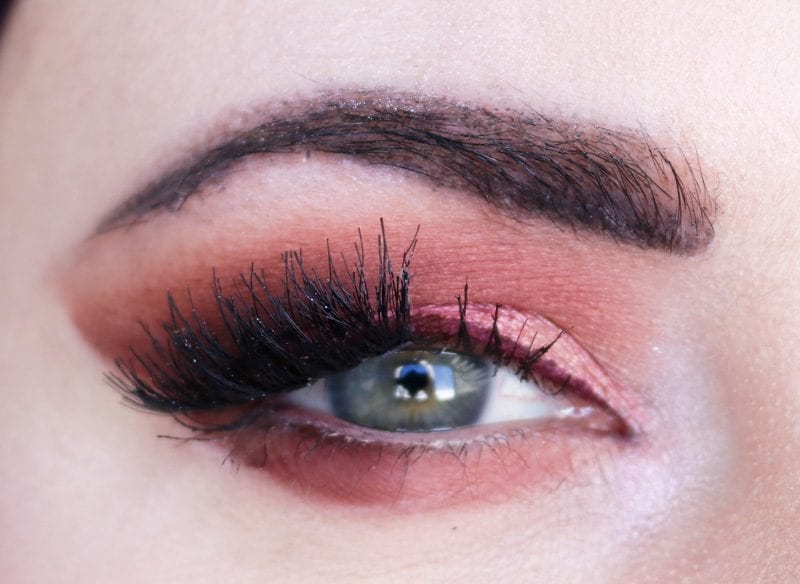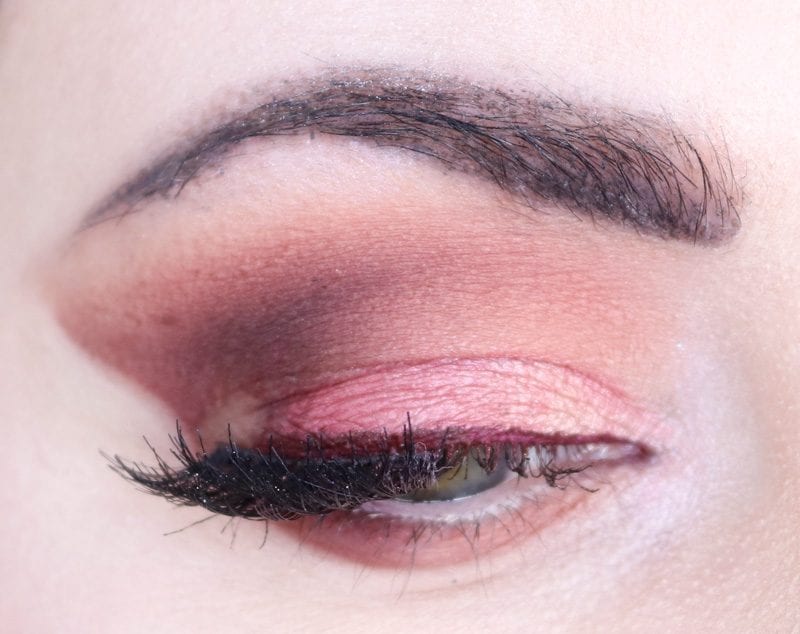 My allergies have been very bad recently and the outer corner of my eye came off because of my eyes watering. This look (aside from the outer corner) held up for 13 hours without fading.
For this look, I had to use Melt Meanstreak for the deepest color because 180 just wasn't doing it for me. It wasn't deep enough to make a complete look for my taste.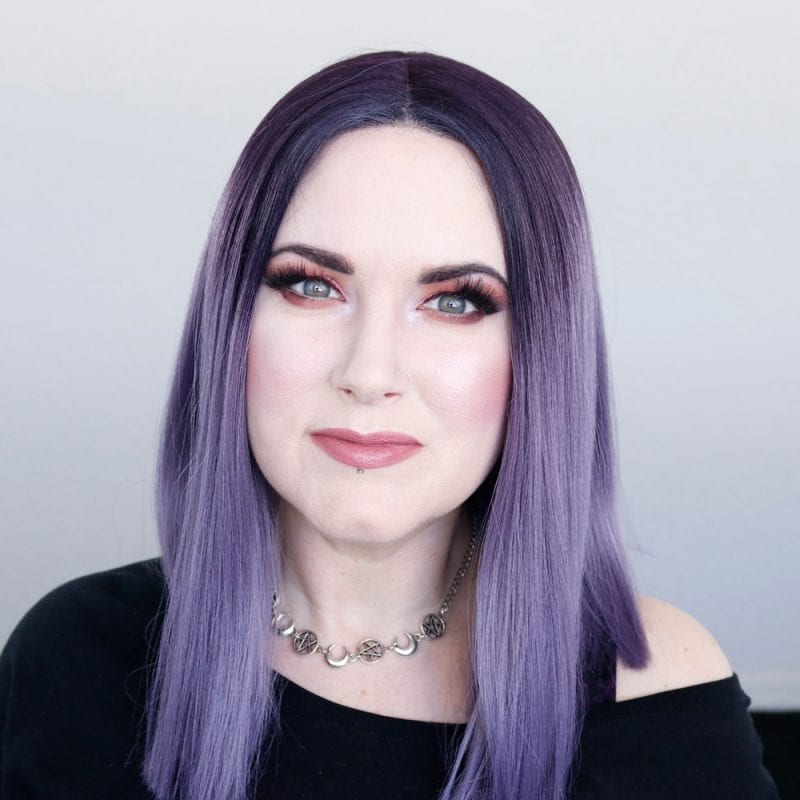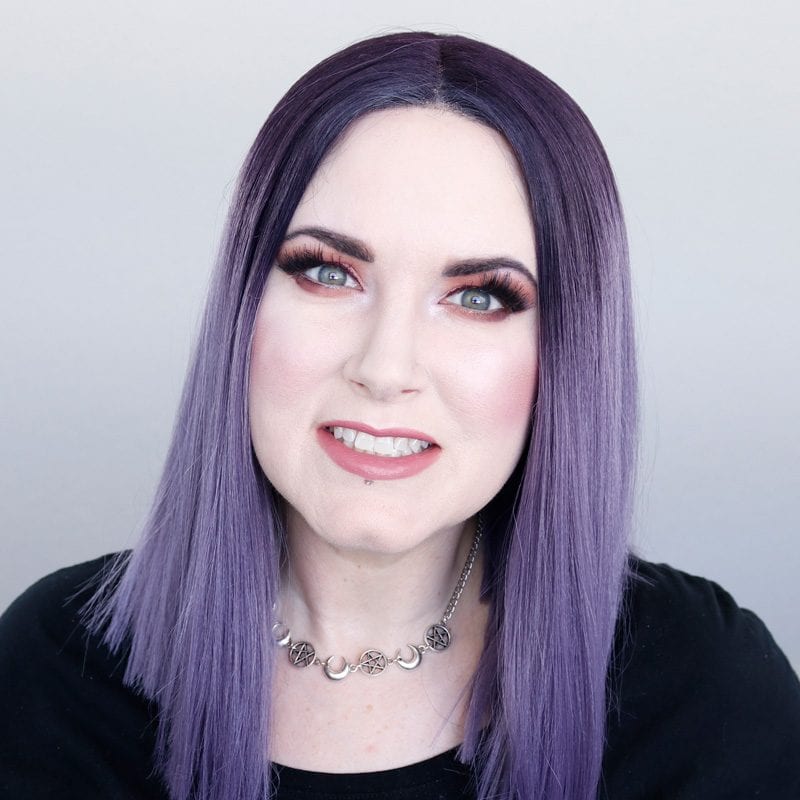 Fashion
We are the Weirdos, Mister shirt
Moon Witch Choker
Bobbi Boss Yara Purple Wig
Bellabeat Leaf Urban Health Tracker
Eyes
Urban Decay Enigma and Sin Primers
Urban Decay Backtalk Palette
Melt Meanstreak
LASplash Medusa liner
Makeup Geek Celestial Highlighter
Smashbox mascara primer
Urban Decay Perversion Mascara
Ardell Accent Magnetic Lashes
Elizabeth Mott Queen of the Fill black brow gel
Colour Pop Jet Set Black brow pencil
Cover FX Perfect Pencil in N-Xtra Light – lower waterline
Face
Hourglass Veil Mineral Primer
Idun Minerals Nordic Veil Foundation in Jorunn
Laura Geller Balance-n-Brighten in Porcelain
Urban Decay Backtalk Palette (Cheap Shot as a contouring blush and Low Key as blush)
Makeup Geek Celestial Highlighter
Lips
Urban Decay Rush Pencil
Urban Decay Backtalk Vice Lipstick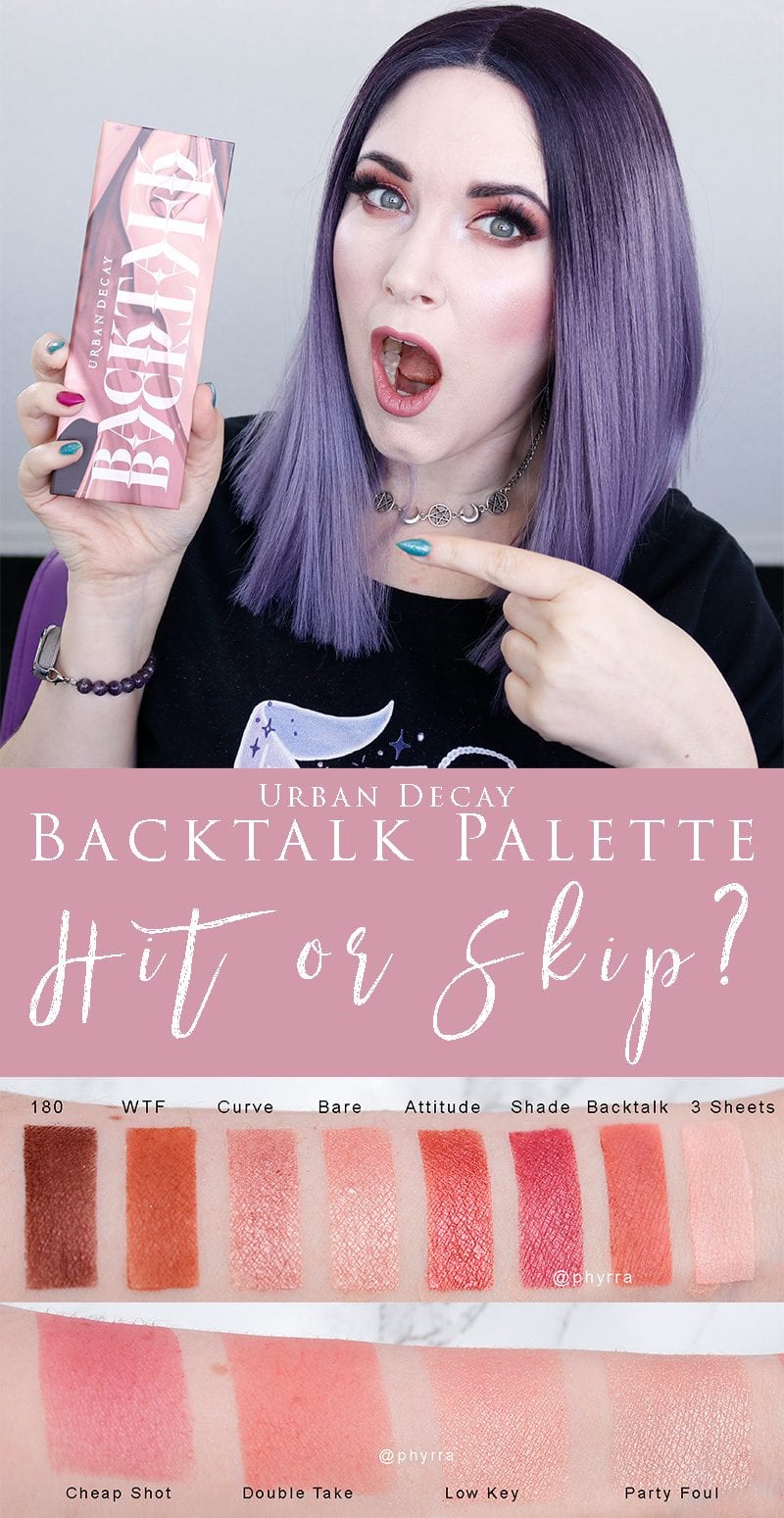 Urban Decay Backtalk Palette Video
In my video, you can see me apply every single shade in the palette to my eyes and cheeks so that you get an idea of how they perform. Please give this video a thumbs up and share if you enjoy videos like this!
Urban Decay Backtalk Palette Review
I absolutely love the concept of the cruelty-free Urban Decay Backtalk Palette. An eye and cheek palette, all in one, perfect for travel? Sign me up! Pinks, mauves, and purples look great on me, too, so I thought I would love it. Unfortunately, I was disappointed by the overall warm tones of this palette. I was thinking it would be neutral or cool toned.
I am not a fan of the packaging. I cannot get the palette to stay closed. I dislike the cardboard packaging without a firm clasp. I greatly prefer the Urban Decay Naked Skin Shapeshifter Packaging (see it here), which is similar in concept but made of hard plastic and stays shut. While I would absolutely love for Urban Decay to make this concept the updated, modern version of the naked palettes (8 eyeshadows and 4 cheek products), I hope that if they decide to do this that they use the Shapeshifter style of packaging instead of the cardboard.
I did not find that I could make a complete look with the Urban Decay Backtalk Palette without having to reach for an outside eyeshadow color. While this isn't a dealbreaker for me personally, I know it can be for many people. If a deep plum shade like Melt's Meanstreak had been included instead of 180, I would have been able to make a complete look. I tried using 180 for my accent shade but it just didn't look nice.
I also struggled with the eyeshadow color Shade. It kept fading on me no matter what I did. I've got to try it with another primer on its own to see if that makes a difference. It was the color that I was most excited about in the palette.
If you're an avid Urban Decay makeup lover, you might want this palette. If you're a fan of warm-toned eyeshadows, you might want this palette. If you're looking for an all-in-one eye and cheek palette, this might be for you.
If you want cool tones, you should skip this palette and get my DIY Cool Berries Eyeshadow Palette!
What do you think of the  Urban Decay Backtalk Palette? Let me know below!
The Urban Decay Backtalk Palette is available now at Sephora for $46 . I don't currently see it at Ulta. I do see the Kristen Leanne collection on sale though!