The Gothic Wedding of My Dreams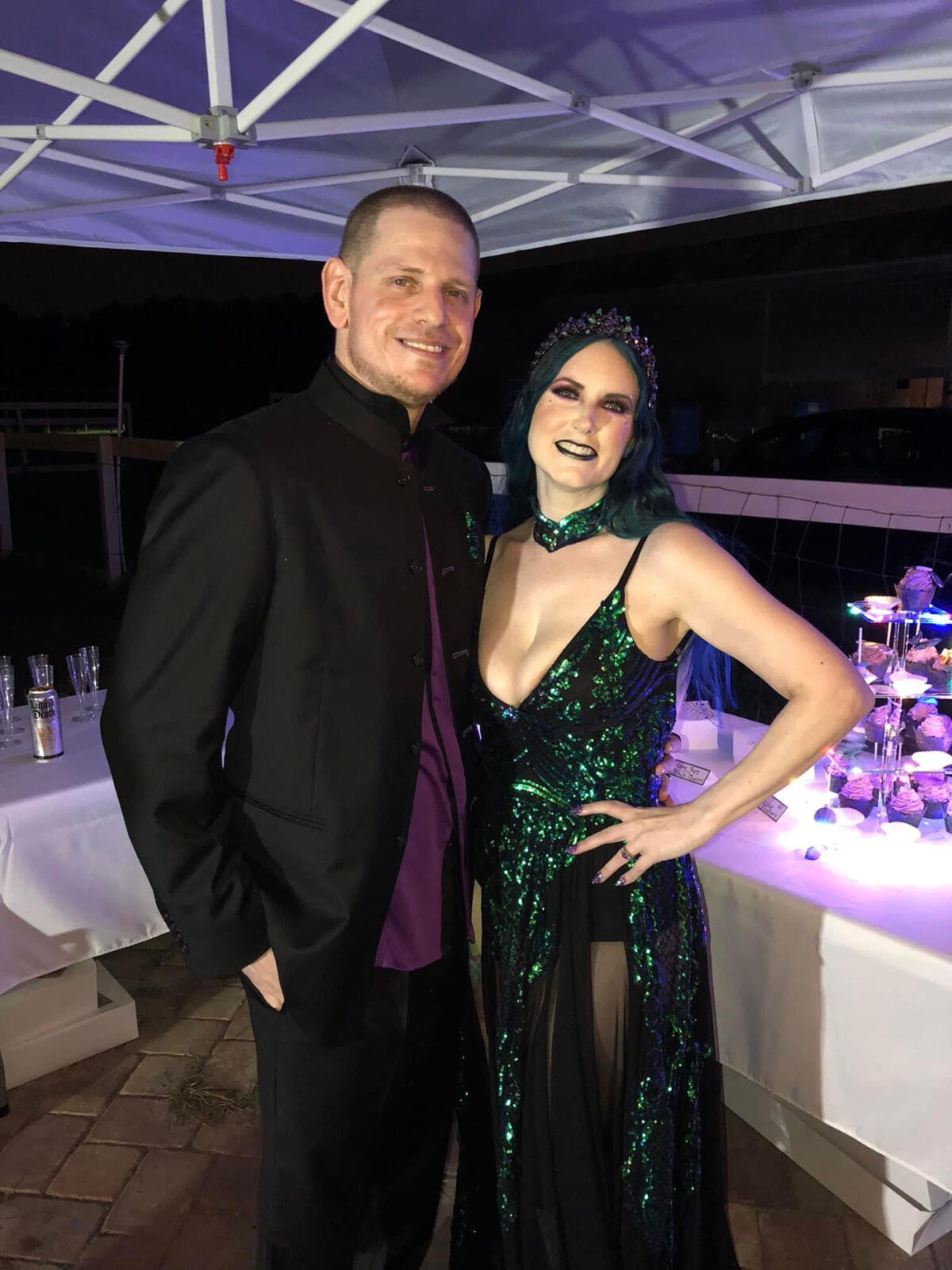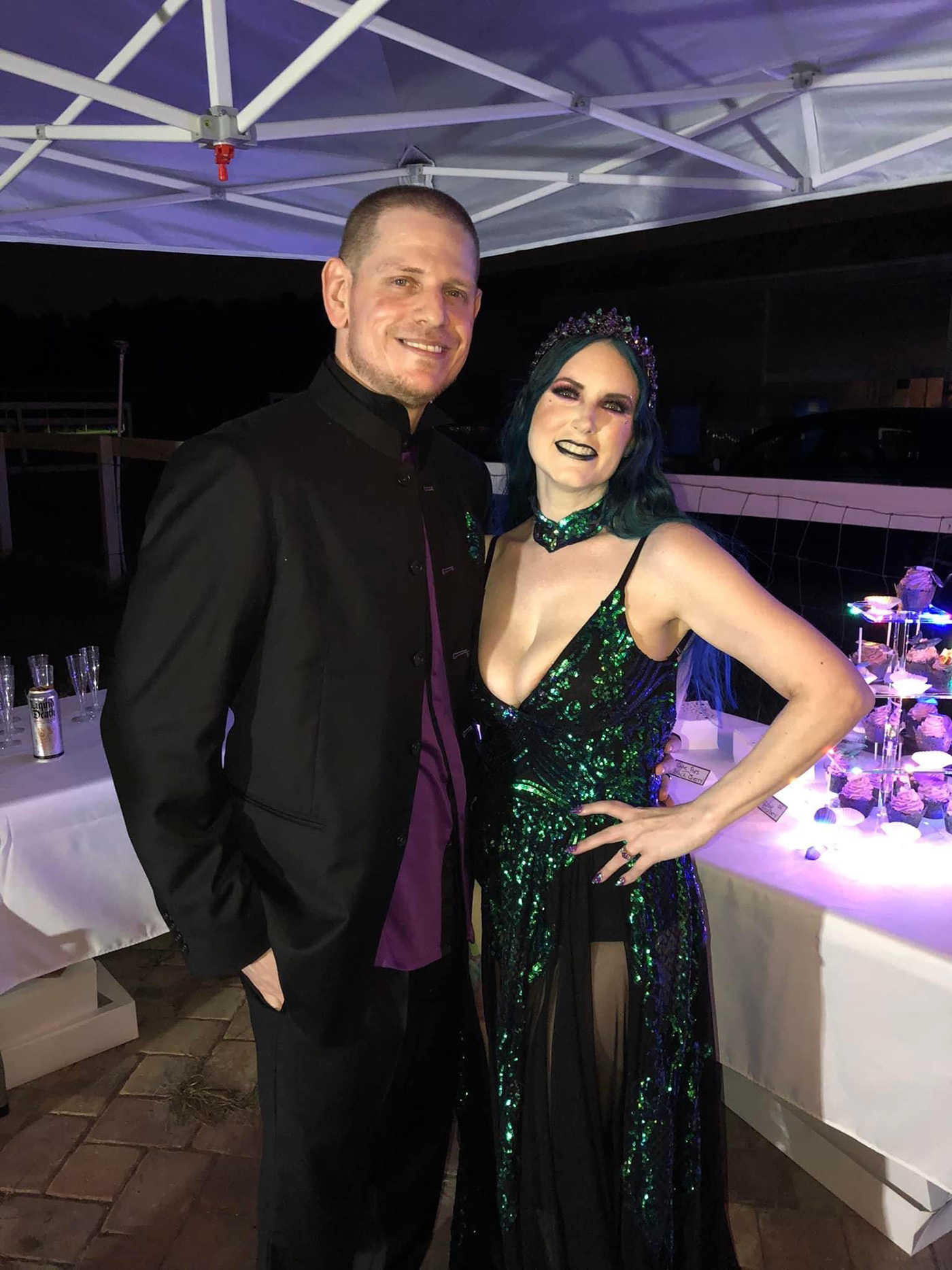 Hello, beautiful creatures! I've got some fantastic news to share. Last weekend, I had the gothic wedding of my dreams and married my partner Dave. I've been holding out on you a little bit because he and I got engaged on Valentine's Day, 2022. Due to the online harassment and stalking I've been dealing with, I didn't feel comfortable sharing this until now. 
Dave and I knew we didn't want a traditional wedding that held little meaning to us. Instead, we decided to plan a gothic wedding that would be as unique and memorable as we are. Dave and I worked together on our list of requirements. He wanted the wedding to be under the moonlight, and I wanted it outdoors. I researched upcoming full moons and suggested the Pink Moon since it was on a Saturday evening and perfect for New Beginnings. I reached out to Raprager Family Farms to see if they had a suitable outdoor space and decided upon their Butterfly Garden.
I don't have our official photos back from the photographer yet, so please enjoy these candid shots by my friends and family until then.
How to Plan the Wedding of Your Dreams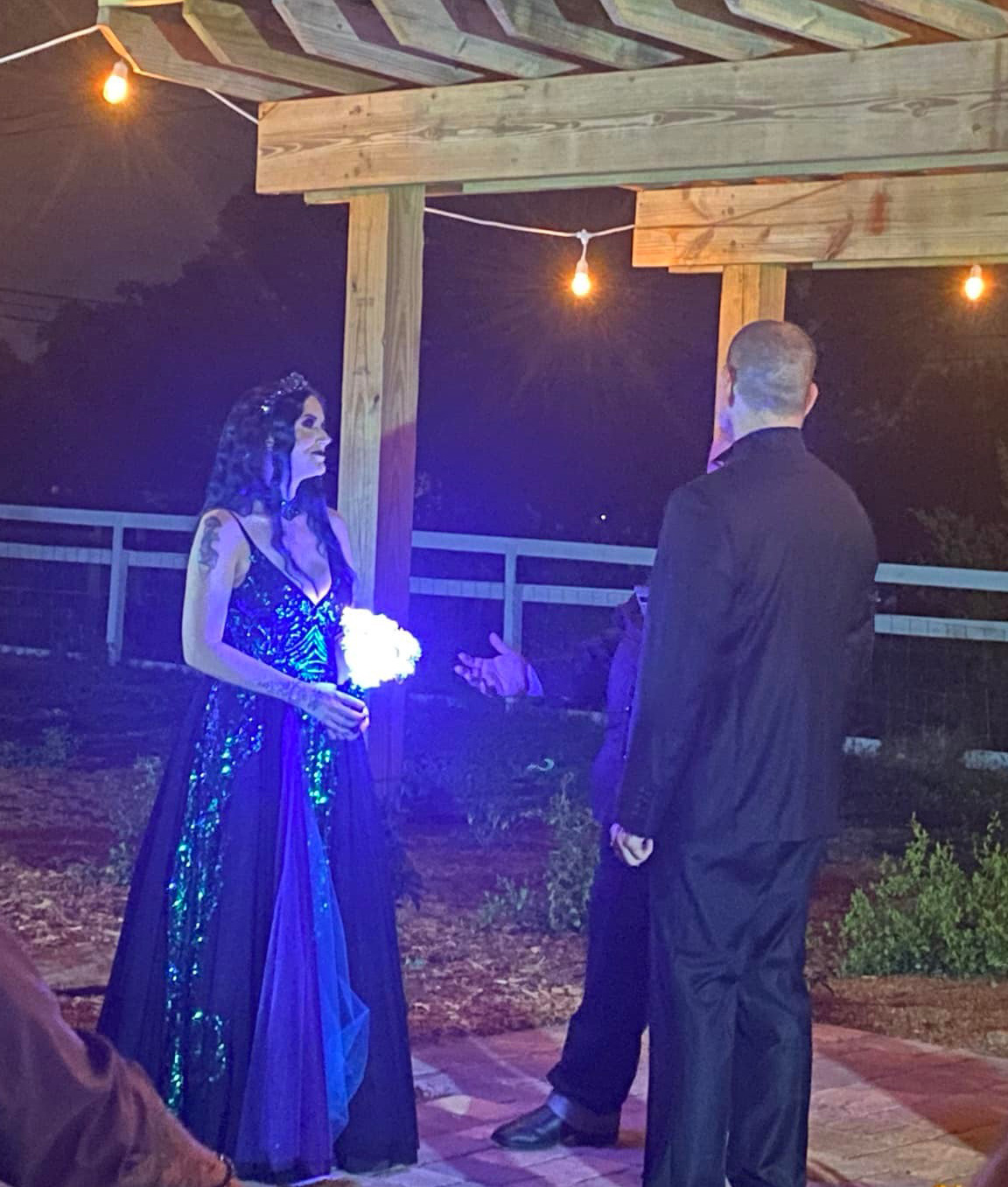 Our main goal was to have a wedding that was meaningful to us and not to spend an enormous amount of money on the event. We wanted a wedding with less than 50 guests, an outdoor venue because of the ongoing global pandemic, and a beautiful moonlit night. Neither of us found a long ceremony appealing, so we asked our officiant to make it short, sweet, and to the point. Both of us wanted gorgeous outfits we would wear again. I needed to get good photos of everyone who attended, so I knew we would need to set up a green screen area.
When you're working on planning the wedding of your dreams, whether you have a modest budget or an unlimited one, I highly recommend focusing on what is important to you and creating your unique wedding experience around that. Please don't stick to traditions unless they have meaning to you. We knew that for us to have the gothic wedding of our dreams it meant we needed good music, delicious desserts, stylish outfits, and a short ceremony. From my previous wedding experience, I knew that physical invitations were not important to me. We didn't want a gift registry because we're already an established household. And I'm not big on wedding favors, so we skipped them and many other wedding traditions.
I am so grateful to all of my friends and family who helped us with our wedding. Special thanks to Cary, Carlye, Mickey, Stacia, Gabe, Sera, Chris, Jessie, Tim, Nicola, Cliff, and Nan for all the coordination on the event day.
Our Gothic Wedding Theme
Our wedding theme was Unseelie Faerie Queen marries her King under the full moonlight in the Butterfly Garden. Butterflies are a symbol of change, rebirth, hope, and transformation. The Pink Moon signifies new beginnings, a promising start for our marriage!
Invitations
Because we planned our wedding with a modest budget, I created a custom email with a Pink Moon and palm trees and sent out e-invitations to our guests. I manually kept track of RSVPs that we received in a spreadsheet.
The Venue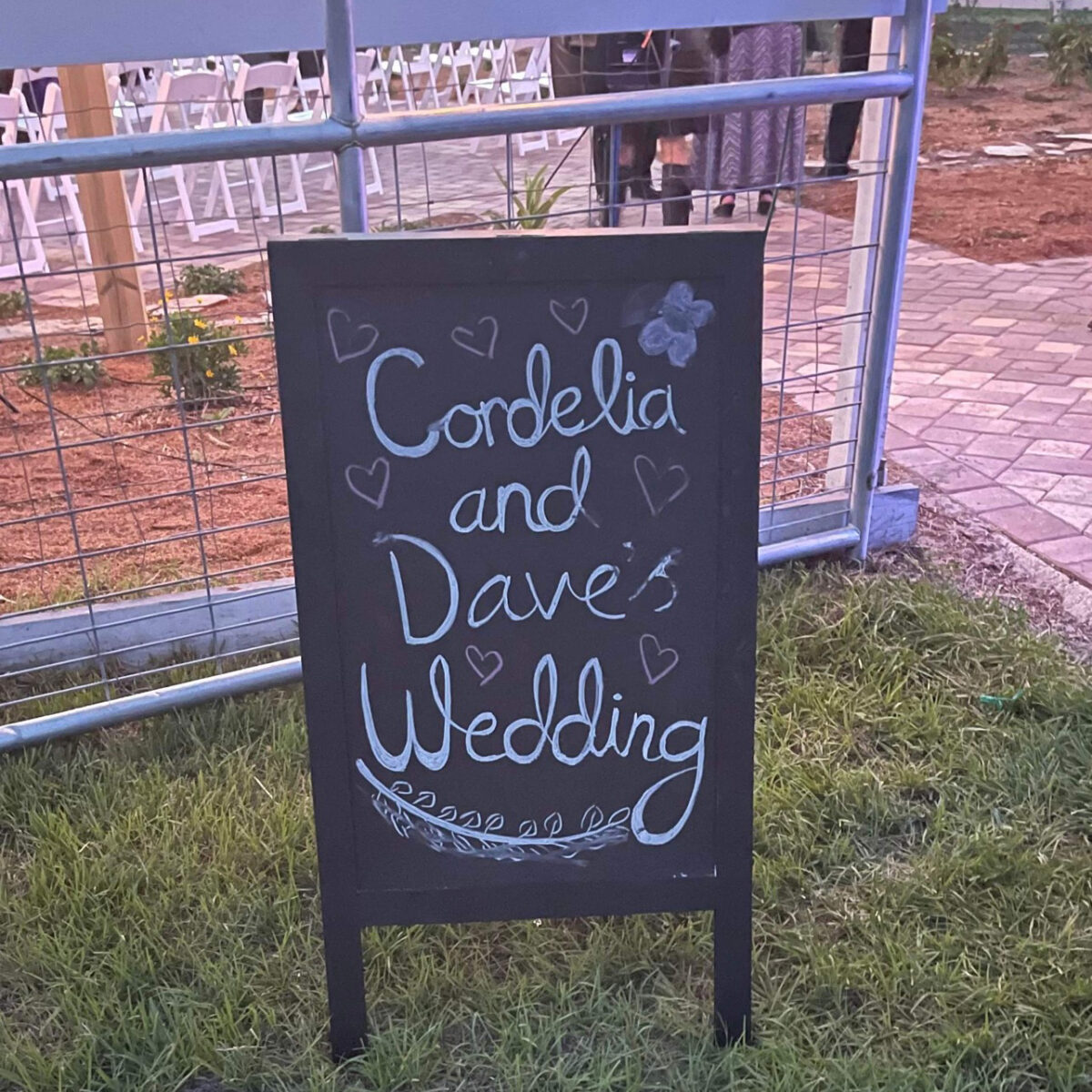 We chose Raprager Family Farms for our wedding venue for several reasons. Raprager Family Farms is a gorgeous place in the Tampa area. They have several different sections of their property that are suitable to host a wedding, both indoor and outdoor. We even had a backup location on the property in case of inclement weather, though our weather was near perfect.
Raprager Family Farms was easy to work with. They helped take care of many little details, like tablecloths, speaker systems, and lights. They had a preferred photographer to work with as well.
Booking the wedding at Raprager Family Farms saved us a lot of stress and headache, and it didn't break the bank. We paid a total of $1580 for the venue, and this included seating and tables for up to 50 guests, food tables, coolers and ice, a photographer, and clean-up. We were at the venue from roughly 7:45 pm until 11 pm.
Green Screen
We set up a green screen on a backdrop stand to take group shots with everyone who attended. I will be taking these photos, putting fun and exciting backgrounds behind everyone, and then getting them printed for a private wedding keepsake book. I feel like this is a more modern take on the wedding guest book, and it is more meaningful for us.
Micro-Wedding
Our wedding was a micro-wedding because we had 39 guests total, as some individuals could not make it. We wanted to keep it very small for several reasons, but primarily so it would be an intimate event and not break the bank. Everyone who attended our wedding was vaccinated against Covid.
Two of my friends traveled very far for my wedding! One came from New Zealand and the other from Scotland. I'm grateful to all my friends and family who could attend. I know some were unable to because of health complications, which I understand. I am sad that I could not invite everyone in my friend circles, but I also didn't want to go into debt for this event.
Officiant and Witnesses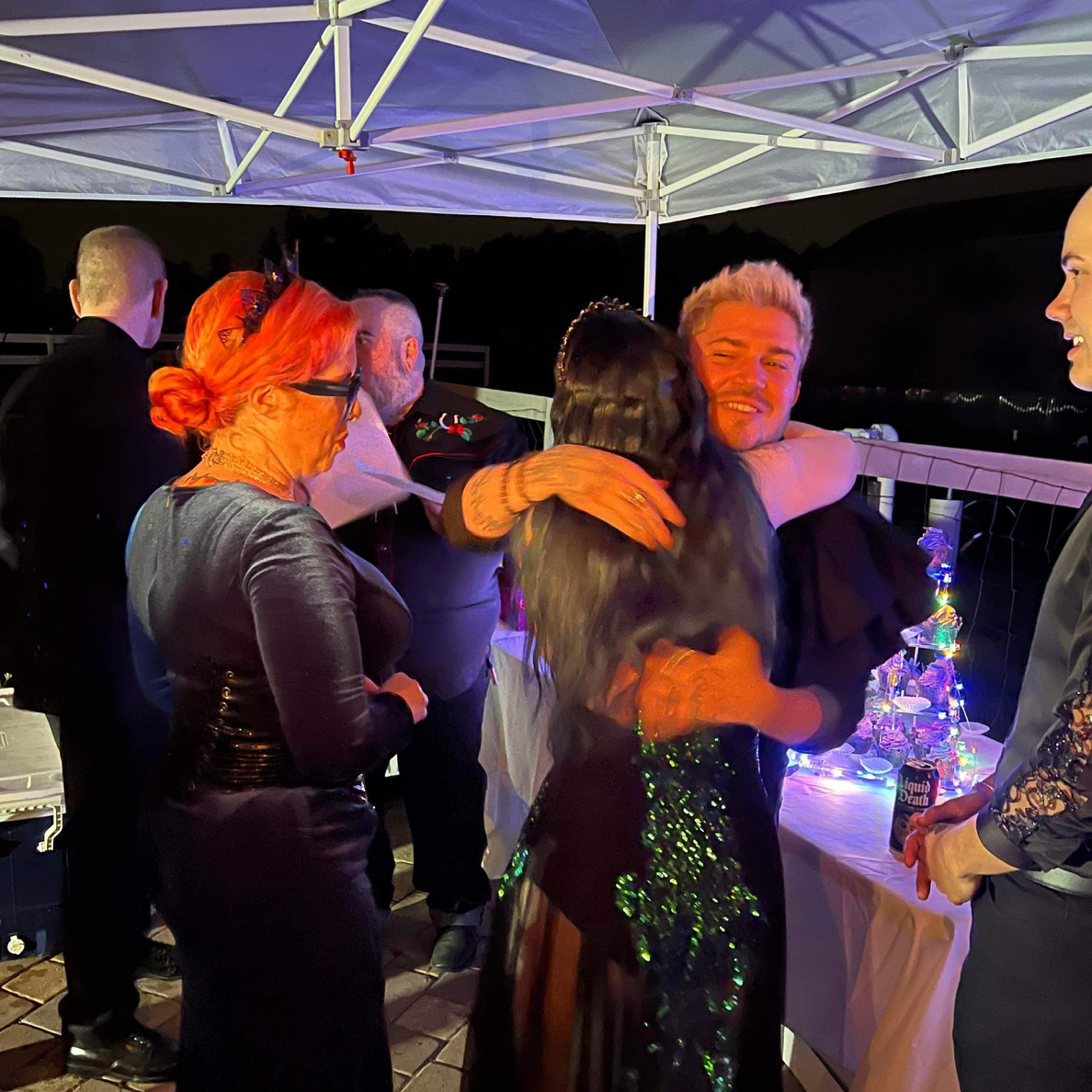 We chose three of our closest friends to be the officiant of the wedding and our witnesses. Cary did an amazing job with our wedding ceremony. Carlye and Mickey witnessed our marriage for us.
Pre-Ceremony Playlist
I wanted the pre-ceremony playlist to be songs we loved. Dave walked down the aisle to I Put a Spell on You, and I walked down the aisle to Shape of You. We picked these songs out together because of the lyrics and their meanings for us. You can listen to the entire pre-ceremony playlist here, followed by the original versions of these songs with lyrics.
Post-Ceremony Playlist
Dave and I have been obsessed with CamelPhat and ARTBAT since Mickey introduced us to their music. We listen to these artists daily when we're working out, and they make us happy. You can listen to the post-ceremony playlist here.
Wedding Food & Drink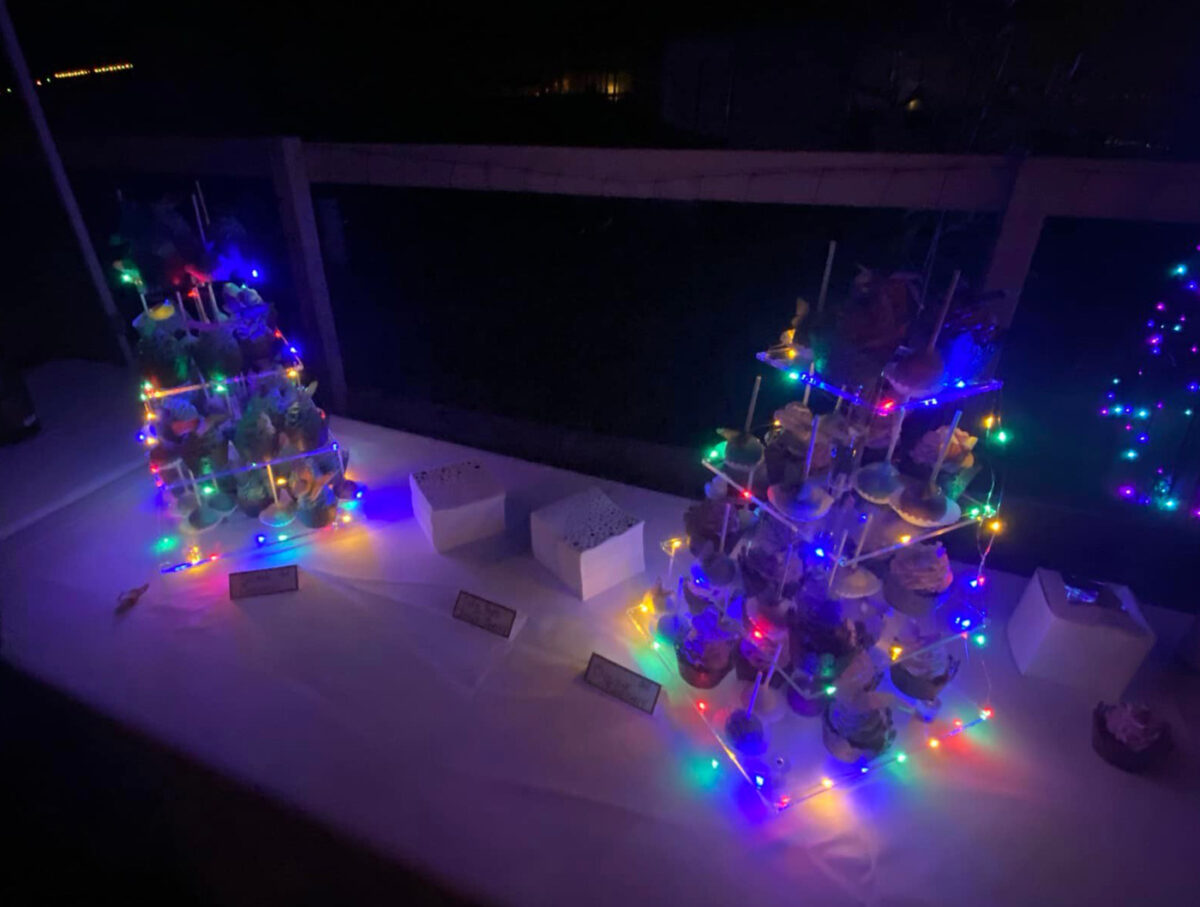 I love Happiness 101 Bakery, a local indie bakery specializing in gluten-free and dairy-free desserts and I hire them throughout the year for events. We asked Andrea, the owner, to make cupcakes and cake pops for our wedding, and she did not disappoint! One of our friends suggested using Liquid Death Sparkling Water, and we went with it! We love their message of death to plastic and murder your thirst. I loved the rice paper butterfly accents on the cupcakes!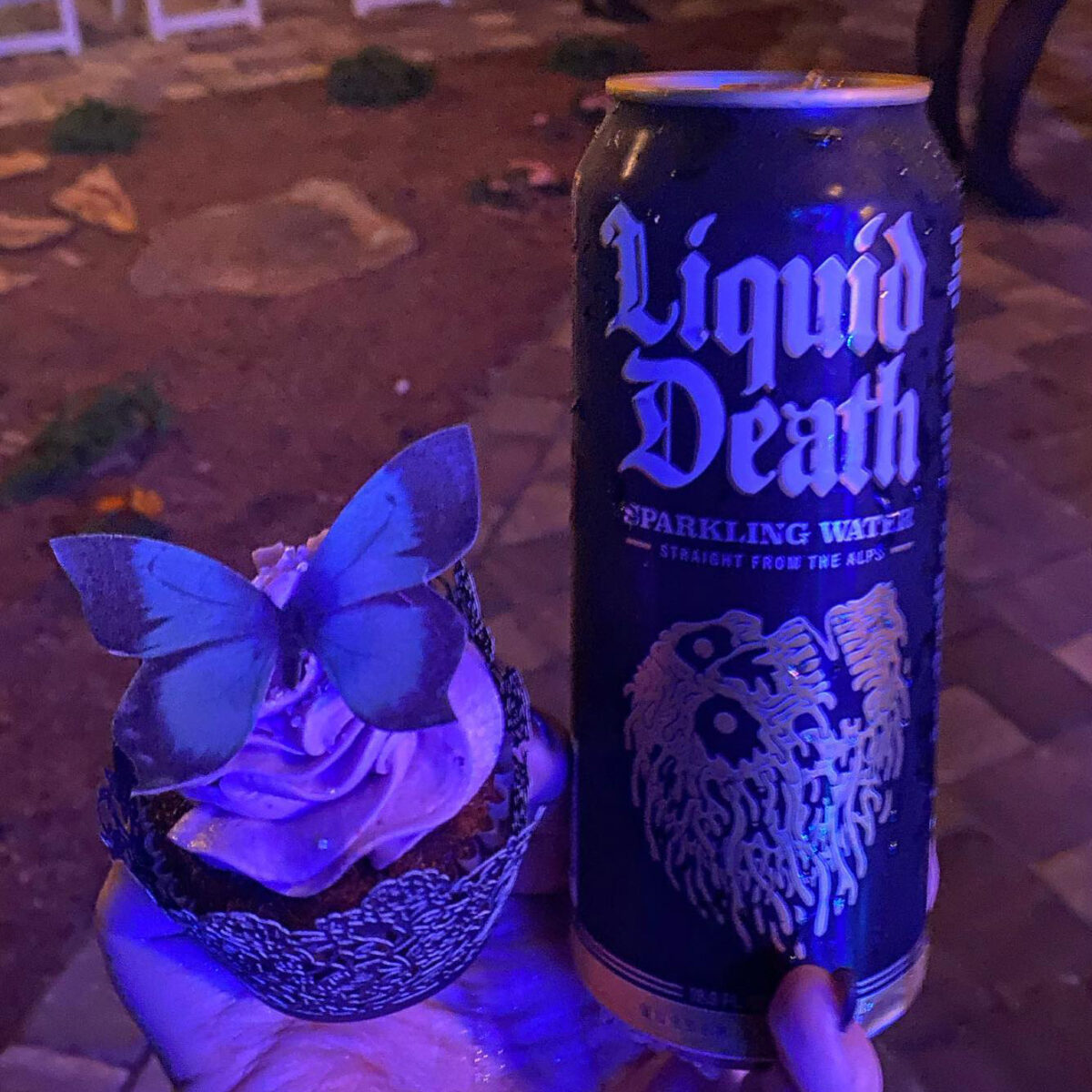 One of the few requests that Raprager Family Farms had was for us to not bring glassware out to the farm, as it is a working farm, and liquid Death Sparkling Water helped to prevent any glass or plastic bottle mess. We did need champagne flutes for our toasts, so I found some glitter champagne flutes on Amazon that suited our purpose. Dave researched sparkling wines to find the perfect prosecco for the event.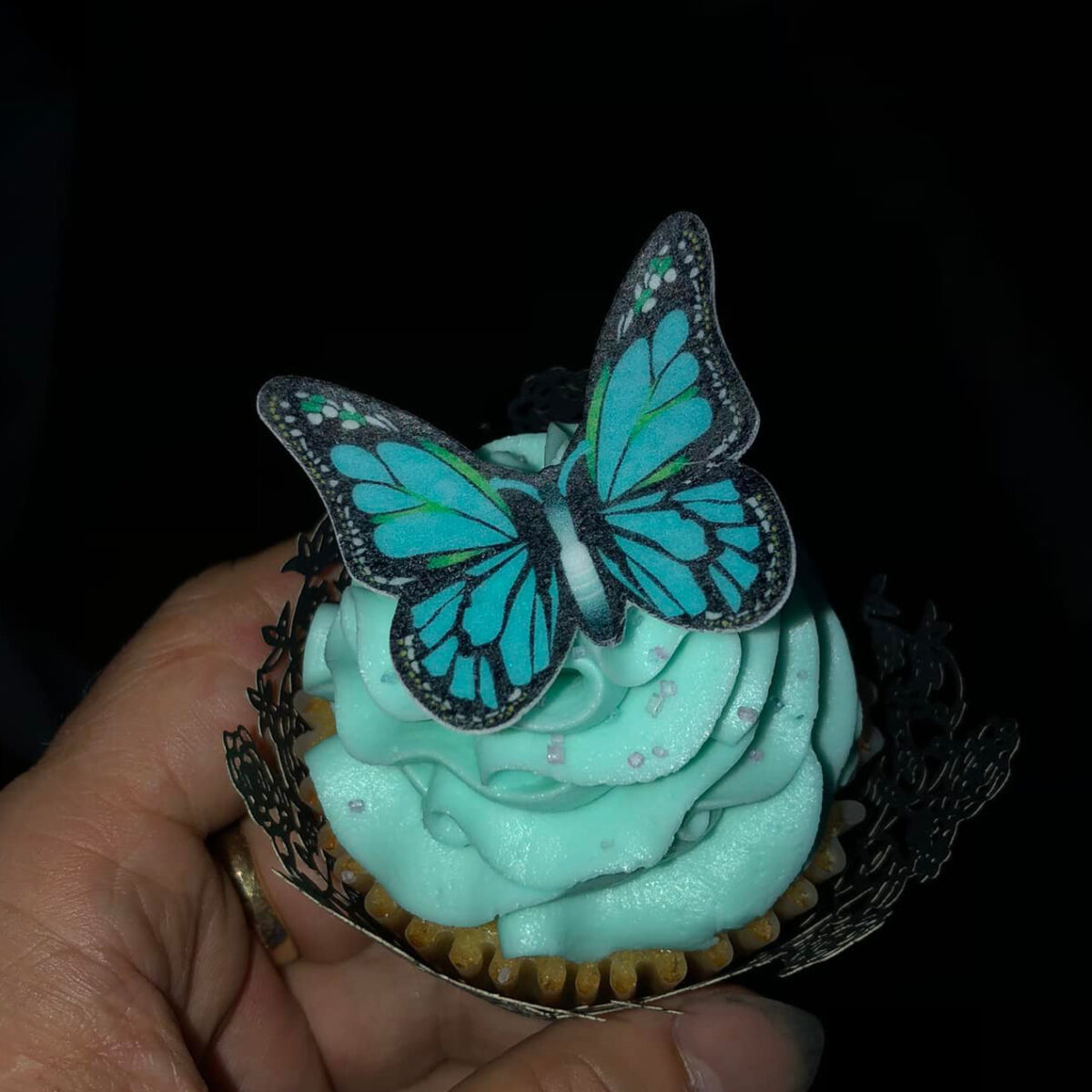 Below is what we had:
Black Cherry Cake Pops (4 dozen, gluten-free)

Chocolate Cupcakes with Raspberry Poke, Raspberry Filling & Cream Cheese Icing (25, gluten-free)

Salted Caramel Chocolate Chip Cupcakes (24, gluten-free)

Salted Caramel Cupcake (1, gluten-free)

Liquid Death 

Sparkling Water

 (100 cans in a mix of Severed Lime, Berry It Alive, & Unflavored)

Borrasca 

Prosecco DOCG Brut Sparkling Wine

(Sparkling wine with Bartlett pears and almond notes)

200 silver 

cocktail napkins
For all the sparkling wine, Liquid Death sparkling water, 50 gourmet wedding cupcakes, 48 gourmet cake pops, champagne flutes, napkins, and cake stands, we paid $896.12.
Gothic Wedding Attire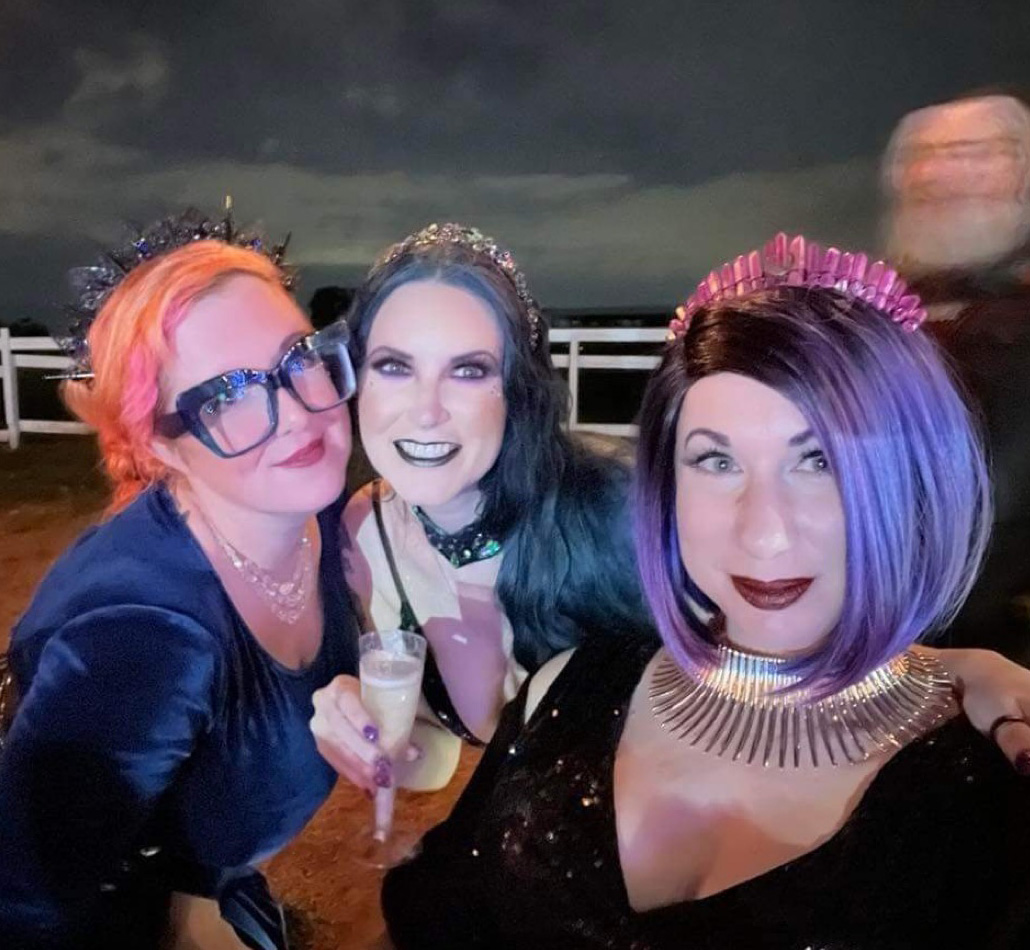 I knew I wanted a gothic couture dress that I would wear again, while Dave knew he wanted a custom suit that he would wear again. None of those single-use outfits for us. I turned to Etsy for dress inspiration, never expecting my best friend Carlye to offer to make my wedding attire. 
Our wedding colors were purple and teal blue. We asked that our guests dress in purple, blue or black if possible. They looked fantastic!
Glow-in-the-Dark Faerie Bouquet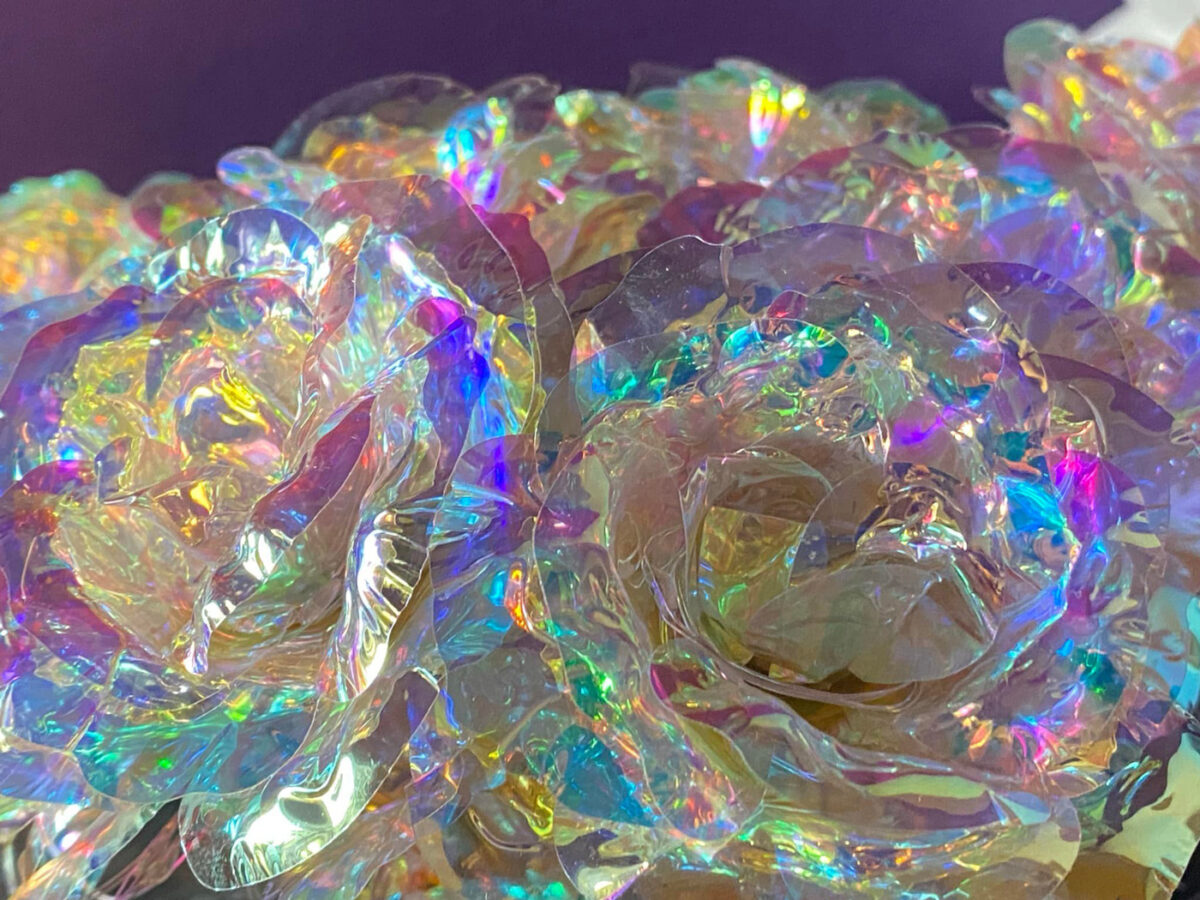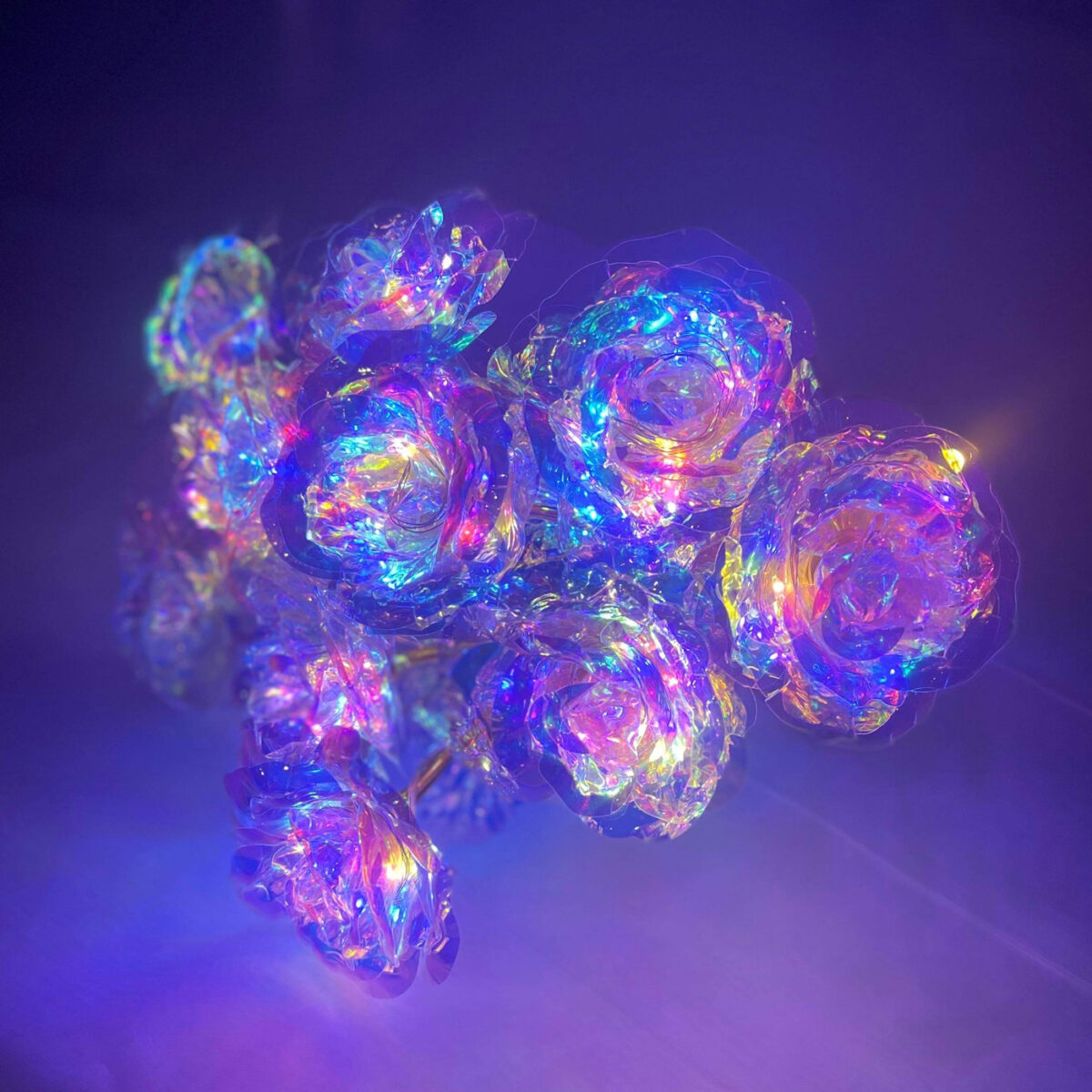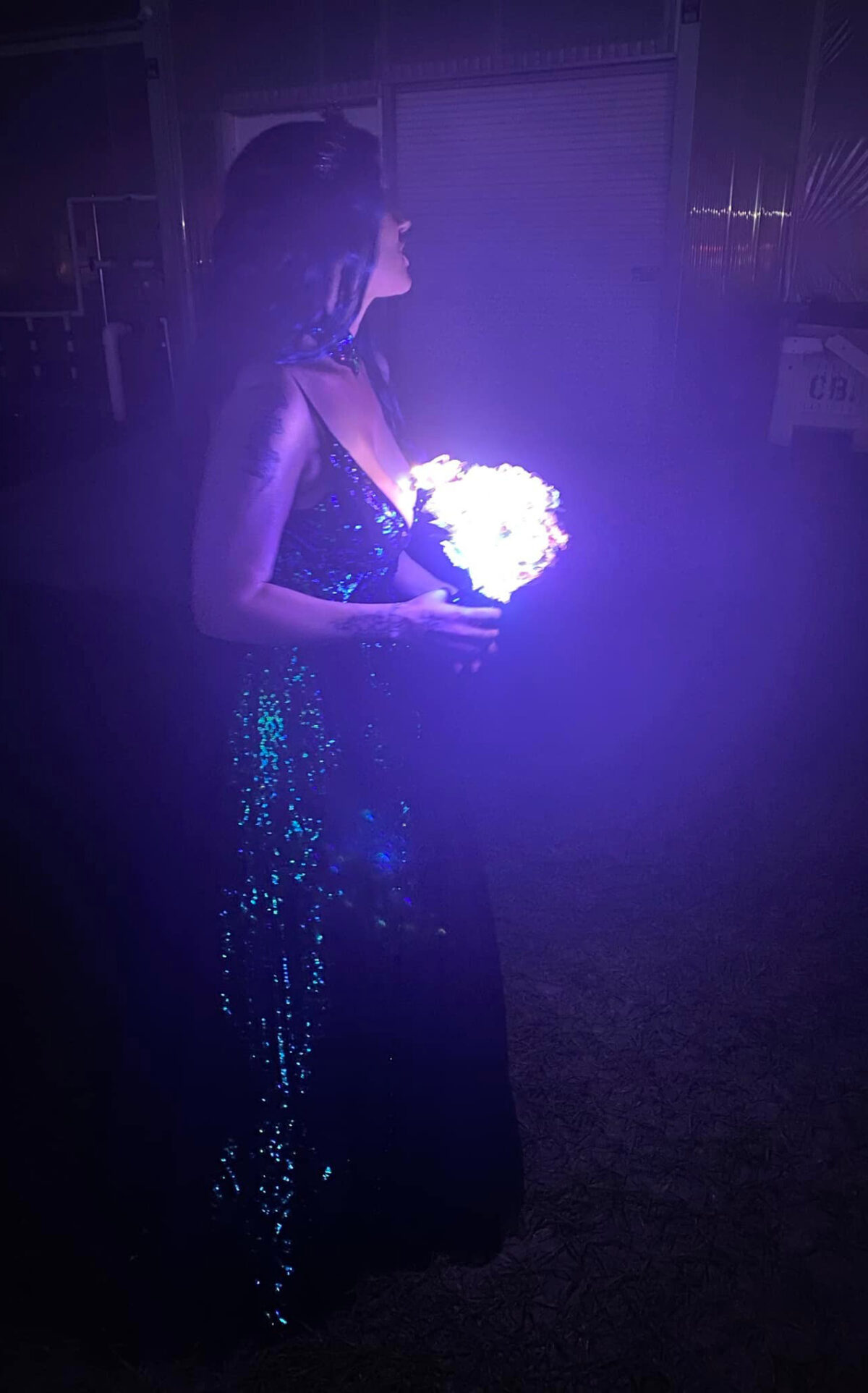 I'm allergic to pollen and not a massive fan of live flowers. I wasn't sure I wanted a bouquet for my wedding but decided that a glow-in-the-dark bouquet that I could keep after the wedding would make it meaningful. I purchased ten led galaxy roses to create my bouquet. I am so glad I made this decision! I love how the glow-in-the-dark bouquet looked for the outdoor moonlight wedding.
My friend Chris helped me rewrap the led around the galaxy roses to make the most of how they look. He then hot-glued the wires in place at the bottom of the roses, making it easier to bundle the flowers together to create my bouquet. Carlye, of course, helped me create the perfect wrap to go around the bouquet for my gothic wedding.
Dave's Custom Outfit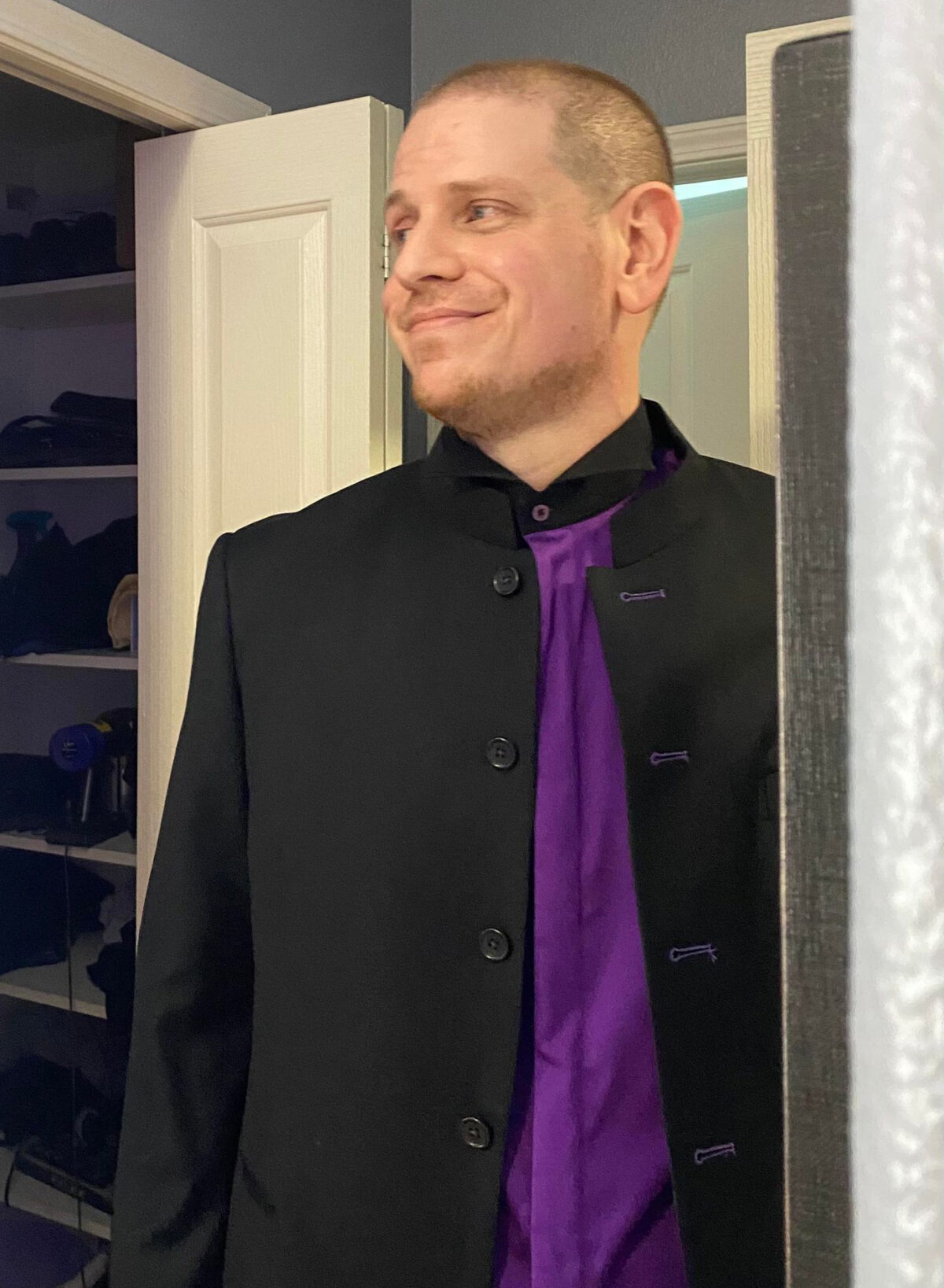 Dave knew he wanted a purple and black gothic wedding suit, and he turned to Modern Tailor to get custom-made clothing. Dave has been on a fitness journey over the past several years as I have, so it's nice to be able to get him a suit that fits his body.
Since we prefer sustainable fashion, Dave selected a custom black Australian wool suit with a mao lapel. He picked a purple custom shirt with black trim. He loves the shirt fit and style so much he plans to order a few other shirts in the future in different colors.
Dave researched high-quality shoes and found the Mogavero Ealdwine x Shoenable Collaboration boots to be his perfect wedding shoe. These shoes are made out of black shell cordovan leather. We spent around $1166.25 on Dave's ring and complete wedding outfit. Dave had been saving up his Amazon credit for a while and cashed out $800 worth of points, covering most of the cost of his shoes with that credit.
My Custom Gothic Wedding Outfit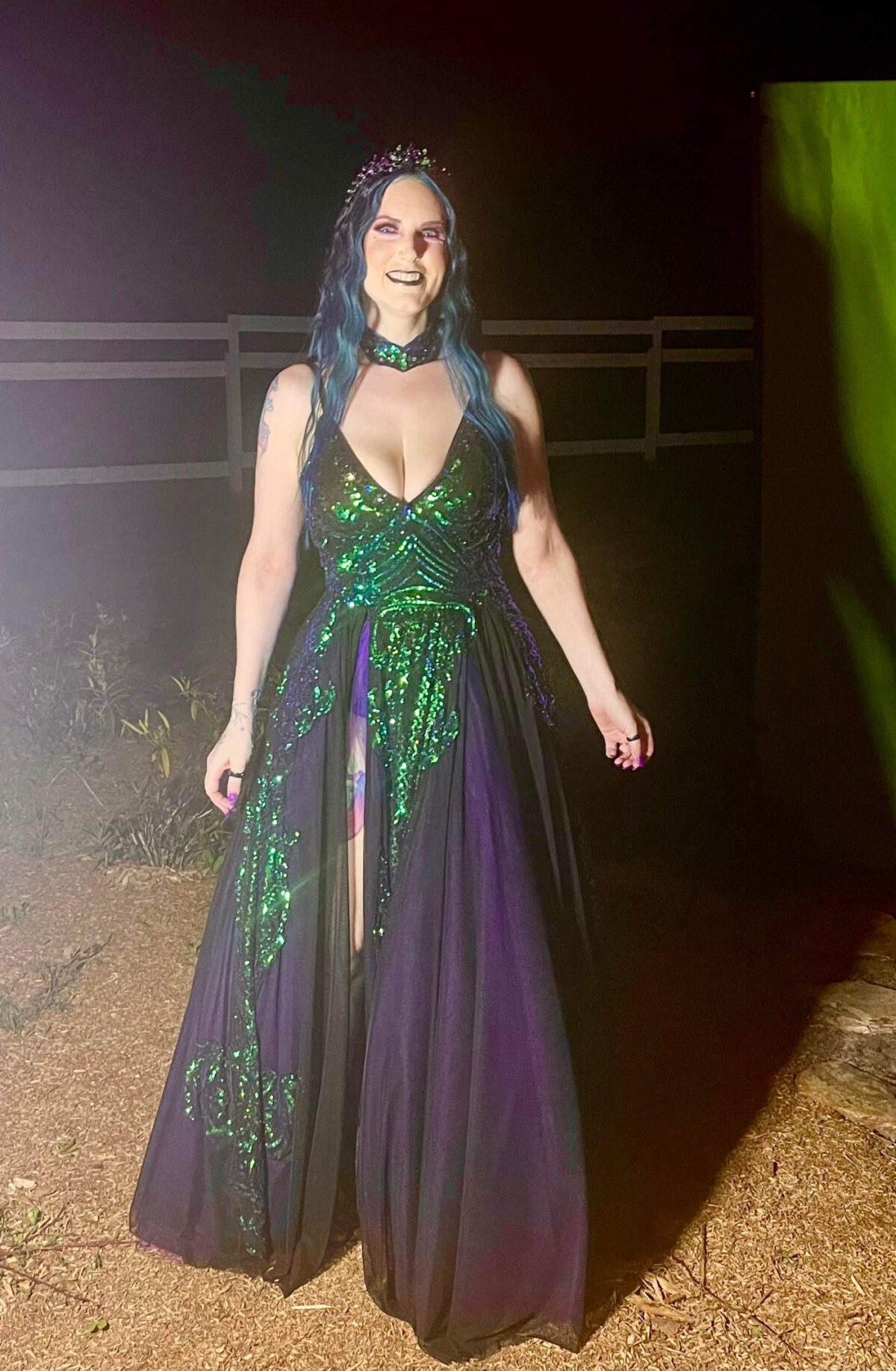 Carlye knew I wanted a black wedding dress with accents of my favorite colors – purple, blue, green, and teal. She created a seven-layer circle skirt petticoat under the gothic wedding dress, made from layers of crinoline, tulle, and power mesh, in all my favorite colors. We used a lace shapewear bodysuit as the base for the gorgeous gothic couture dress.
I am so grateful that Carlye offered to make me the gothic wedding dress of my dreams. This dress is priceless to me because it is a gift! She turned me into a literal work of art with this dress!
When I initially showed her my inspiration photos and described how I wanted to add some color, she immediately had the mermaid fabric in mind to create my dress. The mermaid fabric she used shifts from purple to green to teal to blue to aqua to gold and is stunning! I'm confident she put in around 20 hours of work on this dress.
I purchased these ballroom dance shoes in size 8 with 2.5″ heels for my dress. We picked up these non-skid foot soles and attached them to my shoes. Carlye then customized my dancing shoes to match the dress perfectly with a mix of gemstones in purple ab, dark blue ab, light green ab, and green volcano.
Carlye customized my purple tiara and choker with the gemstones for my gothic wedding outfit. I bought this dark blue iridescent clutch for my wedding handbag since it could fit my iPhone and coordinated nicely with my outfit. We spent around $2563.13 on my outfit and ring, though, as I mentioned, my wedding dress is priceless to me. I would have easily spent over $3000 on my custom dress alone if it was not a wedding gift. 
Dave's Custom Gothic Wedding Ring
Dave and I wanted unique custom wedding rings, and Dave fell in love with the Patrick Adair custom rings. We were able to order his custom ring quickly, and it took less than three months to arrive.
Dave's ring is a premium opal glowstone ring with a black ceramic band. It has meteorite and deep space blue and lavender purple opal inlays. The daytime colors are blue and purple, and the glow-in-the-dark color is aqua. Yes, Dave's ring glows in the dark, and I'm not the only one in our family obsessed with glowing!
My Custom Wedding Ring
Dave researched jewelers in our area to find Eternity Jewelers. Tom, the owner, is a true artist, and we sent inspiration photos to him to get started. After seeing the first draft, we realized we needed to go a different direction with our design and sent over some art nouveau-inspired ring designs. Dave and I worked together with Tom to create my perfect ring for our gothic wedding.
My ring is a lab-created purple sapphire in a modified cushion cut. The platinum band has thorny rose stems going up the sides of the ring and a rose set with mint cubic zirconia in the center on each side of the sapphire. The purple sapphire appears to be held in place by rose thorns. I wanted the purple sapphire because Dave's birthstone is sapphire, and my favorite color is purple. The frosty mint gemstones signify our new surname.
I prefer lab-created stones for so many reasons! First, lab-created stones are blood-free, meaning no one dies mining them. Second, they're more brilliant and perfect than natural gemstones. Third, they're eco-friendly and sustainable. Fourth, lab-created stones are much stronger and more durable than natural. Fifth, they're very budget-friendly! The vast majority of the cost of my ring was from the precious platinum metal and the skill required to design and work it. I doubt I will ever purchase a natural stone again now that I know the superiority and sustainability of lab-created stones.
My Gothic Wedding Makeup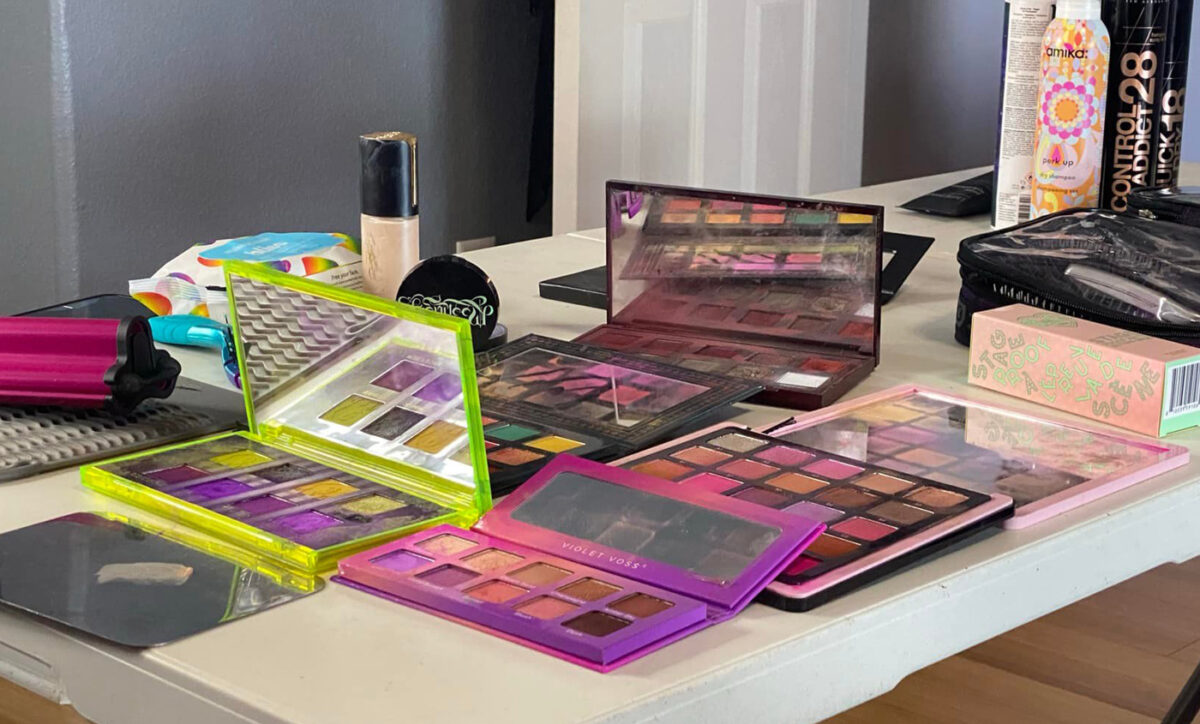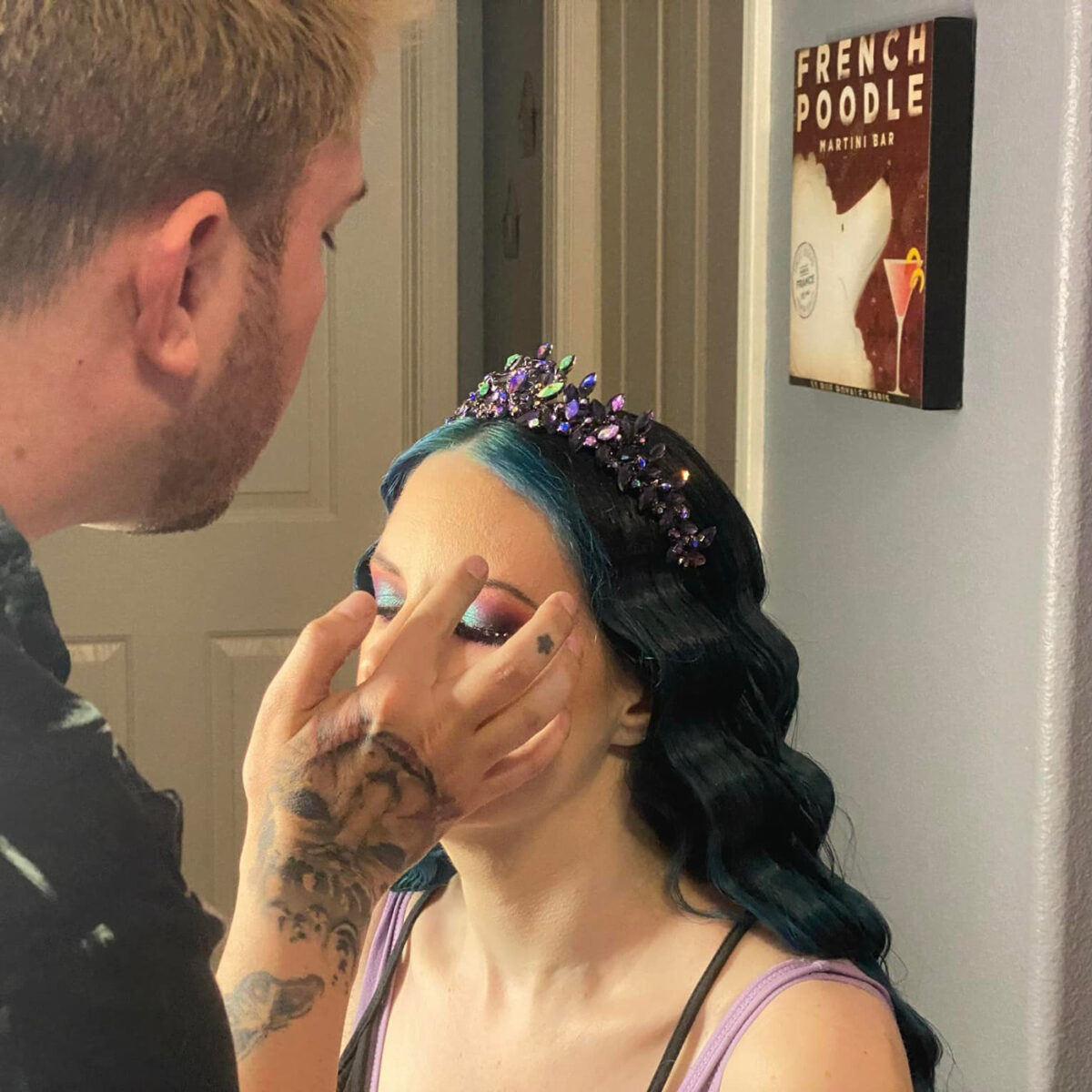 For both my private ceremony and big family wedding to my ex, I did my own makeup and hair. This time around, I'm eternally grateful that my best friend Mickey offered to do my hair and makeup. Mickey knows my face better than I know it. He always does an amazing job of making me feel beautiful. Mickey used a mix of makeup from his kit and some of my personal collection. Below is what I remember Mickey using.
I wore my Foxblood jumpsuits all weekend long, before and after the wedding, because they're comfortable, black, and have pockets.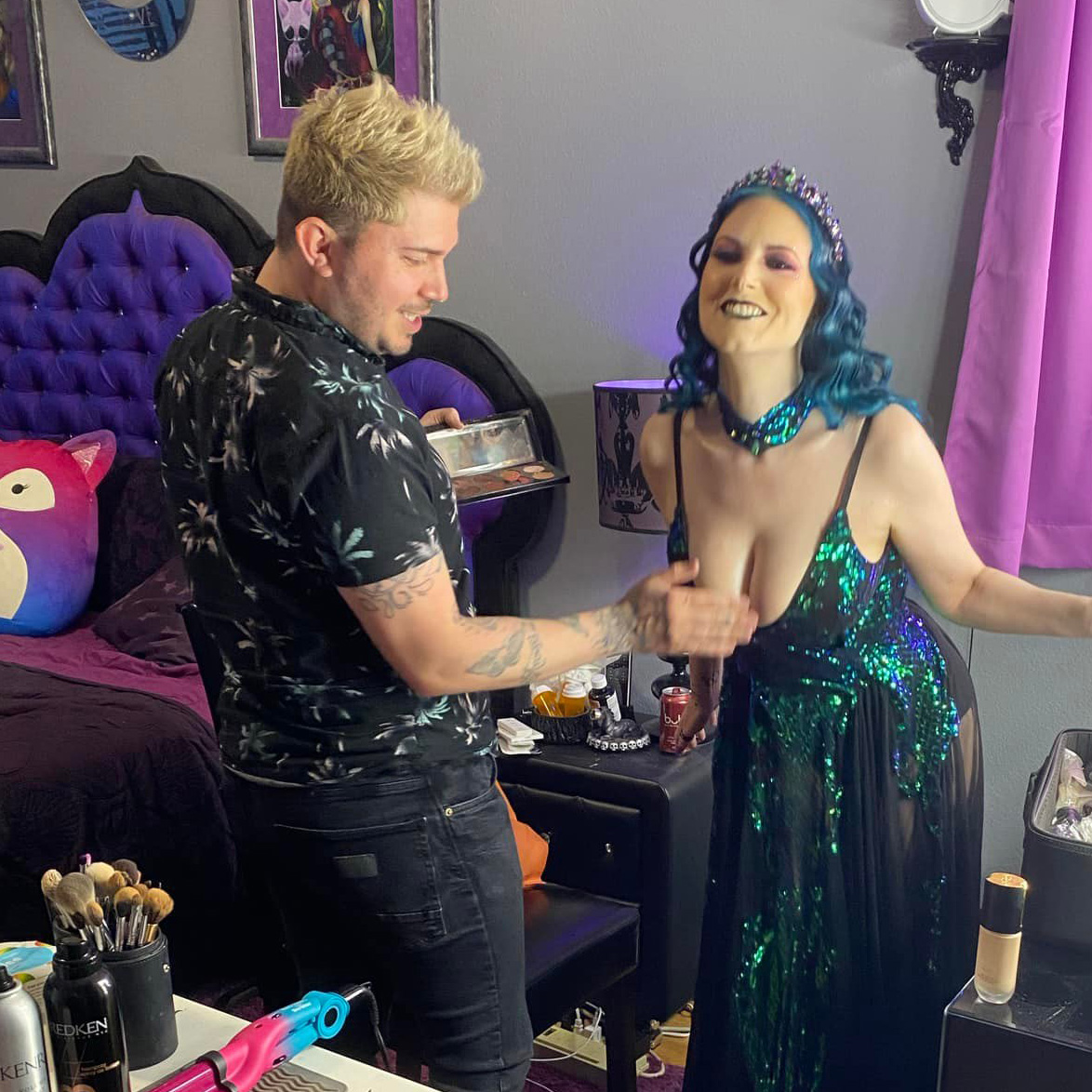 Hair
Bed Head Mess Behave Deep Hair Waver (to put big mermaid waves into my waist length hair)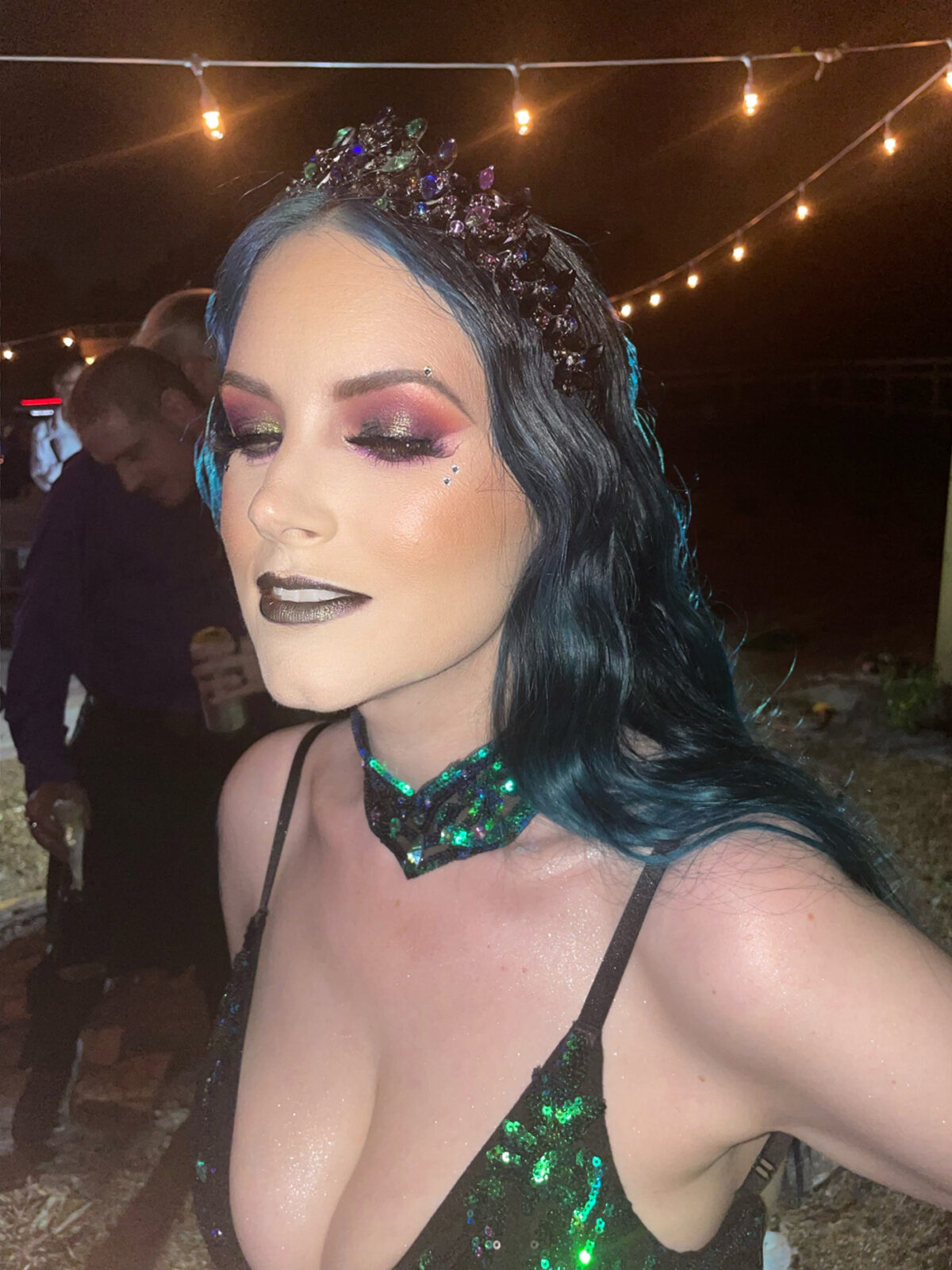 Eyes
Smashbox 24 Hour Eyeshadow Primer
Violet Voss Violet Sunset Palette (mattes)
Melt Recently Deceased Palette  (mattes)
Anastasia Norvina 3 Palette (mattes)
Terra Moons Moon Tide
Fyrinnae Northwest Night
Pat McGrath Motherships
Thrive Causemetics Liquid Lash Extensions Mascara
Kiss Rhinestone Lashes
Swarovsky Crystals on the face (applied with lash glue)
Anastasia Dip Brows
Face
Danessa Myricks Vision Cover Cream in N01
Auric Glow Lust in Morganite 2.0
Laura Mercier Translucent Loose Setting Powder
Kab Cosmetics Contour Palette (Translucent, Nude, Vanilla Bean, Raw, Sand, and Banana)
Pat McGrath Sublime Skin Highlighting Trio
Pat McGrath Motherships
Juvia's Place Saharan Blush Palette
KimChi Chic Beauty Matte Setting Spray
Lips
Black Moon Sleepwalker Liquid Lipstick
Danessa Myricks Multichrome Palette (patted on top of Sleepwalker)
Final Thoughts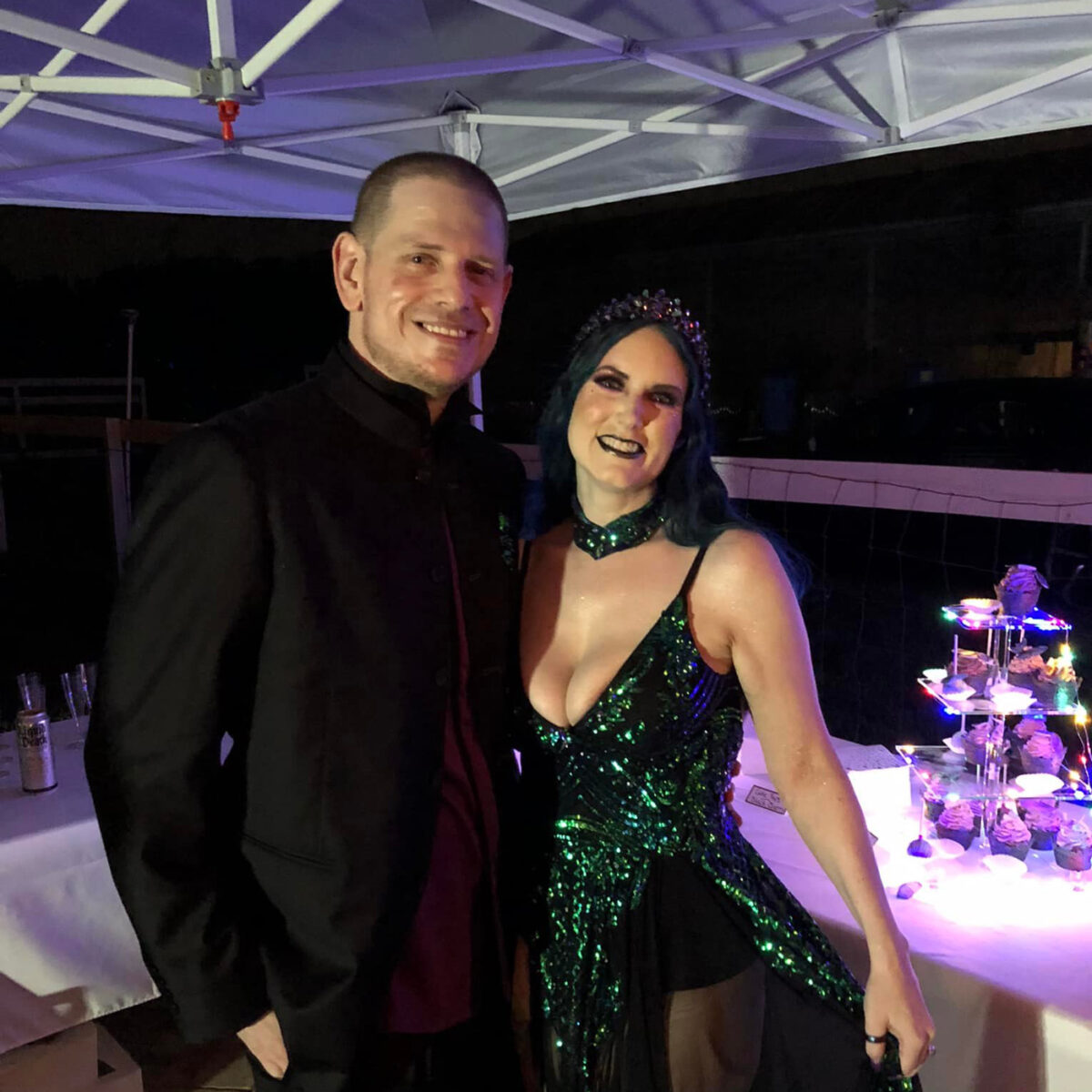 I'm looking forward to sharing the professional wedding photos with you and hope that you enjoyed these candid gothic wedding photos. Dave and I are so happy! I'm grateful that we were able to have a wedding that was meaningful to us with killer outfits that we will be able to rewear.
I hope you enjoyed this peek into our gothic wedding and that it inspires you to plan your next event in a way that is meaningful to you!