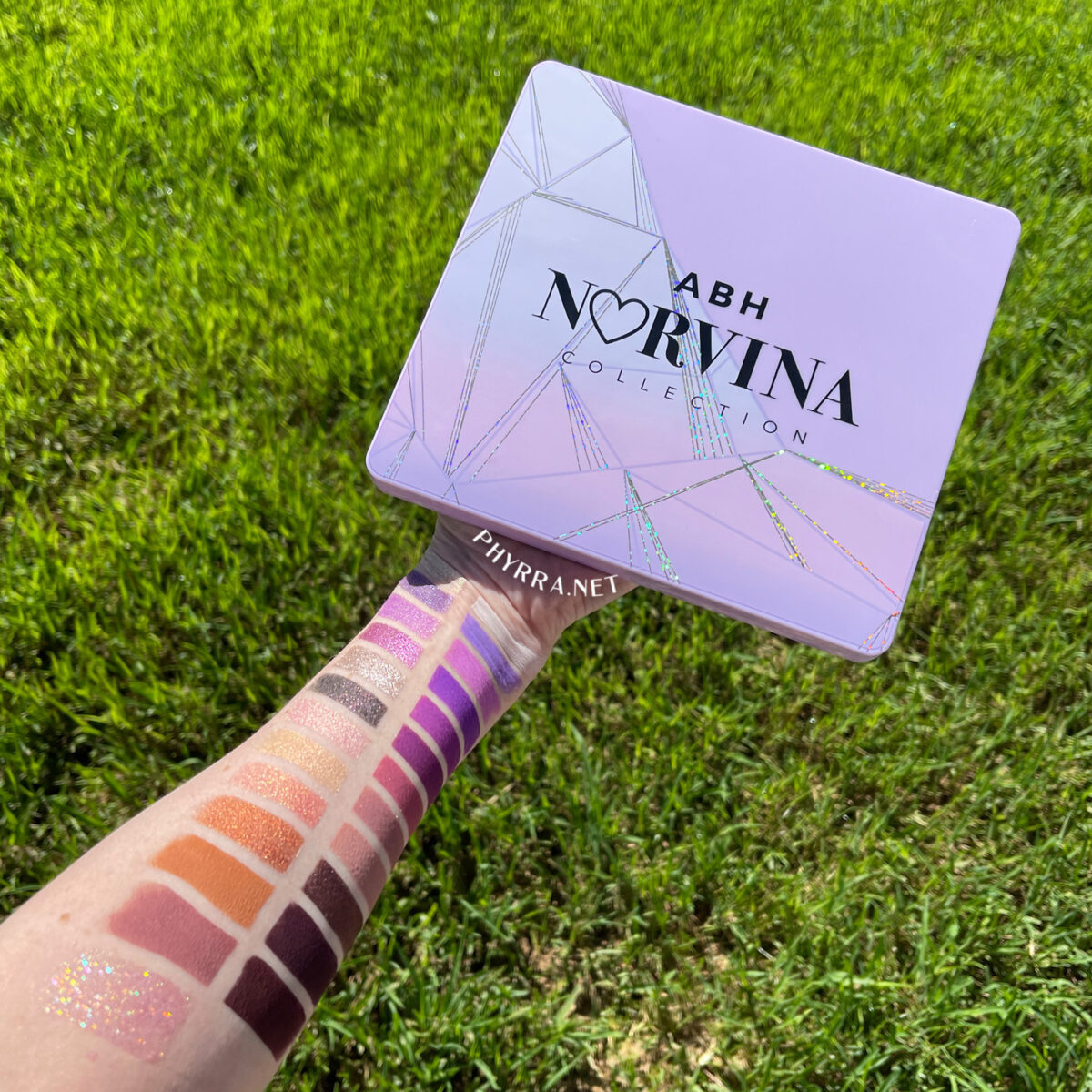 Hello, beautiful creatures! Today I'm sharing my Anastasia Beverly Hills NORVINA Pro Pigment Palette Vol. 5 review. I've had this palette for almost a year now, and it has remained my favorite ABH palette. I purchased it from Sephora, but it's currently 20% off from Beauty Bay. You can also find this purple palette at JC Penney.
Latest Anastasia Beverly Hills Drama
Anastasia Beverly Hills founder Anastasia Soare is pro-Putin, which is awful. I stand with Ukraine.
About the Anastasia Beverly Hills NORVINA Pro Pigment Palette Vol. 5 Ingredients
I want to talk a bit about the ingredients in the Norvina Pro Pigment Palette Vol. 5. ABH is a 100% cruelty-free beauty brand, and they made this palette 100% vegan, which is fantastic. However, to achieve some of the shades they created in a vegan formula, they used ingredients approved for use around the eyes in the UK but not in the USA. Many beauty brands are going in this direction because the USA FDA is underfunded and understaffed. I don't even know when they've approved any colorants for makeup. I started blogging in 2008, and it's now 2022, and I'm not sure that they've updated their ingredients in this time frame.
I don't particularly appreciate when companies create eyeshadows from non-FDA improved ingredients and then don't tell you this online. I'm also sick of the 'read the fine print' bs. Thankfully, when I purchased this eyeshadow palette from Sephora, they annotated which shades were not intended for use around the immediate eye area. Unfortunately, it's like every single color I want to use. 18 of the 25 shades are not for use around the eyes. I have been carefully using these shades around my eyes, as I have sensitive eyes and skin.
If you want to learn a little more, you should watch Pressed Pigments is Code.
Anastasia Beverly Hills NORVINA Pro Pigment Palette Vol. 5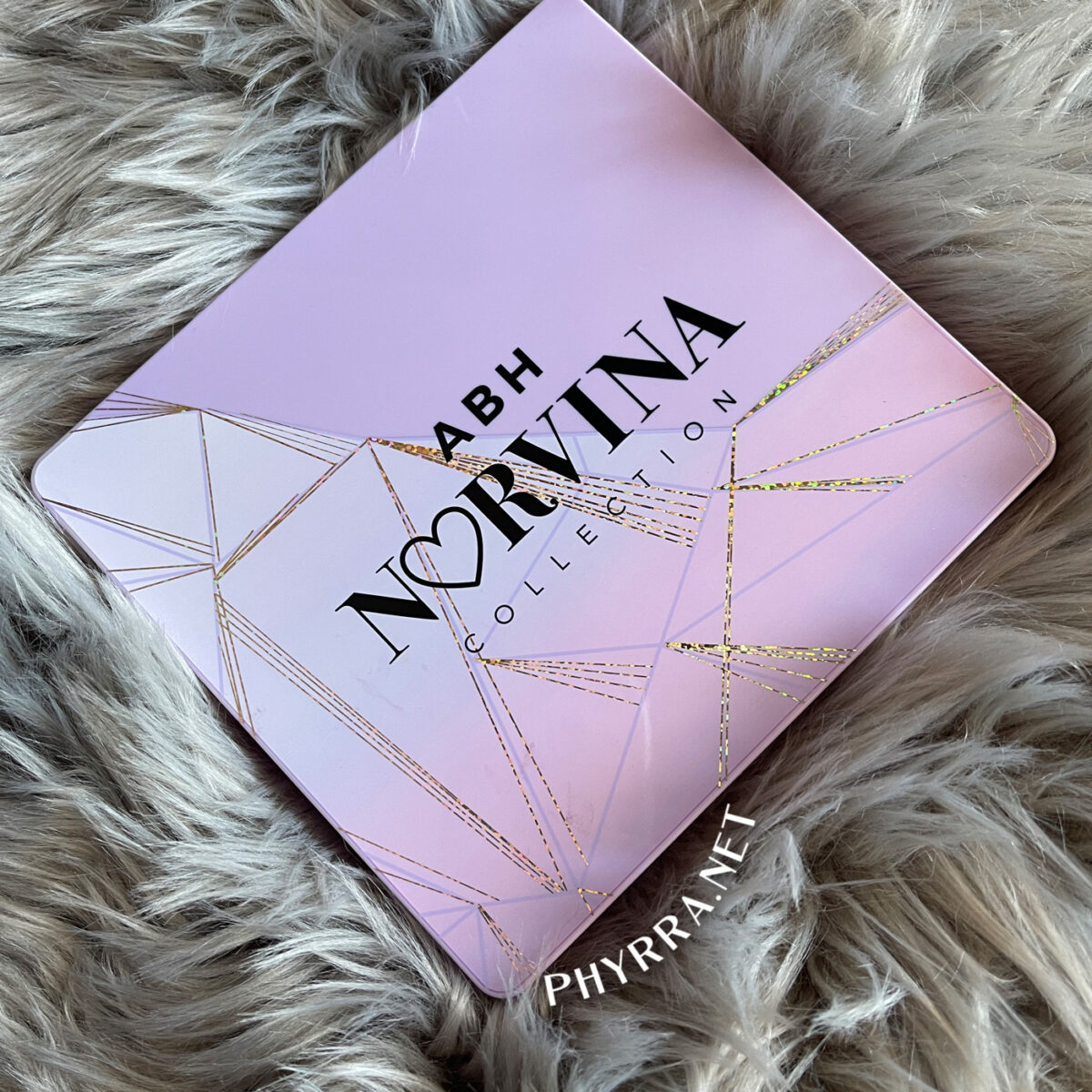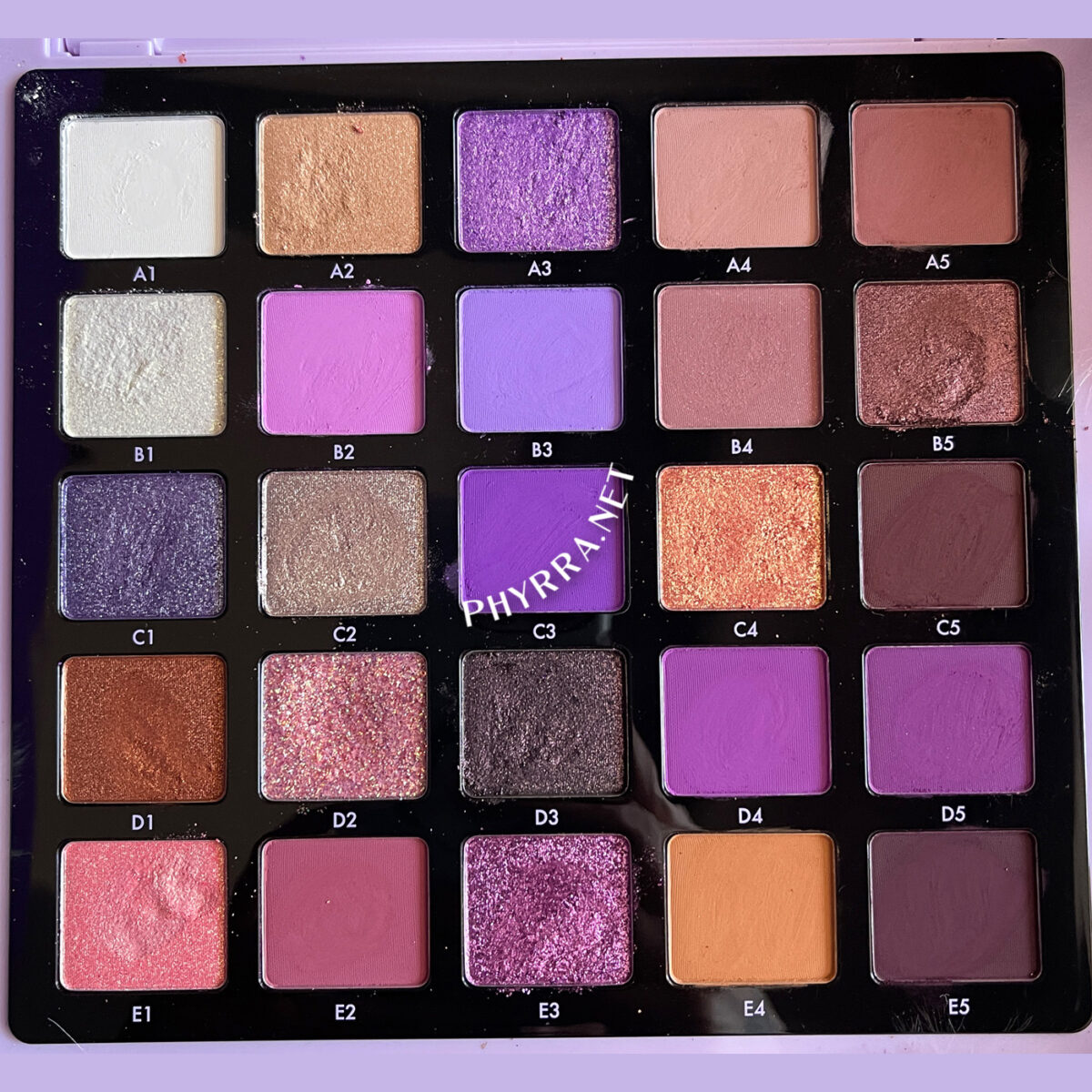 Shade Descriptions
B1 – Sparkling icy gold with brilliant reflects
A1 – Matte bright white
C1 – Sparkling cool-toned lilac with blue reflects*
B3 – Matte cool-toned lilac*
A3 – Sparkling pastel bubblegum lavender*
B2 – Matte pastel lavender*
E3 – Metallic bright lavender*
C3 – Matte vibrant purple*
C2 – Metallic warm silver*
D4 – Matte true violet*
D3 – Deep black with clusters of magenta and lilac sparkles
D5 – Matte berry violet*
E1 – Metallic candy pink with gold reflect*
E2 – Matte blush rosy pink*
A2 – Duo-chrome peachy gold
B4 – Matte rosy taupe with multi-dimensional reflects*
C4 – Sparkling peachy-pink with gold reflects*
A4 – Matte light taupe*
D1 – Metallic deep warm copper
B5 – Metallic chocolate brown
E4 – Matte dirty orange
E5 – Matte deep grape*
A5 – Matte dusty rose taupe*
C5 – Matte deep warm brown*
D2 – Multi-dimensional pressed glitter with rainbow reflects*
About my Skin Tone
I take my swatch photos outdoors in direct sunlight and indoors in indirect sunlight to show you what the colors look like on my skin tone. I have a very fair neutral to cool yellow undertone for my skin tone. When exposed to the sun I turn olive. My favorite foundation matches are as follows:
Anastasia Beverly Hills NORVINA Pro Pigment Palette Vol. 5 Direct Sun Swatches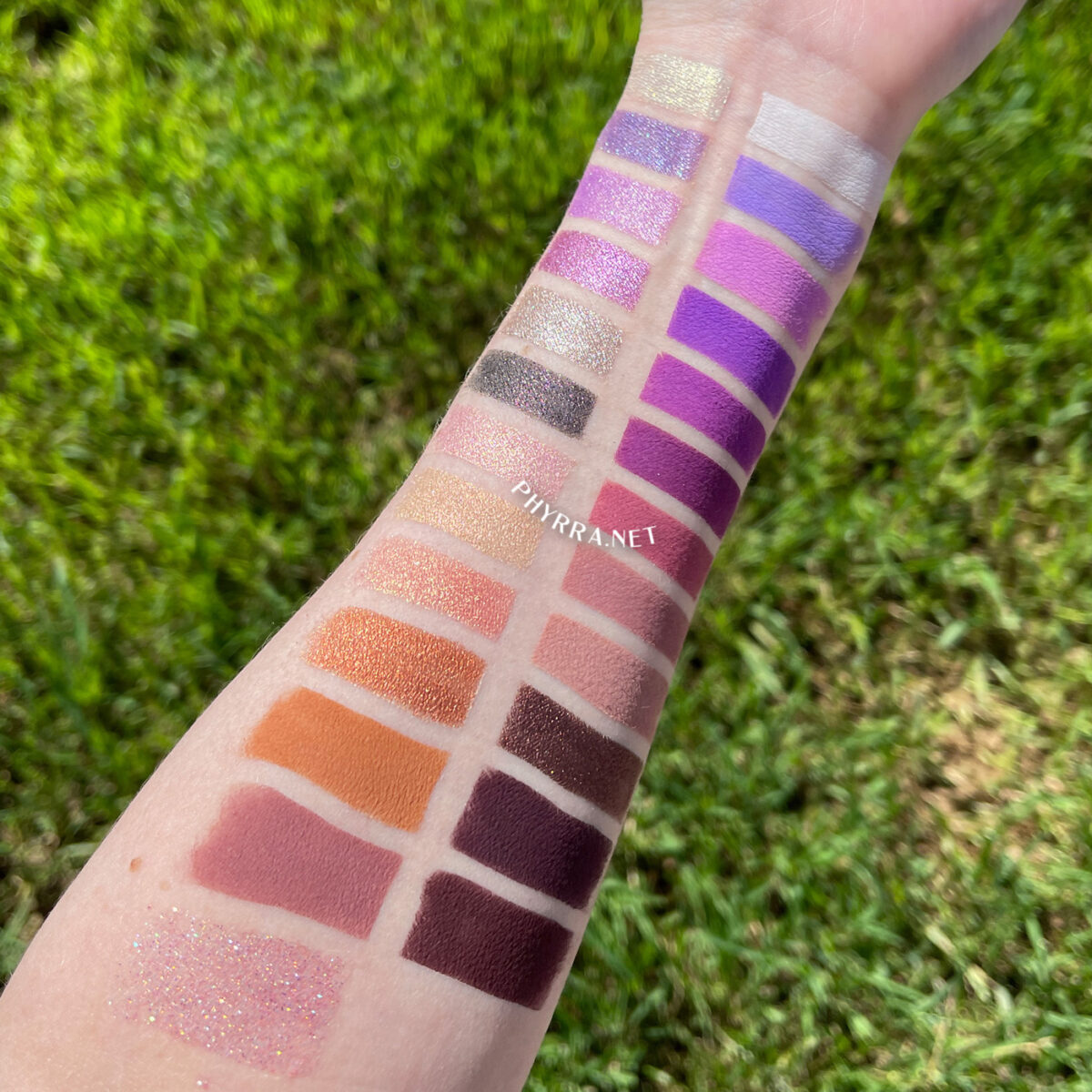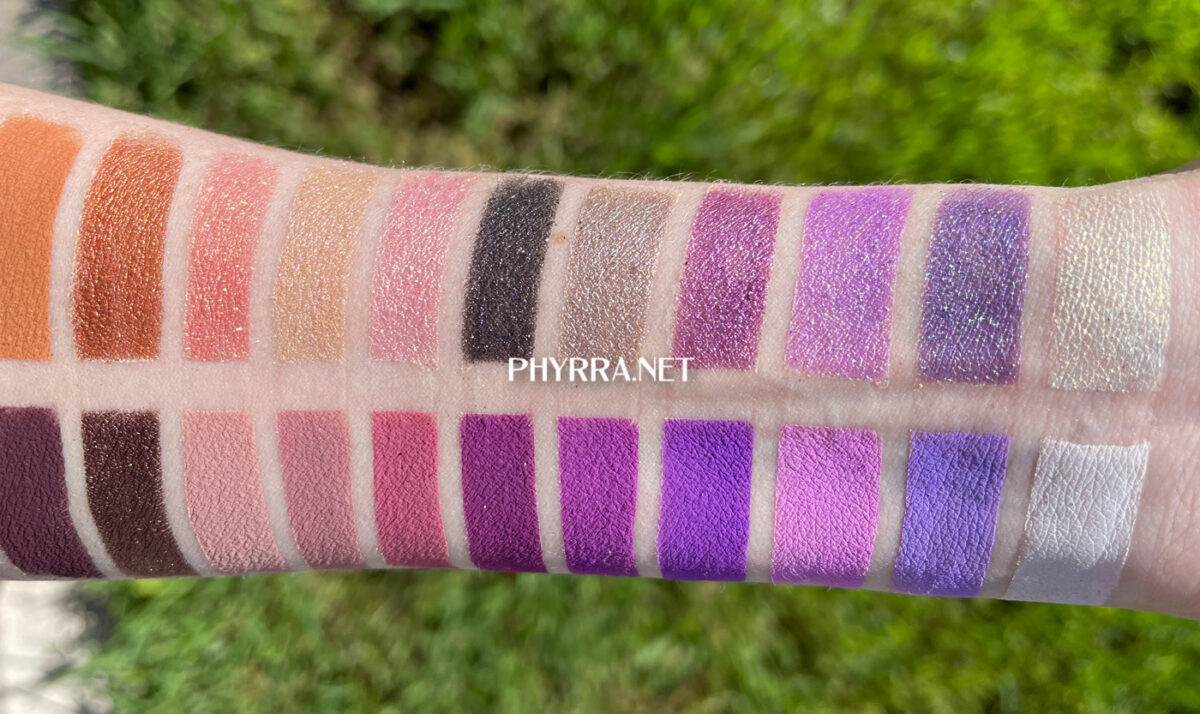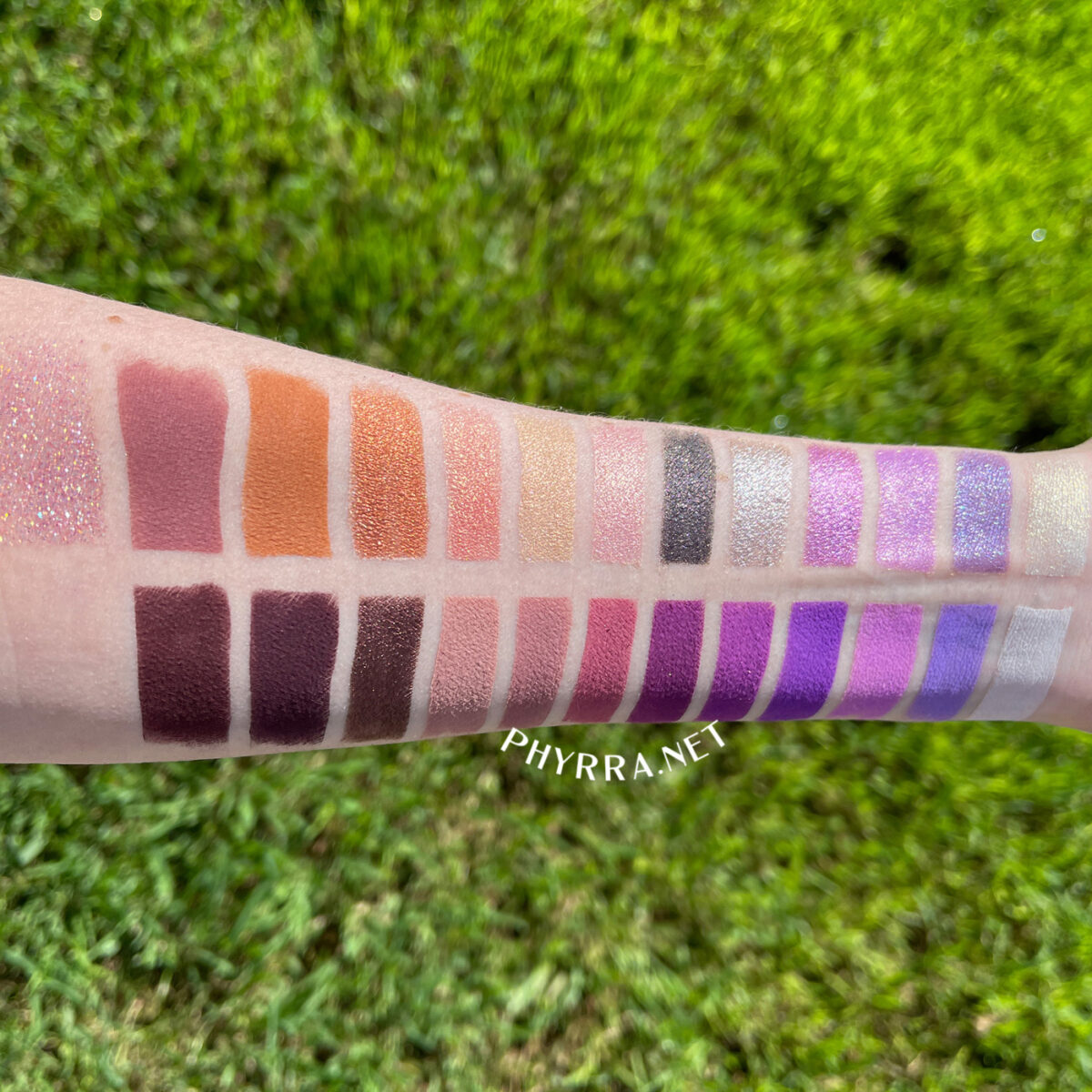 Top Row:
D2, A5, E4, D1, C4, A2, E1, D3, C2, E3, A3, C1, B1
Bottom Row:
C5, E5, B5, A4, B4, E2, D5, D4, C3, B2, B3, A1
NORVINA Pro Pigment Palette Vol. 5 Indoor Swatches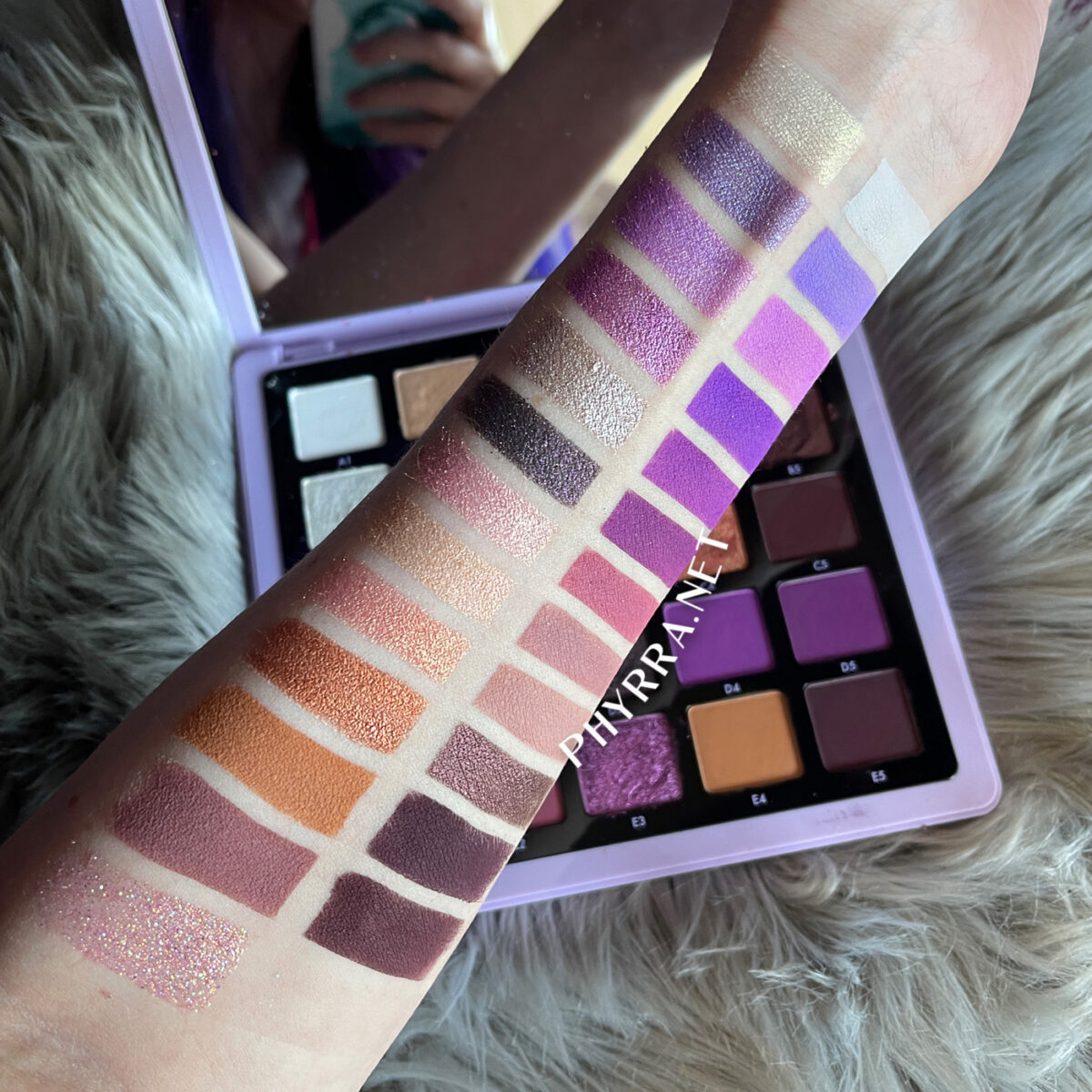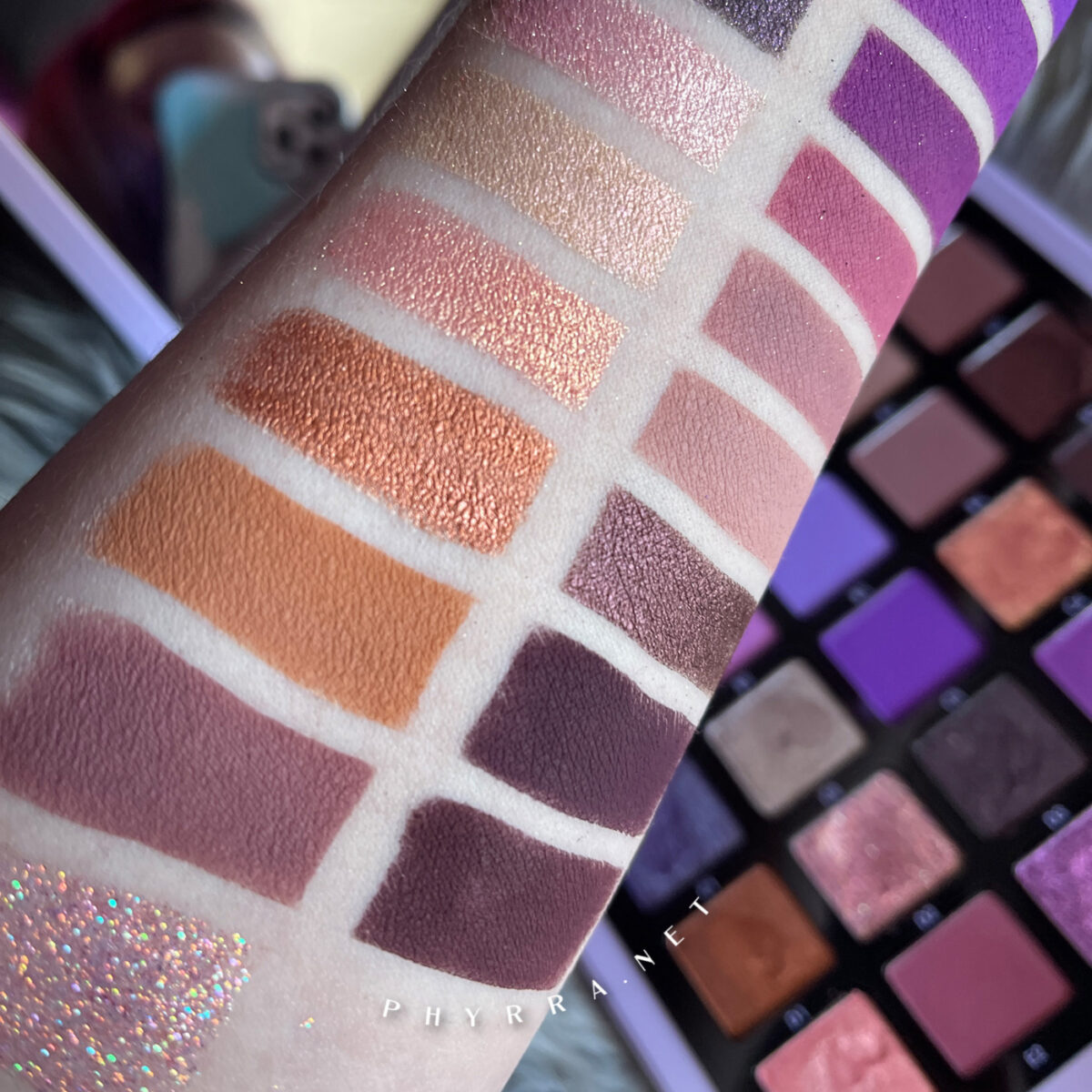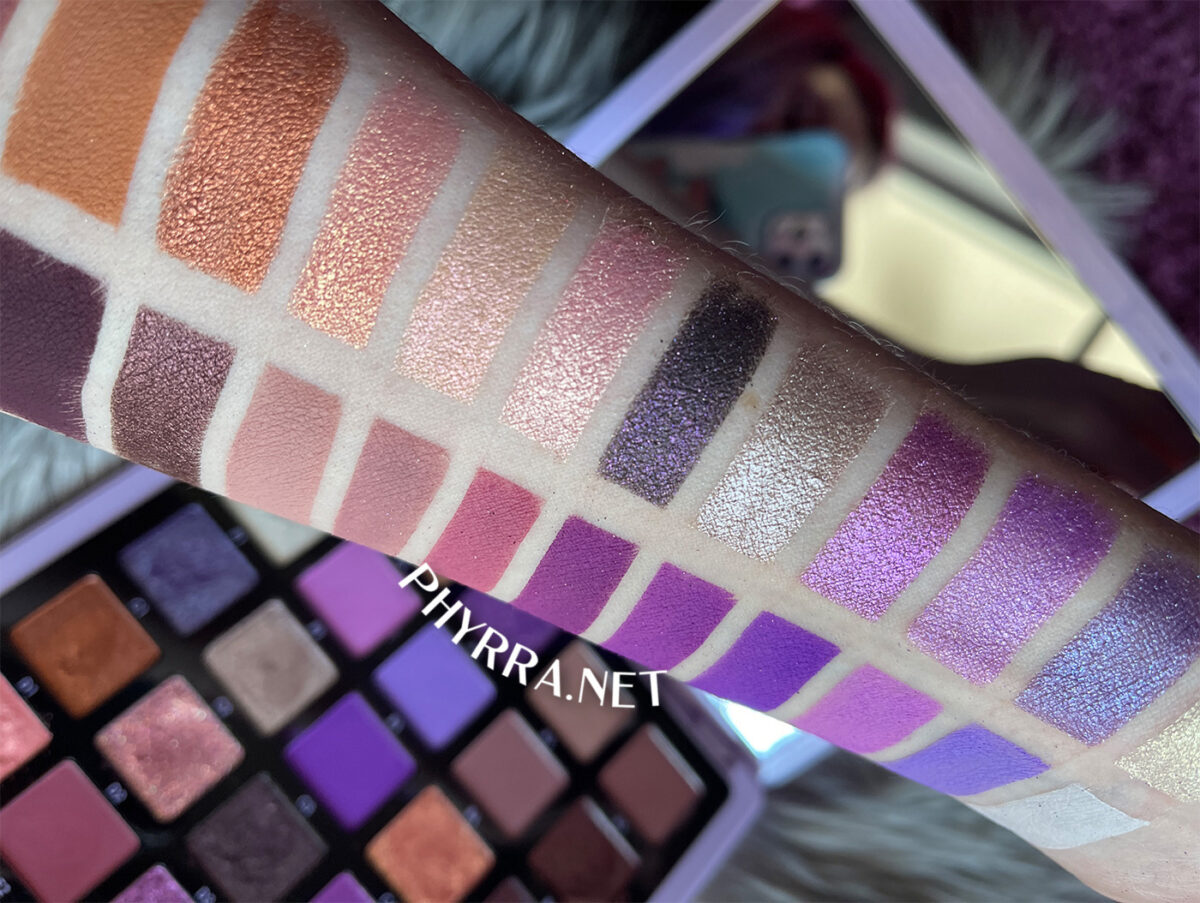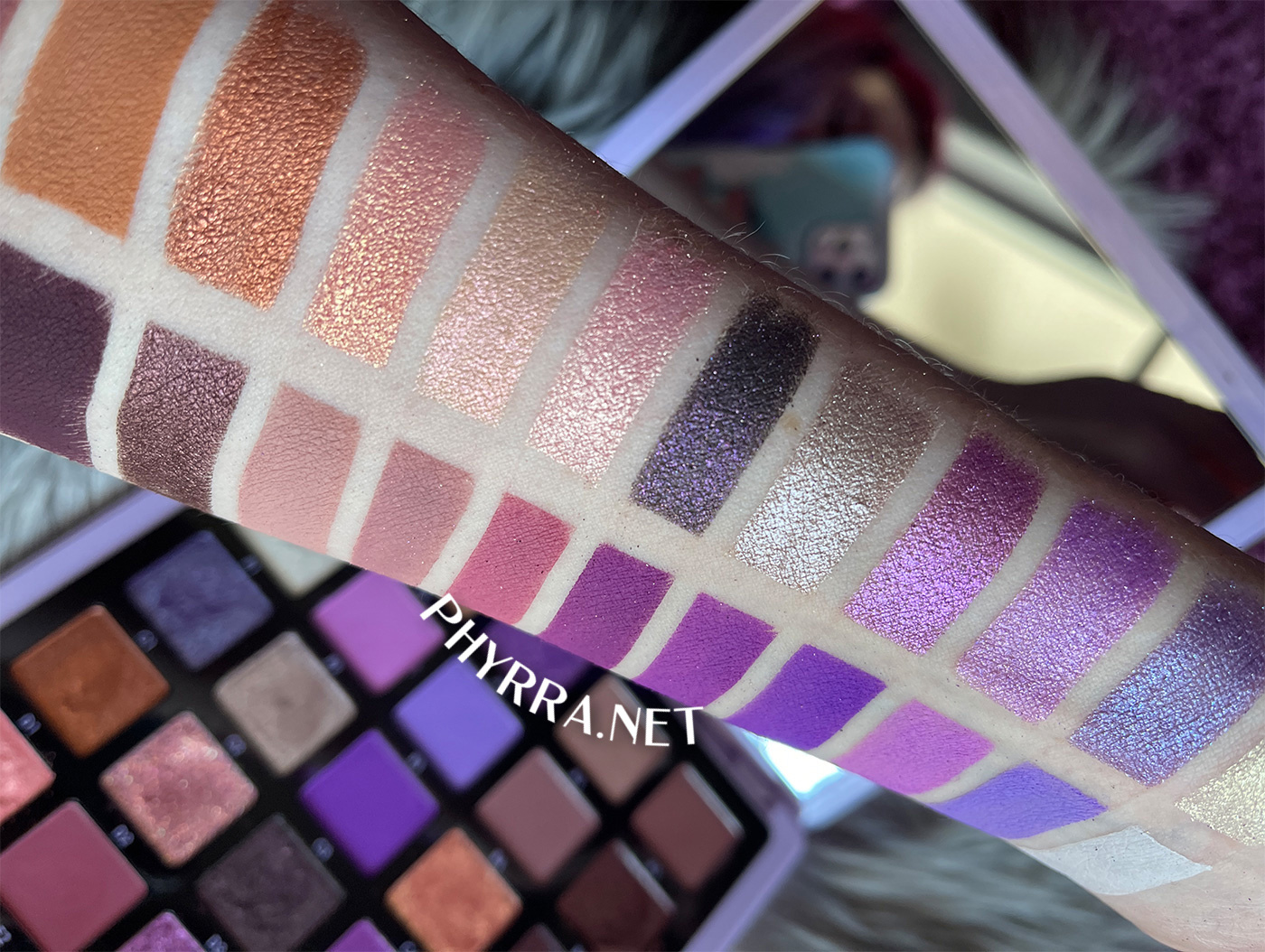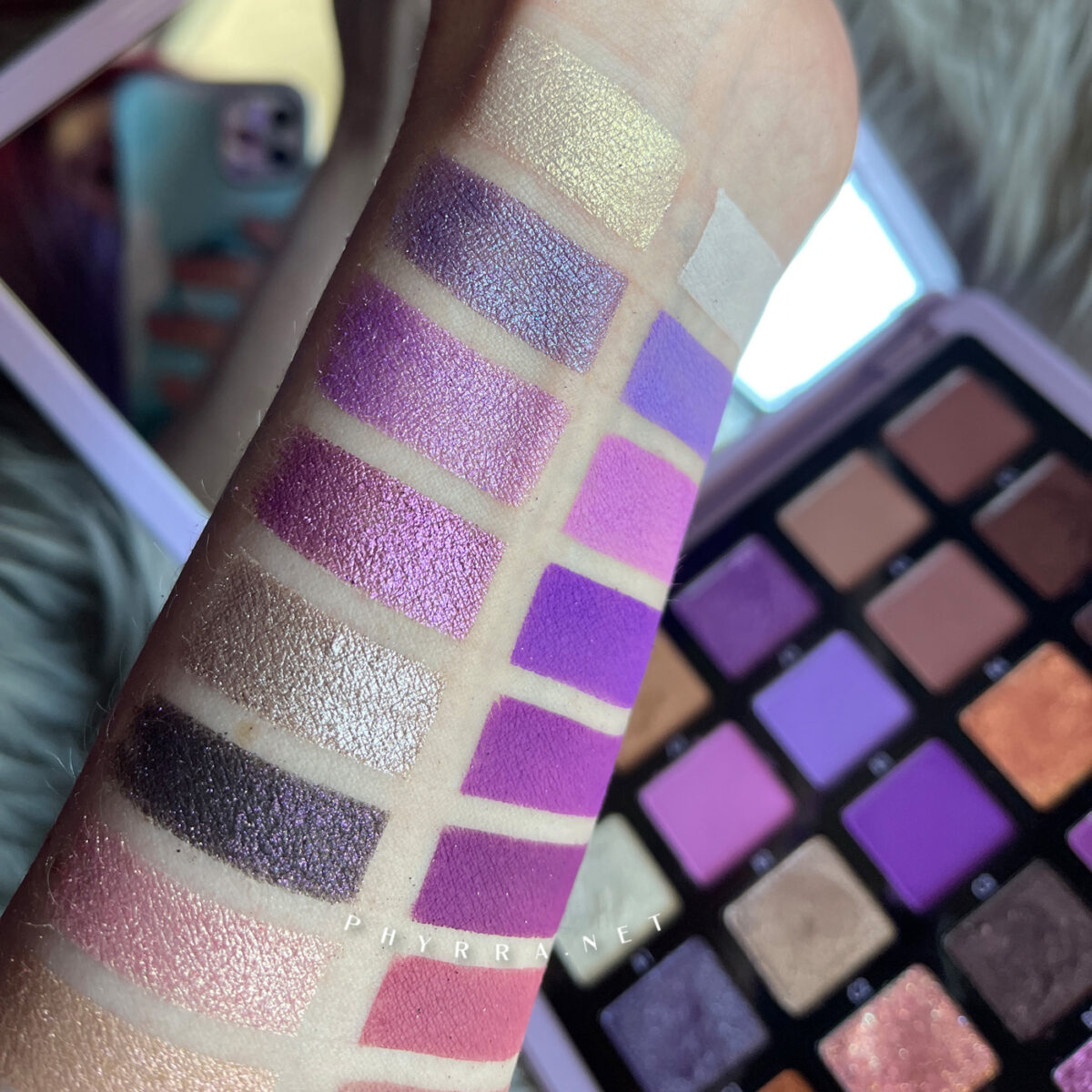 Everyone has their preferences when it comes to lighting, and I prefer how I look in excellent indirect sunlight vs. outdoors in warm, direct light.
Final Thoughts
I adore my Anastasia Beverly Hills NORVINA Pro Pigment Palette Vol. 5. The purple mattes work so well for me, but I especially love C3, B3, and B2. I also find A5 (dusty rose taupe) and E2 (rosy pink blush) to work well. I would have never thought to purchase E2, A4, and A5 to try out, and they're lovely shades for my skin tone.
D2 is a multi-dimensional warm pinky-peach base with rainbow glitter reflects. I prefer to use this as the final touch on the center of my lids. B1 is a beautiful icy white gold, C1 is a gorgeous cool-toned purple with blue reflects, and C2 is a stunning metallic silvery taupe. A2 is a lovely peach with a golden pink shift, E1 is a pretty warm pink with a golden shift, and C4 is a fun peachy pink with gold reflects.
C5, E5, and B5 are really the only 3 shades I don't really use. I've been experimenting with trying to incorporate more oranges into my looks, but they're still a struggle for me. Browns and oranges are hard for me to navigate with my cool skin tone.
If you're looking for a beautiful purple palette with excellent mattes and a few fun shimmers, this is it. It also looks beautiful if you're doing makeup for TV or wrestling, as it lasts all night on me with primer.
Pick up the Anastasia Beverly Hills NORVINA Pro Pigment Palette Vol. 5 from Beauty Bay to save 20% on it right now. You can also purchase it from Sephora or JC Penney.
What do you think of this purple palette?