Best Purples Makeup Tutorial

Best Purples Makeup Tutorial
Hello beautiful creatures! Today I'm sharing my best purples makeup tutorial with you featuring my favorite purple makeup products. This is a mostly vegan makeup tutorial, as almost everything I used is vegan. Everything, as always, is cruelty-free. You can absolutely have vibrant, beautiful makeup that is cruelty-free and vegan in this day and age. In fact, I'd even argue that the best multichromes and duochromes are vegan. This is a full face purple makeup tutorial rather than being split into eyes and complexion. And yes, I have hooded eyes, so this is a hooded eyes makeup tutorial.
Best Purples Makeup Tutorial Video
Watch the video on YouTube with Closed Captioning in English!
Purple Makeup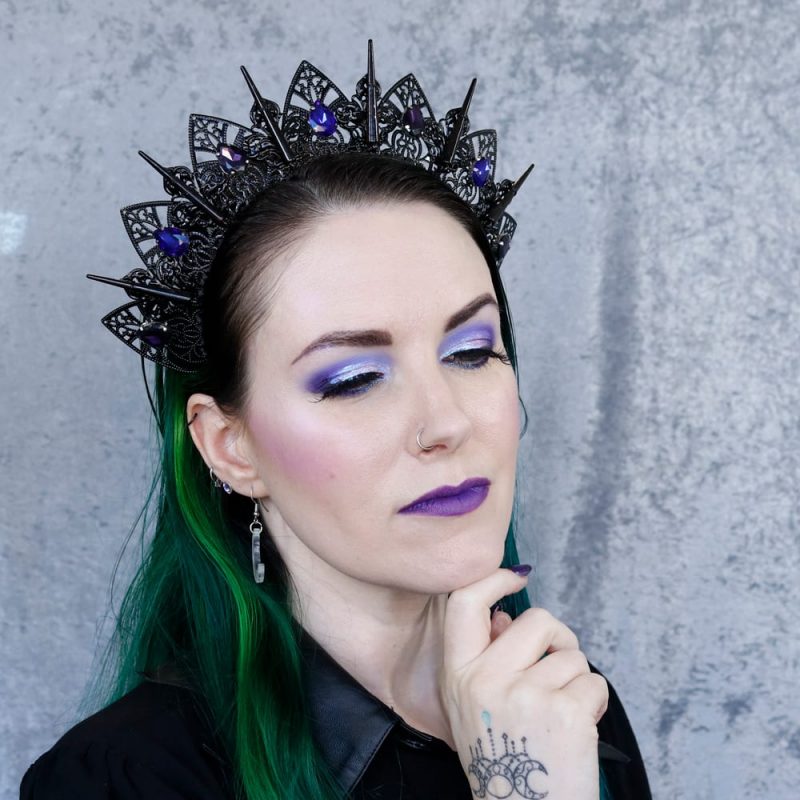 Brows
Nyx The Brow Glue (v)
Elizabeth Mott Black Queen of the Fill Brow Gel
Urban Decay Blackout Browblade (v)
Eyes
CoverGirl Lid Lock
Nabla Black Cupid's Arrow (v) – upper waterline
Lethal Sequence (v) – transition
Cozzette C1 Essential Powder (v) – to blend out edges
Lethal Spirit (v) – crease and outer lid
Melt Mixtape (v) – outer 3/4 of lower lid
Baby Bat Beauty Amulet (v) – on top of Mixtape
Viseart Deep Purple Cool Mattes 2 – outer C
Danessa Myricks Amour (v) – lid and inner lower lid
Terra Moon Zero Gravity (v) – patted on top of Amour
Moxie Lash Black Magnetic Liquid Liner
Ardell Magnetic Demi Wispies (v)
Nyx Periwinkle Pop pencil – lower waterline
Black Moon Catshark (v) – highlight
Face
Milk Makeup Hydro Grip Primer (v) mixed with
Danessa Myricks Prism FX Hydrating Lotion (v)
Em Cosmetics Daydream Cushion in Cloud Dream (v)
Kiko Milano Sculpting Stick in Hazelnut
Fenty Drama Class Cream Blush (v)
Lethal Quartz (v) – contour
Lethal Hybrid (v) – blush
Black Moon Catshark (v) – highlight
Lips
Melt 1979 pencil (v)
*Folly Fire Kimo-no! lipstick (v)
Face Atelier Lip Lock (v)
* means PR sample
V means vegan
As you can see, I really packed in all the best purples makeup for this tutorial. If you're looking for even more purple, check out my Baby Bat Beauty Amulet tutorial. Or check out my Ultraviolet Makeup Tutorial.
Blink Cut Crease Tutorials for Hooded Eyes
Here are a few picture and video tutorials that showcase the blink cut crease method for hooded eyes. These are beginner friendly for hooded eyes, in my opinion.
Full Face of Purple Makeup

I had the worst time with my lashes when I filmed this. I could not get the magnetic lashes to stay on at my outer corner, despite putting extra liner there. I guess my hooded eyes just kept eating the magnetic liner. I really need to make myself use the at home lash kit I purchased to give myself a lash lift. I miss having my lashes look great.
I tried out a new foundation for this best purples makeup tutorial. I used the Em Cosmetics Daydream Cushion Foundation in Cloud, for Fair Light Skin. I feel that this pulls neutral to yellow in undertone. It's slightly deeper than I normally wear, but I adore the finish. Light to Medium coverage foundations are my favorite. This cushion foundation is very easy to apply and perfect for no makeup makeup looks or light coverage days. While it does have SPF 50 PA+++, you have to always look at the SPF in makeup as BONUS coverage. Don't rely on this as your primary SPF. I personally wear Supergoop Unseen SPF 40 every day on my face.
Lethal Cosmetics eyeshadows are so wonderful to work with! They're easy to build up and blend out. The color payoff is fantastic. Spirit is such an amazing purple.
If you watch the video tutorial above, you'll notice that I did struggle a bit with the Danessa Myricks Twin Flames eyeshadow in Amour. This is such a beautiful color and it is waterproof and budgeproof, but I wish it dried down faster. I'm getting some lifting and pooling in the crease, which causes some weird bare looking patches. Once this product is dry it doesn't budge, but you have to get it to dry. I've reached out via email to ask for tips on how to use the Twin Flames with hooded eyes like mine.
Have you tried the Danessa Myricks Twin Flames? Any tips? What color do you want me to do for my next monochromatic look?