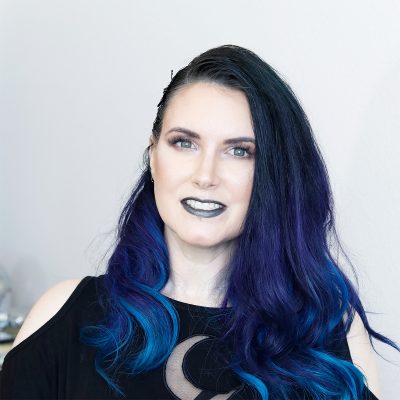 I'm Courtney, the digital content creator behind Phyrra & the YouTube Channel PhyrraNyx. I wrote a book, Hooded Eyes Makeup Manual, which is exclusive to Amazon. I have published over 9,000 articles and over 150,000 comments. I've created over 840 videos. I started my blog Phyrra in 2008 and have exclusively run it by myself since its inception. I don't have an agency representing me or anyone else. If you are contacting Phyrra, you are contacting me, Courtney Nawara. Corinne Bageard does not work for Phyrra.net and is not my agent, affiliate, or employee.
With over a decade of makeup obsession & experience, I share the best in cruelty-free beauty & gothic fashion to inspire you to explore your unique style and expression ethically!
Want to Advertise on Phyrra?
When I write a sponsored article or shoot a sponsored video, I'm receiving payment for the work and time I put into testing the product, writing the article, and editing the content. I am NOT receiving payment for a favorable review. I always share my honest thoughts.
I always disclose per USA FTC guidelines. I do not offer text links and outside guest posts. Please email me to discuss your collaboration idea.
My review rules
I don't guarantee a specific time frame for a review unless it is a sponsored post.
If you're contacting me about beauty, it must be cruelty free. This means not tested on animals anywhere in the world. See my cruelty free list.
Not every sample that I receive will be featured. I only accept things I think I will like, but if I don't like something, I probably will not feature it.
I always share my honest opinions and experiences with a product. I try to find positive and negative things to say about every review. My audience trusts me and expects this.
It takes time for me to review a product and then put it on my editorial calendar.
You can read more in my FTC Disclosure page.
Blog Address
23110 State Road 54
#138
Lutz, FL 33549
See my Style Coalition Profile. You can see my Fohrcard profile, which is linked directly to Google Analytics and shows my pageviews for the last 30 days.
About Phyrra (since December 2018)

The Site's Connections
Phyrra is very lucky to belong to several of the web's best networks!
Style Coalition: Founded in 2008, this network connects the top lifestyle influencers and advising Fortune 500 companies.
Fohr Card: Fohr Card helps to connect brands to the right bloggers.
Beauty Blog Coalition: A network for seasoned beauty bloggers.
POPSugar Beauty, Fashion and Video