KBShimmer Launch Party Collection
I'm thrilled to be sharing the new KBShimmer Launch Party Collection with you! KBShimmer sent me everything you see in this post. As you know, KBShimmer is my all-time favorite cruelty-free nail polish brand and they're an indie, to boot! They've been around as long as I have, as we're both celebrating 10 years this year. 9 times out of 10 when you ask me what I'm wearing on my nails, it's KBShimmer. KBShimmer makes the best black nail polish, I'm Onyx.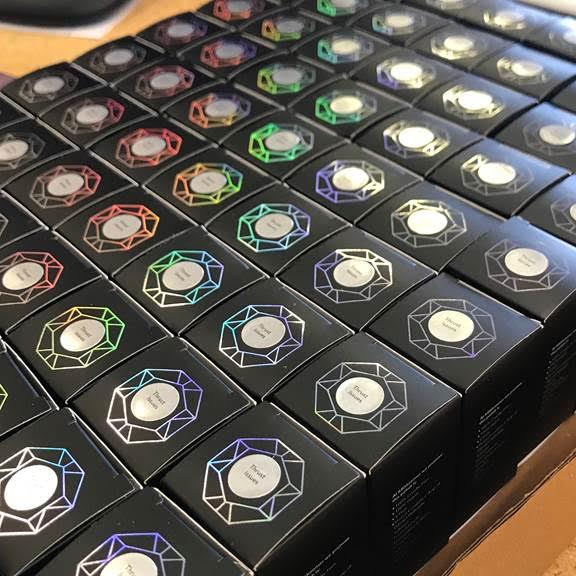 On March 15th KBShimmer is debuting their new 9 Piece Launch Party Collection featuring the brand's all new look. Matte black and holographic foil accented boxes and stickers, plus brushed silver logo imprinted on all the bottles. The base is 5 free free. The bar is set high for KBShimmer's 10th year in business.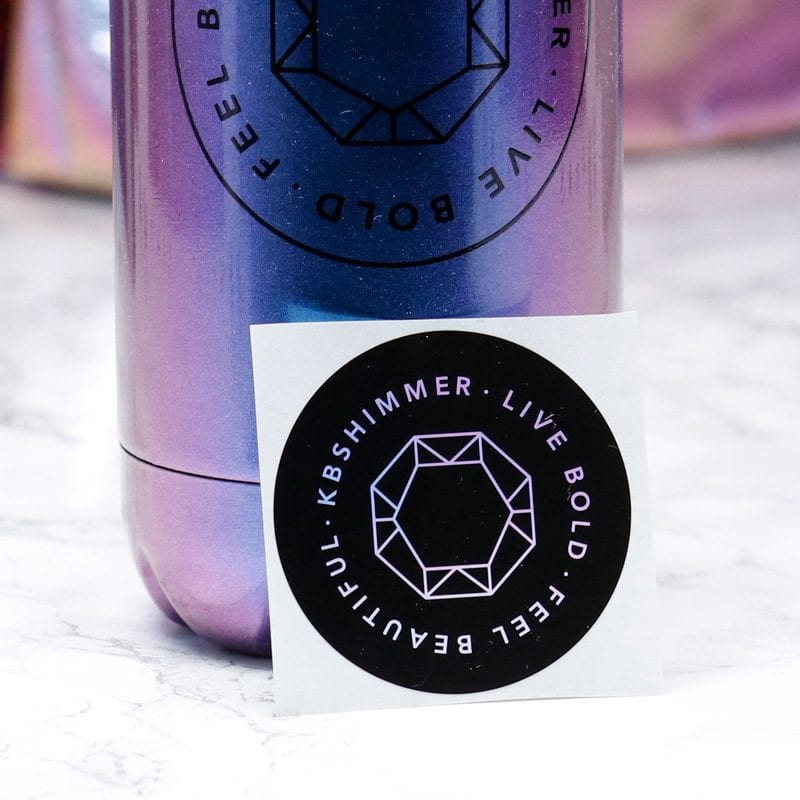 I LOVE the new KBShimmer logo! It feels very witchy, very nugoth, very galactic to me. I am here for it! As part of KBShimmer's rebranding and celebration, they've sent me their new Launch Party Collection, a few bottles of my favorite nail polish shades, new cuticle cream, body lotion and more.
As magnetic polish is new to me, I really appreciated that they sent instructions on how to use it.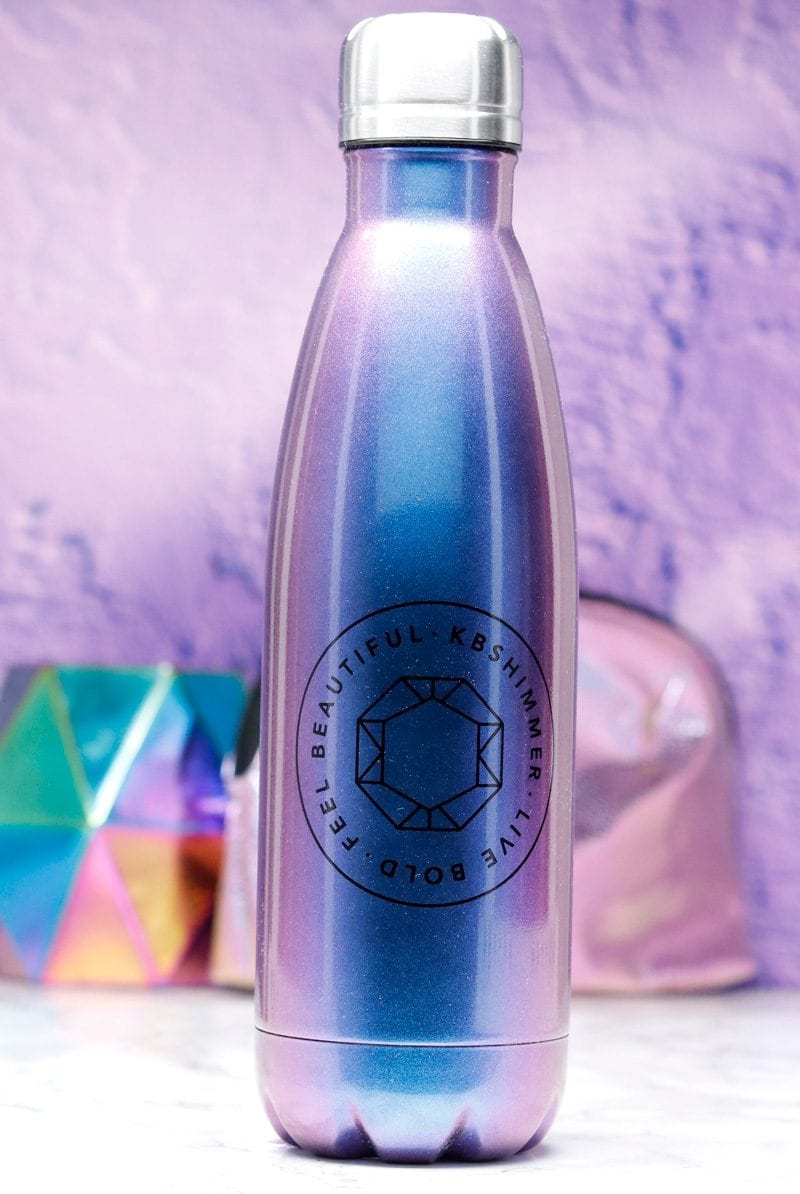 I LOVE this awesome water bottle that KBShimmer sent! It's blue and purple. You know I love duochromes and these are the colors in my hair right now.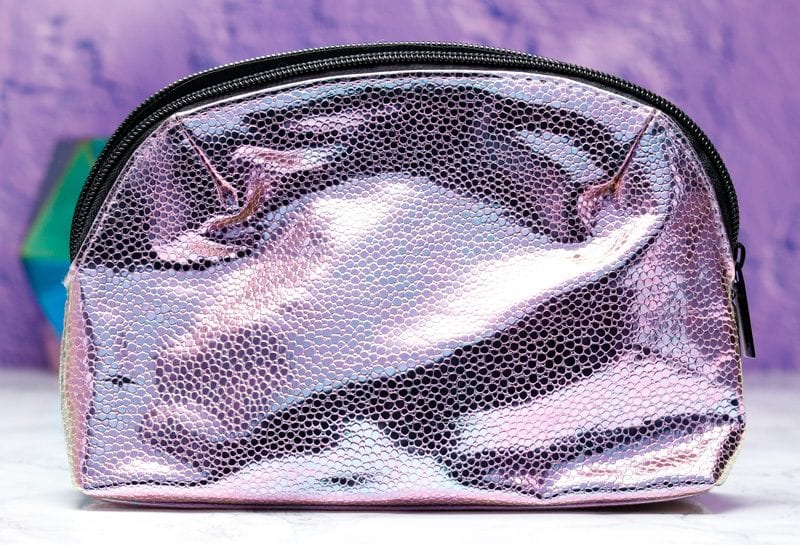 I was just lamenting the other day in my New Makeup Releases Video how I wanted an awesome multichrome bag and KBShimmer made one for the KBShimmer Launch Party Collection! It's pink, purple and blue, depending on how the light catches it. I love it! It's available if you buy the full Launch Party Collection bundle for $90. This bundle includes the makeup bag, the 9 nail polishes, and the magnet tool.
How to Use KBShimmer Magnetic Polish
Prep your nails with KBShimmer Basic Training or Fillin' Groovy Base Coat.
Apply 1 coat of the magnetic polish to all 10 nails and let it dry. Alternatively, apply 1 coat of KBShimmer Eclipse (black) and let it dry.
Apply a 2nd, thick coat of magnetic polish to only 1 nail.
Immediately hold the magnet about 1/4 inch away from the nail at an angle. Hold it for about 30 seconds.
The longer and closer you hold the magnet over the polish the more pronounced the pattern will be.
Repeat with a 3rd coat if desired, holding the magnet in the same way. The longer you hold the magnet while it's drying, the less the pattern will spread out.
Top with a holographic glitter top coat for a true galaxy feel.
Finish with KBShimmer Clearly On Top quick dry top coat.
These are the instructions that were sent with the KBShimmer Launch Party Collection to explain how to use magnetic polish. I'd never used magnetic polish before. I had varying degrees of success with it.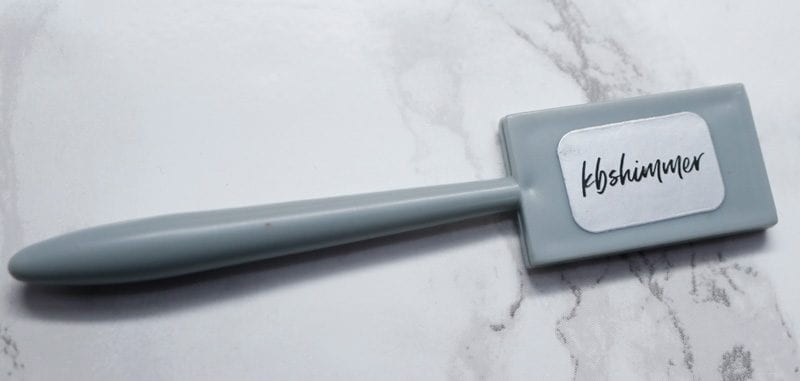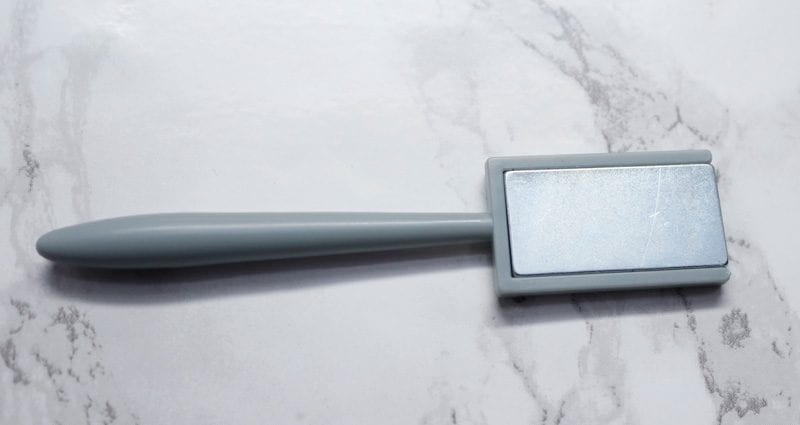 KBShimmer Launch Party Collection Nail Polish

KBShimmer Launch Party Collection Swatches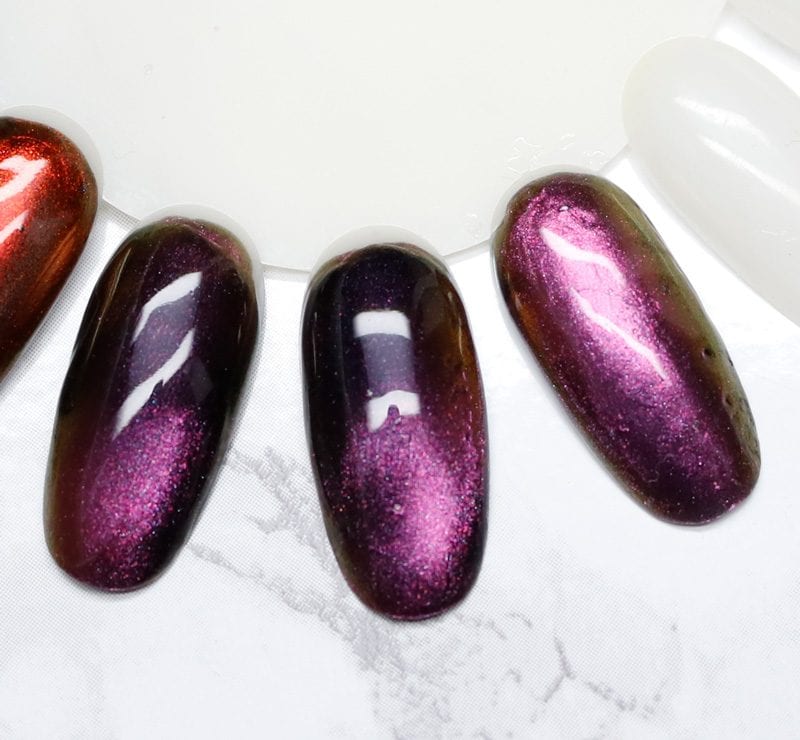 Just A Phase – Just like the phases of the moon, this magnetic multichrome polish has many different looks. This polish shifts from shades of red, bright pink, gold, green, copper and peach.
To me, Just a Phase looks pink with purple undertone and I can see the green, gold, and copper shift. I used the magnet on the 2 on the left.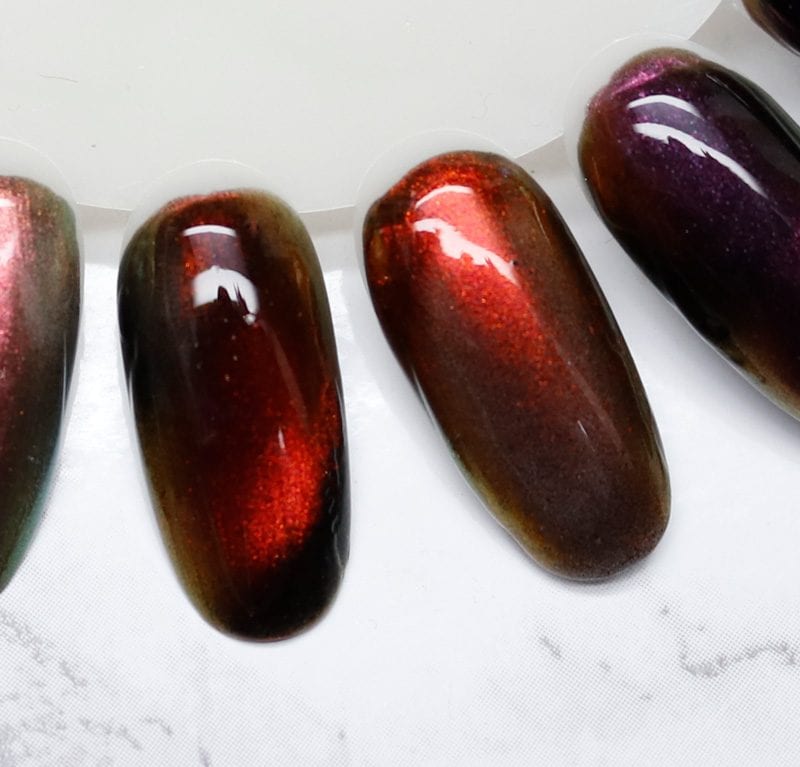 Solar Flair – If you are looking for a fiery polish, this magnetic multichrome is it! Like the molten flares of the sun, this polish shifts from shades of gold and yellow, to hot oranges and reds.
The red, orange and gold are easy to spot in Solar Flare. I used the magnet on the left side.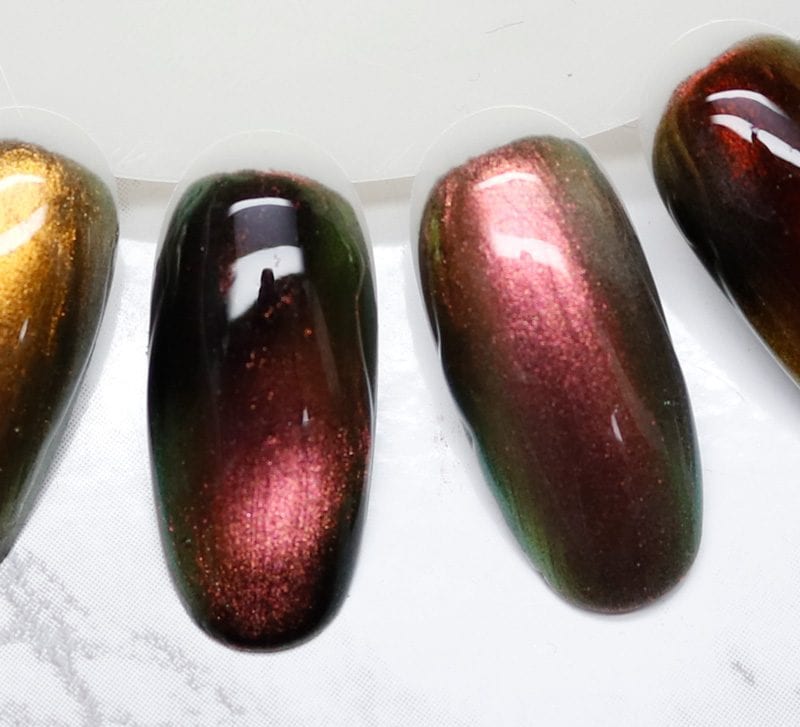 Let's Do Launch – When the space shuttle was launched going off to the moon, I can only image the families gathered around the television, in the pastel shades of the late 60's, anxiously awaiting those first lunar steps. This magnetic multichrome echoes those soft peach and pinks, lime green, and grass green shades of that eras fashion.
I see a soft pinky red with hints of grass green at the edges of Let's Do Launch. It takes on a peach color from angles. I used the magnet on the left side.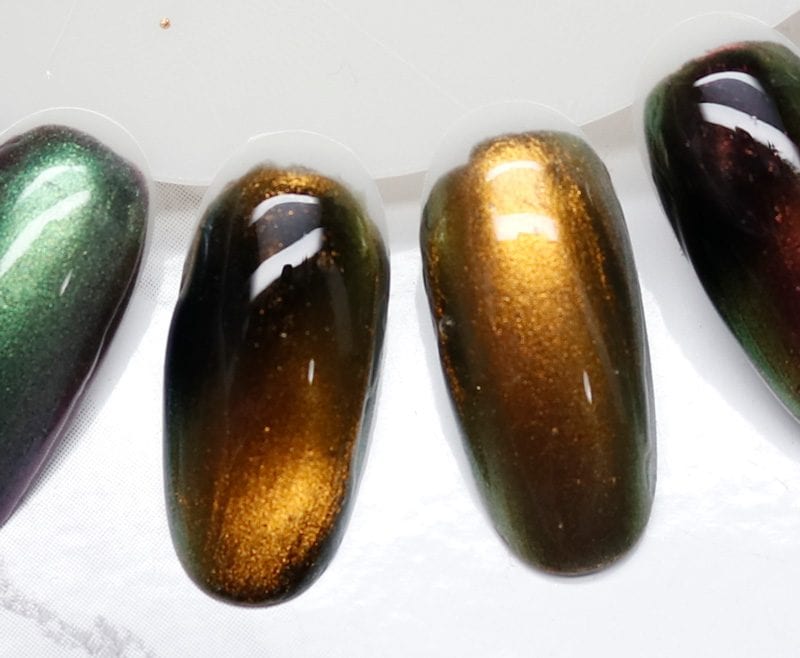 Thrust Issues – Burning bright in the sky, the golden flames of the rockets carrying astronauts into orbit are etched in the minds of those that have viewed space launches. This magnetic multichrome shade imitates those golden hues with a range of yellows, gold and oranges that dance like flames on nails.
Thrust Issues reminds me of a gold dragon for some reason. You see orange in there too. It's very rich. I used the magnet on the left side.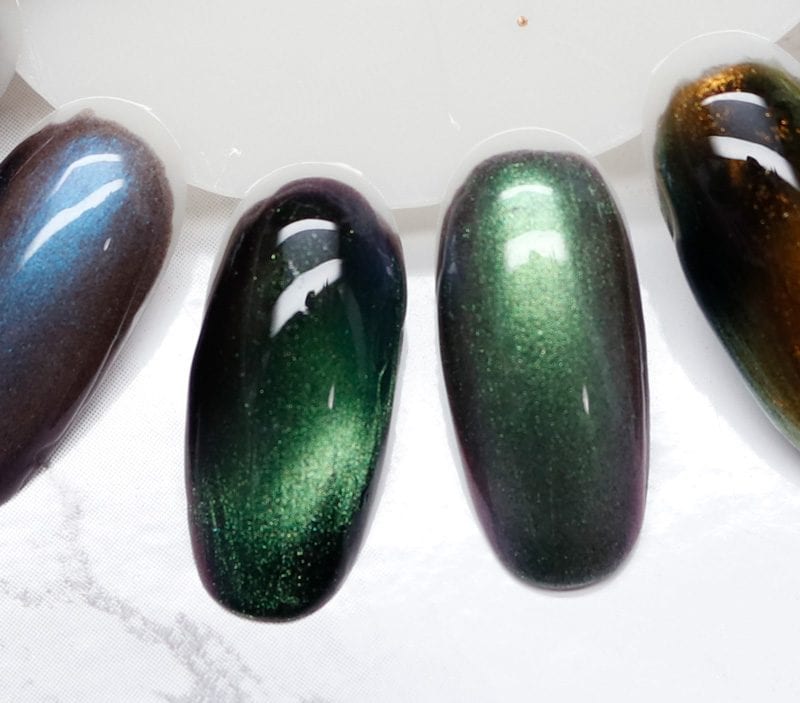 You Rocket My World – Earth, with is rolling hills of green, vast blue oceans, and rich and vibrant jungles must be a wondrous sight to see in space. This magnetic multichrome starts with vibrant shades of green and shifts through shades of lavender and silver.
I see green and silver in You Rocket My World. I used the magnet on the left side.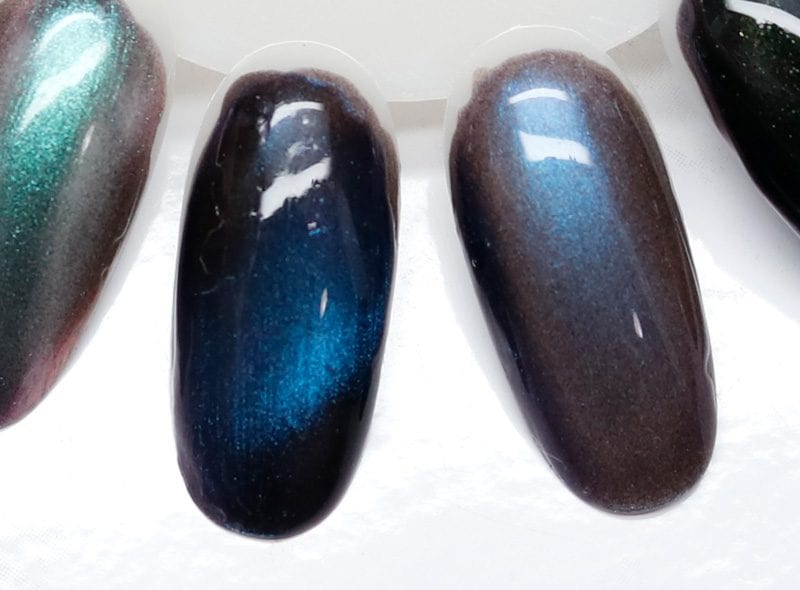 No Comet – Like a comet shooting through the sky, this magnetic multichrome shade mimics the colors of those nightly wonders. This magnetic duochrome shows off a vibrant blue, flipping to a majestic purple. Top with A Star If Formed for galaxy like nails.
I see rich vibrant blue that shifts to purple in No Comet. I used the magnet on the left side.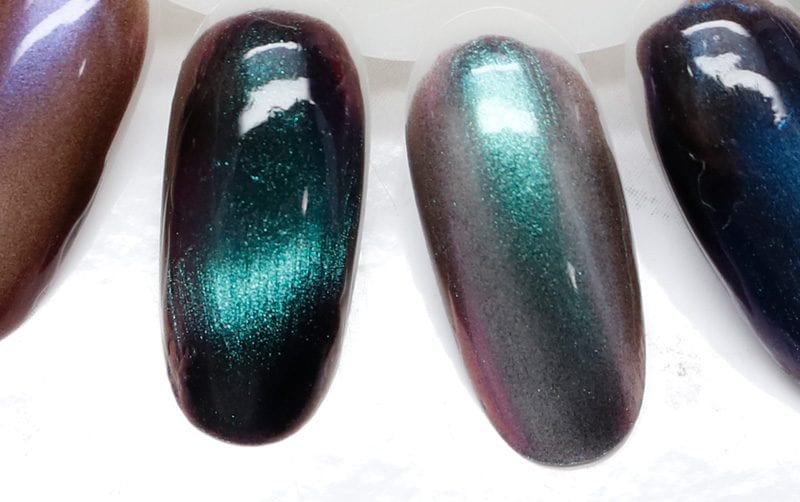 Spaced Out – This magnetic multichrome is full of fantastic flipping pigment. Purple and pink hues give way to shades of green blues and in photos and almost silver color appears. This is one shade you won't want to take off!
I see teal, green and blue in Spaced Out with hints of silver. And I took the name seriously, since I spaced out on painting a 2nd coat on the right side. I used the magnet on the left side.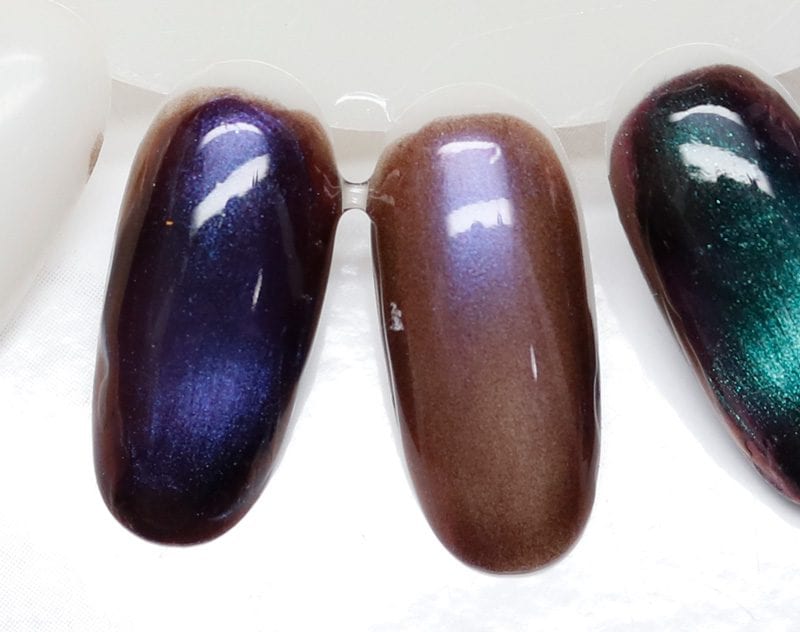 Orbits and Pieces – Throughout space, orbiting around planets you will find billions of pieces of stars, planets, and even stuff from earth. Imagine finding technology from earth light years away, crazy! This magnetic duochrome polish is crazy as those pieces of space junk. A vibrant magenta pink hue flips to a bold blue toned purple, for a shade fit for infinity and beyond.
I see purple, blue-toned purple, blue, and hints of violet in Orbits and Pieces. Like the previous one, I was distracted by Nyx and forgot to put a 2nd coat on the right swatch. I did use the magnet on the left swatch.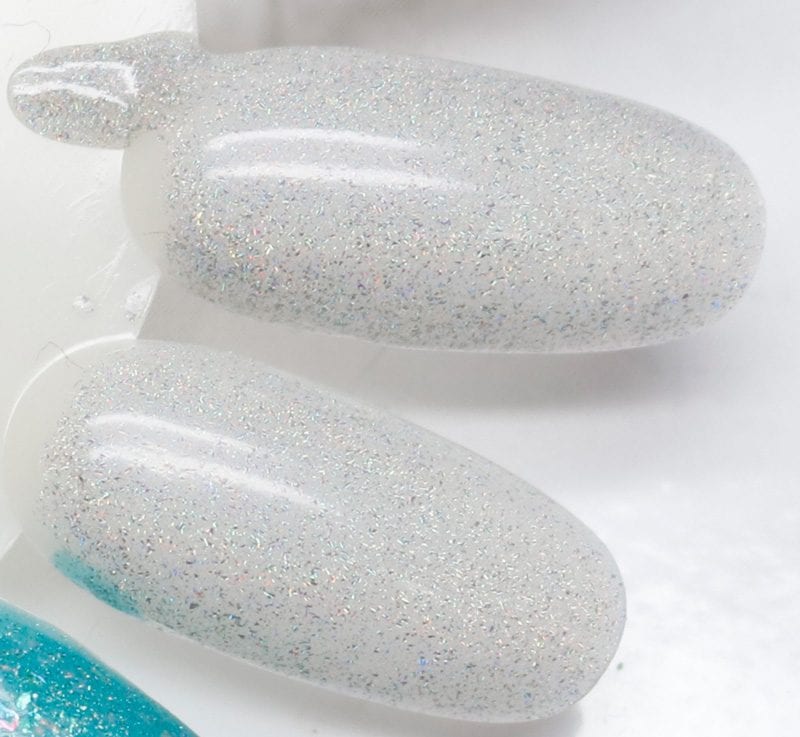 A Star Is Formed – What is a space collection without the stars? This holographic top coat is loaded with micro holo flakes that shimmer and sparkle in the light. While not quite a linear holo, theses micro flakes produce a beautiful holo flame that paired with any of our magnetic polishes twinkle more than any galaxy in the sky.
A Star is Formed is a beautiful holo topper.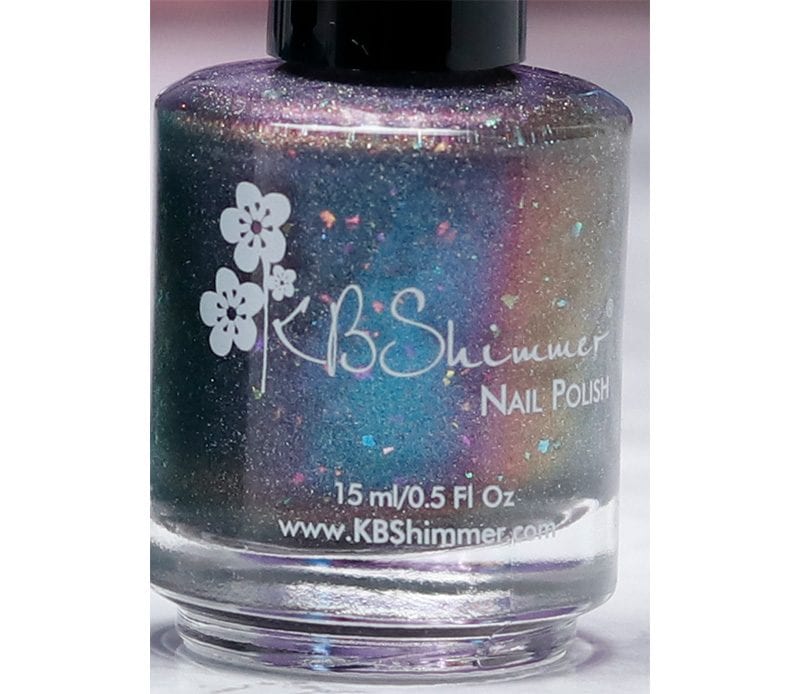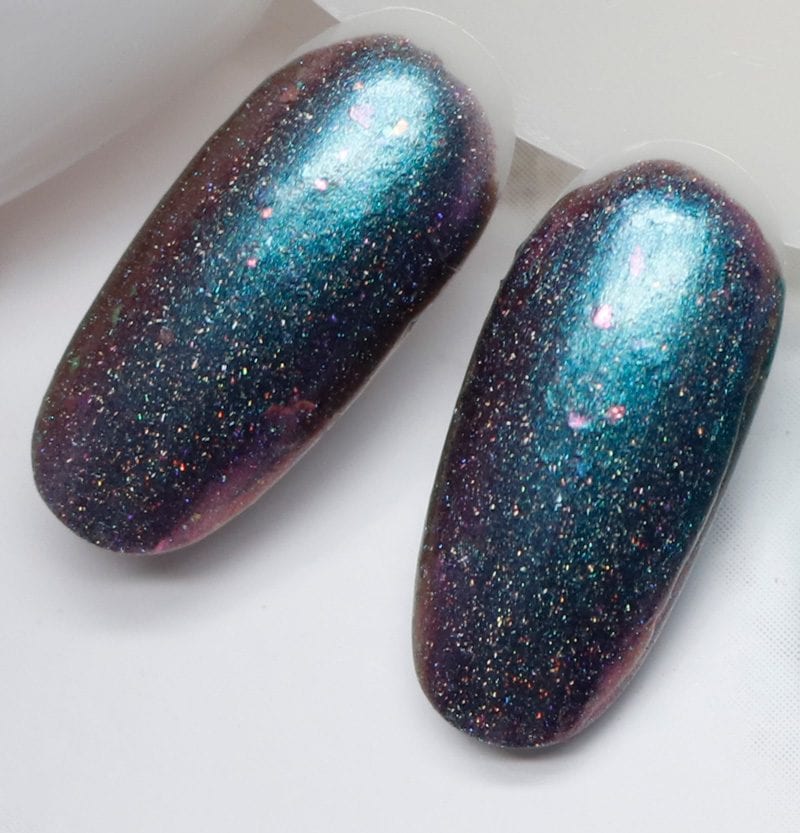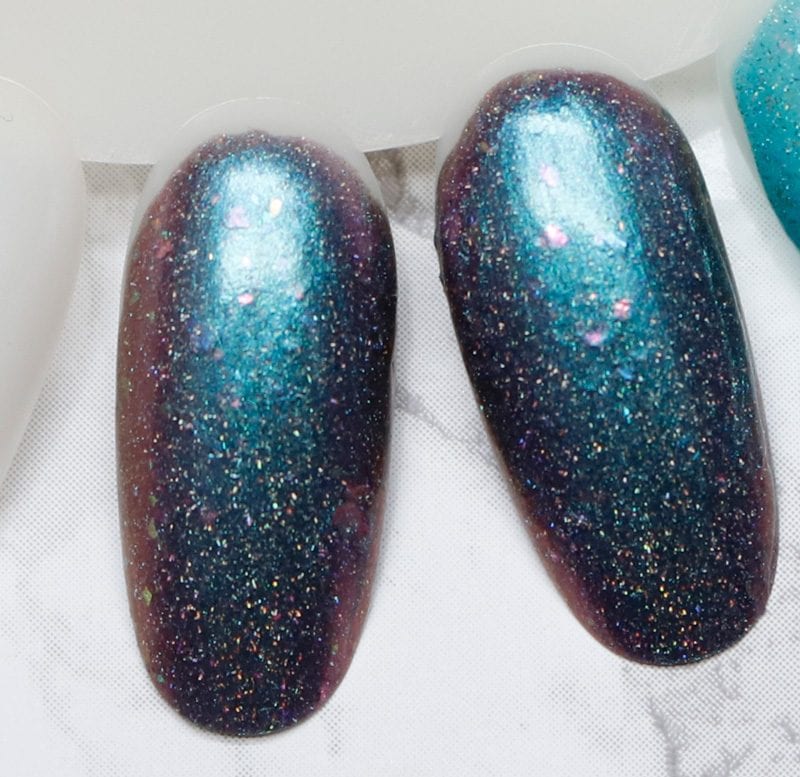 If You Want My Bodice – This shifty polish starts with a blend of multichrome pigments that in indirect light, help this polish travel from a cool minty teal to a deep lavender. Flecks of unicorn flakes shift in a rainbow of colors that dance among the colorful base. In brighter light, micro holo flakes sparkle, while deeper hues of magenta and blue come out to play. This 5-free polish is best in 2-3 coats and will retail for $10.00.
If You Want My Bodice is the March Polish Pick Up shade, with a name inspired by Harlequin romance novels. I love it! This shade is available right now.
KBShimmer Thrust Issues Mani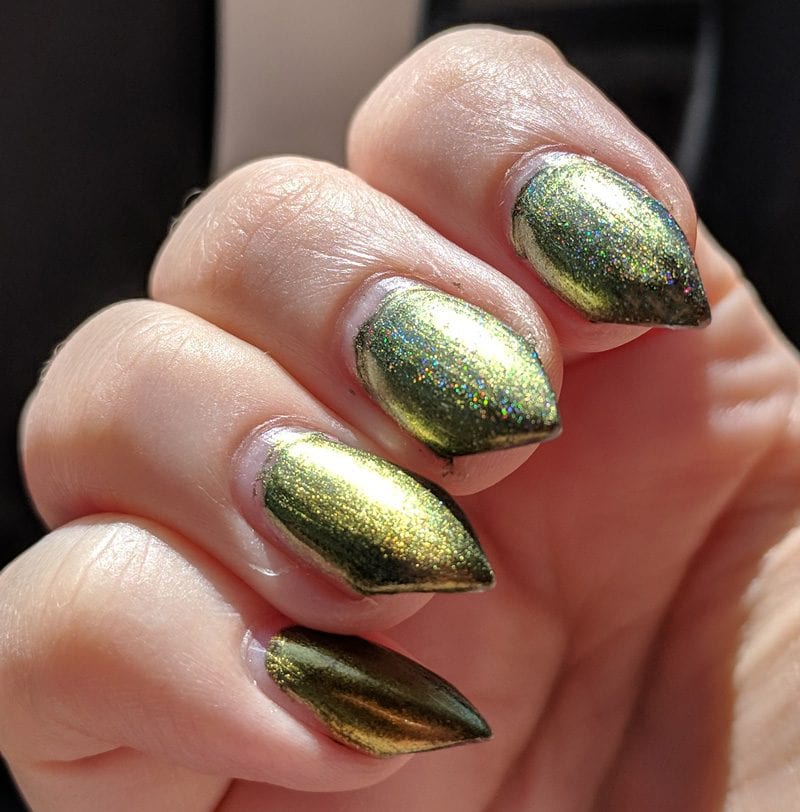 Thrust Issues outside in indirect sunlight.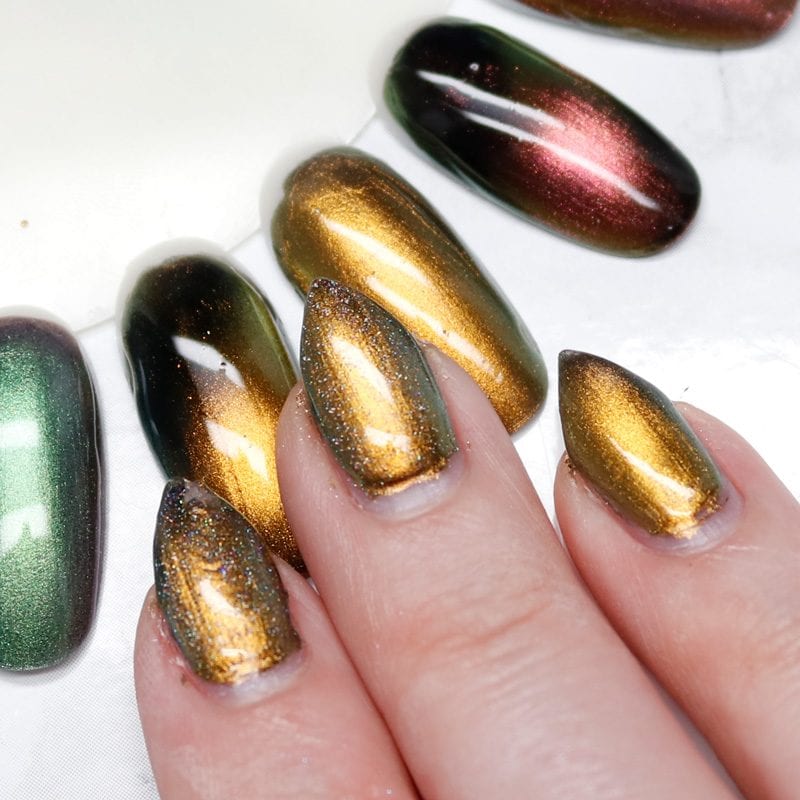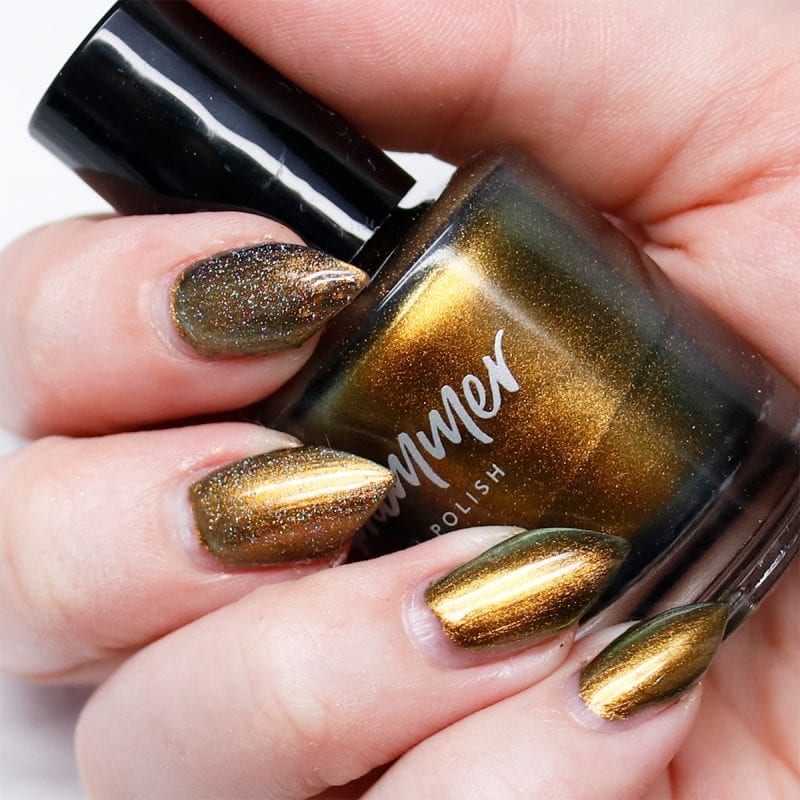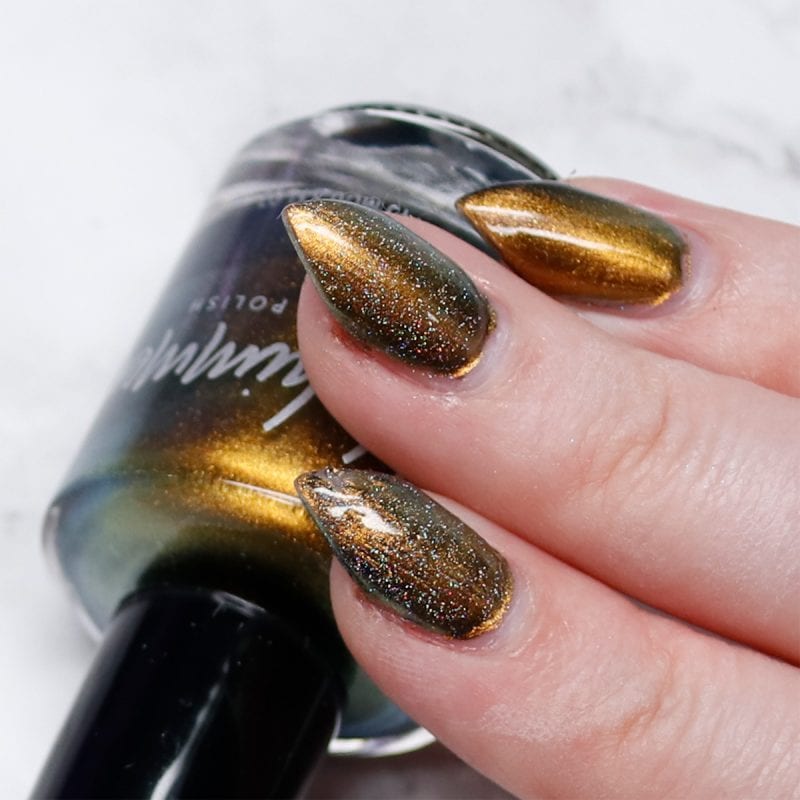 I used Thrust Issues all over. I used the magnet on my ring finger and pointer finger. I put A Star is Formed on top of my middle finger and pointer finger. Puppy Nyx kept nudging me while painting, which made it tricky.
KBShimmer Spaced Out Mani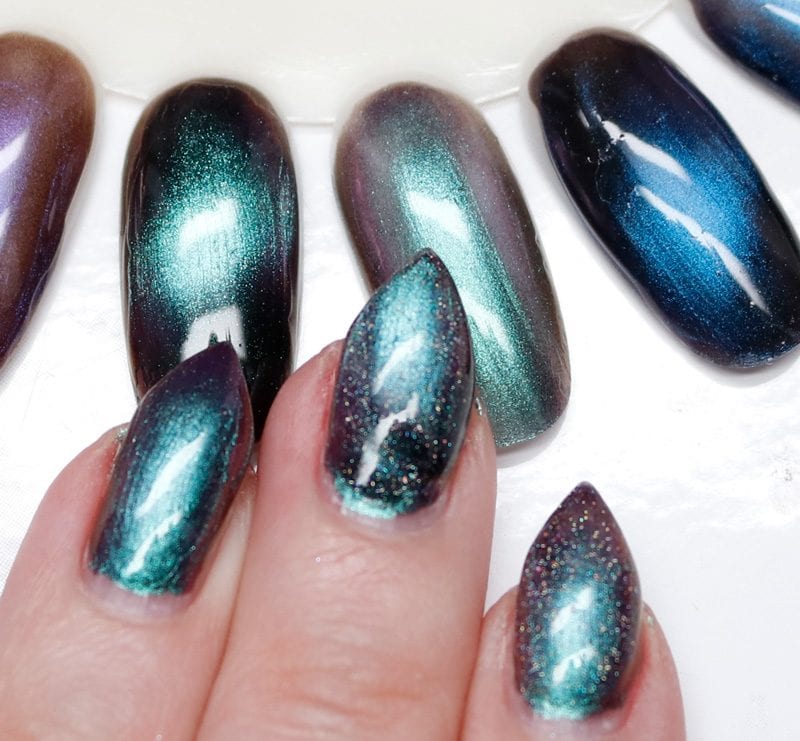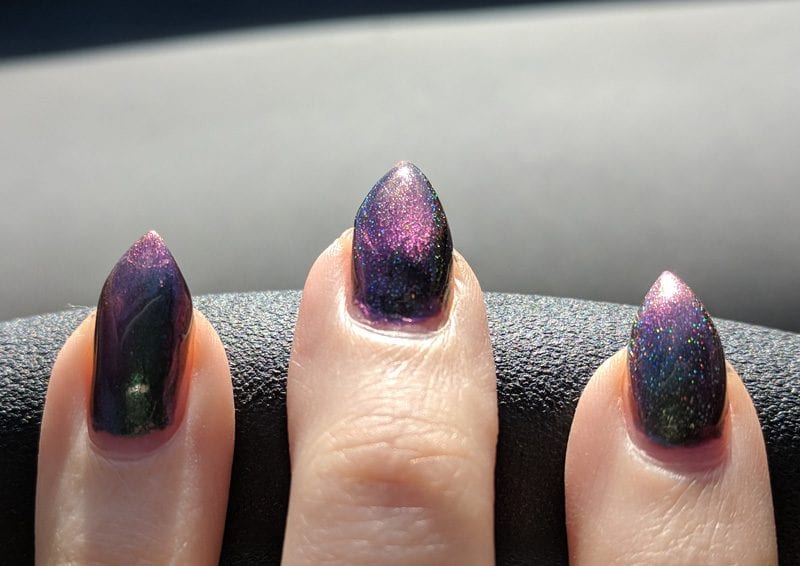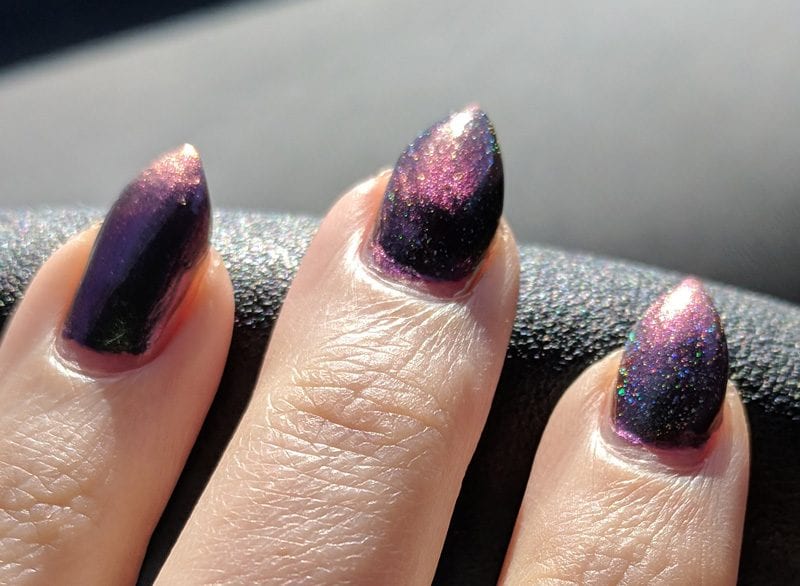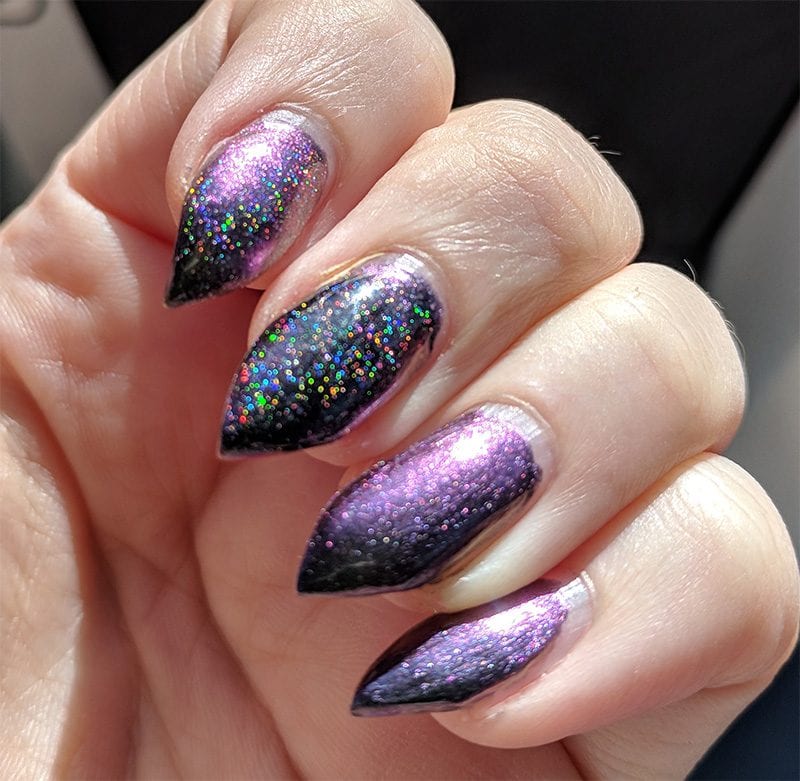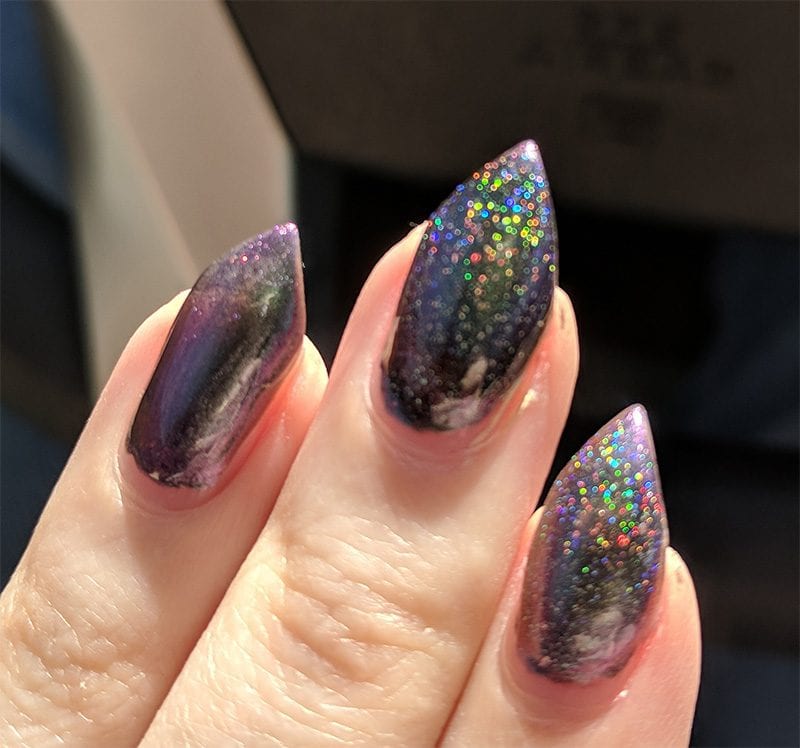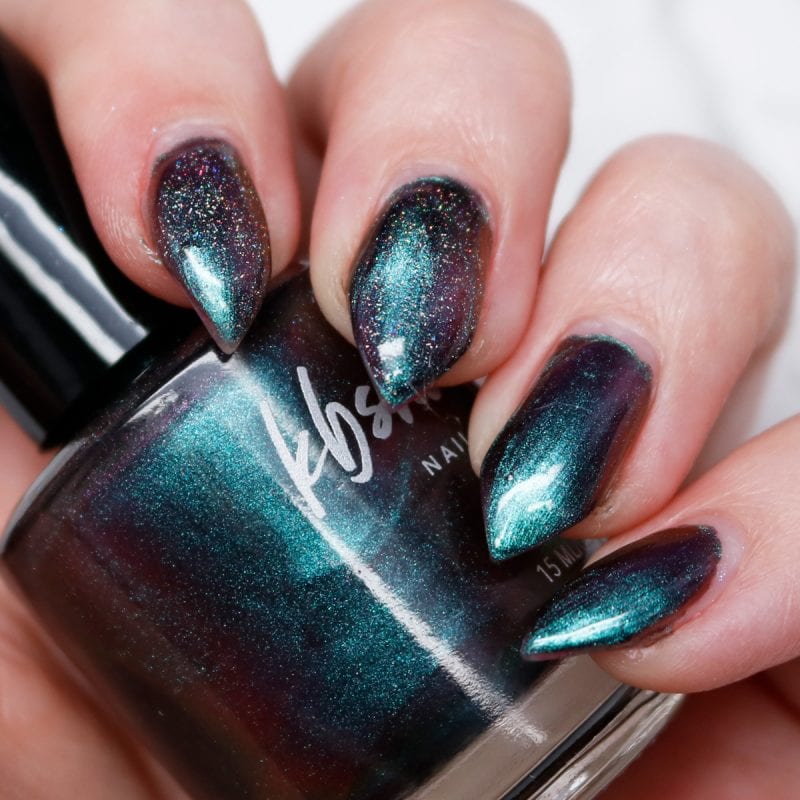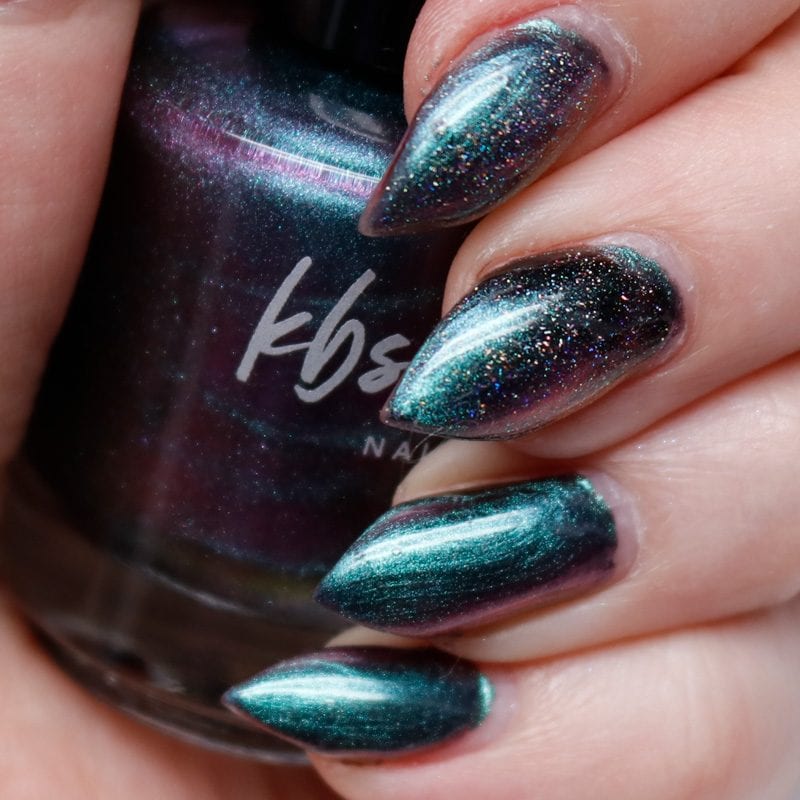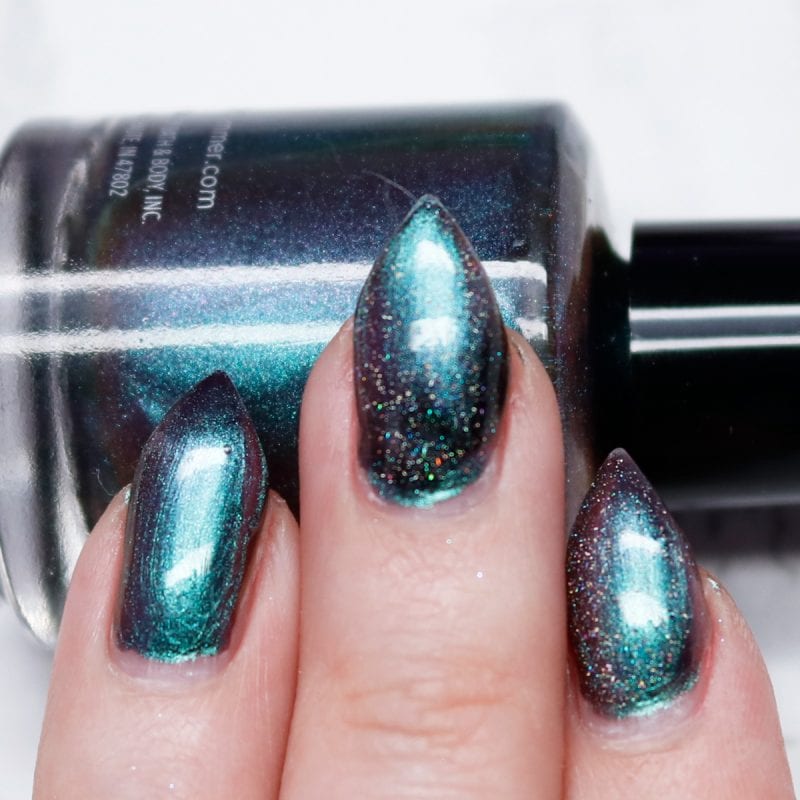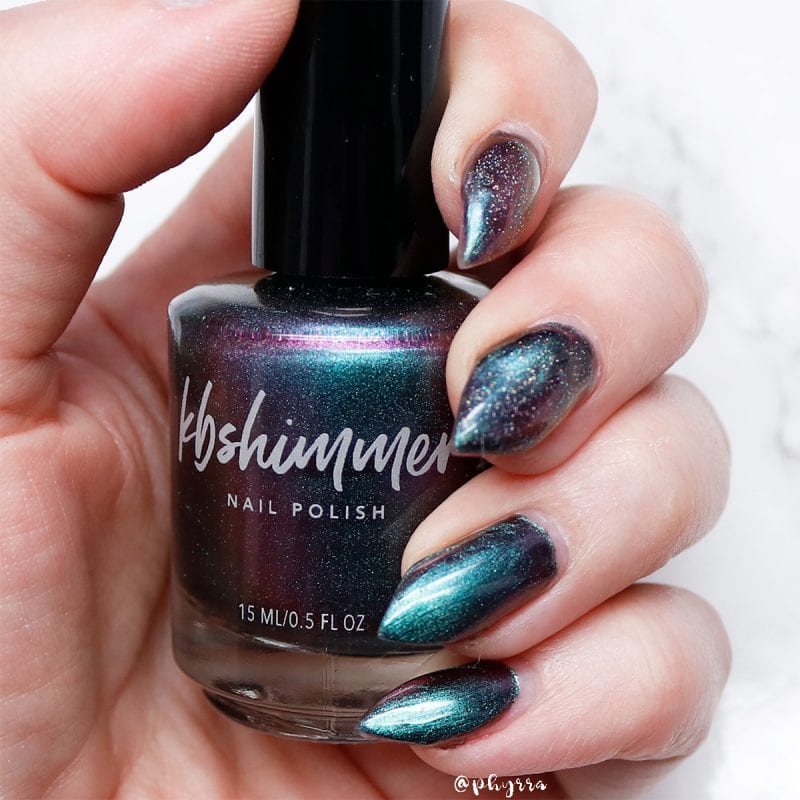 I used Spaced Out all over. I used the magnet on my middle finger only. I then put A Star is Formed on top of my middle and pointer fingers. If you only choose one color from the new launch, I would recommend Spaced Out. It's amazing.
I found the KBShimmer Launch Party Collection nail polish formula easy to work with. I also felt like the brushes were an improvement over my older bottles of KBShimmer nail polish. In the past, I was never a fan of the brushes but I always loved the formula, so this was cool!
KBShimmer Favorites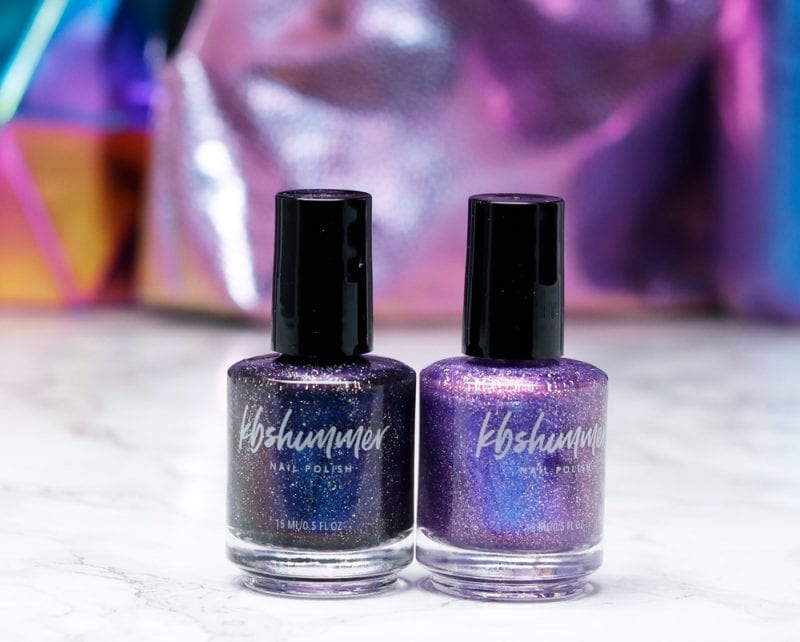 My two favorite polishes, I'm Onyx and #Hashtag You're It, just in time for the KBShimmer Launch Party Collection debut.
KBShimmer Body Lotion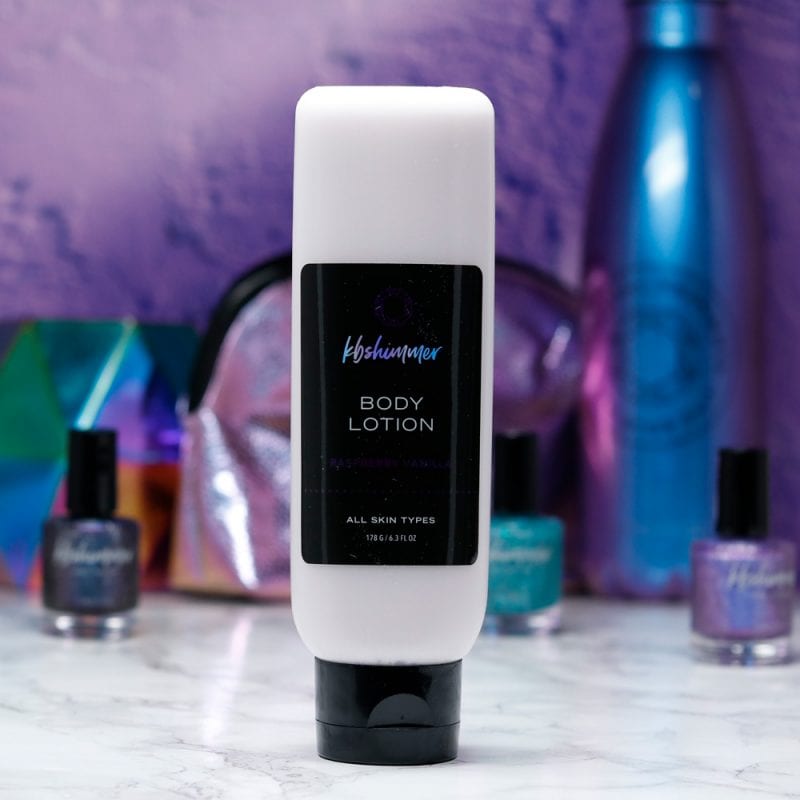 I love the new packaging and sleek new label for the KBShimmer Launch Party Collection. It catches the light beautifully. The Rasberry Vanilla name isn't popping from this angle but it's above the words 'All Skin Types.' This is $10 for 6.3 fl. oz.
About KBShimmer Body Lotion
A creamy, thick, moisturizing lotion is like nectar from the gods. A good lotion keeps your skin soft and supple, keeps away the dry, flaky, appearance of skin, even in the harshest of climates, all without feeling greasy. KBShimmer's new vegan hand and body lotion is designed to do just that, keep your skin soft, while being easy to absorb for truly moisturized skin. Enriched with jojoba oil, cocoa butter, shea butter, and olive oil, we added a special blend of ingredients to our new lotion to help it dry down quickly to leave your skin smooth and silky feeling.
Raspberry Vanilla Scent
Fresh, sweet berries and black currants, sugar, french vanilla, sandalwood and vanilla ice cream.
I really love the Raspberry Vanilla scent. The formula feels amazing on my hands. I'm always surprised that I don't hear more people talking about how great KBShimmer's Bath and Body products are.
KBShimmer Picture Perfect Cuticle Cream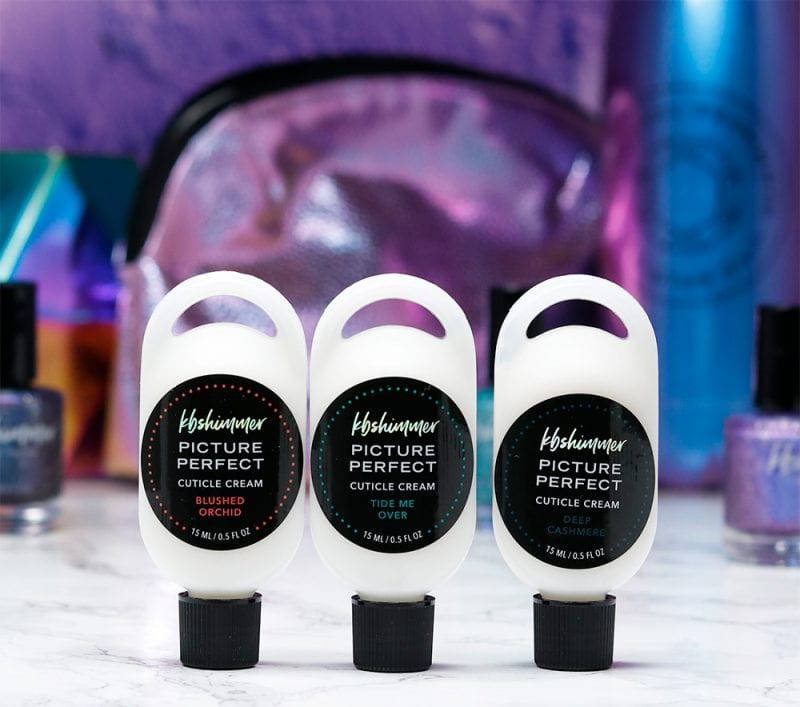 This photo shows the different colors for the labels of the Picture Perfect Cuticle Ceram. Deep Cashmere is a bit difficult to read. It's also my favorite scent of the three. I believe these are $4.50 each and they're worth every penny. These are my favorite cuticle creams.
About Picture Perfect Cuticle Cream
Picture Perfect Cuticle Cream is the cuticle solution you have been looking for. Enriched with jojoba oil, cocoa butter, shea butter, and olive oil, when applied, this cream soaks in, leaving a silky smooth, but matte finish for perfect showing off those freshly painted tips in pictures. No more dry cuticles, acetone whiteness, or greasy fingers with this cream! In a convenient 15 ml bottle, a secure screw top cap and opening for key chain makes this matte cuticle cream the perfect solution for on the go.
These are new scents for the KBShimmer Launch Party Collection.
Blushed Orchid 
Sweet orchid notes with hints of pear nectar, sandalwood and soft amber.
Tide Me Over
Fresh coconut, creamy shea butter, sandalwood and sea salt.
Deep Cashmere
Deep Cashmere cuticle cream starts with notes of cashmere musk, rich in depth, the musk notes brings a sublet sexiness to this fragrance. Juicy peaches and golden pears lighten offer a hint of sweetness, while exotic vanilla bean adds a hint of touch of spice and warmth to round out this sumptuous scent.
While I was addicted to the Pink Sugar scent in the past, I think I'm now addicted to Deep Cashmere. I need to pick it up in a body lotion too!
Final Thoughts on the KBShimmer Launch Party Collection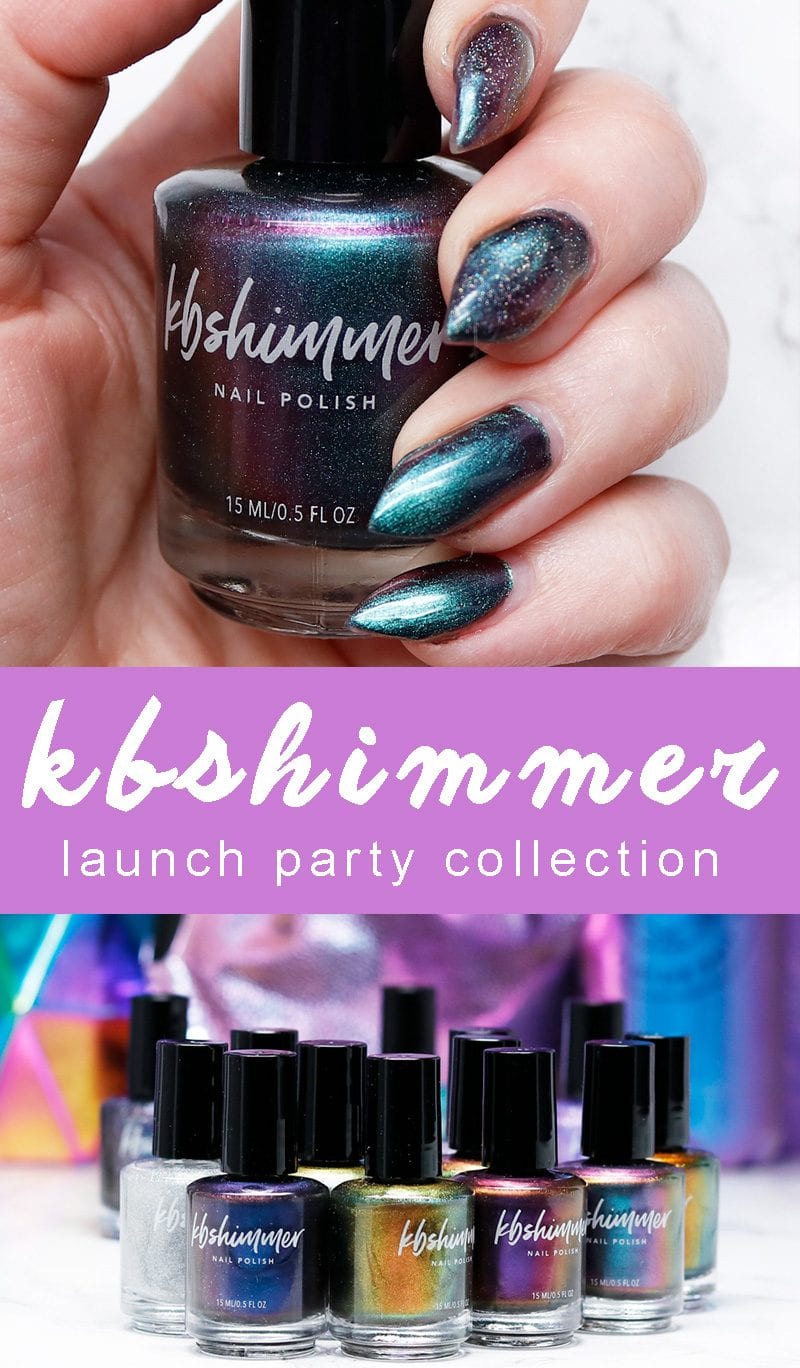 The new KBShimmer Launch Party Collection has a color for everyone. You won't be bored with these complex multichromes, whether or not you try the magnet. I think doing an accent nail with the magnet is nice. As is layering A Star is Formed on top. You'll be able to pick up the KBShimmer Launch Party Collection on March 15th, which isn't too far away.
What do you think of the new KBShimmer Launch Party Collection?
You can find KBShimmer at KBShimmer.com, Amazon and other select retailers.