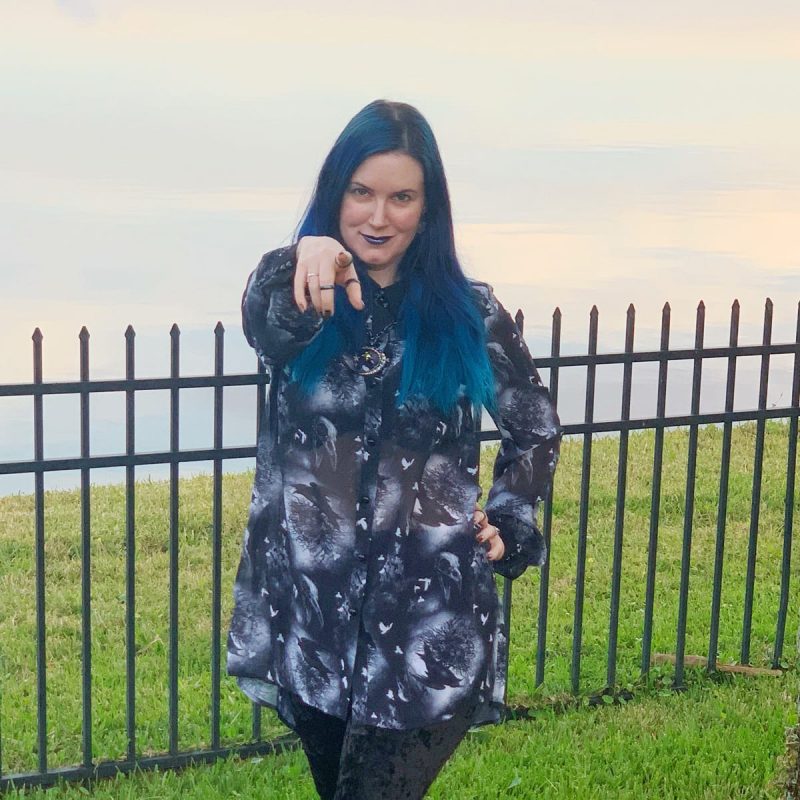 Hell Bunny Spin Doctor Ash Blouse
Hey friends, today I'm back with this cute Hell Bunny Spin Doctor Ash Blouse. This shirt is semi-sheer and has a stunning print of crows and skulls on it. I LOVE the print. It's truly gorgeous. I took these photos outside on my iPhone XS in the evening sunlight so you could see that while this blouse is semi-sheer, it really does cover enough for me to feel comfortable wearing it. I ran errands and went to the mall in it. No idea why my iPhone XS photo quality looks odd for this set of photos.
What is Goth?
Need help understanding what is goth? Start with the music, as gothic fashion springs out of gothic music. You don't have to wear gothic fashion to be goth. You don't have to be white to be goth. You can enjoy gothic fashion without being goth. Check out my gothic music playlist.
You may find Voltaire's book, What is Goth? helpful. And there's always Gothic Charm School! I love Jillian!
How I Styled It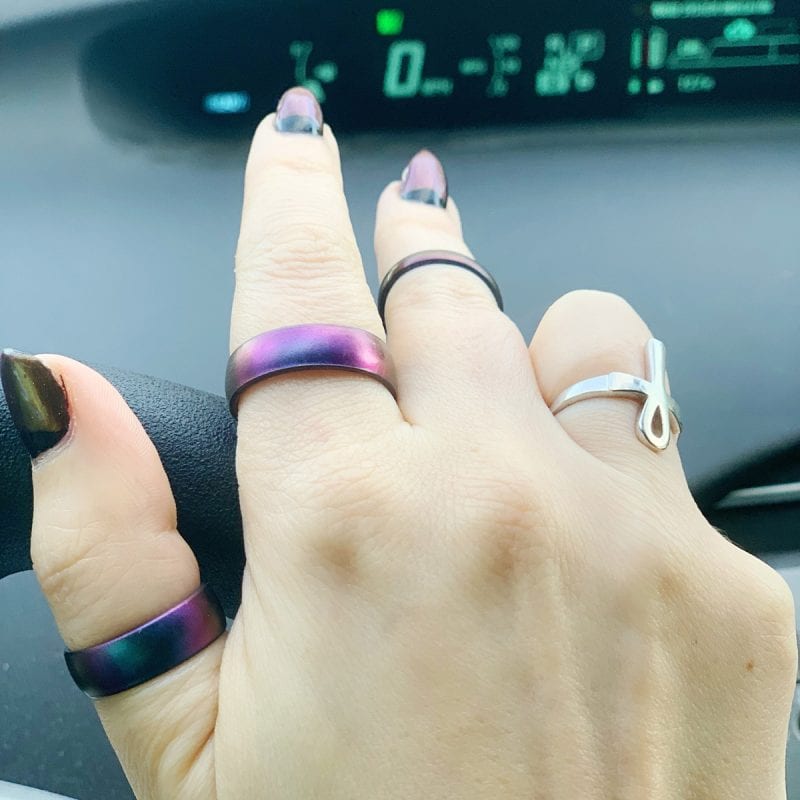 My gorgeous Enso Mermaid rings have become a wardrobe staple. I have 5 of them (2 midi, 3 large) because I love how they look. they have a black base and flash between purple and blue. They're stunning. They're also very comfortable to wear. I can sleep in the 3 larger ones. I still can't handle the tactile sensation of wearing midi rings to bed.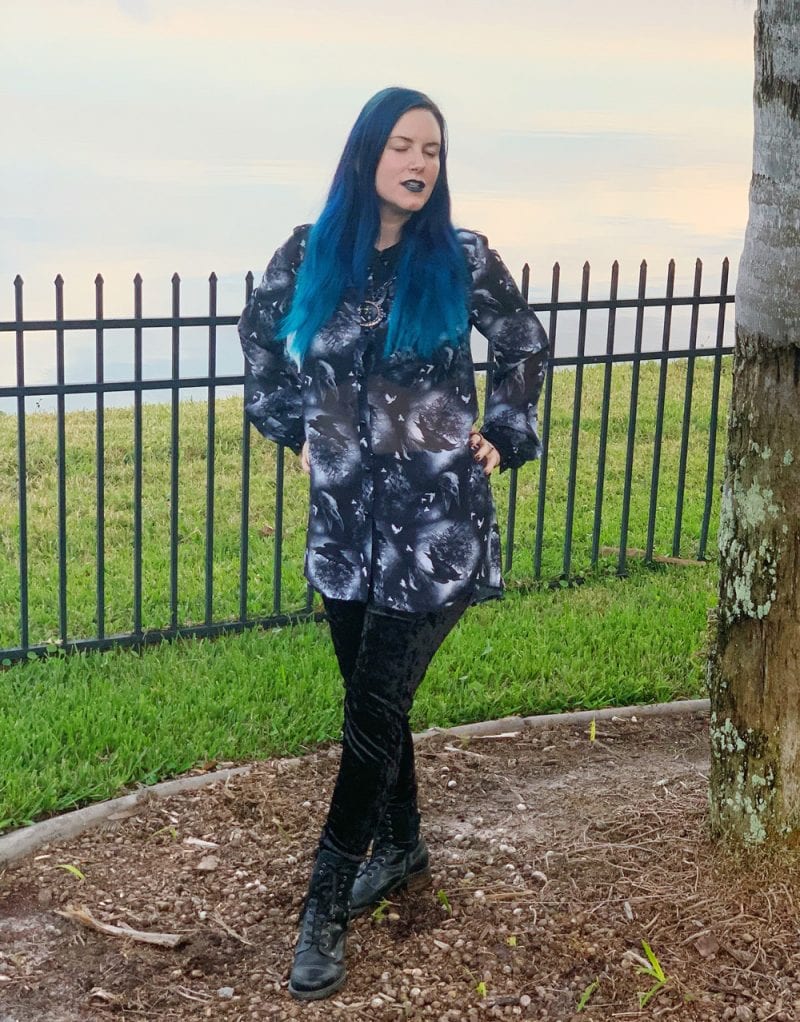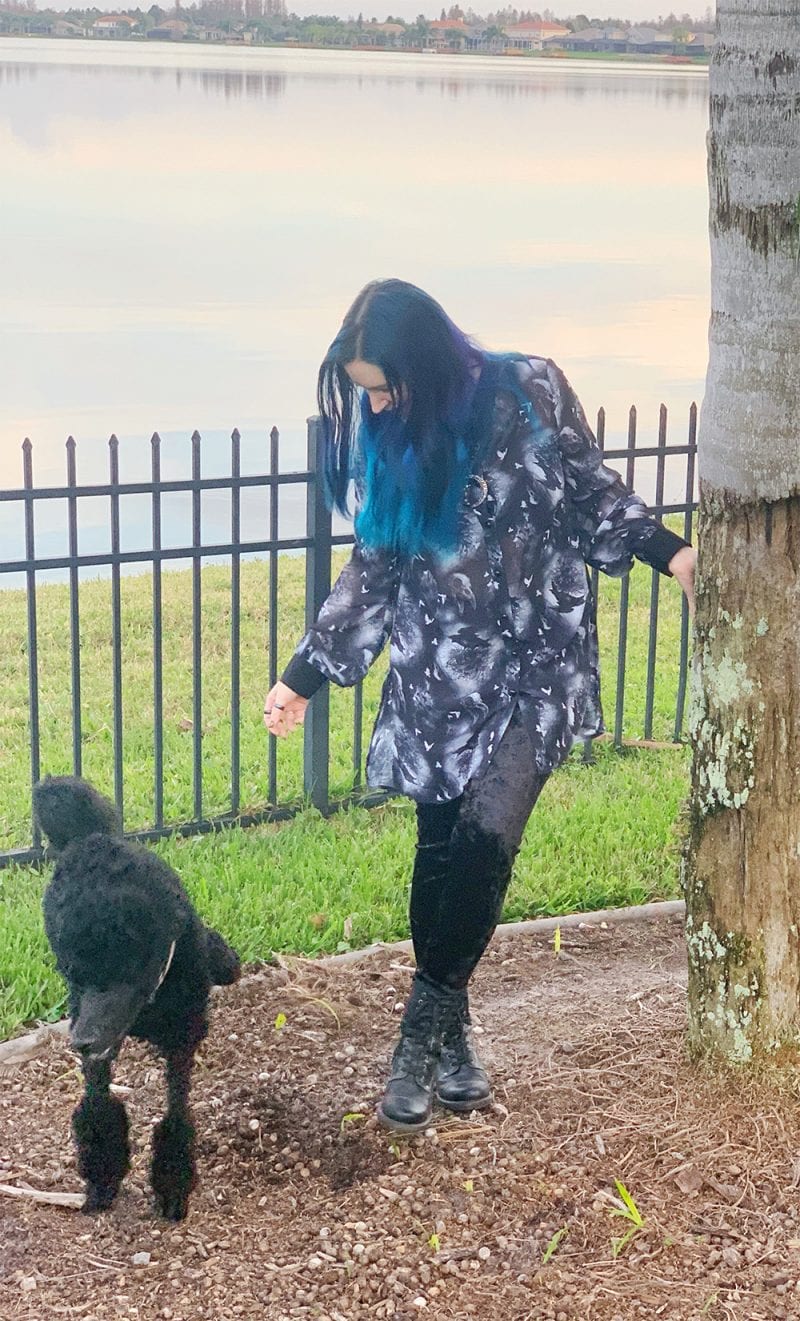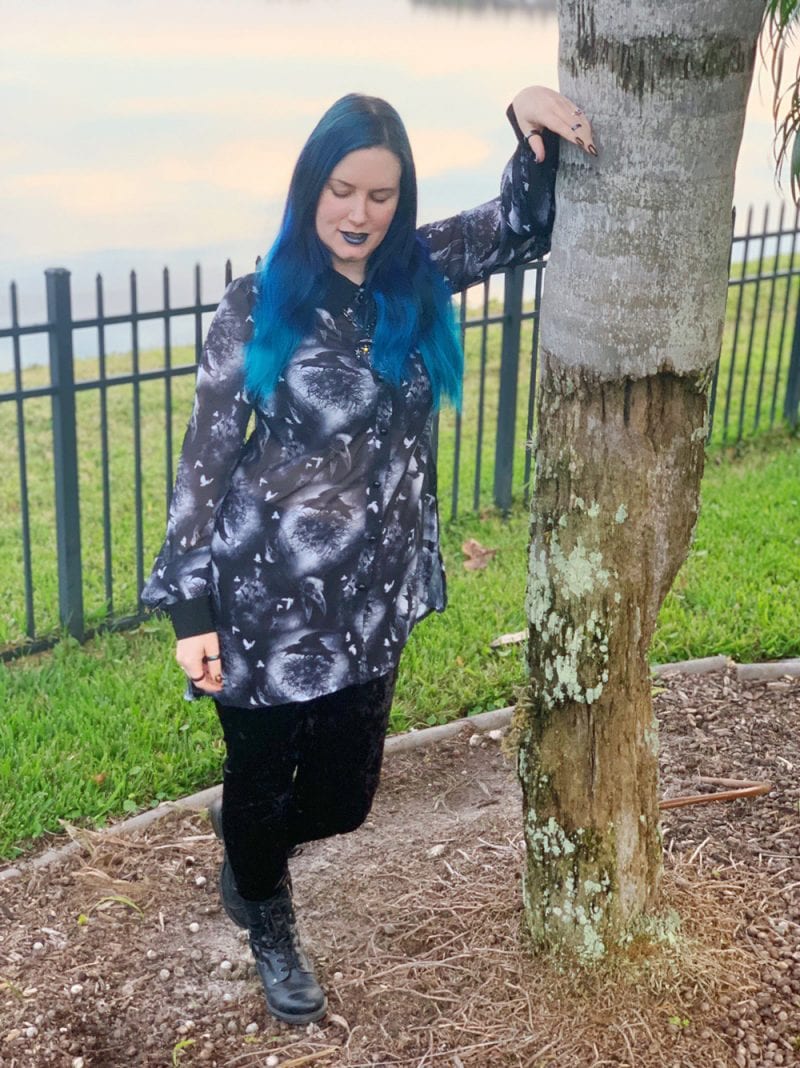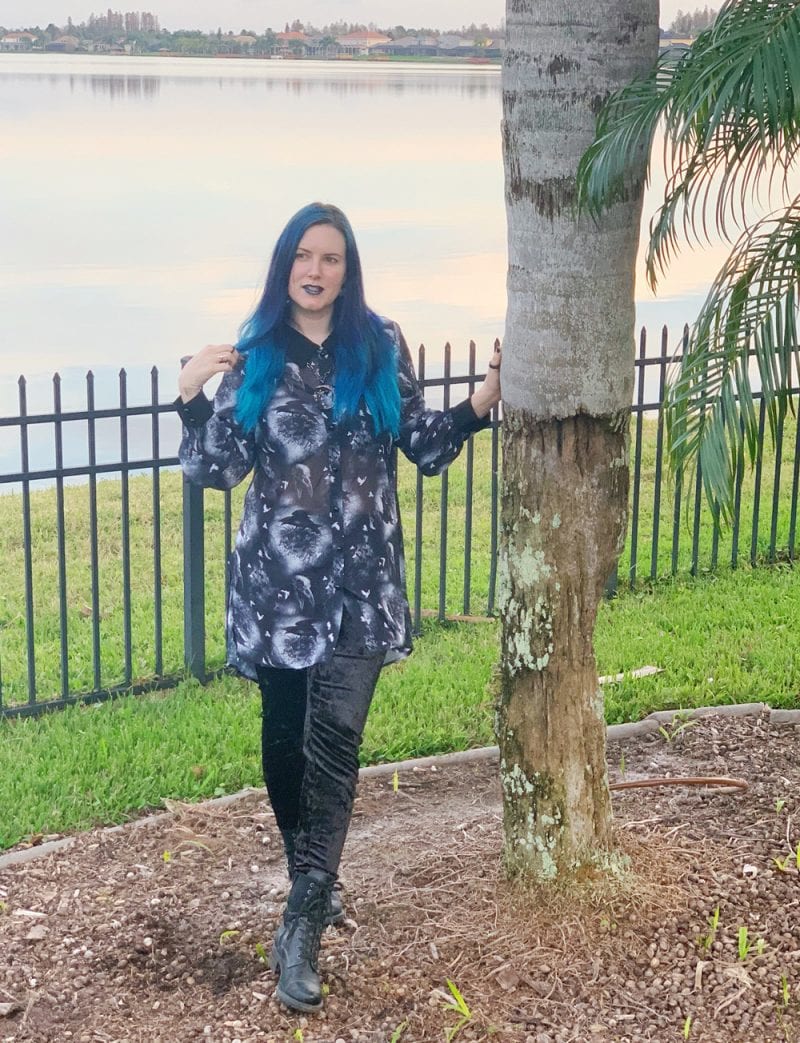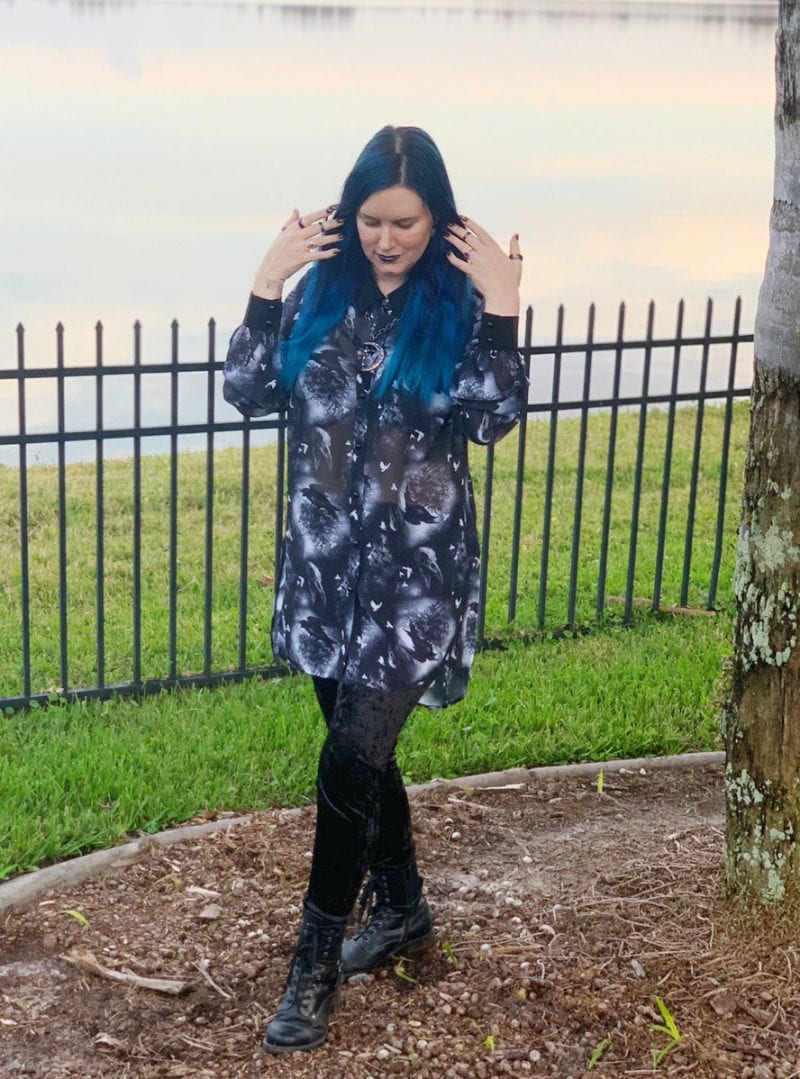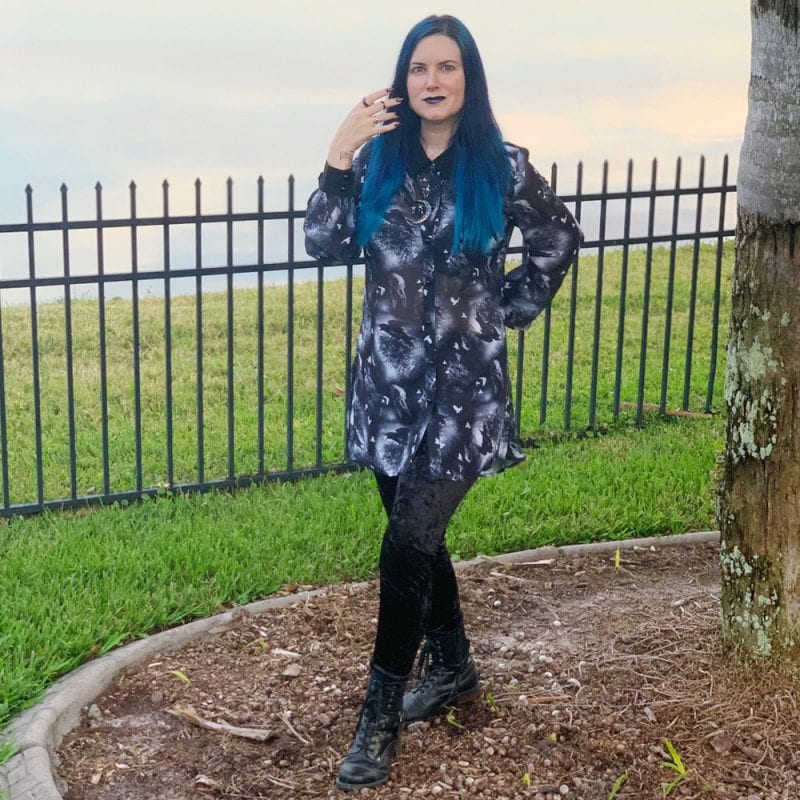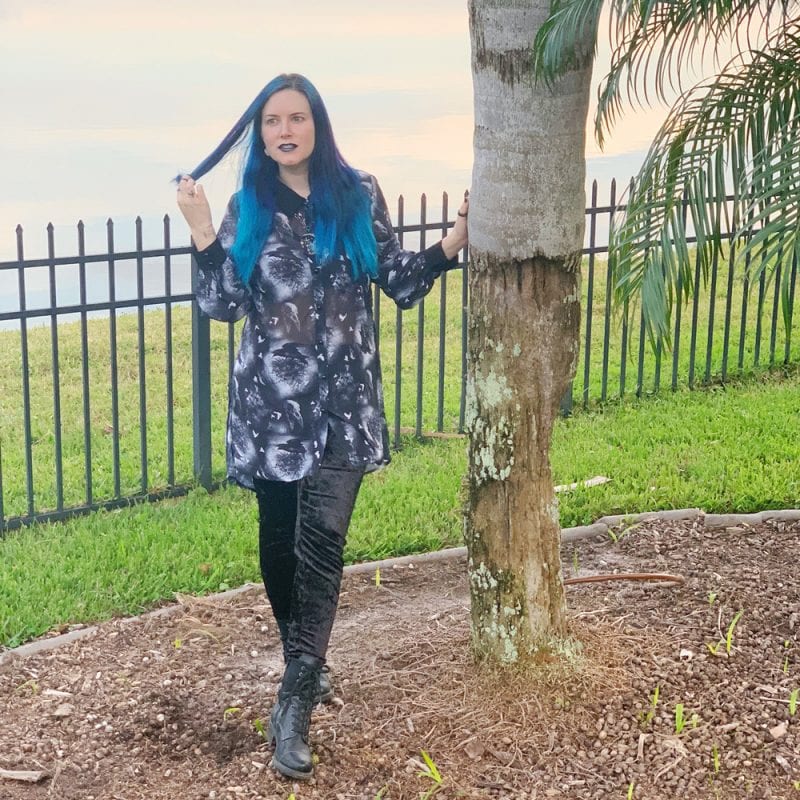 Top – Hell Bunny Spin Doctor Ash Blouse (also in other sizes here)(size M)
Necklace – Betsey Johnson Moon & Stars Necklace
Leggings – Amazon Cemi Ceri Black Plush Velvet Leggings (size L)
Boots – Taos Crave Boots (size 39)
Left Thumb – Oura Ring Black (size 9)
Right Hand – Enso Mermaid Ring (sizes 8, 9, 4)
Right Hand – Silver Ankh Ring (size 6)
Nails – Cult Nails Nevermore (black base) topped with KBShimmer Santa Claws
Lips – Marc Jacobs Blacquer Liquid Lipstick + Lime Crime Unicorn
I pulled out an older larger pair of velvet leggings and paired them with my favorite boots for this witchy gothic outfit. Solid black staples go with everything!
I bought the Hell Bunny Spin Doctor Ash Blouse in size Medium because I feel like the other Hell Bunny blouses that I have (and adore!) are all larger than I prefer and they're all size Large. They don't dart in at the waist quite as much as I'd like, which is why I need to get them altered a bit for me. Unfortunately, this size Medium fits more like a Large. Despite the fit, I love the Hell Bunny Spin Doctor Ash Blouse print! It's very striking with the crows. Love them. I really need to get this print in leggings. I just barely escape having the dreaded boob gap with the buttons though.
I think the Hell Bunny Spin Doctor Ash Blouse is being discontinued, because it's out of stock most places. So if you love it like I do, grab it now!
The Betsey Johnson Moon & Stars Necklace is absolutely stunning in person. There's a really cute mismatched set of Moon & Stars Earrings that goes with the necklace. However, I bought the necklace to pair with my Betsey Johnson Bat Drop Earrings.
Love Hell Bunny Like I Do? Check out more of my witchy gothic fashion featuring Hell Bunny.
Don't forget, I wrote a book for you! Grab your copy of Hooded Eyes Makeup Manual at Amazon!