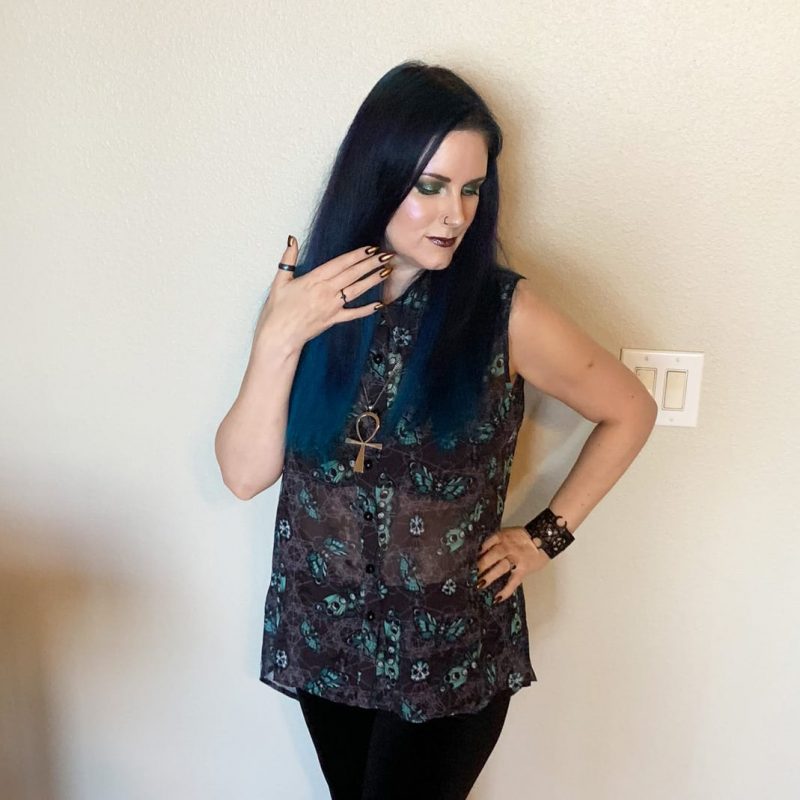 Hell Bunny Death's Head Blouse
I'm sharing more modern gothic fashion inspiration with you today with my Hell Bunny Death's Head Blouse. This is a sheer blouse, but I love the print so much I decided I'd see how I felt wearing something sheer like this. Turns out I love it! I'm working hard to love the body I'm in and  not feel self-conscious in a shirt like this.
Green Makeup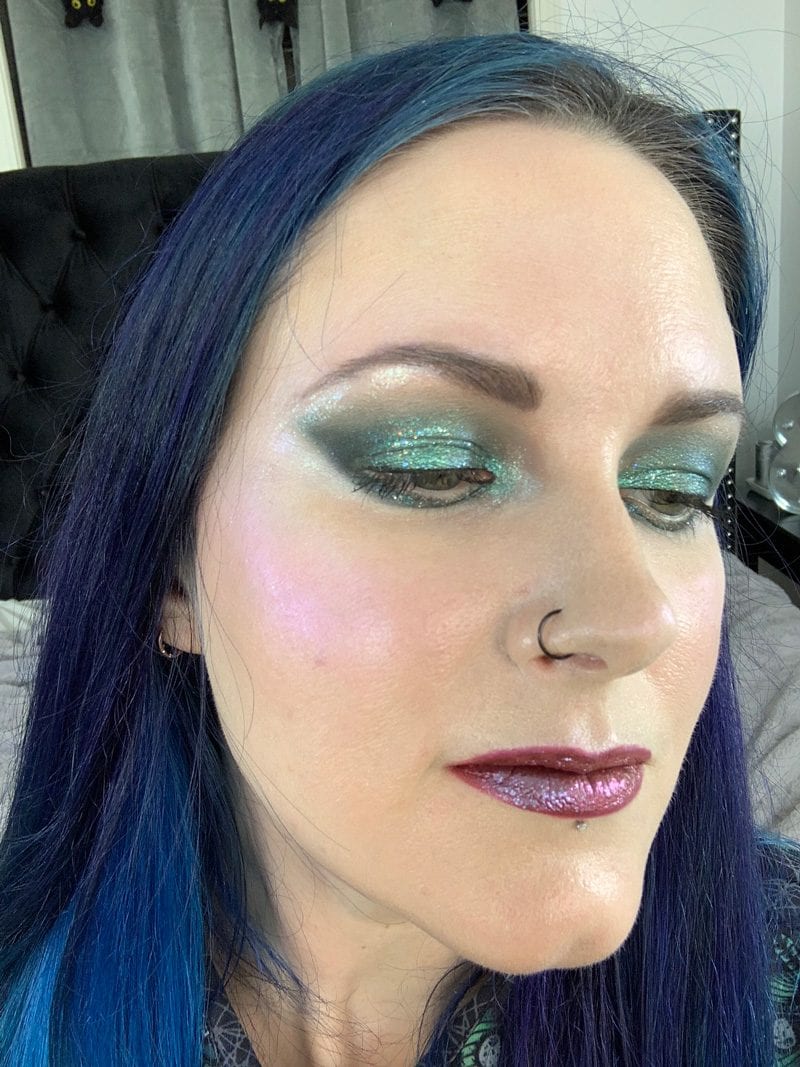 My makeup is a variation on the Melt Smoke Sessions Tutorial I shared with you.
Skull & Butterfly Print Sheer Grey Blouse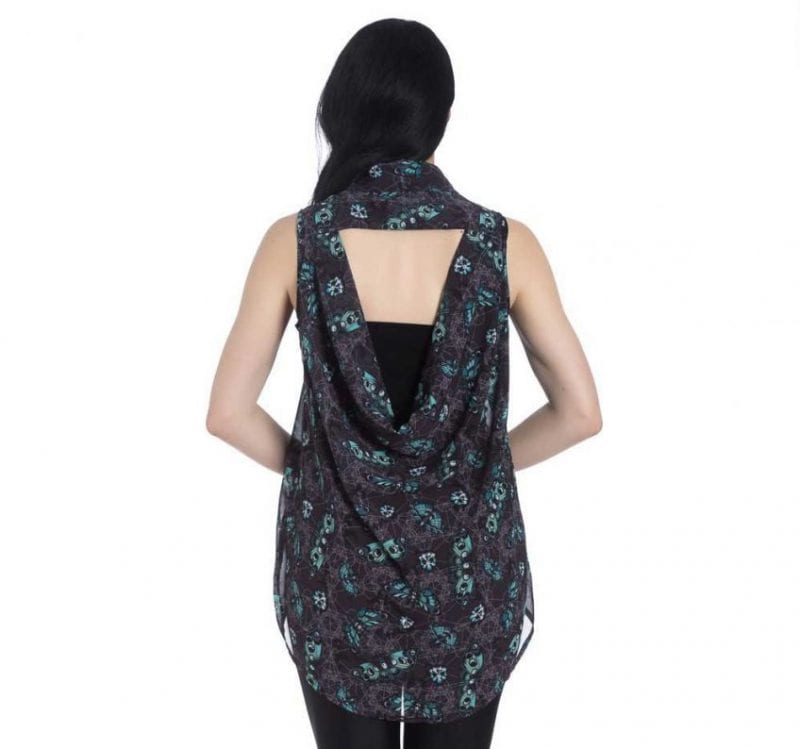 This is what the back of the shirt looks like, which I forgot to snap a photo for you. I love this open design, though of course you can see my bra straps when I wear it.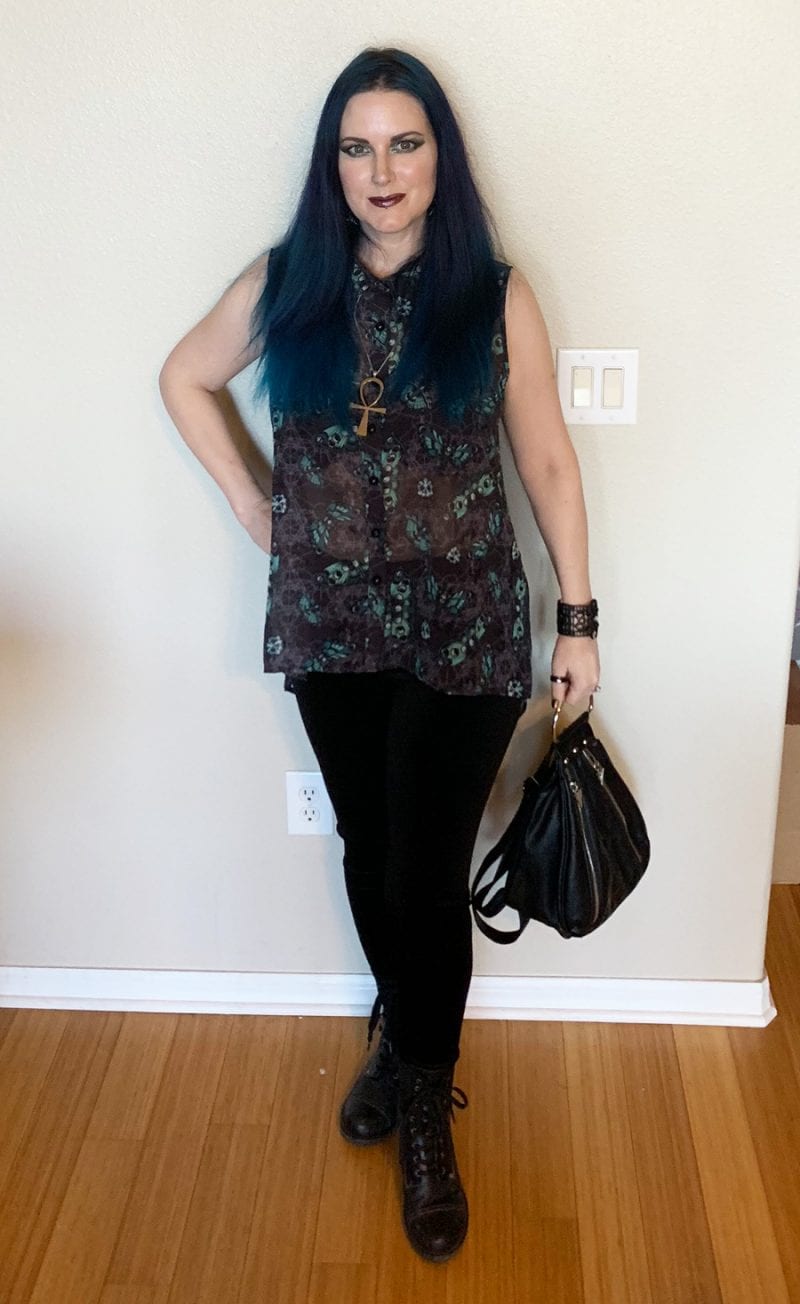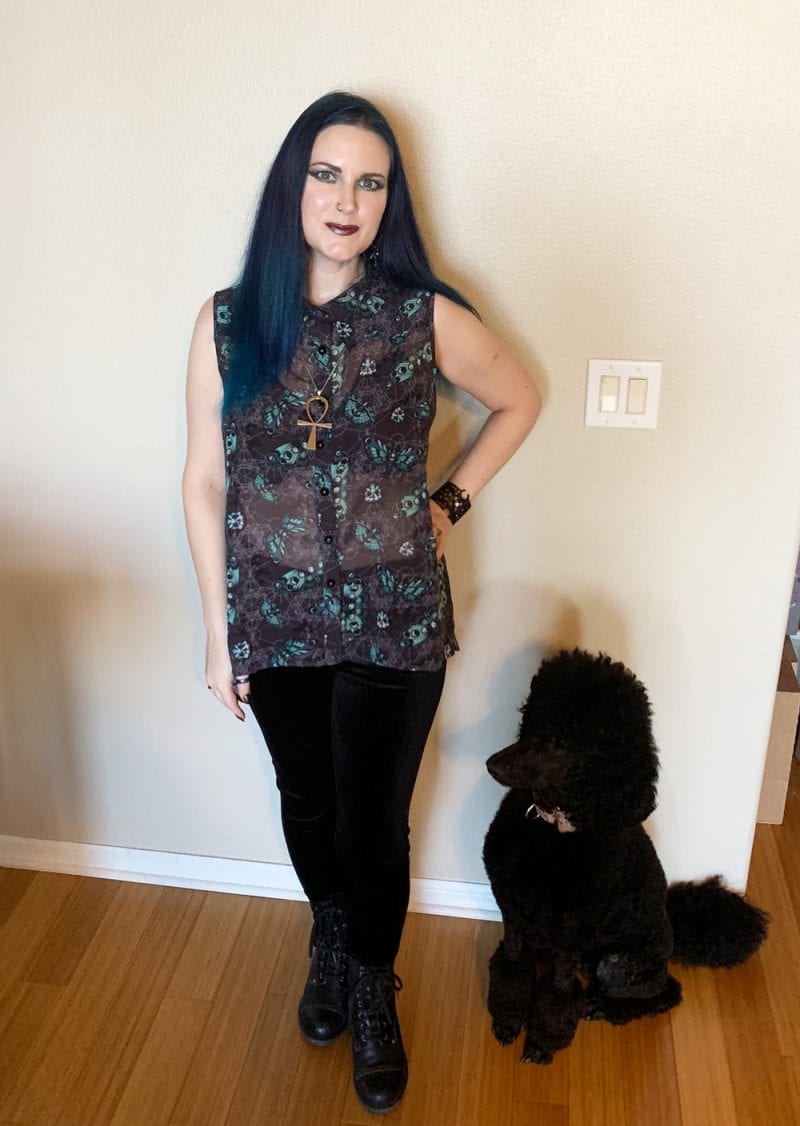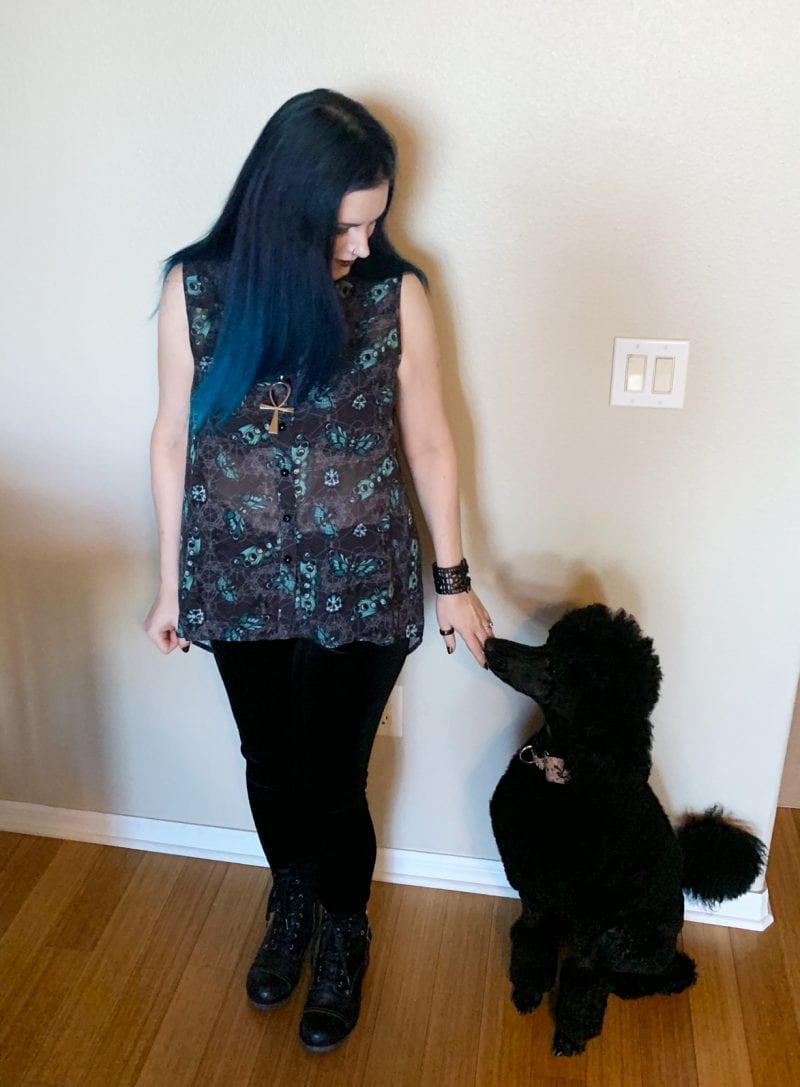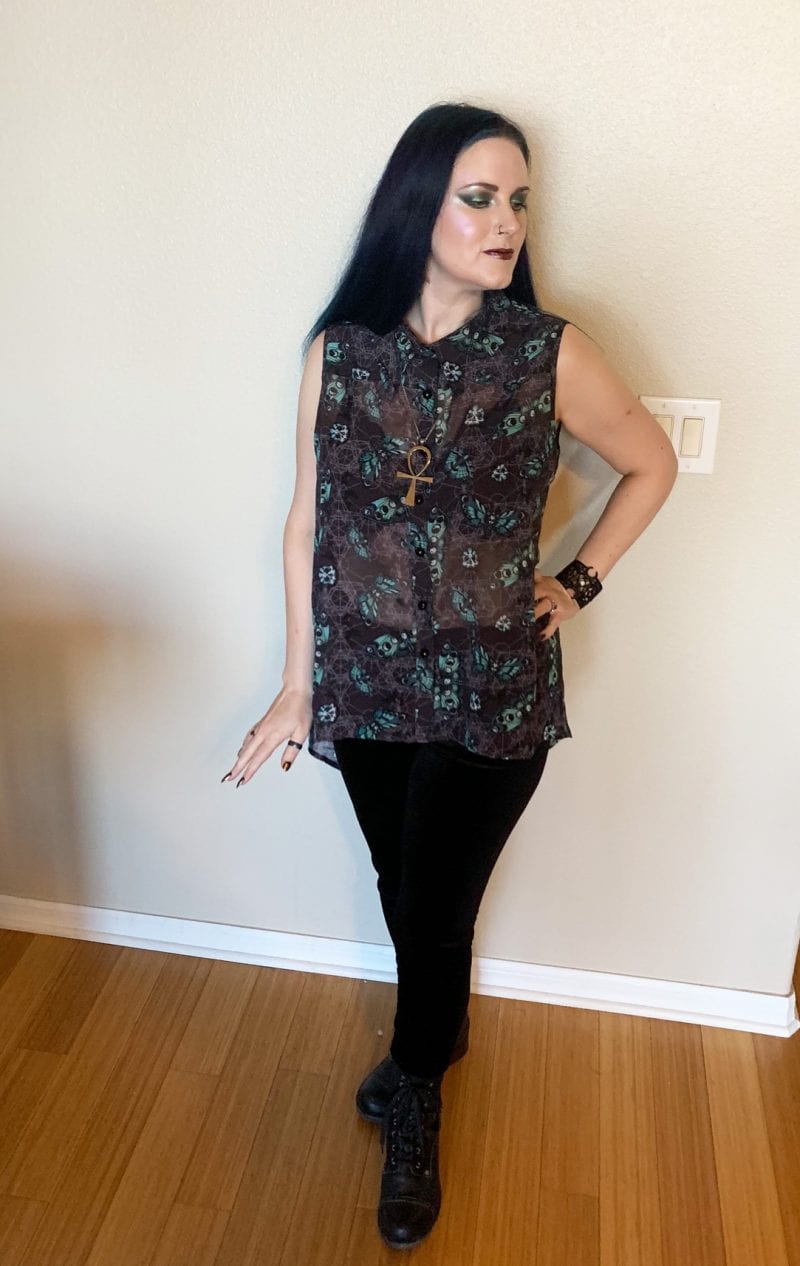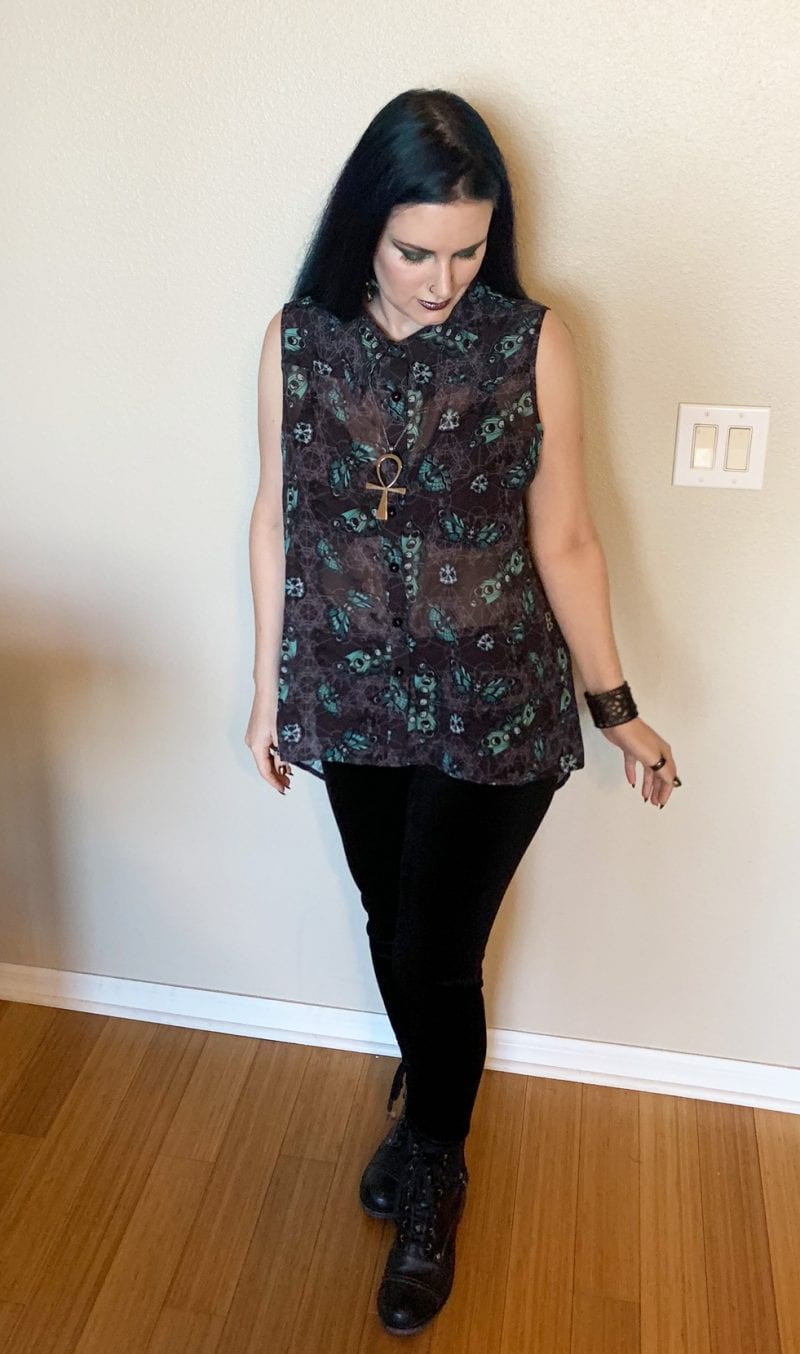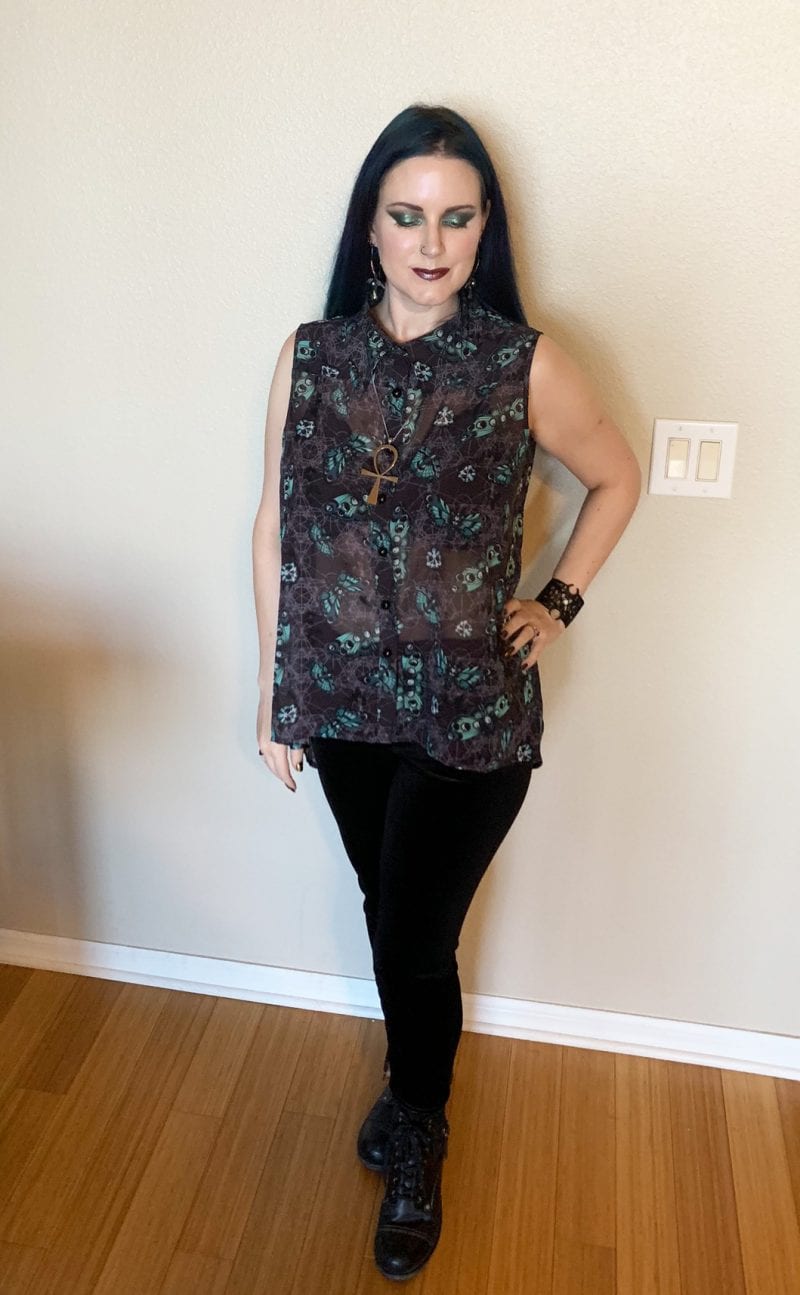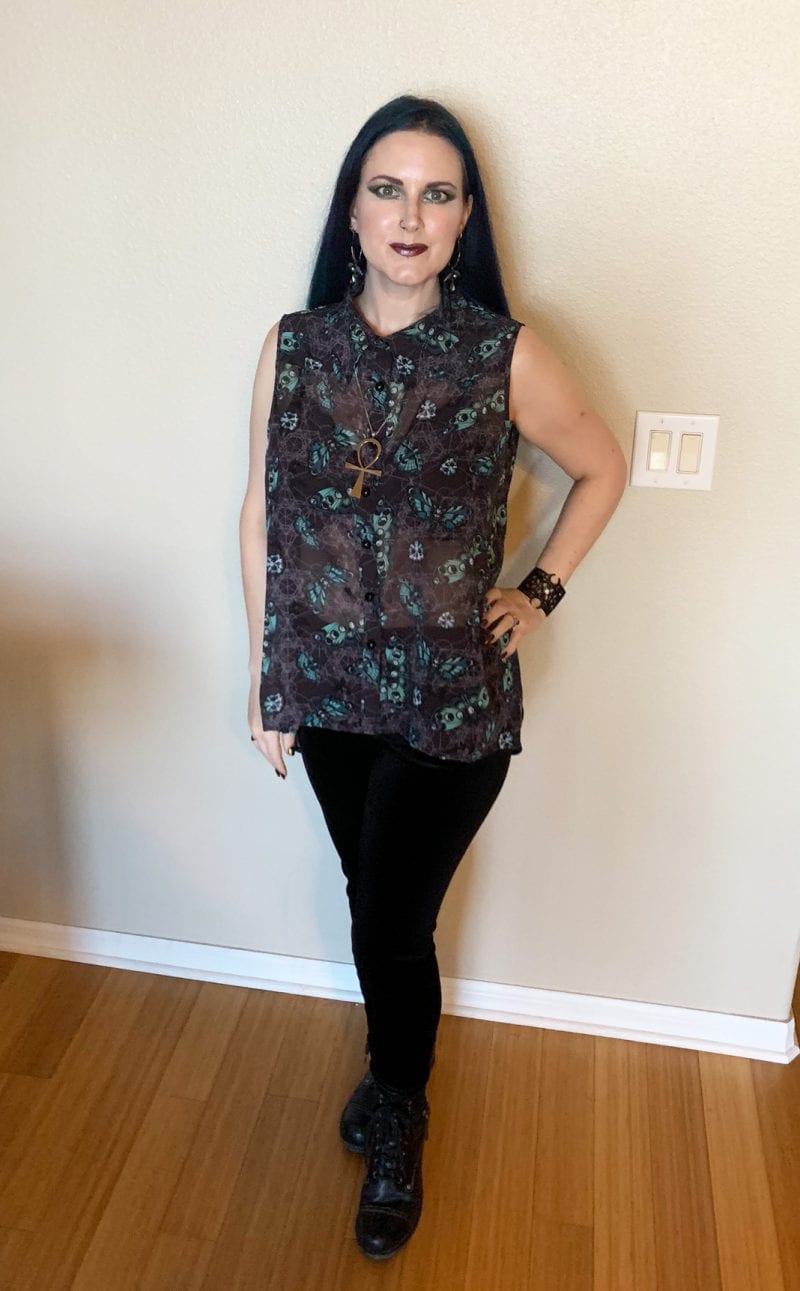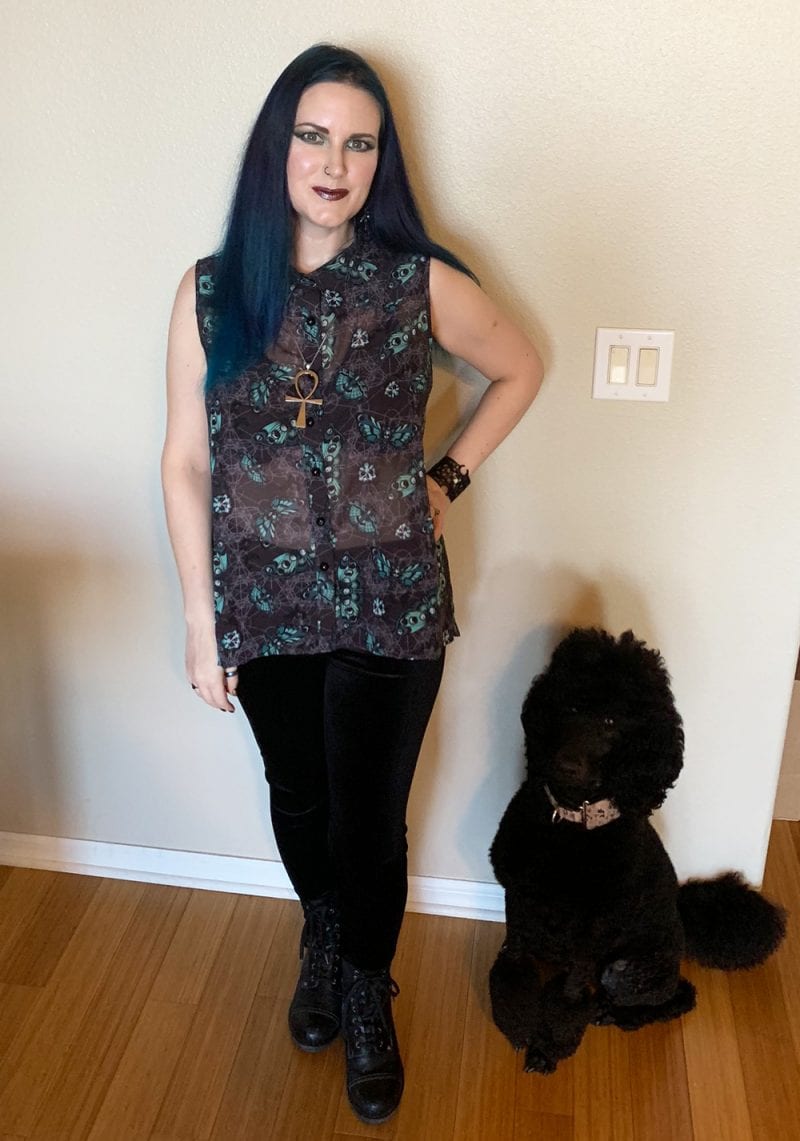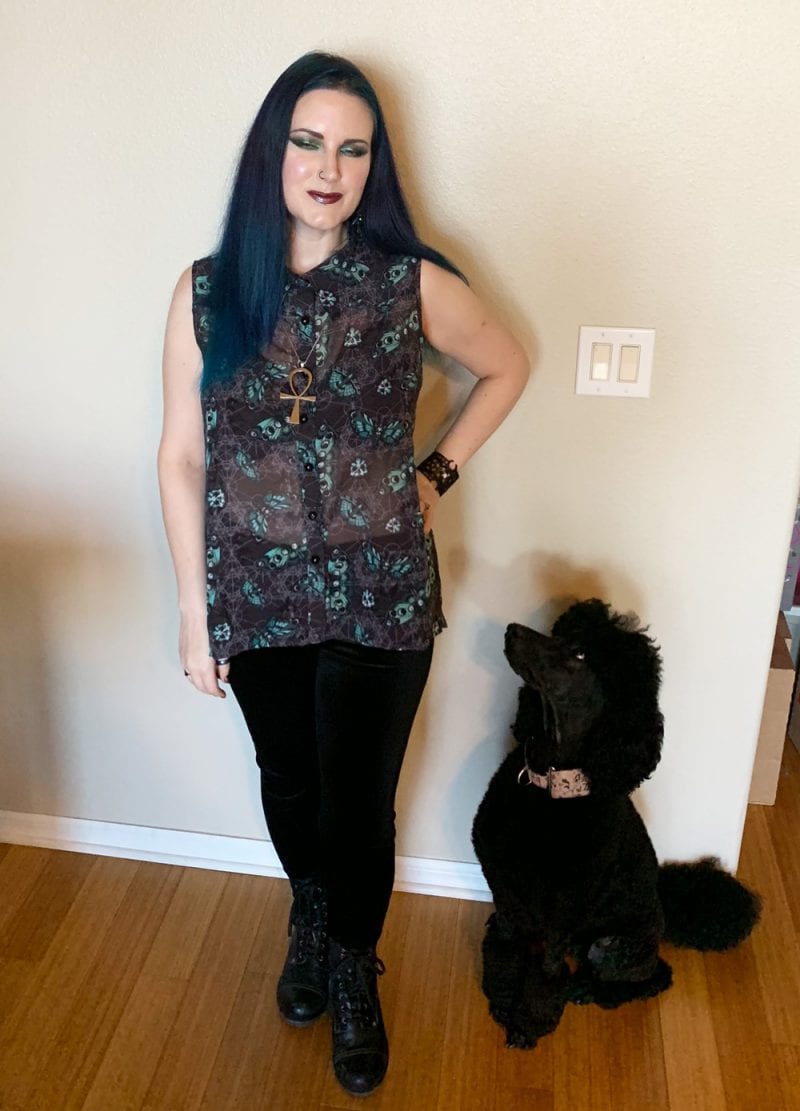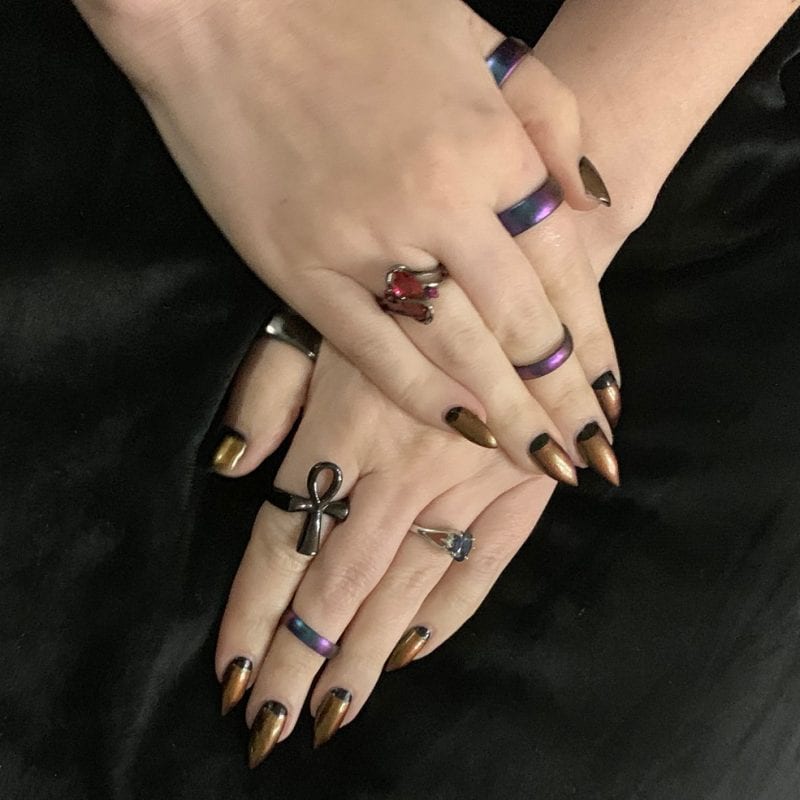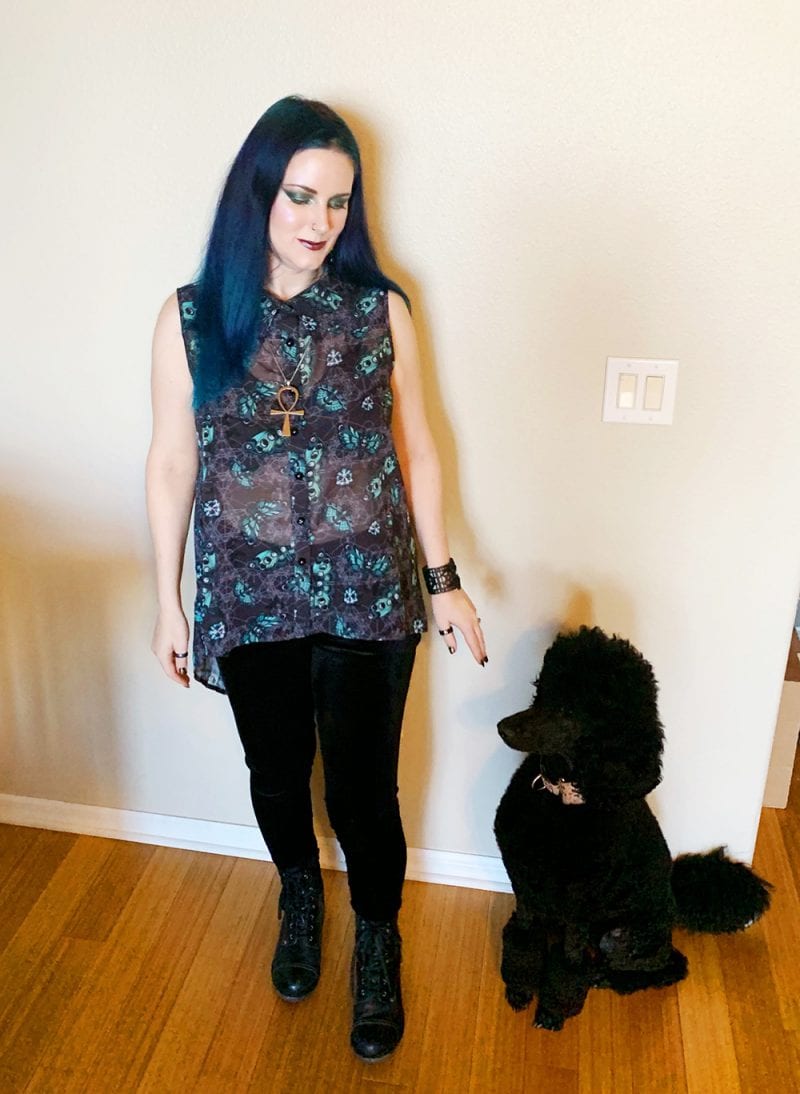 Top – Hell Bunny Death's Head Blouse (size L)
Leggings – Amazon Cemi Ceri Black Plush Velvet Leggings (size M)
Boots – Taos Crave Boots (size 39)
Handbag – Widow Dark Dreaming Mini Backpack (discontinued, similar style, similar style, similar style)
Necklace – Evil Pawn Jewelry Ankh Necklace (discontinued, similar style)
Bracelet – ReStyle Moon Witch Cuff (similar style, similar style)
Left Thumb – Oura Ring Black (size 9)
Right Thumb – Enso Mermaid Ring (size 8)
Nails – Cult Nails Nevermore (black base) topped with KBShimmer Santa Claws
There are tons of photos with Nyx because she's just so cute. She loves to pose for the camera. Nyx has no issues telling where the center of attention is located and putting herself there. I failed to give as much variety with my poses this time.
I talk in more depth about the leggings, handbag, and boots in my Hell Bunny After Death Blouse feature.
ReStyle Moon Witch Cuff
I adore this ReStyle Moon Witch Cuff! I don't have a ton of bracelets and my bff Corinne gifted it to me. It's so cute! it has a triple moon motif.
Enso Mermaid Rings
I'm obsessed with my Enso Mermaid Rings. I've got 5 of them. Right now I'm wearing them on my index finger on both hands, as midi rings on my middle fingers on both hands, and on my right thumb. The Mermaid ring color is the best, in my opinion, because it has a black base that shifts blue and purple. These are really comfortable to wear and I highly recommend them. They're so freaking cute!
Hell Bunny Death's Head Blouse
The Hell Bunny Death's Head Blouse is a sheer charcoal shirt with butterflies and skulls print. The back has a really cool open flowy design. I love that the shirt is slightly longer in the back than the front because it makes me feel more comfortable in my leggings. The sleeveless design makes it ideal for hot humid Florida summers, but it's been so warm here (it's 79 degrees outside right now) that I'm wearing these sleeveless shirts right now. I love this top!
What do you think of this sheer blouse? How would you style it?