My Visit to Edinburgh Scotland

My Visit to Scotland
Today I wanted to share part of my visit to Scotland with you! I went to visit Scotland around mid-October for my BFF Jen's wedding (from My Beauty Bunny). I followed the advice I shared with you in my Airport Tips & Hacks to Fly Like a Pro article for this trip.
PR + purchased by me.
What I Wore on the Plane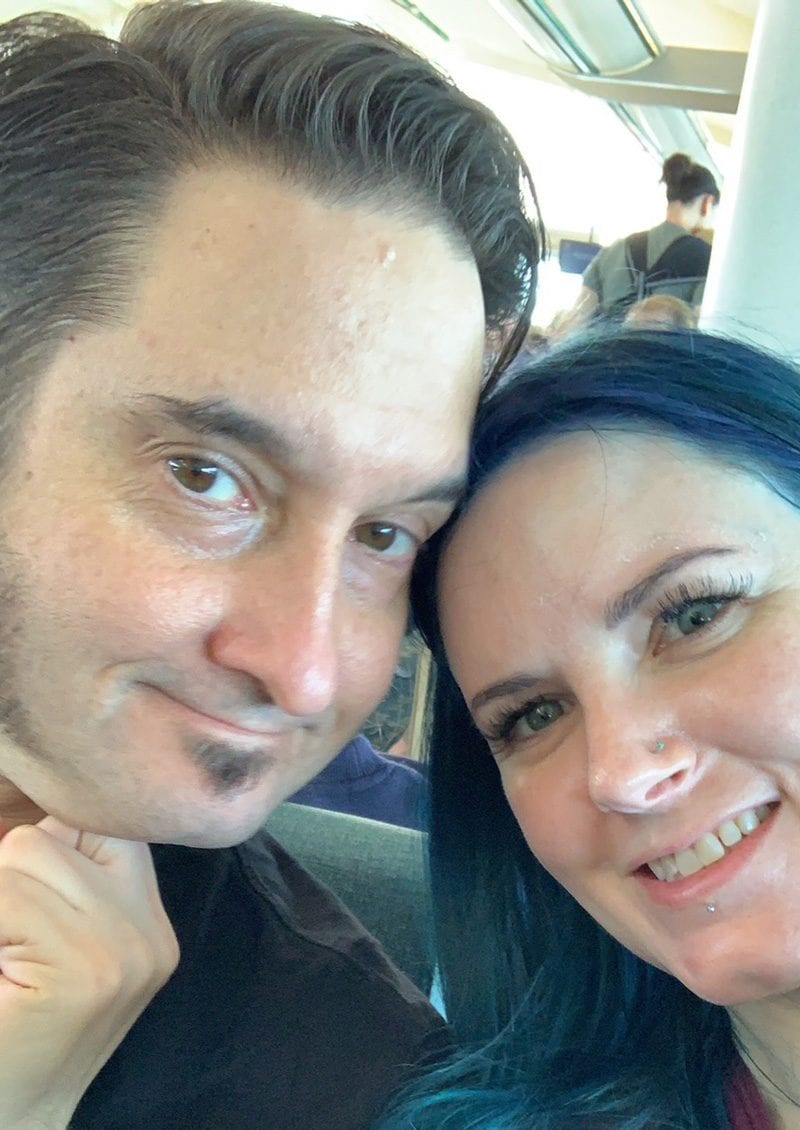 Top – prAna Synergy Top (size M)
Bra – Champion Seamless Sports Bra (size XL)
Hoodie – Pawstar Purple & Black Furry Cat Ears Hoodie (size M)
Jacket – prAna Black Diva Long Jacket (size M)
Scarf – King Legend White Long Skull Scarf
Bottoms – Hanes French Terry Pant (size L)
Shoes – Taos Crave Combat Boots (size 39)
I wanted to be ultra comfortable on the plane so I dressed accordingly. PrAna  sent me several articles of clothing for my trip including a black Synergy Top that was perfect! It's made from 95% modal 5% spandex. I love the elongated sleeves with thumbholes, which helped to keep my hands warm on the flight. PrAna is a sustainable brand and uses organic cotton and recycled fabrics to create their products. This top is especially nice because it has a keyhole detail in the back, so if you run hot (which is not me), you can always take your jacket off and cool down.
The prAna Diva Long Jacket was awesome for my trip! It did a great job of keeping me warm in the Scottish weather. I love the extra long length, as it made sure I never regretted wearing leggings on my trip. I adore the Sherpa interior lining except on days when I'm wearing a long sleeve velvet top, because the lining and velvet would cling to each other. It's water repellent too! I found the shaping darts and seams to be really flattering on my curvy body type.
I needed a snuggly hoodie so I wore my Pawstar Purple & Black Furry Cat Ears Hoodie. It's a bit big on me, which is how I like it. It fits underneath my jacket without any issues, too, so I could layer this with my Diva Long Jacket for extra warmth.
When my friend Corinne first showed me her King Legend White Long Skull Scarf, I knew I needed one of my own. It's neat because it has little snaps that let it turn into an infinity scarf, or you can wear it as a regular scarf, or you can turn it into a shrug and put your arms through the sleeves. It also folds up into a tiny little ball, making it perfectly portable for most handbags.
I'm finally letting you in on my secret. My favorite pants that I wear daily while I'm working or lounging at home are the Hanes French Terry Pant. I've got like 7 pairs of these pants because they are so comfortable. I bought size L, but because of losing so much weight this year they're about to fall off my hips unless I tie them tight, so my next pair will be a size M. These are seriously the most comfortable pants ever. I rarely wear them out of the home, but they were perfect for the plane.
Finally, I wore my Taos Crave Combat Boots. These are quite possibly the best purchase I made for my Scotland trip. I researched boots for Ireland and Scotland and these boots kept popping up. I decided to take a chance on them and they are now my favorite boots. They are so comfortable to wear walking all day. I wore them all over on this trip, every single day, and loved them. My feet didn't hurt and they look bad ass with every outfit!
You really need to watch the video in that Instagram post. It's of our flight as we descended through the clouds to land in Scotland. It's so beautiful to see.
We left our home in Florida around 8:30 am on a Monday morning. It took us 2 hours to get to the Orlando airport. From Orlando, we flew to JFK in New York and had a long layover. Once we finally boarded our flight, we tried to sleep as much as possible. We ended up landing early in Scotland, around 9am. We got to our hotel and our room wasn't ready yet, so they told us to go have breakfast and they'd call us. We found a cute little French cafe for breakfast. I had the worst, soggy eggs of my life. Yuck. Then our hotel said our room was ready!
Visiting Edinburgh, Scotland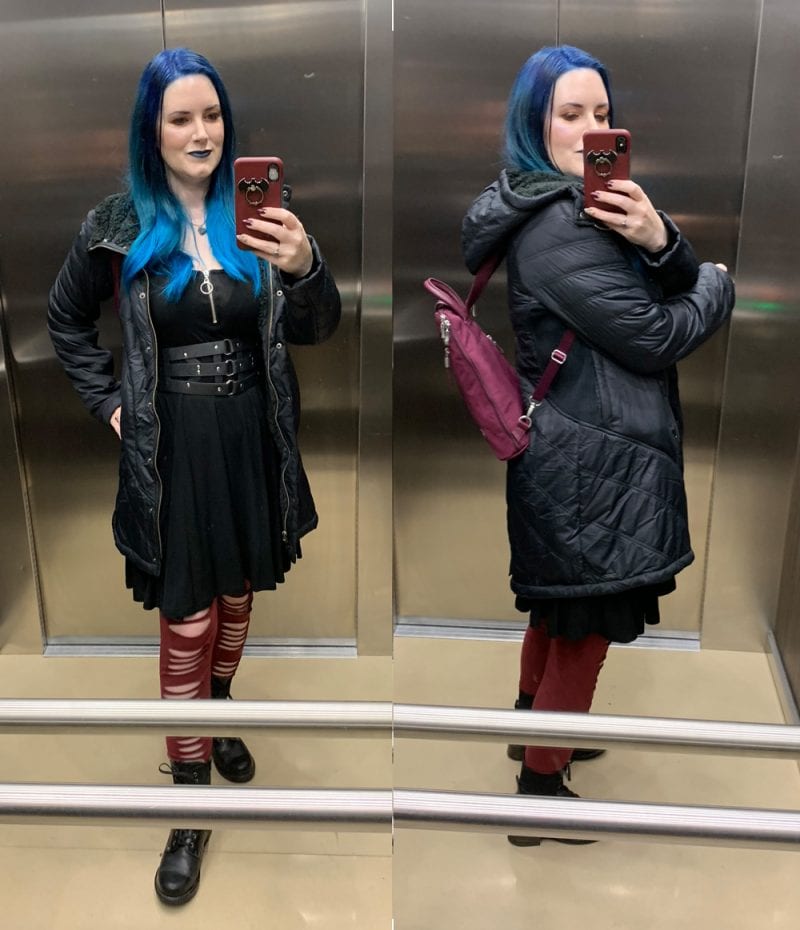 Necklace – Bunny Paige Volcano Micro Spiked Heart
Dress – Killstar Spirit Walker Hooded Dress (size L)
Belt – Torrid Caged O-Ring Belt (size 00)
Leggings – Amazon Burgundy Ripped Leggings (size L)
Jacket – prAna Black Diva Long Jacket (size M)
Shoes – Taos Crave Combat Boots (size 39)
Handbag – Baggallini Eggplant Metro Bag
Baggallini sent us several different items for our trip. The Metro bag was one of them. It's so cute! It's the perfect burgundy wine shade and is great for a little bag for around the town.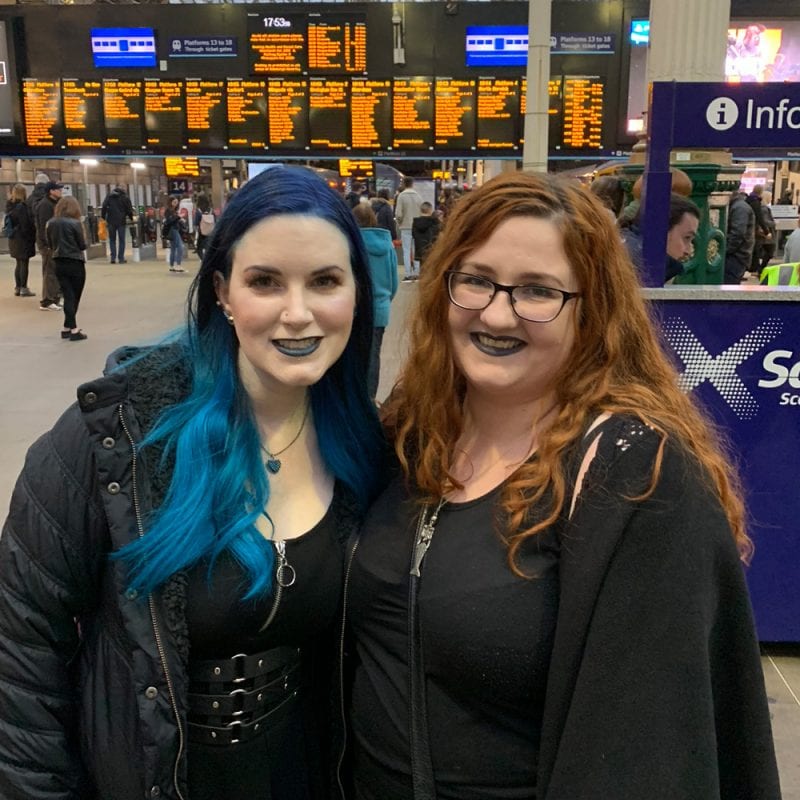 We took a short 2 hour nap because we probably only got about 4 to 5 hours of sleep on the plane and it wasn't quality sleep. Then we got up and proceeded to explore Edinburgh Scotland with Nicky!
Halloween in Edinburgh Scotland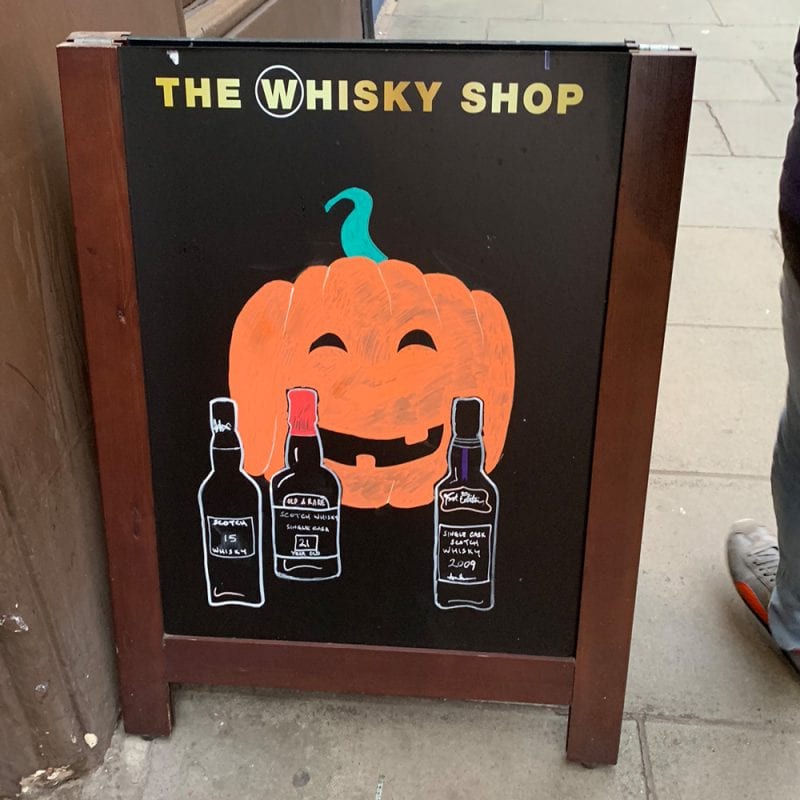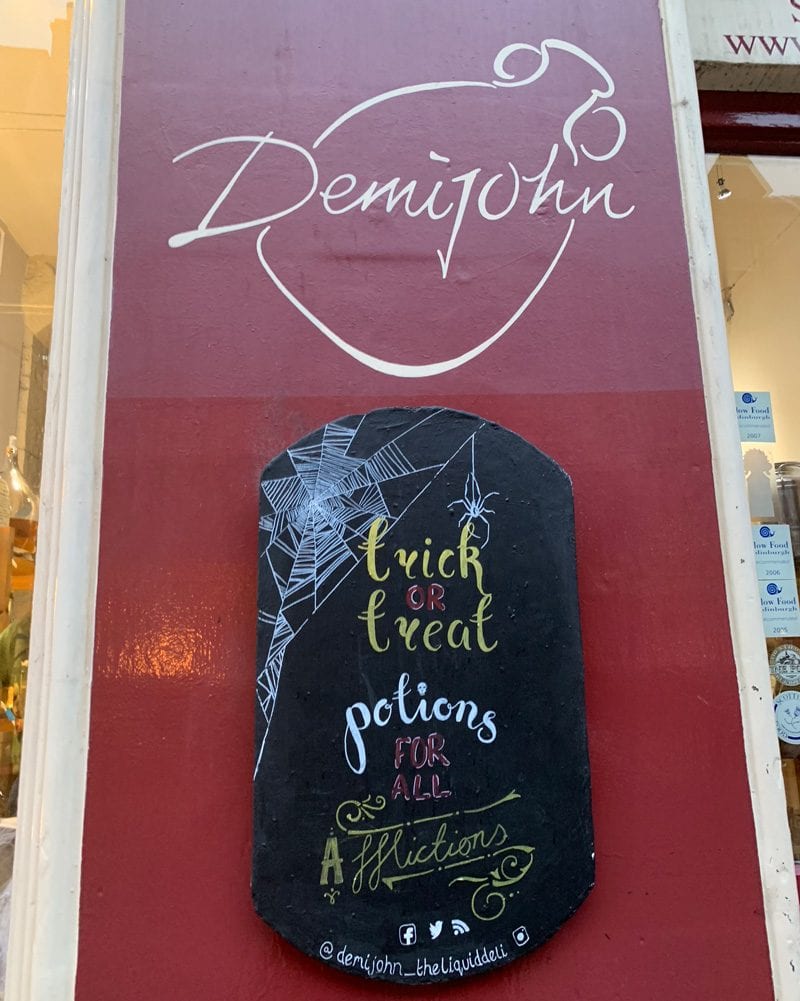 Some businesses in Edinburgh Scotland had Halloween decorations up, including these cute signs.
Edinburgh Scotland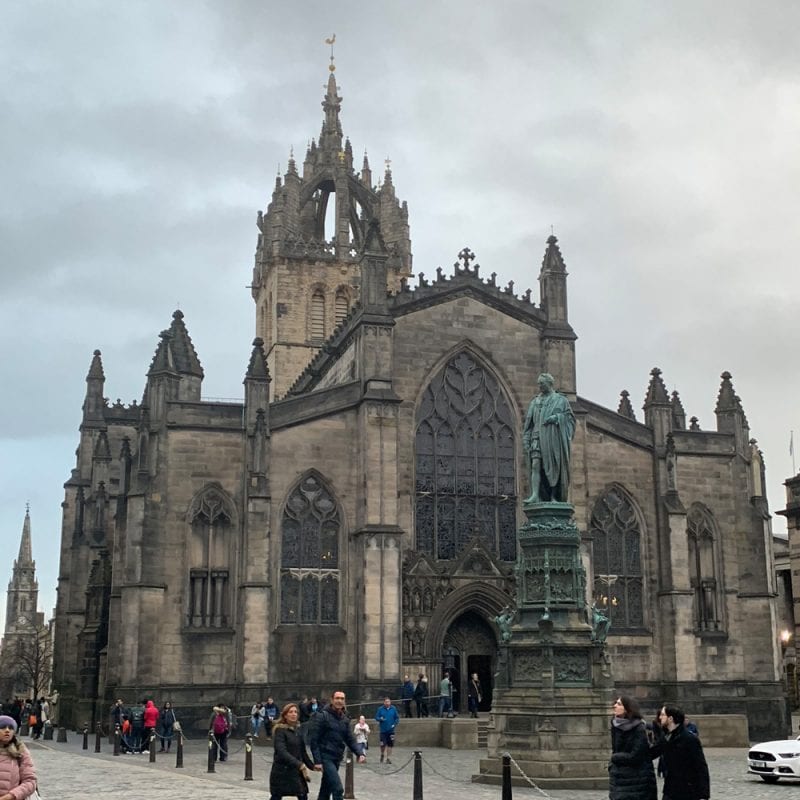 I have no idea what this beautiful building is, but I loved the architecture.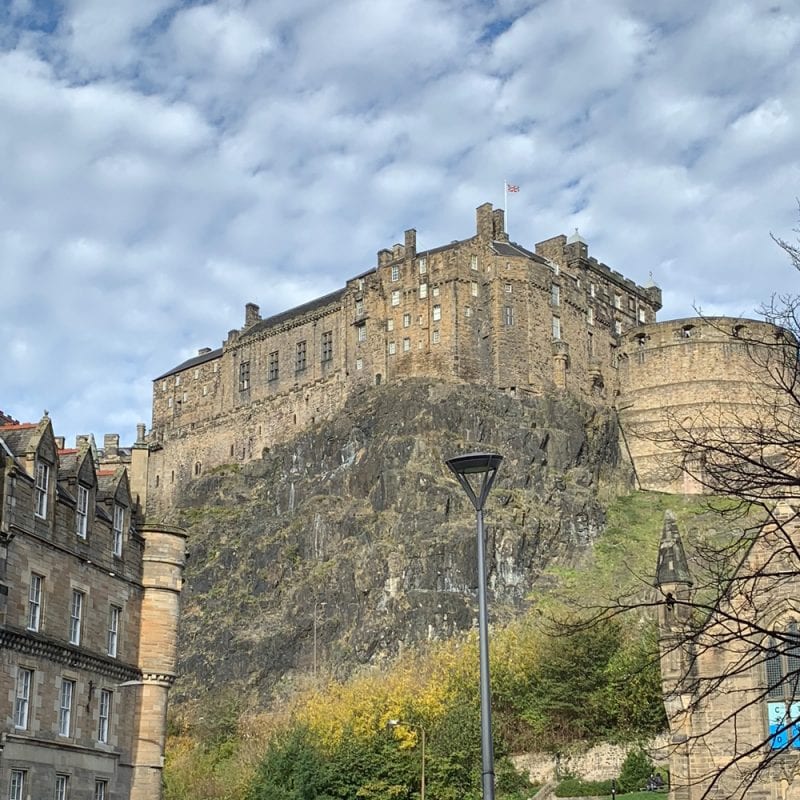 This is the view of Edinburgh Castle in Scotland. We had this view from our hotel room at the Apex Grassmarket Hotel, which was a great hotel.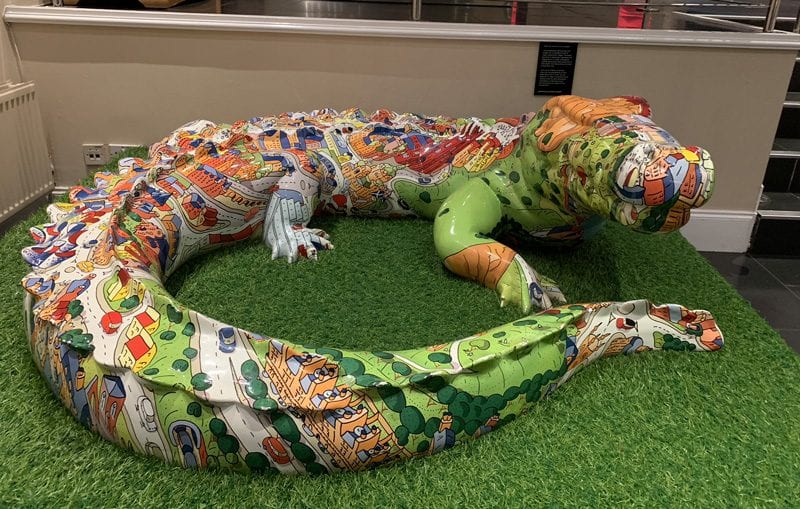 This was the crock-a-doodle piece of art in our hotel. I had to laugh because it looks more like a gator than a croc with its big blunt nose.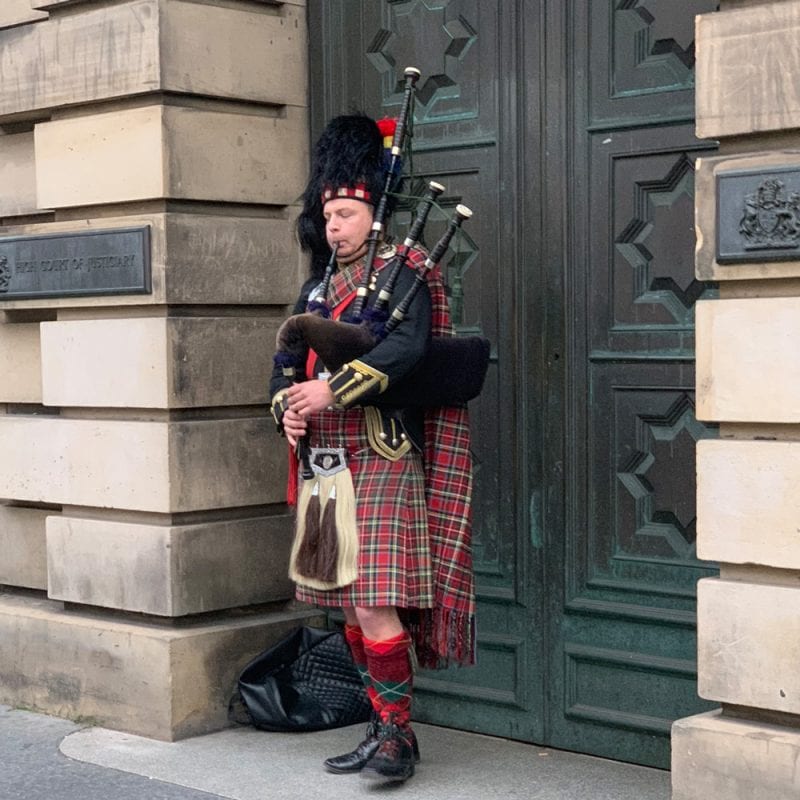 This guy seemed to play the bagpipes daily near us. I would have been freezing if my skin was visible like that.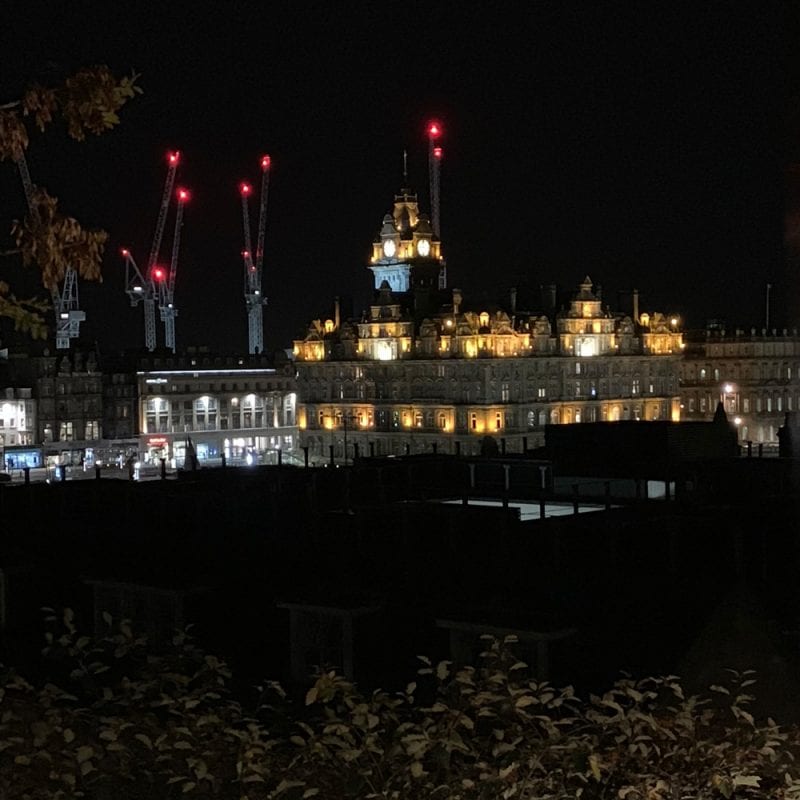 Lovely night shot.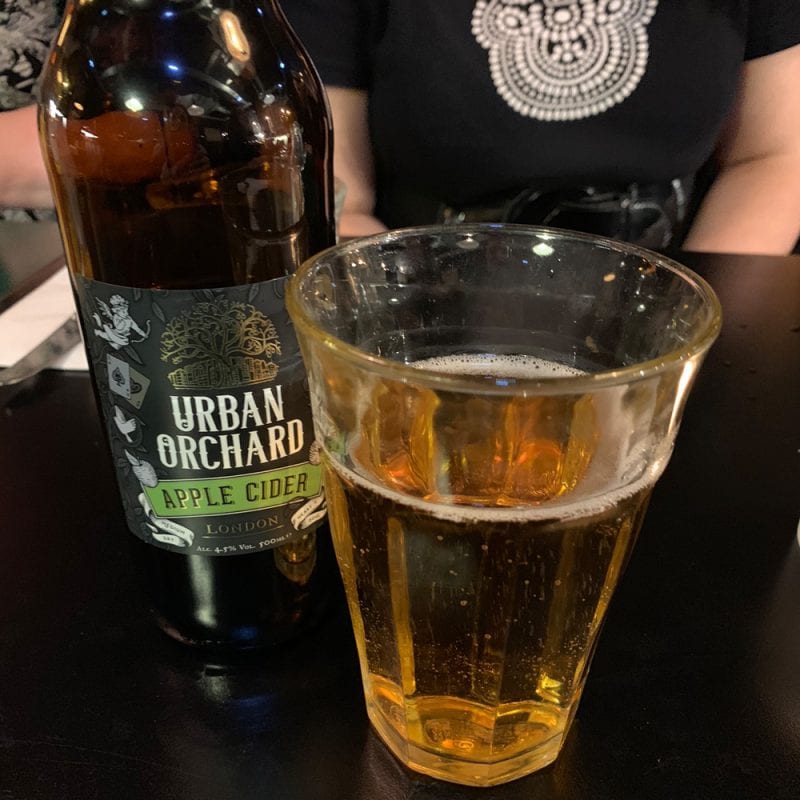 While I was in Edinburgh Scotland, I mostly drank whisky (Highland Park). However, I did give Urban Orchard Apple Cider a try and it was pretty good!
The News Steps in Edinburgh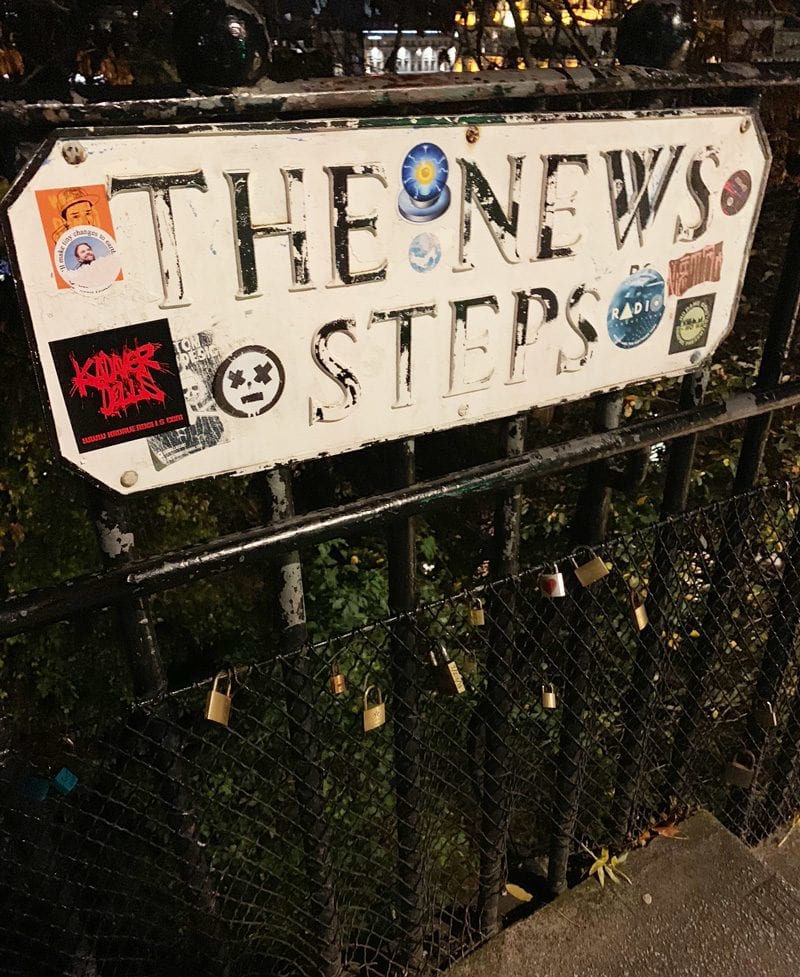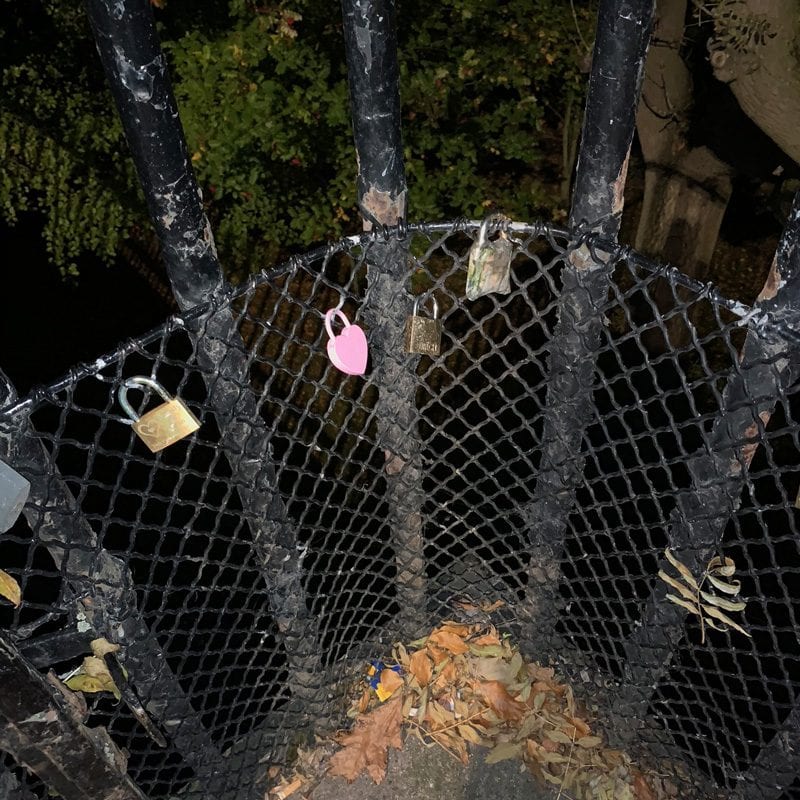 People seem to put relationship lockets on the chain link fence at the News Steps. These steps are a pain in the butt to walk up at night, especially if you're tired!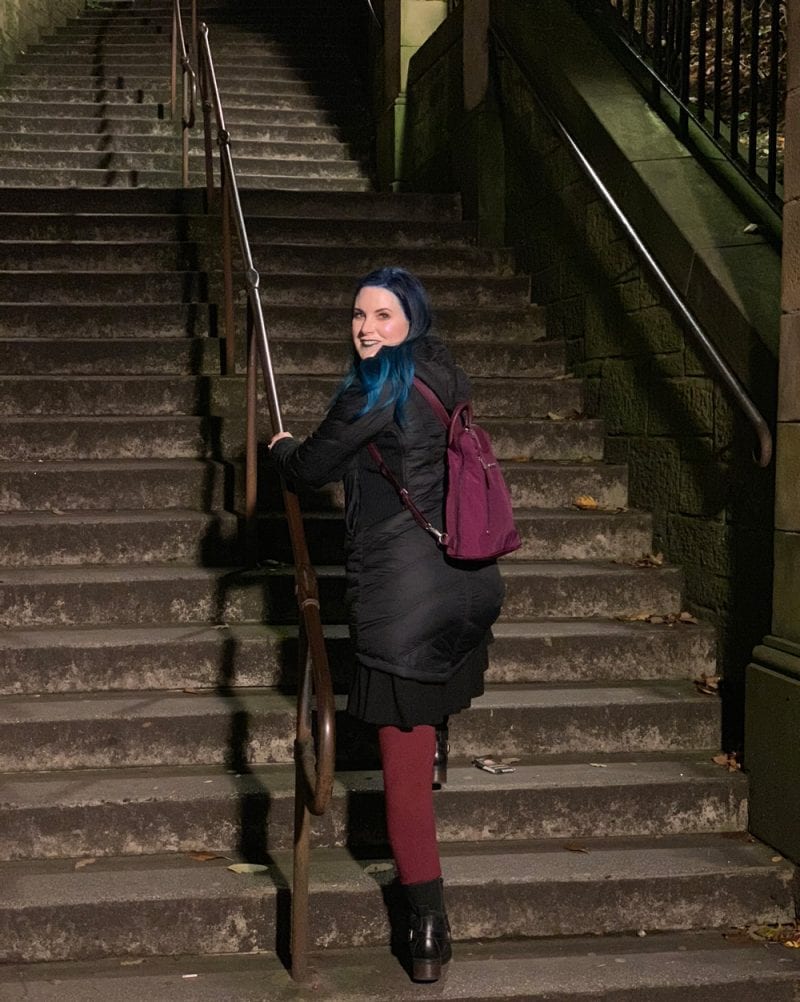 Here I am getting ready to hoof it up the stairs. We had to climb up and down these stairs a ton in the city! I swear doing stairs like this really helps to tone up your legs. At least that's what I tell myself to motivate my way to the top.
You're a Wizard, Harry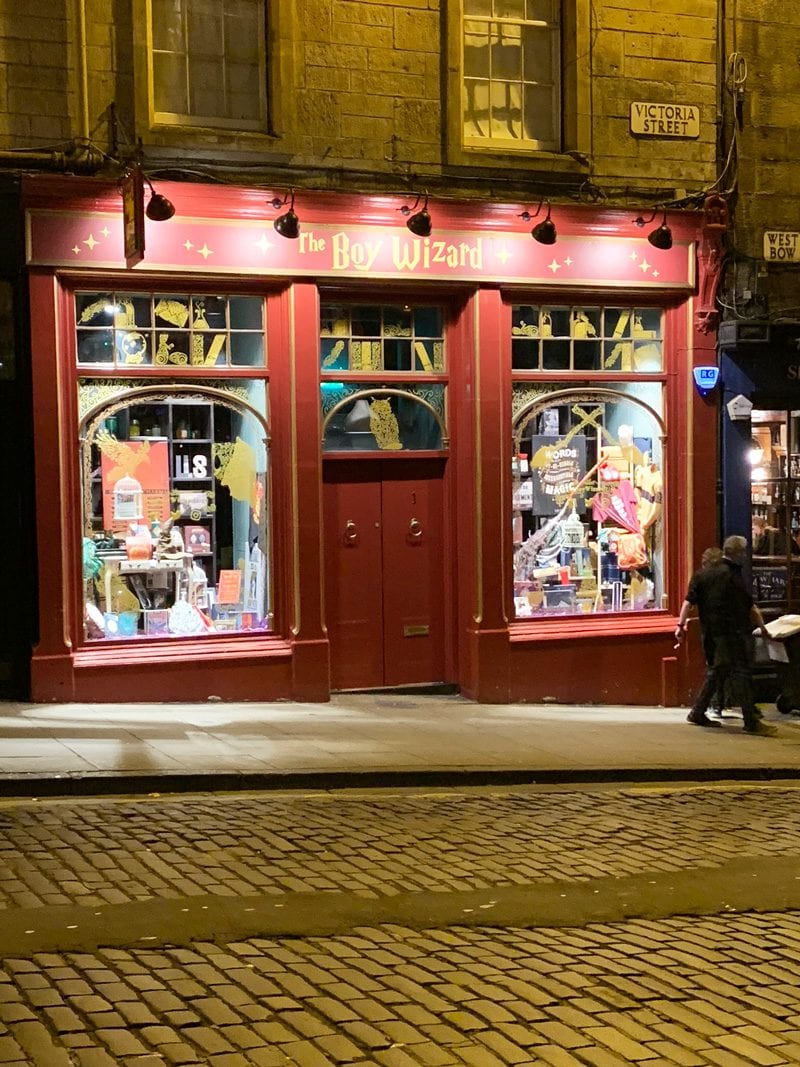 We stayed right by the places in Edinburgh Scotland that influenced JK Rowling's fantasy series Harry Potter. This street inspired Diagon Alley. There are tons of Wizard shops all over Edinburgh Scotland. (See more supernatural books I love to read)