Custom Cake Creations in Tampa
By now you probably know that I love to have custom cake creations in Tampa for birthdays. Dave's birthday was this past week and I ordered a Path of Exile Mirror of Kalandra cake for his birthday from Happiness 101 Cupcakes. Happiness 101 Cupcakes made my Amethyst Geode Cake for my birthday this year, too.
Dave has been playing Path of Exile since closed beta days. He loves this game. It's his all-time favorite video game.
The Mirror of Kalandra is the most valuable, sought after item in game. It allows you to duplicate ANY item in the game, hence why it is so valuable.
Path of Exile Mirror of Kalandra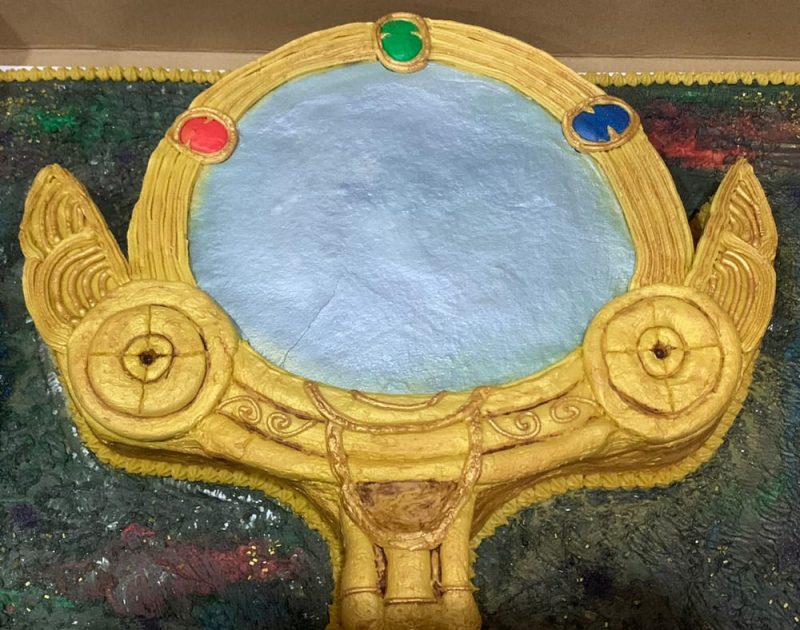 Dave has never gotten a Mirror of Kalandra in game because of its insanely low drop rate, so for his birthday I wanted to give him one. He was so happy with it!
Dave is gluten-free, so Happiness 101 Cupcakes made him a gluten-free strawberry poke cake with buttercream frosting. We all hate fondant in my home, so we usually opt for buttercream or cream cheese frostings. It is the BEST gluten-free poke cake he has ever had!
Custom Cake Creations in Tampa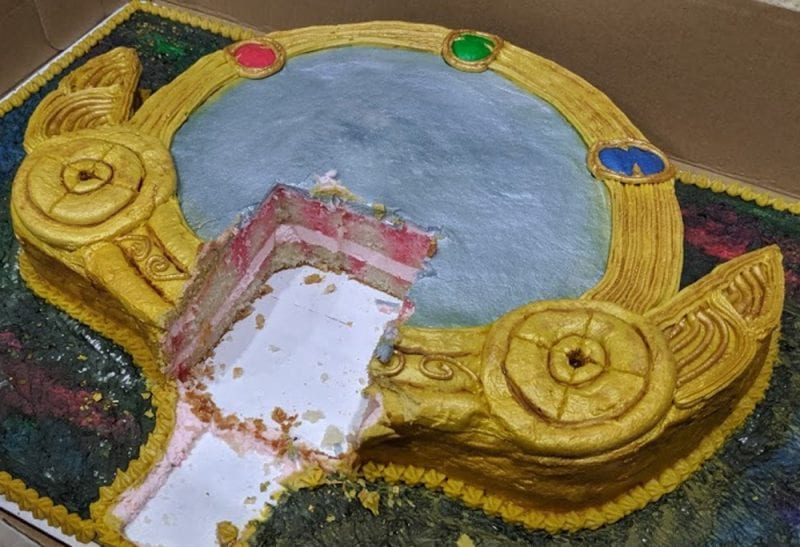 If you don't know what a poke cake is, because I didn't know what a jello poke cake was until Dave told me that's what he wanted this year, it's a cake where they pour jello in it. You bake the cake, then poke holes in the cake. Then you add a jello mixture and pour it over the cake, allowing it to fill in the holes.  In the photo above you can see that our Mirror of Kalandra custom cake creation was 2 layers, with strawberry buttercream icing in the center and strawberry jello throughout the cake. I love how the silver and gold icing turned out, too!
A note on the gluten free. This did not even taste like a gluten free product to me, it didn't fall apart the way gluten free products often do. The flavor was amazing. Happiness 101 Cupcakes really knows how to make tasty gluten free products if you're someone who is gluten sensitive or celiac.
Several of our friends joined us this weekend to celebrate Dave's birthday and enjoy the cake. We had a fabulous weekend! Special thanks to Mickey, Cary, and Arielle. We love you!
In case you're wondering, I've played Path of Exile a bit. I'm currently playing a Witch class. It's really the first MMO I've taken interest in since I quit playing WoW seriously.
If you're looking for custom cake creations in the greater Tampa area, I highly recommend Happiness 101 Cupcakes. We've hired them several times, and every time we get great tasting, beautiful results. They're Phyrra approved!
Last Updated on