15 Gothic Black and Stiletto Nail Ideas and Inspirations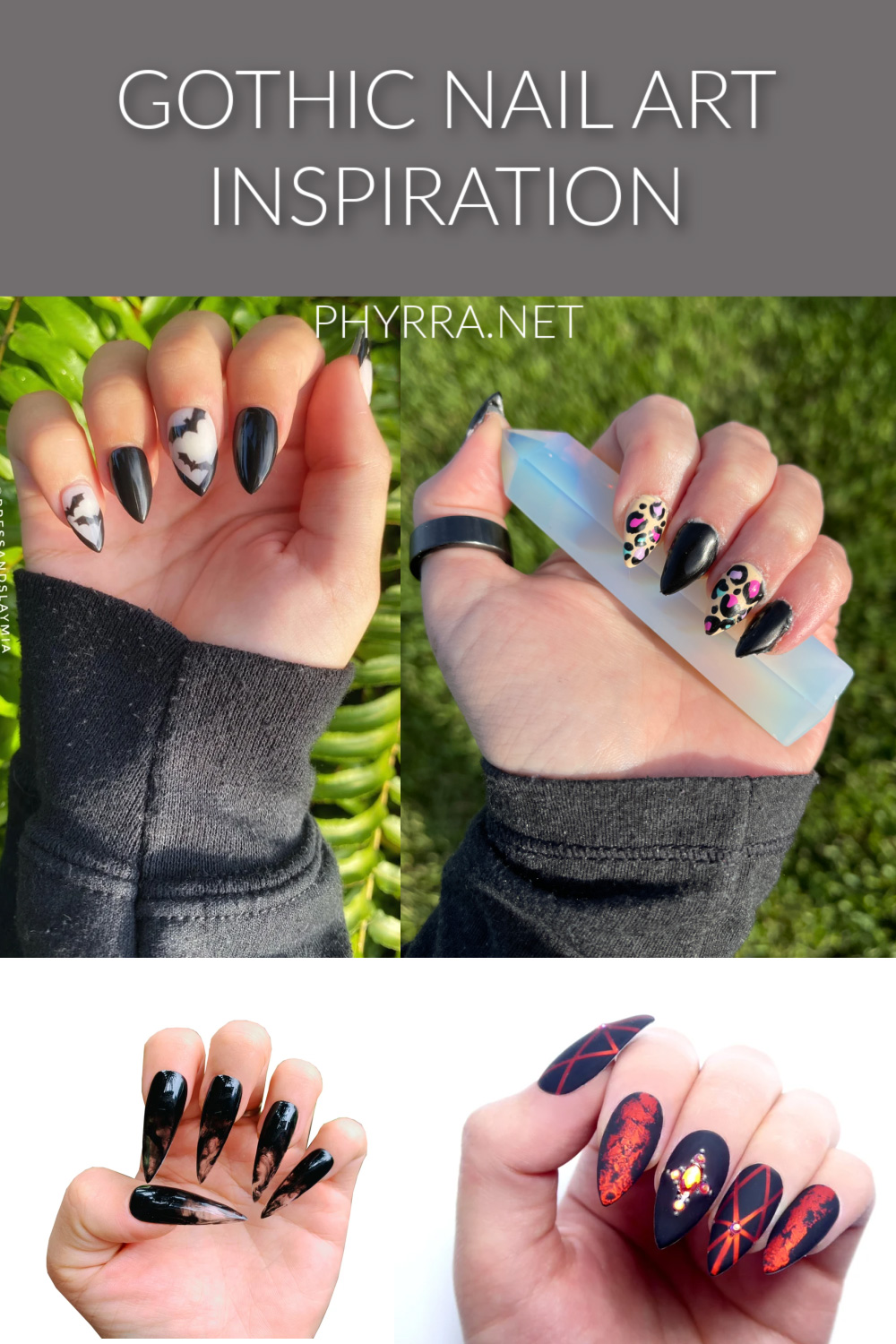 Today I'm sharing 15 gothic black and stiletto nail ideas and inspirations. Black is the essential color of the goth style. Even with outfits that include other colors like red or purple, most goth outfits still have at least one black element in them. For that reason, black nail designs are a popular choice for the style.
Of course, it should be noted that not all gothic looks are the same. People's individual preferences have created a wide variety of variants for the gothic look. Some prefer a cute, gothic look, while others prefer a more elegant one.
Knowing where to begin when creating a gothic nail look can be challenging, considering all these possibilities. But no need to worry! Let's look at some of the best gothic black and stiletto nail design ideas and inspirations. 
My friend Thalita from the blog Her Bones wrote this guest feature. Please check out her blog!
15 Gothic Black and Stiletto Nail Ideas and Inspirations
Sparkle Black Stiletto Nails 
You don't need elaborate nails to make a gothic statement. Keep things simple with some solid black nails with glitter accents.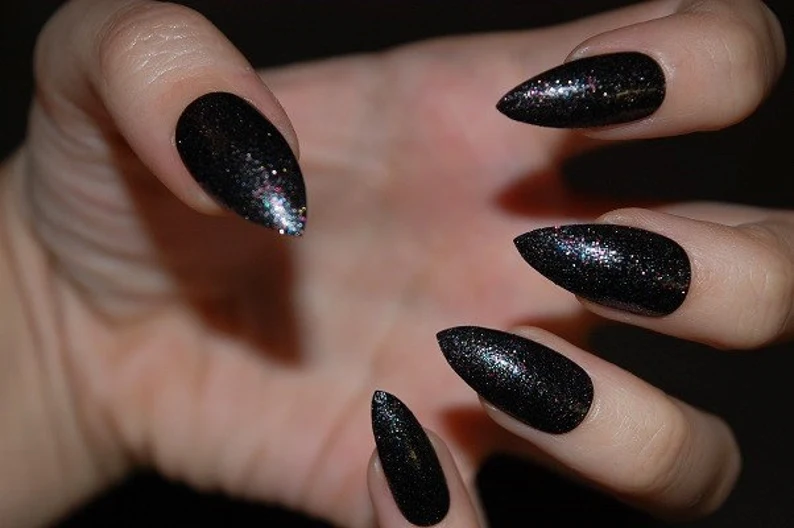 Black Stiletto Nails With Spider Web 
These nails are also on the basic side, but they still evoke subtle gothic themes thanks to the predominantly black color palette and the addition of the spider web on the middle finger.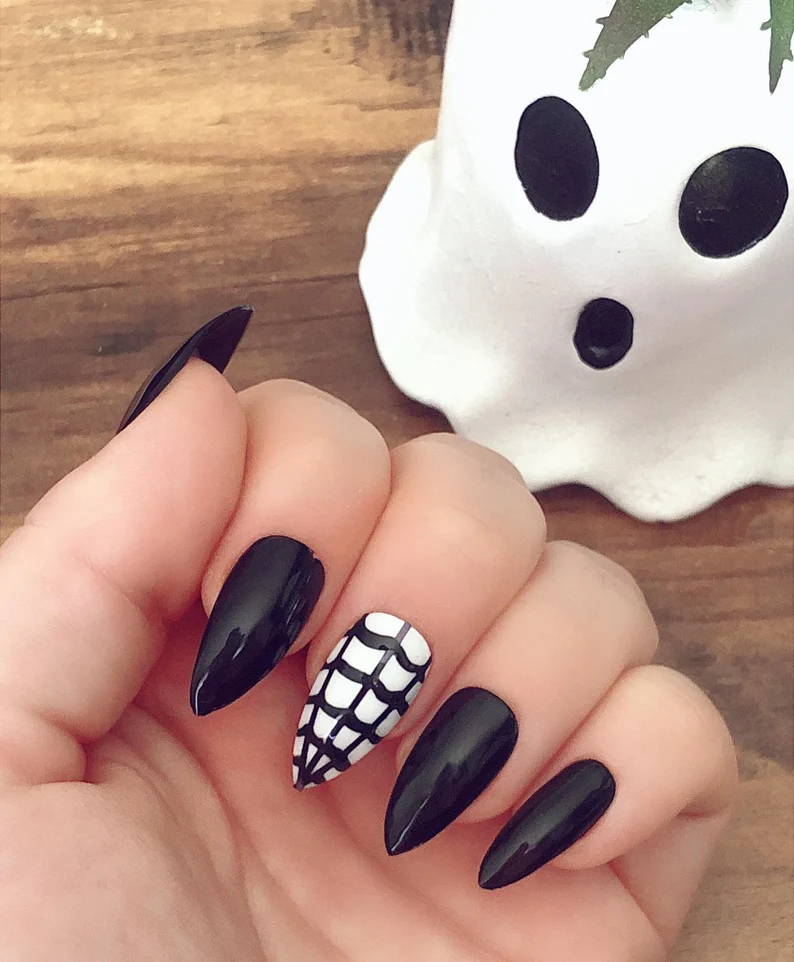 Stiletto Nails with Spider Detail
Black Smokey Stiletto Nails 
Smokey effects aren't just for eye makeup! With a bit of color mixing, you can get striking smokey nails with a beautiful yet mysterious vibe.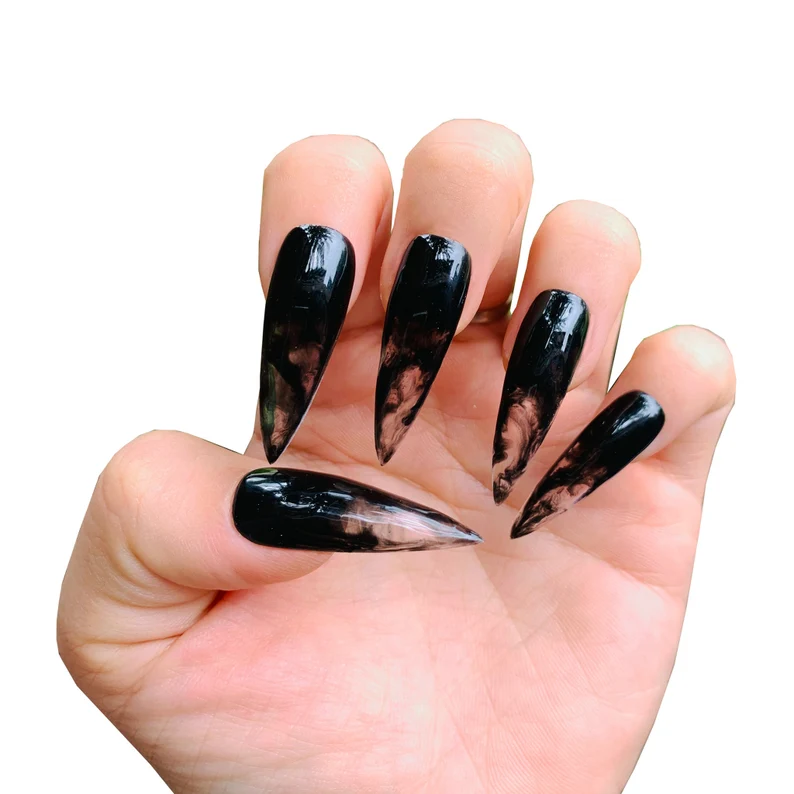 Black Stiletto Nails With Red Marble and Line Details and Rhinestones 
The red against the black in this nail design makes for some striking contrast. Adding rhinestones is just what this needs to bring it from bold to positively glamorous.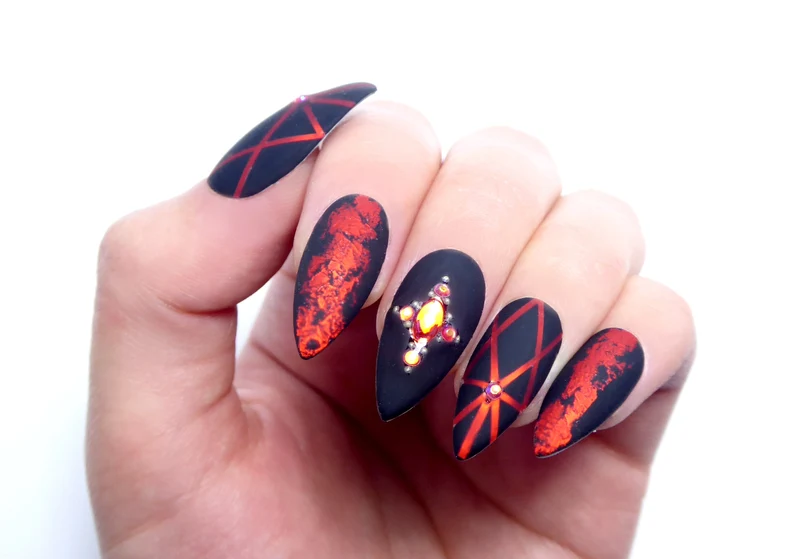 Black Marble Stiletto Nails With Glitter 
Thanks to the dark colors used in this design, the marble effect is subtle and gives the nails almost a smoky vibe. The glitter is also a nice touch to make the design stand out without going overboard.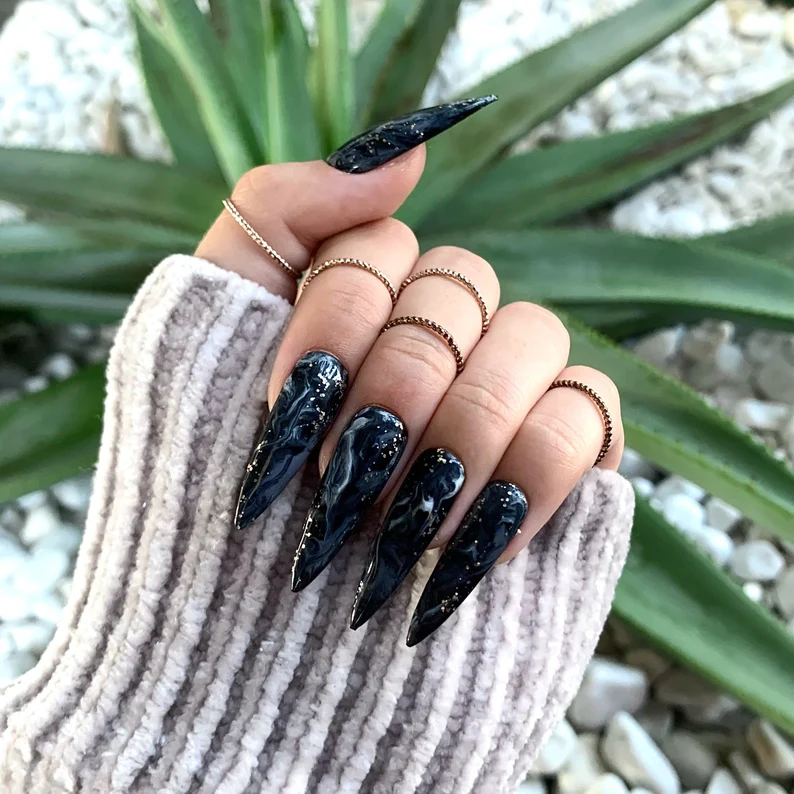 Marble Black Glitter Stiletto Nails
Black Lace Stiletto Nails 
Lace and goth go hand in hand, evoking images of beautiful black lace dresses traditionally associated with the style. 
Putting the lace effect over another dark color makes for a subtly elegant look rather than being bold with contrast.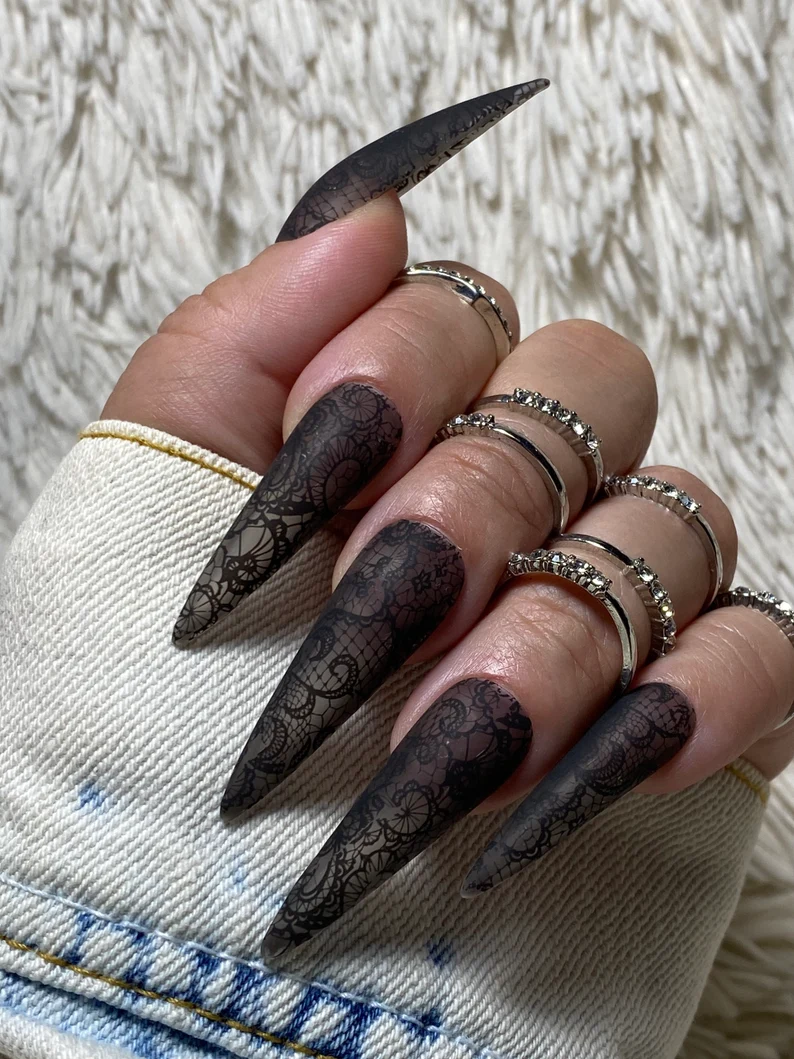 Black and Nude Stiletto Nails With Moon and Stars
Another style element that often goes hand in hand with goth style is celestial items, mainly the moon and stars, and they coordinate perfectly with the color palette since they already belong in the night sky.
I also love the jewelry look of the nail design with the small chains painted around the moon and stars. 
If you already have jewelry like black moon and star earrings, they would look perfectly coordinated with this design.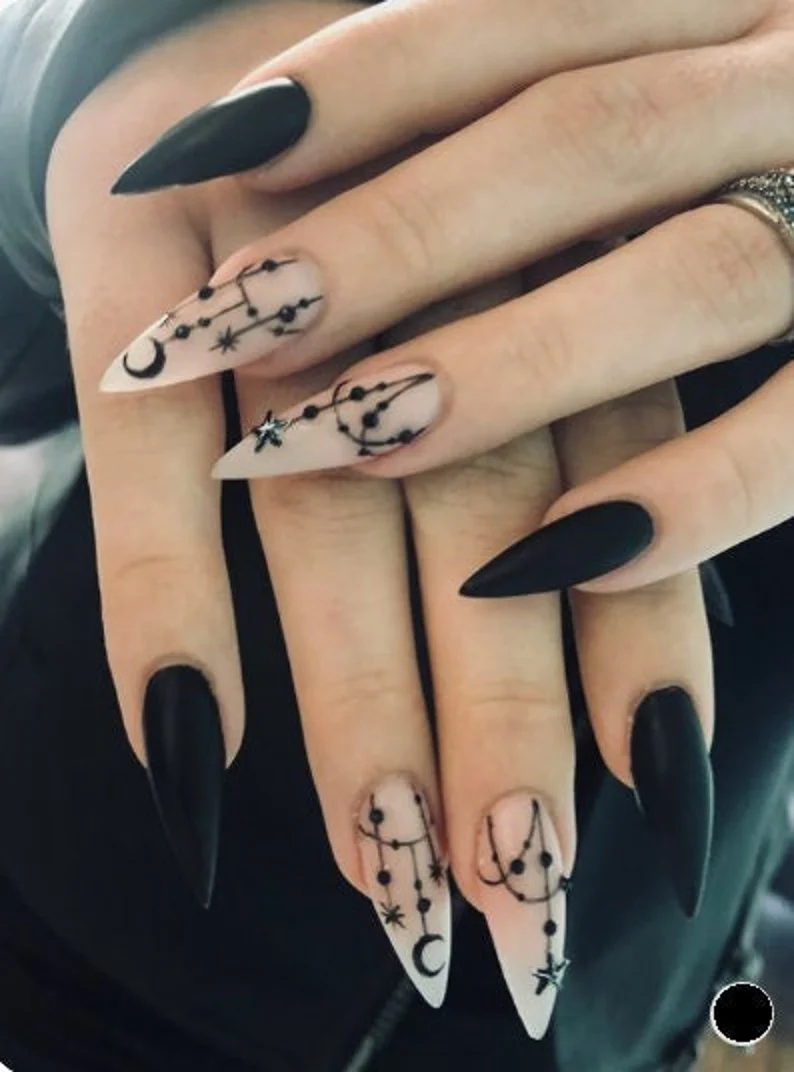 Black and Nude Celestial Nails
Matte Black and Red Ombre Stiletto Nails 
Ombre nail designs are a personal favorite of mine, but they also look great with a gothic style. They're great for adding a subtle splash of color and coordinating a bicolor outfit with your nail look.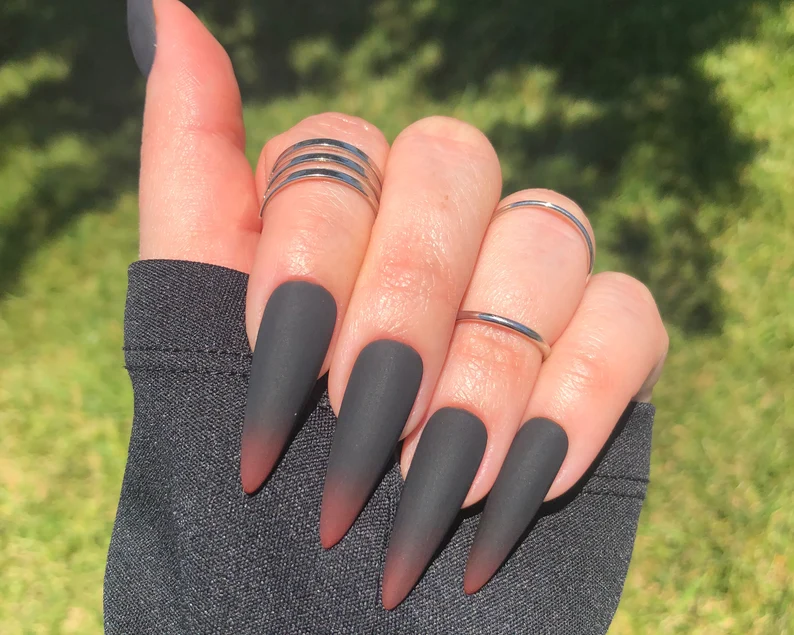 Black V French Tip Stiletto Nails With Black Bats 
V french tip nails put an angular spin on the classic french tip nail design. One remarkable thing about them is that they look different depending on whether you have stiletto or coffin nails.
With coffin nail designs, both sides need to be filled in at the top to form a V. Meanwhile, with stiletto nails, the V shape naturally follows the nail shape, giving it a look similar to classic french tip nails.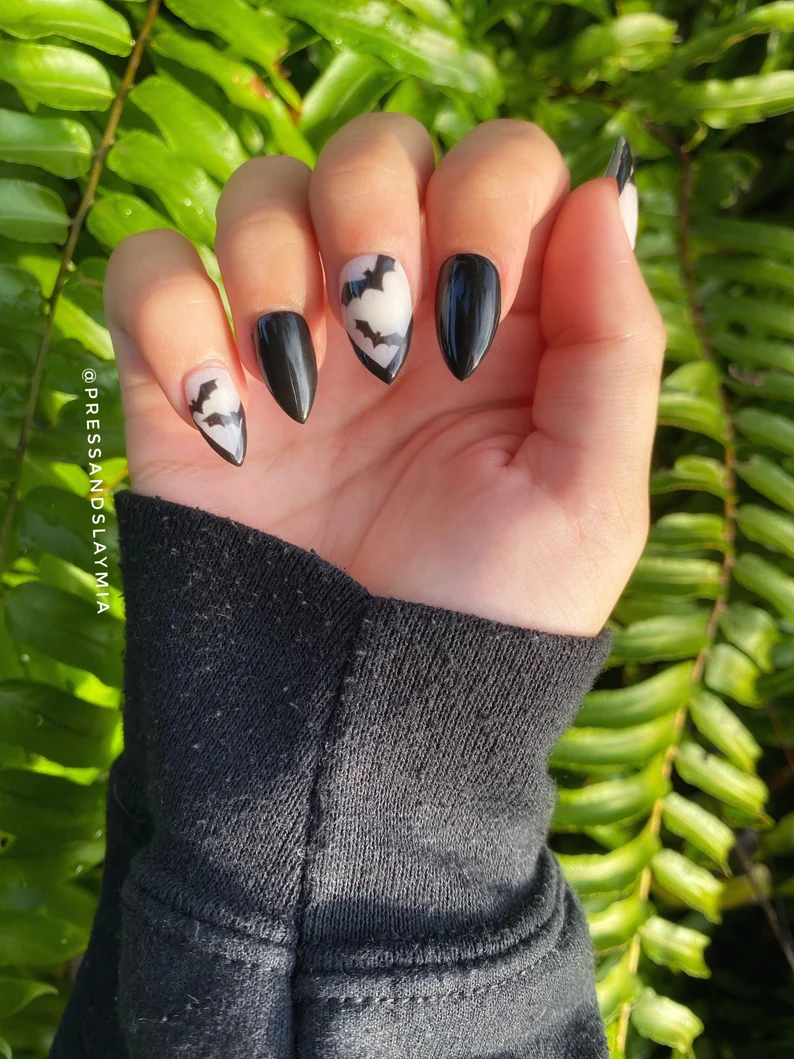 Black and Gold Stiletto Nails With Skull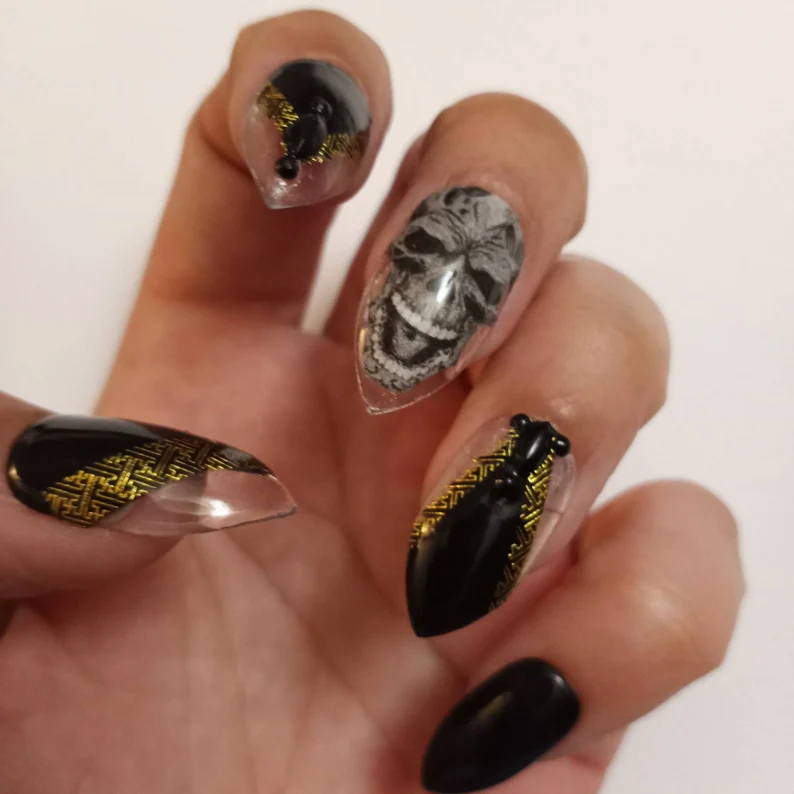 These nails are gorgeous with their luxurious gold and black color palette, and the skull gives this design a distinctive gothic flair. 
Black and White Marble Stiletto Nails With Rhinestones and Glitter 
White and black marble stiletto nails show off more of an elegant gothic aesthetic with additional elements like glitter and rhinestones.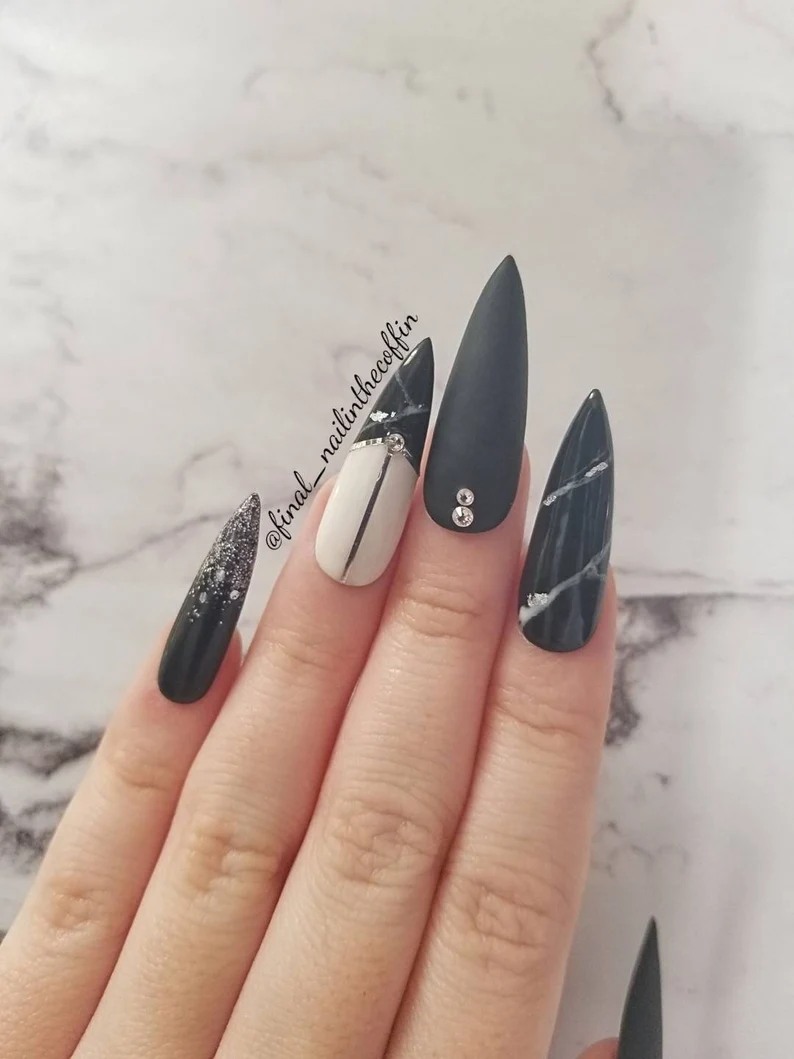 Silver Black and Grey Ombre Nails
Black and silver are excellent gothic color combinations, and it adds a lighter element for visual interest without having the stark contrast of white on black. It also coordinates well with gothic jewelry.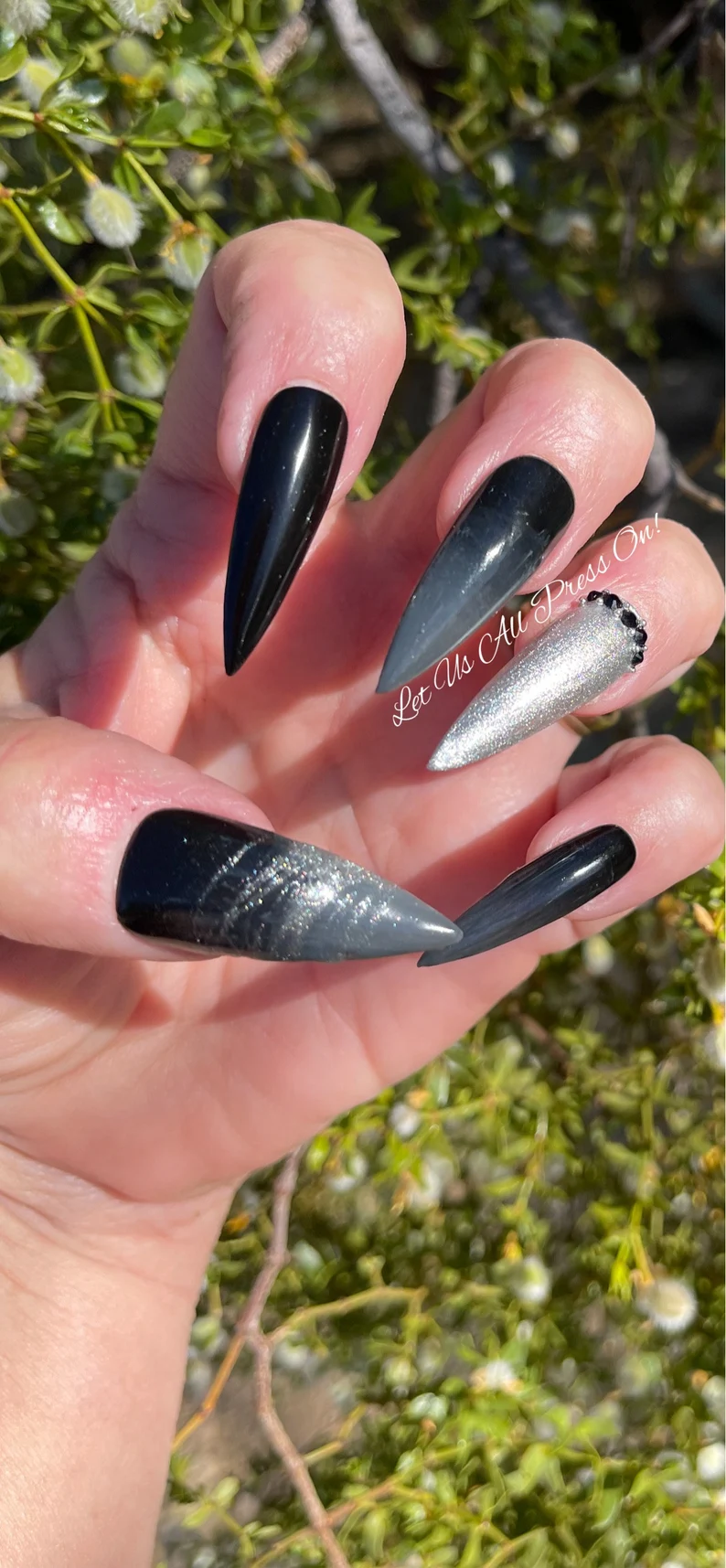 Black and Gold Celestial Glitter Nails With Rhinestones 
These nails go all in on the celestial vibes, which adds to the design. The stars and glitter give it a colorful flair while still fitting with the dark theme.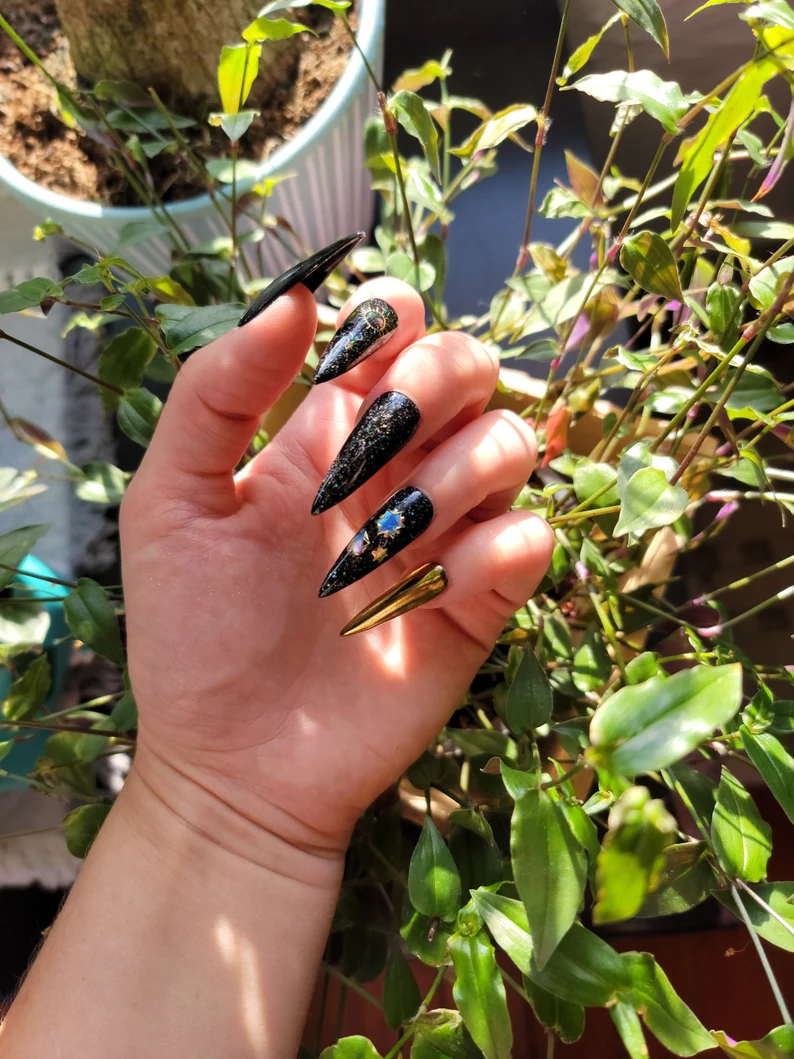 Gold and Black Celestial Nails
Black Stiletto Nails With White Stitch Detail
This nail design goes for a cute goth style with the white cross-stitch pattern on top and the hearts on both middle fingers.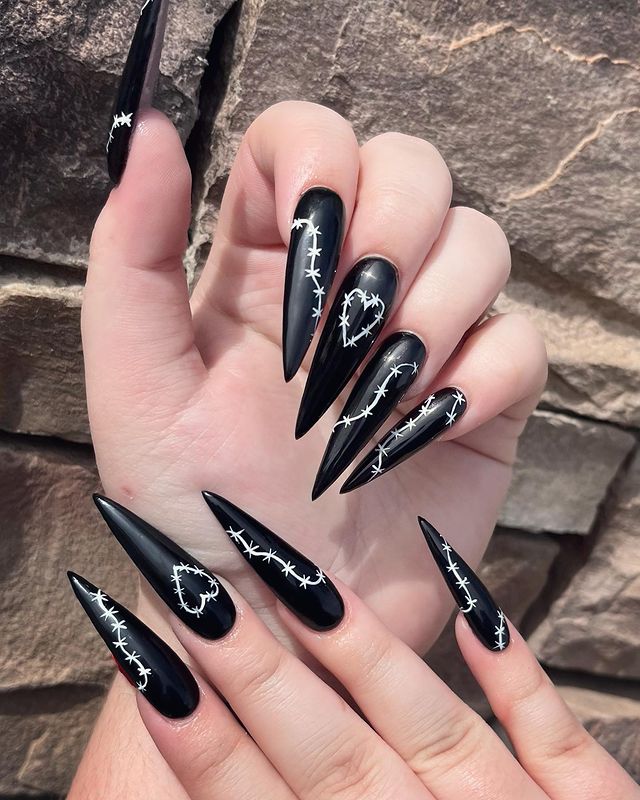 Black and Nude Spiral Nails 
The hypnotic spiral in this design gives the nails a spooky feel, primarily because of the wavy linework.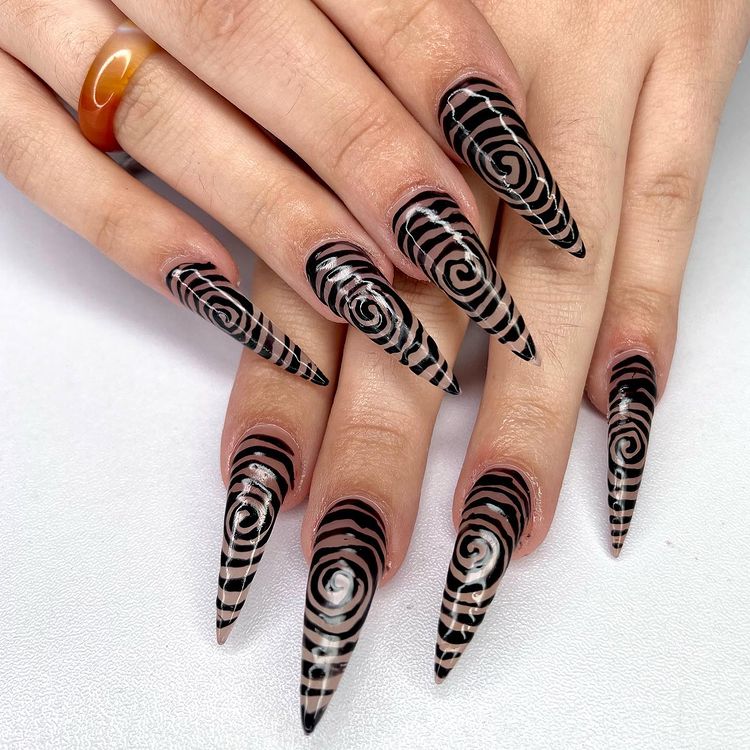 Summary and Top Picks
So, did you enjoy looking at these gothic nail designs? From horror goth to cutesy goth designs, there are practically infinite possibilities. I love how these nail designs turn a simple neutral into a stunning nail look. 
Of all of these, my three picks are:
Smokey & Black Stiletto Nails:

I love the realistic smoke effect on these nails — it's gorgeous and would coordinate well with pretty much any gothic outfit. 

Black Lace Stiletto Nails:

The lace details on this design are beautiful and give it an elegant look overall. 

Gold and Black Celestial Glitter Nails With Rhinestones:

I like how the celestial elements add visual interest and a pop of color to this predominantly black design. 
But I'd love to know your thoughts. Which of these nail designs were your favorites? Let me know in the comments below! 
How to DIY Nails
Do you want gorgeous nails but need help figuring out where to begin? Start with my best gel nail products for beginners to get an idea of what products you need. Then watch my nail art tutorial for beginners to learn how to apply full coverage tips.
More to See