Hello, beautiful creatures! Today I'm bringing you my Vampyre Cosmetics Cthulhu Cocktails Palette Review, Swatches, and Tutorial. Thank you so much to Vampyre Cosmetics for sending me this palette. Vampyre Cosmetics is a new-to-me brand.
Vampyre Cosmetics Cthulhu Cocktails Palette Video
Watch the video on YouTube for Closed Captioning in English!
Price
$69
Where to Buy
Vampyre Cosmetics, Hot Topic
Vampyre Cosmetics has provided me with a discount code for you to use of PHYRRA for 20% off on their site until January 11, 2023.
About Vampyre Cosmetics
Vampyre Cosmetics is a gothic indie makeup brand founded in 2011. The company is women-owned, neurodivergent-owned, disabled-owned, LGBTQIA+-owned, and dedicated to transparency. Importantly, they are 100% cruelty-free, 100% vegan, and 100% talc-free. They can be found in over 100 independent stores worldwide and in Hot Topic and Dolls Kill. They have the official rights to several extraordinary properties, including Emily the Strange, Winchester Mystery House, and Vincent Price!
About Vampyre Cosmetics Cthulhu Cocktails Palette
The Vampyre Cosmetics Cthulhu Cocktails Palette is a gorgeous gothic indie makeup palette with artwork by artist Echo Chernick. It contains 30 eyeshadows in a variety of fun brights and neutrals. You have a mix of shimmers, mattes, satins and metallics for creativity. The Cthulhu Cocktails Palette has a mirror inside it as well.
Ingredients
Mica, Isopropyl Palmimate, Pentaerythrityl Tetraisostearate, Silica, Diisostearyl Malate, Sualano, Magnesium Stearate, Tocopheryl Acetate, Phenoxyethanol, Ethylhexylglycerin, Titanium Dioxide, Iron Oxide, Ultramarine blue, Chromium Oxide Green, Hydrated chromium Oxide Green, Manganese Violet, FD&C Yellow5al Lalke, FD&C Blue
Vampyre Cosmetics Cthulhu Cocktails Palette Artwork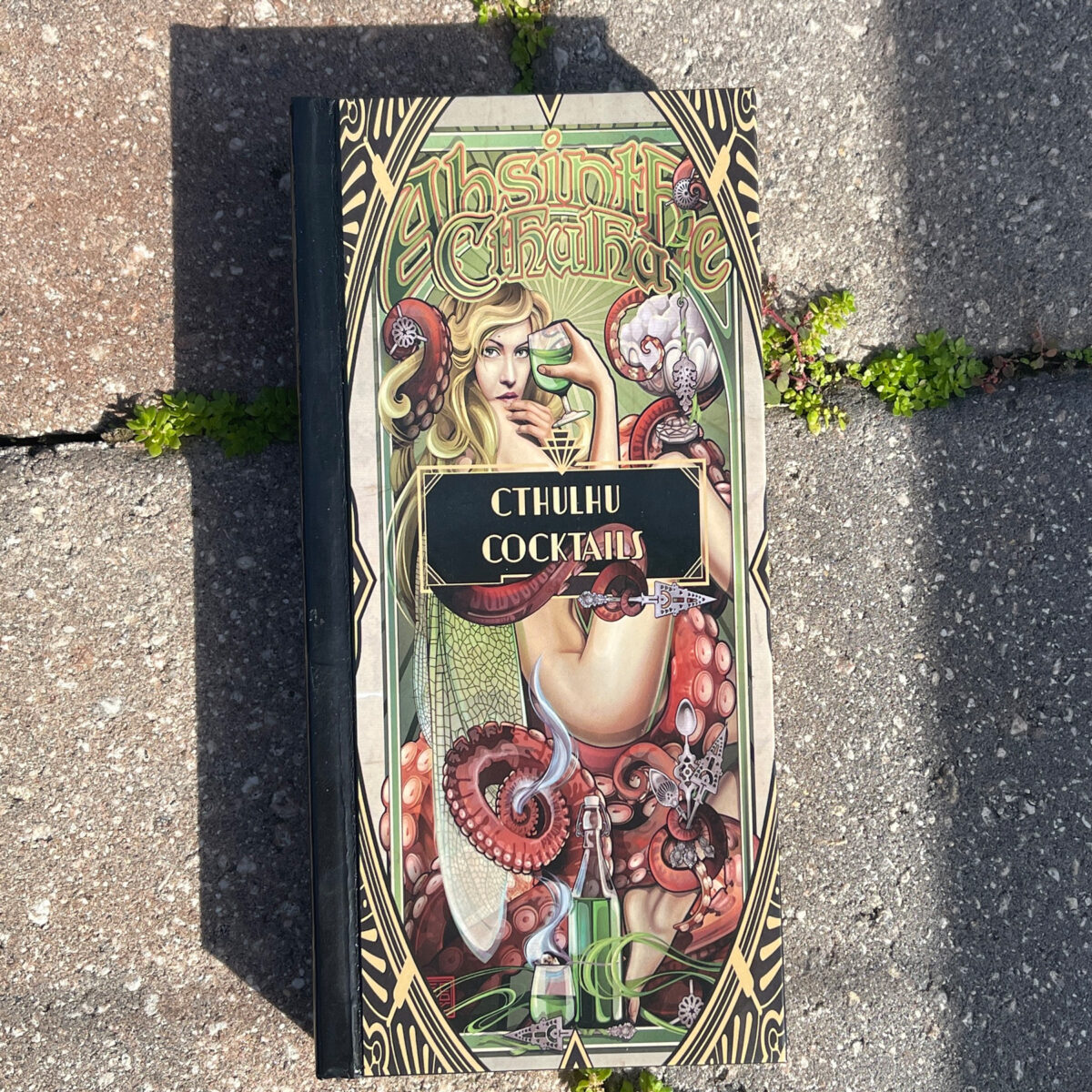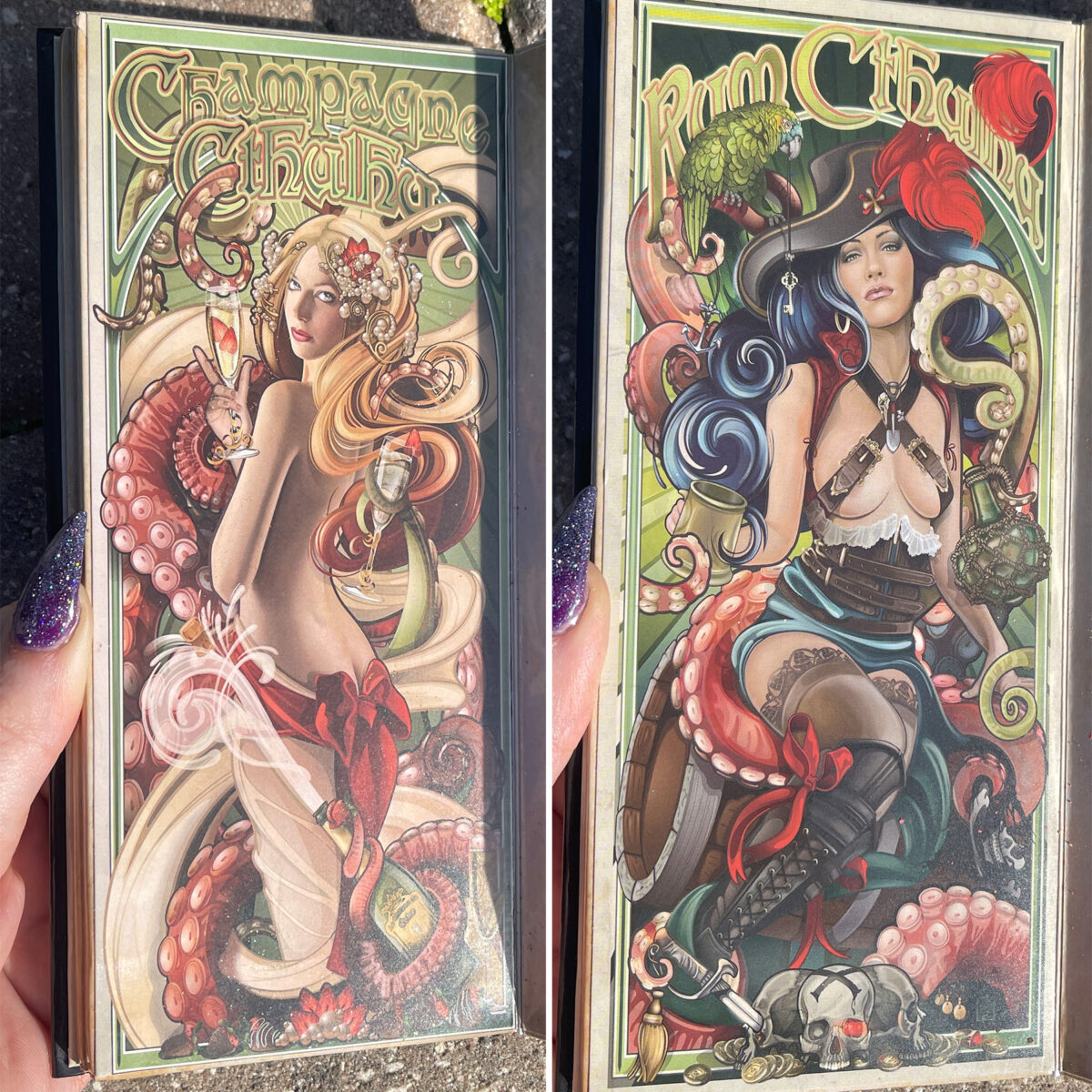 The Cthulhu Cocktails art is lovely to me! It gives me art nouveau vibes.
Cthulhu Cocktails Palette Eyeshadow Pans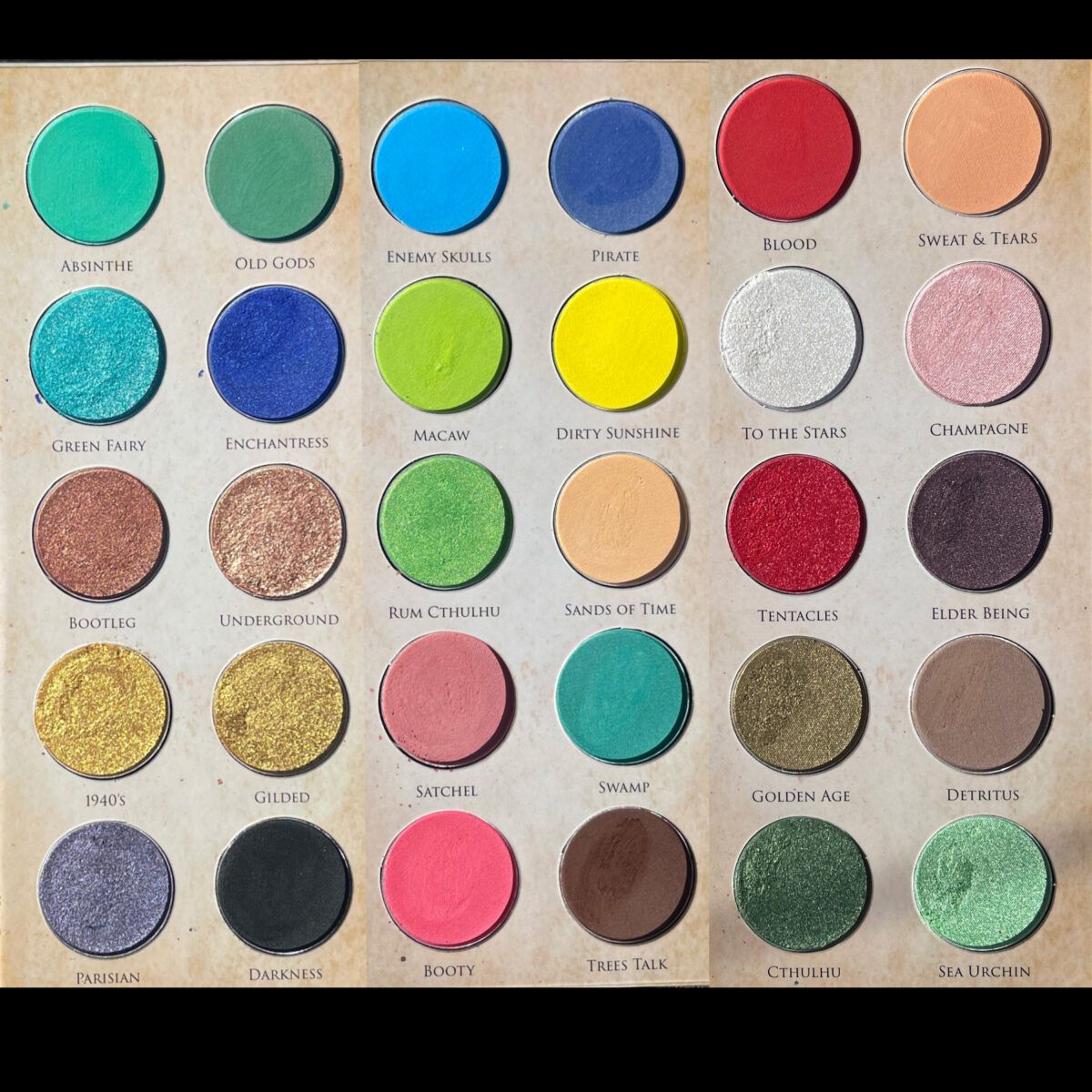 I wanted to put all the Vampyre Cosmetics Cthulhu Cocktails Palette colors next to each other so we could see them all at once. I love the mix of brights with neutrals, and it's refreshing to see a mix of mattes, shimmers, satins, and metallics formulas instead of all shimmers.
Vampyre Cosmetics Cthulhu Cocktails Palette Swatches
My skin tone is very fair, neutral to cool yellow, and I turn olive when exposed to the sun. My best foundation matches are very fair neutrals to desaturated yellows. See 15 years' worth of foundation swatches and reviews.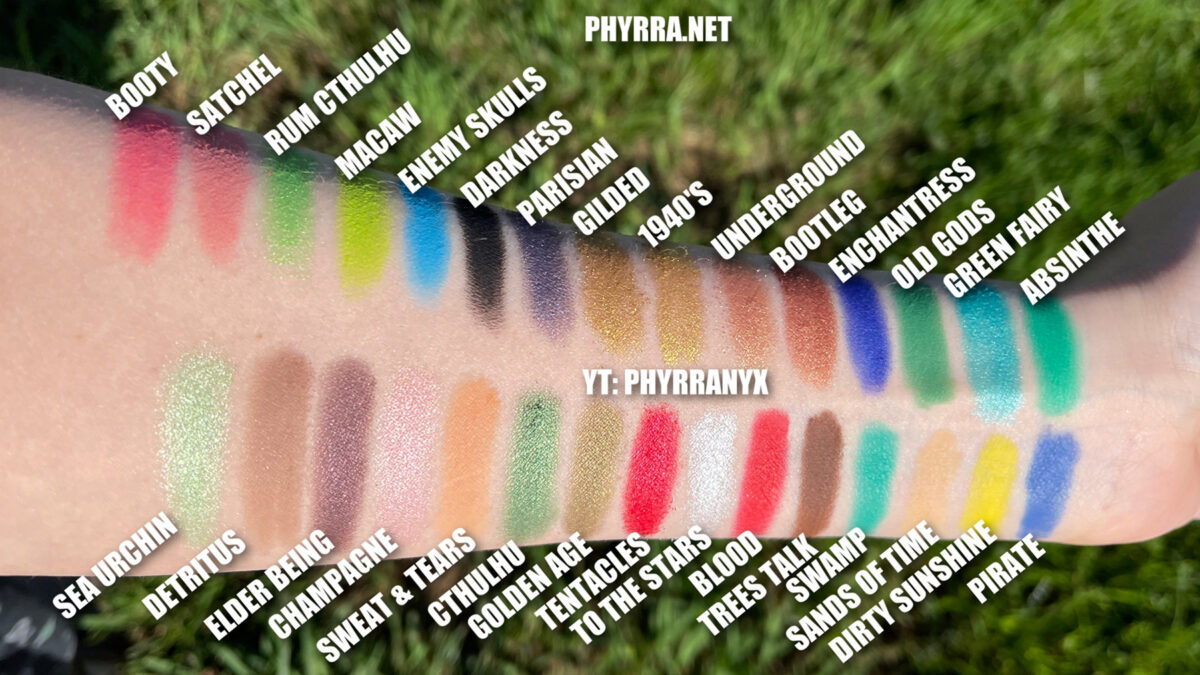 The Vampyre Cosmetics Cthulhu Cocktails Palette eyeshadow formula is very easy to work with! It's pigmented and blendable. There are shimmers, metallics, satins, and mattes, so there's a lot of variety in the eyeshadow finish. I get all-day wear with it on primer. As you know, I have hooded eyes, so without eyeshadow primer, my eyeshadow is gone in 20 minutes.
I love that Cthulhu Cocktails is about 1/2 yellow, greens, blues, and teals. If I'm not playing with purples, I love my teals and their complementary colors.
Vampyre Cosmetics Cthulhu Cocktails Look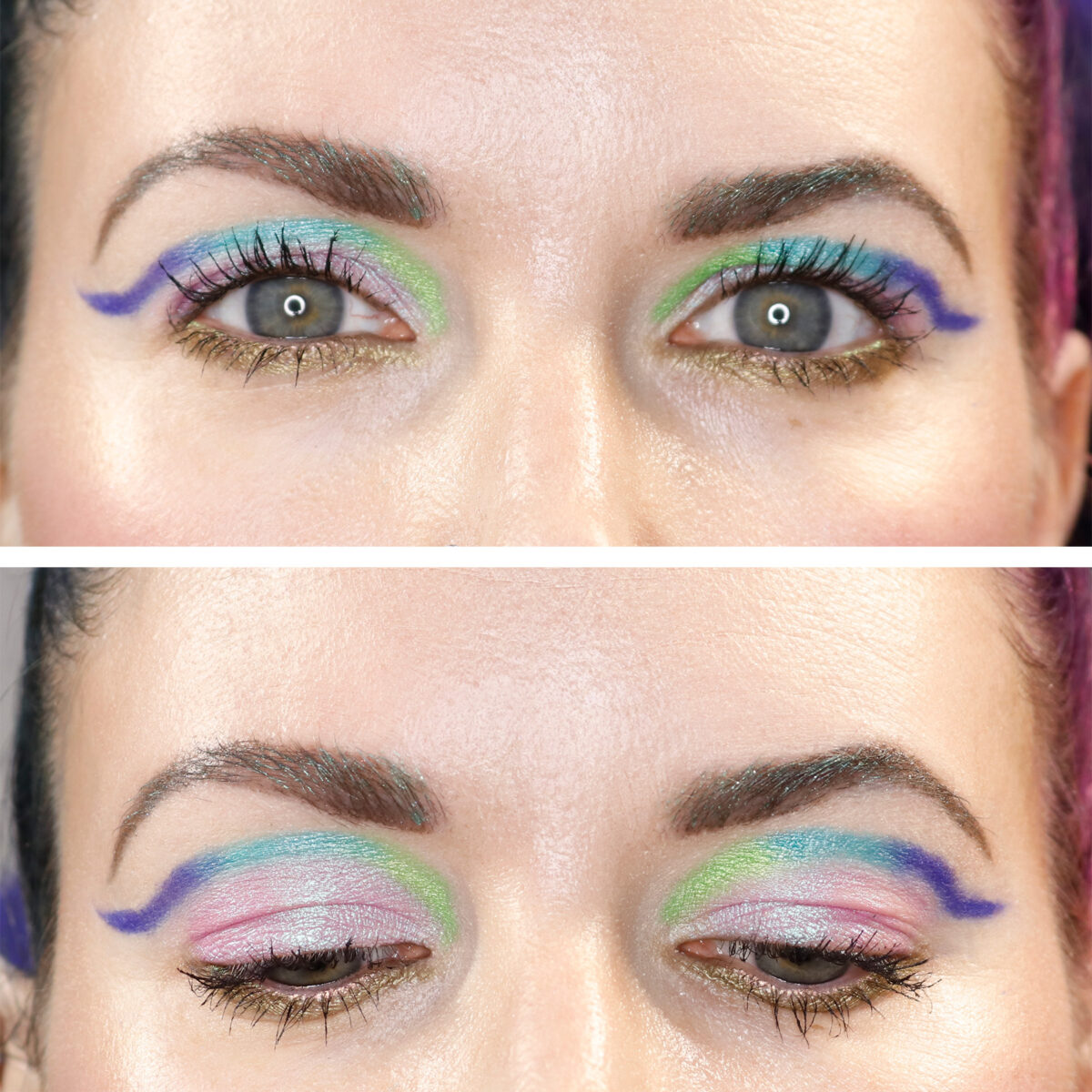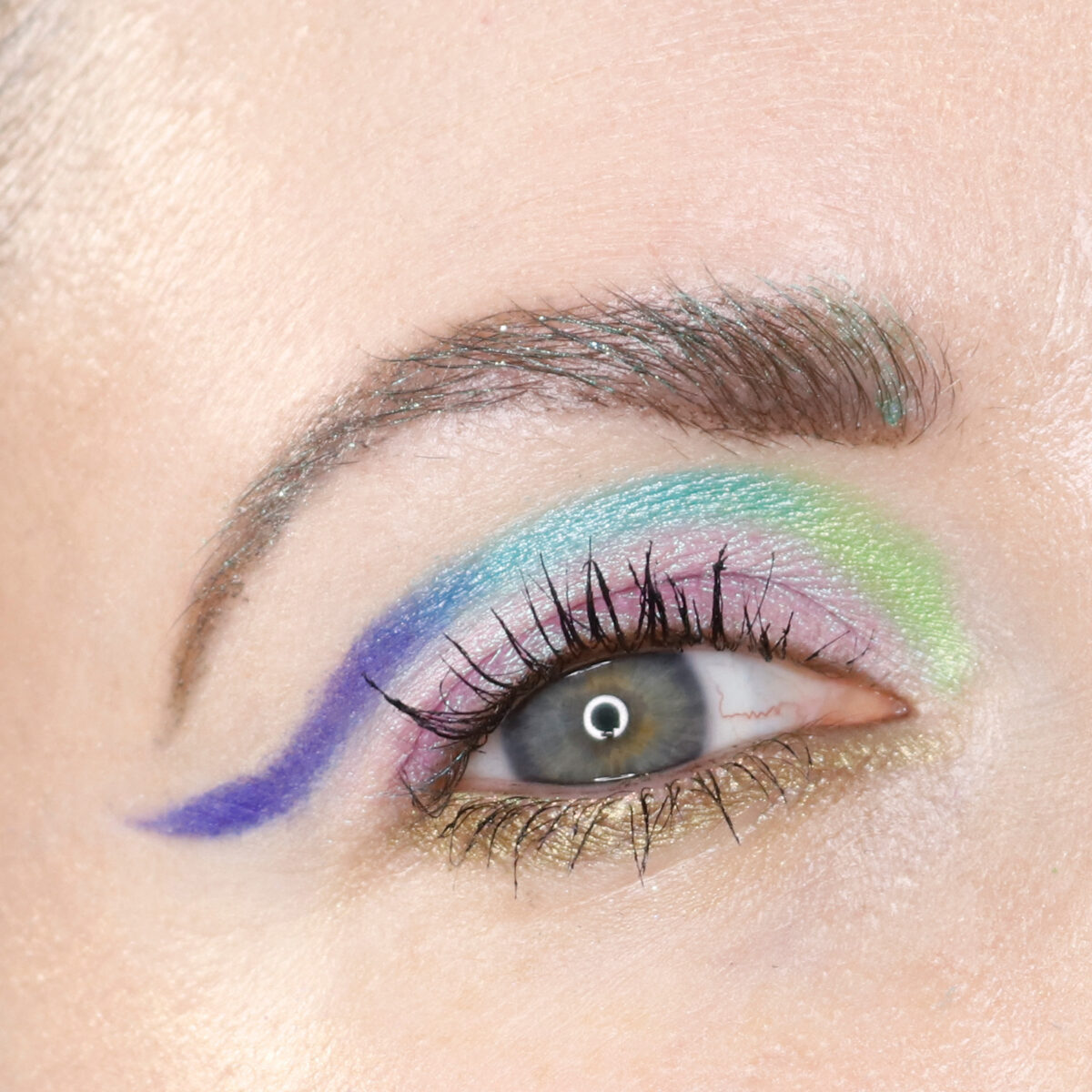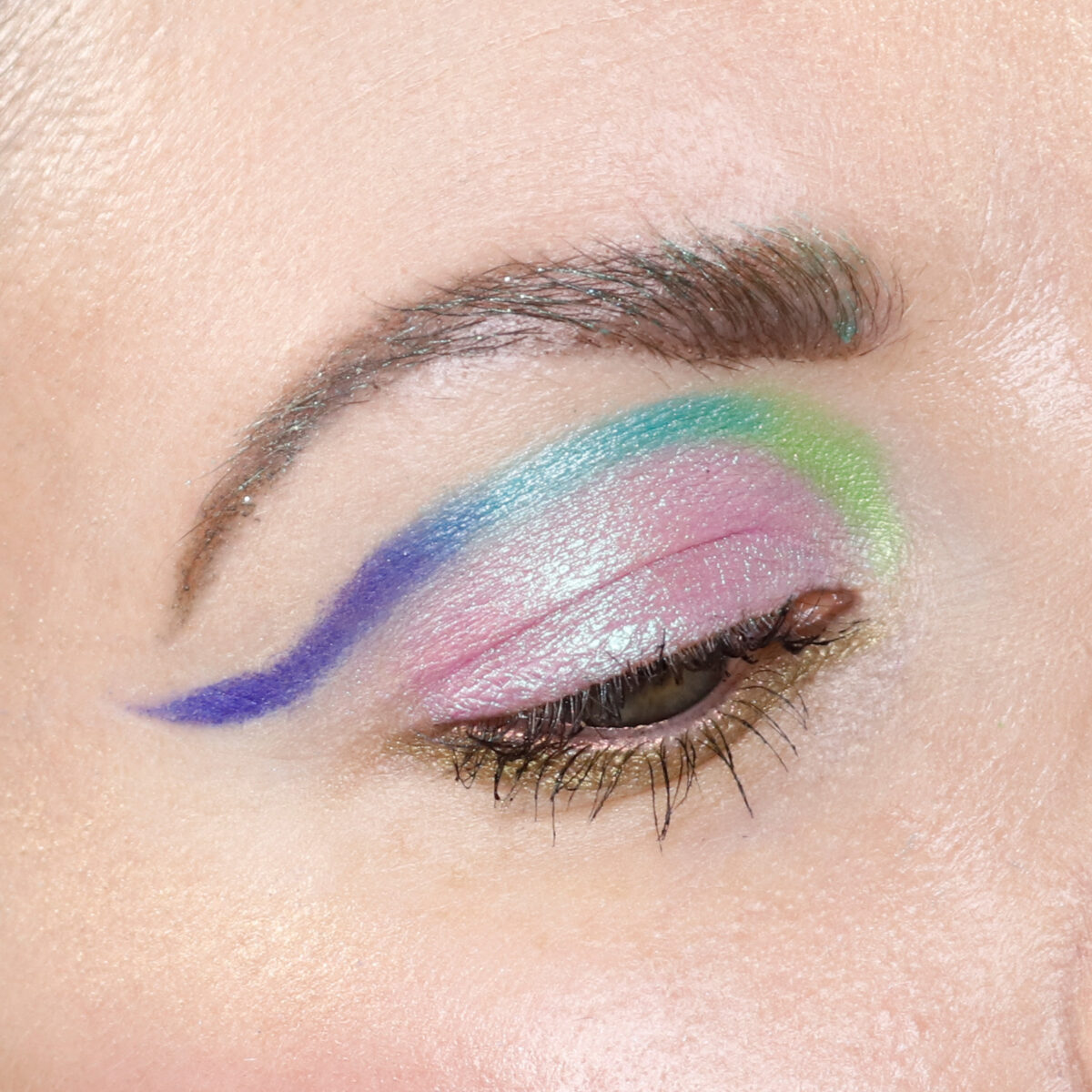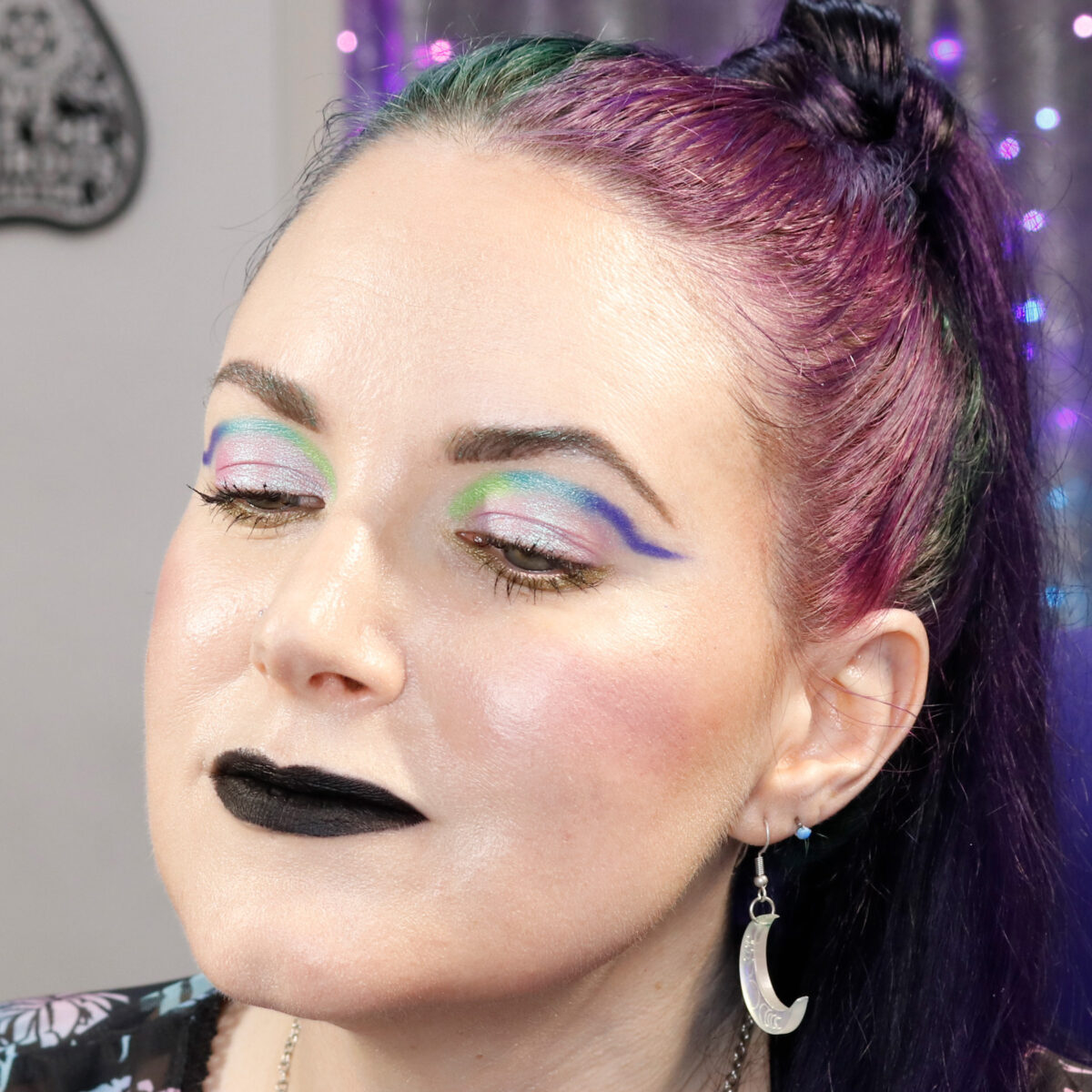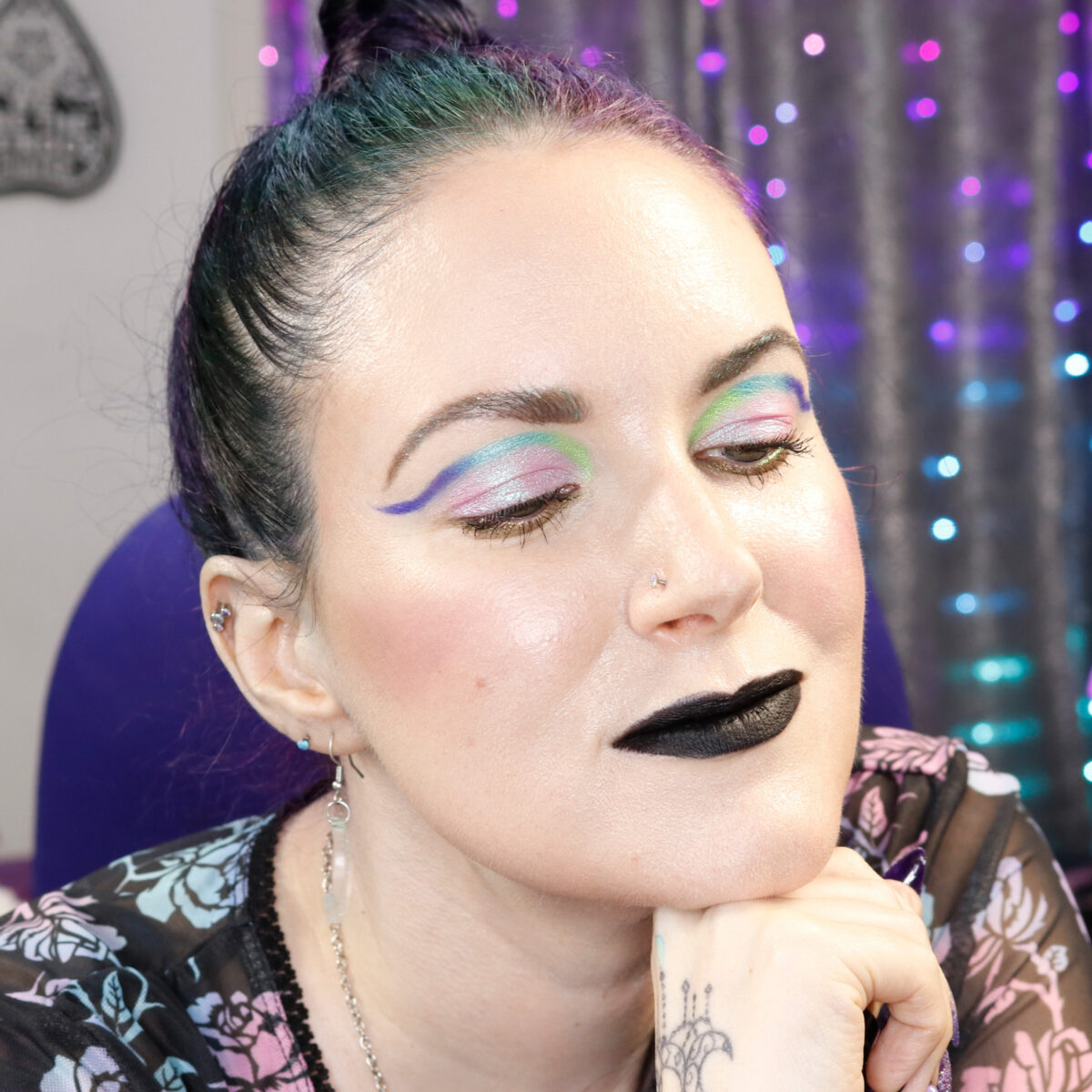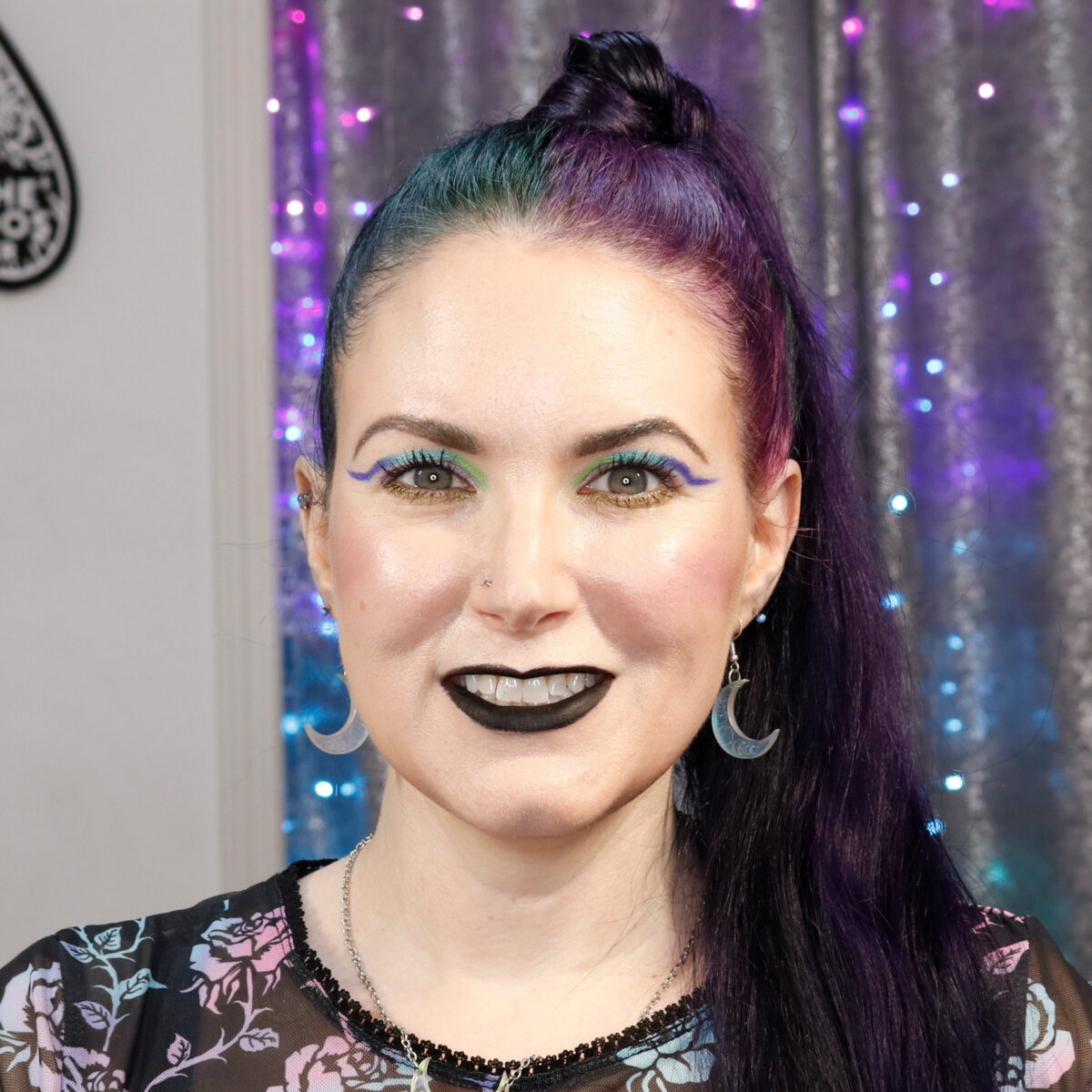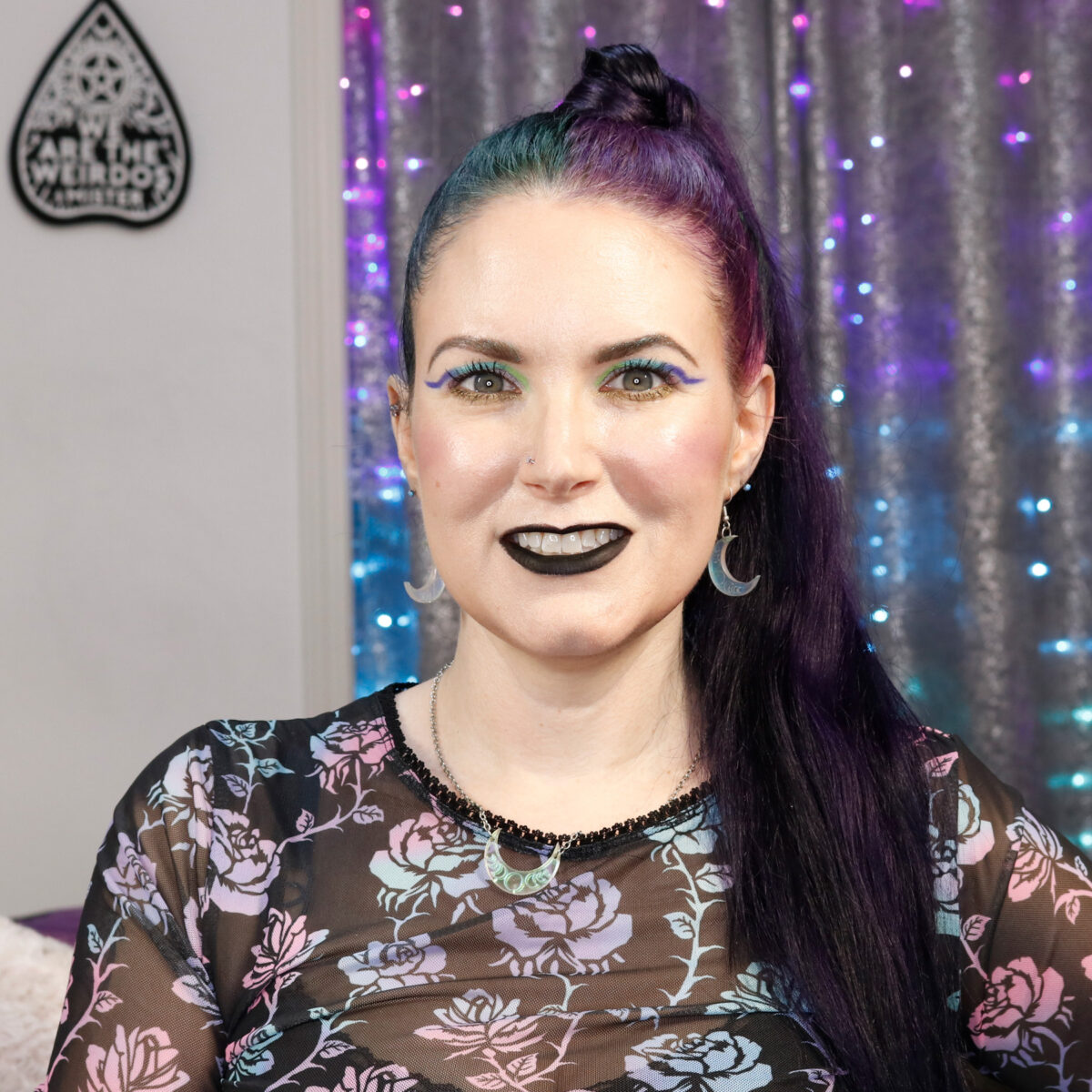 Eyes
Urban Decay Eden Primer
Vampyre Cosmetics Golden Age – lower lid
VC Rum Cthulhu – inner crease
Vampyre Enchantress – outer crease
VC Green Fairy – middle crease
Silk Naturals Mermaid – lid
Danessa Myricks Opal pencil – lower waterline
Nabla Black Cupid's Arrow – upper waterline
Thrive Causemetics Liquid Lash Extensions Mascara
Brows
Lime Crime Smokey brow pen
LC Sleek Black brow pomade
About Face Envy Baby glitter brow gel
Face
Auric Glow Lust in Morganite
Danessa Myricks Yummy Skin Blurring Balm in shade 1
KVD contour in Fair Cool 90
Lethal Quartz contour
Fenty Beauty Pro Filt'r Powder in 105
Sydney Grace Paris Skies blush
Silk Naturals Strobe highlight
Lips
KVD Skully lip pencil
Vampyre Dracula Vampire Vineyards Liquid Lipstick
Final Thoughts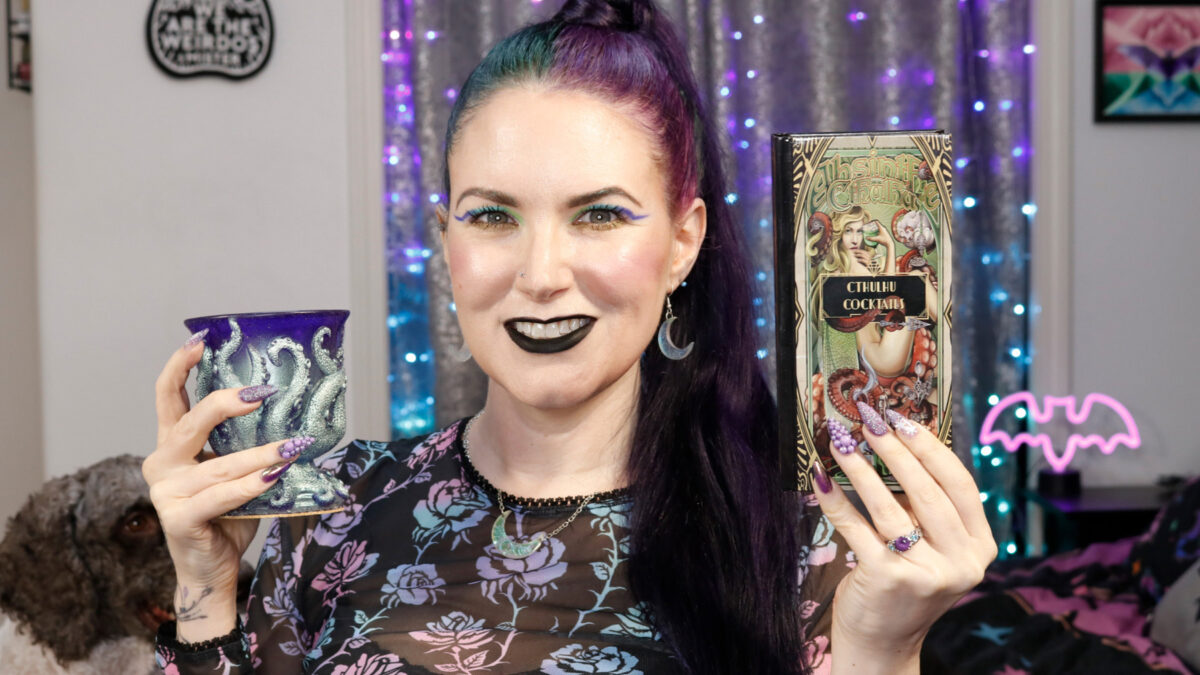 I'm pleased with the Vampyre Cosmetics Cthulhu Cocktails Palette! I've had a blast testing it out and creating different looks. The value is good too, as it breaks down to $2.30 an eyeshadow and you're getting 30 eyeshadows. If you buy it directly from Vampyre Cosmetics site and use the PHYRRA code for 20% off, it breaks down to about $1.84 per shadow.
What do you think of the color story? How would you wear this palette?
More to See