Vampyre Cthulhu Cocktails Tutorial

Hello, beautiful creatures! Today I'm sharing my Vampyre Cthulhu Cocktails Tutorial. This is a step-by-step tutorial on how I created this graphic liner look on my hooded eyes. You'll need a pencil brush to recreate this makeup look.
The * denotes PR. Everything else purchased by me.
Vampyre Cthulhu Cocktails Makeup Products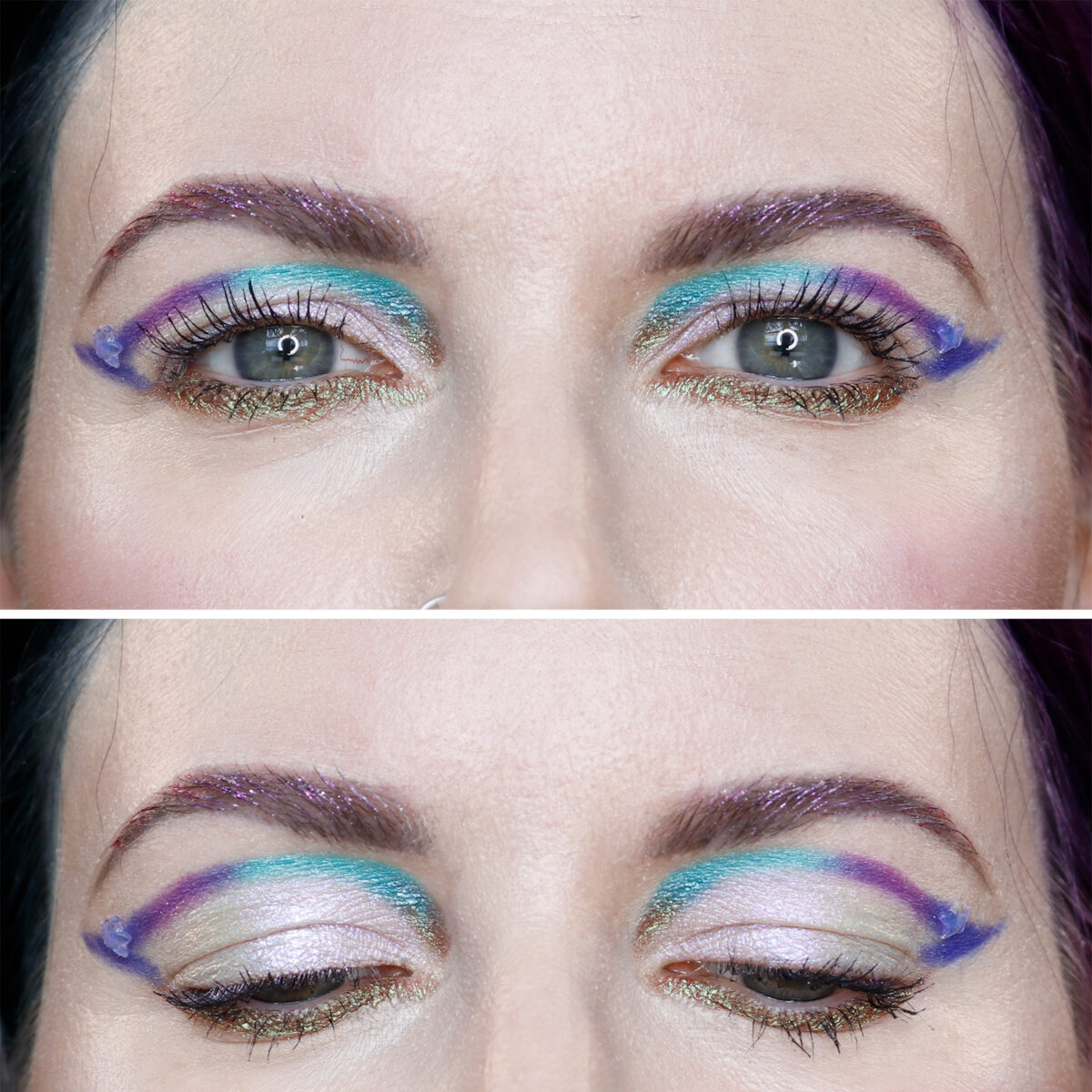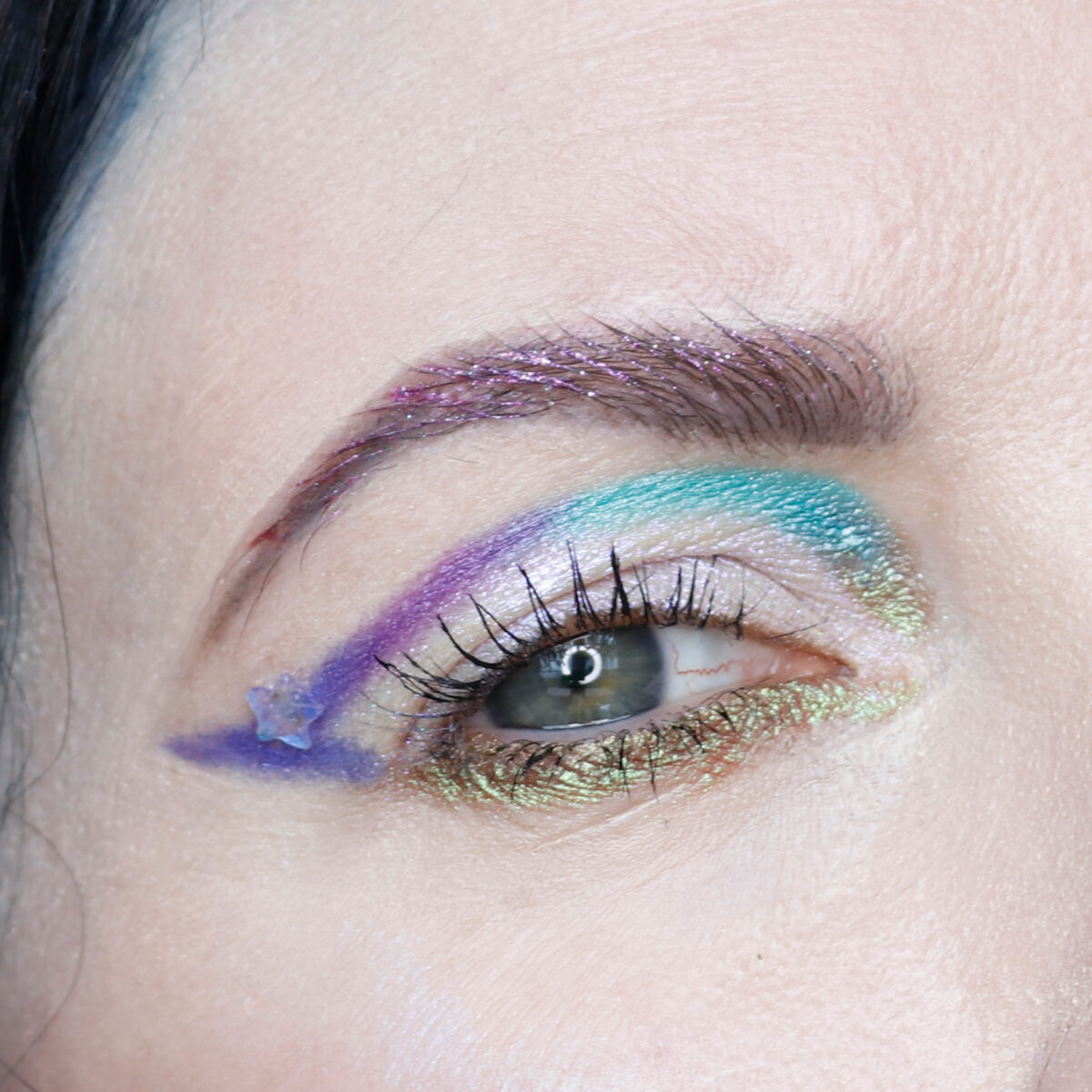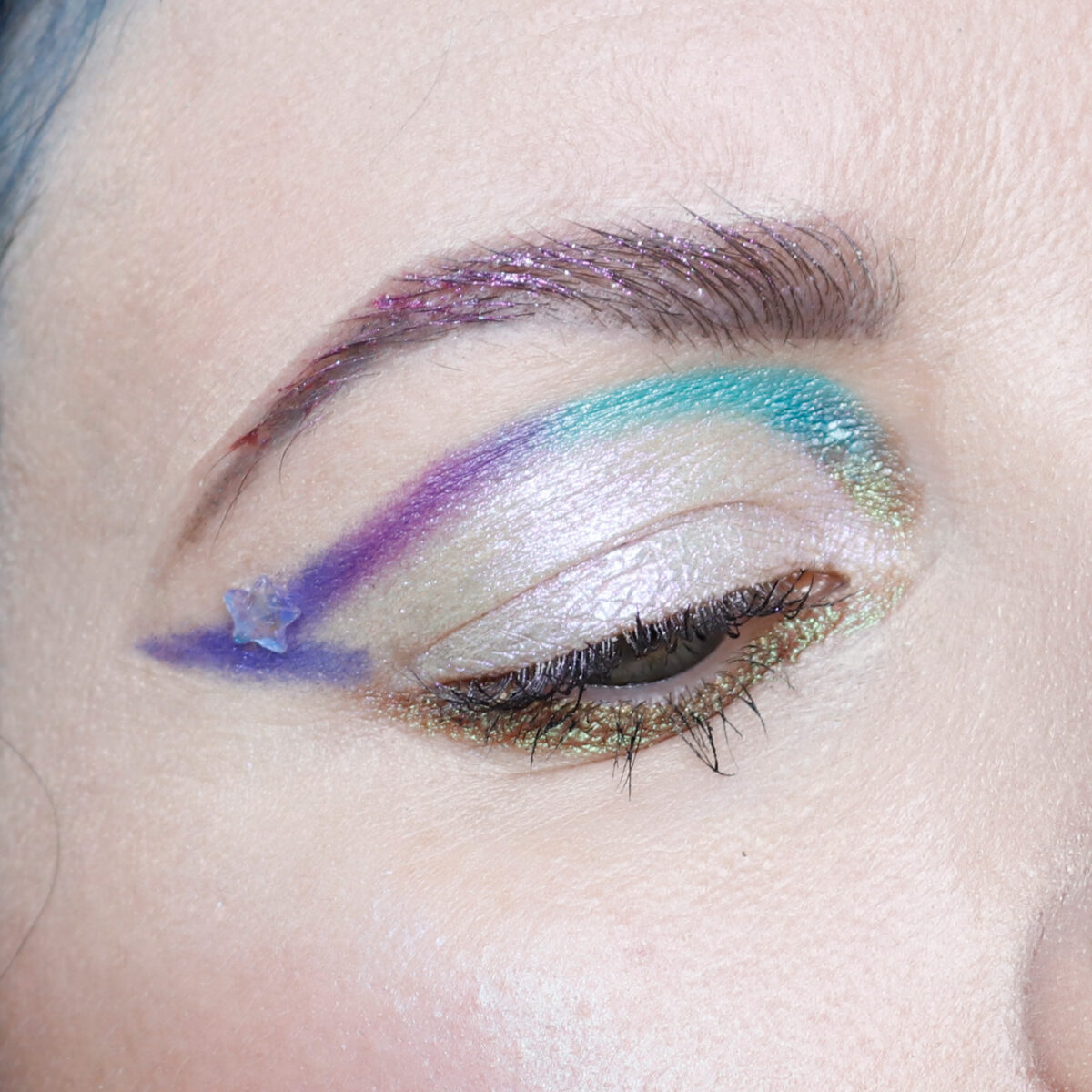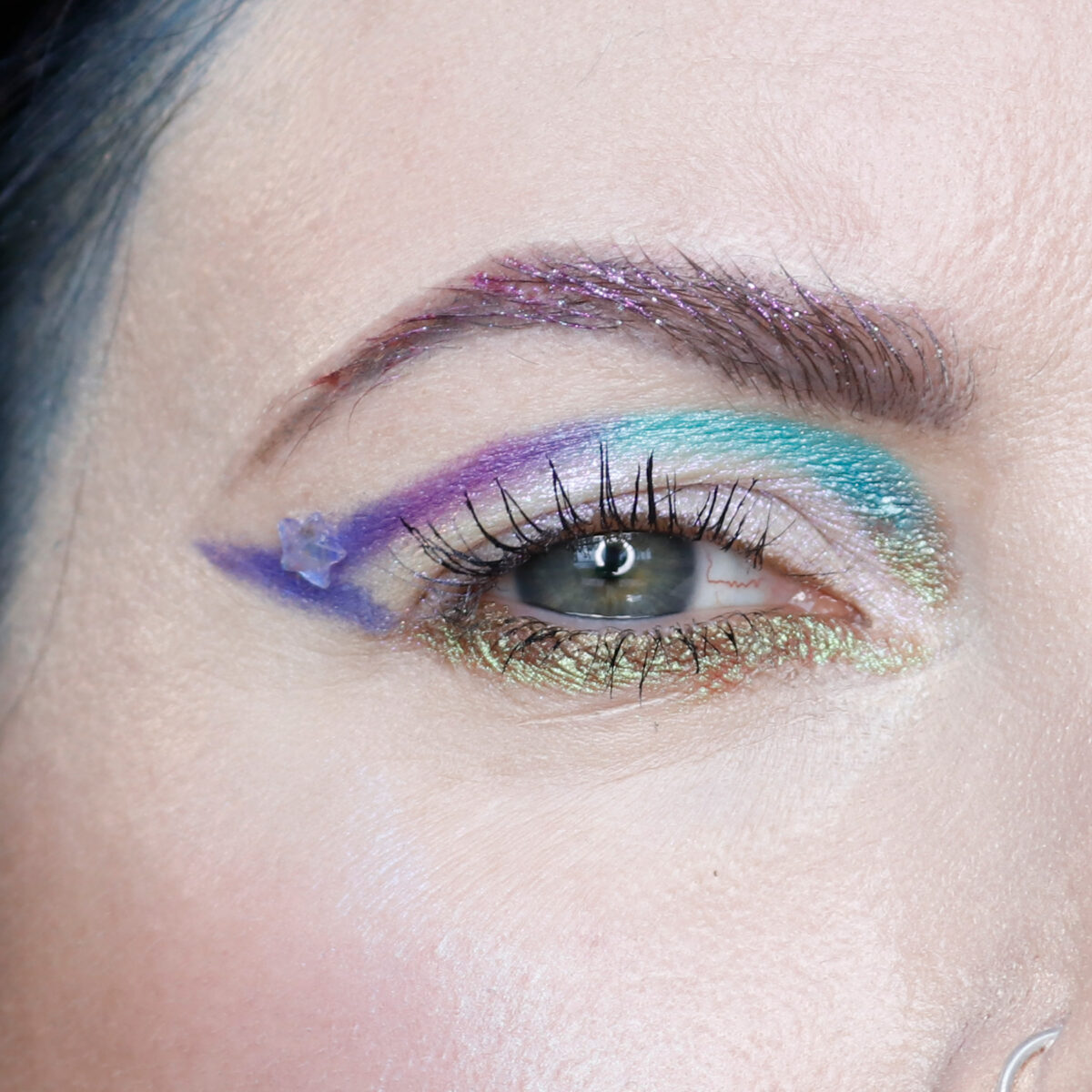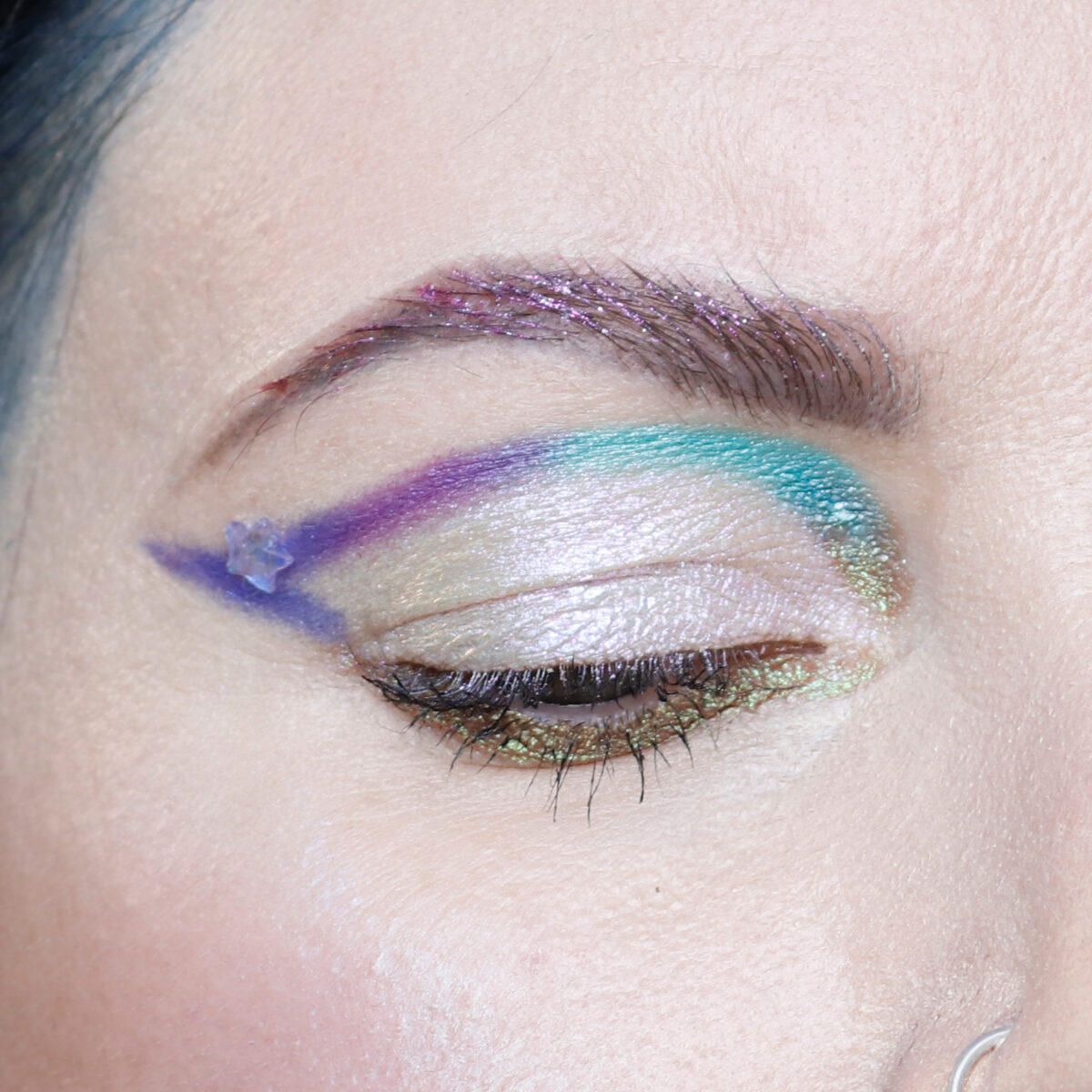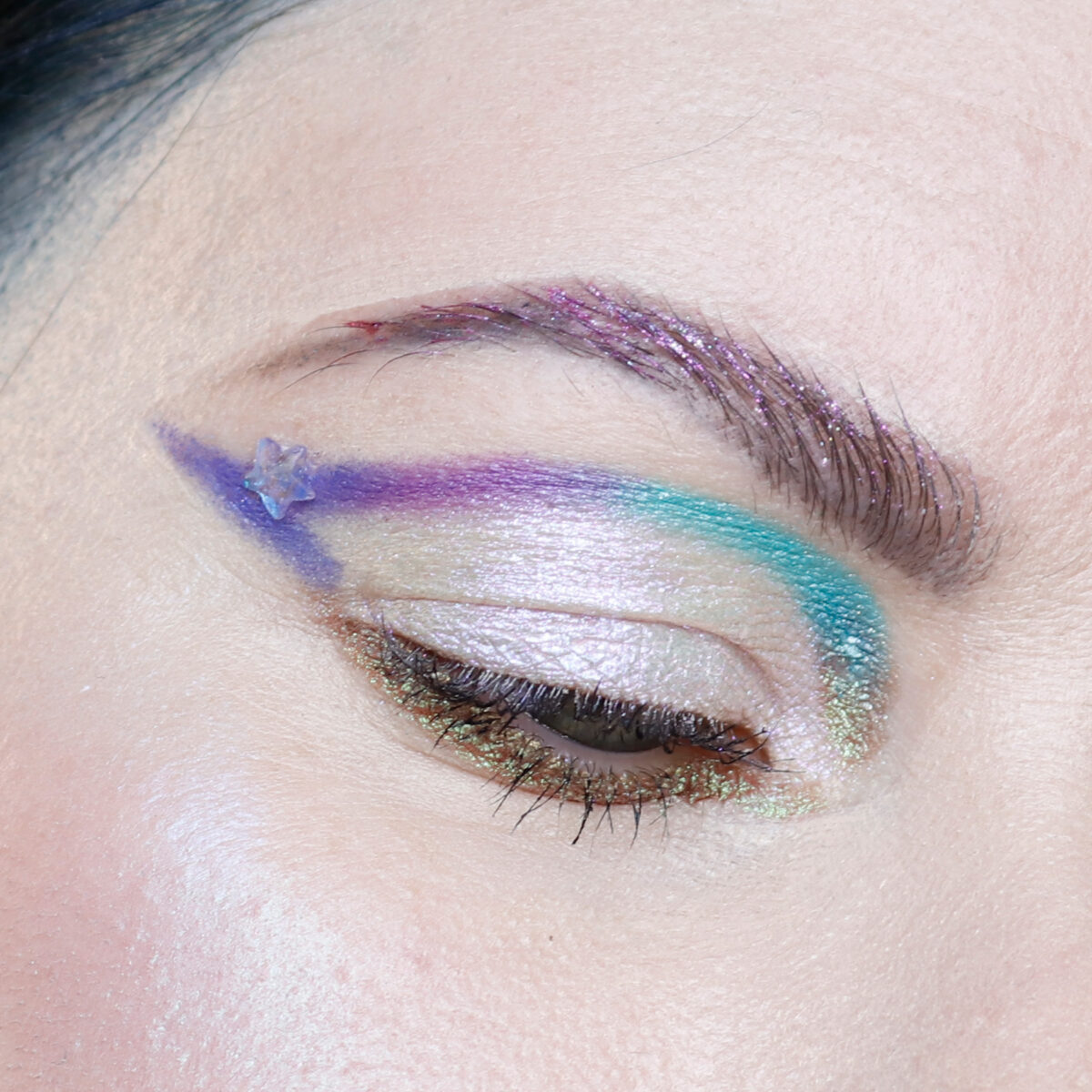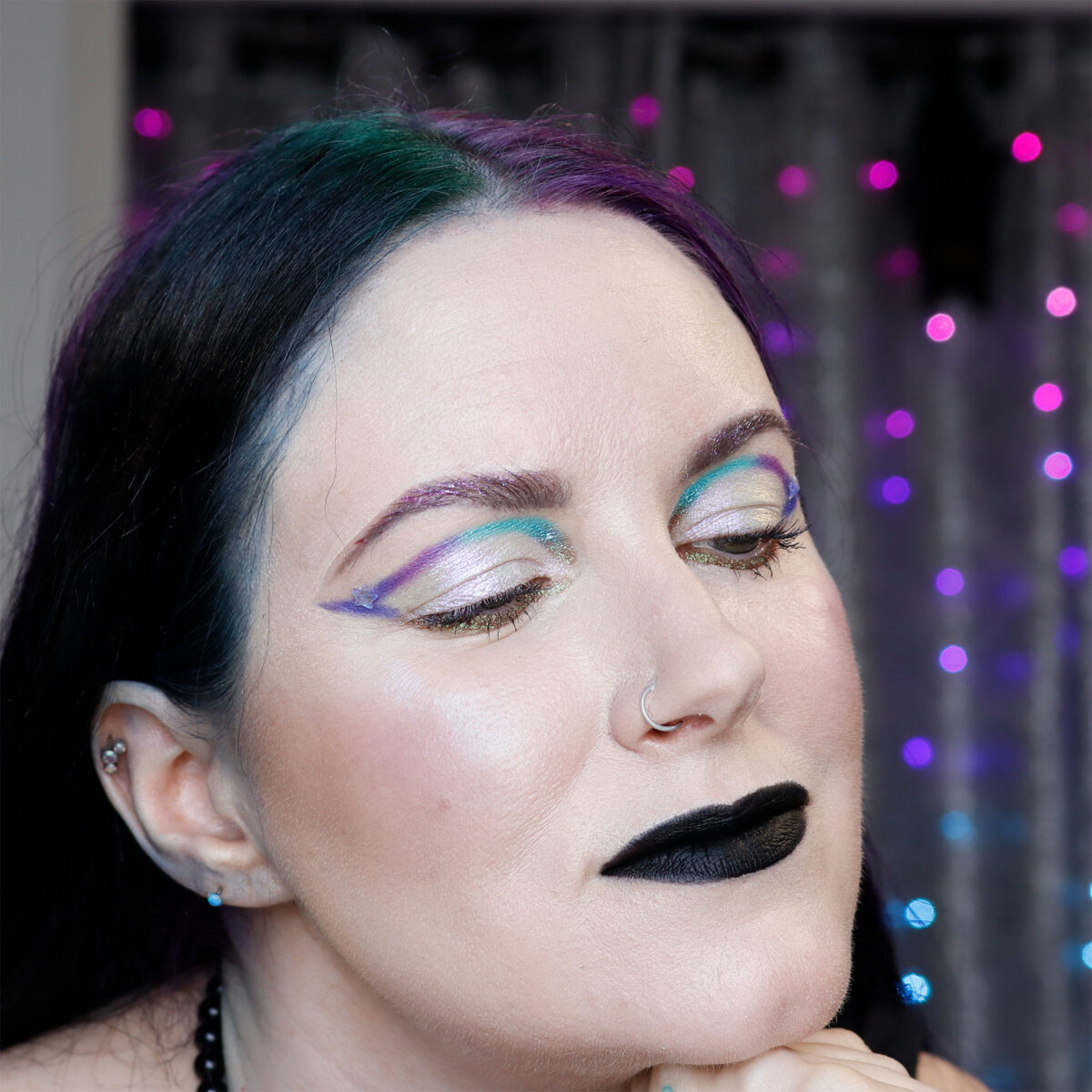 Brows
Haus Labs Noir Precision Brow pencil
About Face Interlude & Eclipsed  Glitter Brow gel
Eyes
Urban Decay Eden primer
*Vampyre Cosmetics Green Fairy (Cthulhu Cocktails Book) – inner crease
*VC Count (Dracula Book) – middle crease
*Vampyre Cosmetics Enchantress (Cthulhu Cocktails Book) – outer crease
Terra Moons Euphoria – lid
Urban Decay Reflect Pencil (LE, discontinued, try Goldmine) – inner crease and lower lash line
*Silk Naturals Interstellar – inner crease and lower lid
Thrive Causemetics liquid lash extensions mascara
Velour Latex Free Lash Glue
Opalescent Star Rhinestones
Face
Auric Glow Lust in Morganite
Misshau 17 perfect cover bb cream rx
Lethal Quartz contour
Aromaleigh Coventina blush
*Silk Naturals Blue Raspberry highlight
Lips
KVD Skully lip pencil
*Vampyre Dracula Vampire Vineyards Liquid Lipstick
Generic Color Descriptions
Green Fairy – bright aqua shimmer
Count – bright purple shimmer
Enchantress – vivid deep blue shimmer
Euphoria – shifts magenta, gold, and has hints of blue green.
Reflect – golden green iridescent metallic pencil
Interstellar – multichrome that hypershifts green, purple and red.
Vampyre Cthulhu Cocktails Tutorial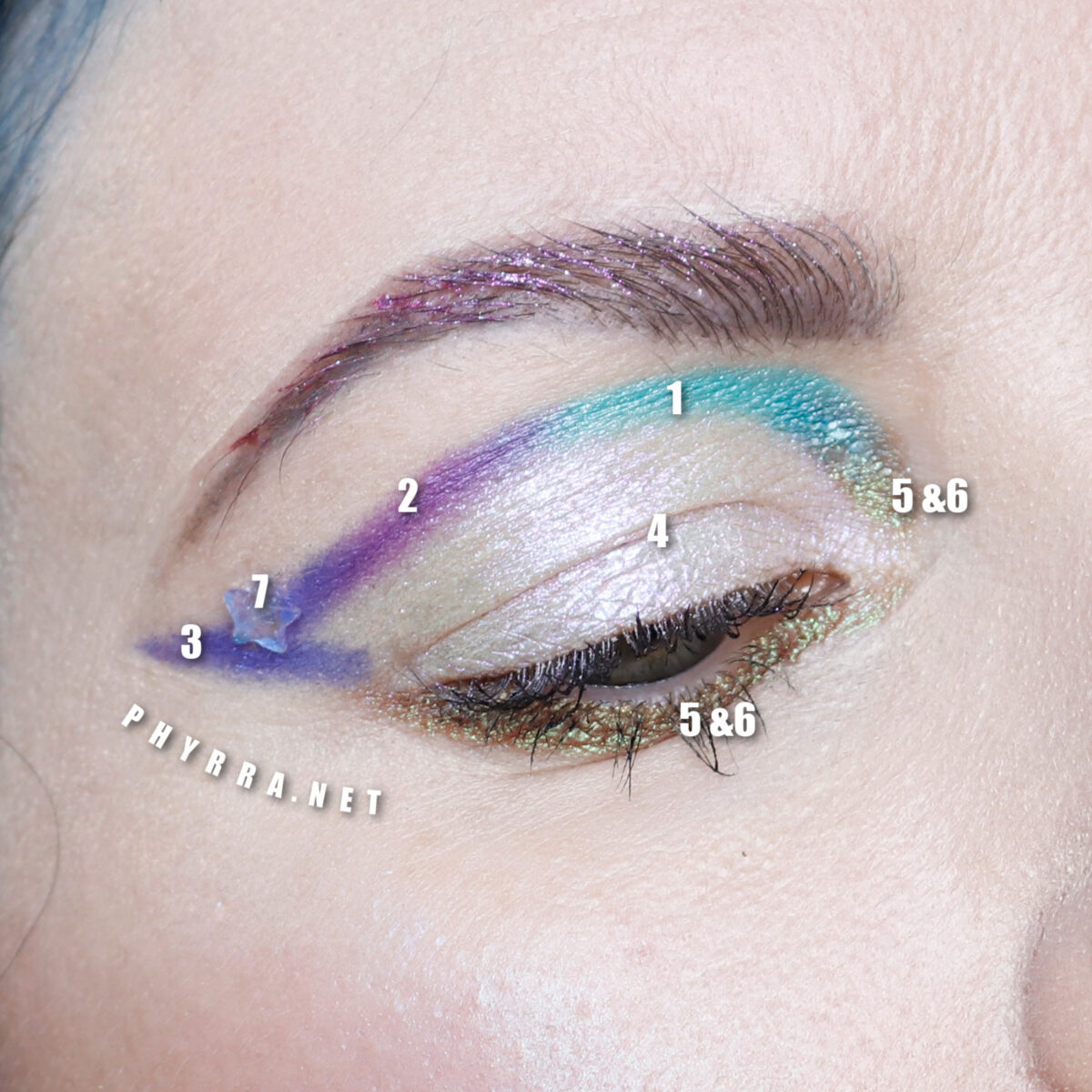 I always start by applying eyeshadow primer all over my eye and under eye area. Today I used Urban Decay Eden (light creamy beige matte). This makes eyeshadow last longer on oily, hooded eyelids like mine.
I get so sick of being told that you can't wear shimmer on hooded eyes, you can't wear shimmer after 40, or many other ridiculous opinions that are heaped on women as we get older. Yes, I'm 44 years old. Yes, I love wearing shimmer, duochromes, and multichromes. I love dyeing my hair rainbow hues. I'm not stopping any of the things that make me happy just because society frowns on them.
No matter your age, if you love color, wear it! Want to try some of the new makeup trends? Don't be afraid; give it a go! Makeup is easy to wash off if you don't like it and start again!
Final Thoughts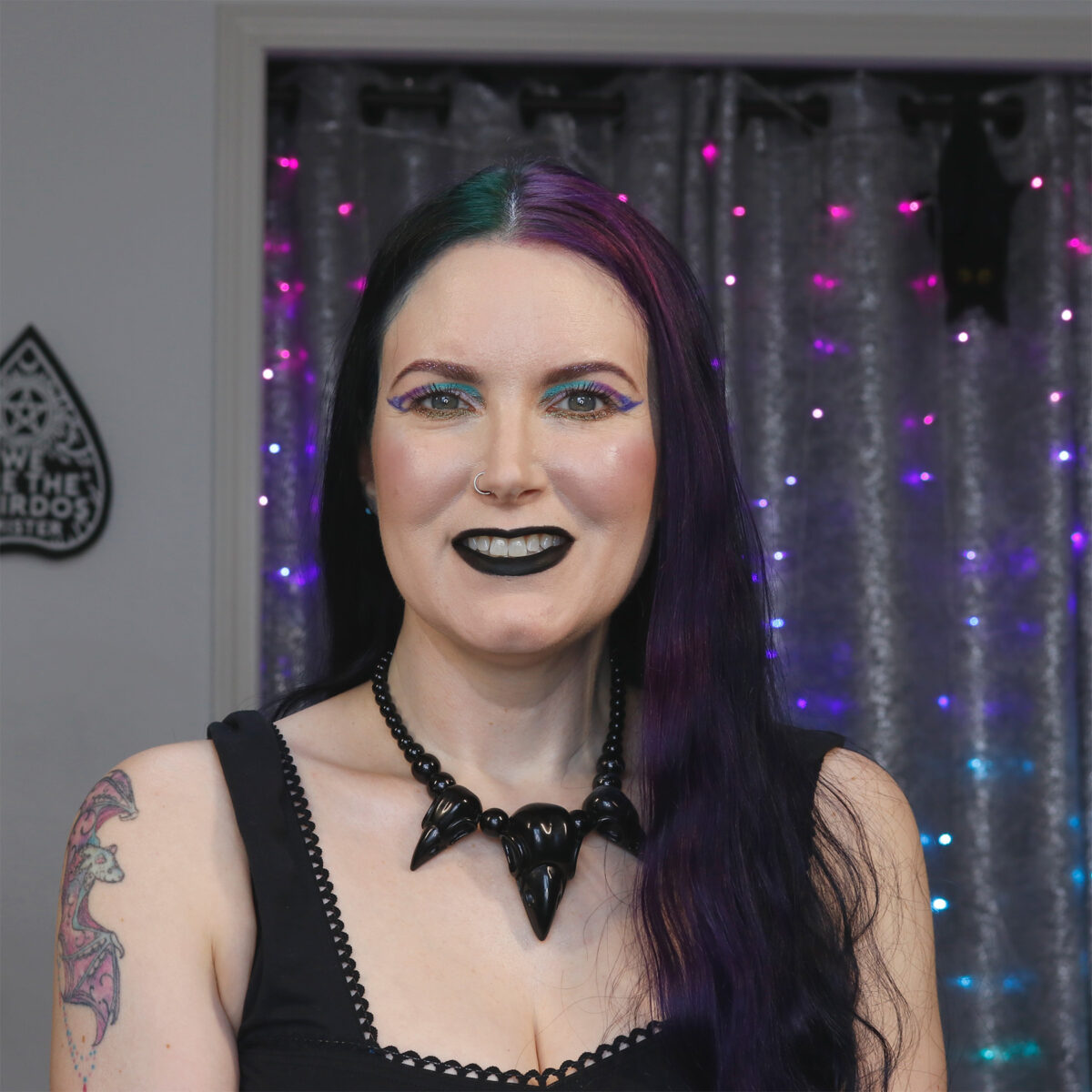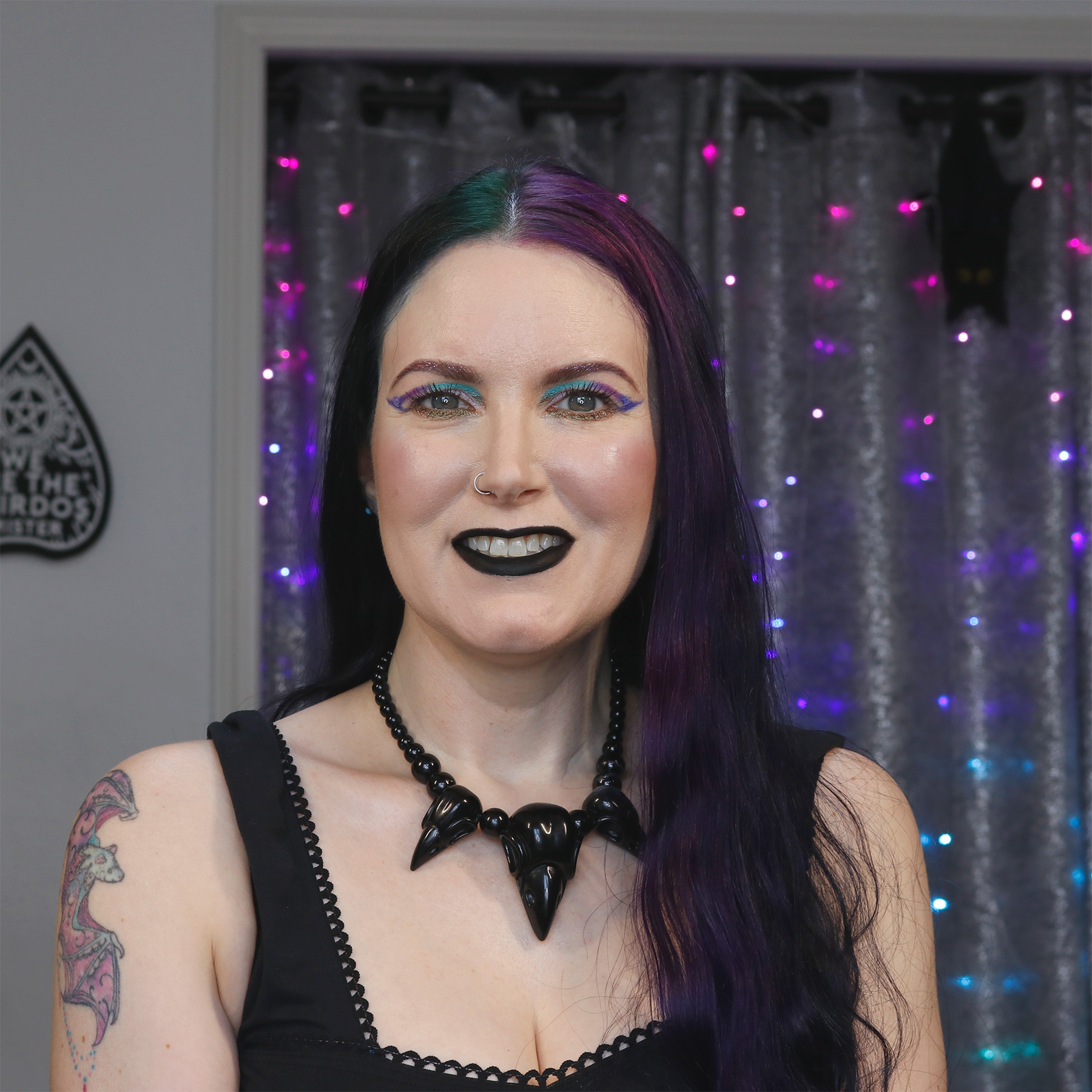 I'm enjoying the Vampyre Cosmetics eyeshadow palettes they've sent over. This is the first tutorial and look I've created with them. The eyeshadow formula is good, it's very pigmented, and it's easy to blend out! I'm looking forward to swatching and sharing everything with you.
I wore my Vampyre Cthulhu Cocktails Tutorial look for Friendsgiving yesterday. I was impressed that the Vampyre Dracula Vampire Vineyards Liquid Lipstick lasted through our Friendsgiving meals, drinks, and desserts, and it only needed a tiny touch-up at the inner rim of my lips.
What are your plans for the weekend? Are you hitting any Black Friday/Cyber Monday sales? Check out my roundup! I've hit a few so far. I've stocked up on my favorite facial SPF and 12 pair of Bombas socks.