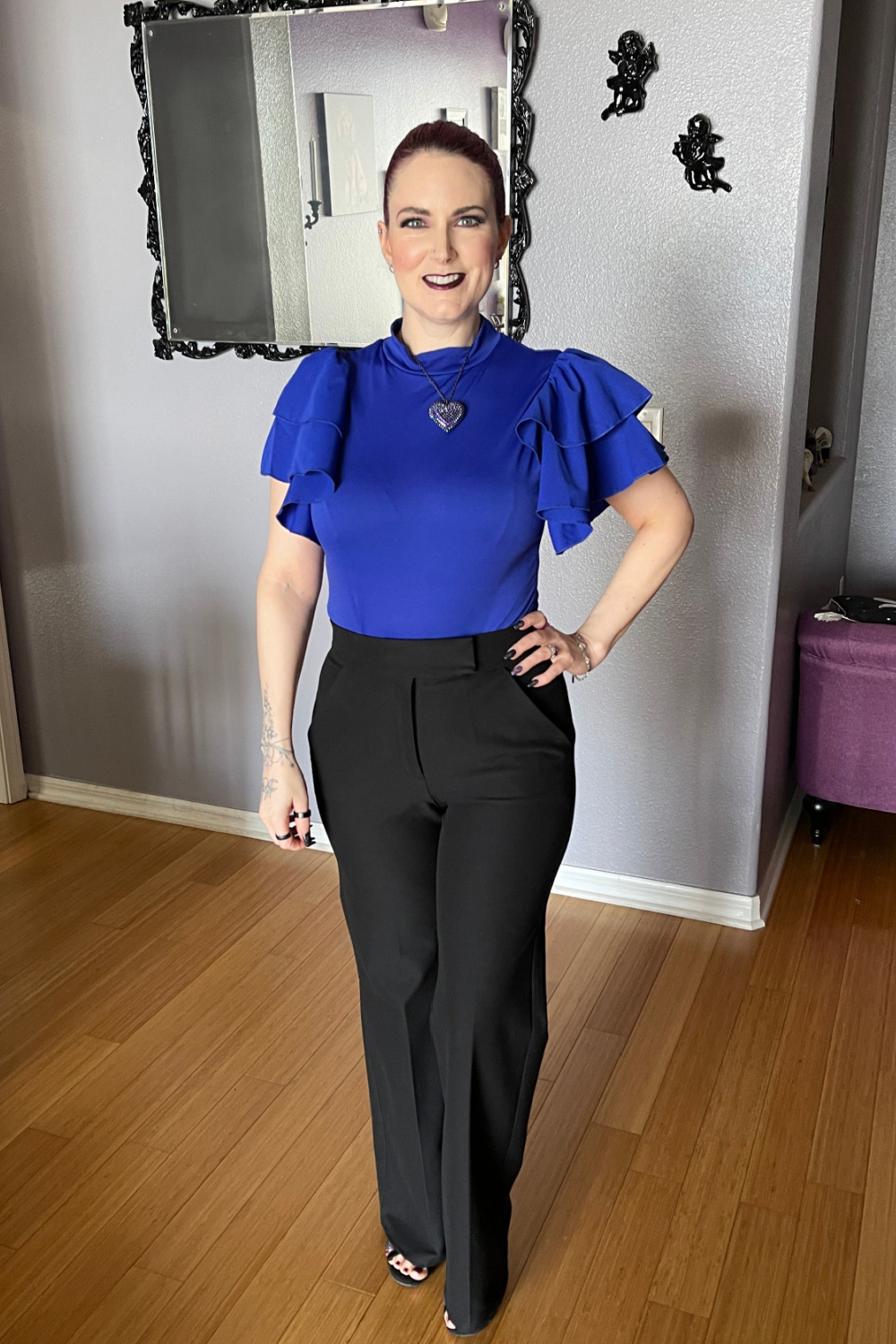 Hello, beautiful creatures! Today I wanted to talk about the indie makeup trend. NBC's Bloom TV with Gayle Guyardo interviewed me recently. I'd never given a TV interview before, so when the opportunity came up to sing the virtues of indie brands, I was excited!
I was contacted on a Thursday and went in to tape at NBC's WFLA News Channel 8 in downtown Tampa the following Tuesday. Bloom TV had me prepare several talking points and send those over. I was so excited to discuss the indie makeup trend and indie brands as a whole. I would have loved to talk more in-depth about the wide variety of indies since I love indie fashion, indie home decor, and indie bath and body, in addition to beauty.
What is Bloom TV?
Bloom is Tampa's daily 1-hour TV show focusing on health and lifestyle at 2 pm ET and an encore playback at 3 am. Bloom covers food, nutrition, fitness, beauty, wellness, sports, kids, mental health, relationships, women's health, finances, and pet health. You can follow Bloom TV on Instagram.
Who is Gayle Guyardo?
Who is Gayle Guyardo? She's a Tampa native and the host of Bloom TV. She is a news anchor and journalist. She loves to talk about breakthrough medical treatments, fitness, healthy living, wellness, and more. Gayle interviews experts on a wide variety of topics. I was thrilled to be contacted about the indie makeup trend. Follow Gayle on Instagram for candid photos and behind-the-scenes!
Where to Watch the Indie Makeup Trend Interview
If you are in the USA, you can watch my indie makeup trend interview with Gayle on WFLA's site. If you are outside the USA and want to watch it, you can see it in the Phyrra Nyx Facebook Group.
What I Wore
My magical best friend Carlye Starr of Spellbound Designs styled me for this interview. She recommended a vivid blue top to compliment my complexion. I found this ruffle butterfly sleeve bodysuit on Amazon and purchased it in size M. Dave thinks it's gorgeous on me.
Since I haven't worked in an office in over a decade, I had to buy these super high-waisted flare trousers from Express. I bought them in-store in size 6R because Express doesn't seem to carry petite sizes anymore. I typically skip shopping in person and shop online because stores don't cater to petite (or extra tall or extra large); they only seem to carry sizes for 'regular' individuals, in my experience. The pants were, of course, too tall for my 5'4″ frame, but Carlye expertly hemmed them in less than 5 minutes.
I wore the custom wedding shoes Carlye created for my gothic wedding. And for my necklace, I chose to wear one of my custom Bunny Paige Swarovski Crystal Hearts.
Indie Makeup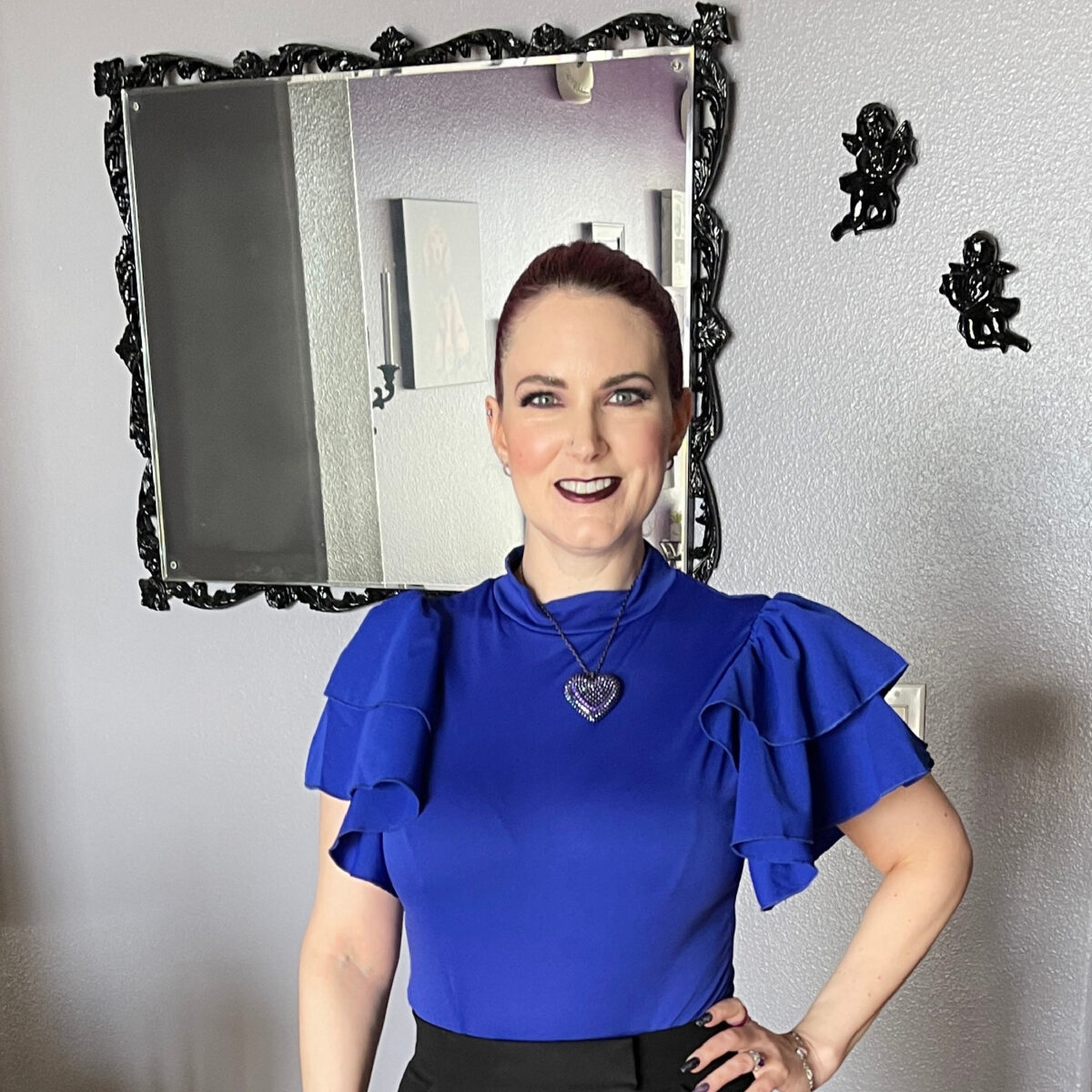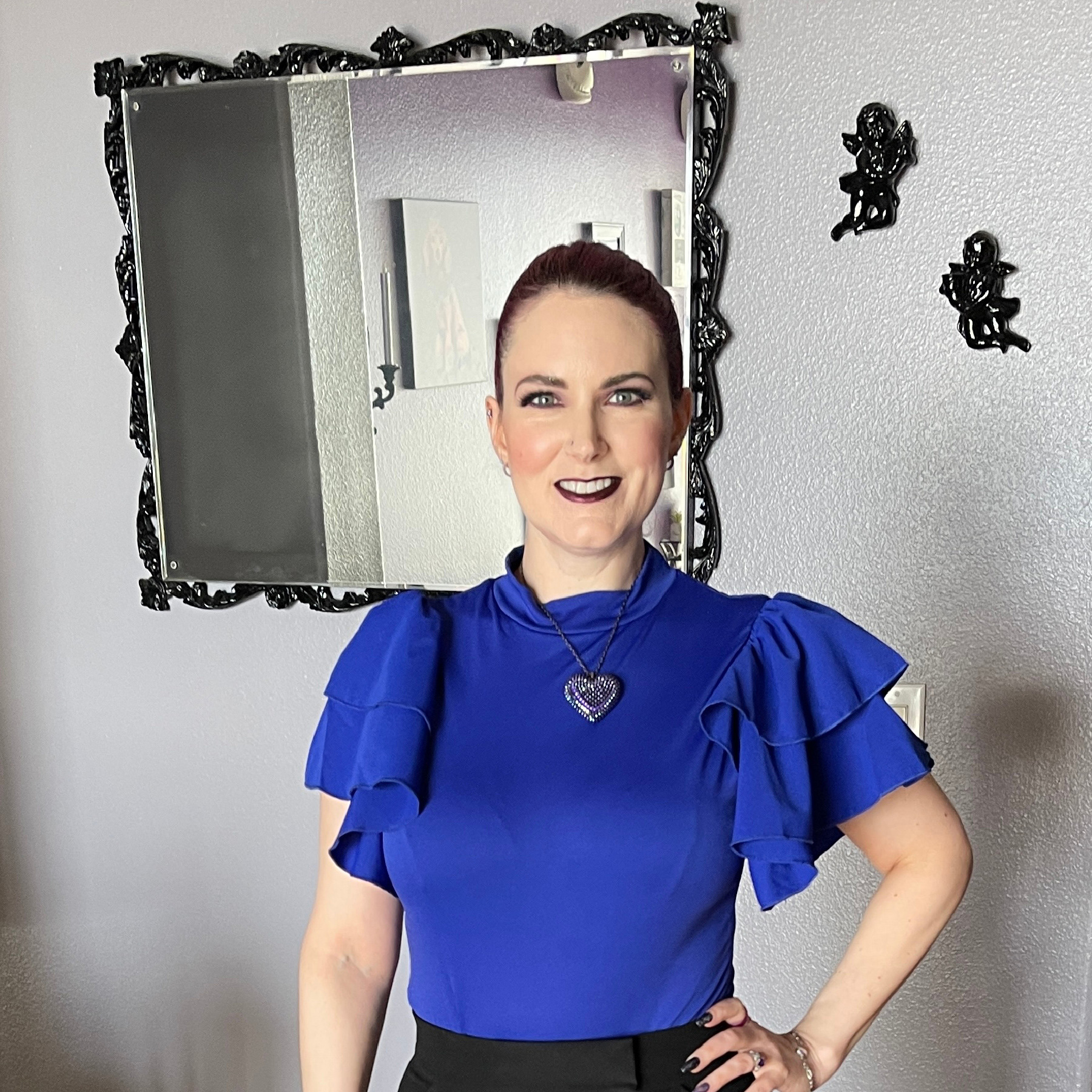 Here's the makeup I wore on my face to the interview.
Eyes
Urban Decay Eden Primer
Lethal Lithophyte – lid
Lethal Moonbeam – to blend out edges
Lethal Unity – to add depth to outer corner
Nabla #3 Cupid's Arrow – at lower lashline
Silk Naturals Contraband – at lower lash line
Thrive Causemetics Liquid Lash Extensions Mascara
Velour Latex Free Lash Glue
Velour Would I Lie? Lashes
Haus Labs Granite Gray brow pencil
Lime Crime Sleek Black Bushy brow Pomade pencil
About Face Gold Dusk Woman glitter brow gel
Face
Auric Glow Lust in Morganite 2.0
Danessa Myricks Yummy Skin Blurring Balm in Shade 1
Patrick Ta She's Seductive blush
Fenty Pro Filt'r powder in 105
Lips
Lime Crime Fangs pencil
Black Moon Armageddon lipstick
Indie Makeup Trend Interview
One thing I want to point out is that I was called a makeup artist. I don't typically call myself a makeup artist because, even though I've spent more than 10,000 hours putting makeup on myself, I don't usually put makeup on other people. I've taken classes from great makeup artists such as Mickey Fitzpatrick, Danessa Myricks, Orlando Santiago, and James Vincent. I've also taught courses on makeup locally to friends and their teenagers.
I was delighted to be introduced as a fashion and lifestyle over 40, and easy DIY eyeshadow hacks expert! I almost always call myself a consultant, writer, and videographer. I also loved the call out that I've been doing indie makeup for 15 years! That's a long time.
I didn't get to go into depth about my favorite indie brands and items I recommend. I gave a shout-out to Silk Naturals, Lethal Cosmetics, and Danessa Myricks beauty, which made me happy.
I would have loved to talk about A Girl's Gotta Spa! – high quality, small batch indie bath, body, and perfumes, Cocoa Pink's fragrances and body oils, Dossier perfumes, and some of the fantastic indie nail polish brands like Daily Charme, KBShimmer, and Cupcake Polish.
I did get to shout out Carlye, but I would have loved to have gone more in-depth about indie fashion brands, including Foxblood, Too Fast, Black Craft Cult, Hell Bunny, and Black Milk.
Final Thoughts
I was still determining how I would feel about doing a TV interview, but I had a great time with Gayle. She's easy to talk to and made the entire experience enjoyable. I am so grateful to have the opportunity to share my love of indie brands with people. I love the indie makeup trend, and that indie brands provide high-quality products without the exorbitant price tag!
What did you think of the interview? What are your favorite indie brands?
More to See