Emerald Green Lace Top
I just HAD to share my favorite new sexy emerald green lace top with you! It's a Venus Strappy Detail Lace Top that comes in black or emerald green. For once, I bought something in green because I wanted this jewel tone for Fall. It's a great color for me. I think I look great in jewel tones such as emerald, ruby, sapphire, and amethyst. Wearing this outfit gives me all the best Fall Feels!
Emerald Green Lace Top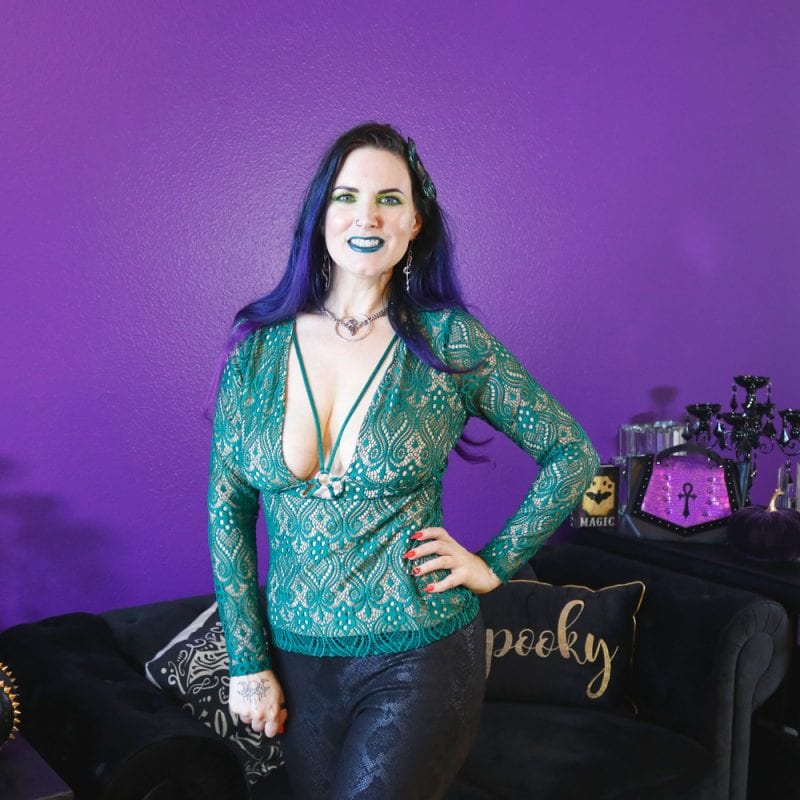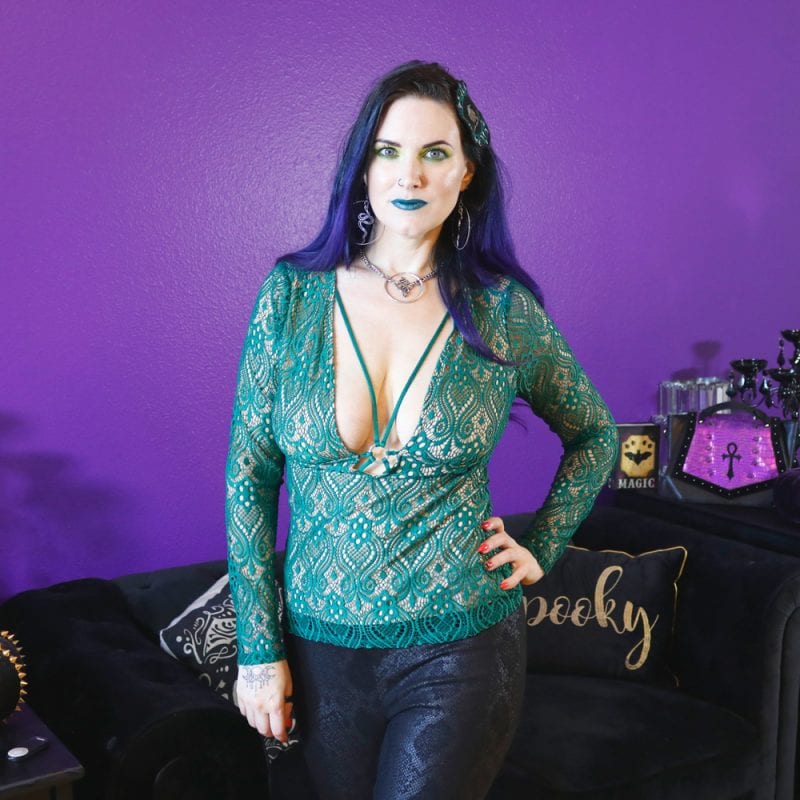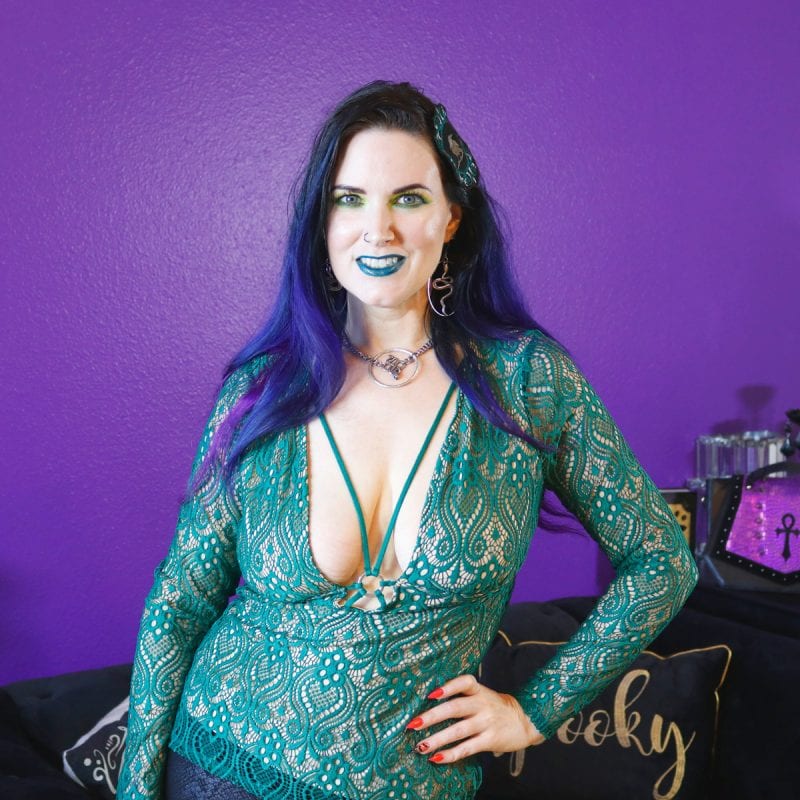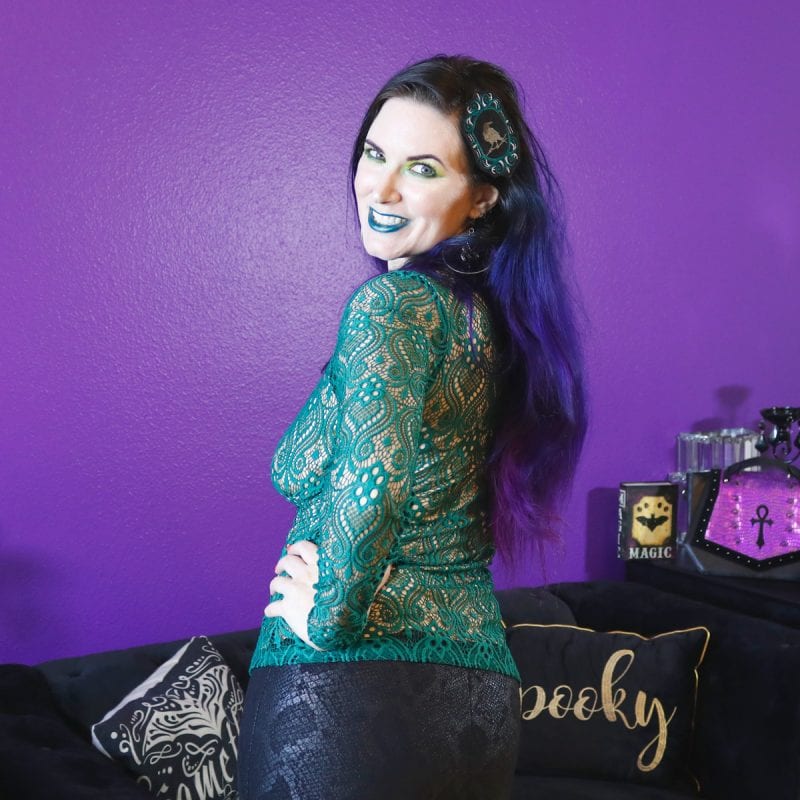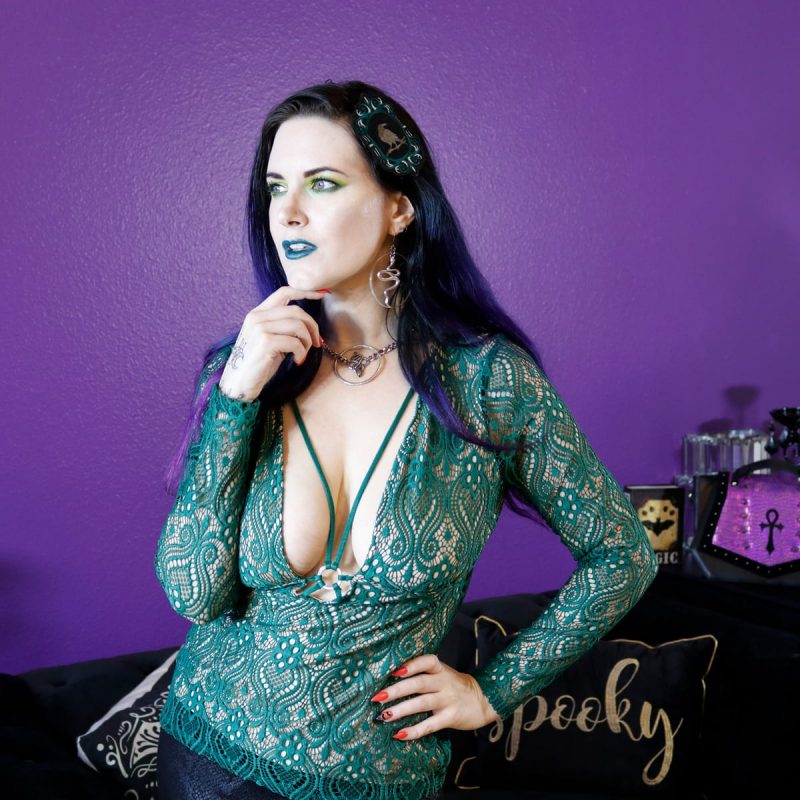 I love  how this sexy emerald green lace top looks paired with my INC Snake Print Pants. It's definitely an outfit for a night out! I did search for a few other options along this vein for you. I found a plus size top that's similar, as well as a few other sexy tops! So if my taste is too revealing for you, check out the other options.
I also searched to see if these Snake Print Pants were available in plus size. I'm impressed to see they go up to size 28. I'm wearing size 4 and they fit me nicely. I envision myself wearing these pants a lot in the foreseeable future this Fall! They're totally Slytherin pants and perfect for anyone who likes to have Medusa Vibes in their daily style. They look great under a tunic top. The Snake Print Pants would definitely dress up a sweater, too! I will probably end up wearing these snake print pants a ton with the sexy emerald green lace top.
I'm wearing this sexy green lace top with my MtCoffinz Underground Raven Hair Fascinator. It's green and silver. I was looking for something to signify Ravenclaw + Slytherin and the raven hair fascinator is perfect for me! It's an awesome Slyther-claw ornament.
You'll recognize the Open the Cellar Door Medusa earrings and choker because I wear them frequently. I love the Open the Cellar Door jewelry that I've picked up over the past year or so.
Snake Vibes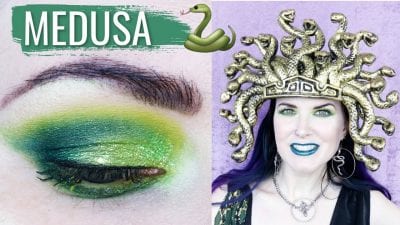 Love Medusa, Slytherin or Snake Vibes? Be sure to check out my first Halloween Tutorial of the year – Serpentine Dreams: Medusa Cosplay & Makeup Tutorial!
I'll be doing Blake Belladonna & Cinder Cosplay & Makeup Tutorials from RWBY soon, since it's a favorite anime of mine. Have any Halloween requests? Let me know here or in the PhyrraNyx Facebook Group.
I'm really thrilled with this sexy emerald green lace top for Fall, especially when paired with my snake print pants! I love being able to add more snake vibes into my daily wardrobe.
What colors do you gravitate towards in the Fall? While you know I always wear black as it's a staple neutral of mine, I really find myself wanting wines, burgundy, midnight blue and amethyst.