Medusa Costume Tutorial
It's Spooky Season! Today I'm gonna help you fulfill your serpentine dreams with my Medusa Costume Tutorial! This is a store-bought costume that would make a great base if you wanted to customize it. I'm not fully in love with the head piece because it doesn't bend / shape itself around your head, but it is a good framework to build on. I love my intense bright green eyes for this and I'm thrilled with how Nyx So Taupe sculpts my cheeks. SO pretty!
PR + purchased by me.
Medusa Costume Makeup Tutorial
Please share!
What I'm Wearing
Costume
Medusa Costume
Naturalizer Gold Strappy Shoes
Open the Cellar Door Medusa Choker
Open the Cellar Door Medusa Hoop Earrings (I also have these gold & blue snake earrings that match if you prefer non-hoops)
Medusa Snake Arm Band
Eyes
Urban Decay Primer Potion
Cozzette Beauty Essential Powder in C1
Melt Radioactive Palette (Xenon, Meltdown)
Black Moon Black Metal Palette (Myth)
Black Moon E.T.
Tarte Tarteist Double Take Eyeliner
Urban Decay Post Punk Eyeliner (LE, try UD Freak)
Milani the Violet One Lash Primer
Milk Makeup Kush Mascara
Lime Crime Smokey Brow Pen
Milk Kush Brow Gel in Cypher
Face
Milk Hydro Grip Primer
Milk Blur Liquid Foundation in Porcelain
Milk Flex Concealer in Porcelain
Nyx Sweet Cheeks Blush in So Taupe
Black Moon Glow Worm highlighter
Lips 1
Lime Crime Serpentina (seems to be discontinued, not my favorite because of the thin hollow looking color)
Lips 2
Melt Toke
Lips 3
Sugarpill Hydro
Medusa Costume Makeup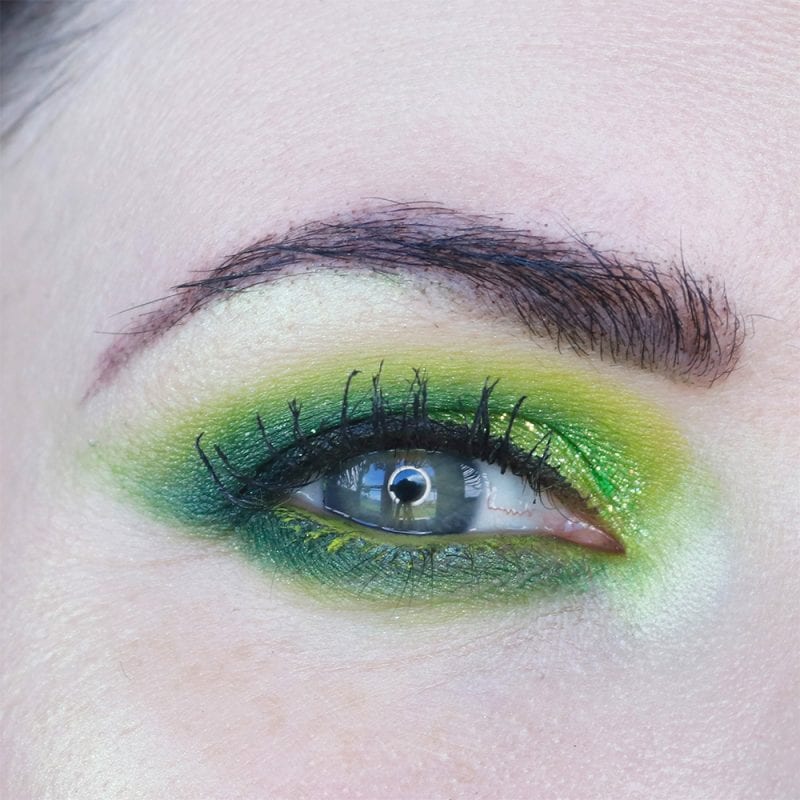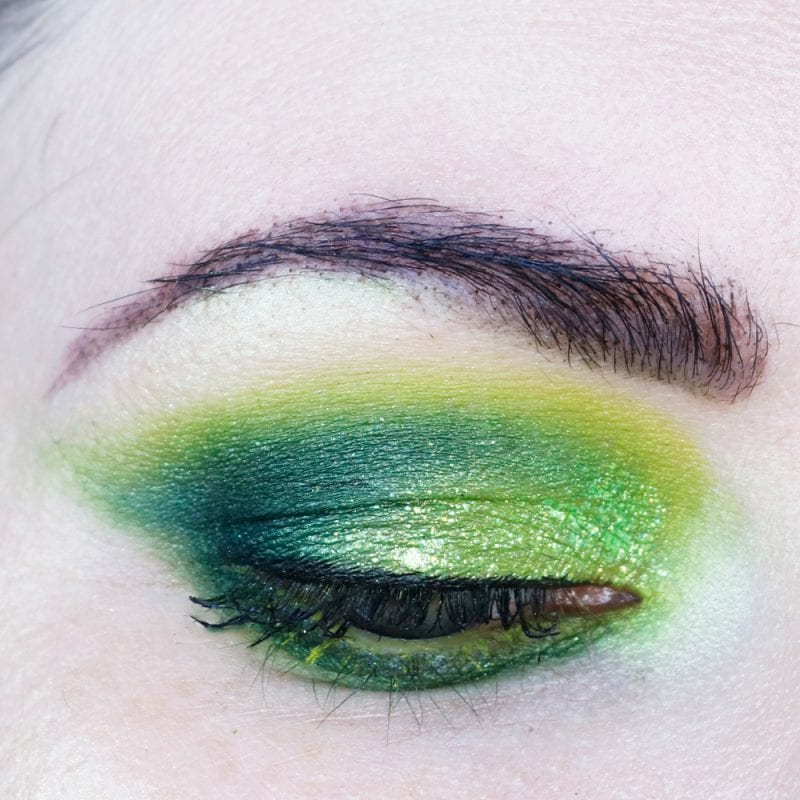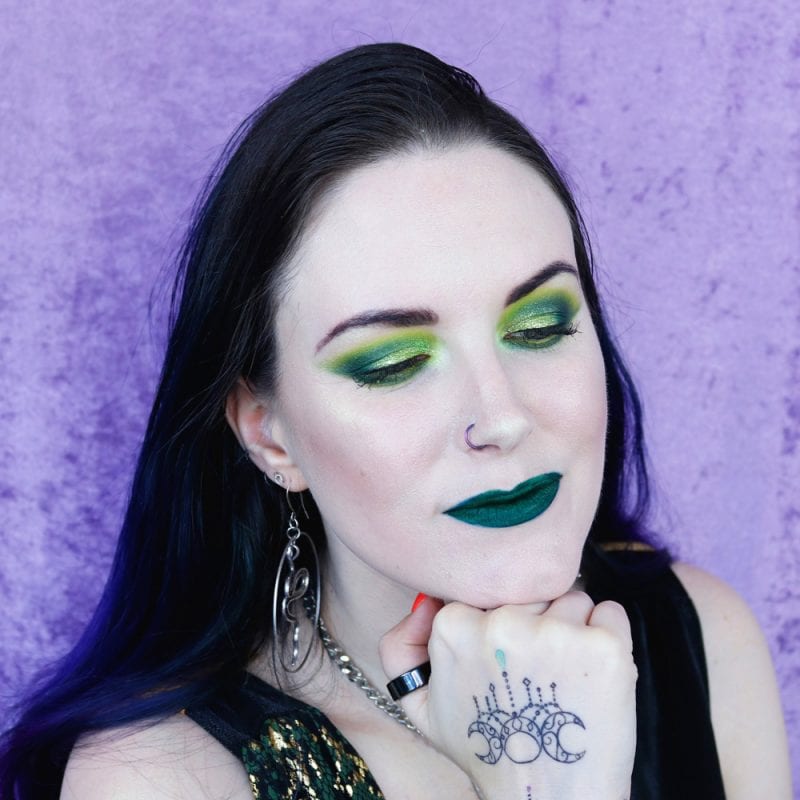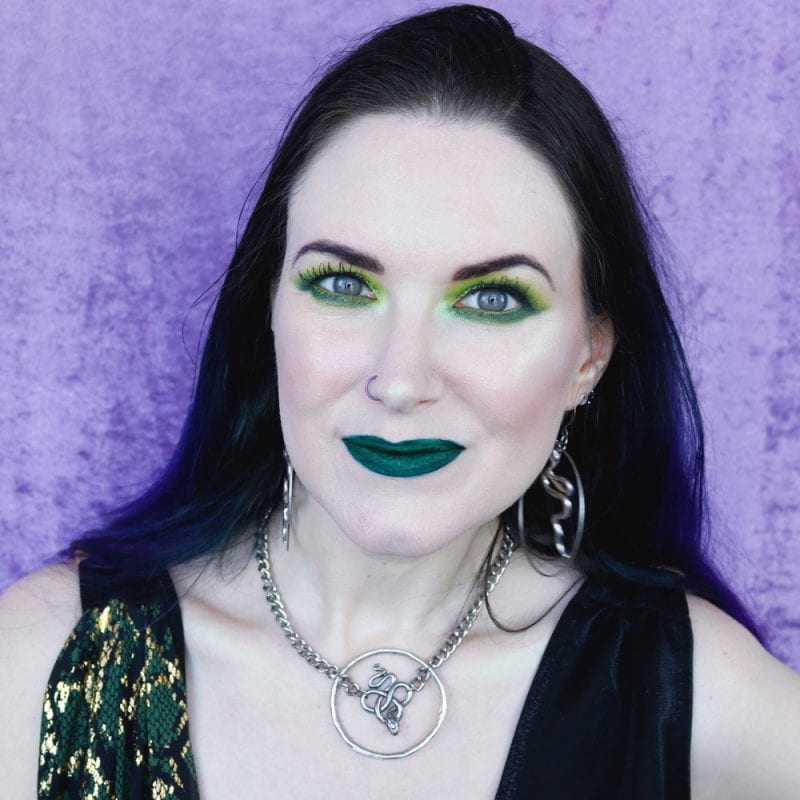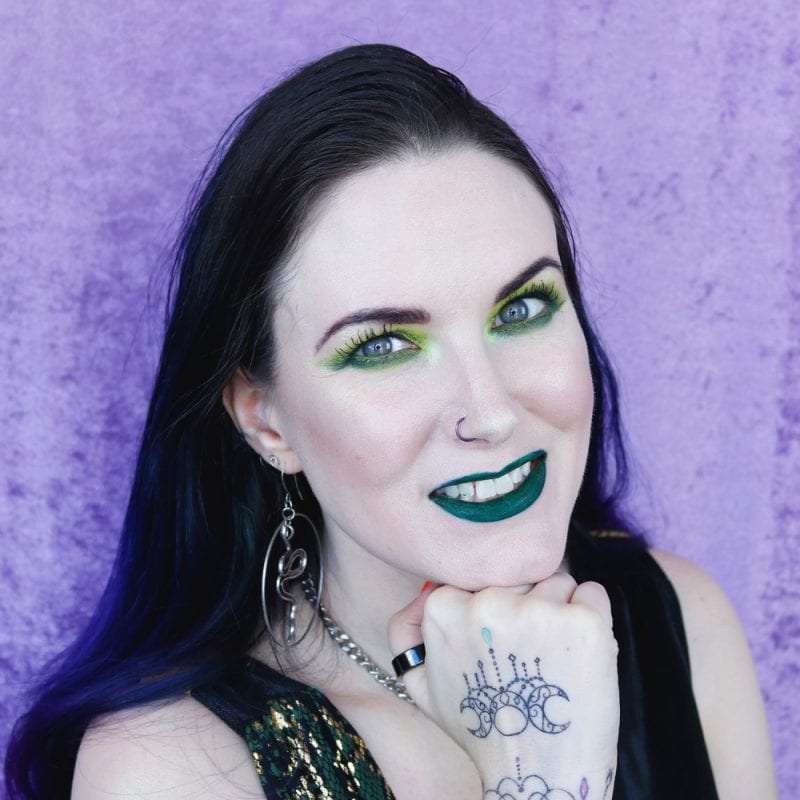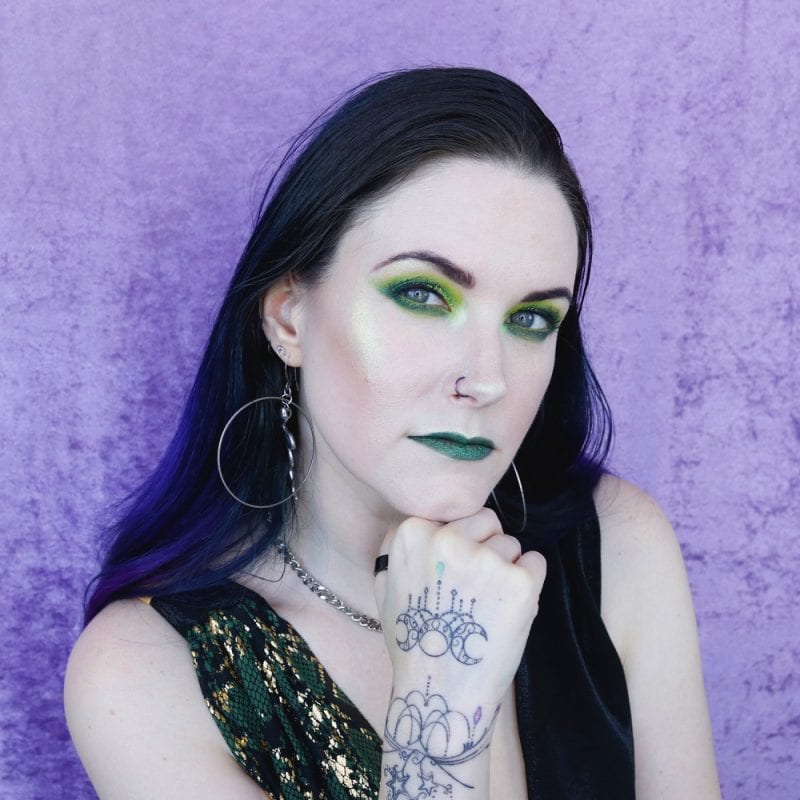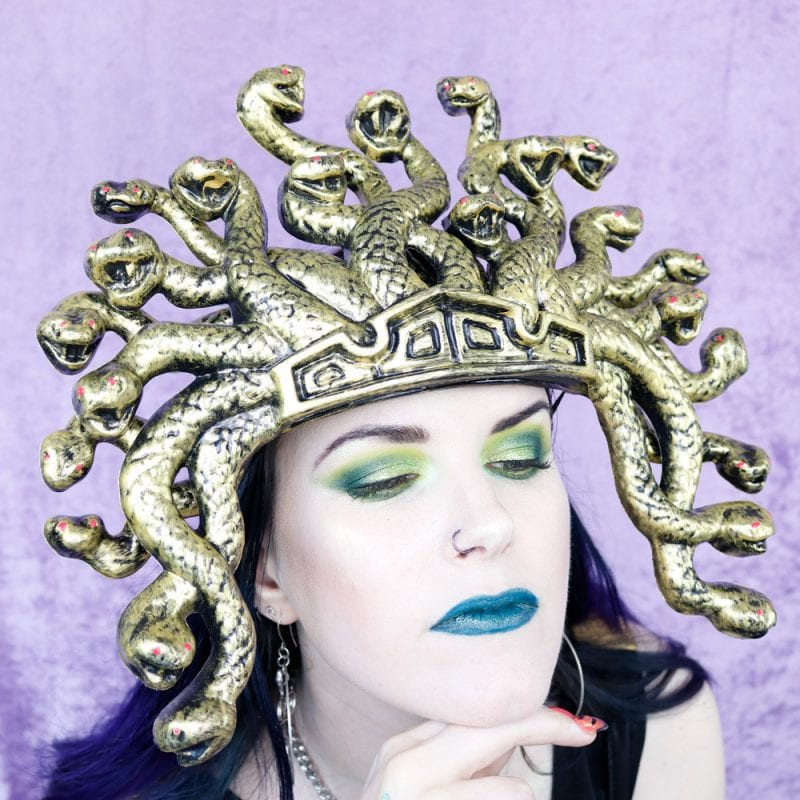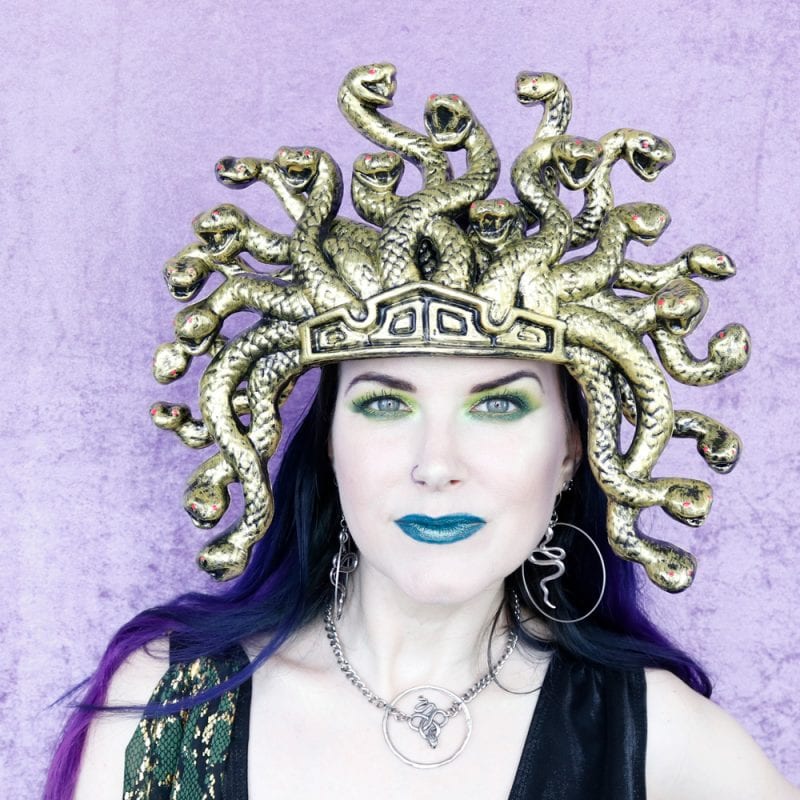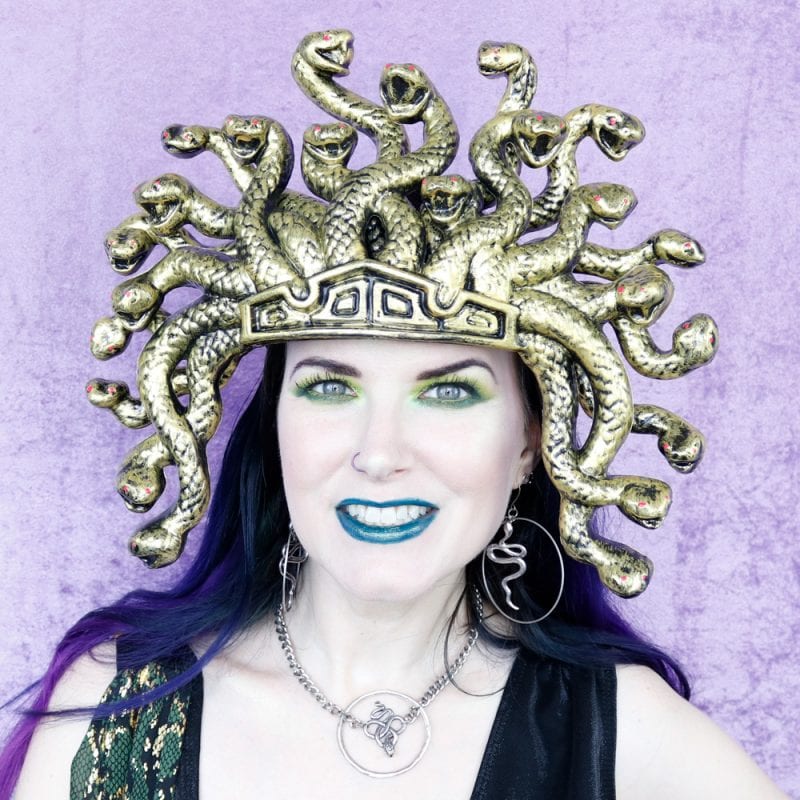 Medusa Costume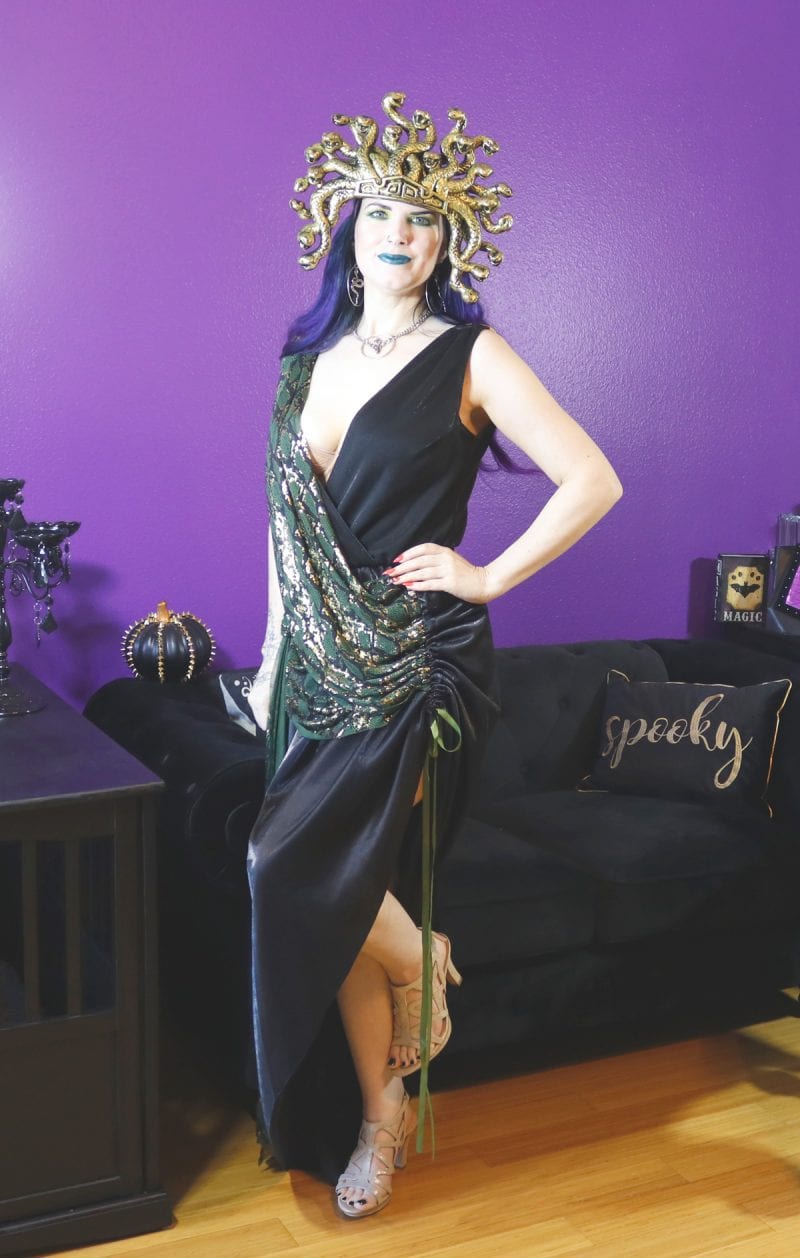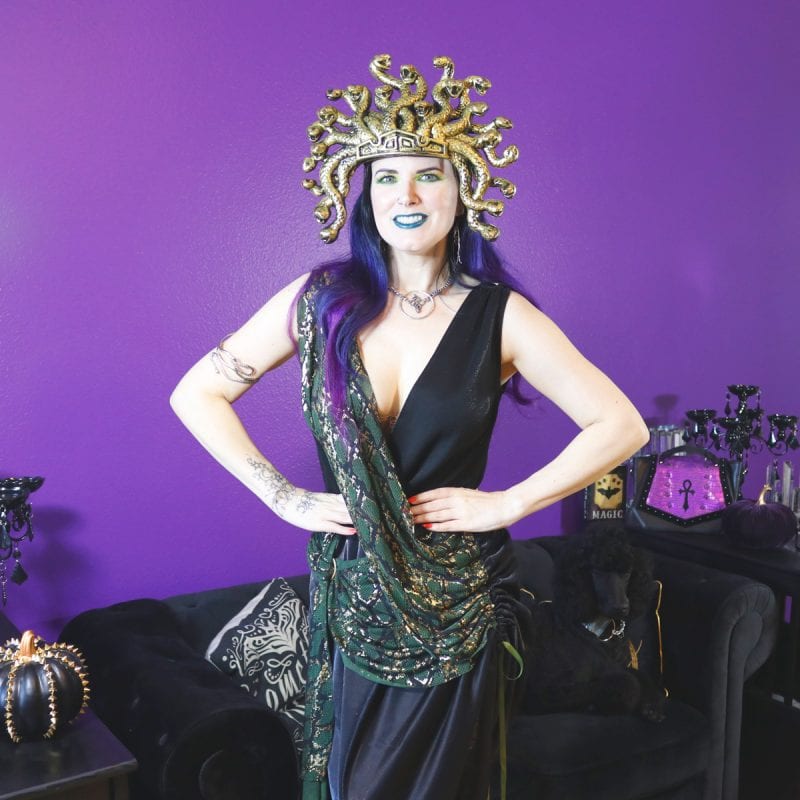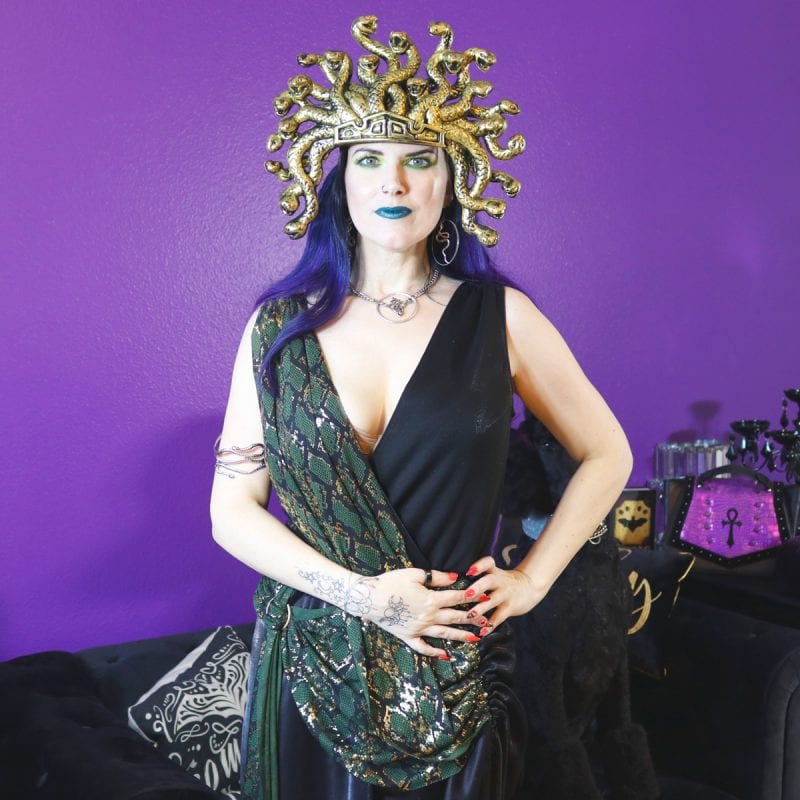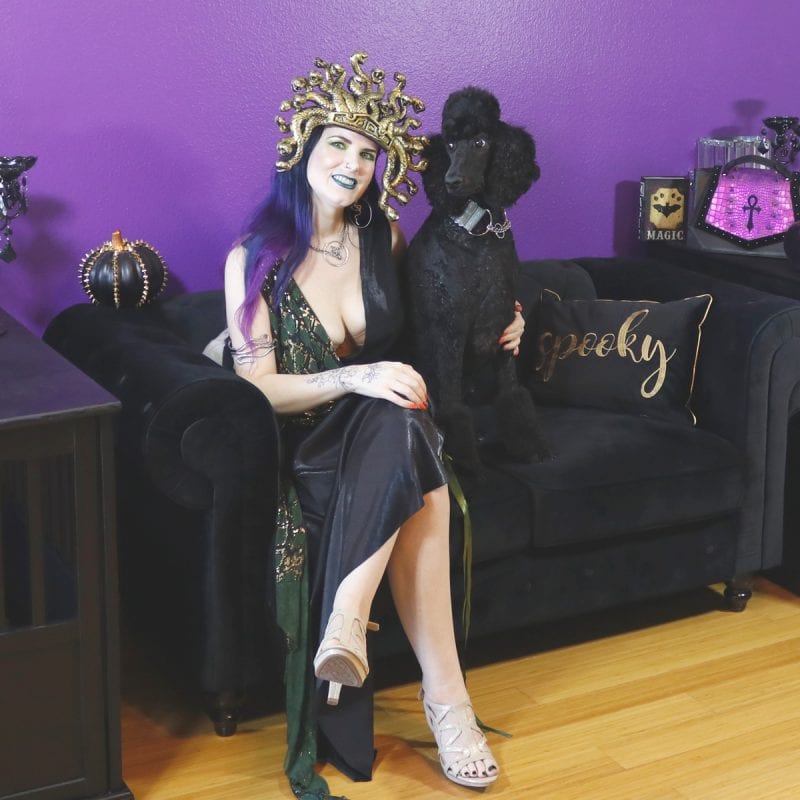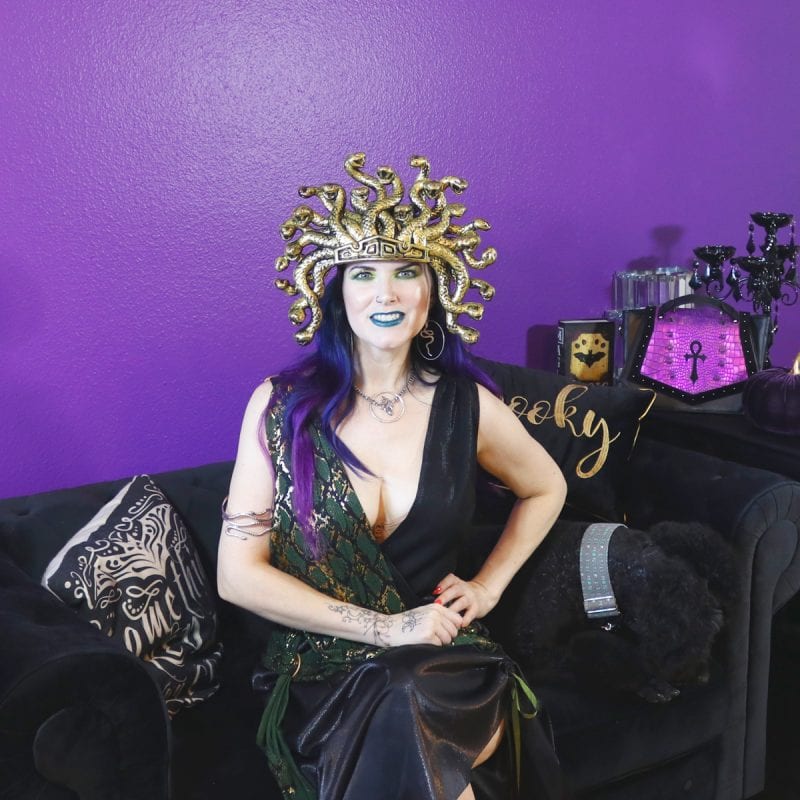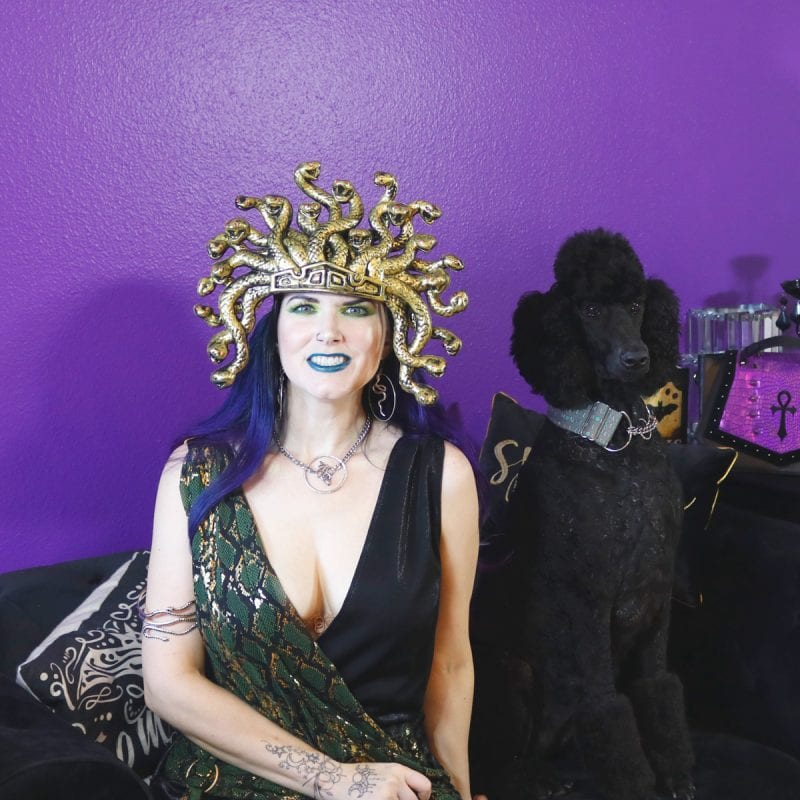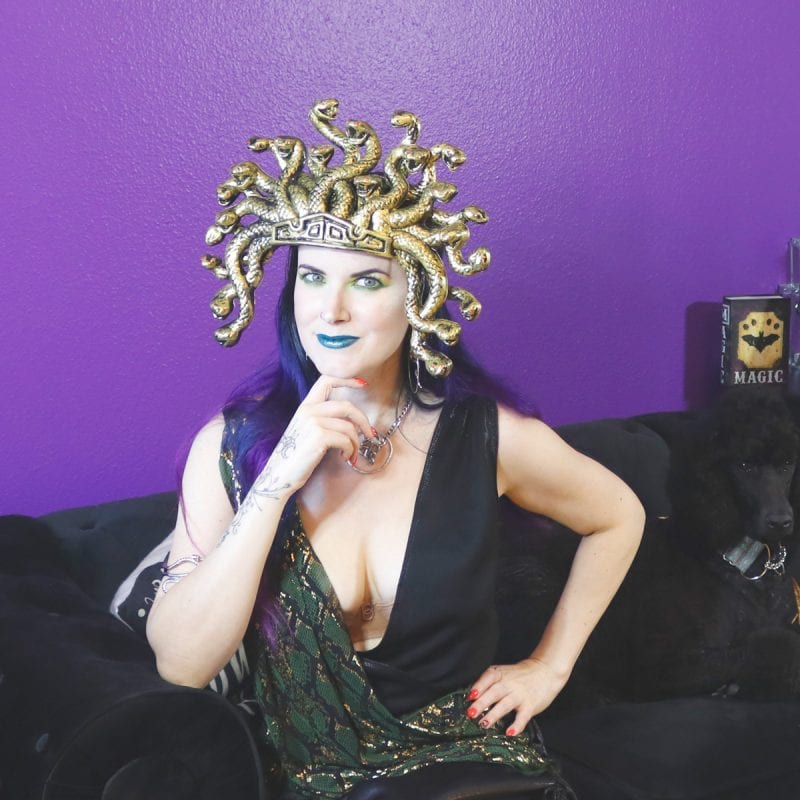 Nyx wanted to be in every photo I took that day.
I bought this California Costumes Sedusa Medusa Costume in size Extra Small. It says it fits up to only 110 lbs, but I'm 125 lbs and easily fit into this. It's too big on me. I've got to have it taken in or pinned in places if I want to wear it out. I feel like the size I bought I could have worn as a size 12 as well, it's got a lot of give.
As far as costumes go, this is super comfortable! The headpiece fits a little strange but I think if I had put the elastic band under part of my hair it would have been fine. I still want to commission a custom headpiece from Carlye, maybe one that looks like this Medusa Headpiece.
More Halloween Costume Ideas & Tutorials from Phyrra

Dark Siren Costume for a Greek Gods party.

You'll love my easy DIY Cheshire Cat Costume!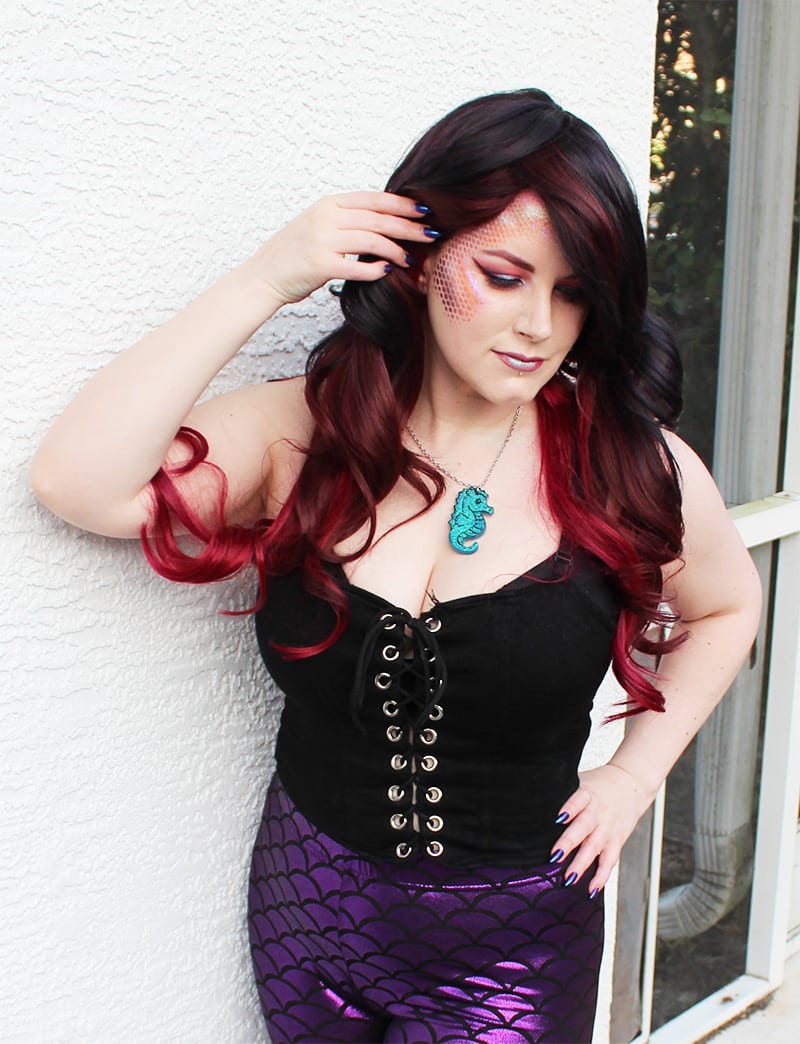 My Dark Carnival / Sideshow Mermaid Costume is fun.

Monster High Clawdeen Wolf Costume Tutorial.

Monster High Draculaura Costume Tutorial.

Monster High Frankie Stein Costume Tutorial.

Monster High Cleo De Nile Costume Tutorial.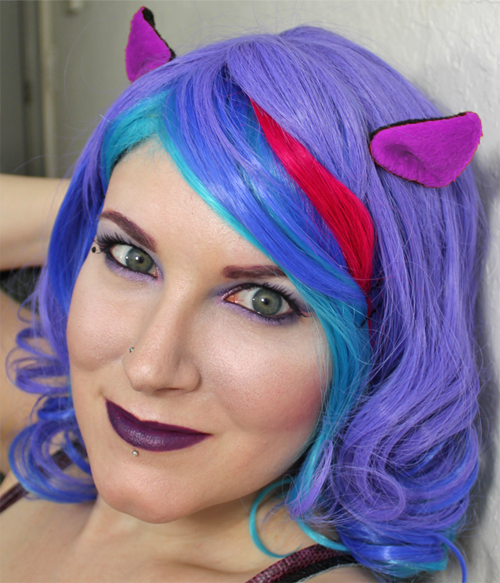 Monster High Catrine de Mew Makeup Tutorial.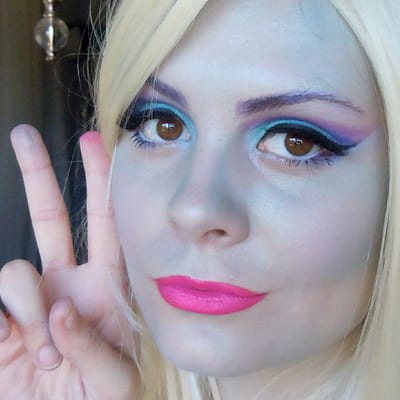 Monster High Lagoona Blue Makeup Tutorial.

Ever After High Raven Queen Makeup Tutorial.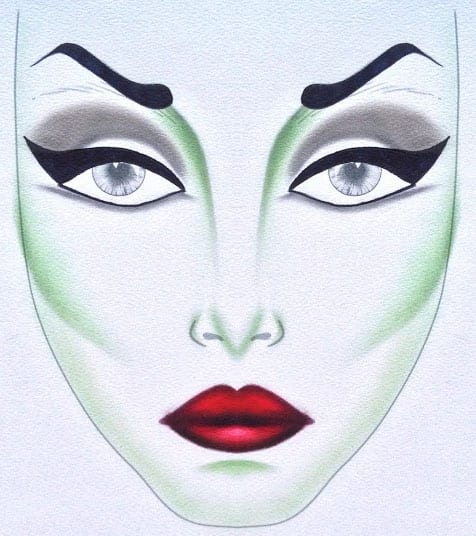 Classic Wizard of Oz Wicked Witch Makeup Tutorial.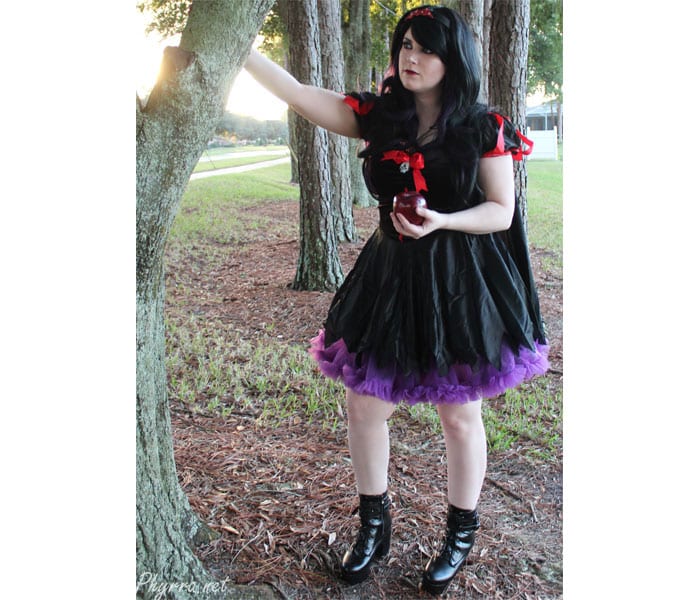 Gothic Snow White Makeup Tutorial.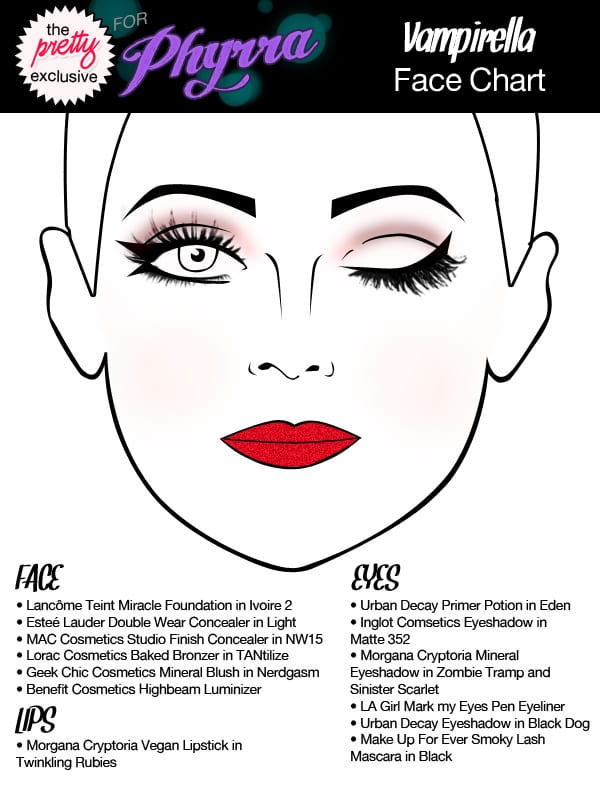 Classic Queen of the Nile Cleopatra Makeup Tutorial.
Medusa Costume Tutorial

I've also got several other articles you may find helpful for Halloween Costume Inspiration!
And if you still don't know what to be for Halloween, consider asking Google, Siri or Alexa!