Monster High Catrine DeMew Tutorial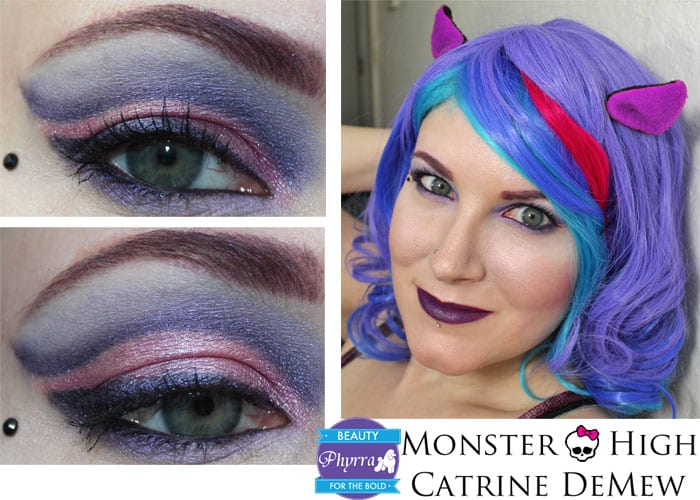 Happy Halloween! I created a Monster High Catrine DeMew Tutorial since this is the costume that I'm wearing today. You can see other Monster High tutorials from Erin – Draculaura, Cleo de Nile, and Lagoona Blue. Catrine DeMew is a werecat. She's an artist.
Pr + purchased by me.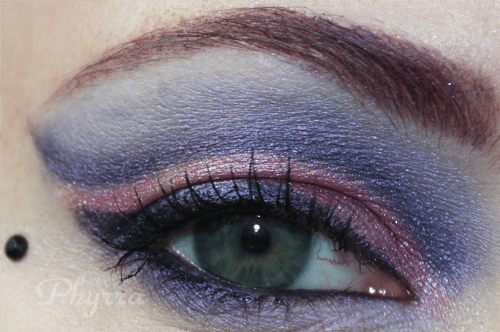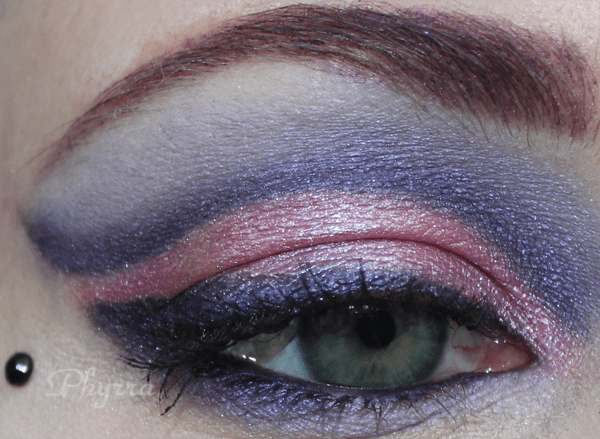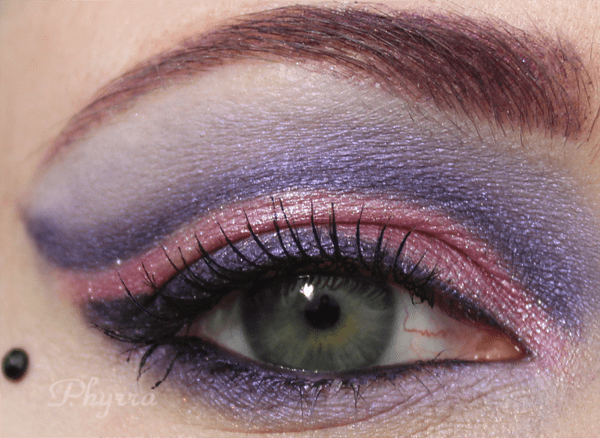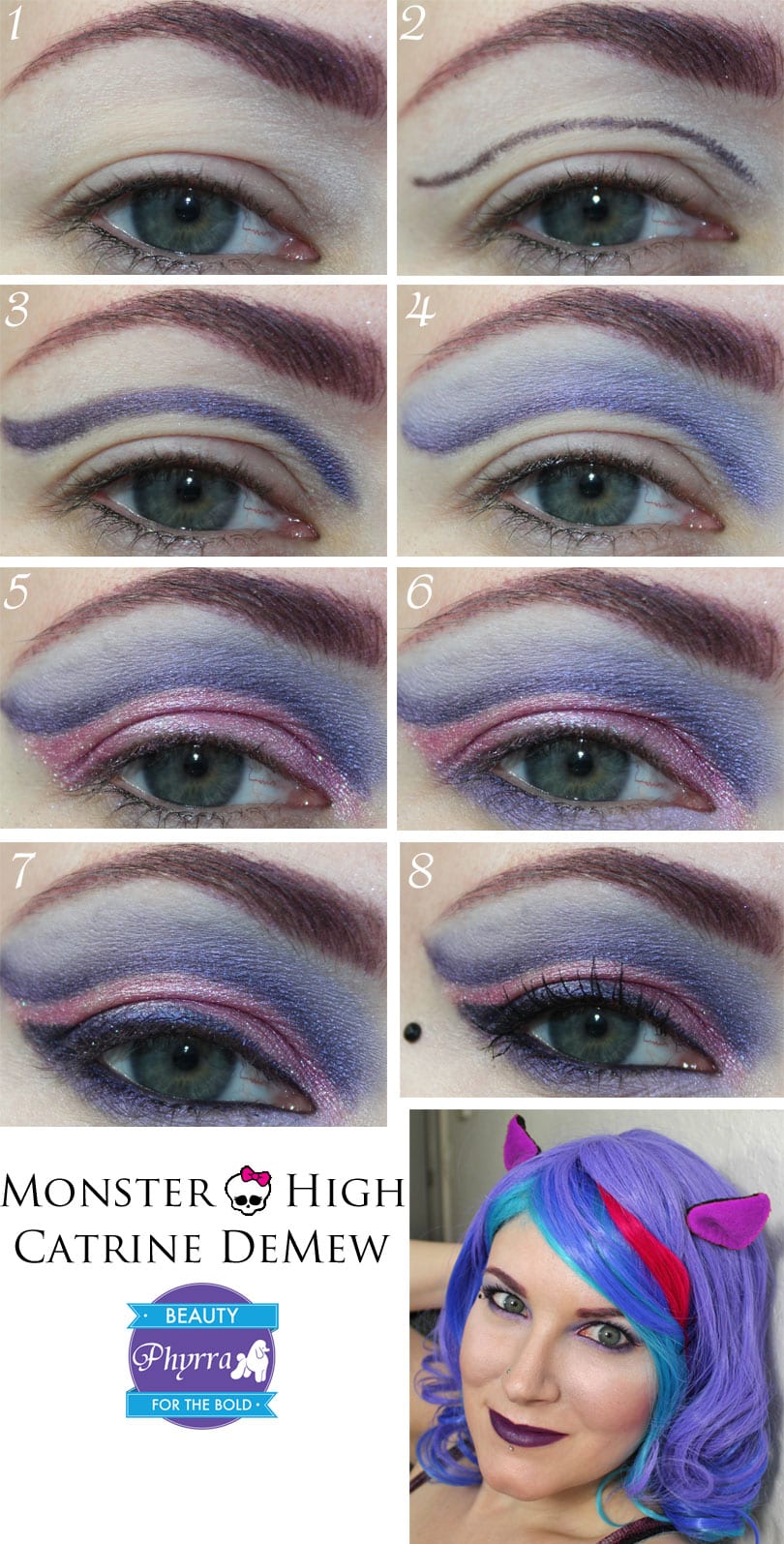 Monster High Catrine DeMew Tutorial
Start by applying Sugarpill Tako (matte white) to the crease and browbone.
'Cut' the crease with Urban Decay Empire (purple liner). It doesn't need to be perfect, just in the general shape.
Blend Sugarpill Elemental Chaos (dark sparkly purple) onto Empire, then blend upwards.
Blend Sugarpill Frostine (pale purple satin) into Elemental Chaos, blending upwards.
Mix Lumi (iridescent white with blue and green shimmer) & Magentric (magenta shimmer) together and apply to the lid and area below the 'cut'.
Apply Frostine to the lower lid. Deepen the outer lower lid with Elemental Chaos.
Line the upper lash line, waterline, and outer lower lash line with Empire. Wing it out into a cat eye.
Add mascara.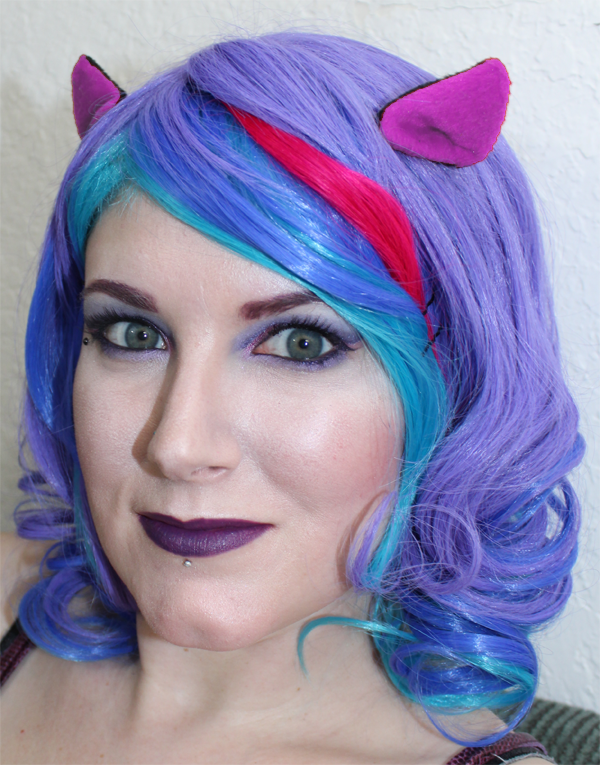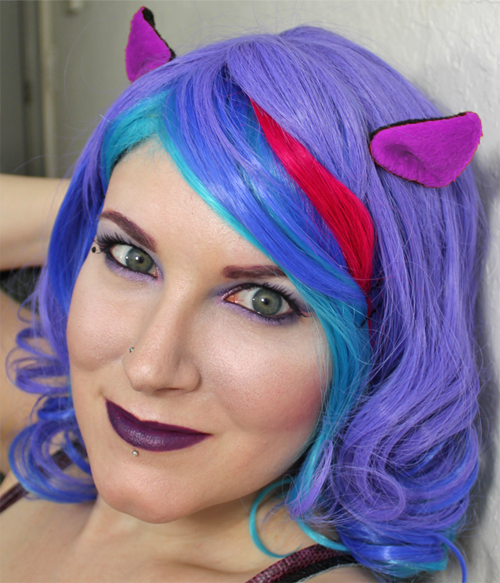 Eyes
Too Faced Shadow Insurance (eyeshadow primer)
Sugarpill Tako – browbone and crease
Urban Decay Empire 24/7 Liner – to cut the crease, upper lash line, waterline, outer lower waterline
Sugarpill Elemental Chaos – blended upwards on top of Empire, blended into outer lower lash line
Sugarpill Frostine – blended upwards with Elemental Chaos in the crease, on lower lid
Sugarpill Magentric mixed with Lumi – lid
MAC Paint Pot in Half-Wild – brows (purchased when MAC was still cruelty free)
Too Faced Better Than Sex Mascara
Face
Lips
Melt Cosmetics By Starlight Lipstick (you can use Nyx Oh Put It On Lipstick instead for a cheaper dupe)
MAC Grape Lip Pencil – on top of By Starlight (purchased when MAC was still cruelty free, use Nyx Oh Put It On)
I challenged myself to do a cut crease to fit my hooded eye shape. I think bringing the 'cut' up onto my browbone worked really well.
By Starlight was not the right color, it was too light, so to fix that I put my old MAC Grape pencil on top. That deepened it nicely!
I put a hot pink clip in hair extension in the bangs of my wig to give a pop of pink similar to what I've seen for the Monster High Catrine DeMew doll. She's supposed to be pink and purple. I also messed up and put the beauty mark on the wrong side. It should have been on my left, not my right side. That said, I love how this turned out and I hope you love it too!
Have a safe and wonderful night!