Today I have a guest post for you from the pretty Erin of the Pretty Exclusive! I asked her if she would do some cute Monster High looks for Halloween! Her first look was Cleo de Nile. Her second look was my favorite, the vegan vampire Draculaura. Today we bring you Lagoona Blue. Lagoona is the daughter of the Sea Monster. Her cute little pet is a pink piranha named Neptuna. She's an active girl and loves to surf, play beach volleyball, and swim.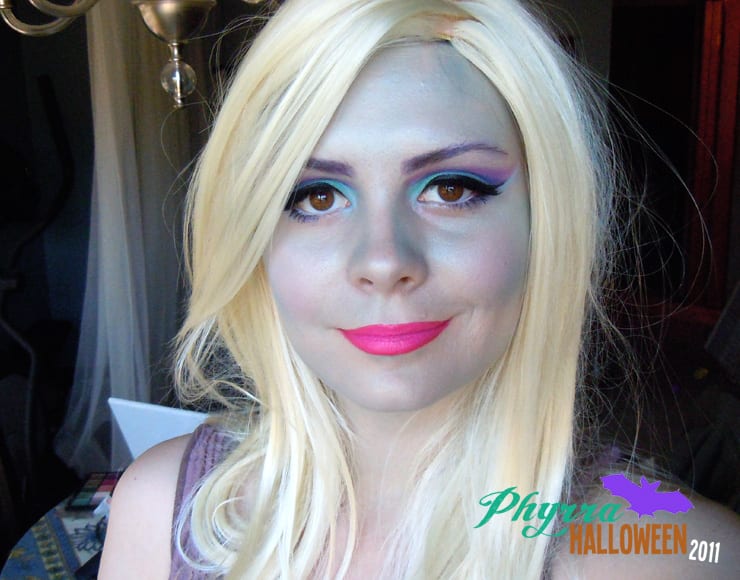 As you can see, Erin used some of my favorite colors for this look! She incorporated teal, purple and pink to make an amazing Lagoona!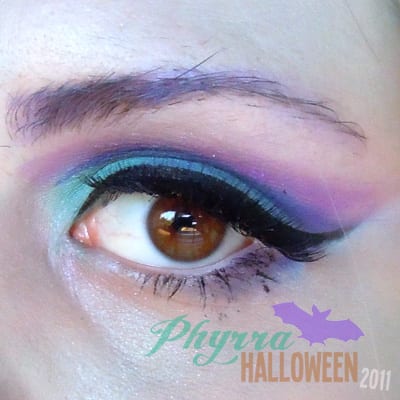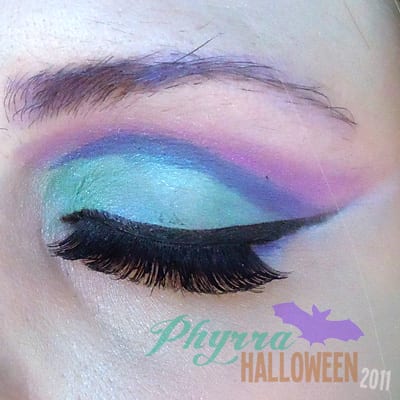 What You'll Need… The products I used are listed below in the order listed here.
• A foundation slightly lighter than your skin tone
• Concealer
• Matte teal/green eyeshadow
• Shimmery bright teal eyeshadow
• Bright pink blush
• Eyeshadow primer
• Bright teal eyeshadow
• Dusty purple eyeshadow
• Bright pinkish purple eyeshadow
• Rich purple eyeshadow
• A gel or pen eyeliner
• White pencil eyeliner
• Volumizing mascara
• False eyelashes (strips & individuals)
• Lash glue
• Bright red lip liner
• Hot almost neon pink lipstick
• Angled eyeliner brush
• Mid-sized paddle shaped brush
• Fluffy blending brush
• Small blush brush
• Foundation brush
Step-by-Step Guide
Let's start with the face!
This part is the most labor intensive so it's best to get it out of the way. First, start by applying your favorite foundation all over your skin with a foundation brush. I used Make Up For Ever's HD Foundation in '115.' Next, cover any blemishes or under eye circles with your favorite concealer. I used MAC Cosmetics Pro Longwear Concealer in 'NW20.' Now it's time for the teal! Rather than use a teal grease paint, which can feel heavy and awkward on the skin, I felt it easier to use a teal shadow to tint and shade. I don't own a good bright matte teal shadow so I used a mixture of teals and blue-greens from my 88 palette. Using a small blush brush, I started with the teal and shaded around my hair line, down along the perimeter of my face, blending it in with the rest of my skin. Next, with a lighter hand, begin to contour your face. Start across your forehead. Buff the teal color out across your forehead and down the side of your face. It's all about adding and blending til you get an even color on your skin, with the color along your hair line and down your forehead bones being a bit darker. Continue blending down the sides of your face. When you get to your cheek bones, suck in your cheeks and add a lot of the teal into the hallows. Don't make the line too sharp but make sure the teal ends up darker than the rest all over your face. When you have a nice definition, blend more of the color across your cheeks, down your nose and on your chin; basically the rest of your skin. Once everything is tinted teal, take your mid-sized paddle brush, load it with some teal and brush & blend down either side of your nose. Make sure to keep the middle of the bridge lighter than the sides. This shading slims the nose and again, gives more definition to the face.
To make my skin look more… lake monstery, I applied Inglot Cosmetics' 'AMC Shine 24' eyeshadow like a setting powder all over my face.
Finish up by adding a little shimmery bright pink blush to the apples of your cheeks. I used the pink heart color in Physician's Formula Happy Booster Powder in 'Light/Translucent.'
Now for the eyes!
If you have trouble following these directions, use the eye image below for reference.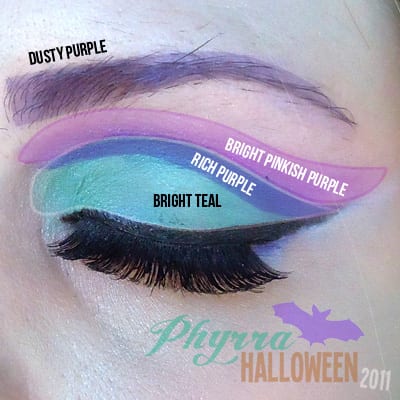 First, apply your favorite eyeshadow primer all over your lids. I used Too Faced's Shadow Insurance. Then, all over your lid, apply a bright teal eyeshadow with your paddle brush. I used one of the teals from my 88 palette and then a little of Inglot's 'AMC Shine 17' eyeshadow over top. Then, after cleaning, use the tip of your paddle brush to brush on a bright pinkish purple eyeshadow in an elongated wing above the teal. I used Geek Chic Cosmetics' Mineral Eyeshadow in 'Sleeping Bucket.' Start in the inner corner of your eye, following the top of the teal, flipping it out when your react your outer corner. Blend the edges slightly and also bring the color down a little under your lash line. Next, with a rich purple color and a damp angled brush, draw a thick line into your crease. I used Morgana Cryptoria's 'Axe to Grind' loose eyeshadow. The damp brush mixed with the purple (this is called 'foiling') will make applying the color easier and the purple color more vibrant. Start at the outer corner of your eye, lining up with the bottom edge of the pinkish purple, then slowly draw in the line. End at a point in the inner corner. Don't blend this line, keep it bold and graphic. Also add a little to the area under your lower lashes.
For your brows, fill them in with a dusty purple eyeshadow, keeping the line natural and full. I used Inglot's AMC 73' eyeshadow and an small angled brush.
Next, it's time to line! Using a pen or gel eyeliner, draw a medium thick line along your lashes, flicking it out slightly to line up with the bottom of the two purple colors. I used Hard Candy Cosmetics' Stroke of Gorgeous Pen Liner in 'Little Black Dress.' To sharpen up the outer edge, take a white eyeliner pencil and draw a thin line along the bottom of the shadow and liner. Blend it away gently with your ring finger so the line isn't as noticeable. Line your water line with the white eye liner as well and finish up with mascara on the upper and out part of your lower lashes. Don't forget to apply some dense black false lashes and you're done with your eyes!
Let's color those lips!
First, with a bright red lip liner, line your lips. Draw the line a little wider than the shape of your lips to make it look as big as possible. Next, take your bright almost neon pink lipstick and fill it all in. Make sure you blend the red in well with pink so it doesn't look too unnatural.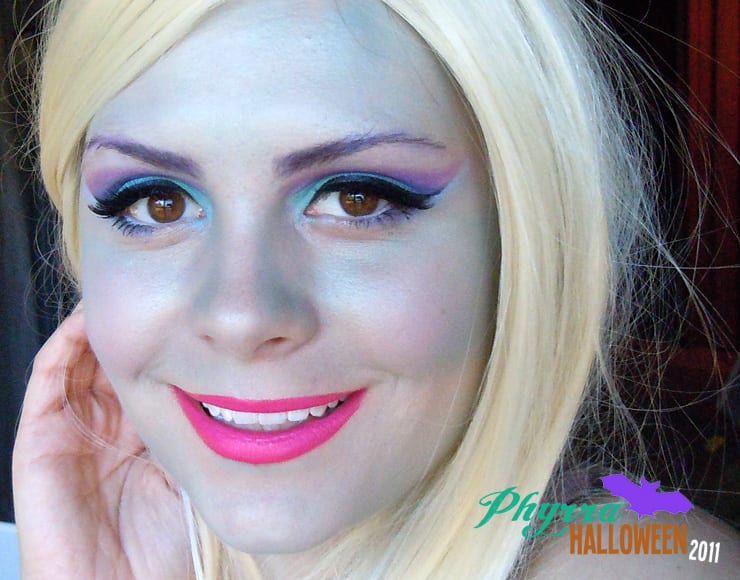 And you're done! As you may have noticed I didn't add Lagoona's signature freckles. I attempted to but did not have the right tools to get what I wanted. SO! If you have a teal eyeliner pencil, feel free to dot a few freckles on either check to get a truly authentic Lagoona Blue look. Pop on a blonde wig, curly if you have it, and you're good to go!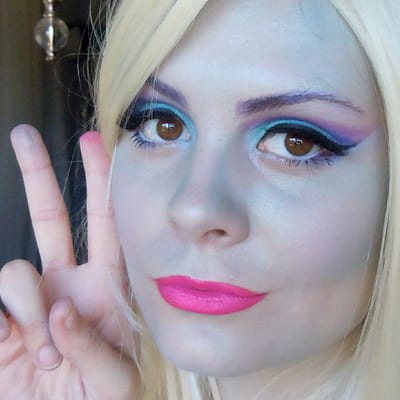 Products I Used
On my face…
• Make Up For Ever HD Foundation in 115
• MAC Cosmetics Pro Longwear Concealer in NW20
• Mixture of teals & greens from an 88 Palette
• Inglot Cosmetics Eyeshadow in AMC Shine 24
• Physician's Formula Happy Booster Powder in Light/Translucent
On my eyes…
• Too Faced Shadow Insurance Eyeshadow Primer
• A bright teal green from an 88 Palette
• Inglot Cosmetics Eyeshadow in AMC Shine 17 and AMC 73
• Geek Chic Cosmetics Mineral Eyeshadow in Sleeping Bucket
• Morgana Cryptoria Loose Eyeshadow in Axe to Grind
• Hard Candy Cosmetics Stroke of Gorgeous Pen Liner in Little Black Dress
• Benefit Cosmetics They're Real Mascara
• Wet N Wild Cosmetics Color Icon Pencil Eyeliner in White
• KISS False Lashes style 05
• Duo Lash Glue in Dark
On my lips…
• Wet N Wild Cosmetics Pencil Lip Liner in Berry Red
• Morgana Cryptoria Lipstick in Totally Tubular
Face Chart