Sideshow Mermaid Tutorial



I wanted to share a fun sideshow mermaid tutorial with you. Every year, my friends have themed Halloween parties.
Sideshow Mermaid Tutorial
Pr + purchased by me.
One year they did a Dark Carnivale / Seedy Sideshow themed party. For that party I created a sideshow mermaid costume out of what I had in my closet. I used a corset shirt, fish scale leggings, and a long wig. This time around, I added scales and fun makeup. I'm not a professional makeup artist, but I had  a lot of fun putting this look together and hopefully you will find it to be an easy to follow tutorial.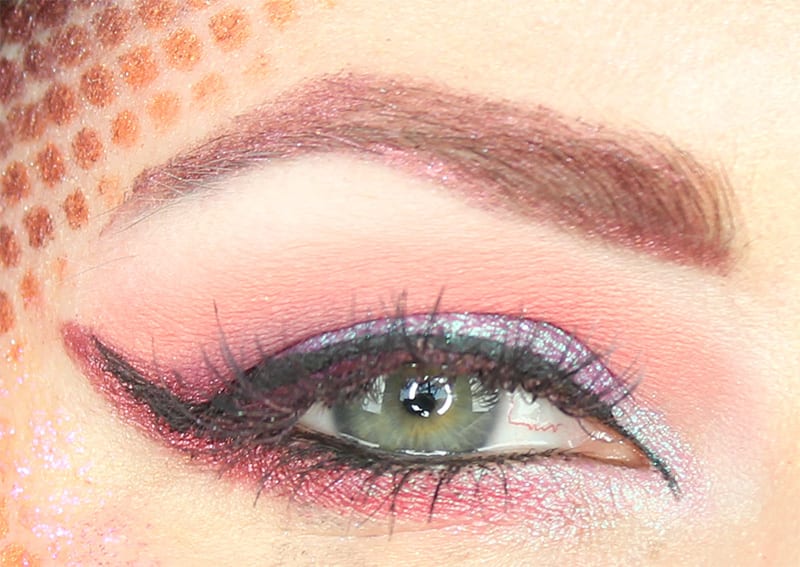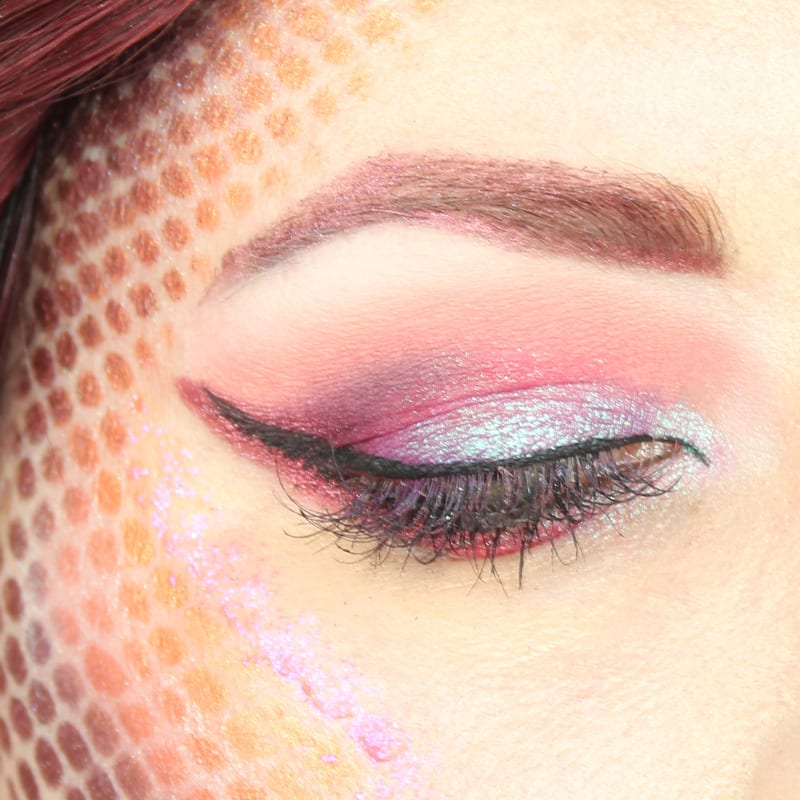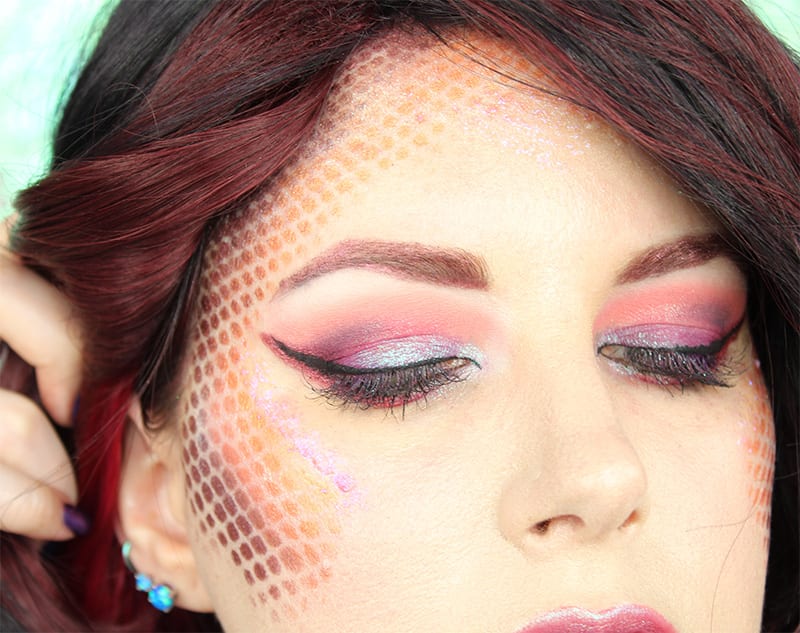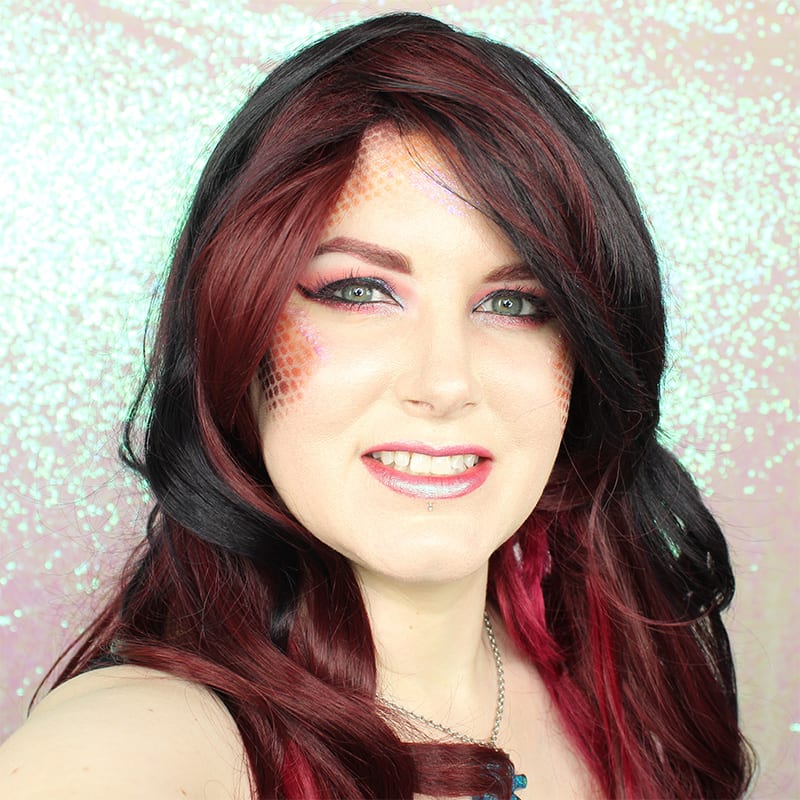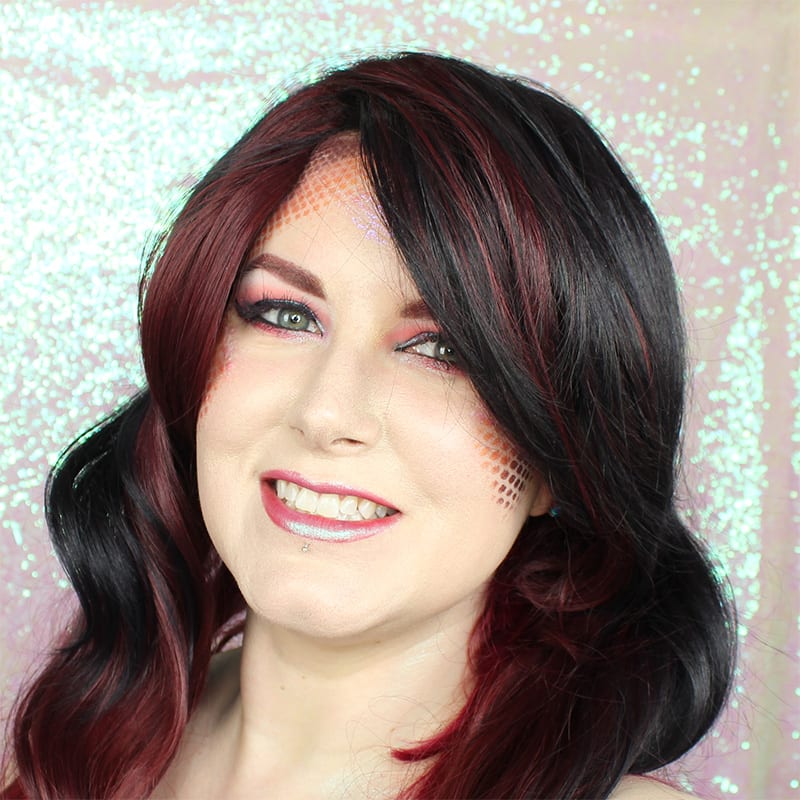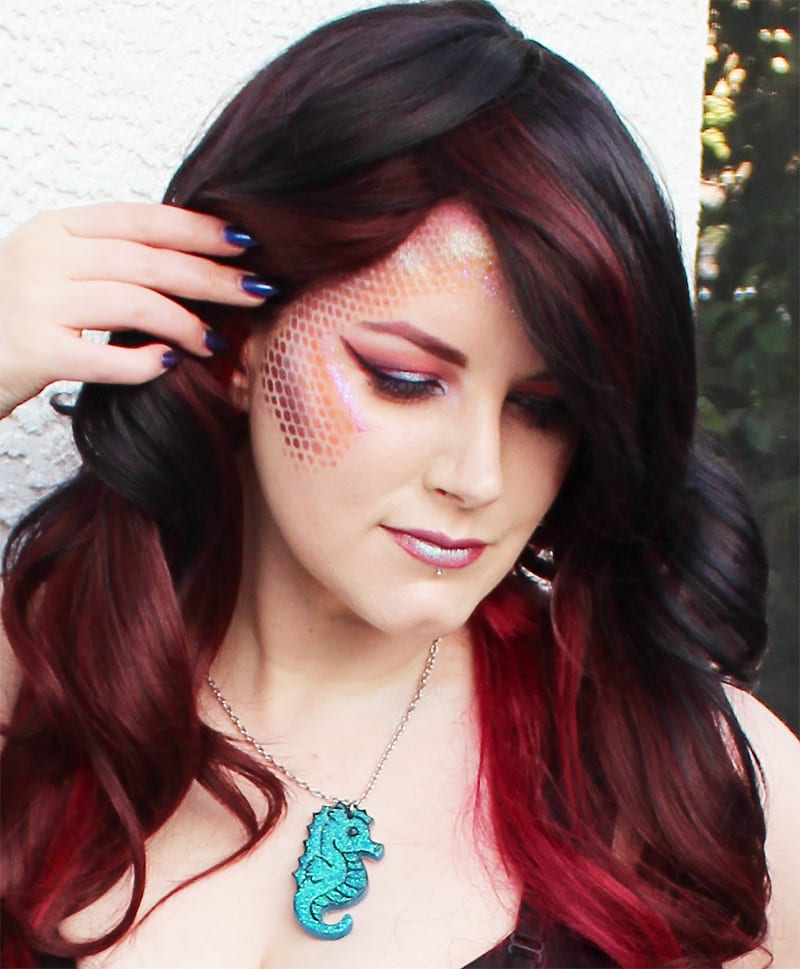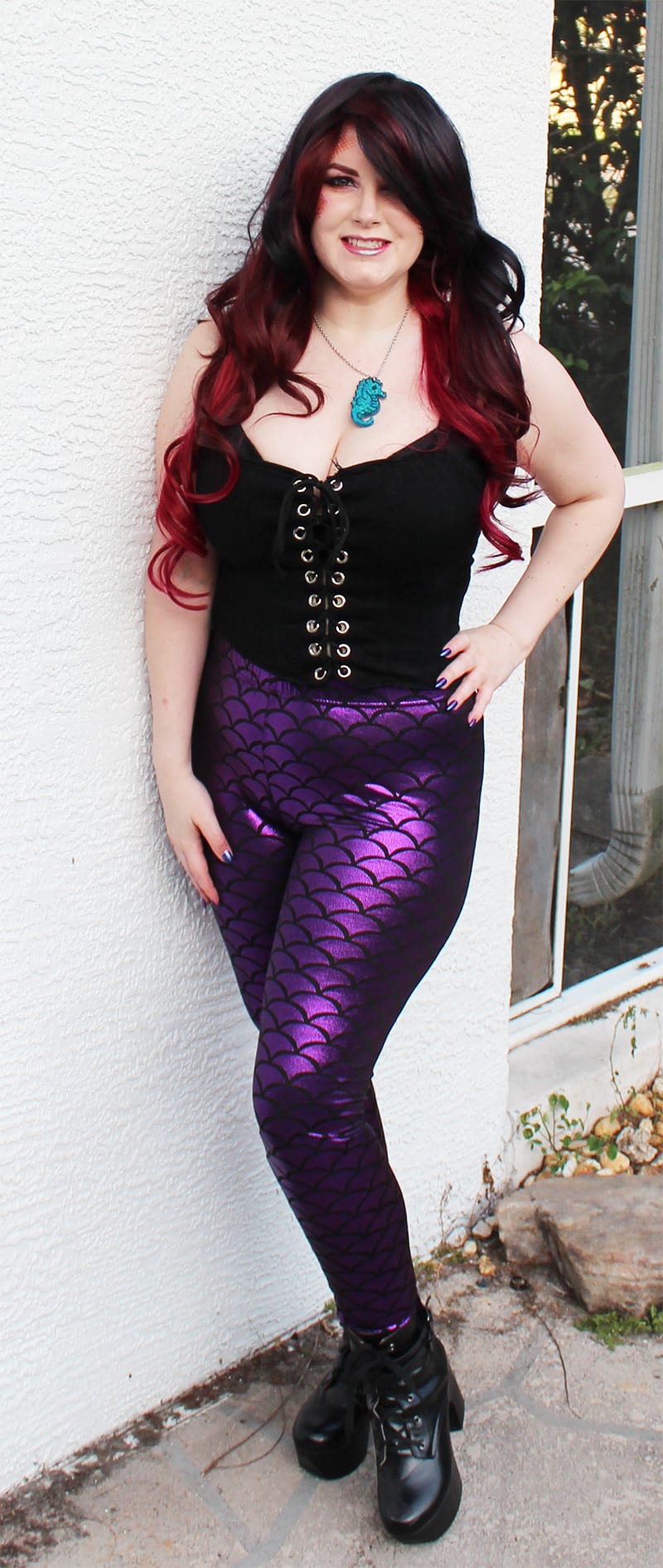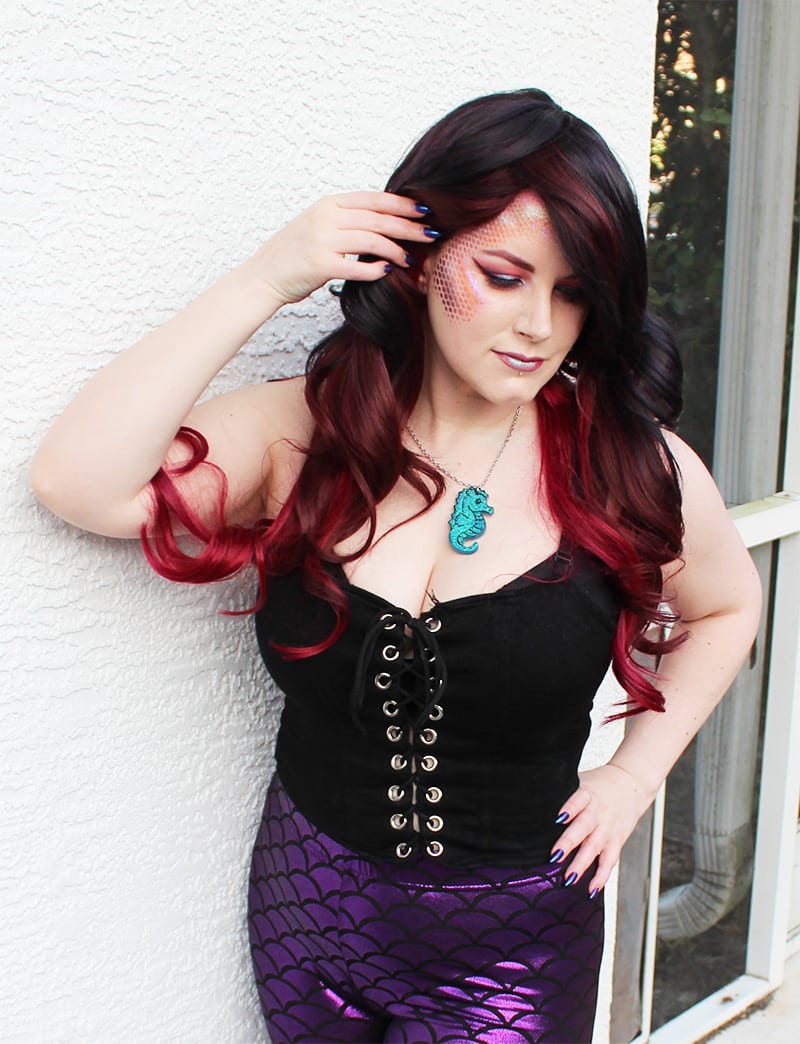 OUTFIT
MAKEUP
Eyes
Too Faced Shadow Insurance– primer
Kat Von D Primer in Fair – primer
Sugarpill Tako – base shade (vegan)
Sugarpill Suburbia – transition (vegan)
Sugarpill Love+ – lower lid, winged out, blended into transition
Sugarpill Poison Plum – accent
Sugarpill Bulletproof – accent (vegan)
Sugarpill Countess – on top of Love+
Sugarpill 2AM – lid
Sugarpill Lumi – on top of 2AM on the lid, inner v, inner lower lid (vegan)
Tarte Tarteist Clay Paint Liner in Black – upper lash line, outer lower lash line (vegan)
Urban Decay 24/7 Waterline Pencil in Legend – waterline
Perfekt Beauty Curl Mascara
Brows
Sugarpill Countess (vegan)
Face
It Cosmetics CC Cream in Fair + The Body Shop Shade Adjusting Drops in Lightening (vegan)
Sugarpill Countess – darker scales (vegan)
Sugarpill Feral – lighter scales (vegan)
Graftobian Liquid Glitter in Opal Neon – highlight scales
Sugarpill Lumi – lightly dusted on top of Feral and Countess (vegan)
Lips
Urban Decay 24/7 pencil in Gash
Sugarpill Lumi – on top of Gash (vegan)
Collarbone
Sugarpill Lumi (vegan)
To recreate with similar colors you'll need
Eyeshadow primer
Urban Decay All Nighter Spray
Tako – white matte
Suburbia – light coral matte
Love+ – red matte
Poison Plum – purple matte
Bulletproof – black matte
2AM – pink-toned purple matte
Countess – shimmery burgundy
Feral – shimmery orange
Lumi – white with turquoise shift
Gash – red lip pencil
Black gel eyeliner
Black pencil eyeliner
Mascara or false lashes
Sideshow Mermaid Tutorial Video

If you like this tutorial, please share!
This is the first time I've ever done something like this, so I hope you like it! I really liked how Countess and Feral worked for my scales. Perfect for a sunset mermaid. And if you're not a mermaid fan, you can always use this technique to make a Mystique costume!
More to See