Baroness X Fluid Art Nail Polish
Hey friends, today I wanted to talk about the Baroness X Fluid Art Nail Polish with you. I miss going to get my nails done, even more than getting my hair or lashes done. Because of what's going on in the world right now, and especially here in Florida, I'm avoiding going to things like the salon or spa. I don't want to put myself, my family, my friends or my aestheticians at risk.
I realize, however, that I've tied a lot of what makes me feel put together and polished into how my hair, lashes and nails look. I felt like I never really had nice nails until I started getting them done professionally. I felt like I never really had nice lashes until I did lash extensions and lash lifts, because my lashes are stubborn and refuse to hold a curl. I've always felt pretty confident about how I color my own hair, so I'm glad that I've been able to do that from home. See my new midnight purple hair.
KBShimmer Something to Taco 'Bout is a PR sample. Everything else purchased by me. All opinions, as always, are my own.
Fluid Art How-To Tutorials
Because I knew that part of how I felt about myself was tied to my nails, I started looking for ways to do my nails at home to make me feel better. I invested in the Baroness X Fluid Art Nail Polish because it helps to create beautiful abstract art on your nails. The trick is figuring out HOW to make that happen.
I watched several fluid art how-to tutorials before I attempted my first manicure. Here are the most helpful videos I've found on the topic, as well as the ones that Baroness X recommends.
Fluid Art Tools
I actually ended up using a ton of different makeup brushes for application and clean up. I poured my Orly Nail Polish Remover into a small ramekin and dipped the brush into the nail polish remover to clean up the edges. I wiped the brush clean on a paper towel after dipping it into nail polish remover.
Fluid Art Nail Polishes
Cremes seem to be the best type of nail polish to use with fluid art nail polishes, but I still ended up using some non-cremes because it's what I have in my collection. I've purchased some more cremes because I really don't own a bunch. Most of my collection is flakies, multichromes, glitters and holographics.
Blue Green Teal Lime Black Fluid Art Mani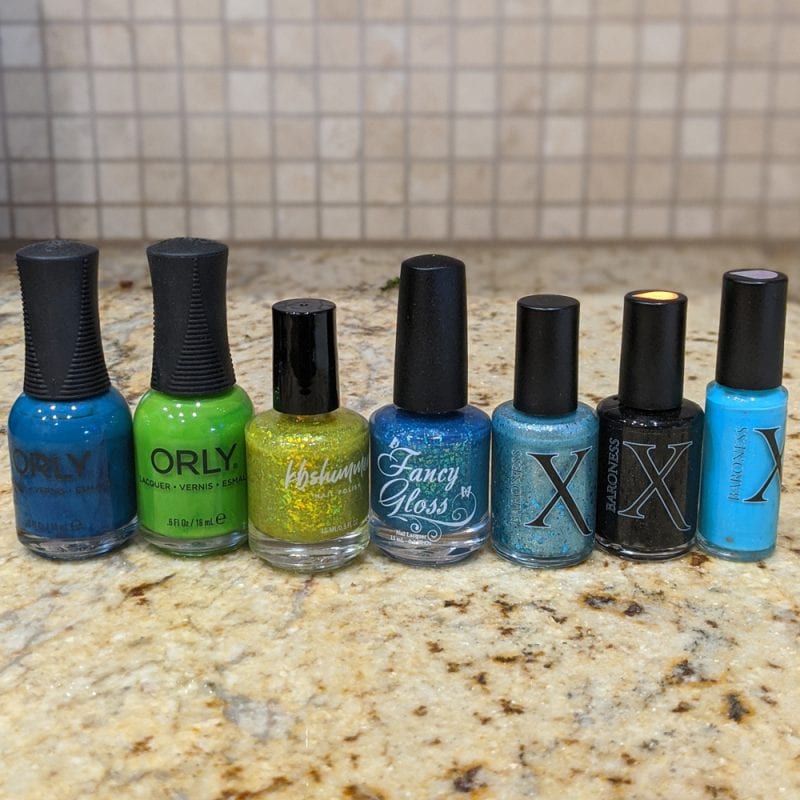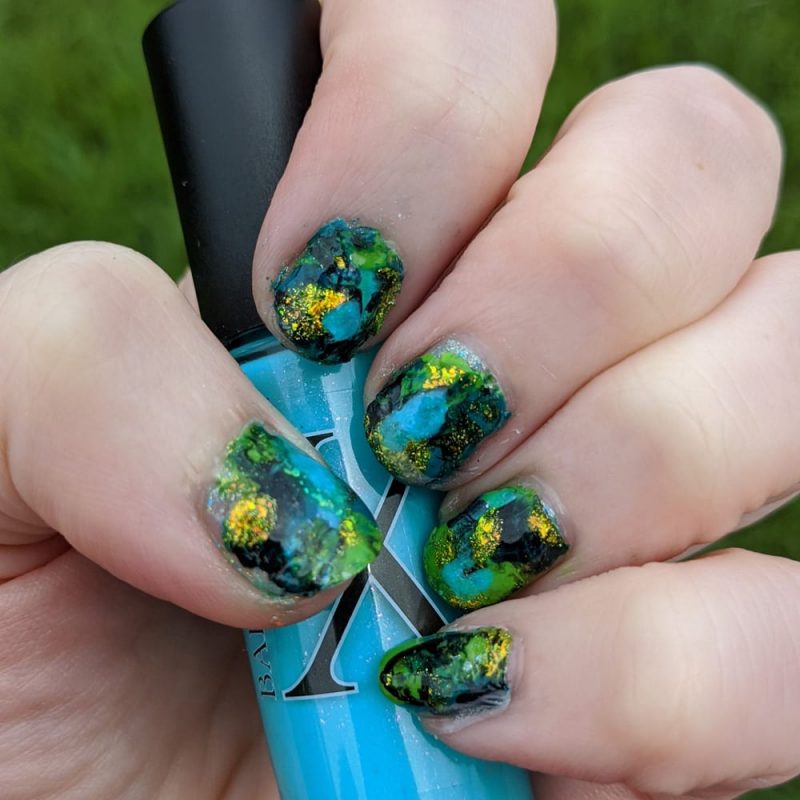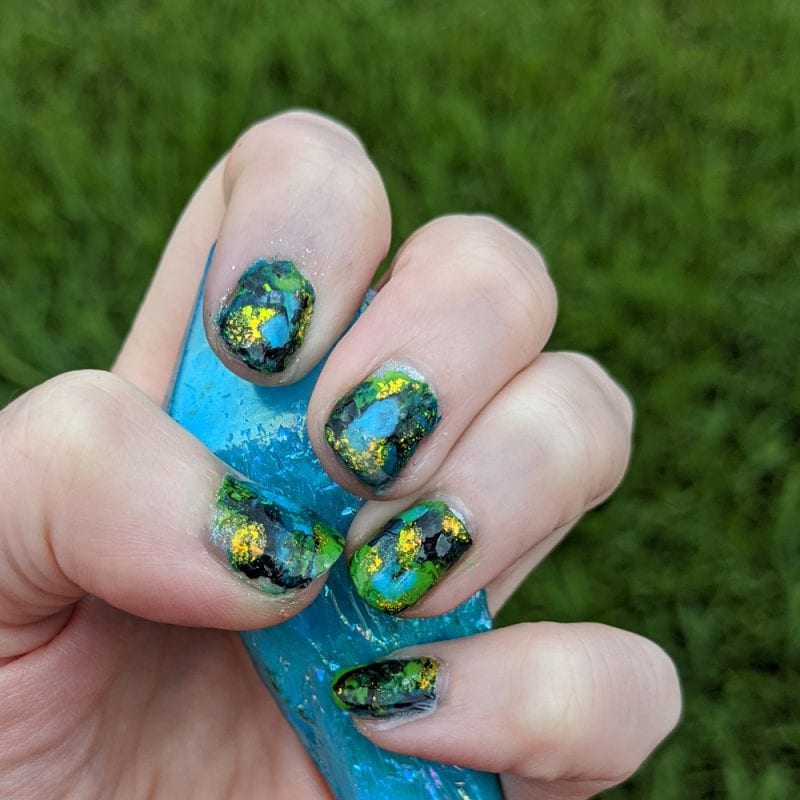 I used the peel off decal method for the Baroness X Fluid Art Nail Polish mani above. I painted a thin coat of Baroness X Mermaid Madness as a base for the decals to stick to.
Orange Purple Blue Fluid Art Mani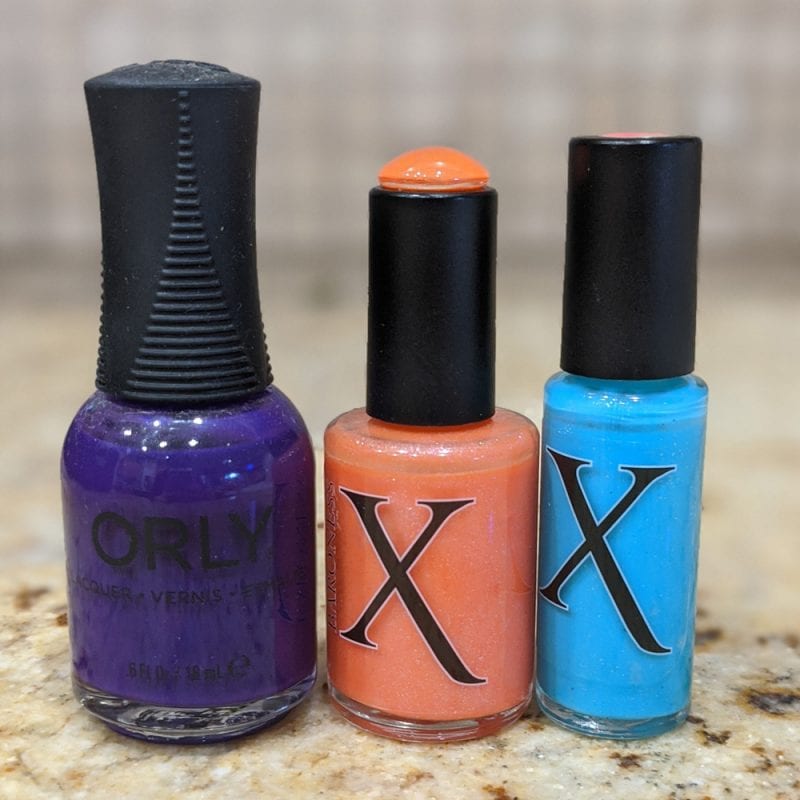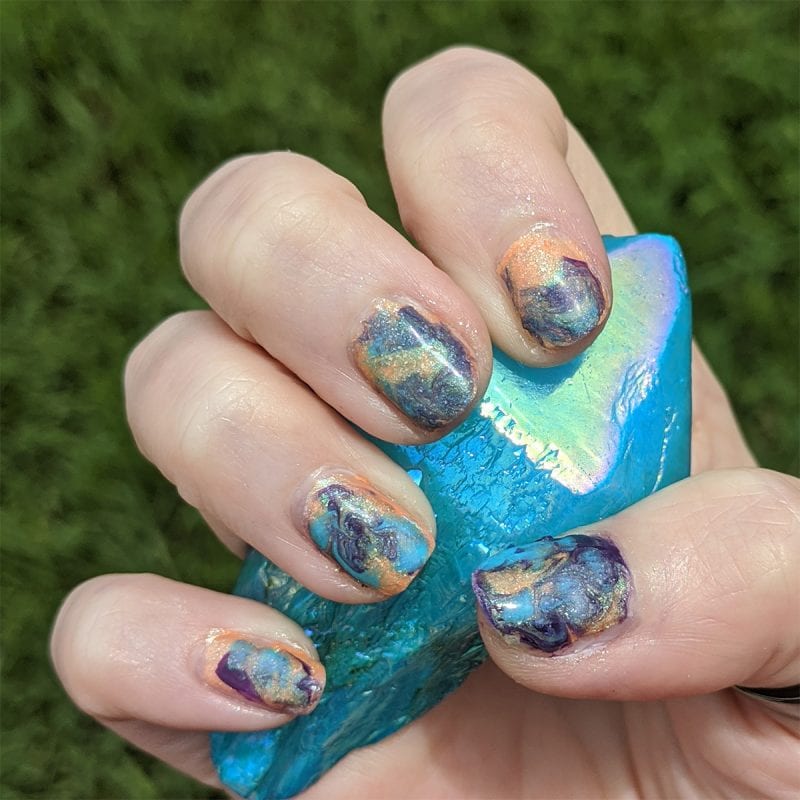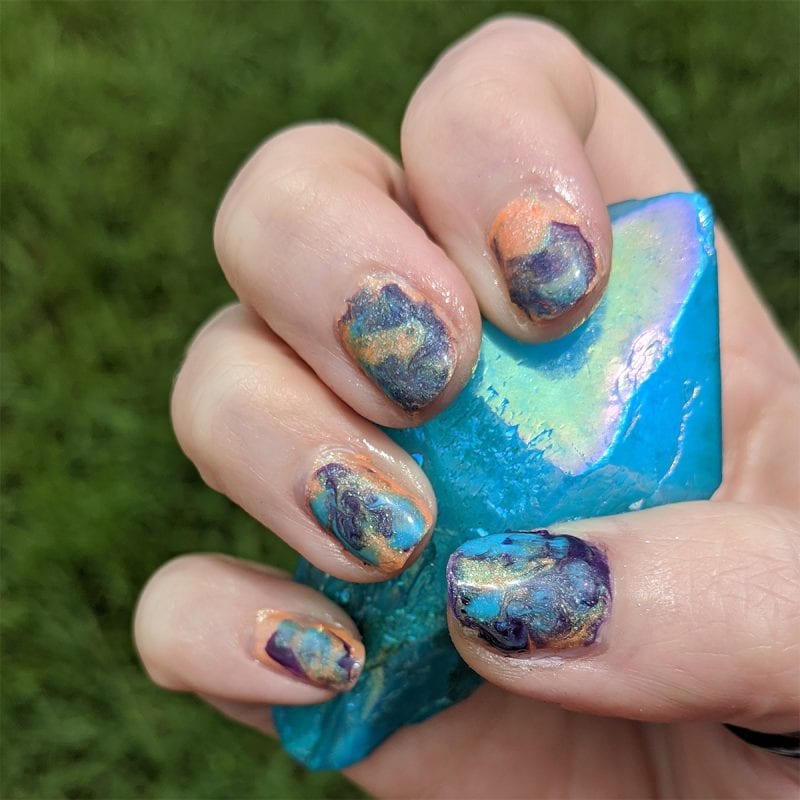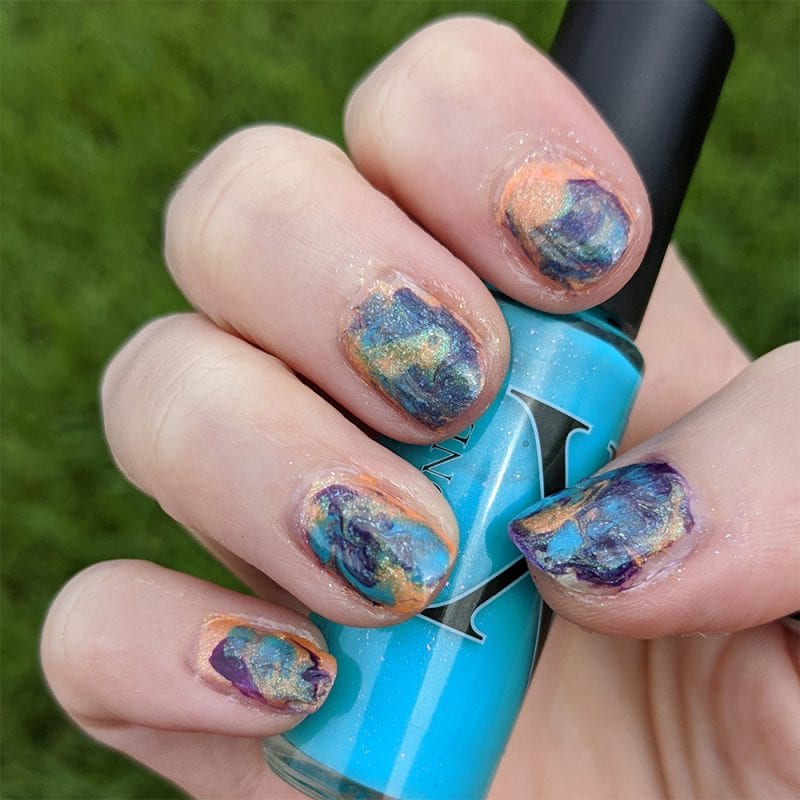 I used the brush it directly on my nails method for the Baroness X Fluid Art Nail Polish mani above. I painted a thin coat of Baroness X Guava as the base color on all my nails except for my thumb.
Considering that I am not a professional nail tech, I think my first attempts were moderately successful. They would have likely been better if I had used all cremes with the fluid art nail polish. While painting on the silicone mat is certainly easier than my fingers, getting the decals in place and getting the edges cleaned up is still challenging for me.
I think I also need to look into something for my nails to help them stay strong. I've been using CND Rescue RXX to strengthen them, but I must not file my edges properly because they end up breaking and I lose all my length. My pinky, thumb and index fingers have been doing ok, but my middle and forefinger just keep breaking. I desperately miss my stiletto nails and want them back.
Have you heard of Baroness X Fluid Art Nail Polish? Ever tried it? Share your nail secrets in the comments below!