Should I Use Moisturizer and Sunscreen?
I've had a lot of questions recently about 'Should I use moisturizer and sunscreen? Do they have to be separate products? Is the SPF in my makeup enough? How do I apply SPF after makeup?' I wanted to answer these questions today to help clear up any confusion.
Moisturize Separately
First off, if you have dry skin like I do, it's especially important for you to use a separate moisturizer from your sunscreen to make sure that your skin care routine is addressing your concerns. The number one reason for this is that if you are just relying on your moisturizer, you may not be protected at the advertised SPF. So for example, if your moisturizer with SPF is listed at SPF 40, it may only be at SPF 20 with the way you apply your moisturizer.
Second, if you have any skin conditions, such as dry skin, sensitive skin, or oily skin, you're better off using a moisturizer targeted at your specific skin type, so that your skin is getting everything it needs before you put on your SPF.
Is the SPF in my Makeup Enough?
I get asked this question all the time right now, is the SPF in my makeup enough? The answer is no. You will never put on enough of a foundation with sunscreen to hit the sunscreen rating listed unless you seriously cake it on. Look at sunscreen in makeup as an added bonus, but do not rely on it for sun protection. I know many foundations that claim to be SPF 30 exist, but you're only getting a fraction of the SPF protection rating from makeup.
How do I Reapply SPF After Makeup?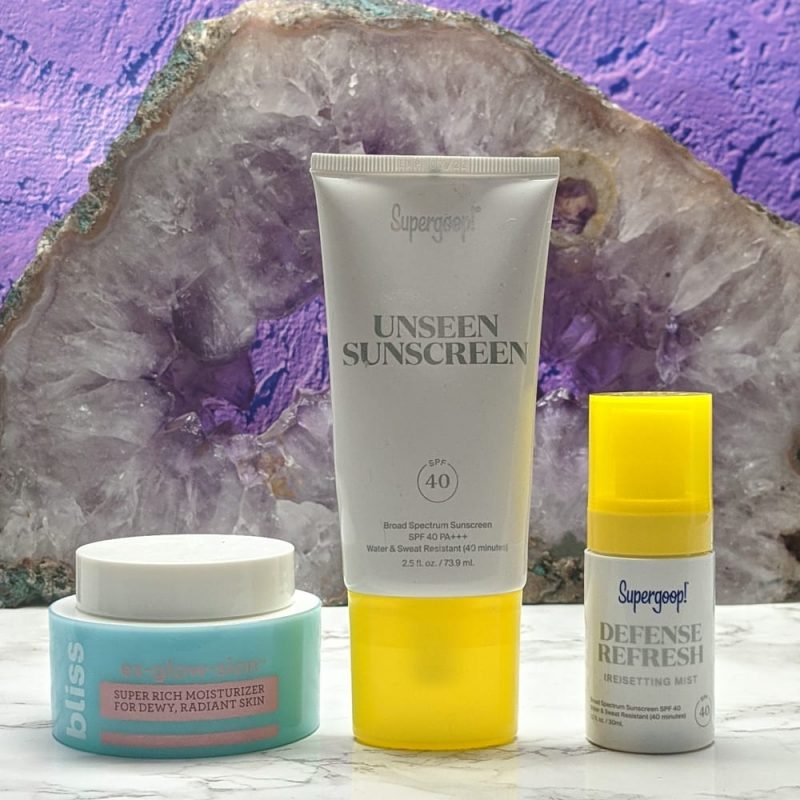 If you're looking to be outside all day and want to wear a full face of makeup, but still want sunscreen protection, here's what I do. I put on my Supergoop Unseen SPF 40 on my face, after I've applied my daytime moisturizer for dry skin, the Bliss Ex-Glow-Sion Moisturizer. I put on my makeup. Then I set it with Supergoop Defense Refresh Setting Spray SPF 40. I reapply the Supergoop Defense Refresh Setting Spray SPF 40 throughout the day as needed while I'm outside in the sun. This protects my sensitive skin from the sun's harmful rays.
SPF is the Best for Anti-Aging
The number one thing that you can do for your skin to protect yourself from the signs of aging is to wear sunscreen daily. Even Oprah agrees! I wear sunscreen 365 days a year on my face and body because the UVA/UVB rays are damaging.
The SPF Products I Use:
So yes, you should use a separate moisturizer and sunscreen to adequately protect your skin from sun damage. The sunscreen in your makeup is not enough to protect you from sun damage. Using sunscreen is the #1 thing you can do daily for anti-aging and to protect your skin from sun cancer. And yes, I firmly believe that everyone, from the deepest to lightest skin tones, should be using SPF.
Looking for more sunscreen options? Check out these 100 cruelty-free affordable sunscreens for under $20!