Summer Goth Queen of Darkness Lace Up Shoulder Top Outfit
Today I'm sharing my Summer Goth Queen of Darkness Lace Up Shoulder Top Outfit with you. I normally like to wear black with pops of color. I know it's not a summer color for most people, but burgundy wine looks great on me. I love how these burgundy shorts look with my new Queen of Darkness Lace Up Shoulder Top.
Cruelty-free Makeup Look
Eyes
Too Faced Shadow Insurance
Milani Prep Set Go Setting Powder
Viseart Cool Mattes palette
Urban Decay Born to Run palette
Stila Perlina Glitter & Glow Duochrome
Pur Mascara Primer
Milk Kush Mascara
Idun Minerals Perfect Brow in Dark
Face
Milk Makeup Blur Stick
Smashbox Primer Water in So Chill Coconut
Nudestix Tinted Blur Stick in Light 1
Physicians Formula Plum Rose – contour
Wet n Wild The Princess Daiquiries – blush
Wet n Wild White Raven – highlight
Lips
KVD Bloodmilk
UD Mirana (le, try Urban Decay Marfa)
Nails
Orly Royal Navy
Kat Von D's Bloodmilk pencil is a great base for any vampy lipstick look. I layered it with Urban Decay's Mirana (from the Alice Through the Looking Glass movie). However, it looks like the new summer shade, Marfa, would work just as well as Mirana.
Queen of Darkness Lace Up Shoulder Top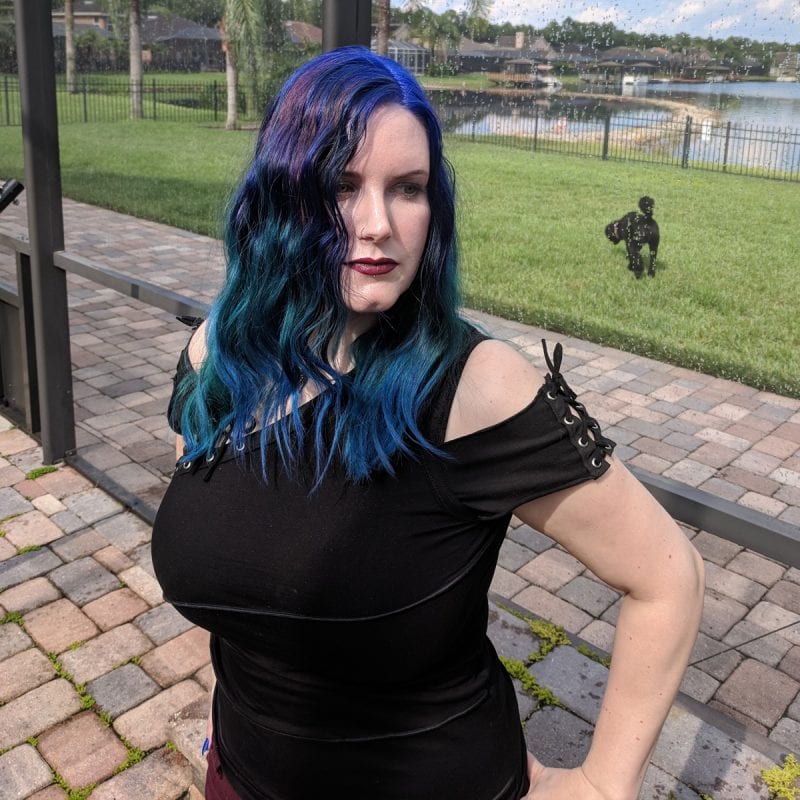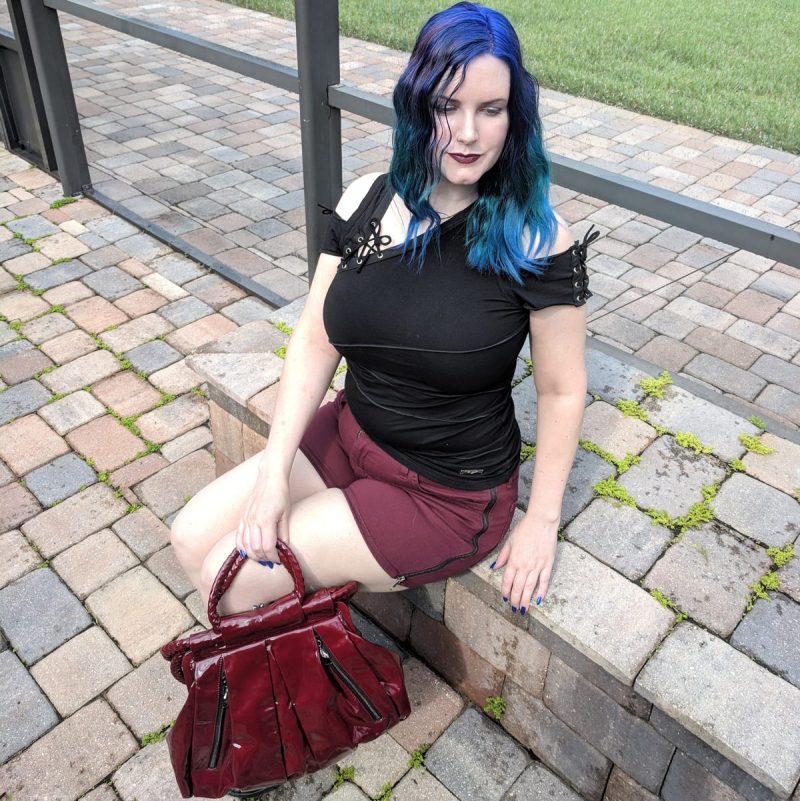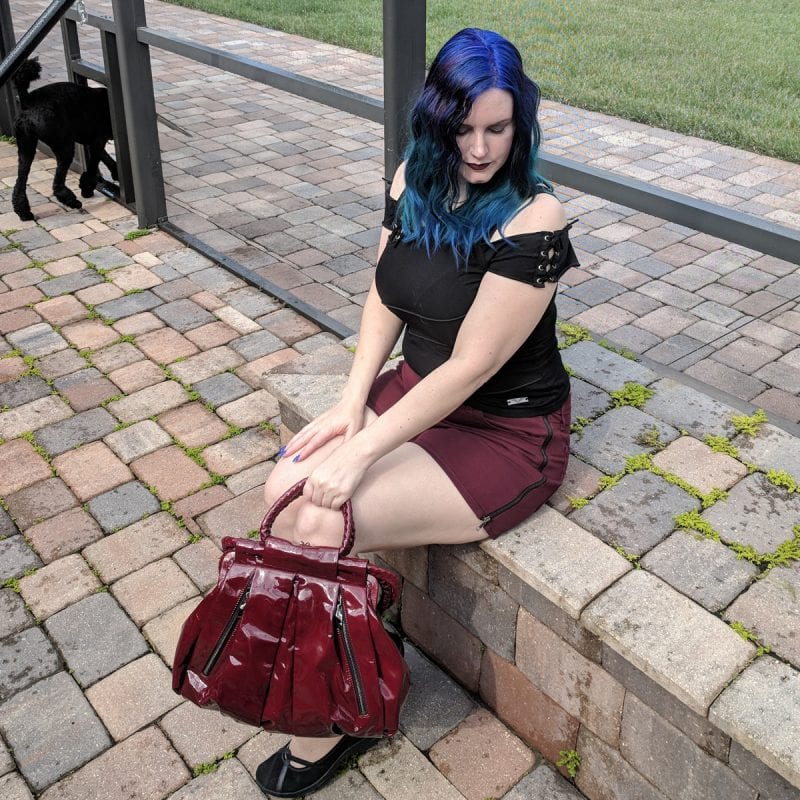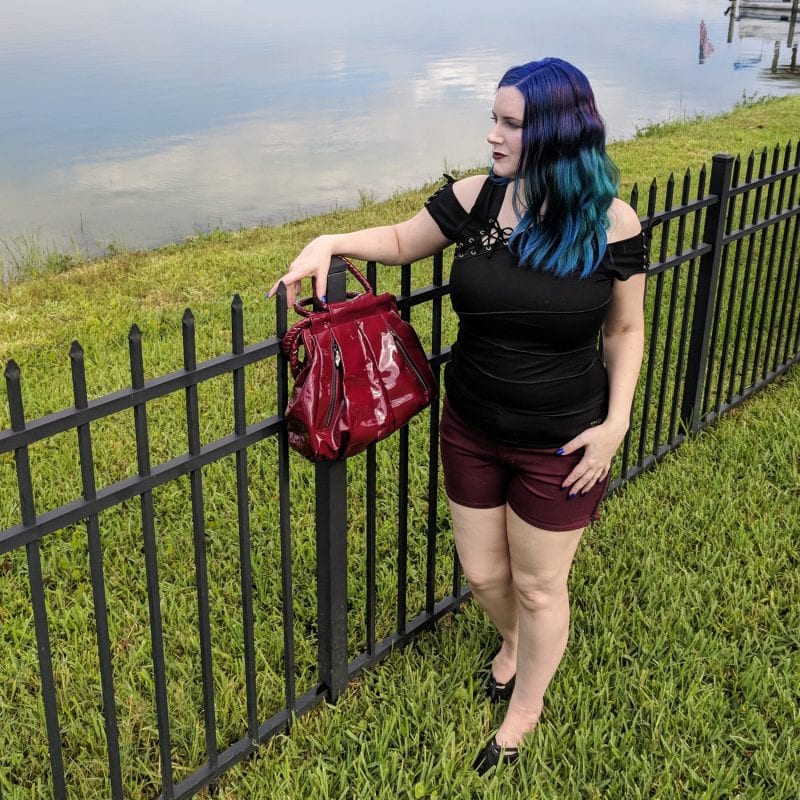 Top – Queen of Darkness Lace Up Shoulder Top from Sourpuss
Shorts – Rock & Republic Kimber Side Slit Jean Shorts in Plum Pie from Kohls
Jeans – (not pictured) Gloria Vanderbilt Amanda Jean in Sweet Burgundy from Amazon
Handbag – Christian Louboutin Large Loubette Satchel in Maroon from the Real Real (similar bag, bag 2, bag 3, bag 4)
Shoes – Clarks Privo Sneaker Ballet Shoes (similar shoe)
Jewelry – Bunny Paige Volcano Micro Spiked Heart Necklace
For those of you who don't know, I'm 5'4″, currently 151 lbs, curvy and petite. I typically buy petite clothing when I have that option because I prefer the 29″ inseam and the way the clothes are cut fit me better. I usually wear size 12 petite in jeans. This doesn't stop me from shopping in straight or plus size clothing.
Most of my wardrobe can be mixed and matched together with ease because I wear so much black. I love it when I find a unique black shirt design like the Queen of Darkness Lace Up Shoulder Top because it can be paired together with so many different skirts or bottoms. It's a step up from my black t-shirts.
The Queen of Darkness Lace Up Shoulder Top from Sourpuss is perfect for a hot, humid summer in Florida.  It has a neat sort of bandage style torso with lace up detailing on each arm and across the torso on the right side. It's 95% cotton and 5% elastane. I bought size Large to accommodate my 36DDD chest. The shirt fits comfortably and looks great. I wore it yesterday with my burgundy shorts during the day and switched to burgundy jeans (forgot to snap a pic of these) at night since we were going to be inside a tattoo parlor all night.
Typically when I shop at Kohls, I shop online. I rarely go in store. But I saw these Rock & Republic Kimber Side Slit Jean Shorts in store a while ago and loved the burgundy hue, as well as the black side zipper detail, so I had to buy them. I bought size 12 and they're super comfortable. They're a cotton spandex blend, great for summers in Florida. These burgundy shorts are perfect summer goth wardrobe staples.
If you prefer skirts to shorts, I've found the best burgundy skirt ever! The style is so flattering I also bought it in black and purple.
My shoes are Clarks Privo Sneaker Ballet Shoes, which I can't find on the Walking Company site. Because of Phaedra and Nyx, I almost always wear slip on sneakers or sandals during the day. I normally put on heels or boots or whatever if I'm going out, but these are just comfy shoes. I also have a pair of Naturalizer burgundy ballet flats that work well with this outfit.
I do have to tell you the story of my Christian Louboutin Loubette Satchel. I saw this handbag months ago, right after my Gunas fiasco and tried to buy it but the Real Real's site had a glitch so it had already been sold to someone else. I put up a watch notice for it on the Real Real site. I even located it on Poshmark, but it was twice the price I wanted to pay on there. When I received a notification that a similar bag was back, I jumped for it. I love this bag! It's the perfect shade of burgundy! I LOVE the patent leather with gunmetal hardware detail. I really like how it has short and long handles. I can wear it over my shoulder or hold it by the small handles. The push-lock stiletto shoe closure at the top is neat, but a bit of a pain to open or shut. My iPad is just a bit too big for it but it can hold everything else I need to put in it. To me, this is an edgy, gothic handbag.
Anyway, let me know what you think of my Summer Goth Queen of Darkness Lace Up Shoulder Top Outfit. Would you wear it?
Other Gothic Fashion