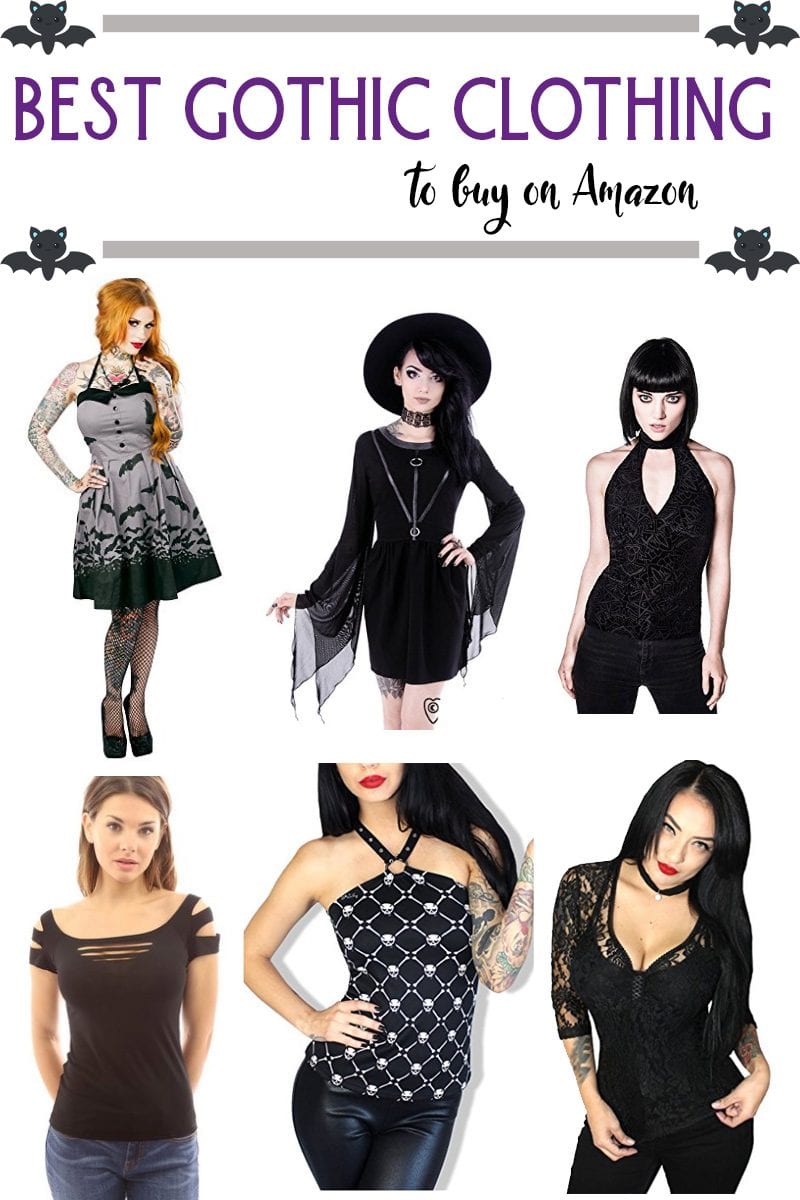 Best Gothic Clothing on Amazon
I get a lot of questions for where I shop for my wardrobe. I've found some of the best gothic clothing on Amazon over the past few years. They carry more sizes than your average mall, too, making it easier to find in between and plus size clothing. I prefer shopping online to braving a store. Less people, more variety.
While it can be fairly easy to find black pants and skirts, sometimes finding the right top is tricky. I love the variety that I've found on Amazon. It's important to note that the brand doesn't have to say it's gothic to carry items that will fit into gothic fashion. The right accessories are often all you need to make it fit your version of goth.
Best Gothic Clothing on Amazon – Tops
Sourpuss Floozy Top
The Black Sourpuss Floozy Top comes in sizes small to 3XL. It's super cute for spring and summer. It would make a great piece for layering too. I'd wear it with a fishnet top.
Sourpuss Audrey Top
I love this simple but versatile top!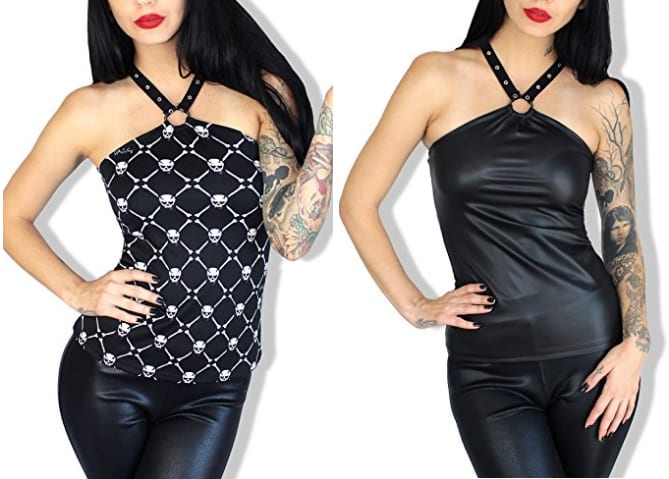 Demi Loon Skull O Ring Pinup Top
I love the O Ring design of this top. The black is more versatile, but the skull print is nice.
Spiral Gothic Rock Top
I love this layered gothic rock shirt design with the fishnet.
Demi Loon Velvet Pinup Baby Doll Top
I love this baby doll top because it has a bit of a Victorian look to it. It's made from stretch velvet. It comes in wine, too.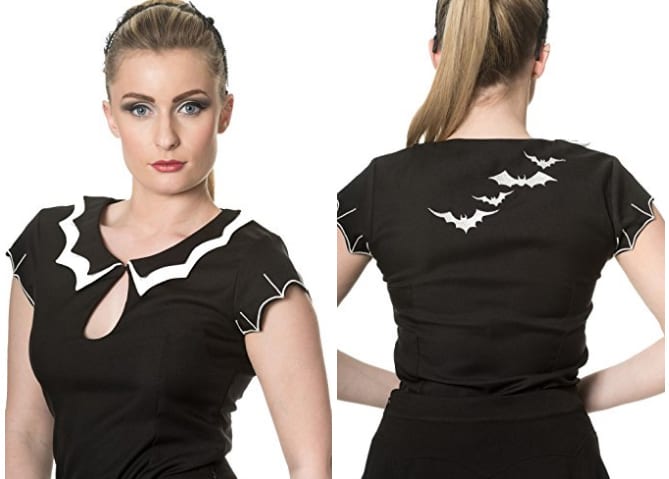 Banned Bat Top
This bat top has a really cool bat wing collar neckline and white embroidered bats on the back. It would look great with any black skirt or pants.
Skelapparel Victorian Gothic Bell Sleeve Top
Available in black and purple, I love the ribbon lacing up the front and the big bell sleeves.
Demi Loon Lace Gothic Pinup Top
This sexy lacey top is on my wish list! Love the style.
Widow Black Shiny PVC Lace Front Top
This is the sort of top I loved to wear clubbing.
Killstar Wednesday Chiffon Top
Sheer chiffon shirt with a white collar. My friend Stacia would look amazing in this.
Switchblade Stiletto Dame Tie Top
I have this shirt in two different styles – black, and black and purple. I love it. It's super comfortable.
Sourpuss Peekaboo Top
This is a cute top with a keyhole detail in front and back.
Sourpuss Lolita Top
This super cute top is perfect for an office setting.
Too Fast Bat and Moon Sweater
This is such a cute print!
Too Fast Annabel Bow Pick Me Up Top
I love all of my Too Fast bow tops. It looks like this is one of the few designs available at Amazon.
Killstar Burnout T Back Top
The velvet burnout fabric and T back halter top design make for a sexy top.
PattyBoutik V Neck Corset Ruched Tank
I just recently bought this and love how it looks on me.
PattyBoutik Keyhole Top
I own this in solid black, black and purple, and black and blue. It's a super comfortable, lightweight shirt.
PattyBoutik Lace Inset Blouse
This is another one of my favorite tops. I've purchased a ton of PattyBoutik tops and loved every one. I highly recommend them.
PattyBoutik Slashed Stretch Top
This is another of my fun tops from Patty. I love the slashed style.
Best Gothic Clothing on Amazon – Dresses
Sakkas Spaghetti Strap Dress
I love this little black dress. I also own it in purple. It's so comfortable for summer.
Insanity Black Bat Dress
I love this dress! It's black backs on a black dress. Super comfortable to wear. Mine is a medium / large.
M4U Black Lolita Dress
The Black Layered lace up dress is so adorable.
HaoLin Gothic Short Hoodie Dress
Such a super cute hoodie dress with big bell sleeves.
Sourpuss Spooksville Bats Dress
I love this grey and black bat dress design.  It's also available in pink and red.
Restyle Coven Tunic
The Coven Tunic is asymmetrical and has faux leather strap detailing.
This is really just the tip of the iceberg of what Amazon has to offer as far as gothic clothing is concerned. You can find your favorite brands like Hell Bunny, Killstar, Sourpuss, and Too Fast. You'll also stumble onto new brands to fall in love with, too.
If you like this you'll love the best gothic makeup brands to try now.
Have you shopped on Amazon lately?
Gothic Fashion