Best Gothic Makeup Brands to Try Now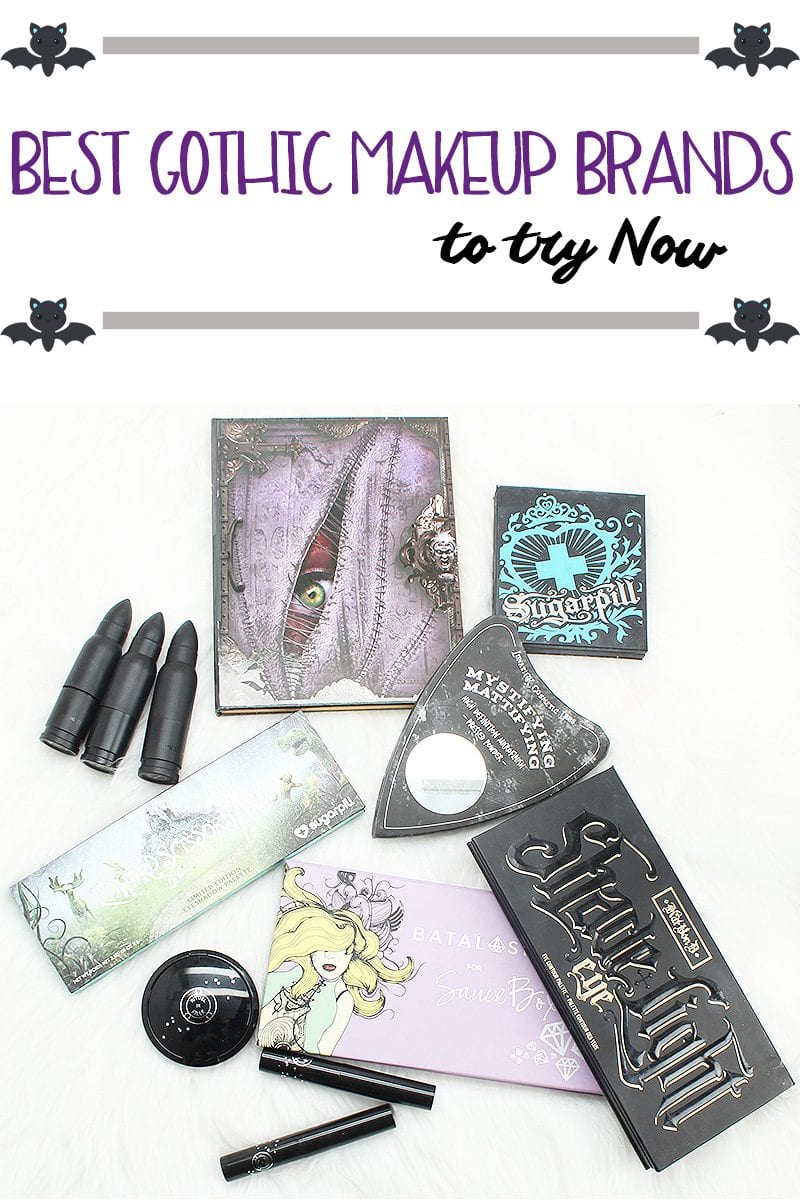 Reader Request! Today I'm sharing the best gothic makeup brands to try now. By gothic makeup brands I mean brands that have dark and unusual colors in their eyeshadows and lipsticks. Some even have fun and creepy names. Many of these are indie brands, which you know I love. As always, lists like these are subjective, but they're my picks. All brands are cruelty free and some have vegan options or are completely vegan.
You'll definitely want to see the Best Gothic Makeup Brands to Try in 2021!
Best Gothic Makeup Brands to Try Now
LunatiCK Labs Cosmetics
With the coolest multi-purpose contour palette, HD finishing powder, and Bullet shaped lipsticks, LunatiCK is pretty amazing. Their packaging is my favorite of all the brands mentioned here because of the witchy, magical style. Seriously, an Ouija board planchette finishing powder? It looks great in my makeup bag and I wish I had a foundation that was in this packaging! Also, the multi-purpose contour palette (can be used as eyeshadow, blush, contour and to fill in brows) is a really cool-looking book of the dead. Even their eyeshadow palettes are coffin shaped! They've got amazing packaging. (see my review of the Contour Palette) (all vegan)
Urban Decay
With the release of the new Urban Decay Vice Lipsticks, UD has returned to their roots with a plethora of purples, black, green and other amazing lipstick colors. Plus they have great eyeshadows too!
Kat Von D Beauty
Kat's line has great eyeshadows – from the Metal Crush to the Shade + Light palette. The studded kiss lipsticks and liquid lipsticks come in a ton of unusual colors, too. Plus, her packaging is pretty perfect! From the coffin-shaped brush case for her eyeshadow brush to the all-black everything with her packaging and unique lettering, I love her style. (see my swatches of all the Metal Crush & Shade+ Light) (some vegan)
I used to recommend Kat Von D Beauty but no longer. Here's a video explanation as to why, plus alternatives to Kat Von D Beauty.
Darling Girl Cosmetics
DG came out with a Monster High Inspired Ghoul School collection, filled with lots of purples. If you love Monster High, you'll love this collection (see swatches). They also have Queens of Horror (B movie Scream Queens inspired, see my swatches), Oh the Horror (inspired by horror movies, see swatches) and Ghost with the Most (inspired by Beetlejuice). Their artwork is really cute and I love it. (some vegan)
Notoriously Morbid Cosmetics
While the packaging may not be as creepy as some, the contents are pretty amazing. They offer a Vanishing Cabinet subscription service which I love. They have great duochrome eyeshadows, fun pressure sensitive matte eyeshadows like Douglas Firs (green to teal blue), bad ass highlighters and lipsticks. Osteomancy is my all time favorite silvery-blue highlighter. (See swatches of Notoriously Morbid's liquid lipsticks)(some vegan products)
Fyrinnae Cosmetics
One of the oldest indie cosmetic companies around, they're the original masters of multi-chromatic complex eyeshadows with their Arcane Magics and Exquisites. Their liquid matte lipstick formula is one of the most comfortable around and you
will find such shades as Enchanted (metallic gold), Black Arts (metallic purple), Phantasma (metallic pinky purple on black), Cauldron Smoke (metallic green on black, amazing), Warp Speed (metallic silver), Electromagnetic (green to pink to orange), Volcanic (beautiful red to gold), or Wizardry (burgundy with turquoise to purple shift). Oh and don't forget the Pixie Epoxy! This sticky base makes all the complex eyeshadows even more vibrant and keeps them in place. (see swatches) (all vegan)
Aromaleigh
Aromaleigh has been killin' it with their products lately. I love their X-Files collection. The new Ostara highlighter is amazing! It's got a purple glow. You've got deep complex shades like Ravenstag (chromatic black, with vivid duochrome green to teal to blue) and Carina (deep violet with teal blue shift). Amphisbaena is a cool greyed mauve contour powder. There are some amazing blushes too. Pharmakon (purple with green iridescence), Kali (red with blue iridescence), Ishtar (berry pink with teal blue iridescence) and Shakti (coral pink with green iridescence) (see swatches). (some are vegan)
Rituel de Fille
This luxury indie company makes gorgeous cream-based makeup products. The Ash & Eye Soots are pretty, with shades like Obsidian (metallic black), Seven Sisters (grey with blue tones), or Serpent de Mer (burnt taupe), & Golden Age (rich golden bronze). The lipsticks are pretty with shades like Blackthorn (sheer burgundy) and Against Nature (sheer pink). I love that their packaging has stars scattered on it.
My Pretty Zombie
After initially trying MPZ in 2010 and feeling meh about them, I've given them another try. They have a lot of morbid and creepy names for their eyeshadows, which are dark and often duochromes. They even sometimes arrive with a fake severed finger in the box! Expect a new review soon!
Silk Naturals
I love Silk Naturals and they are constantly underrated despite their great formulas. I'm going to steer you directly to their lip products. Their Velvet Matte lipsticks are wonderful. Shades like Peplum (dark purple), Ruby (deep cool-toned red), Underground (deep taupe brown), and Merlot (deep red) are great. Cherry Black is a vampy blackened plum. Bam is a rich, creamy black with no shimmer. Swank is a sheer black, meant for layering. You'll find their lipsticks incredibly moisturizing and comfortable to wear. (vegan)
Sugarpill Cosmetics
Sugarpill has a ton of gorgeous eyeshadows and they even offer nail polish. They have AMAZING lashes if you wear false lashes. Their Cold Chemistry Palette is dark and beautiful and for a while they had a Limited Edition Edward Scissorhands palette. (see my entire Sugarpill eyeshadow collection swatched) (almost all vegan)
Saucebox Cosmetics
Known for their Black Widow (blackest black) eyeshadow and Etude palette, they have some great eyeshadows and they're extremely large in size. They're interchangeable with Sugarpill eyeshadow singles. (see the Saucebox singles swatched)
Obsessive Compulsive Cosmetics
OCC Makeup is another great choice because they have such a wide variety of shades available in their lipsticks. Their colour pencils are multi-purpose and my favorites to use. Tarred is the PERFECT black lip pencil and if lipsticks are uncomfortable for you, you will love the formula of this pencil because it's comfortable to wear. If you only get one color, I implore you to look at Technopagan, it's an amazing blurple metallic. (all vegan)
Melt Cosmetics
Melt has gorgeous eyeshadow stacks Dark Matter (basic neutrals + black), Love Sick (burgundy, purple, peachy pink gold, grey teal), and Radioactive (neon). They also make some pretty lipsticks like DGAF (dark blue), By Starlight (purple), Blow (teal green), Blitzed (lighter teal green), Space Cake (grey) and Bane (black).
Necromancy Cosmetica
They specialize in gorgeous lipsticks from Puerto Rico. I have Lydia (deep blackened purple) and Necromantia (my perfect dark teal blue).
Colour Pop
Colour Pop has a lot of great eyeshadows and lip products in all kinds of colors. I love Marshmallow (greyed lavender), Petit Four (deep grey), Be-Dazzled (deep true purple), Jellies (deep blue), and Dr. M (deep teal green).
Manic Panic
Manic Panic has been around longer than I've been alive. They have a wide range of cruelty free and vegan makeup with a gothic flair. I love the look of the cross gloss packaging (though I generally don't like to wear gloss).(vegan)
I also wanted to include a few brands for foundations, which many of you may find helpful.
Cover FX
Cover FX has the most comprehensive foundation range available as they embrace all global shades of beauty. I wear N0 and they go all the way to N120. They have about 41 different shades in neutral, cool and warm tones. (vegan)
Meow Cosmetics
If you prefer powder foundations, Meow has 86 different shades. They also sell a white foundation mixer. (vegan)
Manic Panic Dreamtone White
If you need a white foundation mixer, Manic Panic's Dreamtone White is great. You can use it to lighten any foundation. (vegan)
The Body Shop Shade Adjusting Drops
If you need to deepen a foundation, the Body Shop's Shade Adjusting Drops in Darkening are good. I've been using Lightening to make my foundations a perfect match.
Make sure you see the Best Foundations for Pale Skin!
Gothic Articles You May Enjoy
For inspiration I recommend
What are your favorite gothic or spooky makeup brands?