Summer Goth Witch Dress
Since I've shared a lot of newer items from my closet recently, I thought I'd get out some older pieces to share. This is my Summer Goth Witch Dress. I bought it from Sourpuss 3 years ago. It's the New Breed Girl Amanda Symbols Dress in size Large.
I hate that it was a rainy day when I took these photos because I was trapped in the little space in my lanai where the rain doesn't reach. I like being able to take photos by my fence overlooking the lake, as well as elsewhere in the lanai.
PR + purchased by me.
Cruelty-free Makeup Look
Face
Nudestix Nudies Tinted Blur Stick in Light 1
Smashbox Primer Water in So Chill Coconut
Black Moon Cosmetics Sleepwalker liquid lipstick
Physicians Formula Plum Rose blush
Black Moon Cosmetics Catshark highlighter
I kept my makeup super simple. Originally I was planning to go to a friend's 4th of July party. However, Dave has been sick so we opted not to go. Phaedra and Nyx were happy we stayed home because they hate the fireworks. Phaedra hides from them while Nyx barks at them.
You can really see the gorgeous Catshark highlighter on my cheek in the photos below. I love this highlighter color and the name is so cute. I was impressed with the Black Moon Cosmetics Sleepwalker liquid lipstick. It wore so well throughout the night. It looked perfect after 12+ hours when I took it off at 2am. If you're looking for a long-wearing black liquid lipstick, this is definitely one to try. It's so good!
Summer Goth Witch Dress OOTD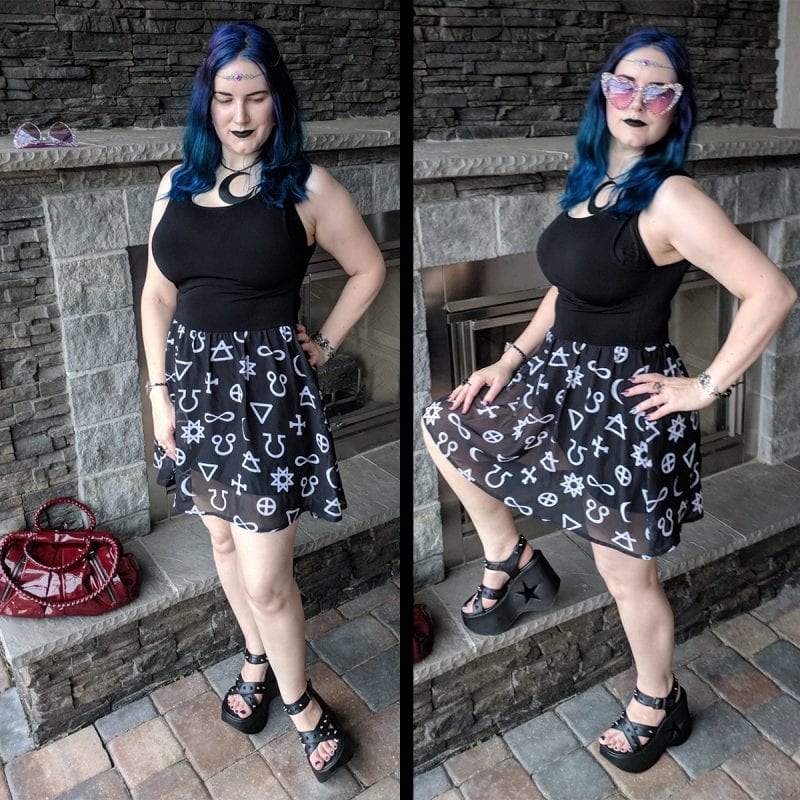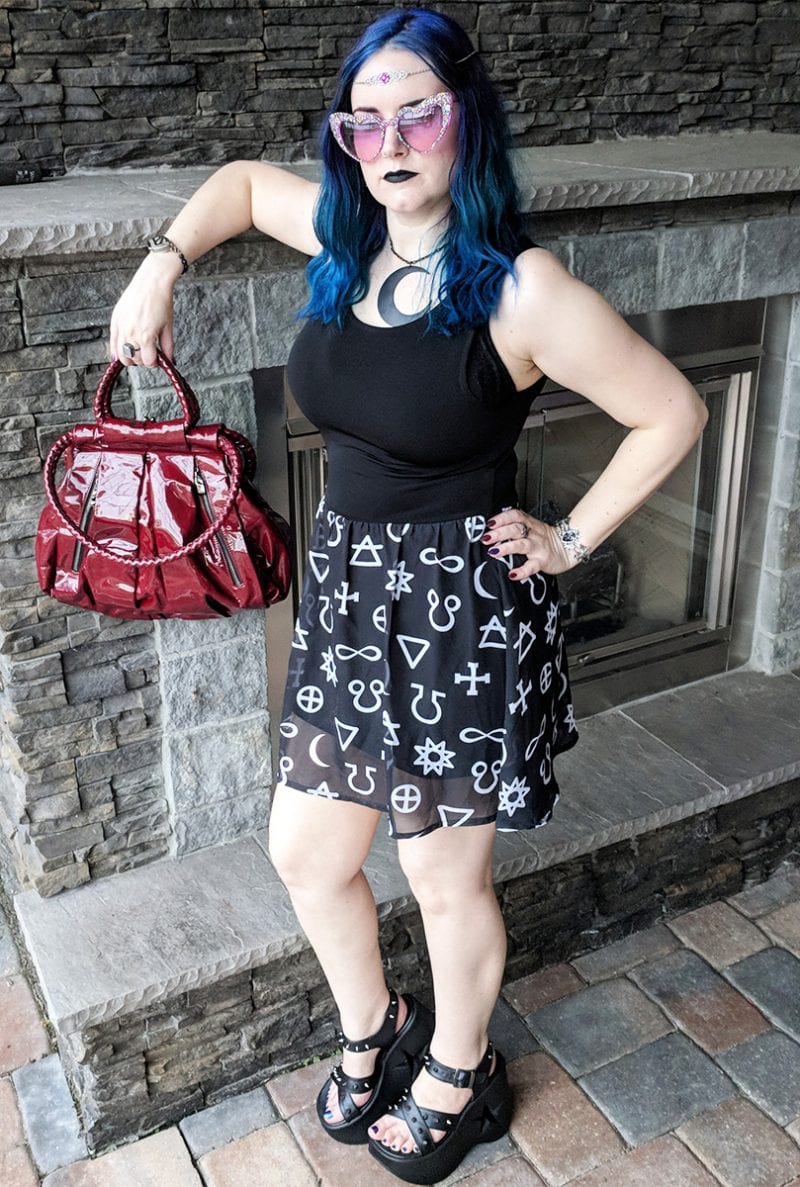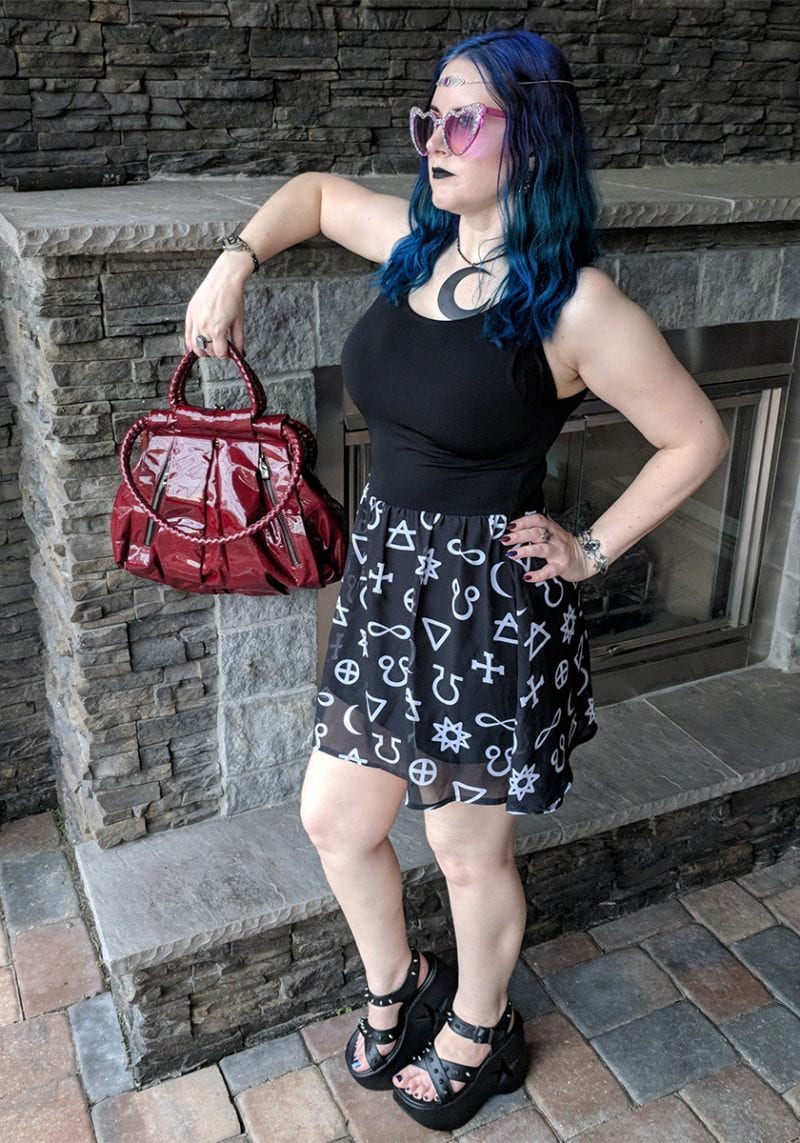 Dress – New Breed Girl Symbology Dress (similar styles black magic dress, moon & stars dress, eyelet dress, grommet dress, symbology skirt)
Shoes – Demonia Dark Party Spiked Sandals
Handbag – the Real Real Christian Louboutin Loubette Satchel in Burgundy (see other Christian Louboutin bags)
Sunnies – Bunny Paige Sugar Cookie Heart Sunglasses in Lavender Purple
Circlet – Moon Maiden Purple Circlet
Necklace – Restyle Black Moon Necklace
Bracelet – Alchemy England Viennese Nights Bat Bracelet
Fitness Tracker – Bellabeat Leaf Urban
Earrings – Triple Moon Goddess Earrings
Ring – Ringly Dive Bar Ring
Ring – Tentacle Ring
The New Breed Girl Amanda Symbology Dress in size Large is an old favorite of mine and it's perfect for a Summer Goth Witch dress. The dress is 95% poly and 5% spandex with a printed symbol chiffon skirt on top of a fitted underlining. It's made in the USA in Los Angeles, California. I tried several different belts with this dress and didn't like how any of them looked, so skipped a belt. I think I need a thin black belt.
Demonia has long been a goth shoe brand staple in my wardrobe. I own more shoes from Demonia than any other brand. The Dark Party Spiked Sandals (size 8) are among the most comfortable shoes by Demonia. I love that these shoes are spiked. Next time I need to remember to grab my spiked purse to go with these shoes! I love the Dark Party Spiked Sandals because they work with dresses or shorts, making them perfect for most Summer Goth outfits.
My friend Em, from the blog Glitter is my Crack, makes jewelry. I bought this Purple Circlet she makes on Amazon, but she has a wider variety of choices at Moon Maiden Jewelry. You could certainly wear this as a necklace, but I bought it specifically to wear as a head piece. It's set with a beautiful bright purple gemstone. She has pieces in every color imaginable! I believe she also does custom work, too.
The Alchemy England Viennese Nights Bat Bracelet is really super cute. I included a better photo of it above so you can see the crystal detail. The grey gem for the bat's body almost appears to be iridescent in person. It really is beautiful with how it catches the light.
I am in LOVE with my Restyle Black Moon Necklace! This is the first time I've worn it. It's a HUGE black moon on a long chain, though for this look I pinned it back to turn it into an oversize choker.
I haven't worn the Ringly Dive Bar Ring in a while. When I was moving I put it into storage and now I need to dig up my charger for it. It's a great statement ring. Same with my Tentacle Ring. People always ask about these two rings when I'm wearing them.
I'm still in love with my Bunny Paige Sugar Cookie Heart Sunglasses in Lavender Purple. I love the way Bunny Paige 'dusted' the glasses with swarovski that catches the light. The gradient lenses are a nice touch too. Bunny Paige's Summer Sale is going on until July 6. Now's the time to pick up a new pair of sunglasses or a necklace. I just placed an order for custom sunglasses, a new spiked heart necklace, and two different chokers. You can see some of my Bunny Paige Spiked Heart Jewelry Collection here.
Where would you wear this Summer Goth Witch Dress?
More Summer Goth Fashion