Gothic Fashion at Target
Who loves to shop at Target? I do! I wanted to share gothic fashion at Target with you! If you've seen my How to Build a Gothic Wardrobe video, you'll know that I love to shop at Target. While I know many of us pick up everyday items like Pixi beauty products, underwear, socks, jeans, or black t-shirts, you can find other gothic fashion items at Target, too. When I was perusing the site the other day I saw a lot of really cute gothic fashion pieces that could be excellent wardrobe staples. Remember, you can dress up anything with the right accessories!
This post was inspired by Katy P from the PhyrraNyx Facebook Group. Katy you have great taste!
Gothic Dresses at Target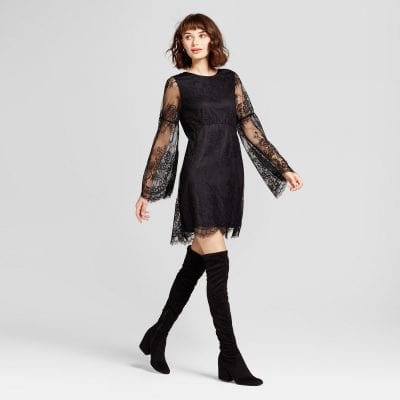 Long Sleeve Lace Dress (on clearance for $17)
The Alison Andrews Long Sleeve Lace Dress has a romantic, yet modern feel thanks to the lace detailing. I love gothic clothing that has a romantic feel to it like this! I bought this dress after Katy shared it with me.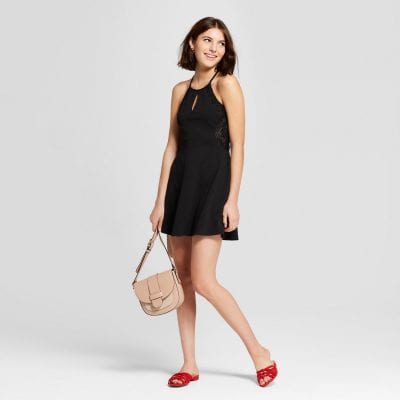 Black Keyhole Halter Dress ($21 on clearance)
This little halter dress is a great summer goth staple wardrobe piece!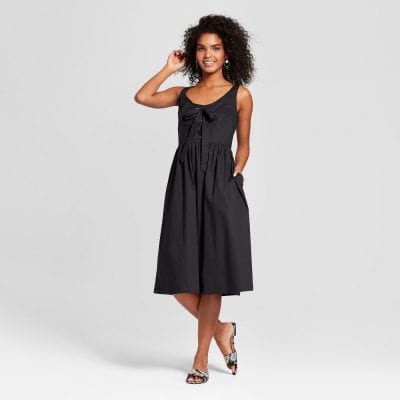 Lace-Up Tank Dress with Pockets ($33)
The Lace-Up Tank Dress has so much to love! It has a fitted bodice top with lace-up ties. I adore the fact that it has pockets. And did I mention this dress is 97% cotton, which makes it perfect for very hot weather.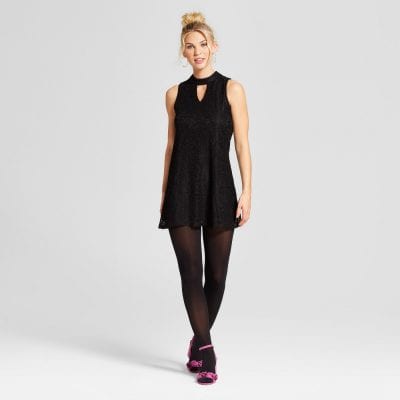 Lily Star Sleeveless Dress ($8.38 clearance)
This is a really cute little mini dress / tunic.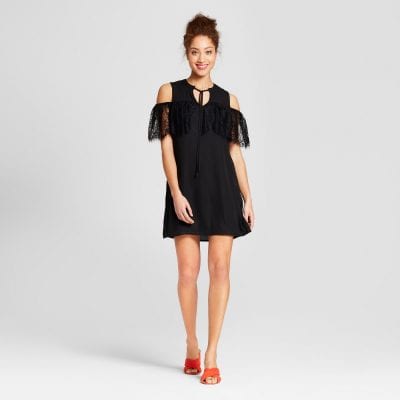 Lily Star Cold Shoulder Dress ($8.38 clearance)
The short lace sleeves are what I love about this classic black dress.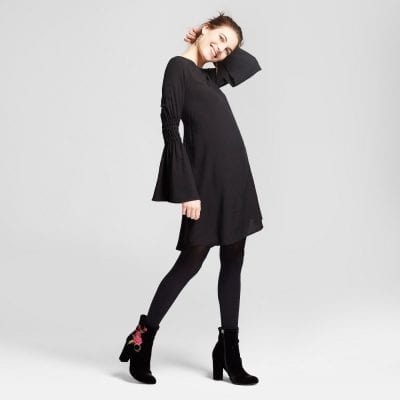 Grayson Threads Black Bell Sleeve Dress ($38)
The Grayson Threads Black Bell Sleeve Dress is so cute! It's a perfect little witch dress.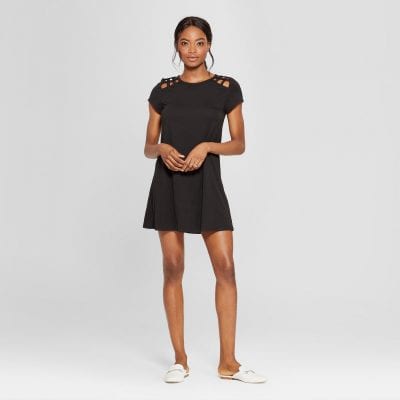 Lattice Shoulder Dress ($25)
A cute little black mini dress with interesting lattice cut-out accents on the shoulders.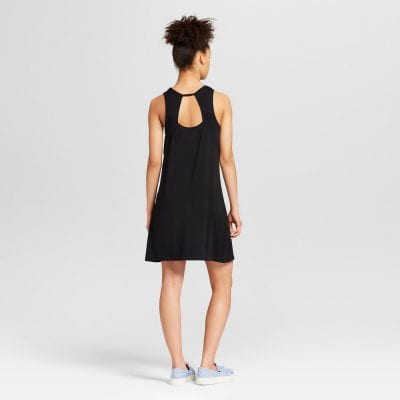 Cut-Out Back Sleeveless Dress ($13.98 clearance)
This is a great dress if you have a back tattoo to show off, thanks to the cut-out in the center of the back.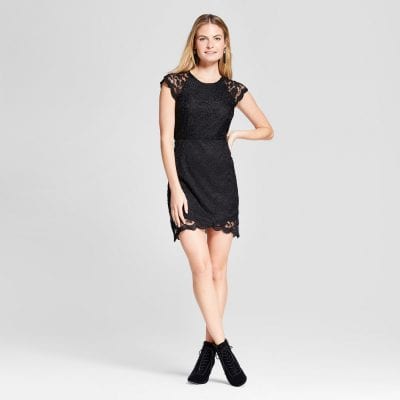 K by Kersh Lace Cap Sleeve Dress ($50)
I love the sheer lace overlay on this dress! I have a similar dress to this that I love.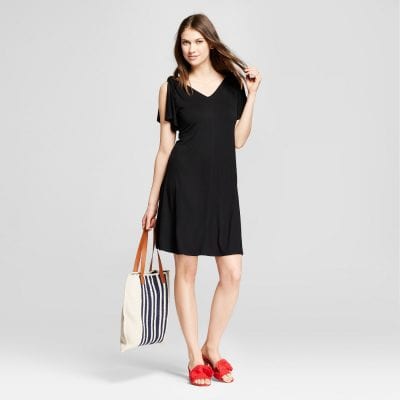 Tie-Shoulder Knit Swing Dress ($20.98 clearance)
I like the unique tie-shoulder accents on this dress.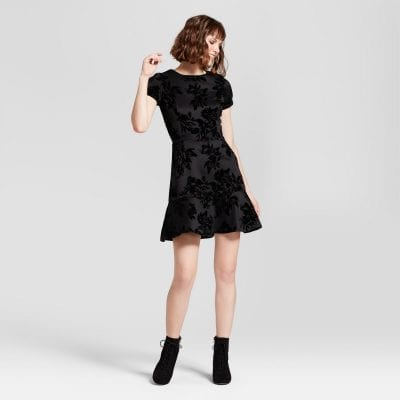 Black Velvet Dress ($55)
I like the little ruffle hem on this dress. I could see it working with gothic lolita accessories.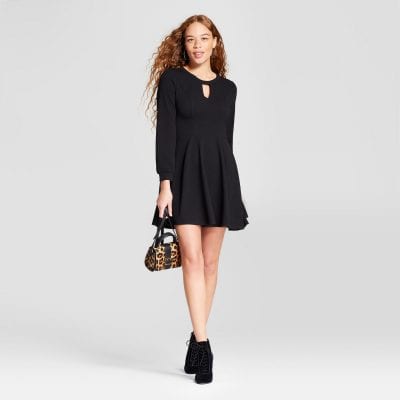 Eclair Keyhole Fit and Flare Dress ($50)
I love fit and flare dresses! I think they're extremely flattering on curvy bodies like mine. This is a classic, cute long sleeve dress. I really love the way the bottom of the dress flares out.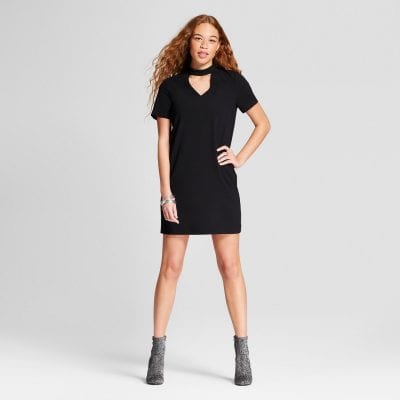 Alison Andrews Choker Shift Dress ($40)
I adore this dress! It has a 90's feel to it. The choker detail is cool. If I didn't already own similar styles, I would buy this piece of gothic fashion at Target.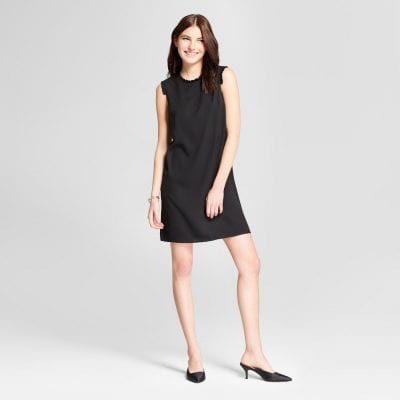 Eclair Ruffle Dress ($45)
This shift silhouette is really cute. I like the ruffle detailing at the neckline and shoulders.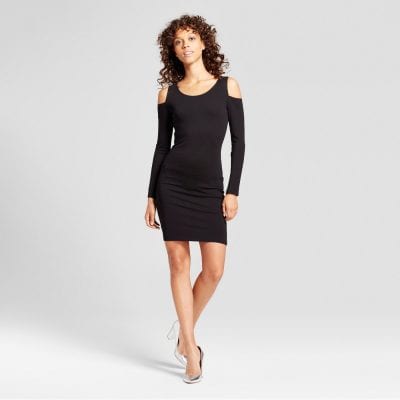 Necessary Objects Cold Shoulder Bodycon Dress ($46 clearance)
While I don't typically wear bodycon dresses, I know many people love them. This one has long sleeves and cut out shoulders.
I included some gothic shoe ideas below.


I own the Moon Child flats shown below, as well as a few of these other styles.


Let me know what you think of gothic fashion at Target. Have you ever picked up goth staple wardrobe items at Target?