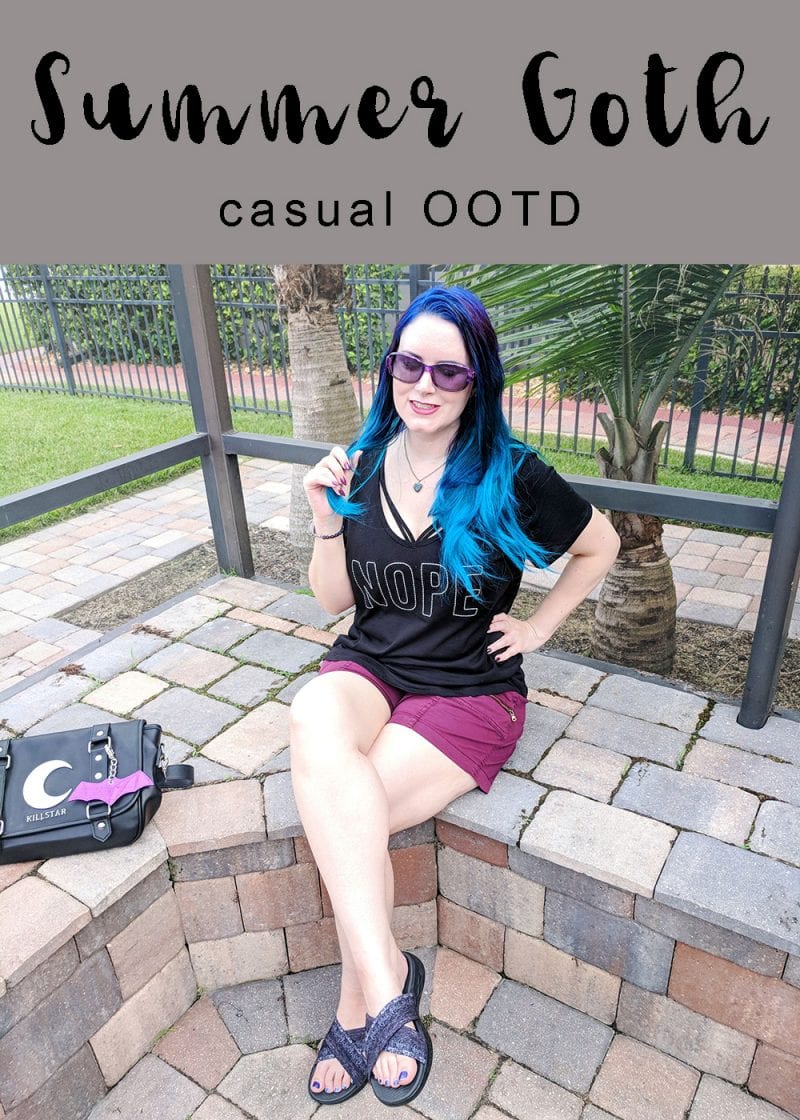 Summer Goth Casual OOTD
When you live in Florida like I do, it gets hot. Really hot. Some days, you just have to embrace dressing casually to stay cool. So I'm sharing one of my Summer Goth Casual OOTD's with you. (OOTD is outfit of the day).
Urban Decay & Xperio were PR samples. Everything else purchased by me.
Minimal Cruelty-Free Makeup Look
Nudestix Nudies Tinted Blur Stick in Light 1
Smashbox Primer Water in So Chill Coconut
Urban Decay Lo-Fi Lip Mousse in Boom
One thing I never forgot, no matter what day of the year it is, is sunscreen. I don't tan, I burn, so it's imperative that I wear it! On my face I've got Kate Somerville Daily Deflector SPF 50, which is a full spectrum sunscreen that protects your skin. On my body I have Coola Sport Spray SPF 50. If I am going to stay inside most of the day, I like to use Coola Sun Silk Drops on my face.
Torrid Nope Shirt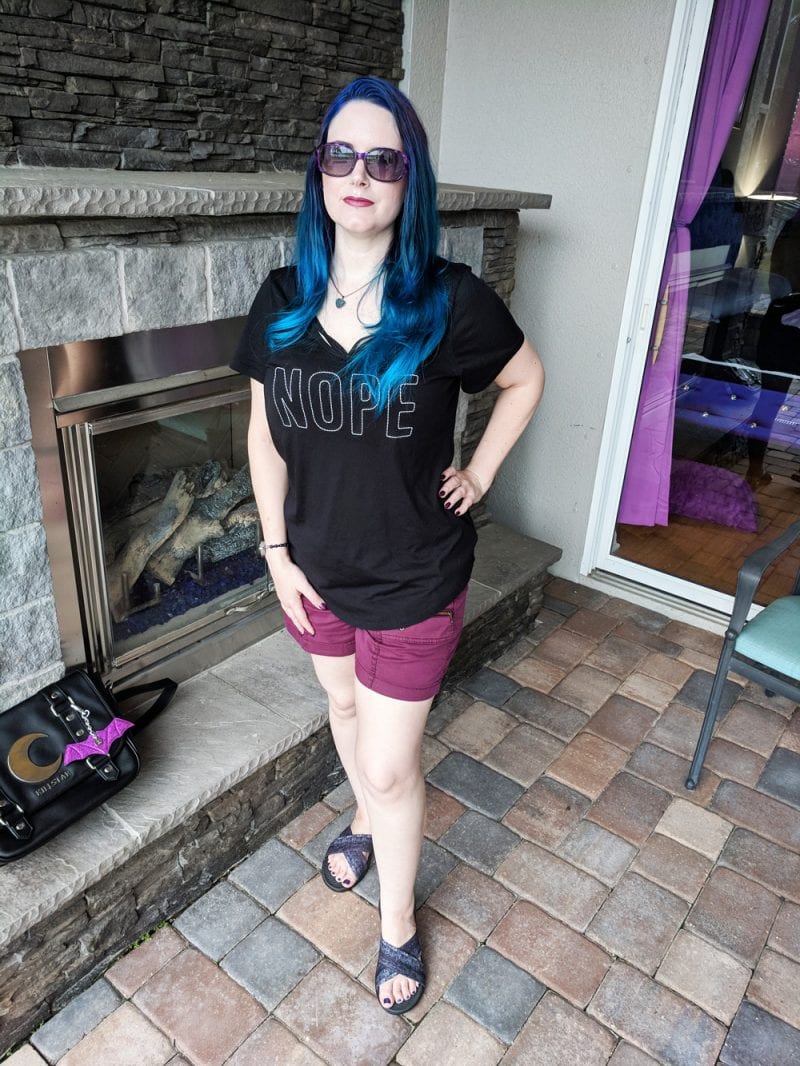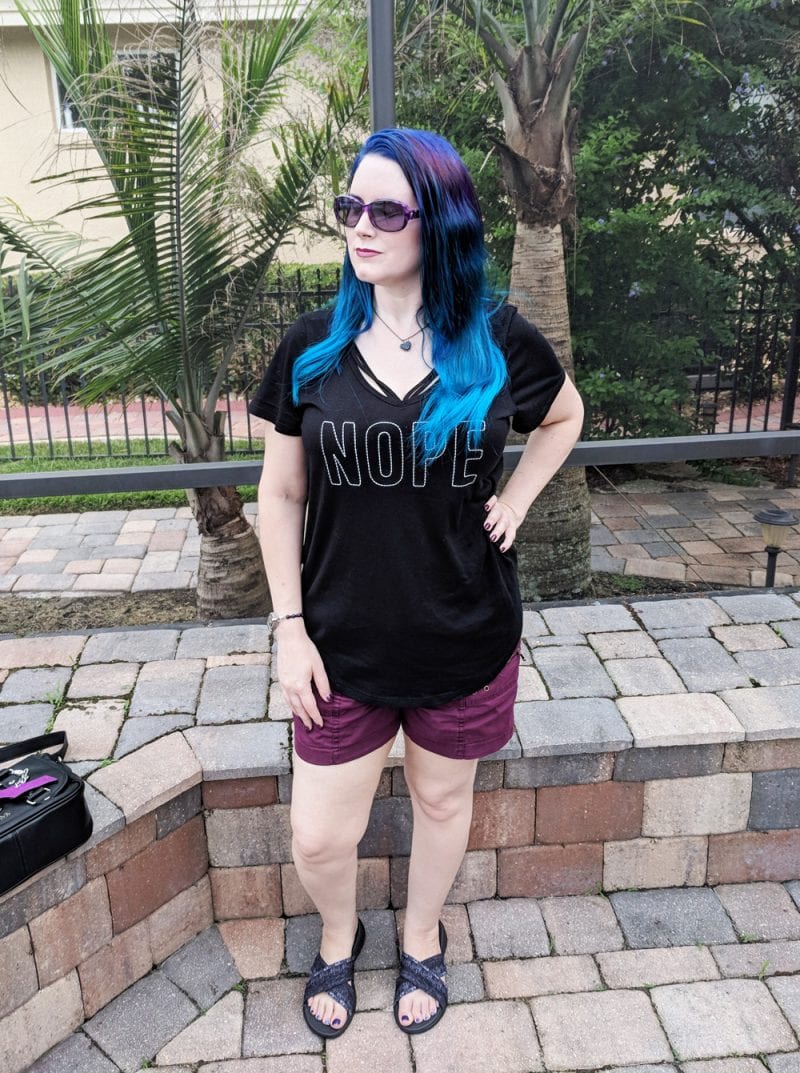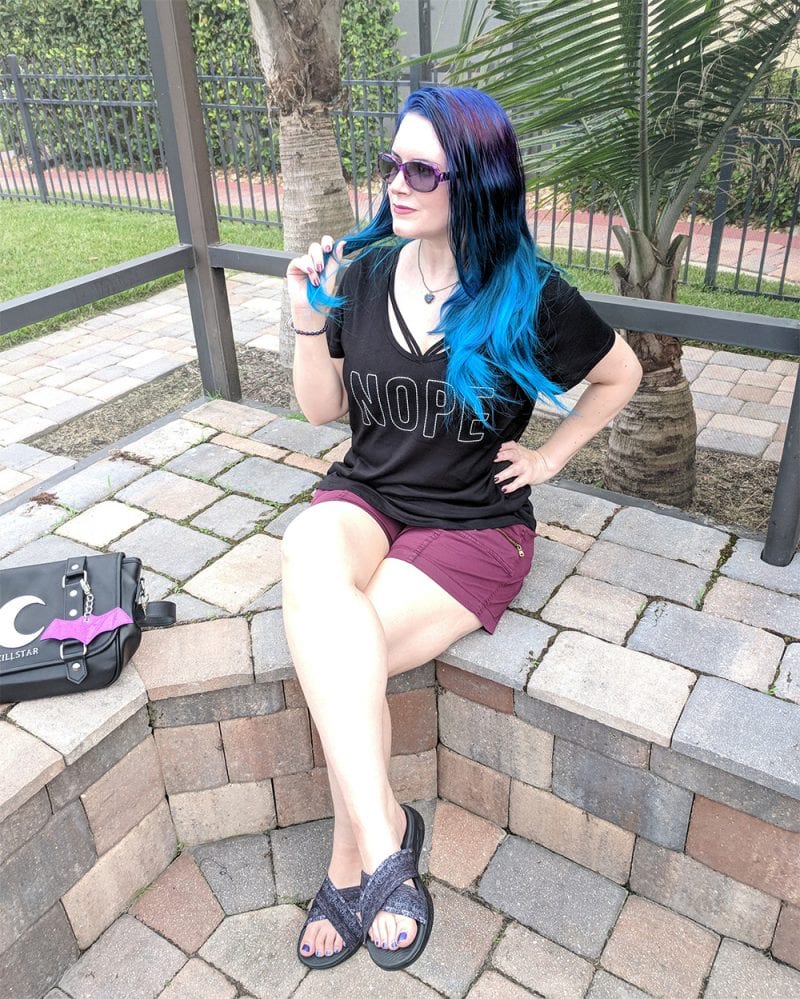 I hear you calling Marian… across the water… across the way. (click here to listen to the Sisters of Mercy song)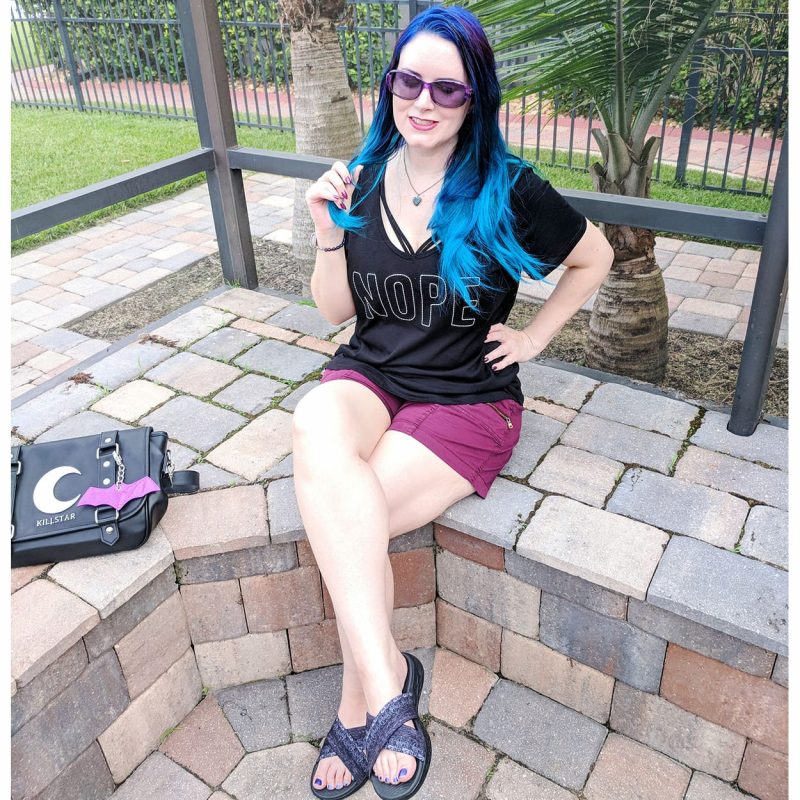 Shirt – Torrid Nope Shirt size 00
Shorts – Sonoma Utility Shorts size 12 Madeira Berry
Handbag – Killstar Blair Bitch Messenger Bag
Shoes – Sketchers Monarch Slide Sandals size 8 Black
Necklace – Bunny Paige Dragonfly Micro Spiked Heart
Sunglasses – Xperio Purple Sunglasses (similar pair)
Fitness Tracker – Bellabeat Leaf Urban
When I saw the Torrid Nope Shirt, I knew I had to have it because some days, I just have to say nope. Not gonna happen. I like the extra strappy bits that go across my boobs. This might be my favorite shirt I've ever found at Torrid.
The Sonoma Utility Shorts are super comfortable! The Madeira Berry color is a great wine burgundy shade that matches Urban Decay Lo-Fi Lip Mousse in Boom perfectly. So if you love burgundy, you'll love these casual summer shorts.
The Sketchers Monarch Slide Sandals are a great casual goth summer sandal. The black color has some purple tones to it, which I like. They're very comfortable for walking with Phaedra and Nyx. They'd be perfect for the beach too.
The Killstar Blair Bitch Messenger Bag is one of two black handbags that I own. I typically prefer my handbags to be a color – purple, burgundy, etc, since I wear so much black. However, I love this bag! It's an excellent size and has enough compartments that it's easy to be organized in it. I stuck a purple glitter bat onto it for fun. This would be a great bag for someone who needs to carry a laptop or tablet with them frequently.
Really, this is the sort of casual summer goth outfit I wear almost daily because it's comfortable when the temperatures are above 90 degrees, as they've been lately. Only the black shirt changes. It could be a Tee Turtle, Blackcraft Cult, or anything else I like.
What's your favorite casual summer goth outfit?
More Gothic Fashion