A Girls Night Out
Yesterday was a girls night out and we went to 98 Rock's Not So Silent Night with Halestorm, In This Moment, and New Year's Day. Corinne planned this outing for us with her favorite people. New Year's Day was the opening band. It was at Mahaffey Theater in St. Petersburg, Florida.
I was vaguely familiar with In the Moment, so I thought it sounded like fun. It was a pretty awesome concert! The venue was very comfortable for someone like me with anxiety issues. I did wear ear plugs and medicated, but having my own dedicated seat made it far less stressful. I also liked the seat because I've currently got 2 broken toes and didn't want to stand for several hours.
In This Moment, Halestorm, & New Year's Day are more on the metal side of rock. I typically listen to more gothic / darkwave / electronic, but these bands put on a great show. I've included some photography of the event for you. To get an idea about the music I love listening to, check out my favorite gothic music playlist on Youtube.
98 Rock's Not So Silent Night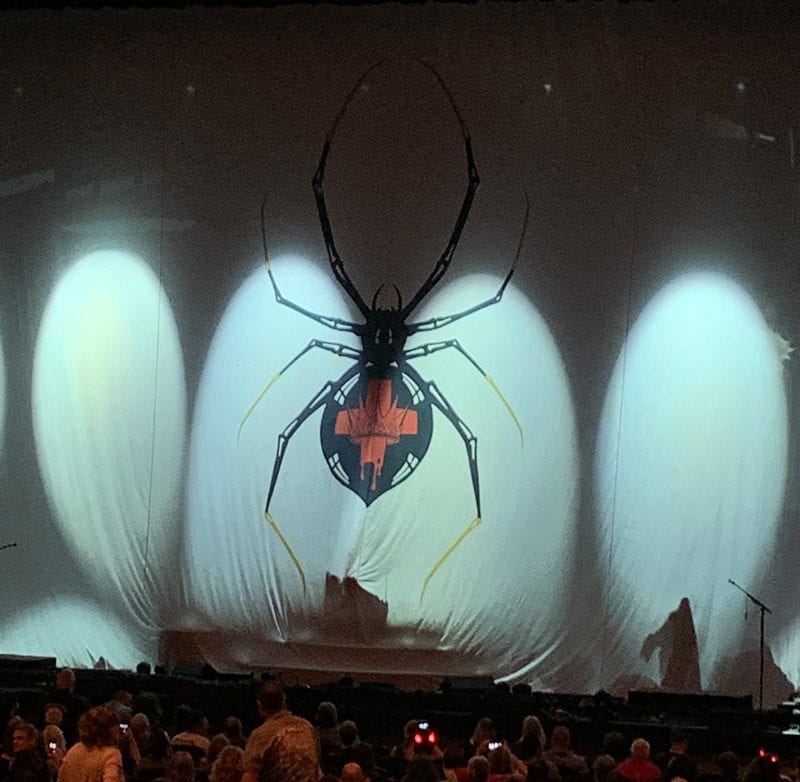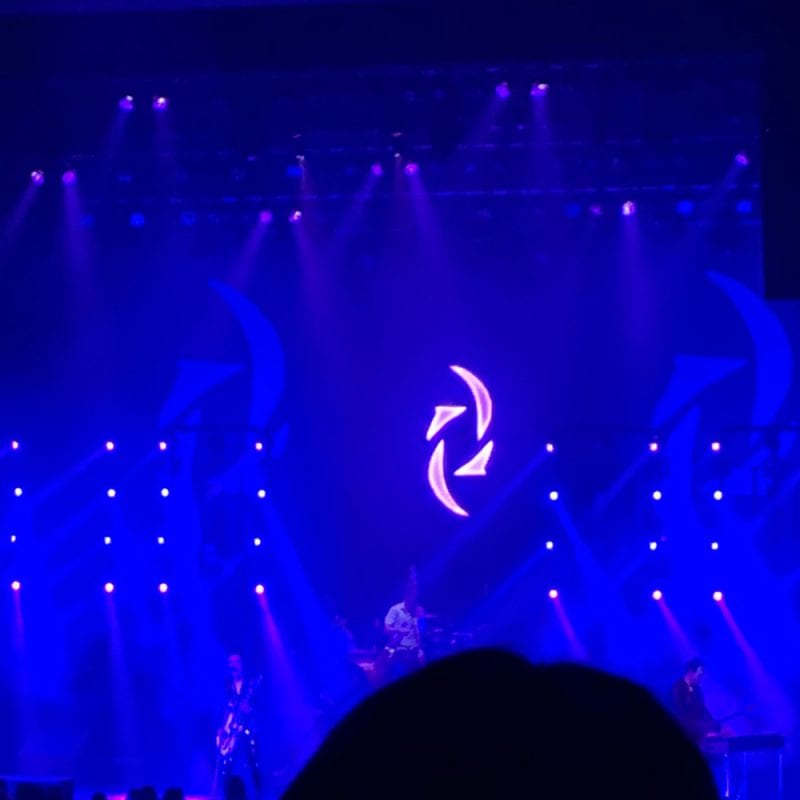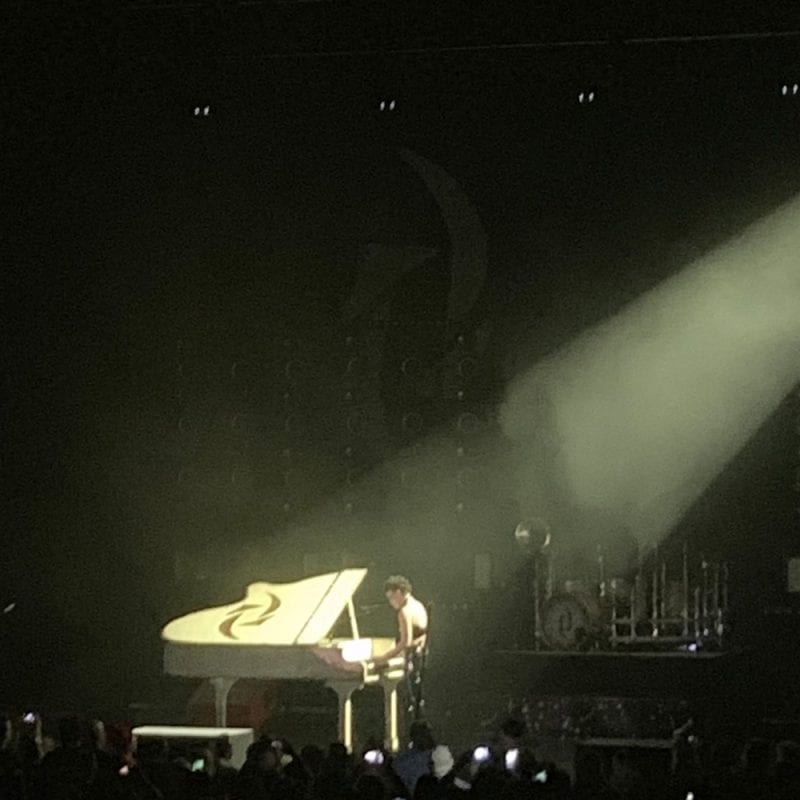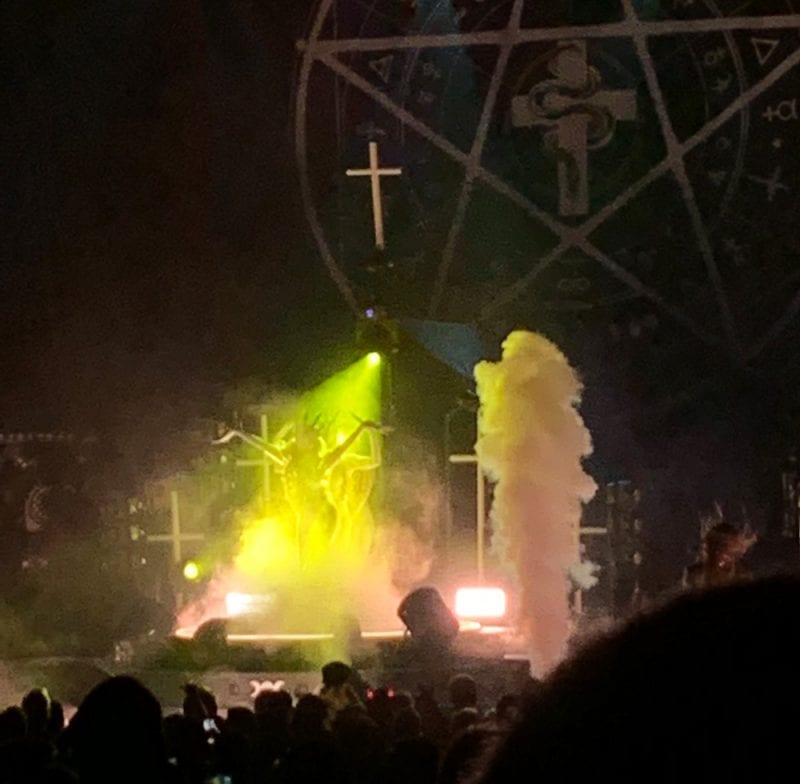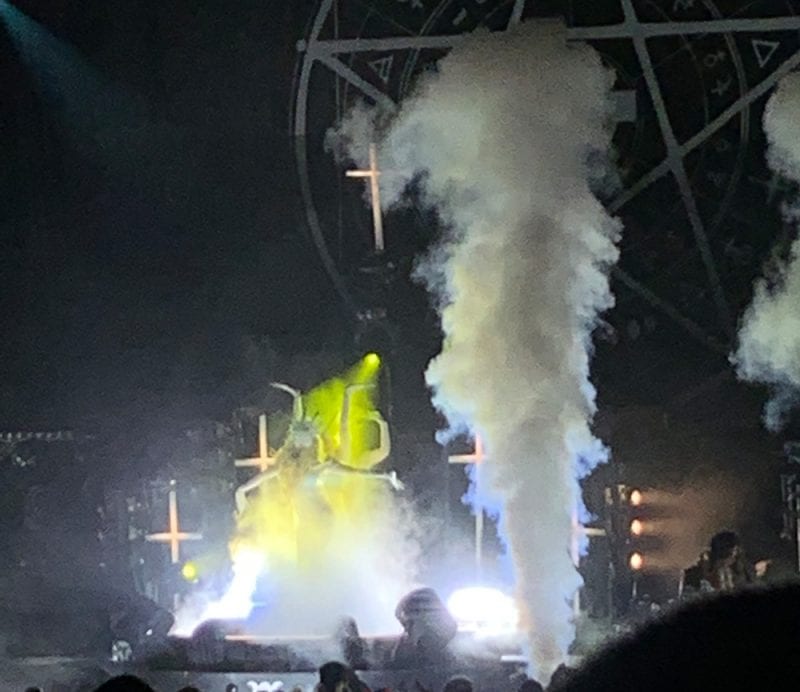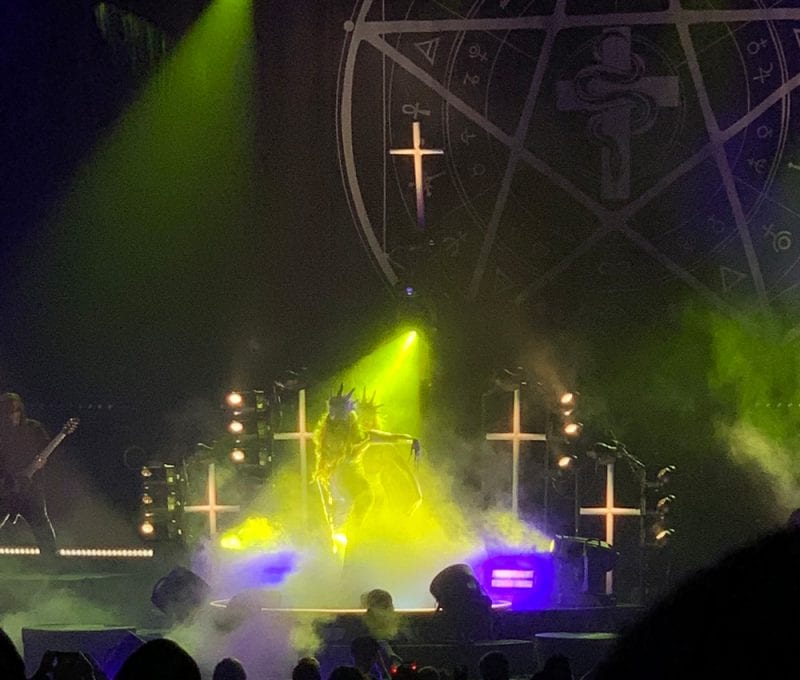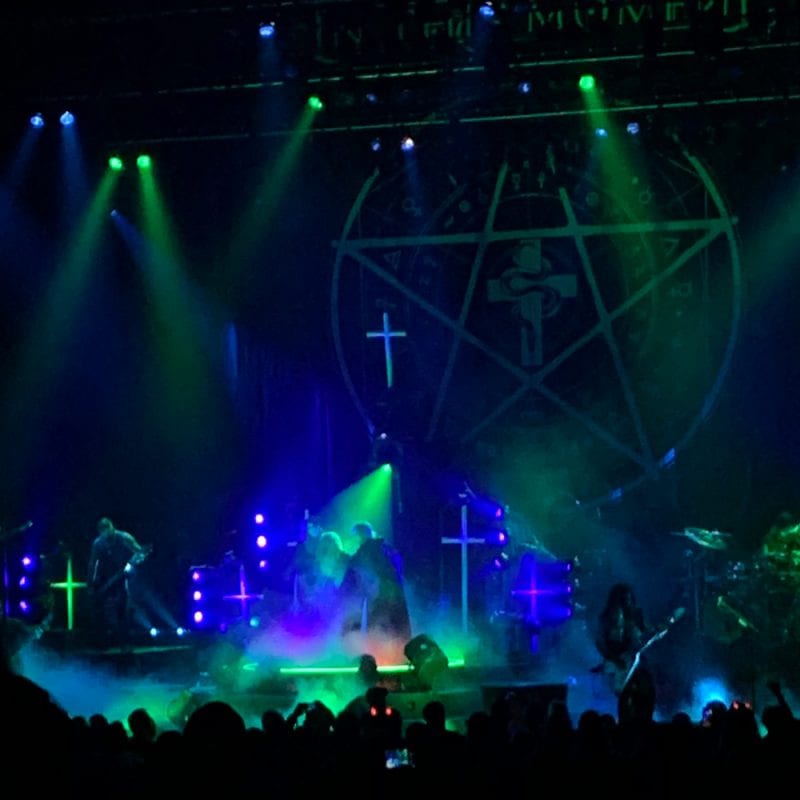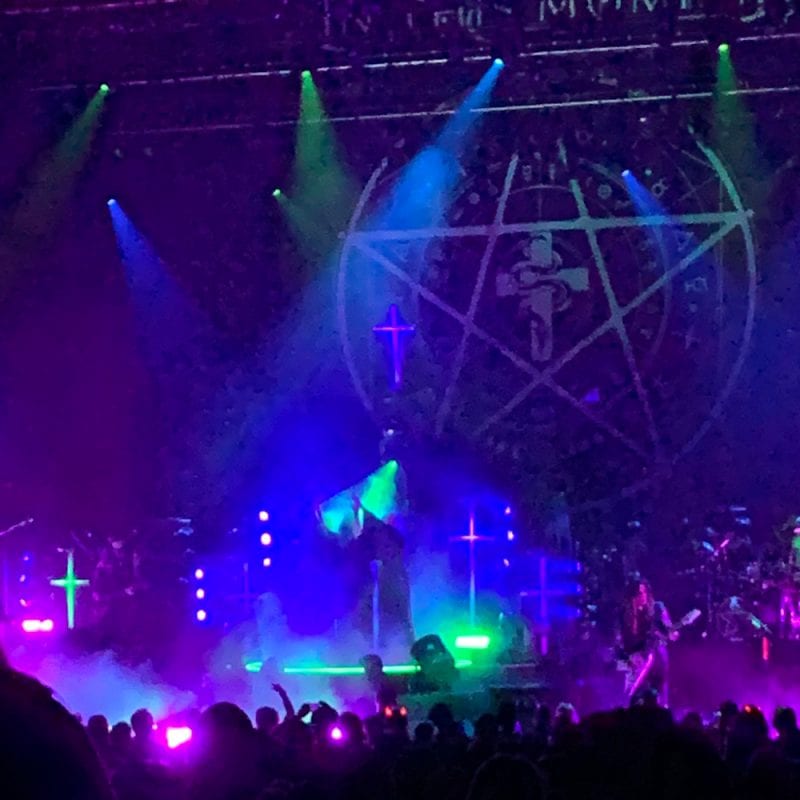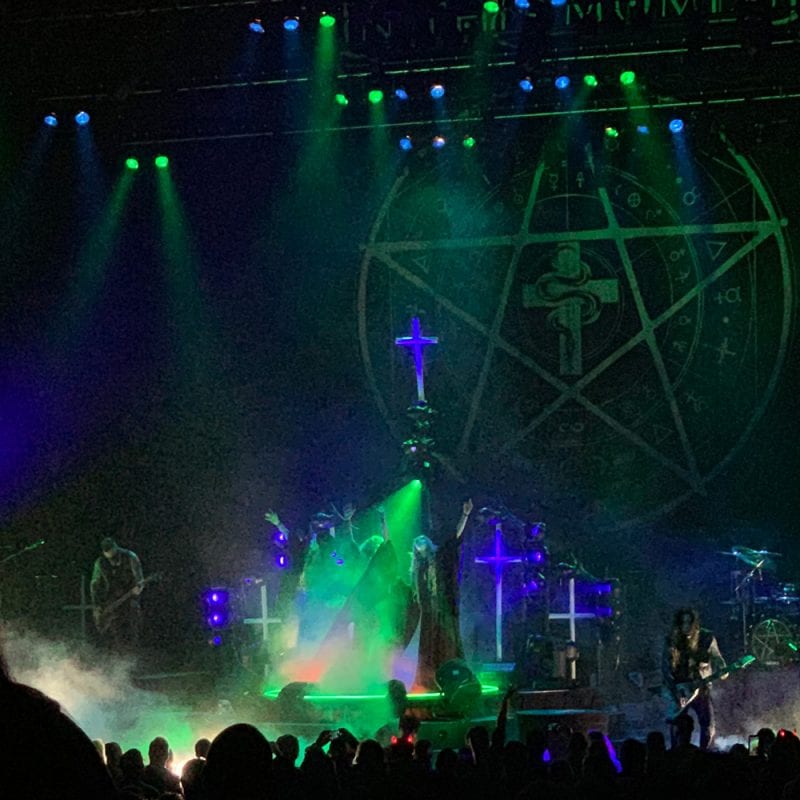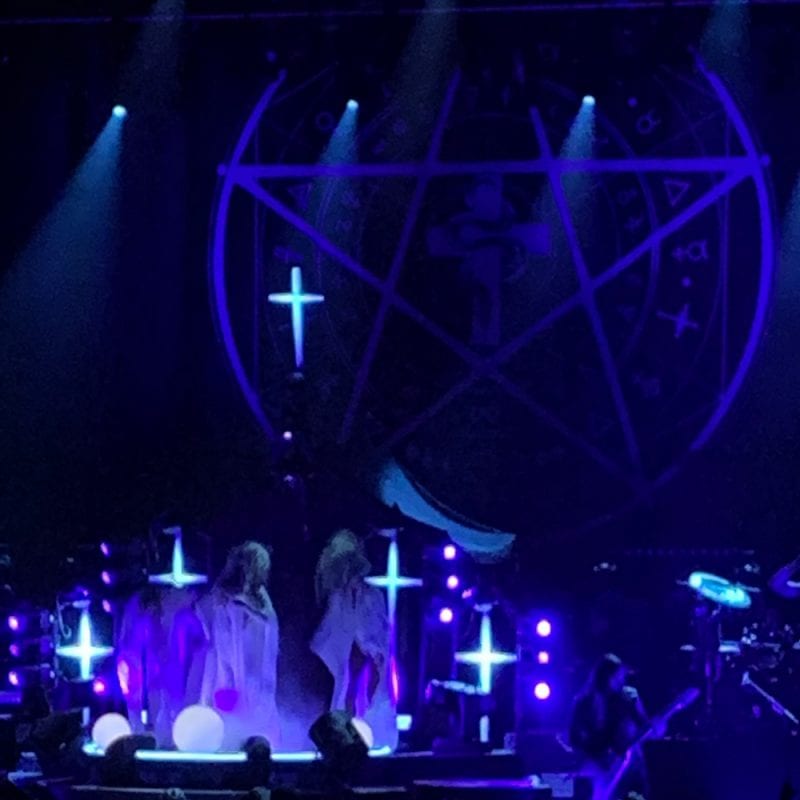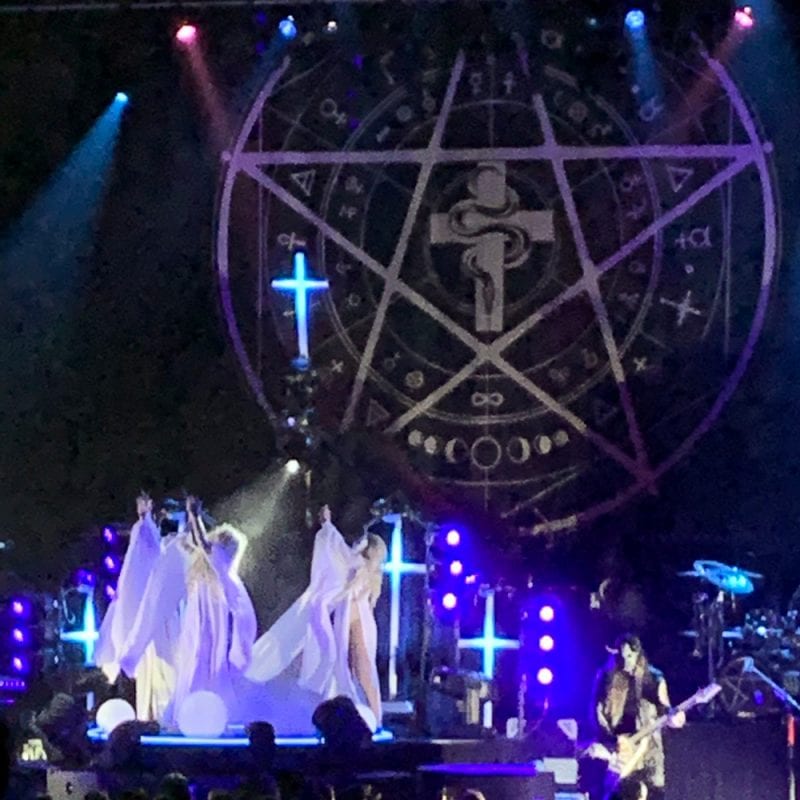 A Girls Night Out Makeup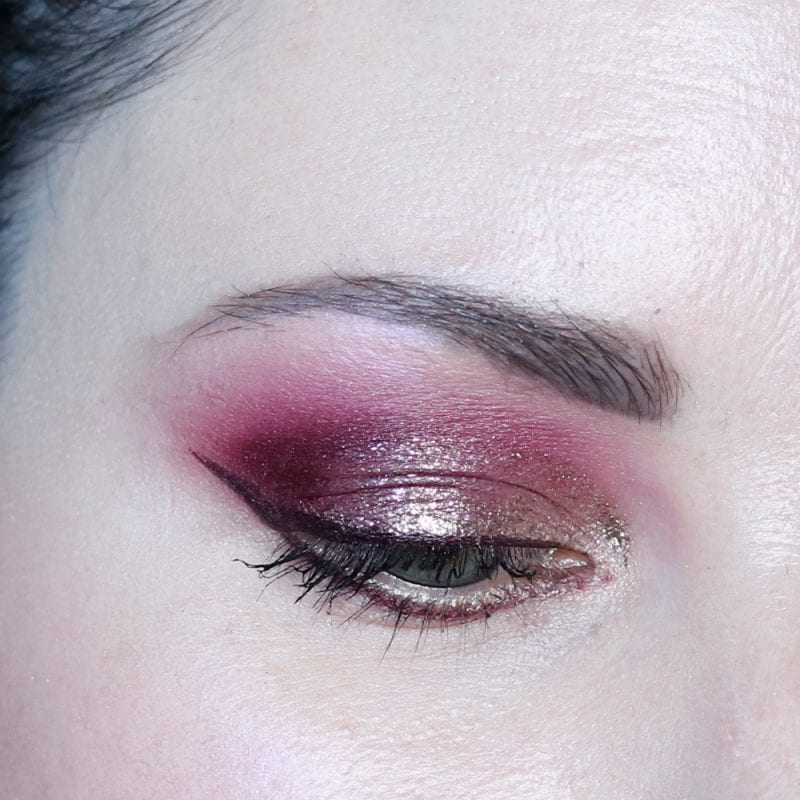 Believe it or not this is about a 5 minute eye. I use my biggest fluffiest brush to build Boticelli up on the lid / crease, leaving the inner lid bare. I put Fairy Tale all over the lid. I used the Tarte Burgundy pencil on the lower lid, then from there I draw on the tail of the wing and line the upper lash line with the liquid liner. I used a tiny bit of Bare Canvas to blend out the edges, then built up Boticelli at the outer corner of the eye.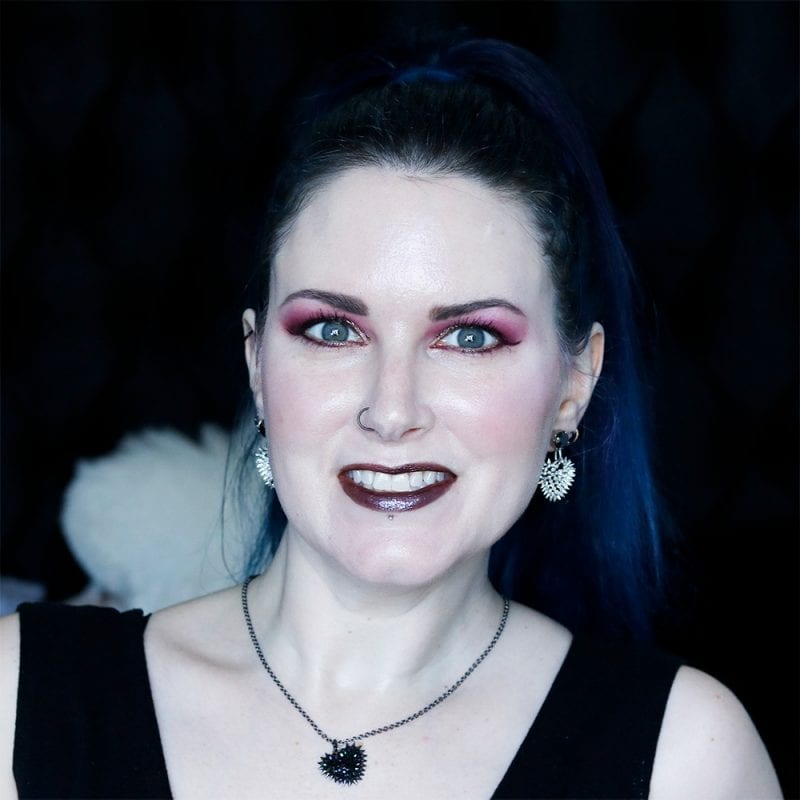 This is, of course, a 100% cruelty-free makeup look. Most of the products used are vegan. (v) – denotes vegan item
Eyes
Urban Decay Primer Potion in Sin
Cozzette Beauty C1 Essential Powder (v)
Lime Crime Venus XL palette (Boticelli, Blank Canvas) (v)
Stila Fairy Tail liquid eyeshadow
Marc Jacobs Blacquer 42 pencil – upper waterline
Marc Jacobs In the Buff pencil – lower waterline
Black Moon Catshark highlighter (v)
Tarte Burgundy Liquid & Pencil Liners
Smashbox Super Fan Mascara
Pixi Brow Duo in Soft Black
Face
Danessa Myricks Prism FX Lotion (v)
Smashbox Hydrating 15 Hour Wear foundation in .1 (v)
Glossier Perfecting Skin Tint in Light (v)
PYT Beauty All + Nothing Concealer in Fair Neutral
Nudestix Sculpting Stick (v)
Flower Beauty Blush Bomb in Pinched & Bubbly (v)
Black Moon Catshark highlighter (v)
Too Faced Born This Way Setting Powder – under eyes
Cozzette Beauty C1 Essential Powder – t-zone (v)
Urban Decay All Nighter Spray
Lips
Lime Crime Smokey Plush Lipstick (v)
Lime Crime Gemini Diamond Crusher (v)
I love the Smokey Plush Liquid Lipstick as a base for something like Gemini. It makes my lips a smoky burgundy with blue shift. I normally use a pencil for crisp lip lines but said fuck it and went with it softer last night.
Bunny Paige
I LOVE my new Bunny Paige Spiked Heart Earrings! I've always wanted a pair of these giant spikey earrings! They look so cool. They were the perfect accent for my outfit.
The new Bunny Paige Dark Rainbow Micro Spiked Heart is so cute! I really love the updated style, especially compared to my older micro hearts. This new heart is a bit bigger, more 3D and rounded out and has more swarovski crystals attached.
A Girls Night Out Outfit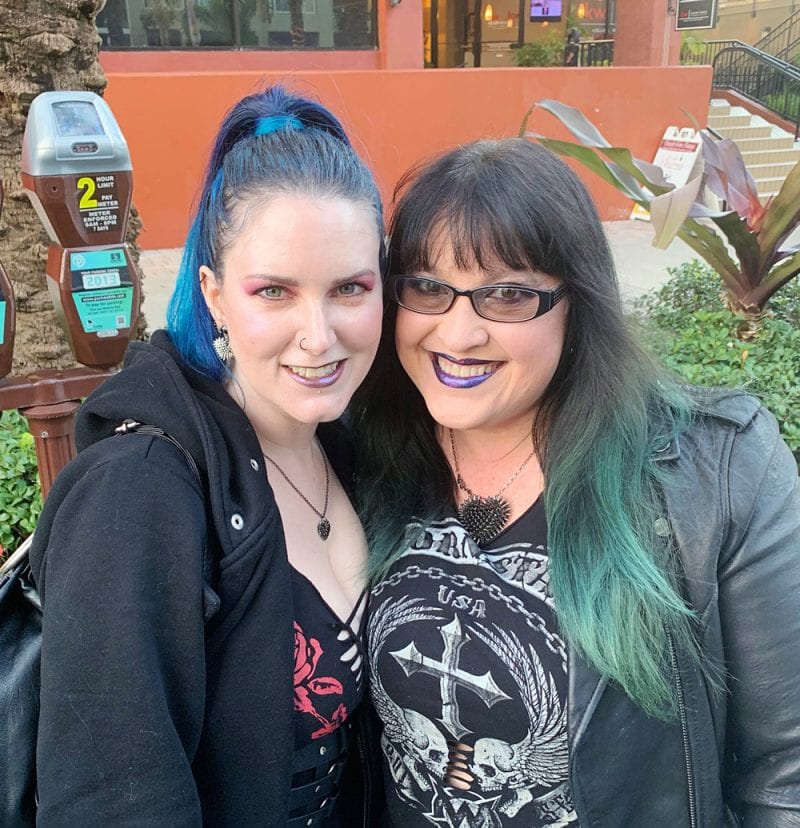 We've been friends for about 14 years, almost since I first moved to Florida. We met at NecronomiCon in 2004, as she was friends with some of my friends.
Corinne shares my deep love of Bunny Paige! I turned her on to the brand. Bunny Paige, beauty with an edge. Or as the owner says, Wear Your Heart on Your Sleeve. Be Irresistibly Fearless. Bunny Paige is the best for edgy, feminine jewelry. I love it for my gothic style and it works well for Corinne's metal rocker style.
I'm wearing my Tomsware Motorcycle Hoodie Jacket to stay warm when it cooled off at night. It wasn't cool enough for my prana winter jacket.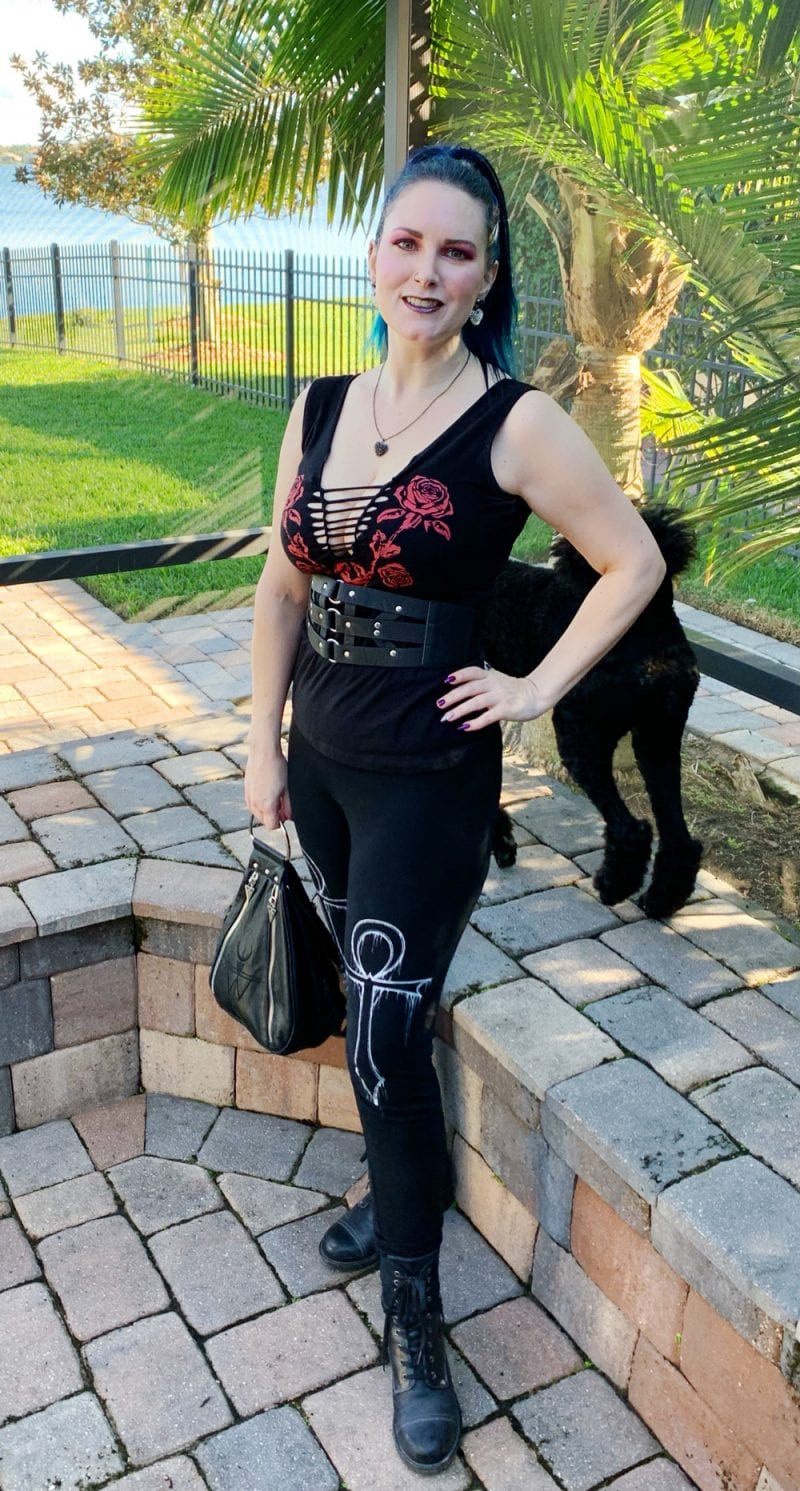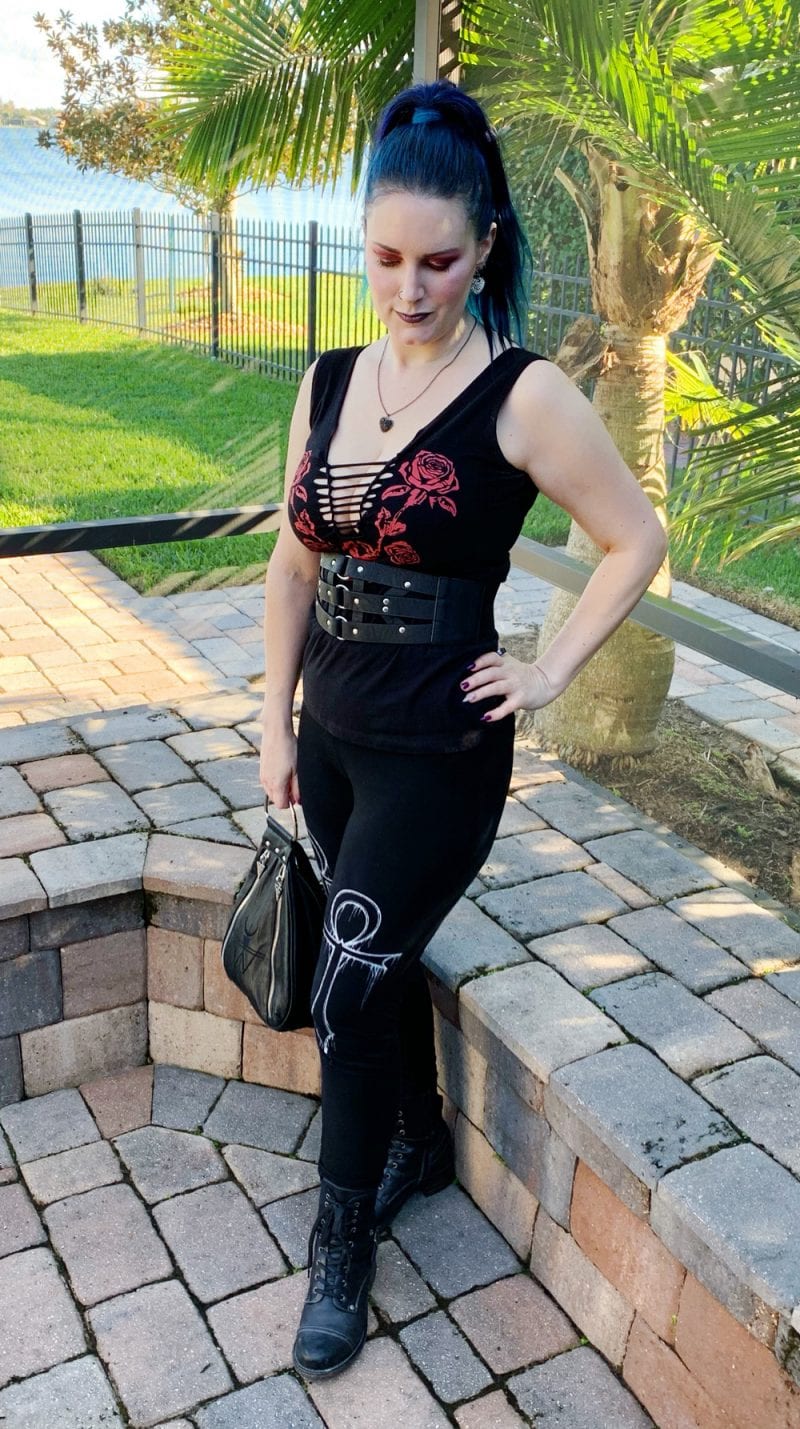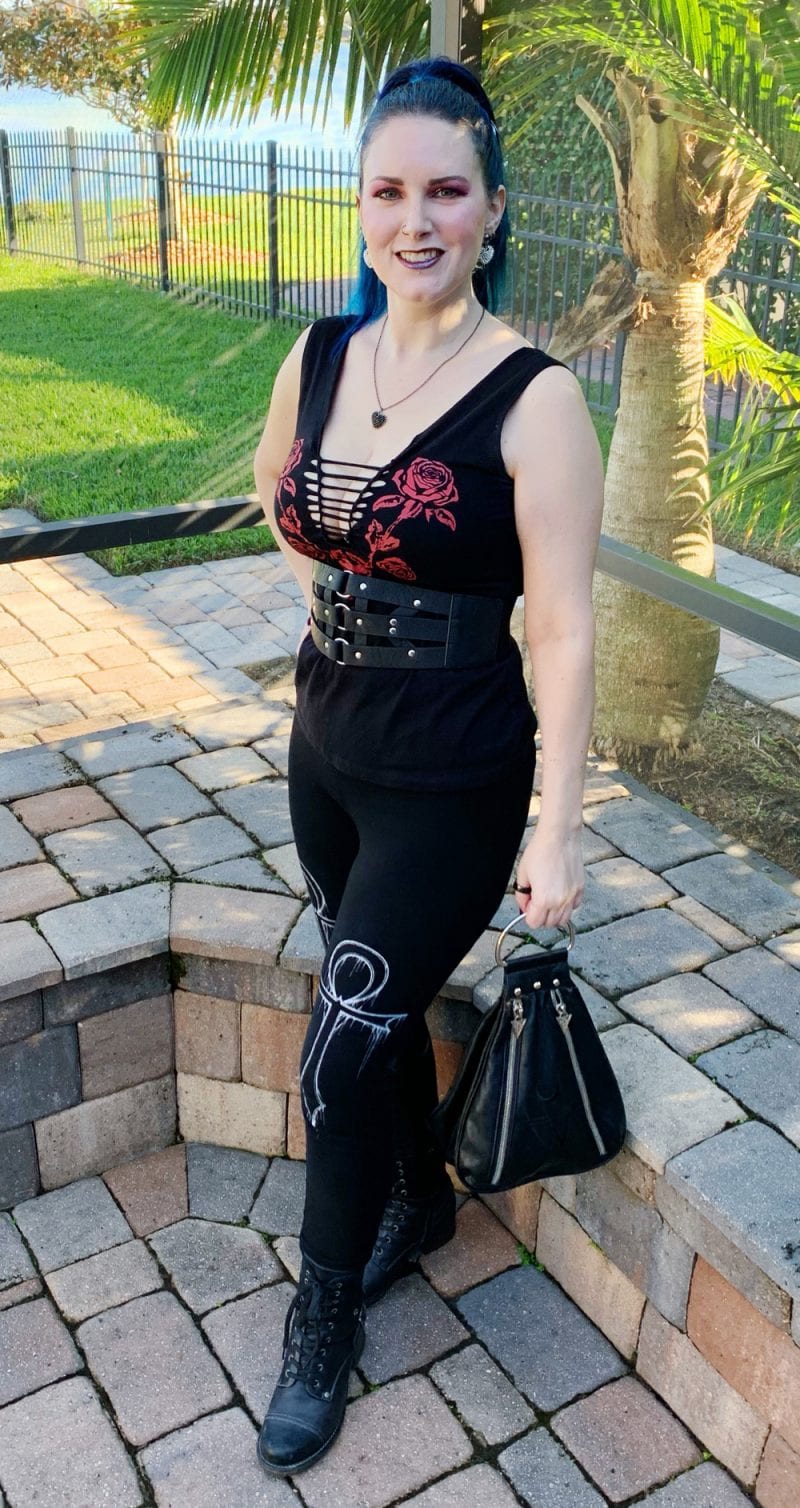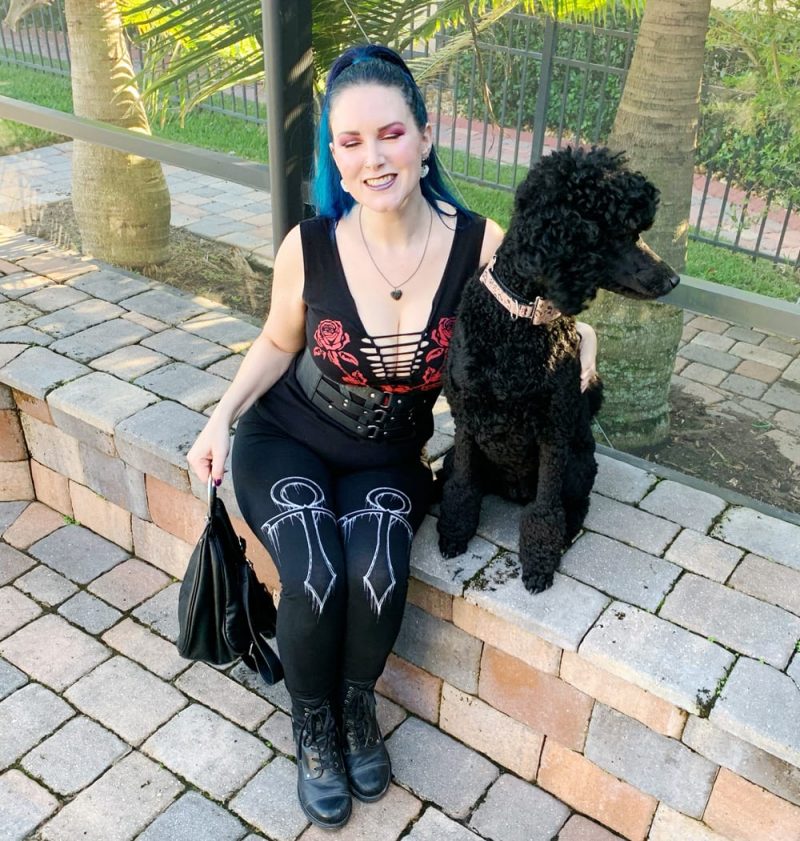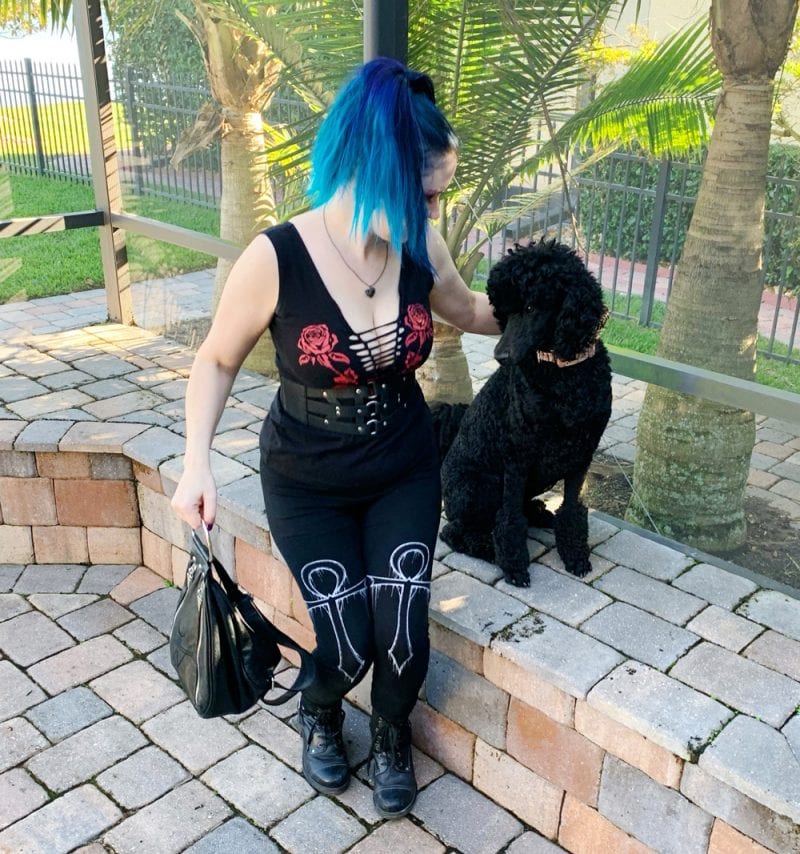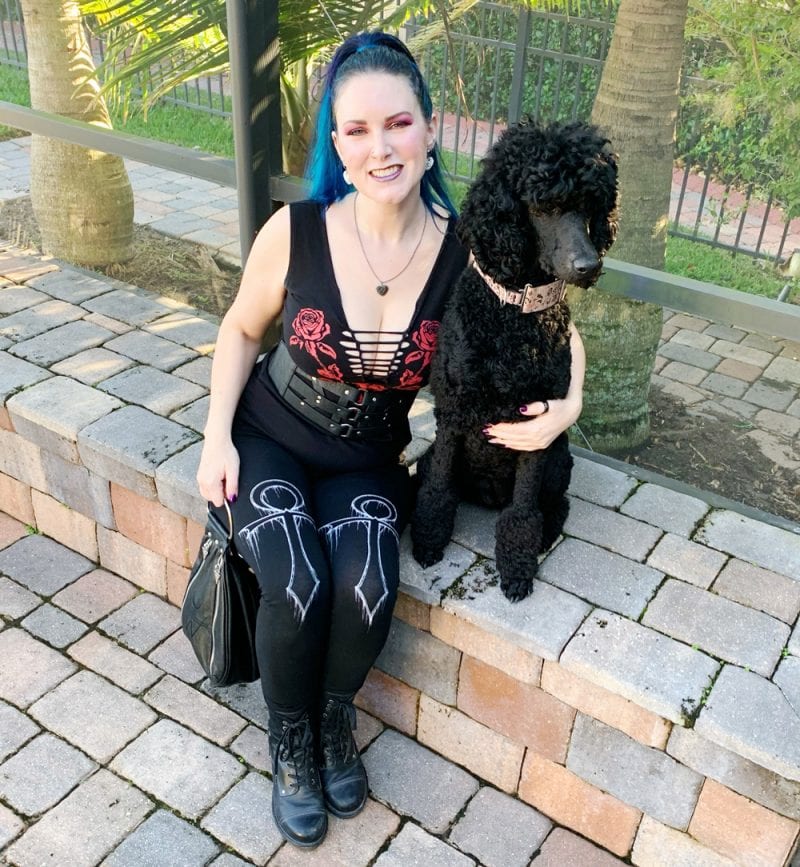 Top – Demi Loom Nashville Rose Slashed Top (size L)
Leggings – Widow Ever After Ankh Leggings (size L)(similar style with cats)
Belt – Torrid Studded Caged Belt (size 00) (similar style, similar style)
Earrings – Bunny Paige Spiked Heart Earrings
Necklace – Bunny Paige Dark Rainbow Micro Spiked Heart
Shoes – Taos Crave Combat Boots (size 39)
Handbag – Widow Dark Dreaming Mini Backpack (discontinued, similar style, similar style, similar style)
Have you ever found 'the one' when it comes to boots? I have. My Taos Crave Combat Boots are 'the one.' Let me explain what I mean by that to you. They go with everything. They're comfortable. I mean super comfortable. I mean, they were perfect for walking the highlands of Scotland and they're equally perfect for going to the Castle or music festivals. I've worn them on long 16+ hour days with no pain.
Right now, I've got 2 broken toes and my Taos Crave Combat Boots did an admirable job protecting them throughout the evening. I love these boots so much that I gave one of my brilliant, beautiful, bubbly friends my favorite docs, the Oilslick Rainbow Dr. Martens. My Taos Crave boots are the only ones I seem to wear anymore. The only way the Taos could be better is if they had a pointy, witchy version of the Crave Boot with a crescent moon and stars on them. Love them so much!
House of Widow
Two of my staple wardrobe pieces are from Widow. House of Widow is a modern goth lover's dream! It's a fun fashion line with lots of gorgeous pieces. I just wish their full line was carried at Amazon. Widow, do you hear me? Please stock at Amazon!
My  Widow Ever After Ankh Leggings are a pair of high-waisted leggings with an ankh on each leg. It's a light cotton blend, making them ideal in Florida. Normally when I wear this combo I also like to wear my Black Ankh Rose Earrings or Necklace, but I needed my Bunny Paige for this outfit.
My Widow Dark Dreaming Mini Backpack handbag is my pick for best handbag of the year. It's bigger on the inside, seriously! It holds more than you would ever imagine. It's comfortable to sling over one arm or both. I love the top handle. I just love everything about this bag and would love to design my own in this style! The Widow Dark Dreaming Mini Backpack goes with just about everything. It's perfect with this girl's night out outfit because it holds my makeup bag, hair brush, anker power brick, Avelina De Moray Mahafsoun Wallet, medication, keys, vapes, gluten-free protein sticks, La Femme En Noir Vamp Batwing Sunglasses, mints and more.
You've seen my Torrid Studded Caged Belt a million times and you know I love it. I still need to sew a new row of snaps onto it because I've changed in size due to my low carb low sugar lifestyle. It's still my go-to belt if I don't know what to wear.
What would you wear for a girls night out like this?