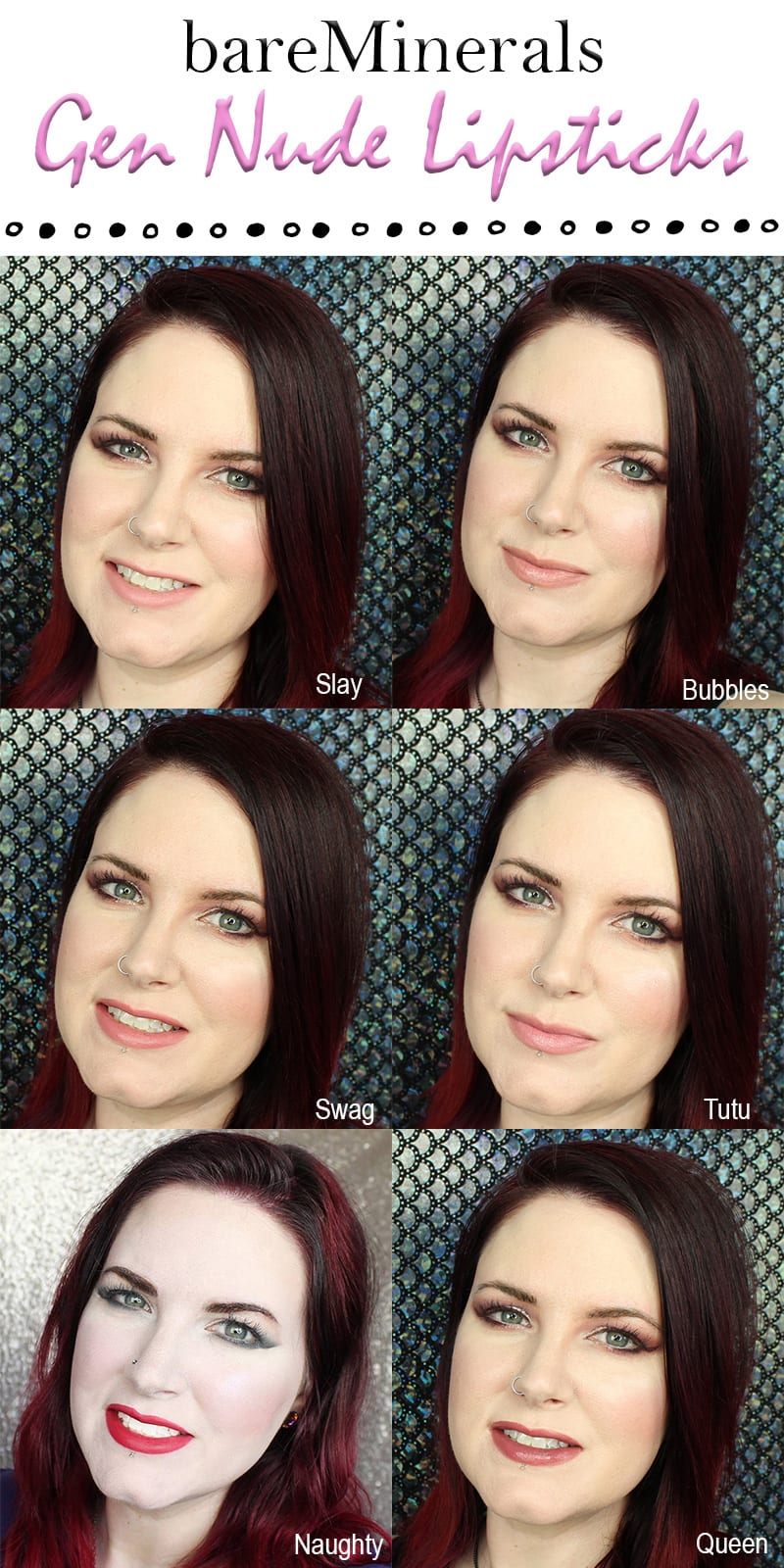 Today I wanted to rave to you about the bareMinerals Gen Nude lipsticks. The new Gen Nude line from bareMinerals comes in 4 different formulas. You've got over 60 shades to choose from. You've got lip pencils, liquid lipsticks, lipsticks and glosses. I was sent a few shades in each line by bareMinerals. I was so impressed with the Radiant Lipsticks and Matte Liquid Lipcolors so much I went out and bought more.
bareMinerals Gen Nude Lipsticks
PR + purchased by me.
The liquid lipsticks and lipsticks are innovative. Rather than being formulas that dry you out, they're moisturizing. They're comfortable to wear. The lip pencils go with every color. I'm not a gloss fan, but the glosses are pretty, too.
Where to Buy
Ulta, Sephora, Nordstrom, Macys
Price
$16 (.05 oz) for the Under Over Lipliners
$18 (.13 oz)  for the Matte Liquid Lipcolors and Buttercream Glosses
$20 (.12 oz) for the Radiant Lipsticks
bareMinerals Under Over Lipliner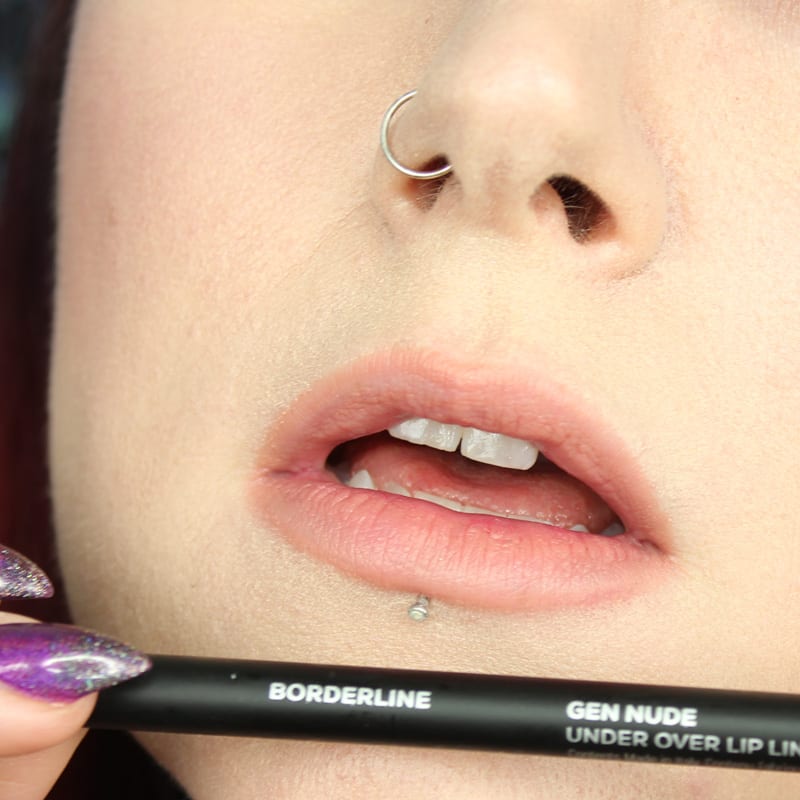 Under Over Lipliner comes in 5 shades. I have the shade Borderline, a light pink nude. It goes with every color in the collection. It also looks great with my natural lip color. This has become a go-to lip pencil for me. I always prefer to use a lip pencil before I use a lipstick.
bareMinerals Buttercream Lipglosses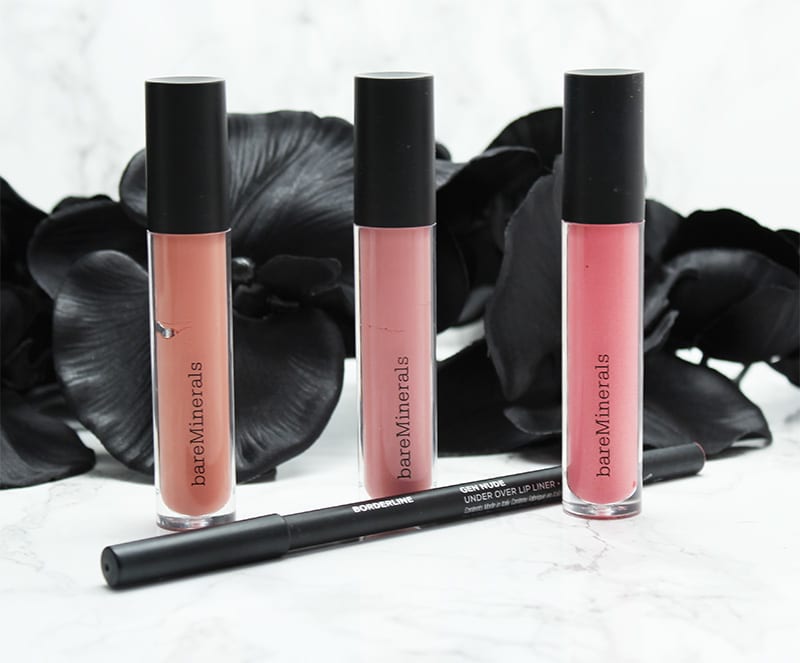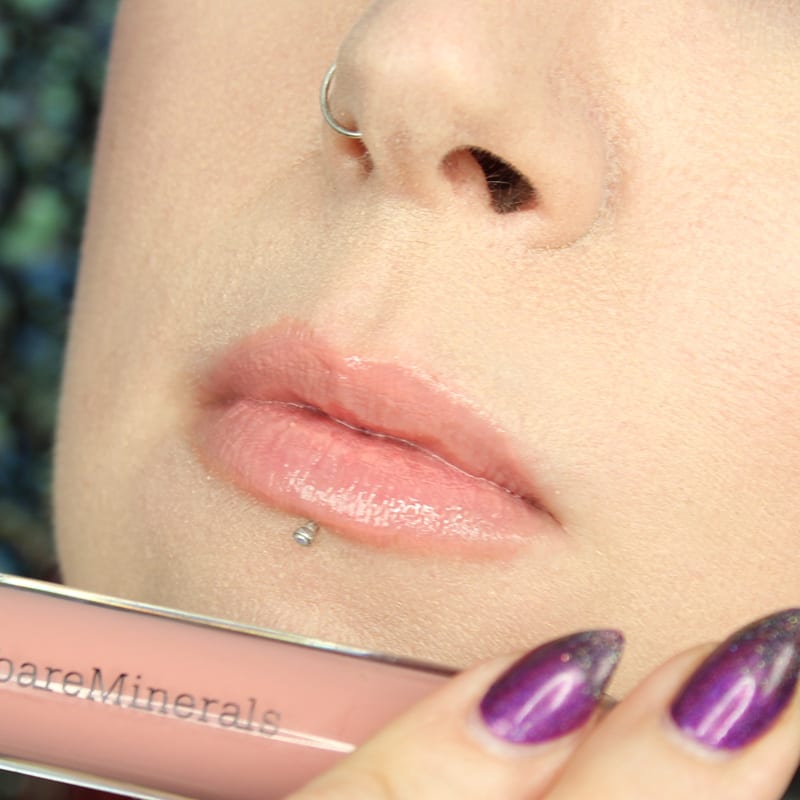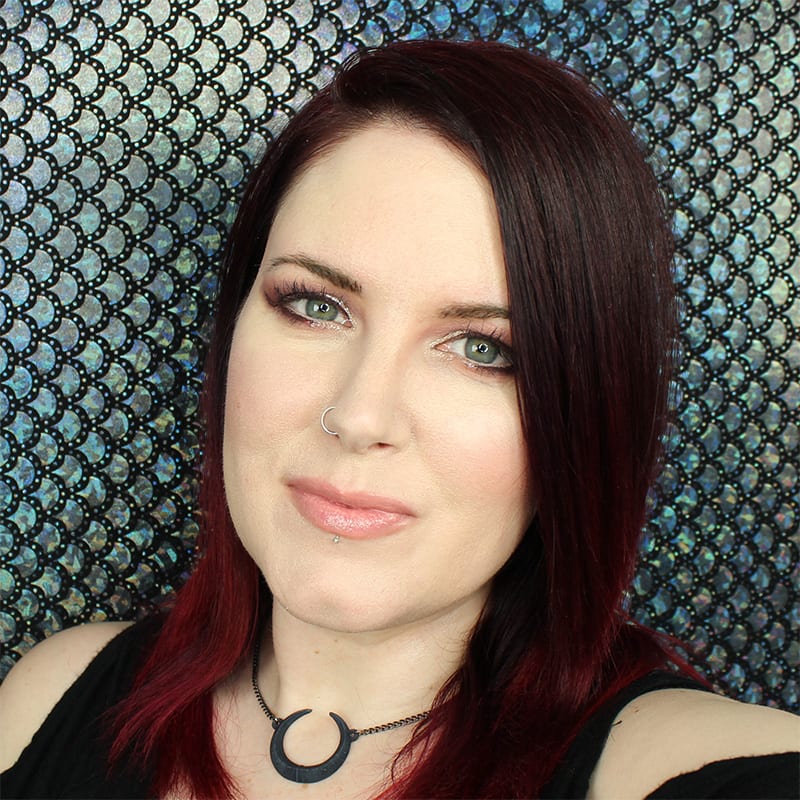 Forbidden is a light nude pink.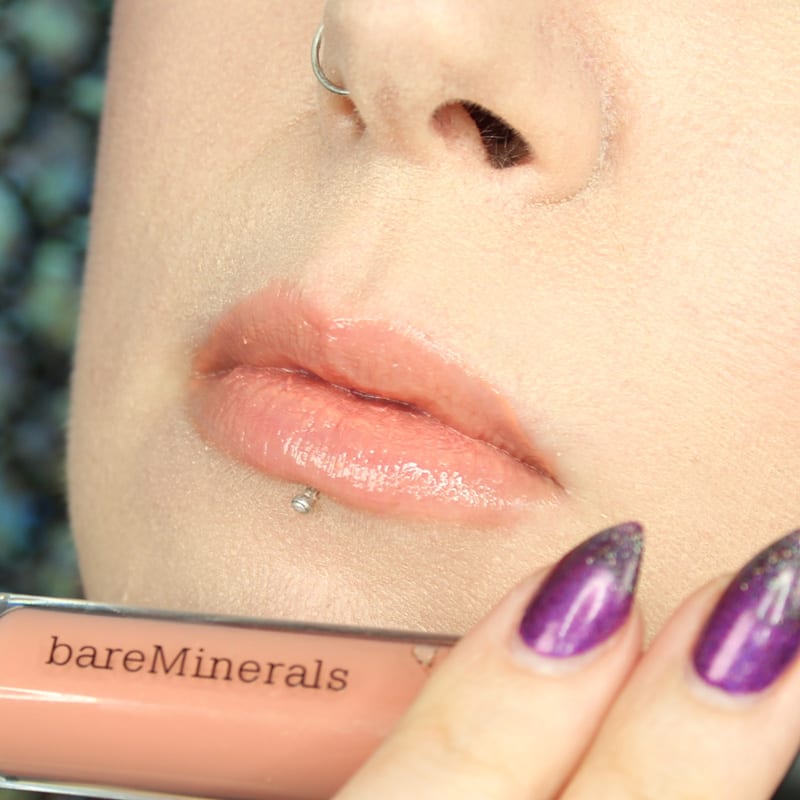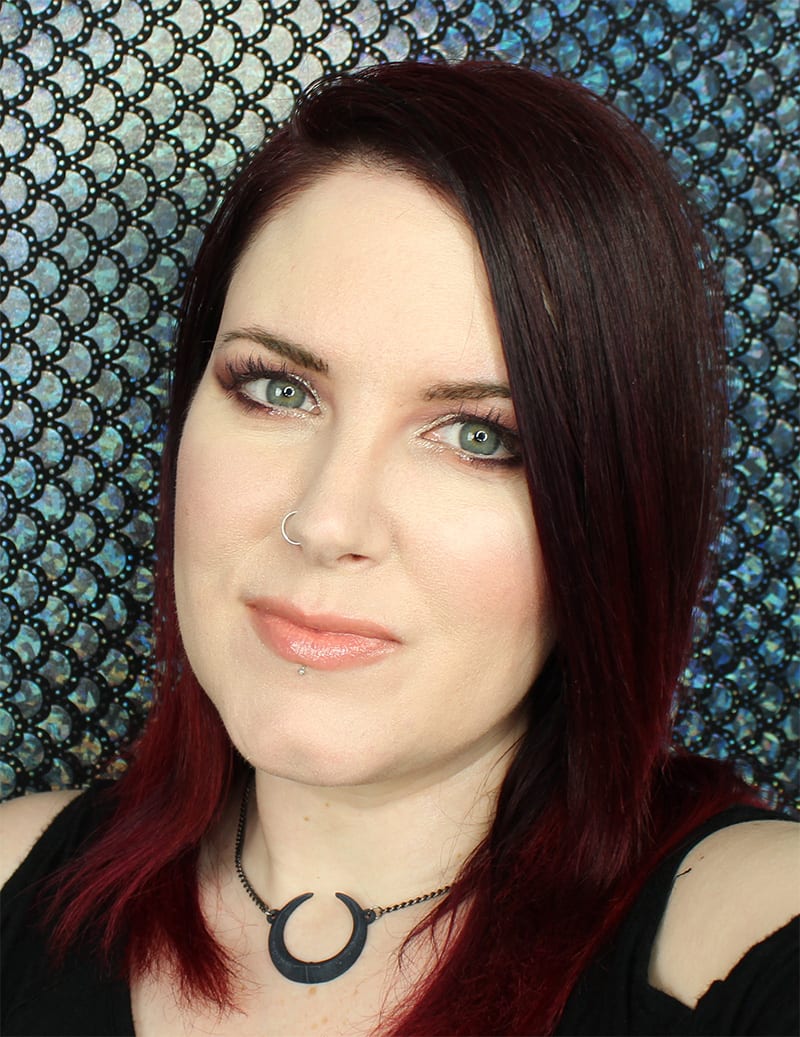 Popular is a soft peach.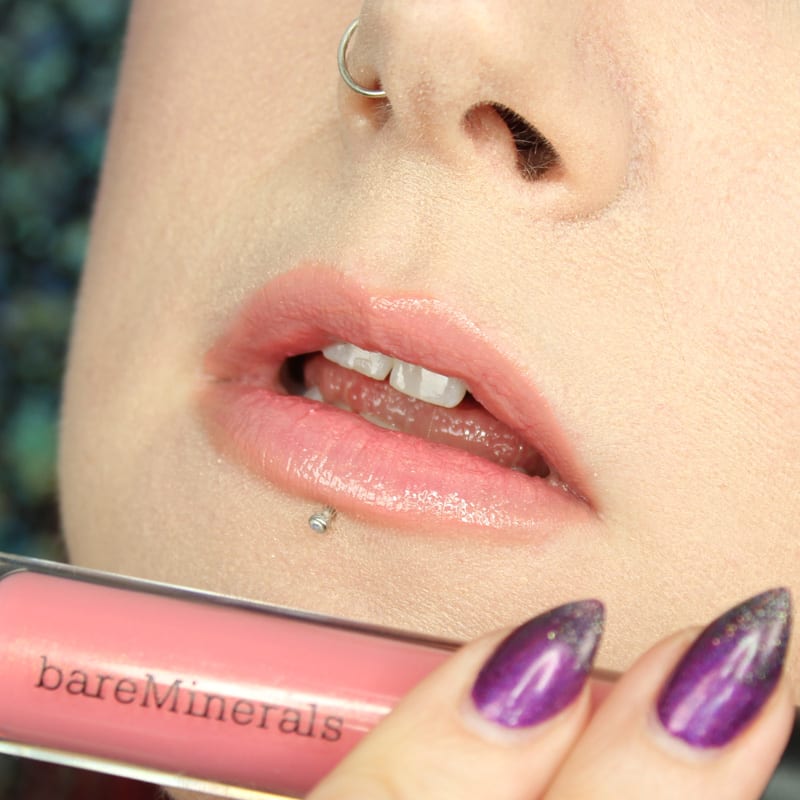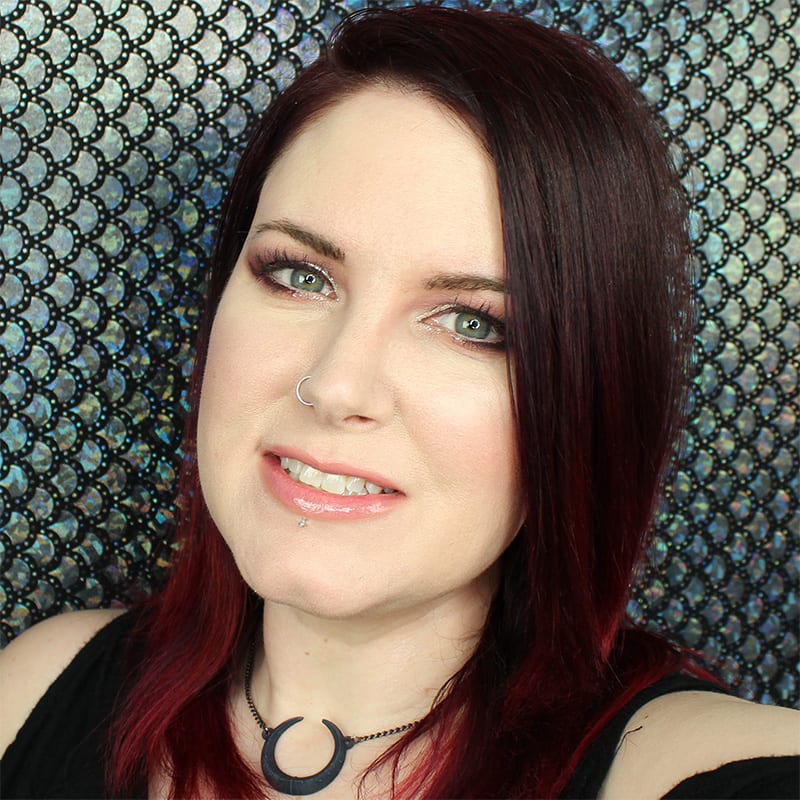 Fancy is a true pink with gold pearl.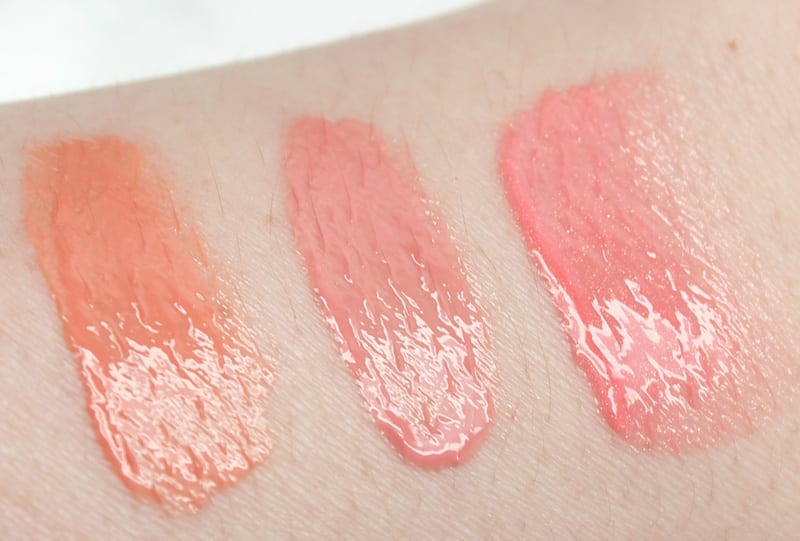 L to R – Popular – Forbidden – Fancy
The Buttercream Glosses come in 20 different shades. These glosses are supposed to be moisturizing and plumping. There's no tingle when you put these on. I'm not a fan of gloss on me. I can understand why people like gloss though. These are pretty, even if they're not to my taste.
Makeup Artist James Vincent recommends that you only put gloss on the center of your lips. He says that helps to give the illusion of fuller lips. It's supposed to be the most flattering way to wear gloss, but most people I know don't wear it like that.
bareMinerals Radiant Lipsticks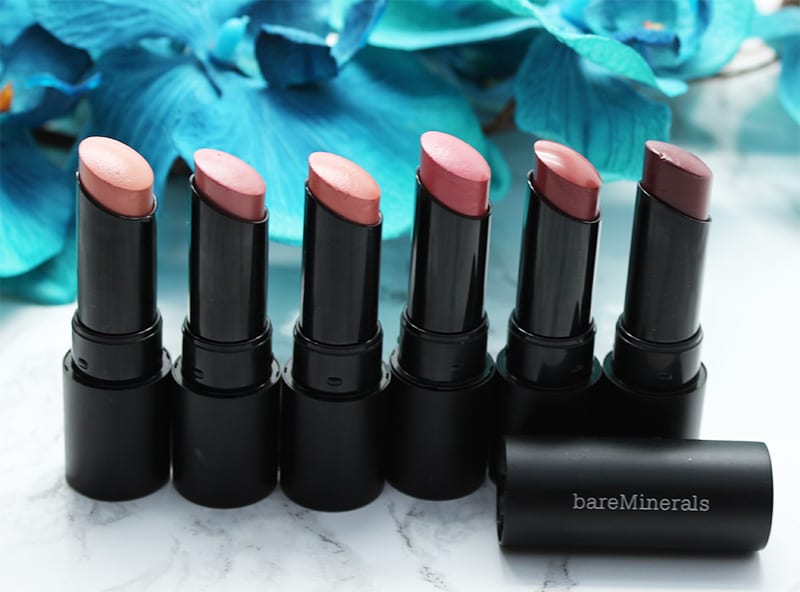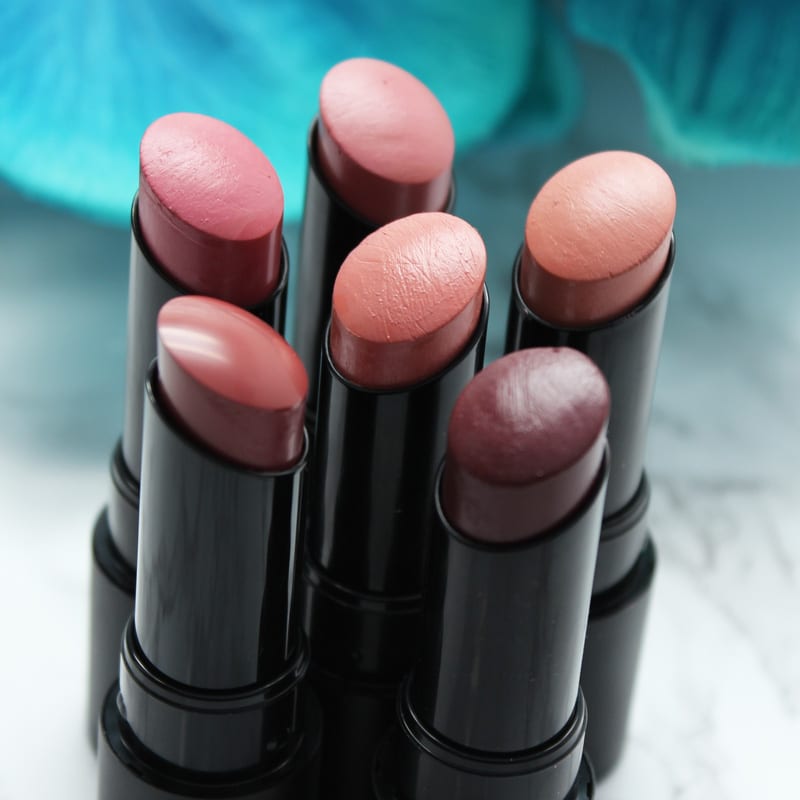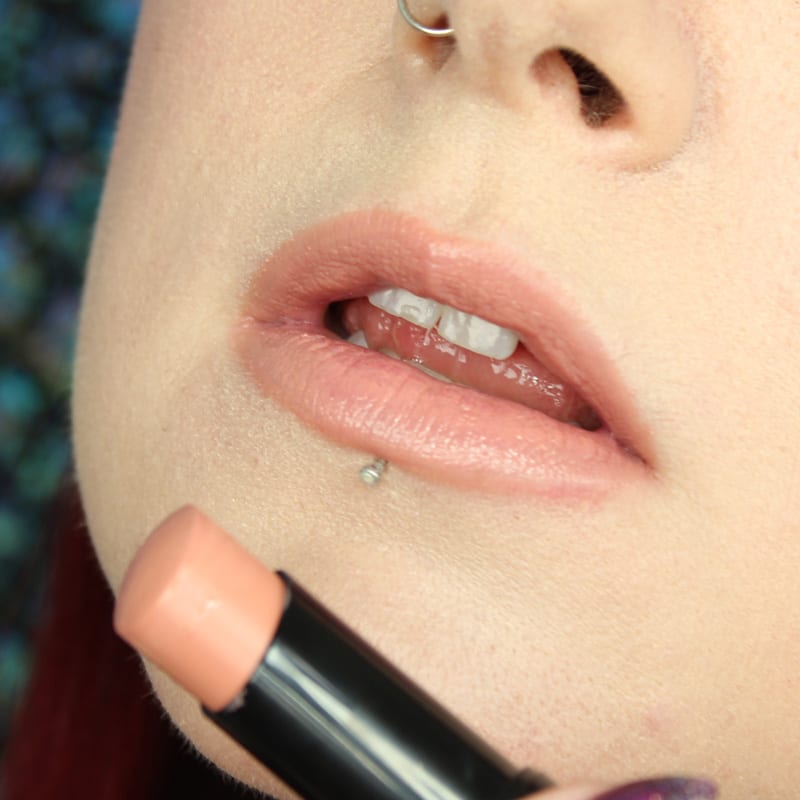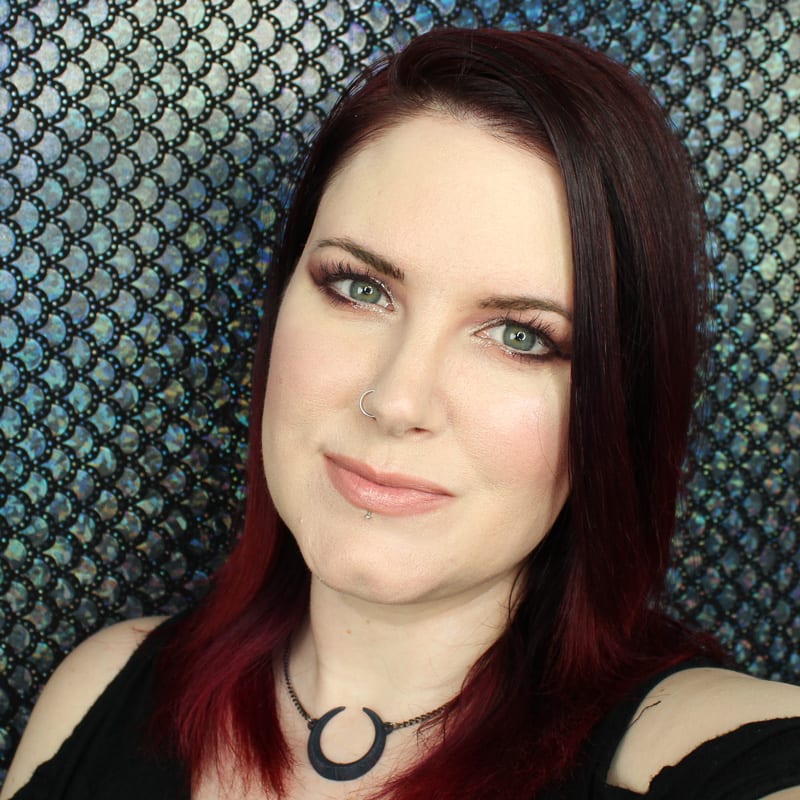 Bubbles is a pinky peach nude. This is a very flattering shade on  my skintone. It's very much a perfect my lips but better type of color. It's easy to wear and goes with anything.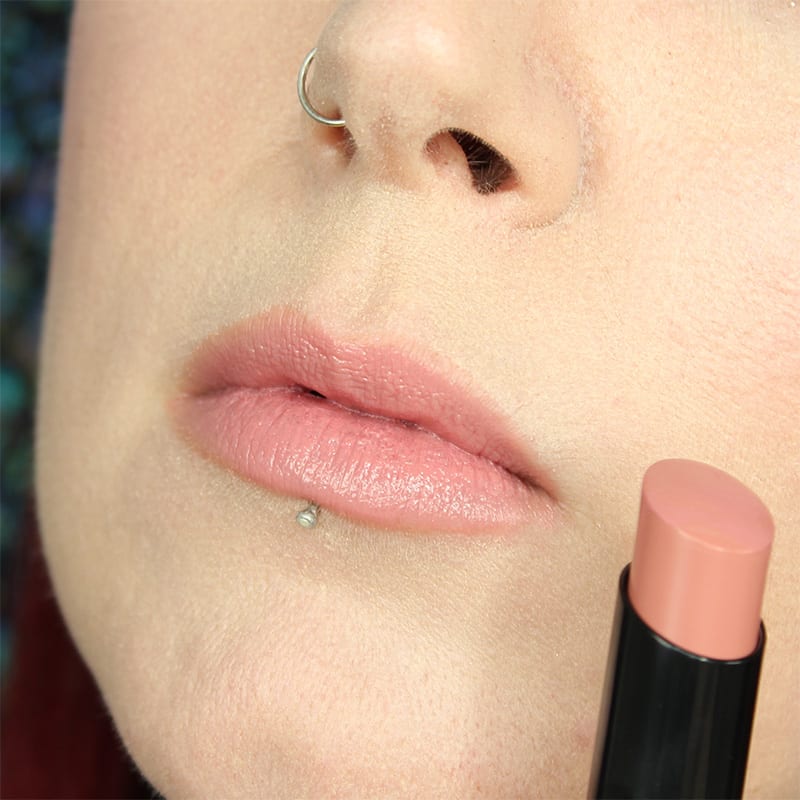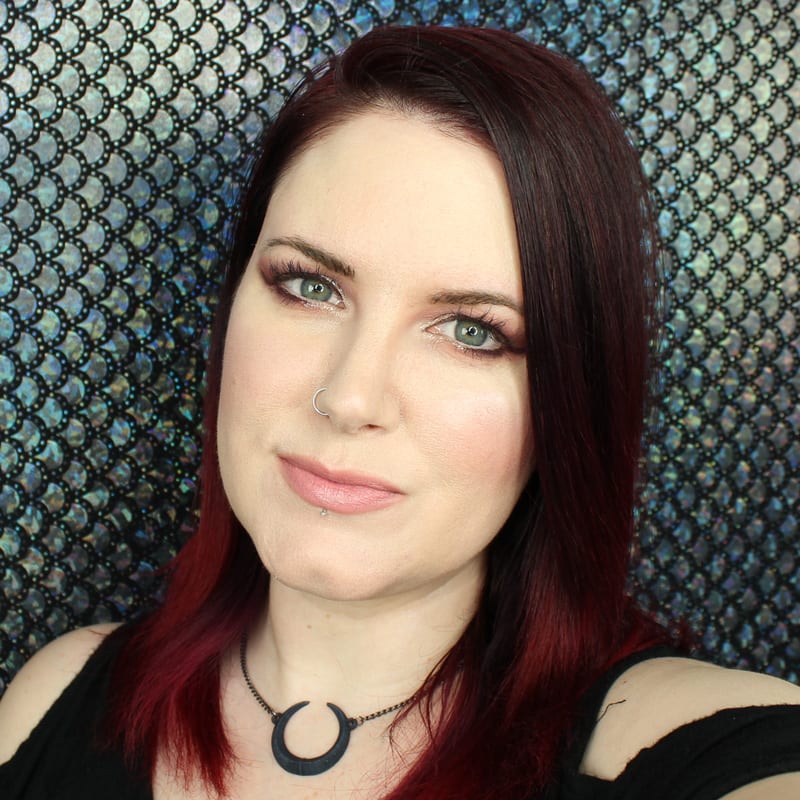 Tutu is a delicate mauve. This looks like a delicate pink to me. I don't really see mauve tones, but maybe it has subtle mauve undertones.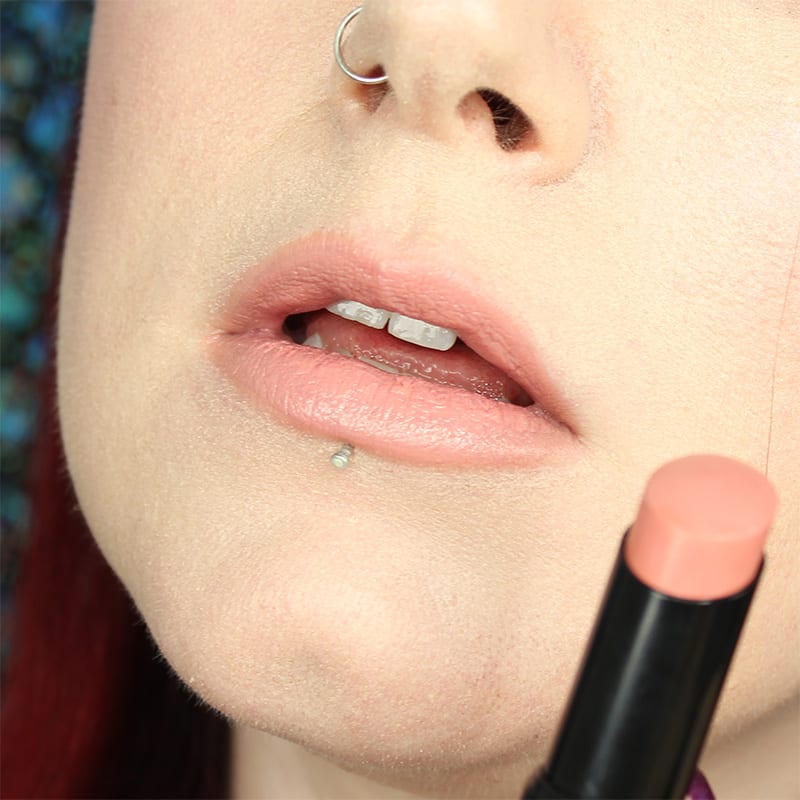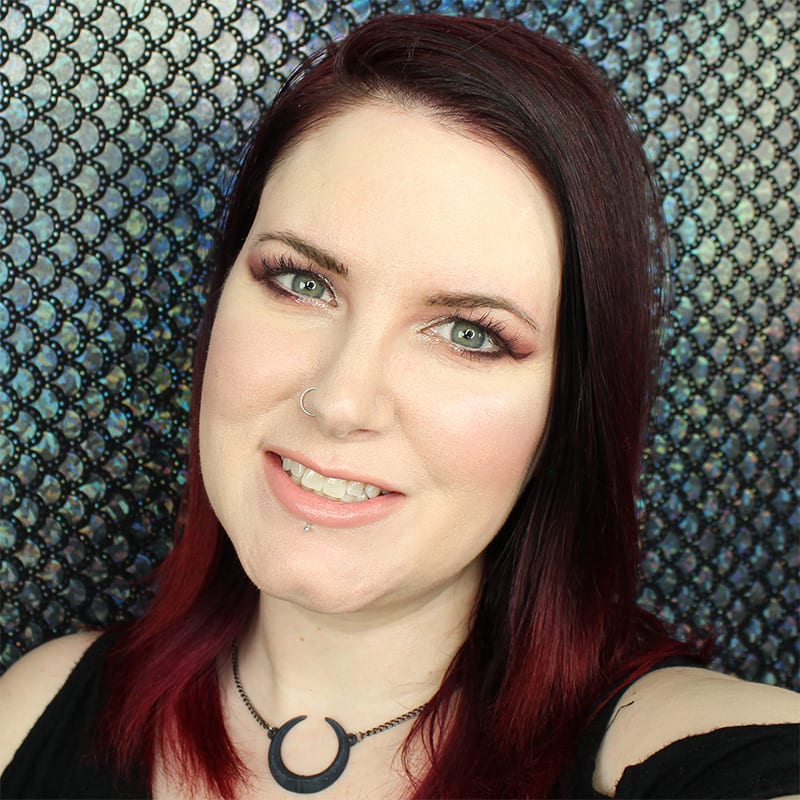 Crush is a neutral pink nude. I definitely think that's an accurate description for it.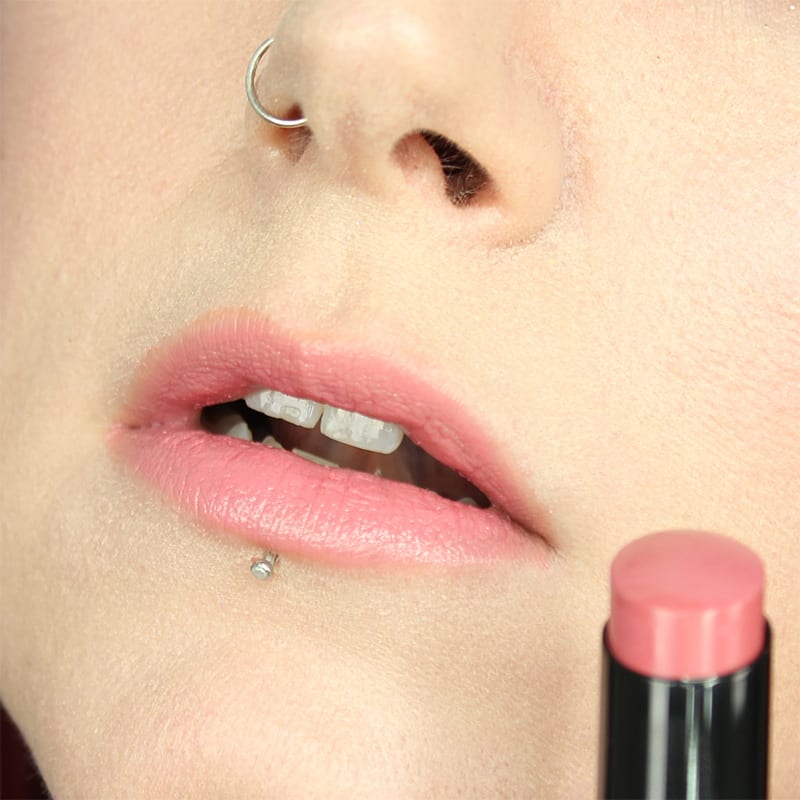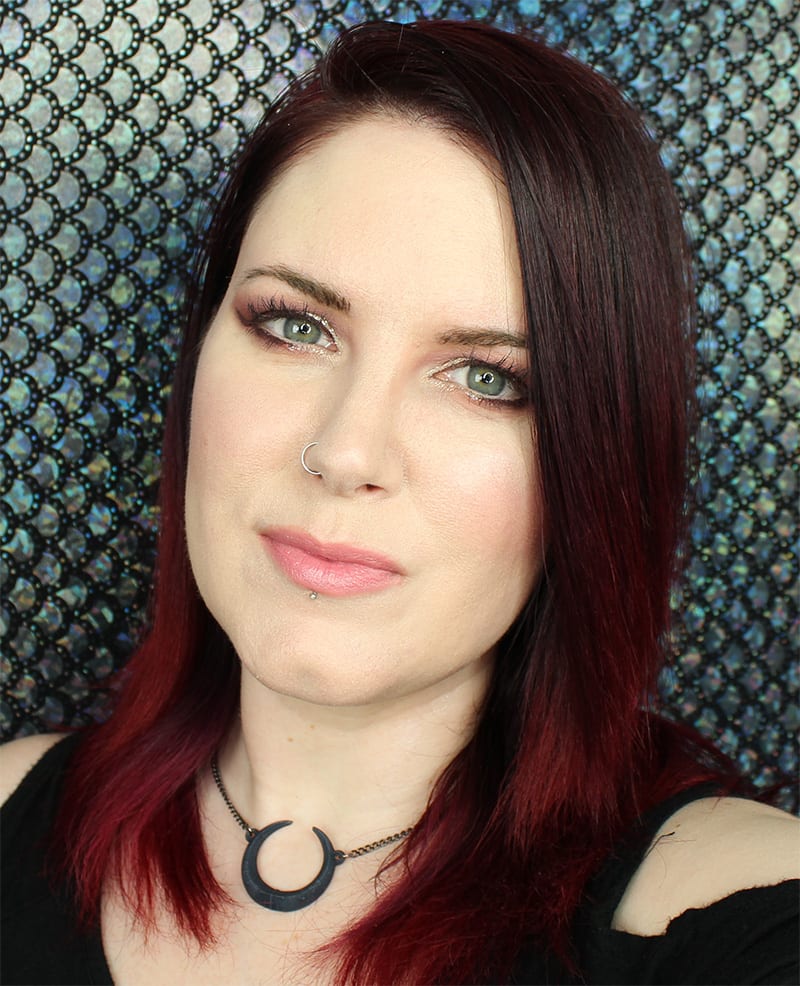 Crave is a neutral pink mauve. I can see a bit of mauve in this one. Love it.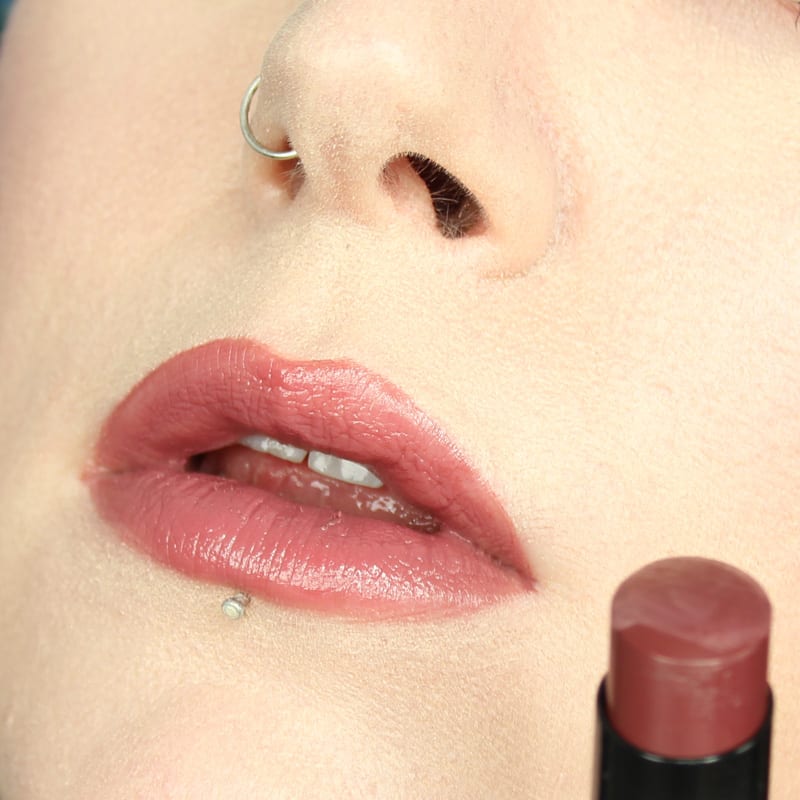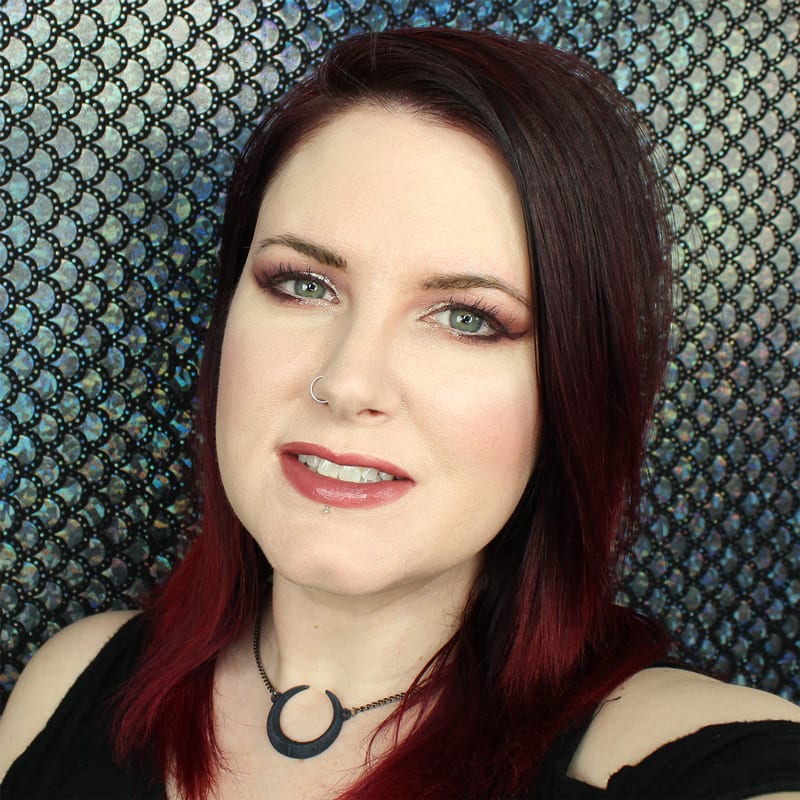 Queen is a muted berry wine. I love this shade! It gives you an easy smoky lip without any work. This is my favorite shade of the bunch, with Bubbles a close second.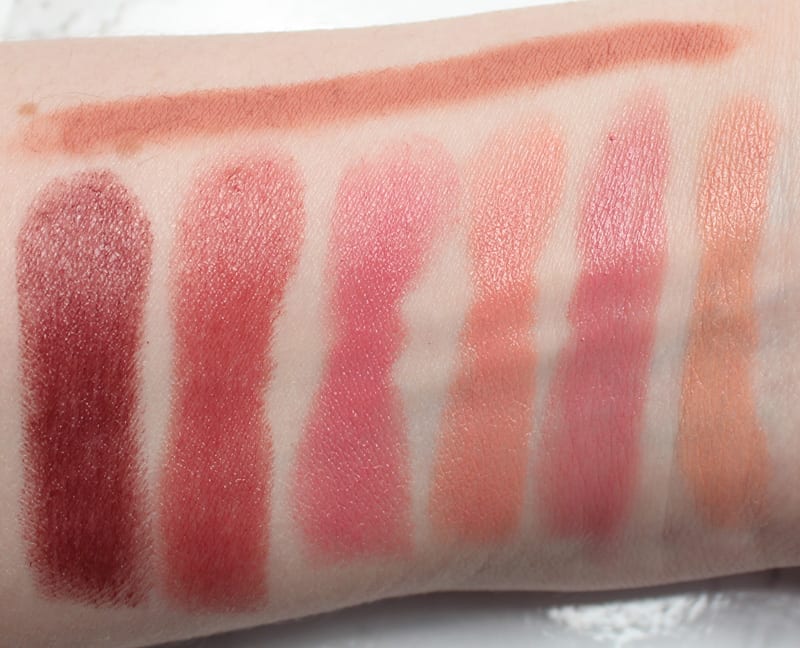 L to R – Queen – Mantra – Crave – Crush – Tutu – Bubbles. On top is the pencil in Borderline.
Radiant Lipstick comes in 20 shades. This formula is extremely moisturizing and creamy. I feel like you absolutely must use a pencils with these because of how moisturizing they are. They will last 3 to 4 hours on me and then need to be touched up. Because most of these are an easy to wear flattering nude shade, it's less noticeable when the color wears off.
I don't really notice a scent with these lipsticks. The packaging is sleek and black. It's very sturdy. They easily fit into my lipstick tower.
According to Sephora's website, the Radiant Lipsticks are vegan.
bareMinerals Matte Liquid Lipcolors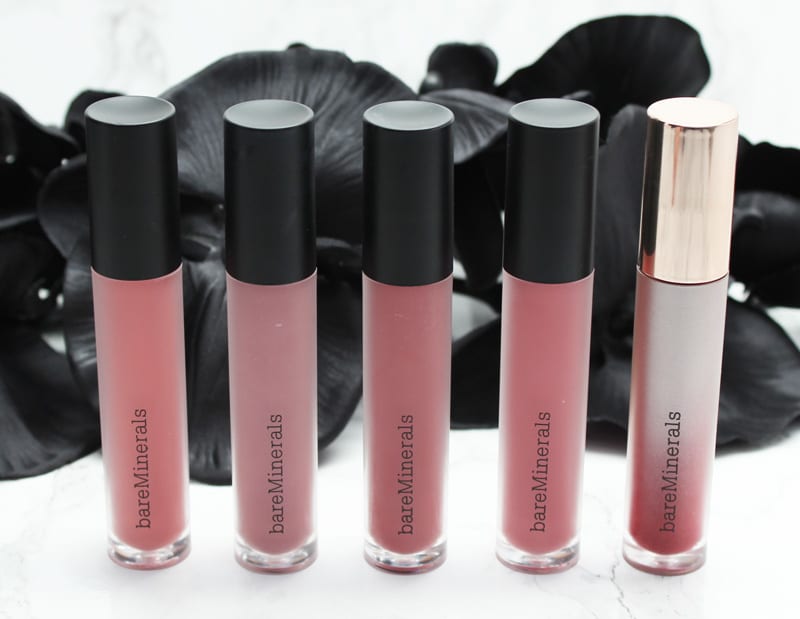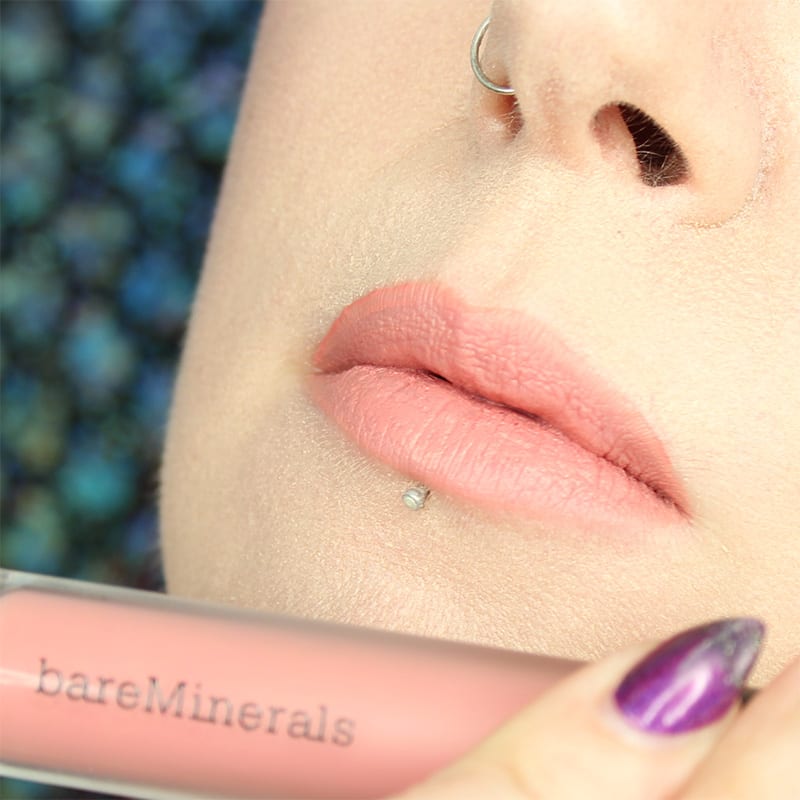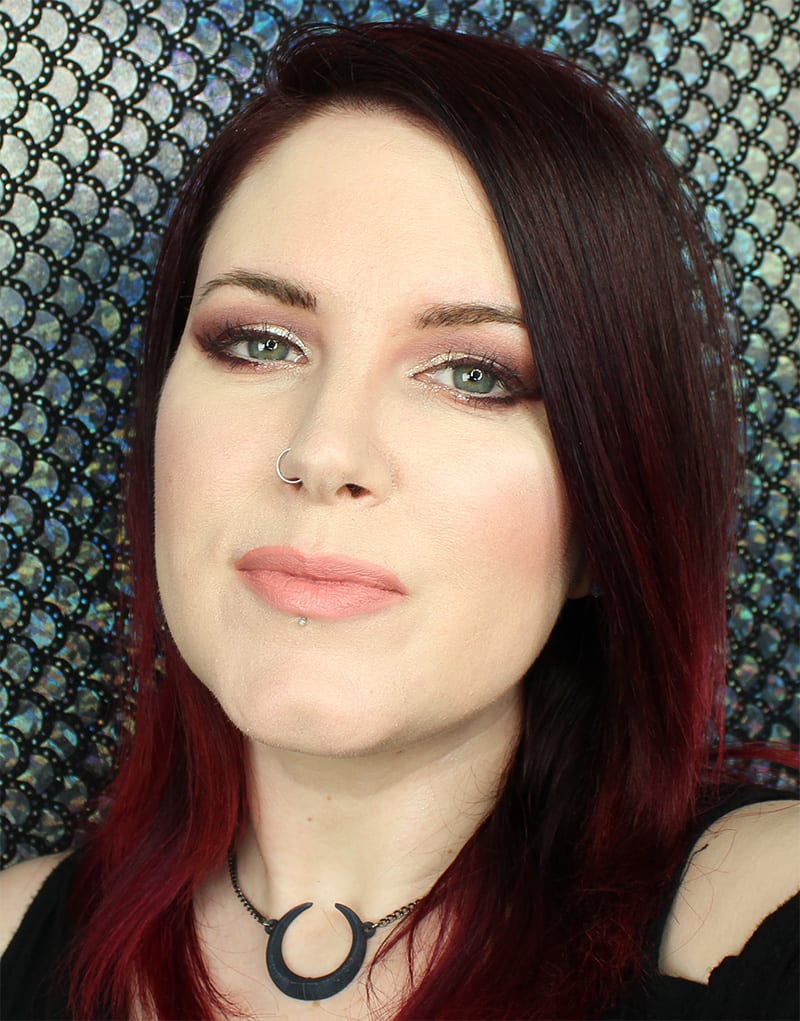 Cookie is a soft melon.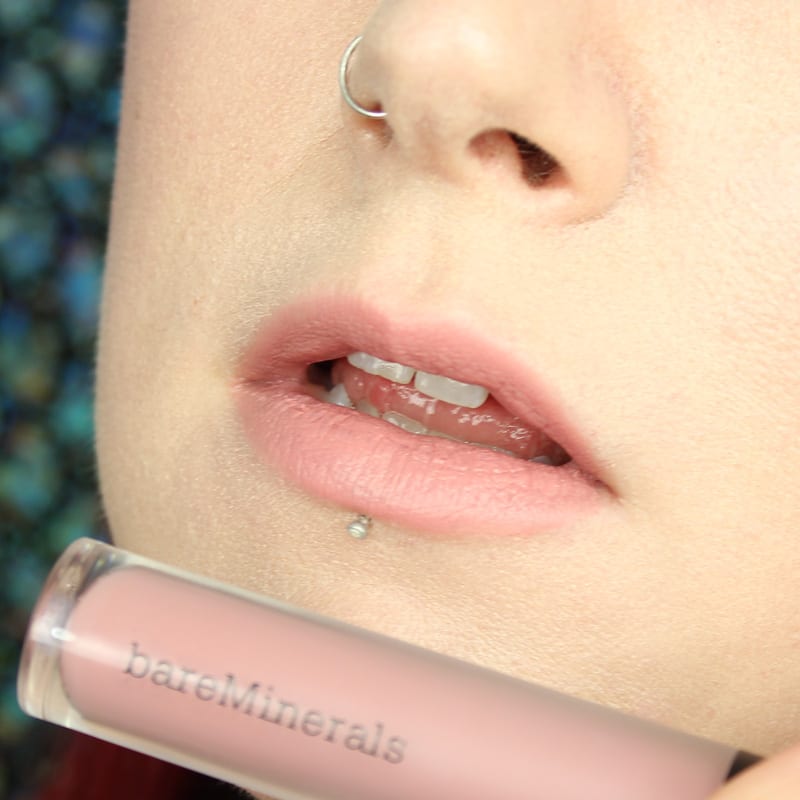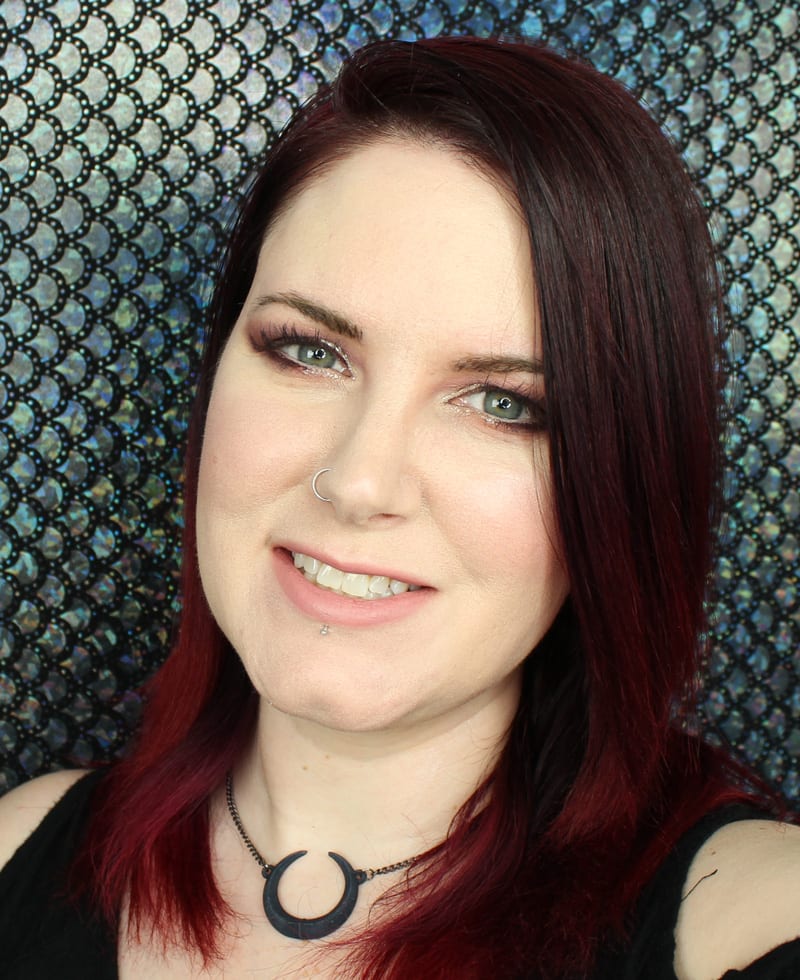 Slay is a dusty light mauve. This looks like a perfect MLBB shade on me.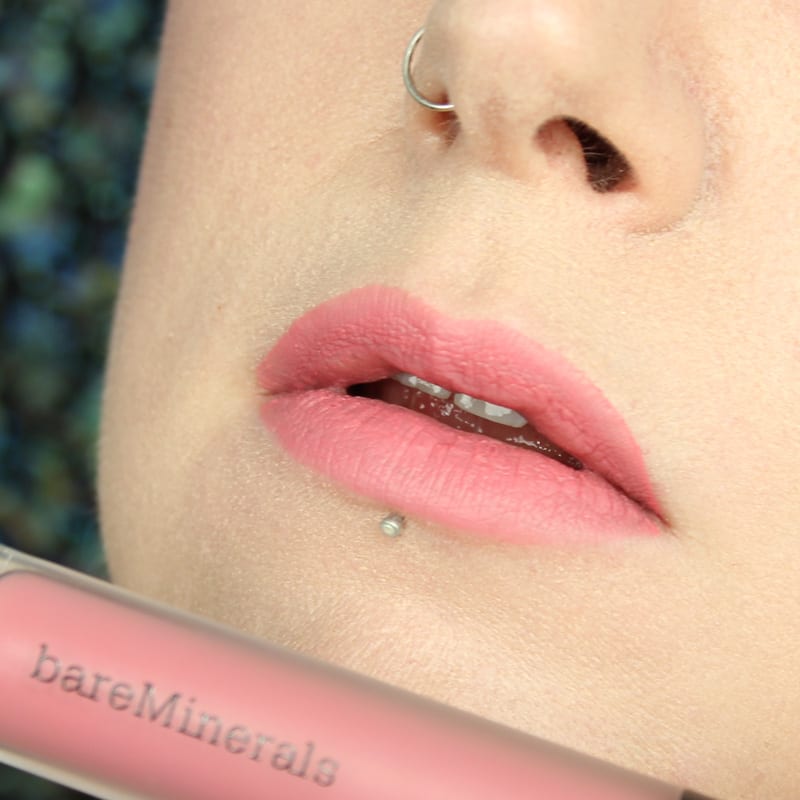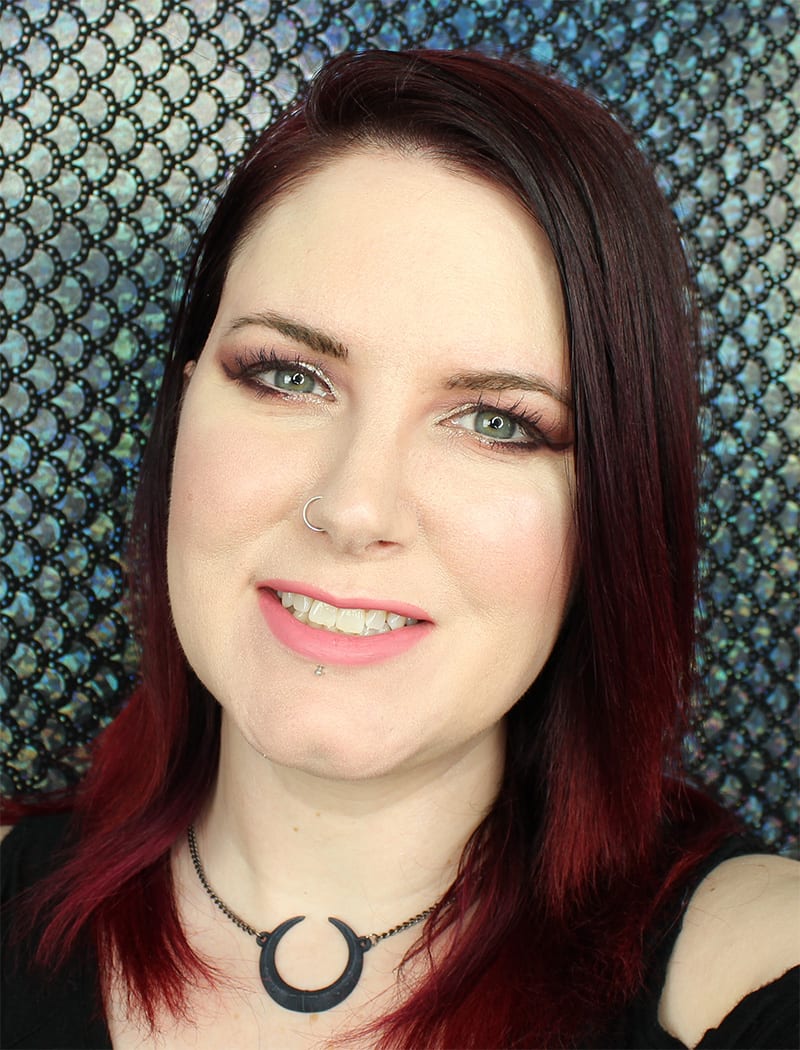 Frenemy is a cool pink. I love this one a lot!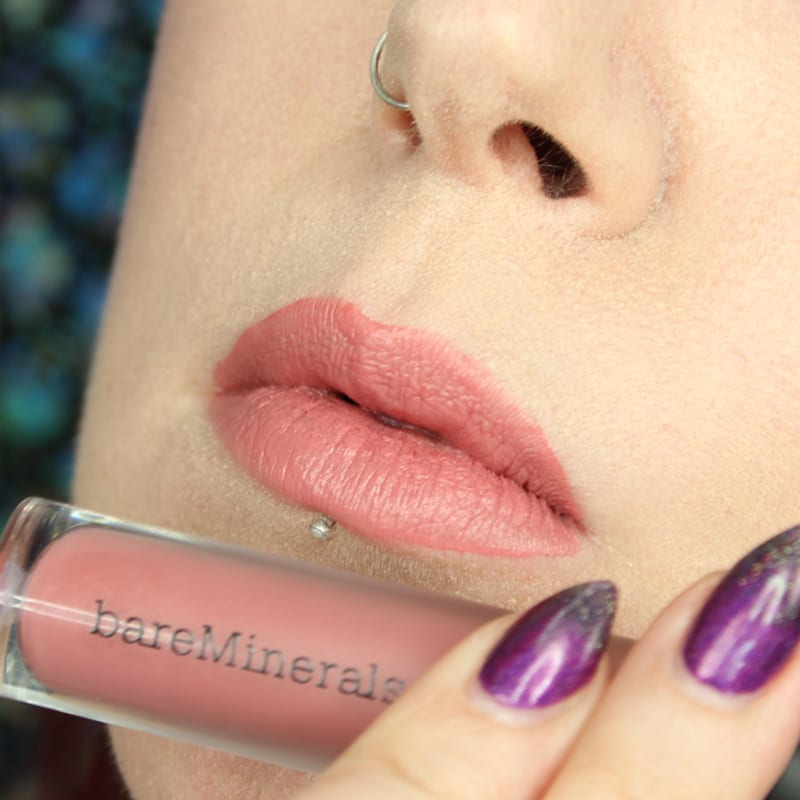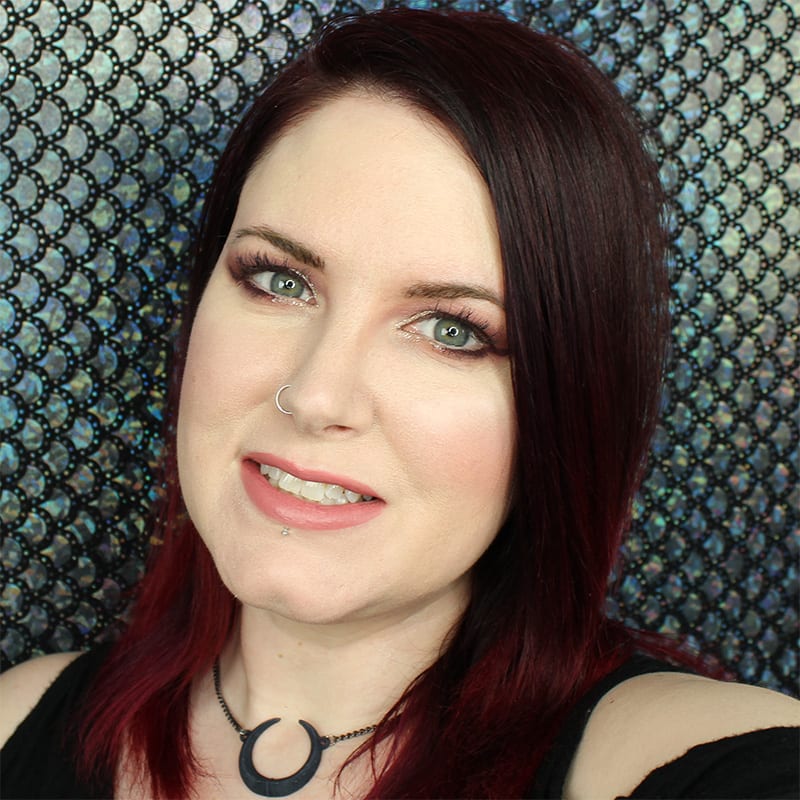 Swag is a blushing mauve. This seems like a deeper mauve to me. I love it and think it's flattering.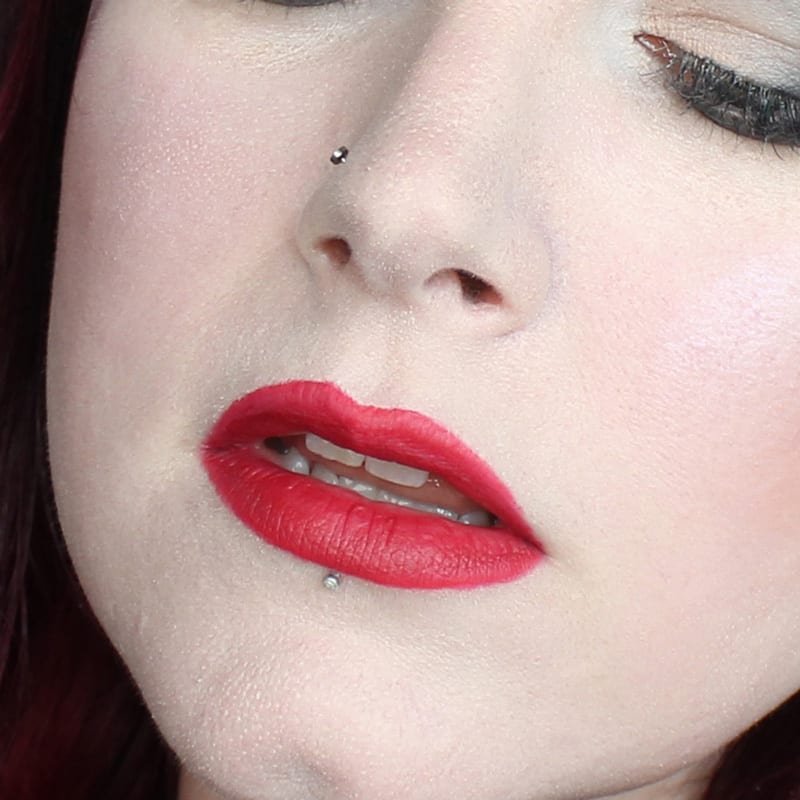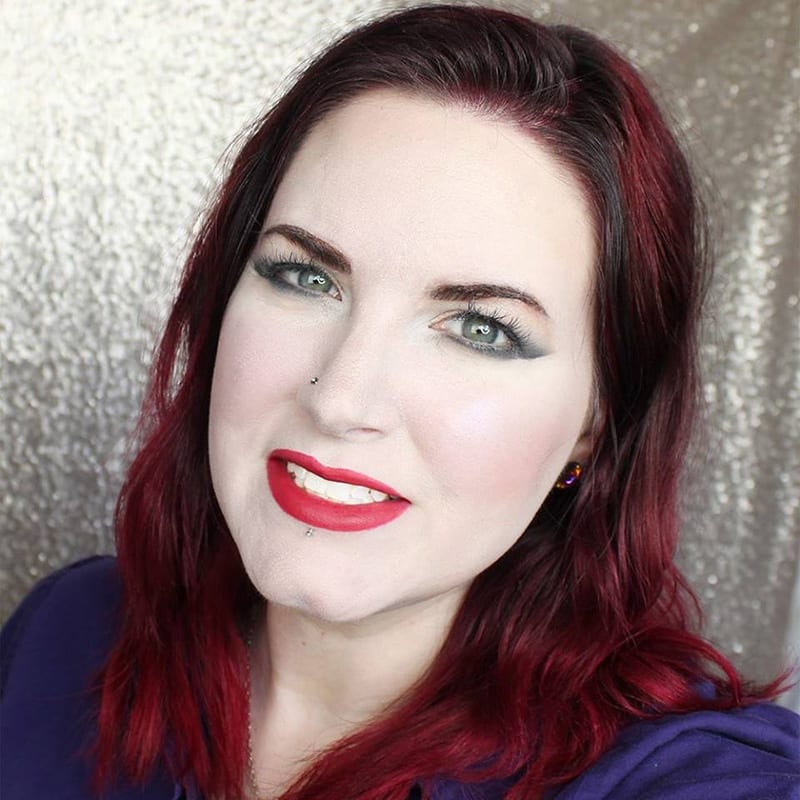 Naughty is a gorgeous deep red. I think it's cool toned. I love it so much!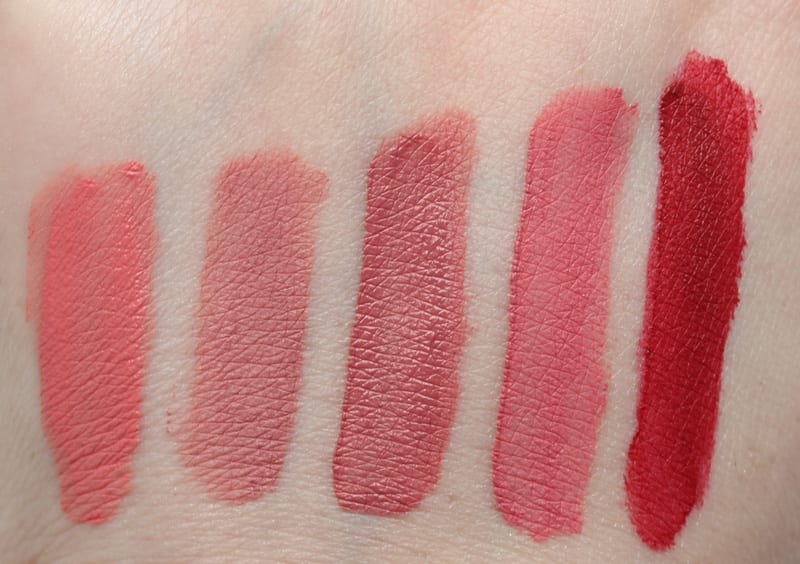 L to R – Cookie – Slay – Swag – Frenemy – Naughty
The Matte Liquid Lipcolor comes in 20 shades. Well, 21 if you count the limited edition shade Naughty (devilish red). This formula is a cream to matte liquid lipstick that is extremely comfortable to wear. These smell so good. Like buttercream frosting! Sephora's website says that the Matte Liquid Lipcolors are vegan and gluten free.
The formula is amazingly comfortable to wear. I'll get around 4 hours of wear, but then need to touch up at the center. It's pretty smudge proof and mostly transfer proof. I hope they release more shades because I think the matte liquid lipcolor formula is unique in the liquid lipstick world. I prefer this sort of moisturizing, matte formula that doesn't completely dry out your lips. I sincerely hope that bareMinerals releases some brighter shades because I think they'd do really well. Naughty is certainly stunning.
Gen Nude Review
The only thing that I don't like about the Radiant Lipstick and Matte Liquid Lipcolor lines is that they have a shorter wear time of 3 to 4 hours. Although I think it's worth it to put up with that shorter wear time since you end up with your lips staying hydrated instead of drying out. You won't find yourself constantly licking your lips or wishing you had lip balm. However, if reapplication is a deal breaker for you, you'll want to skip these.
While I'm not into the glosses, I am a big fan of the rest of the Gen Nude collection. The Radiant Lipsticks and Matte Liquid Lipcolors are some of the most moisturizing, comfortable products that I have in my collection. If you love flattering nude shades that look great on a wide variety of skintones, you will love these colors. Additionally, both of those lines are vegan, which is awesome.
I think the Gen Nude collections are aimed at people who want a comfortable lip product that's easy to throw on and go. While I typically favor bolder shades, even I can appreciate a flattering nude that looks good on my skintone. Of the colors I tried, I don't think a single shade looked bad on me, which I found impressive. Normally nudes tend to pull too brown or too orange on me, which I don't like.
Bubbles, Crave and Queen are my favorites from the Radiant Lipsticks. Slay, Swag, Frenemy and Naughty are my favorites from the Matte Liquid Lipcolor. If I had to pick just 1 from each line I would pick Queen and Naughty. Can't help it, it's the bold lip lover in me.
What do you think of the bareMinerals Gen Nude line? Let me know!
Related Posts