Sugarpill Capsule Collection C2 Tutorial
Hey friends, today I stepped out of my comfort zone to create this Sugarpill Capsule Collection C2 Tutorial for you. I used warm neutral hues, which I normally avoid. I am missing my bestie Mickey since I can't see him right now, so I tried to put together a look I thought he would love in neutral hues. I know my neutral loving friends like Jen from My Beauty Bunny will love this one.
Sugarpill Capsule Collection C2 Tutorial Video
Watch the Video on Youtube with Closed Captioning!
Shop Your Makeup Stash to Recreate
Sugarpill Elevate – shimmery peach champagne
Sugarpill Moon Shine – mid-tone brown with gold and teal blue shift
Sugarpill Side Eye – warm taupe matte
Sugarpill Double Shot – warm pecan brown
Ofra Rodeo Drive – champagne pearl
Tarte Burgundy – burgundy liquid liner
Kevyn Aucoin Bloodroses – burgundy mascara
LA Girl Super Bright – eye brightener pencil
Try shopping your makeup stash to recreate this look! Like many of you, I've lost my job due to covid-19, so I'm shopping my makeup stash more frequently rather than rushing out to buy new things. You don't need the new Sugarpill Capsule Collection C2 Palette to recreate this look, because you probably already own similar colors. The only color that might be tricky is Moon Shine, and only if you don't have a ton of duochromes. If you have any duochrome similar to MAC Blue Brown or Urban Decay Lounge you can use that in place of Moon Shine.
Sugarpill Capsule Collection C2 Look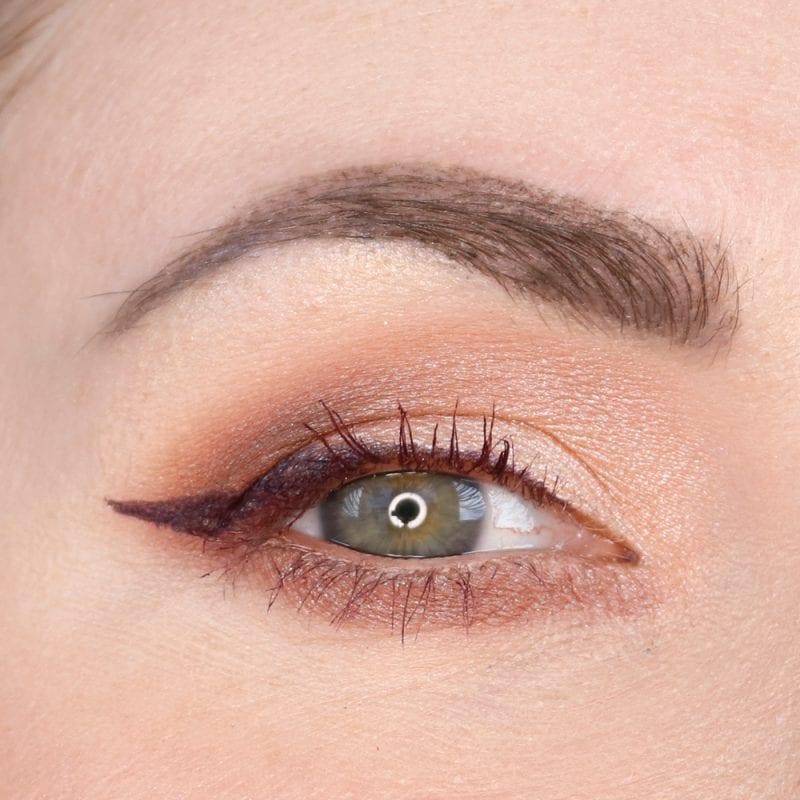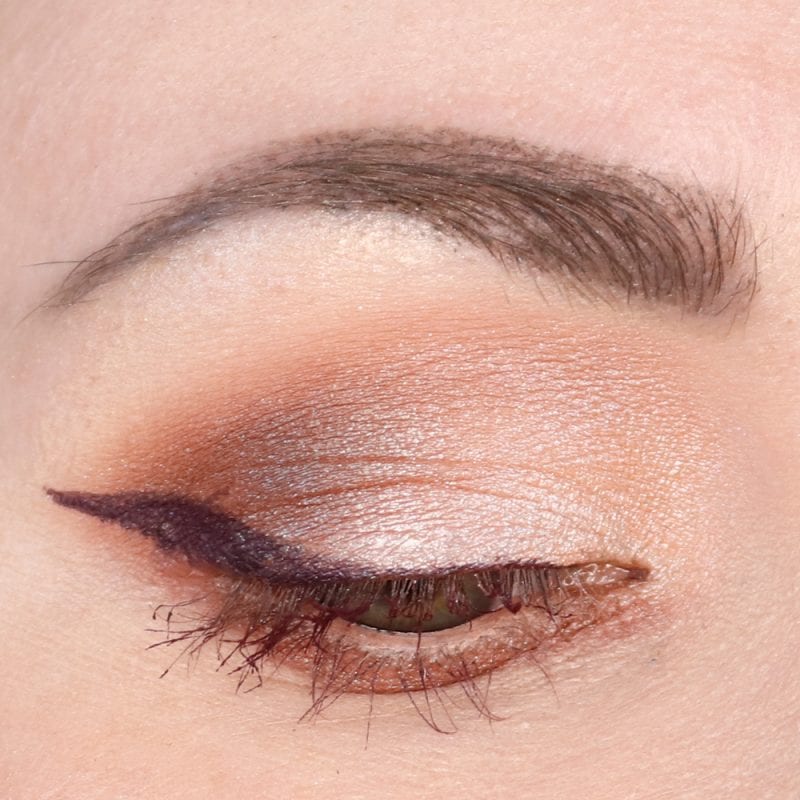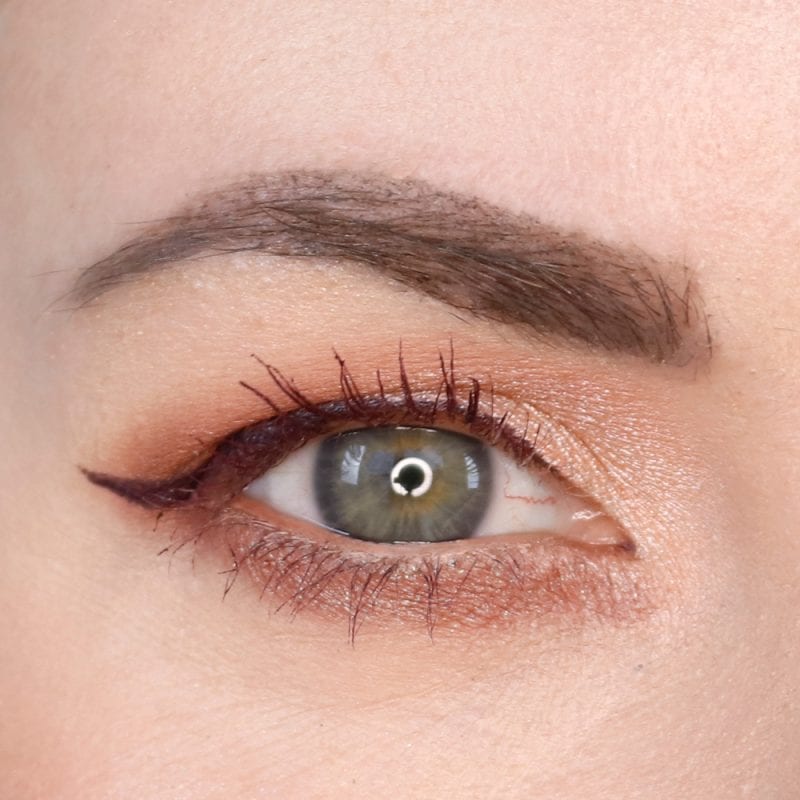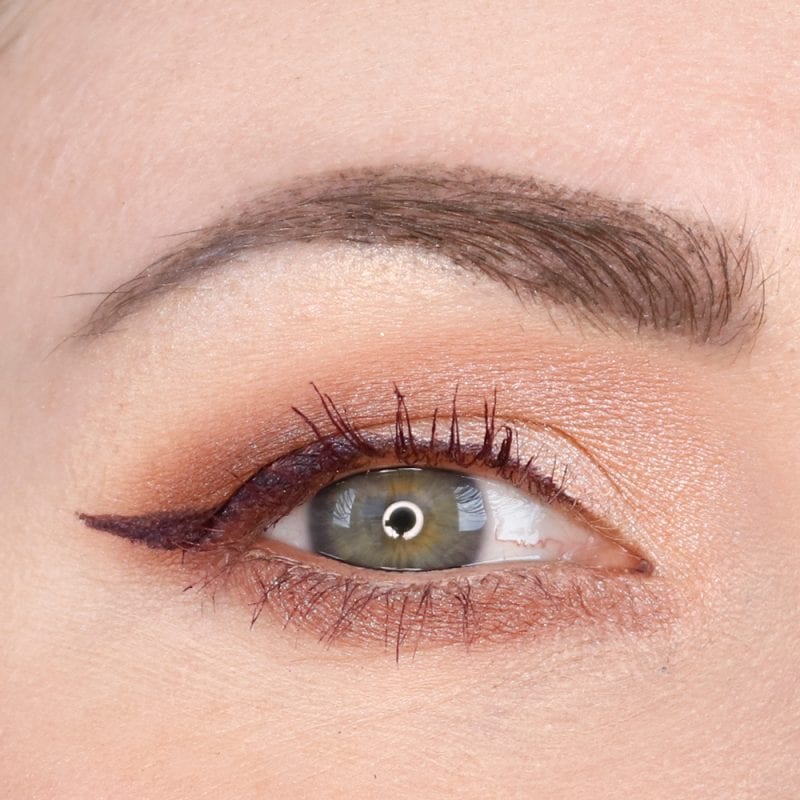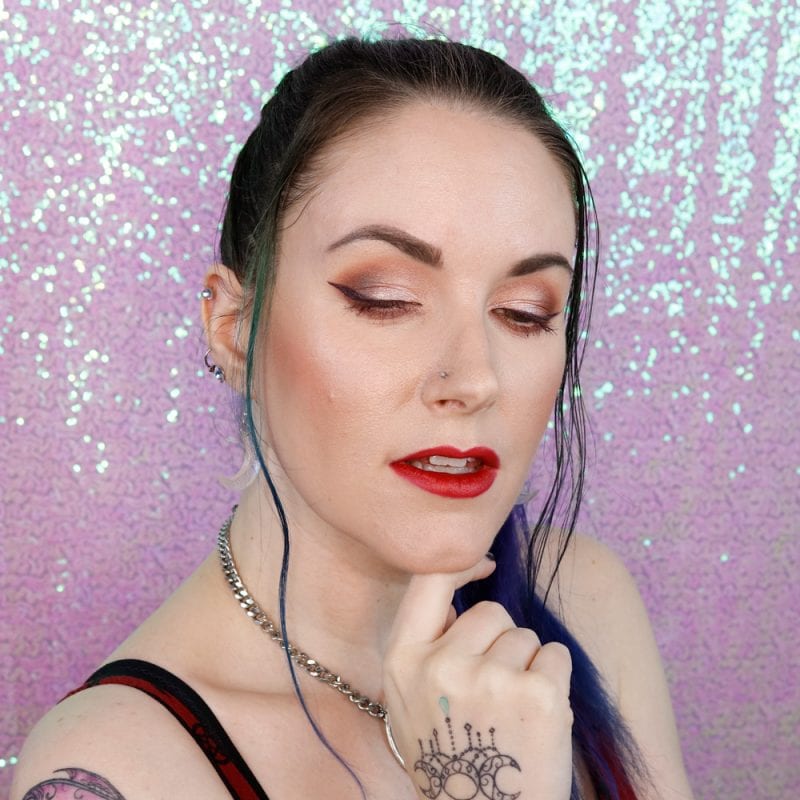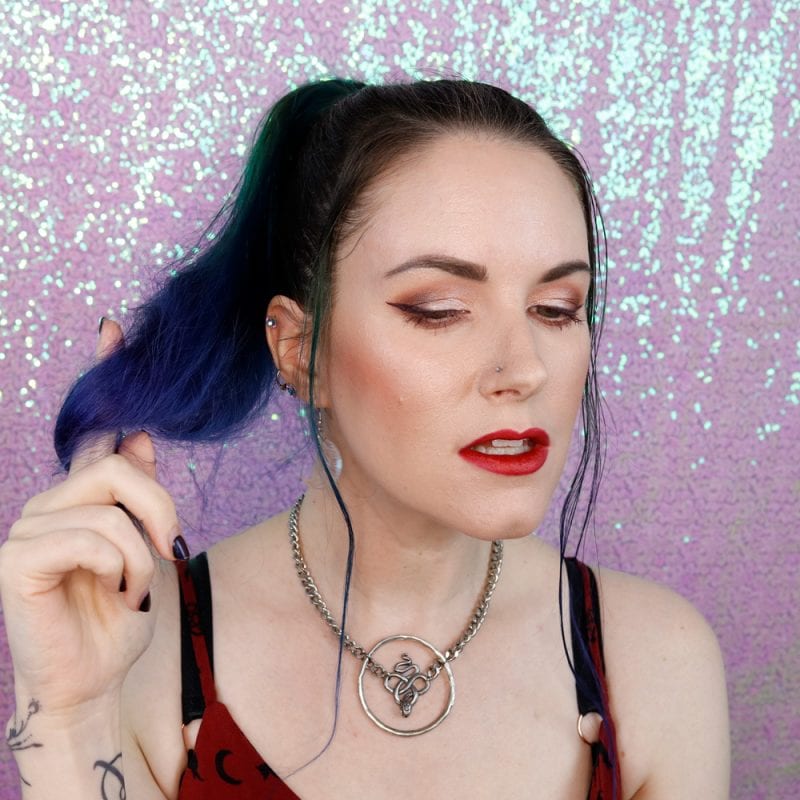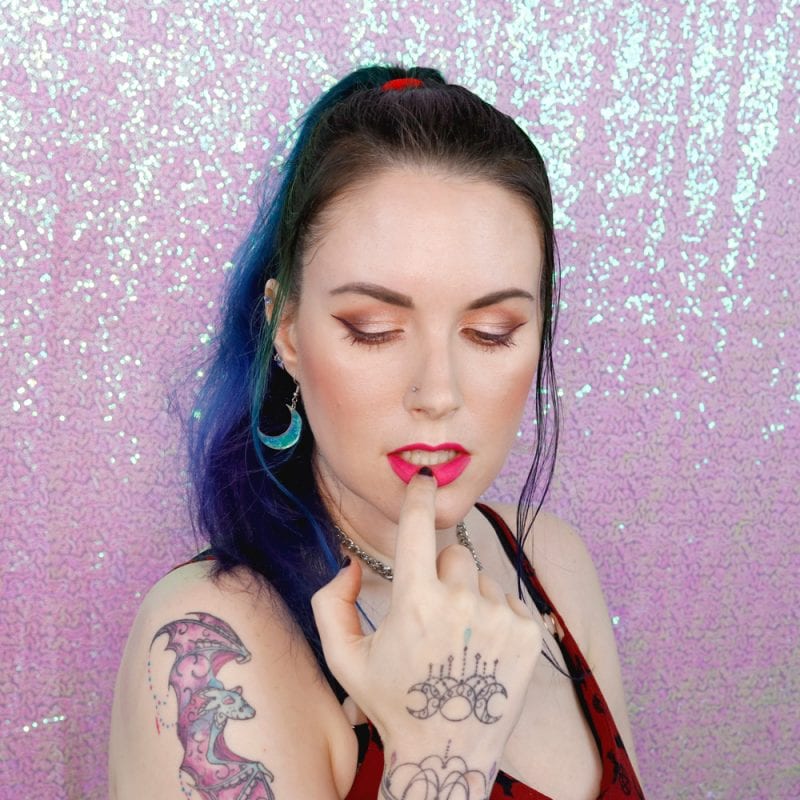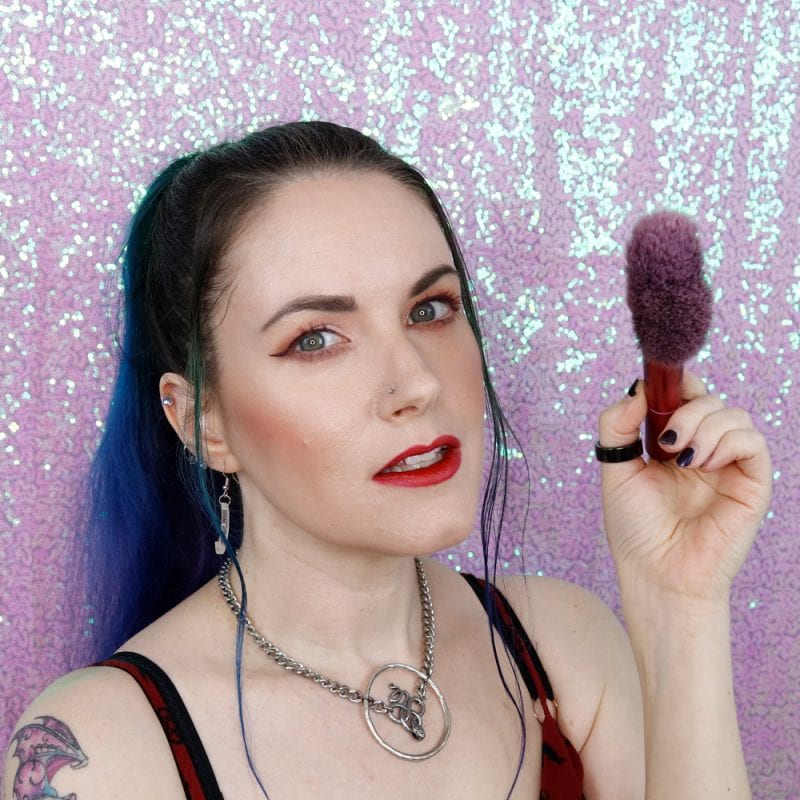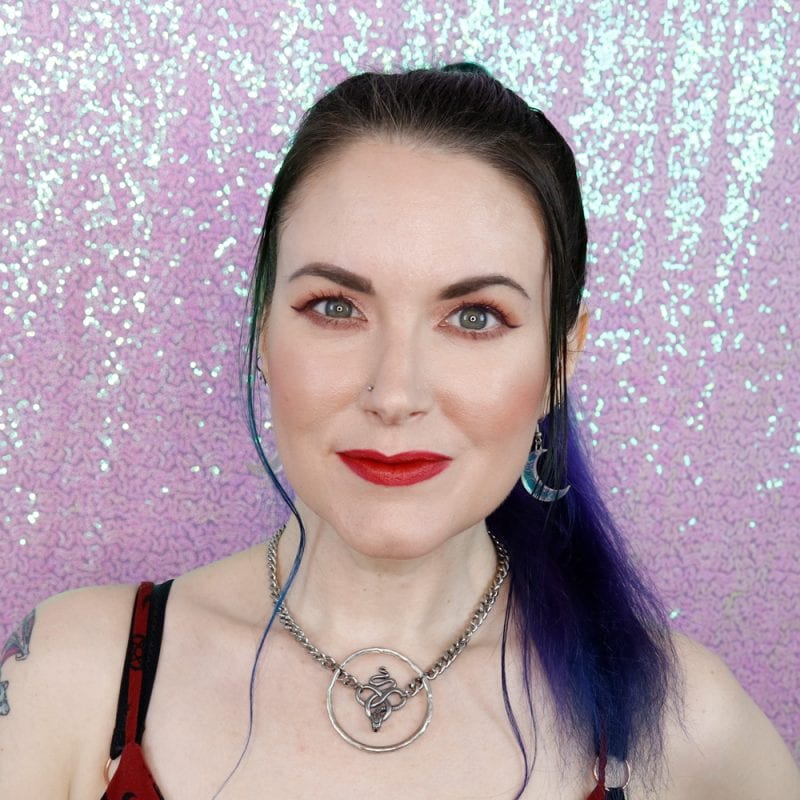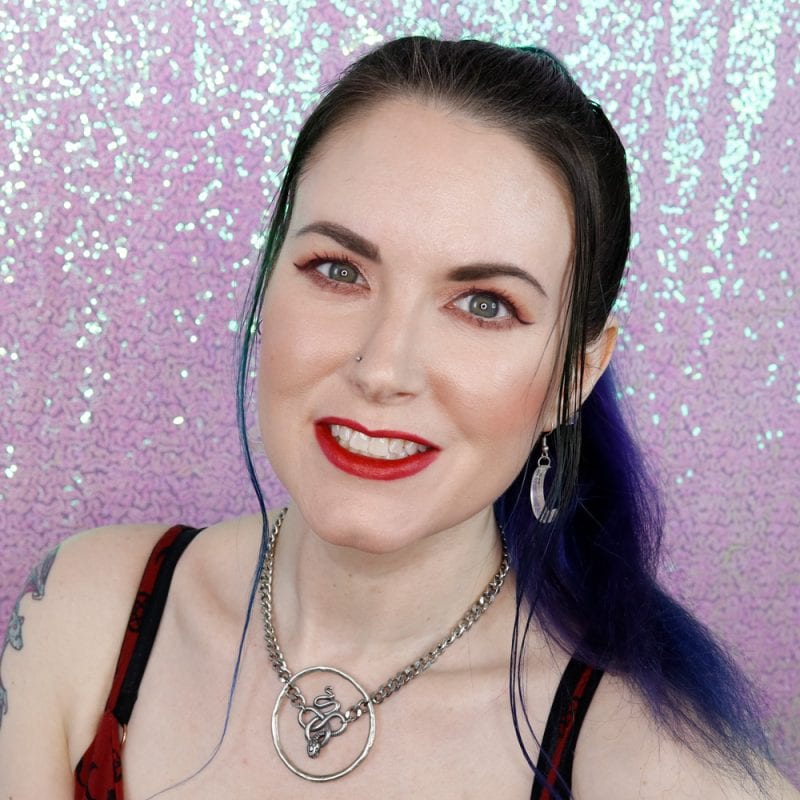 Fashion
Hot Topic Black Cats & Pentagrams Top
Open the Cellar Door Medusa Choker
Silver Cicada Iridescent Moon Earrings
Eyes
Urban Decay Eden Primer
Cozzette Beauty Essential Powder in C1
Urban Decay Blackout Brow Blade
Sugarpill Side Eye (Capsule Collection C2) – crease and lower lid
Sugarpill Elevate (Capsule Collection C2) – lid
Sugarpill Double Shot (Capsule Collection C2) – accent
Sugarpill Moon Shine (Capsule Collection C2) – outer lid and lower lid
Tarte Burgundy Liquid Eyeliner (LE from Xmas, try Marc Jacobs Berry Deep)
Kevyn Aucoin Bloodroses Mascara
Ofra Rodeo Drive – highlight
LA Girl Super Bright pencil – lower waterline
Face
Milk Makeup Hydro Grip Primer
Milk Makeup Supernova Stick
Bare Minerals Complexion Rescue Stick in Opal
Nyx So Taupe Sweet Cheeks Glow Blush
Sugarpill Retrograde (Capsule Collection C2) Blush
Ofra Rodeo Drive Highlighter
Hot Pink Lips
Clove and Hallow Roadtrip Lip Velvet
Red Lips
Necromancy Cosmetica Magdalena
Sugarpill Capsule Collection C2 Tutorial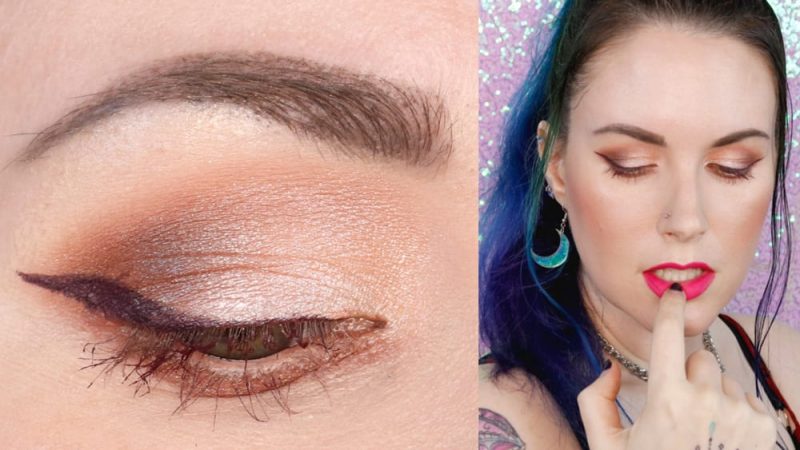 As I mentioned, I rarely do neutral looks like this, as they're out of my comfort zone. I love how this turned out though. I'm now convinced that warm peachy neutrals work equally as well as cool grey neutrals for my eyes. And I love burgundy mascara and liner. They're a fun change from black black black for me.
If you haven't tried them, the Necromancy Cosmetica bullet lipsticks are fantastic. Magdalena is such a stunning red! It's a color that's classic and perfect to wear year round. And the Clove + Hallow Lip Velvets are super comfortable liquid lipsticks. Roadtrip is a bad ass hot pink, perfect for Spring and Summer.
What color lipstick would you wear with this neutral tutorial featuring the Sugarpill Capsule Collection C2 palette?