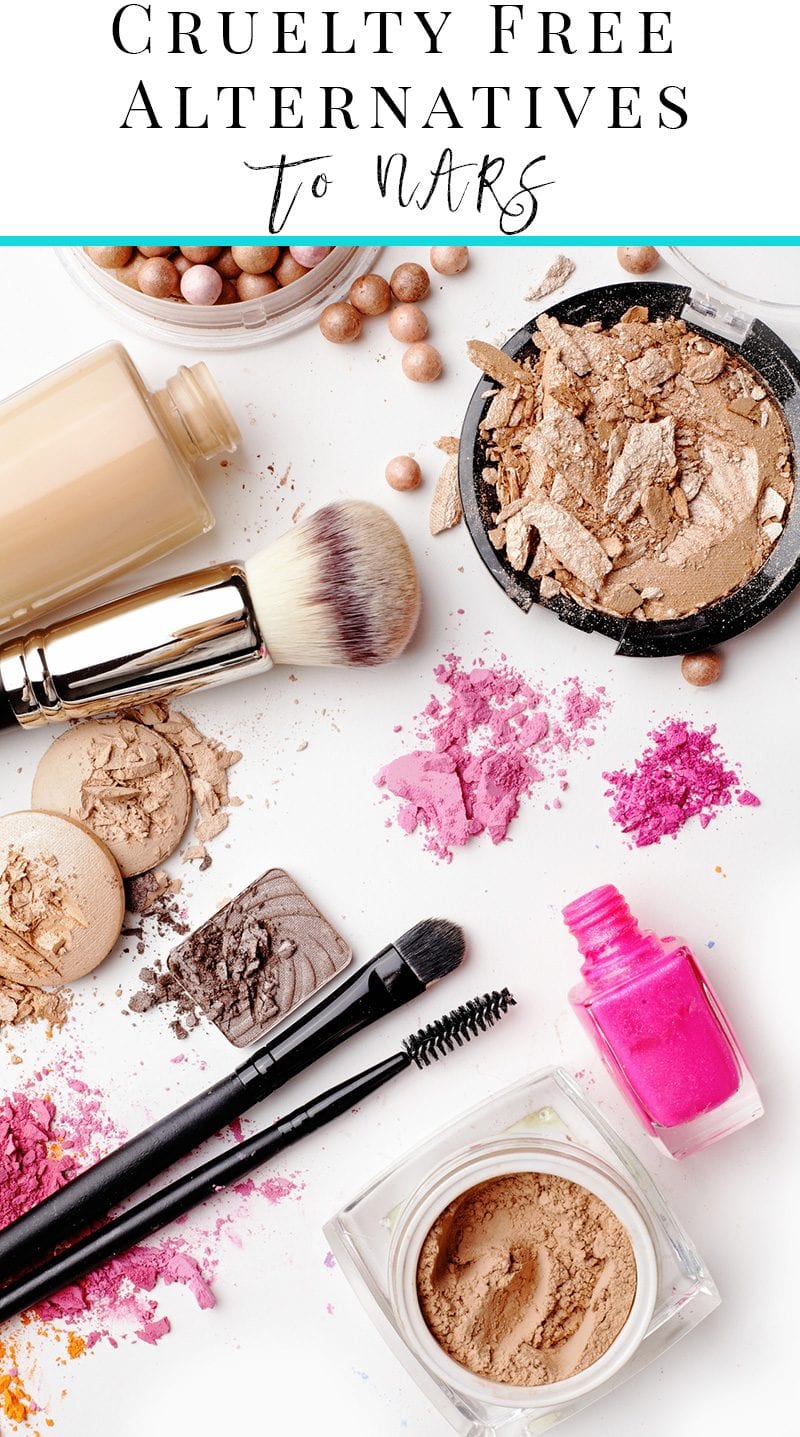 It's a sad day that NARS is now testing on animals and selling in China. My friend Tashina from Logical Harmony broke the upsetting news that NARS is no longer cruelty free. Many of you reached out to ask me for alternatives to NARS products. As you know, I've loved many NARS makeup products over the years, so while I won't purge them from my stash, once an item is used up I won't be repurchasing it. So here are my cruelty free alternatives to NARS beauty products that I'm sharing with you.
PR + purchased by me.
Cruelty Free Alternatives to NARS
If you love NARS Light Reflecting Loose Setting Powder, try the cruelty free alternative Milani Prep Set Glow Illuminating Transparent Powder.
While I've got about 1.5 jars left of my NARS powder, I recently bought the Milani powder to test out and fell in love with it. It's amazing! You can see it in action in my Ordinary Serum Foundation Wear Test video.
If you love the iconic NARS Blushes, try cruelty free alternatives Urban Decay Afterglow Blushes, Tarte Amazonian Clay Blushes, Silk Naturals Vegan Blushes or Aromaleigh Blushes.
The Urban Decay Afterglow blushes are my go-to blushes for daily wear. Rapture is my favorite pinky mauve, X-Rated is my perfect soft pink, Video is a great nude, Bittersweet is a pretty purple, and Score is a pinky-peach with a touch of gold shimmer. Score reminds me of NARS Orgasm. In the Tarte blushes, I like Paaarty (nude), Celebrated (pink nude), Seduce (rosy nude), Blushing Bride (rosy pink) and Exposed (nude pink). See me wearing the original Urban Decay Afterglow Blush shades.
If you love NARS Eye Paints, try cruelty free alternatives like Sigma Gel Eyeliners or the Inglot AMC Gel Eyeliners.
I love Sigma Standout Peacock (teal blue), Wicked (black) and Stunningly Ladylike (dark brown).
If you love NARS Foundations, try cruelty free alternatives like the Ordinary Serum Vegan Foundation, Cover FX Vegan Foundation, or Kat Von D Lock-It Vegan Foundation.
The Ordinary Serum Foundation is my favorite foundation right now for my dry skin and a steal for only $7! See my Ordinary Serum Foundation review.  Kat Von D Lock-It foundation is excellent for those of you with oily skin. Cover FX offers a wide variety of foundations, too.
If you love NARS Audacious Lipsticks, try the Urban Decay Vice Lipsticks or Bite Beauty Amuse Bouche Lipsticks.
The Urban Decay Vice Lipsticks are my favorite daily wear lipsticks. They have so many amazing colors like Violate, 714, Heroine, Perversion, Backtalk Bad Blood, Peyote, etc. I also have a few Bite shades I adore, like Thistle and Squid Ink. Make sure you check out my tons of UD Vice lipstick swatches.
If you love NARS Radiant Creamy Concealer, try the Kat Von D Lock-It Vegan Concealer, Urban Decay Naked Skin Vegan Concealer or Tarte Shape Tape.
I'm in love with the Kat Von D Concealer in L1 Neutral, as it's my holy grail concealer. Before I fell in love with it I preferred the UD. While the Tarte Shape Tape did not work for me personally, I know many people swear by it. See my Kat Von D Lock-It Concealer Creme review.
If you love NARS Eyeshadows, try Makeup Geek Eyeshadows, Urban Decay Eyeshadows, Saucebox Eyeshadows, Fyrinnae Vegan Eyeshadows, Darling Girl Eyeshadows or Silk Naturals Vegan Eyeshadows.
NARS eyeshadows are not my favorite, though I do adore the Dual-Intensity eyeshadows, and I think there are many better options available. Makeup Geek and Urban Decay will offer the best options for those who love the NARS formula. See my Favorite Makeup Geek Eyeshadows. You may also want to check out Urban Decay Naked Heat swatches, UD Gold Griot review, UD Naked Ultimate Basics palette and UD Naked 3 Palette review.
If you love NARS Glosses, try the Jouer Lip Glosses.
While I'm not a gloss fan, I know many people are. These are absolutely gorgeous.
If you love NARS Eyeshadow Primer, try Too Faced Shadow Insurance.
I've tried so many eyeshadow primers over the years, but I keep going back to Too Faced Shadow Insurance because it really works well for my oily hooded lids. It does last 24 hours. I even tested this again recently as I was sick and fell asleep in my eyeshadow, which I haven't done in years!
If you love NARS Nail Polish, try KBShimmer Nail Polish, ILNP Lacquers or Pretty Serious Nail Polish.
While none of the 3 brands I mentioned have the NARS superior wide brush style, their formulas and color selection are amazing. I really wish these 3 brands would upgrade their brush to the NARS style.
Ece from the PhyrraNyx Facebook group shared the following cruelty free NARS Dupes!
If you love NARS Orgasm Liquid Highlighter, try the Nyx Born to Glow Liquid Highlighter.
I have Nyx Sunbeam swatched.
If you love the NARS Misfit Duo, try the dupe by Kat Von D – Sage Quad.
See my swatches of the Sage Quad.
If you love NARS Exhibit A Blush, try Nyx Crimson Blush or Silk Naturals Vegan Diablo Blush.
I hope you find these Cruelty Free Alternatives to NARS makeup products helpful! Let me know what you'll be switching to if NARS was your favorite brand. Also, I'm sending them a letter letting them know how disappointed I am in this change and I urge you to do the same!