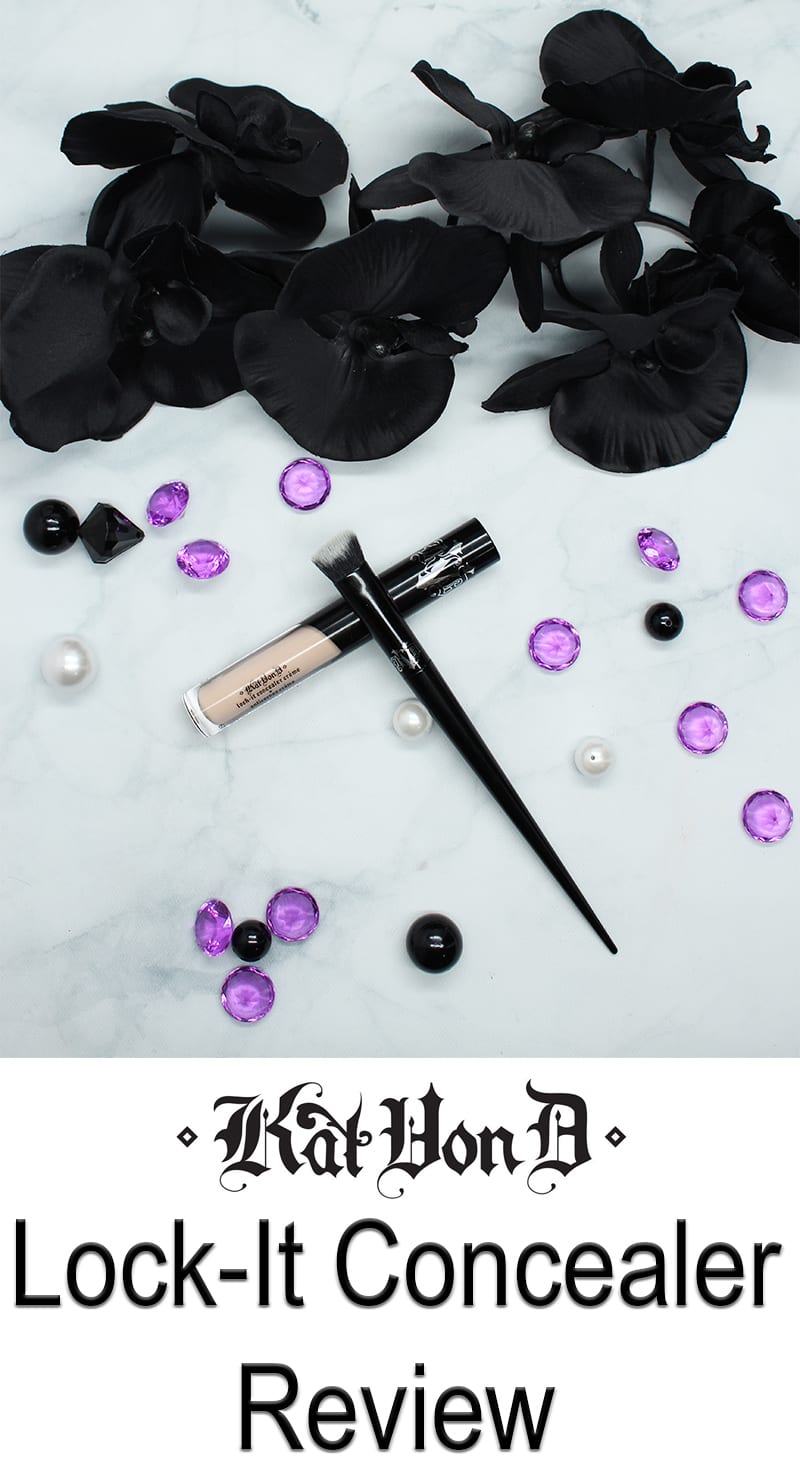 Today I'm sharing a more in depth Kat Von D Lock-It Concealer Creme review. This is the new cruelty free, vegan concealer by KVD. It comes in a staggering 21 different shades, including a pure white called White Out. It also comes in deeper shades for darker skintones. I think Kat Von D Beauty is doing a great job at embracing all the global shades of beauty.
Kat Von D Lock-It Concealer Creme Review
PR sample.
Where to Buy
Kat Von D Beauty, Sephora
Price
$26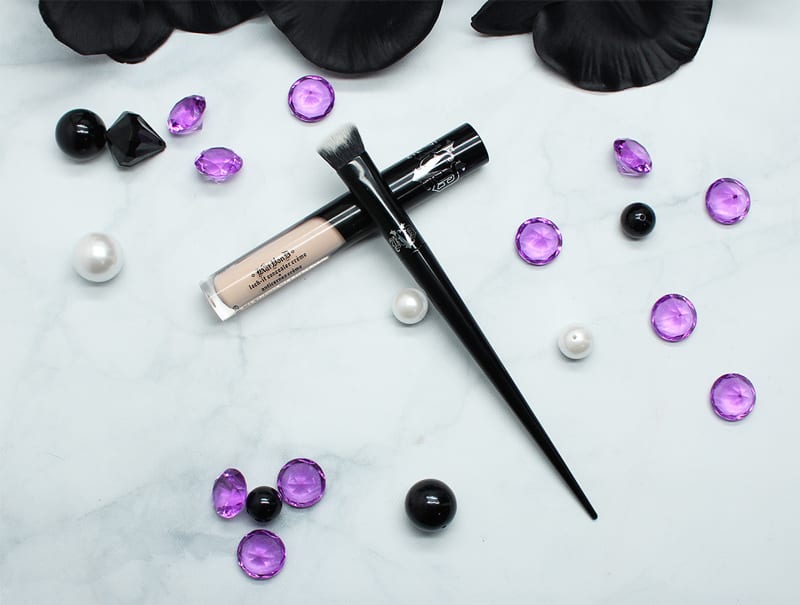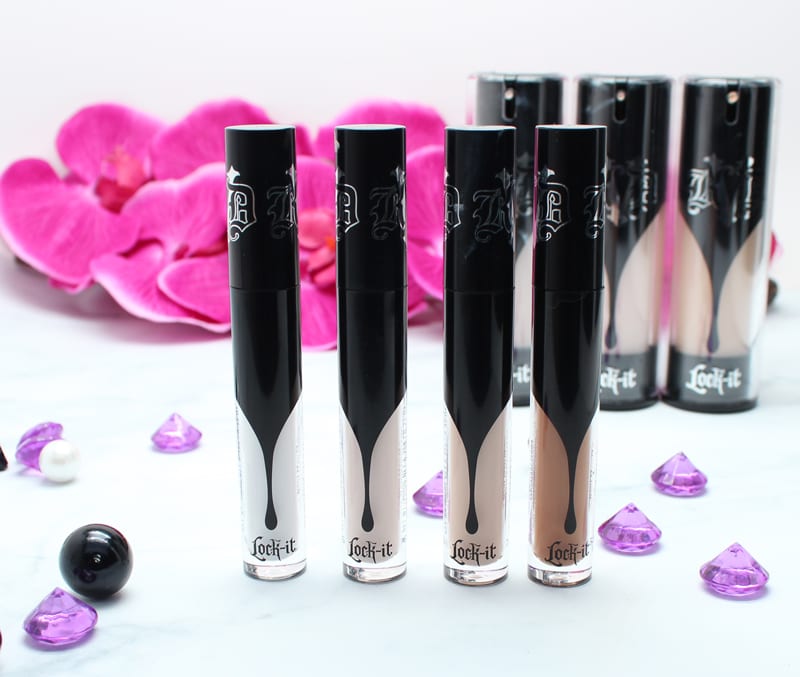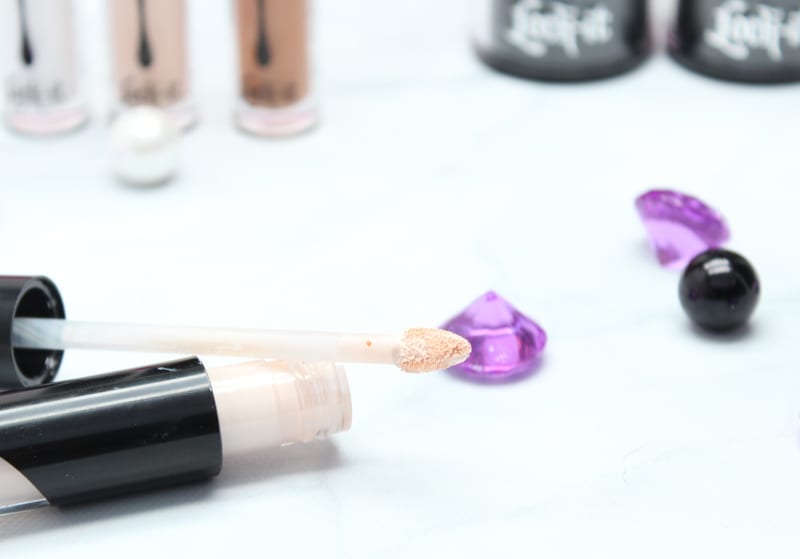 Packaging
The Kat Von D Lock-It Concealer Cream comes in a round container with a doe foot applicator. The doe foot is actually shaped like a tear drop, which is pretty unique in my experience. I think this is a great shape for applying concealer.
Value
The Kat Von D Lock-It Concealer Cream is a pretty good value for the price since it is $26 for .22 oz of product. To give you an idea on how it compares to others – Urban Decay Naked Skin is $28 for .16 oz (11 shades), NARS Radiant Creamy is $29 for .22 oz (16 shades), Too Faced Born This Way is $28 for .23 oz (10 shades), Tarte Double Duty Shape Tape is $24 for .33 oz (6 shades) and Becca Aqua Luminous Perfecting is $30 for .18 oz.
Shade Range
The concealers really do come in a wide range of shades for neutral, cool and warm undertones. For me, I wear the shade Light 1, which is described as fair honeysuckle with neutral undertone. For pale neutral skin like mine, it's perfect. However, I do like that there is the option of White Out if I wanted to try some extreme matte highlighting.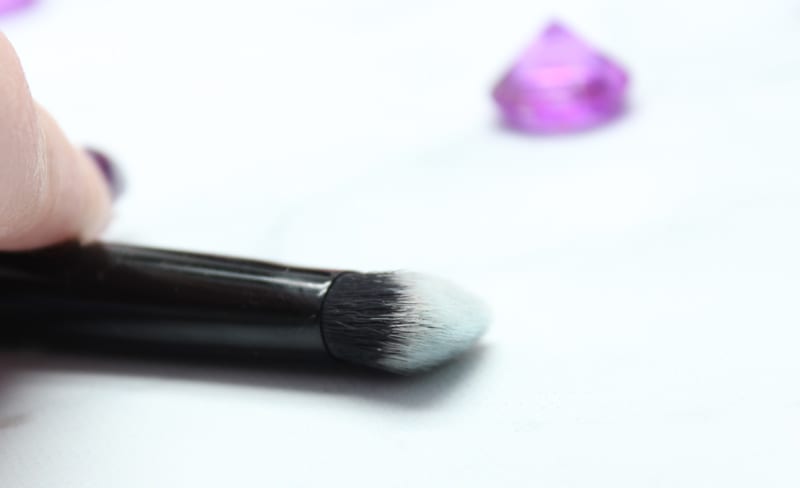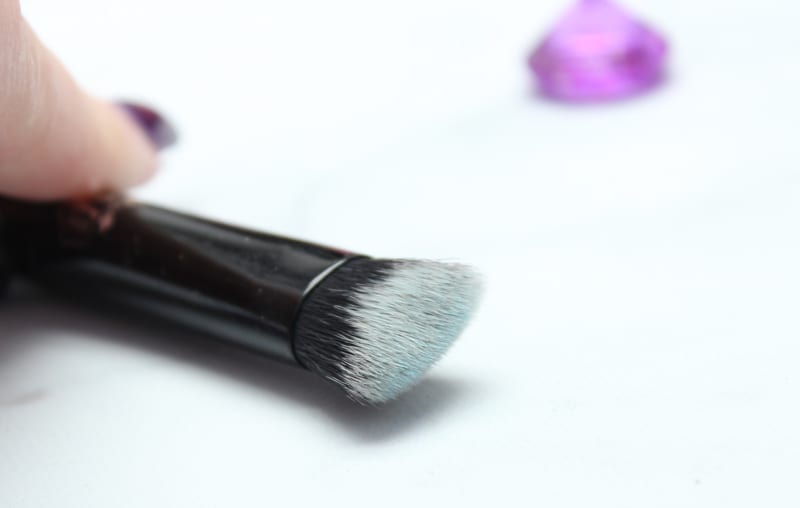 How to Apply
Kat Von D recommends using this either by swiping the concealer directly onto the skin or the back of your hand, then blending with your finger or the Lock-It Edge concealer brush. KVD says to choose a shade that exactly matches your skintone to cover blemishes. To correct darkness under the eyes, select a shade 2 tones lighter than your skintone.
They also suggest using this concealer with their setting powder to bake under the eyes. I've never tried baking, so I can't speak to how well this works. They say to pack on a generous amount of setting powder on top of the concealer. Wait a few minutes, then dust it off with a brush. KVD also recommends using the white shade as an eyeshadow base to make eyeshadows pop. It would probably work well with neon / bright colors.
I prefer to dot this on and then blend it out with the Kat Von D Lock-It Edge Concealer brush. I also had good results applying with a damp beauty blender and then setting with translucent setting powder. So if you don't want to apply with a brush or finger tips, try a makeup sponge.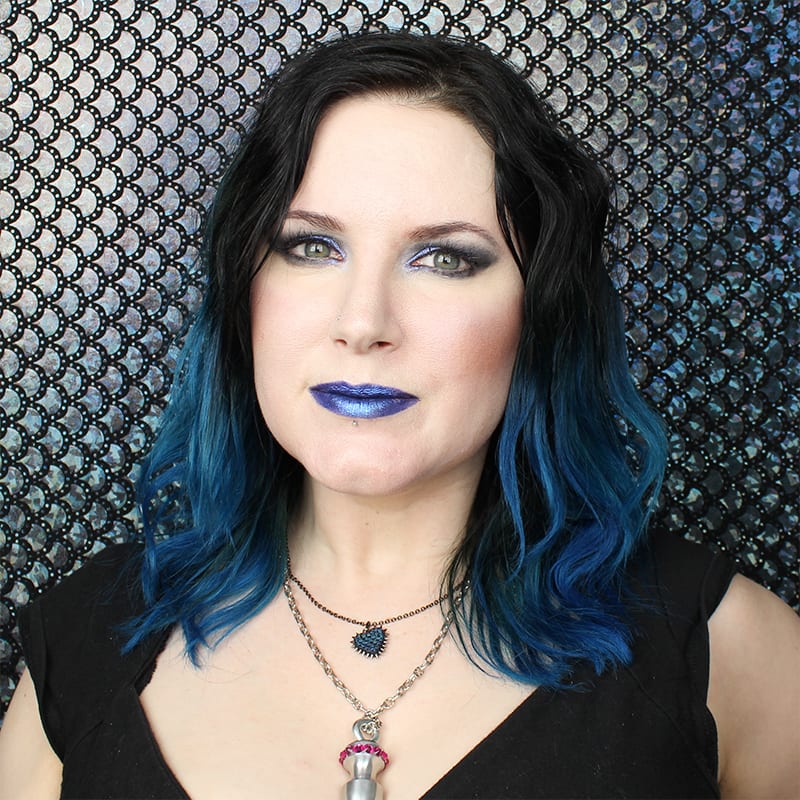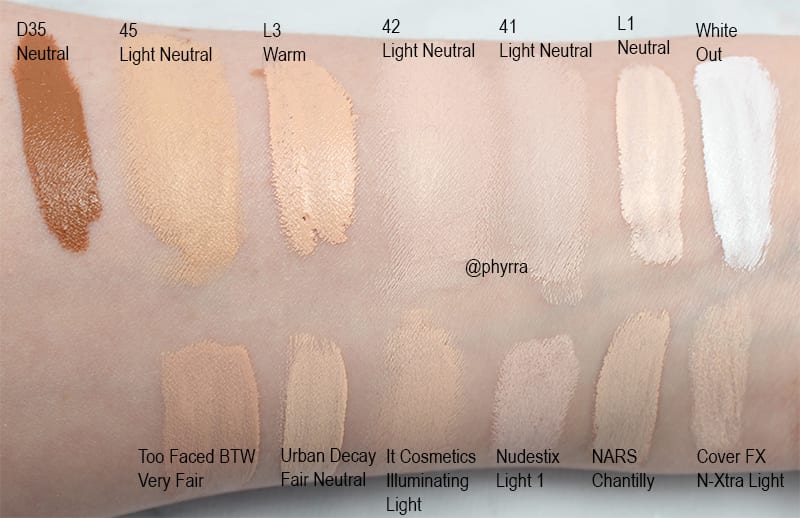 My Results
Compared to other concealers that I've tried recently, I'm blown away by my results with the Lock-It Concealer Creme. First, it does a great job of brightening my under eye area. It disguises the hyper-pigmentation by my eyes and makes me look more awake. Second, it doesn't crease on me. Third, it doesn't emphasize the lines around my eyes. It doesn't make me look older. A lot of the time I've skipped concealer under the eyes because I felt like it just aged me in an unflattering way.
I typically apply concealer under my foundation. Other people recommend applying it on top of foundation. What really impressed me about this concealer is that it can be worn either way with both liquid and powder foundation without any issue. It just blended in seamlessly for me. To me this is an incredibly pigmented formula. For those who are sensitive to smell, I didn't notice a fragrance.
Recently I did a great eye look and I used black eyeshadow to line my eyes. After applying all my eye makeup, I applied my powder foundation. About 20 minutes later I looked and somehow I had black matte eyeshadow under my eyes, making my eyes look awful. I whipped out this concealer to see if I could somehow fix it. Not only did it cover up the black eyeshadow mess, it blended in with my foundation without a problem and didn't turn cakey.
And yes, I do absolutely love the brush that was made for this concealer. The brush is perfect for applying concealer around my eyebrows, my eyes, my nose, or my lips. It makes it easy to clean up any lines due to its shape. It's a fabulous brush.
If I had to find one thing to improve upon with the brush, it would be to offer a shorter brush that can more easily fit into  my makeup bag. The long handles look elegant but they don't fit into all of my makeup bags. If I had to find one thing to improve upon with the concealer, it would be that I think it's too thick for me to blend with my finger tips. I definitely need a brush. With the brush it applies like a dream.
Be sure to check out the 10 Life Changing Beauty Hacks You Need to Know!
What do you think of the Kat Von D Lock-It Concealer Cream? What's your favorite concealer?
More to See
Last Updated on