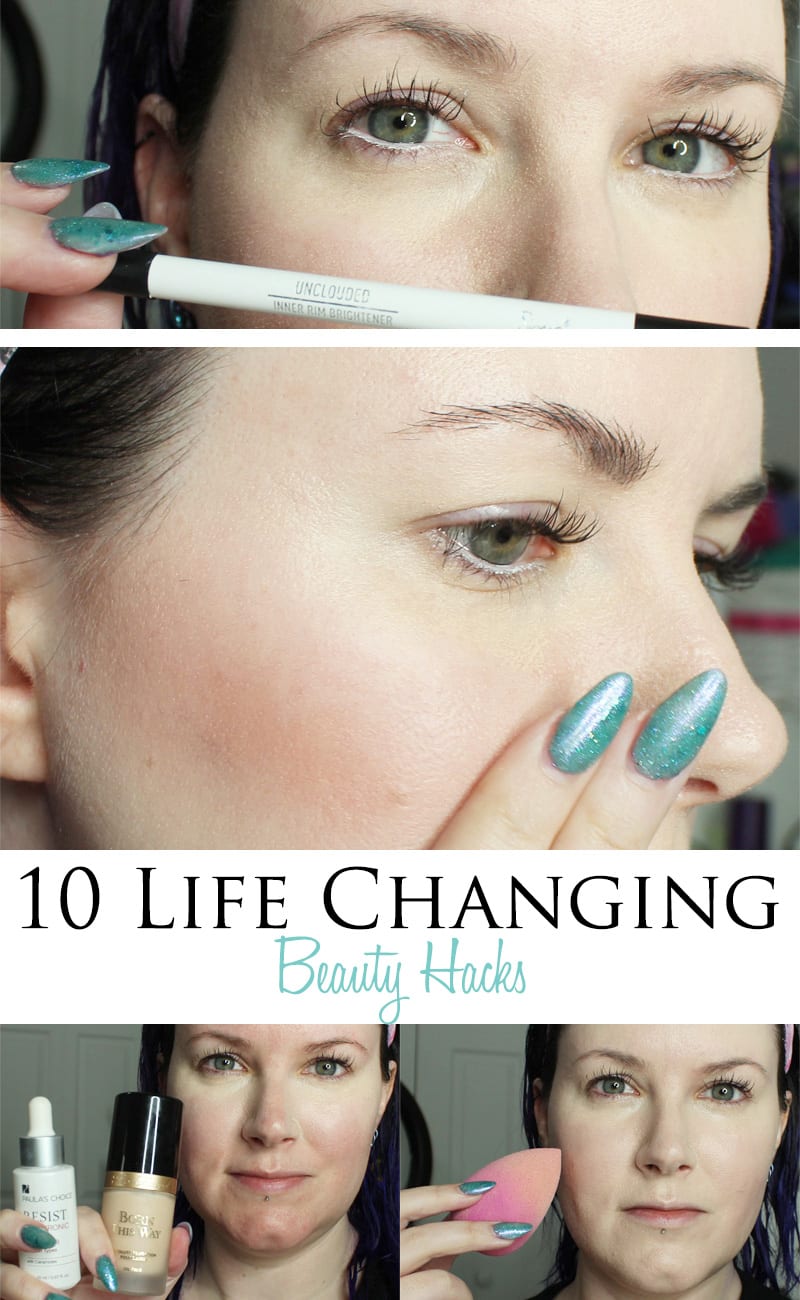 Happy Top Ten Tuesday! Today I've got 10 Life Changing Beauty Hacks you need to know. Seriously, these will make life easier for you, I swear! I'm sure you already know things like don't wash your hair every day so that your hair is healthier (unless your hair is extremely oily) or that you can use dry shampoo to add volume to your hair in a pinch. Hairspray spritzed on your finger tips can work to groom your brows.
Don't miss out on the awesome 2018 Memorial Day Sales!
10 Life Changing Beauty Hacks You Need to Know
This post contains a mix of press samples and purchased by me.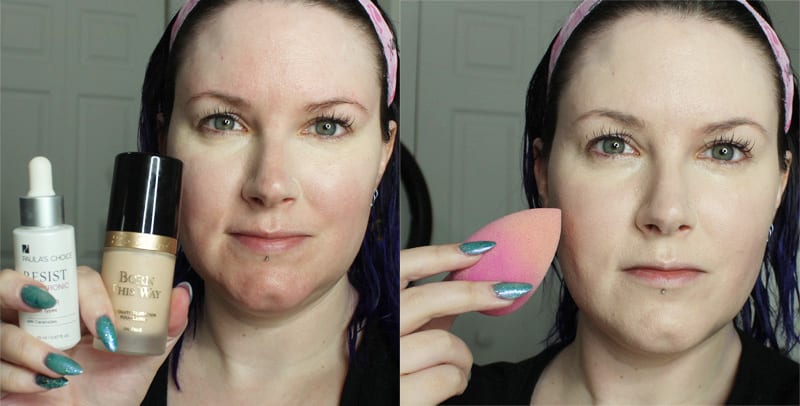 1. Liquid Foundation Hack
If you have dry skin, like I do, it can be hard to wear powder foundation and liquid foundation can be prone to caking or accentuating dry areas. Add a drop of Paula's Choice Hyaluronic Acid Booster (or Josie Maran Argan Oil Light or Cover FX Infusion Drops) to your liquid foundation to help it apply seamlessly and blend flawlessly with your skin. Spritz with UD's All Nighter or Chill setting spray to stay gorgeous all day. A good drugstore option would be the Nyx Dewy Spray. I apply with a damp beauty blender.
You need the best cleansers for dry skin!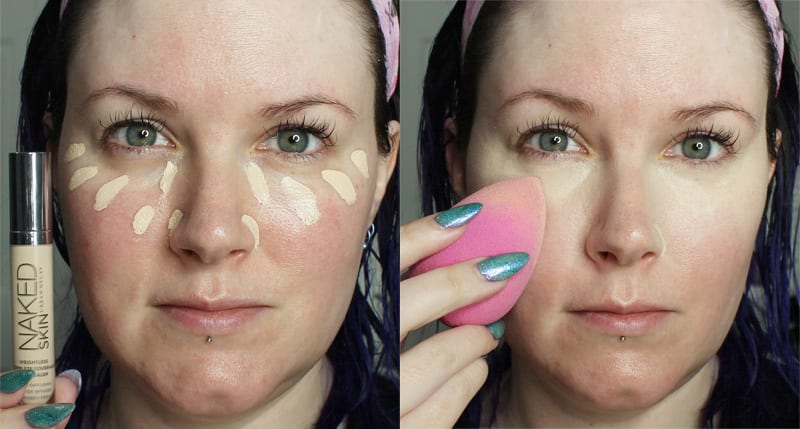 2. Crease Free Concealer Hack
For concealing undereye darkness, I use Urban Decay Naked Skin Concealer in Fair Neutral and dot it under the eyes. Then I use my damp beauty blender to blend it out. I apply my liquid foundation (as described above). Then, very sparingly, I apply setting powder also with the damp beauty blender, patting. If you don't like the beauty blender, use a makeup puff and gently pat and roll with the puff to set. I find this works best with tarte Smooth Operator pressed finishing powder in Fair or NARS light reflecting loose setting powder. A great indie option would be the Lunatick Cosmetic Labs HD microfinish powder. I've found the beauty blender keeps it from creasing or caking.
Find a new favorite concealer in the Pale Girl's Guide to Concealers!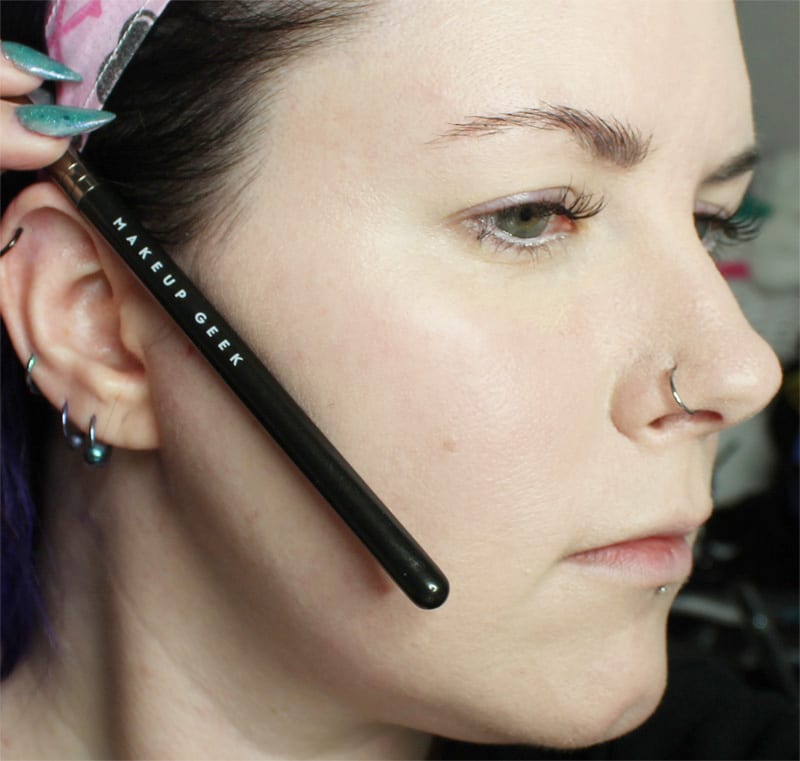 3. Contouring Hack
Looking into a mirror, take a long makeup brush and roll it up and down horizontally on your cheek. When you feel it fit under your cheekbone, that's the hollow of your cheek. Now line the brush vertically with the end of your brow. Your contour should not go any further in on your face than the end of your brow. That's where you want to apply your contour and then blend back towards your ear and hairline. My favorite contouring brush is the Makeup Geek Chiseled Cheek Brush.
Learn all about contouring in the Pale Girl's Guide to Contouring.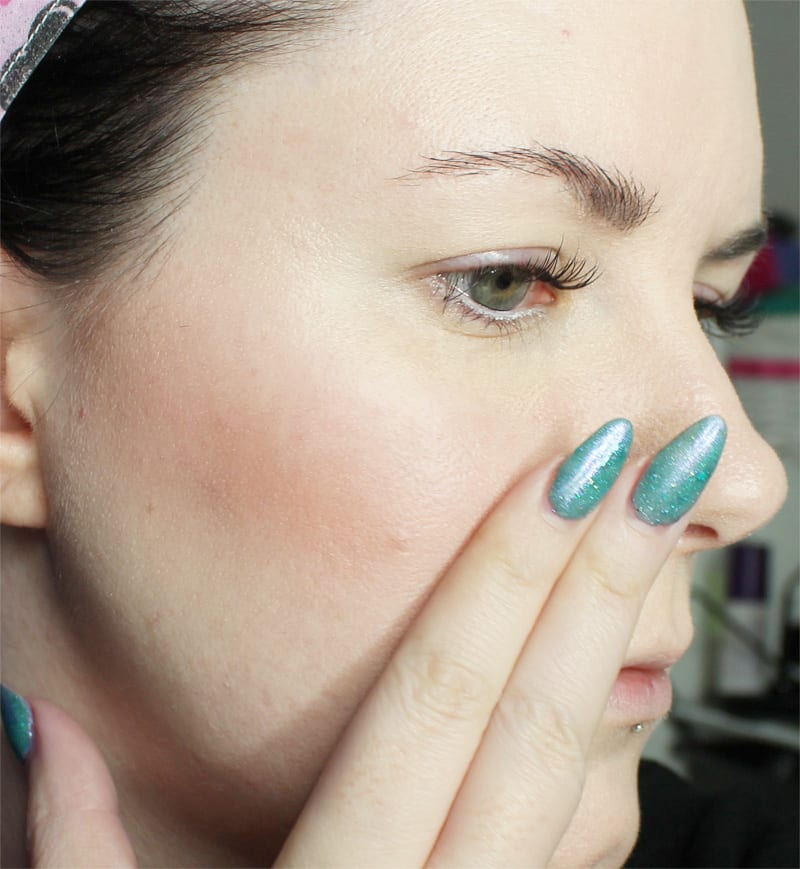 4. Blush Hack
Building from the contour hack, take 2 fingers and lay them to the side of your nose. Your blush shouldn't go in any further than those 2 fingers and it should be above the hollow of your cheek.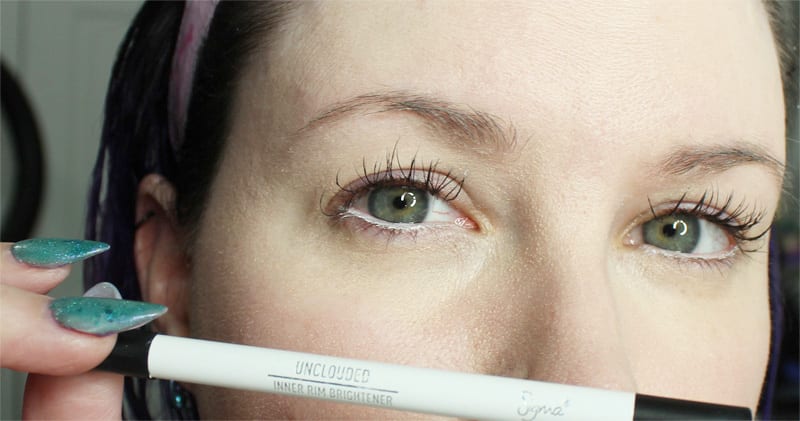 5. Fake Awake Hack
Look more awake by using a white or light beige eye pencil on your lower waterline. Above I'm using Sigma Unclouded. You can help this effect a bit by adding a light shimmery shade to your inner lid.
6. Makeup Mistakes Cleanup Hack
Use a pointed q-tip to clean up lipstick mistakes around the edge of your lips. You can also use a pointed q-tip with a bit of makeup remover to clean up any eyeliner mishaps. Bonus – q-tips can be used to smoke out an eyeliner pencil or to blend eyeshadow.
7. Lip Exfoliation Hack
Use coconut oil on a q-tip to gently exfoliate and moisturize your lips before applying a lipstick. You'll still want to apply a lip balm or lip primer after you do this, but your lips will be soft and smooth, as it's better than using a sugar scrub.
8. Makeup Remover Hack
Use coconut oil to remove your long wearing matte lipsticks. They'll come off easily. Bonus – this works well to remove waterproof makeup, mascara, eyeliner, and foundation. And it's inexpensive!
9. Fatter Lashes Hack
In between applying your first and second coat of mascara, take a makeup brush and dust a translucent setting powder (or baby powder, whatever you're comfortable with) onto your lashes. I like e.l.f. HD Setting Powder.
10. Manicure Hack
If your manicure is chipped or grown out and you don't have time to completely redo it, grab a glitter or flakie top coat (I like KBShimmer She's Beyond Kelp or GlitterDaze Delphinium (H) right now) and put that on your nails. Then finish with a fast dry top coat.
Bonus Tip
You can use Elmer's Glue on a pointed q-tip to apply a nail polish shield to your cuticles before you paint them. Once you're done, you can just peel off the glue.
Make sure you check out 11 More Life Changing Beauty Hacks!
More to Read