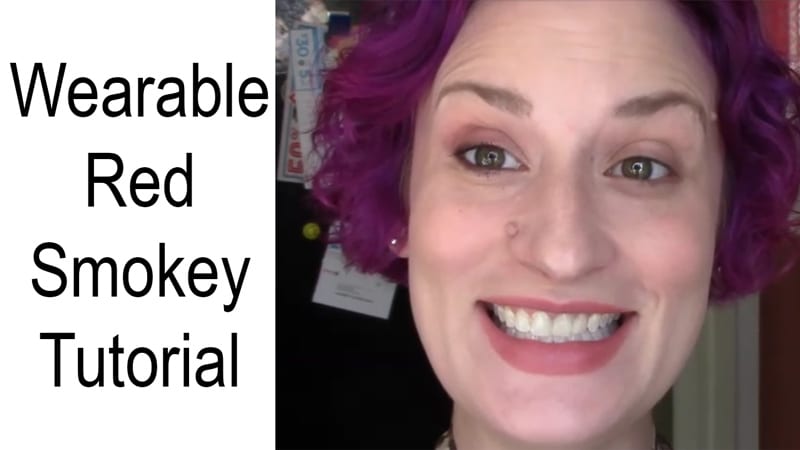 Today I'm sharing a Wearable Red Daytime Smokey Eyeshadow Tutorial created by my friend Dizzy Makeup Girl. I've got color descriptions and recommendations for this tutorial so that you can shop your stash, use the exact colors she used from Coastal Scents, or the Anastasia Beverly Hills Modern Renaissance palette that she was inspired by.
Wearable Red Daytime Smokey Eyeshadow Tutorial
Products purchased by Erica.

Wearable Red Daytime Smokey Eye Tutorial


If you like this video give it a thumbs up and share!

Colors Used
Orangey-Red Matte -- Makeup Geek Tuscan Sun / Coastal Scents Paprika / ABH Burnt Orange
Ivory Matte -- Makeup Geek Vanilla Bean / Coastal Scents Chamois Nude / Urban Decay Walk of Shame / ABH Tempera
Deep Red Satin-Matte -- Makeup Geek Bitten / Coastal Scents American Rose / Sugarpill Love+ / ABH Venetian Red
Rosy Brown Shimmer -- Makeup Geek Anarchy / Coastal Scents Sundried / ABH Antique Bronze
Burgundy Brown Matte -- Makeup Geek Cherry Cola / Coastal Scents Wild Raisin / Urban Decay Punk / ABH Red Ocre
Dark Brown Matte -- Makeup Geek Americano / Coastal Scents Deep Roast / Sugarpill Castle on the Hill / ABH Cyprus Umber
Brown Eyeliner
As mentioned above, Dizzy was inspired by the ABH Modern Renaissance palette colors, but wanted to shop her stash and use some makeup that she already had to create this look. She challenged herself to create a wearable red look that she could comfortably wear to the grocery store and run errands. I think she did a fabulous job!
While her eyes are not hooded, this is a very blown out / diffused eyeshadow look works on just about all eye shapes, including hooded eyes. I think the key to making any color, but especially bolder shades like red, wearable for daytime is to keep the colors very diffused. She does a great job of this by using fluffy brushes. If you have a bold shade that you like, but you're nervous about wearing it, try her tutorial!
You can check out more of Dizzy's tutorials at Youtube. You can also follow her on Instagram and Twitter too. She does great hair tutorials!
Hang out with Dizzy and the rest of us in the PhyrraNyx Facebook Group! It's a place to talk about beauty, share looks and meet other beauty lovers. I think we have the best hair on the internet in there, too!
What do you think of this look? Let us know below!
More to See
Last Updated on