Best Eyeshadow Palettes of 2017
So many palettes came out this year! Here are my picks for the best eyeshadow palettes of 2017. I'm using the term 'palette' loosely because I want to include indie brands too. Many of these palettes are vegan.
I love eyeshadow. Despite having hooded eyes and being told I should give up on eyeshadow, I keep practicing to improve my application skills. The following palettes are the ones that stood out to me over the past year.
When putting together this post I annotated which brands were indie. I'm unsure about a few brands – BH Cosmetics, Sigma and 100% Pure. These three brands don't seem to have a parent company that I can find. If you know of one for them, let me know! I was just surprised because they're rather large brands. Normally when a brand gets to their size, someone like L'Oreal or Estee Lauder snaps them up to add to their portfolio.
PR + purchased by me.
Best Eyeshadow Palettes of 2017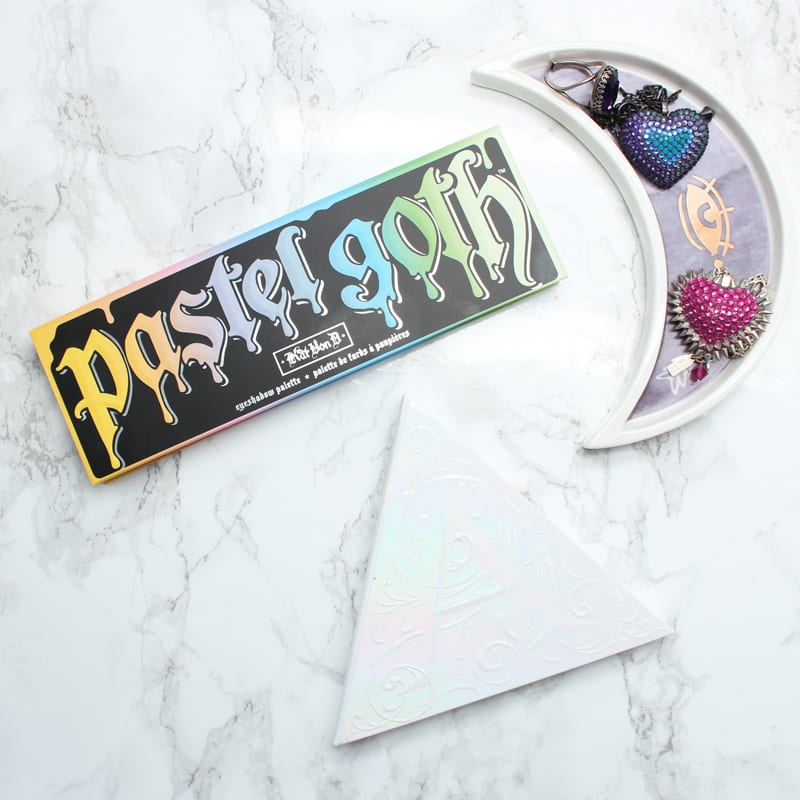 Kat Von D Pastel Goth Palette (vegan, limited edition, discontinued)
The Kat Von D Pastel Goth Palette (see my review) is one of my all-time favorite palettes. I use the matte shades in this palette as transition or crease colors to create bright, colorful looks on my hooded eyes. If you missed out on this palette, the Sigma Creme de Couture Palette is similar. This is one of those palettes that so many people tell me they're sad they missed out on and they don't understand why Kat Von D made it limited edition! I don't understand it either, it's awesome. It's on my Best Eyeshadow Palettes of 2017 list because it is my go-to transition eyeshadow palette.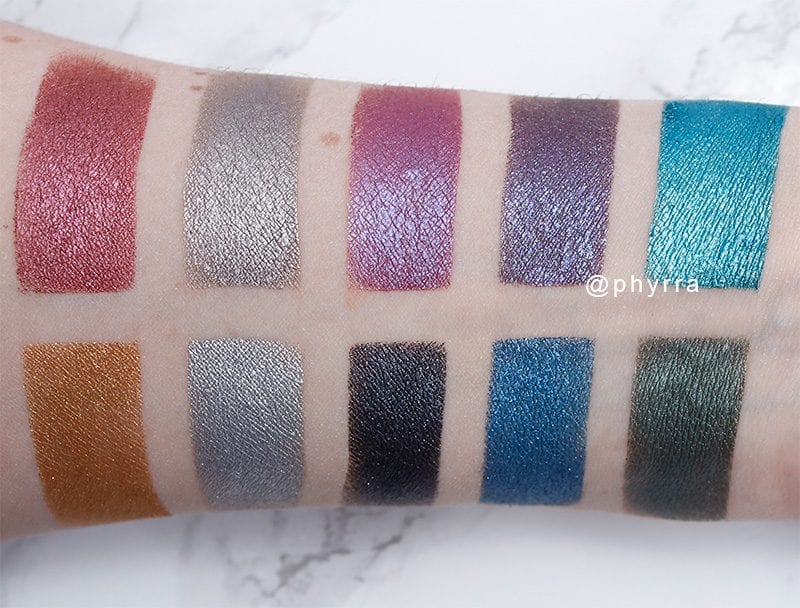 Urban Decay Heavy Metals Palette (limited edition)
While I hate the layout for it, I love the Heavy Metals Palette. The eyeshadow formula is awesome, as is the mix of colors. The purple, the teal, the black, and silvers blow me away. The neutrals side is nice, too, though I am not a fan of the three browns. It's on sale right now, so if you have interest, grab it before it's gone! If you only get one Urban Decay palette this year, I would pick this one. (see my review and comparison to the Afterdark Palette)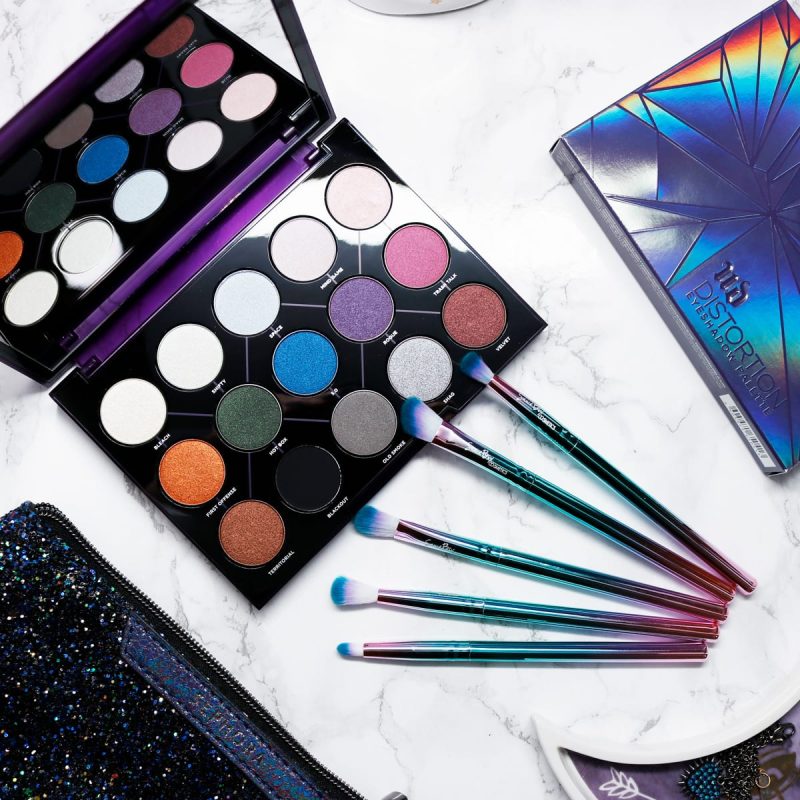 Urban Decay Distortion Palette (limited edition)
The Urban Decay Distortion Palette is really cool! It contains 5 transformative eyeshadow shades (duochromes for layering) and 10 traditional eyeshadows. I created 3 looks in my video demo with the palette. It's probably the most unique shade range that UD has put into a palette in a long time, thanks to the duochromes. The colors are all very blendable, but a few could use more pigmentation. I love having all the duochrome shades in one palette. (see my review and demo)

Urban Decay Basquiat Tenant Palette (limited edition, discontinued)
There was quite a bit of controversy surrounding the Urban Decay Basquiat collection but I loved the Tenant palette. The Basquiat family partnered with Urban Decay for this release to raise awareness for the artist. I was happy to see Urban Decay put out a colorful palette. While the purple in it was weak, the blues and greens were great. Tenant is on my Best Eyeshadow Palettes of 2017 list for being creative and colorful. (see my review)

Urban Decay Basquiat Gold Griot Palette (limited edition, discontinued)
Initially, the Basquiat Gold Griot palette didn't impress me initially. Then I had a few makeup fail days where the first eyeshadow look I put on sucked, so I tried this palette and was pleasantly surprised that I could put together pretty, cohesive looks with it. Enigma with BK, Levitation and Not For Sale work really well for me. Gold Griot made my list because it's an excellent neutral palette with shades that work really well for my skintone. (see my review)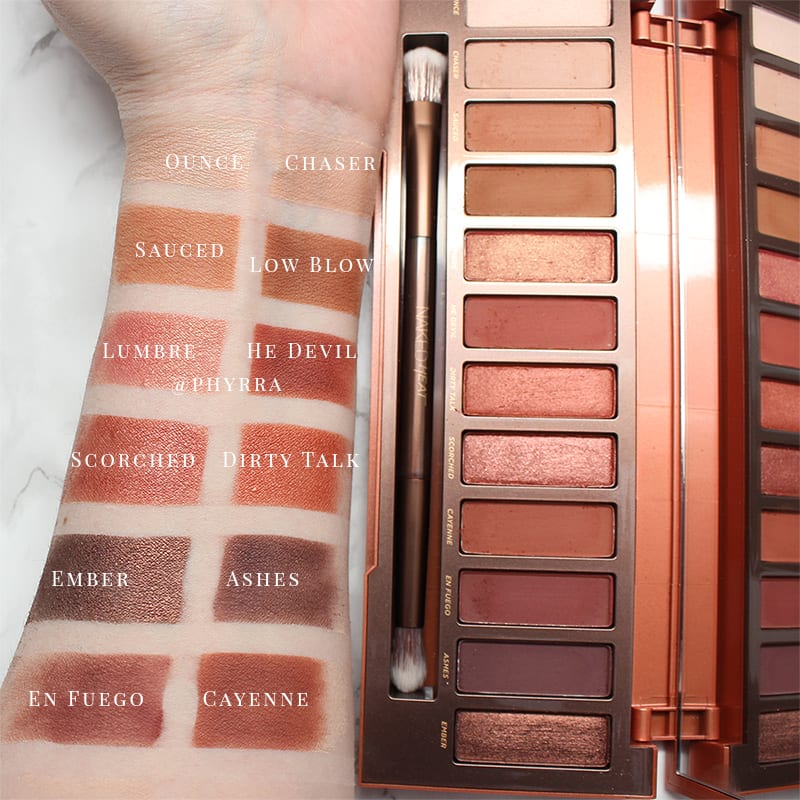 Urban Decay Naked Heat Palette
I didn't expect to like the Urban Decay Naked Heat palette. I was happy to learn that all the peachy shades really work well for my skintone and coloring (pale neutral skin, blue-green eyes, naturally dark hair). While I wish the palette had a true red and a true burgundy wine to provide more variation within the palette, the shades work well together overall. I find the UD shadow formula easy to blend, so it's great for beginners. (see my review or check out my comparison to the Anastasia Beverly Hills Modern Renaissance palette)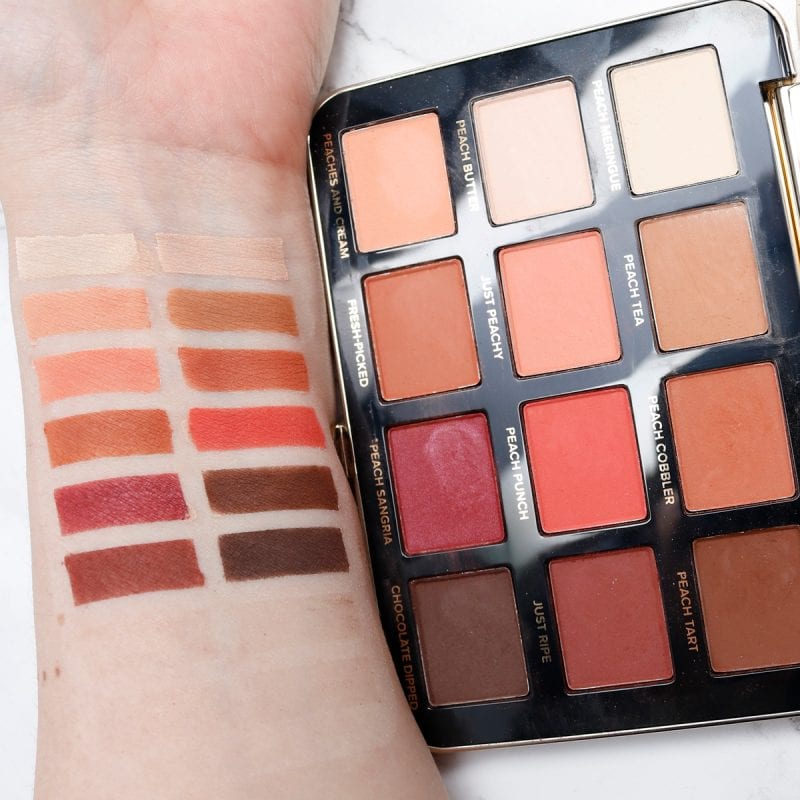 Too Faced Just Peachy Mattes Palette
After a string of fail palettes for me, Too Faced finally has a winner with the Just Peachy Mattes Palette. The Just Peachy Mattes Palette is perfect for my hooded eyes. This is such an uncomplicated eyeshadow color palette that just works. I love the ombre layout from light to dark and I wish more brands would use this layout. It's a good palette, but it's not perfect. While the colors do blend together easily, it's also easy for them to go muddy if you're not careful. When using the red shade, which I love, it often wanted to blend into an orangey brown tone, so I had to pat extra red on top. I use Peach Meringue, Peach Tea, and Peach Sangria the most. I do wish it had a true burgundy wine shade or a deep purple plum matte. I sincerely hope that Too Faced puts out more great palettes like this and fewer palettes that suck like the White Chocolate. (see my review)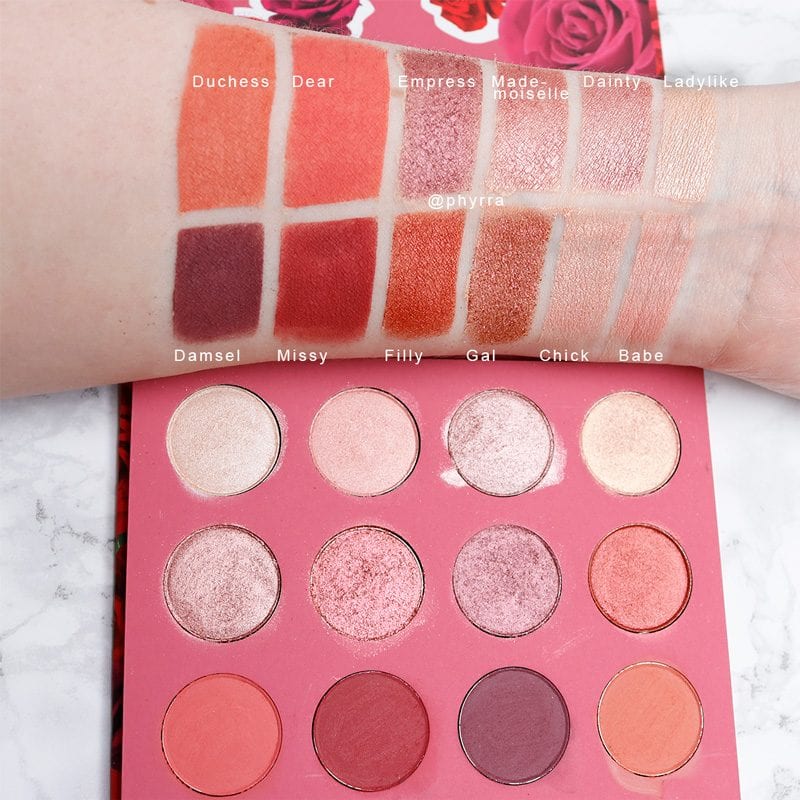 Colour Pop She Palette (limited edition, discontinued)
I'm always tempted to buy all the things from Colour Pop because they're so inexpensive. I'm so glad I bought the She palette because it's a beautiful range of colors! You even have a few duochromes in the palette like Empress and Gal, plus some awesome mattes that work beautifully on my hooded eyes. I'm sad this has been discontinued because I think a lot of people have mentioned missing out on it. (see my review)

100% Pure Mermaid Palette (vegan)
The 100% Pure Mermaid Palette was my introduction to the 100% Pure makeup line and I love it. It's a duochrome palette for the eyes and cheeks. This palette made my Best Eyeshadow Palettes of 2017 list as a good way to dip your toes into duochromes if you want them in a pressed format. (see my tutorial)

BH Cosmetics Carli Bybel Deluxe Palette (vegan)
So many people went crazy over the BH Cosmetics Carli Bybel Deluxe Palette. It has amazingly beautiful highlighters in it. The eyeshadows are broken up into pinks, peaches, and browns, covering a wide variety of neutral tones. This is the best palette that I've tried from BH Cosmetics. (see my review)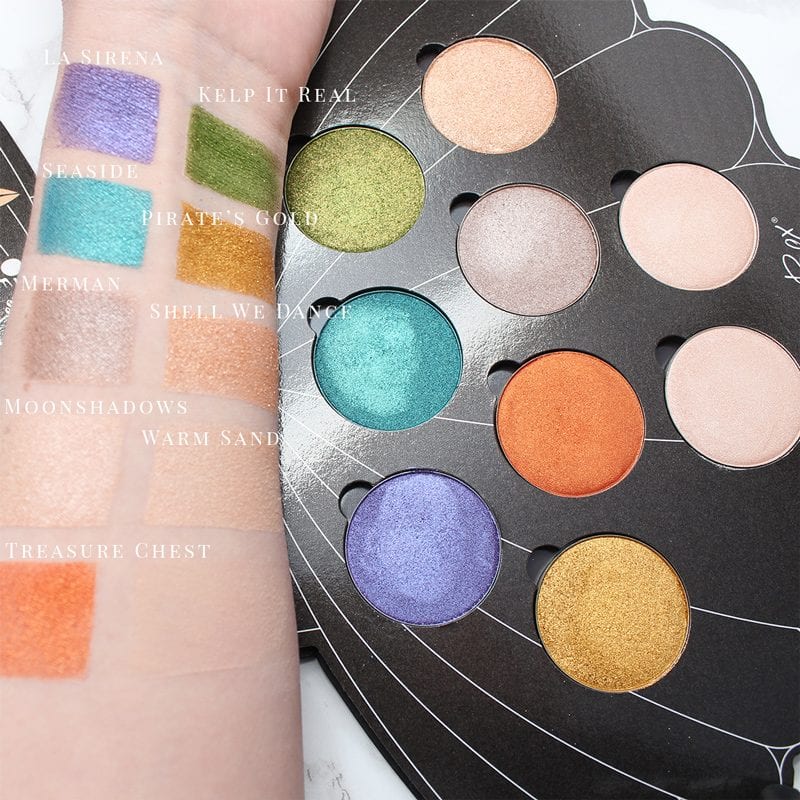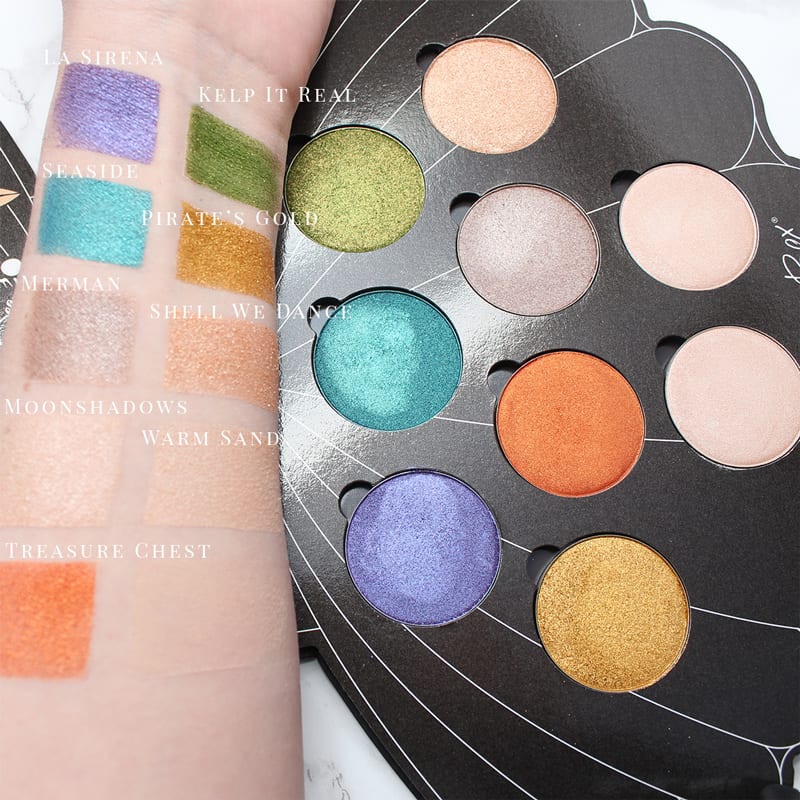 Saucebox Mermaid Life Palette (vegan, limited edition, still available but will be gone soon, indie brand)
The Saucebox Mermaid Life Palette makes me happy for many different reasons. First and foremost, I adore Saucebox. Their eyeshadow formula is great. Second, the eyeshadows are the same size as Sugarpill, Suva Beauty or Lunatick Cosmetic Labs, and they're easy to pop out and put into my GlamTech palettes. Third, the colors have excellent formula, many shades are duochromes, and it's all vegan. I love the soft purple packaging design and the Saucebox girl. Saucebox is discontinuing all of their palettes and coming out with new ones, so you can pick this up on sale right now. La Sirena, Kelp It Real and Seaside are worth adding to your collection. (see my review)

Sigma Wildflower Palette
The Sigma Wildflower Eye and Cheek Palette has 4 lovely eyeshadows, a blush, and a highlighter. I fell in love with this palette because of the eyeshadows. Elderberry is a great purple, Austere is an awesome light beige with peach undertone, and 10 is a lovely cool-toned taupe shimmer. Elderberry is one of the best purples I've seen in an eyeshadow palette in a long time, which is why it made my Best Eyeshadow Palettes of 2017 list. And guess what, I don't think it's limited edition! (see my tutorial)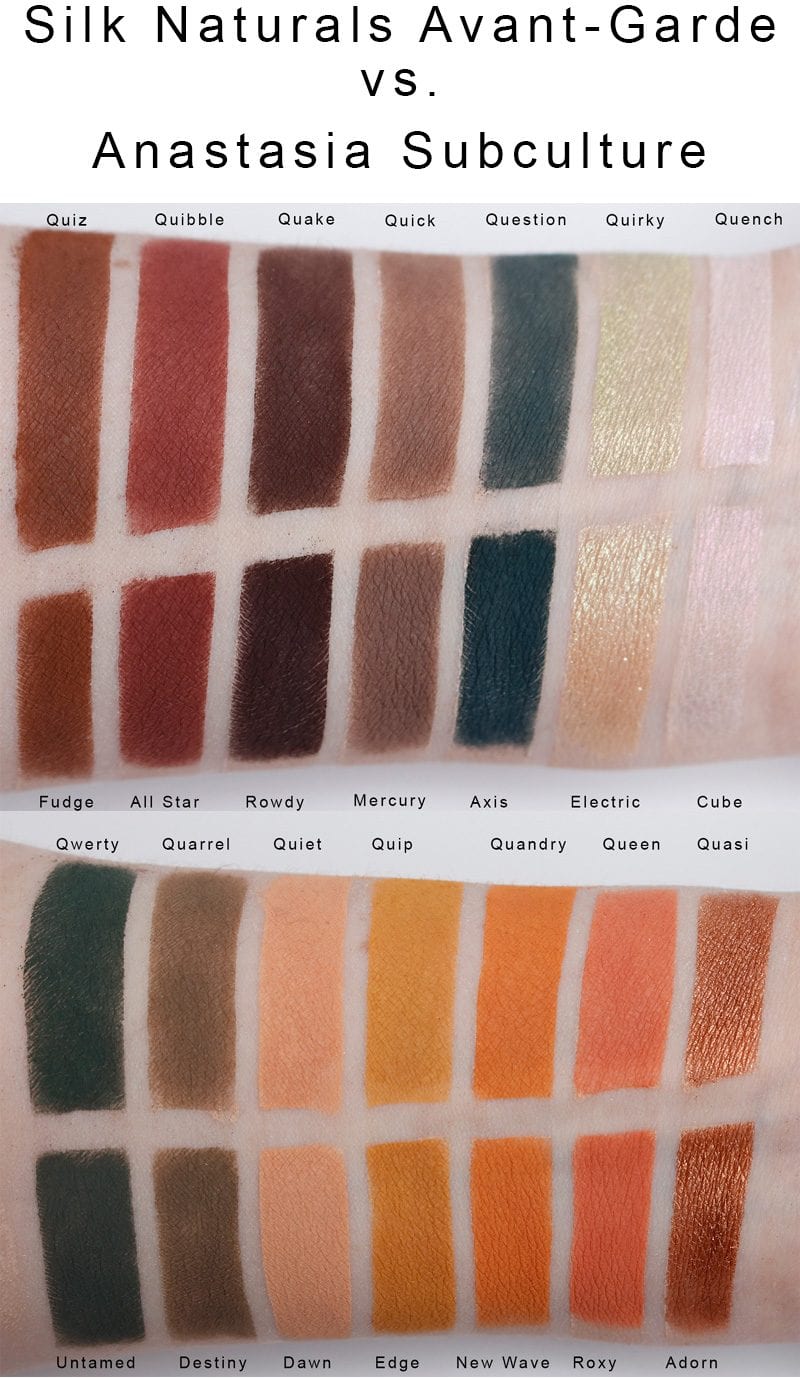 Silk Naturals Avant Garde Palette (vegan, indie brand)
Silk Naturals created their 100% vegan Avant Garde Palette, which is comparable to the Anastasia Beverly Hills Subculture Palette and has some shades in common with the Jeffree Star Androgyny Palette. I love the Silk Naturals eyeshadow formula as it's easy to work with, highly blendable and pigmented. It's one of the best loose eyeshadow formulas out there. If you were thinking of Subculture but afraid of the formula or you wanted the Androgyny Palette but didn't want to support Jeffree Star, give Silk Naturals a try! That's why it's on my list. (see my review)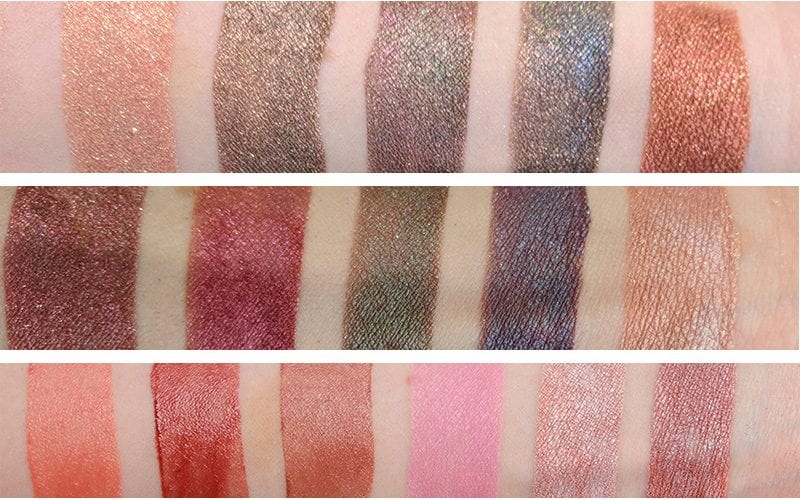 Aromaleigh Orpheus and Eurydice (some vegan products, indie brand)
Aromaleigh released an AMAZING collection with beautiful, complex, duochrome eyeshadows. I'm in love with Depths of Erebus, Lord of the Dead, Wild Solitude, Viper's Sting and Conjured by Song. If you are looking for an eyeshadow to have maximum impact with minimal effort, try one of these colors. That's why this collection made my Best Eyeshadow Palettes of 2017 list. (see my review)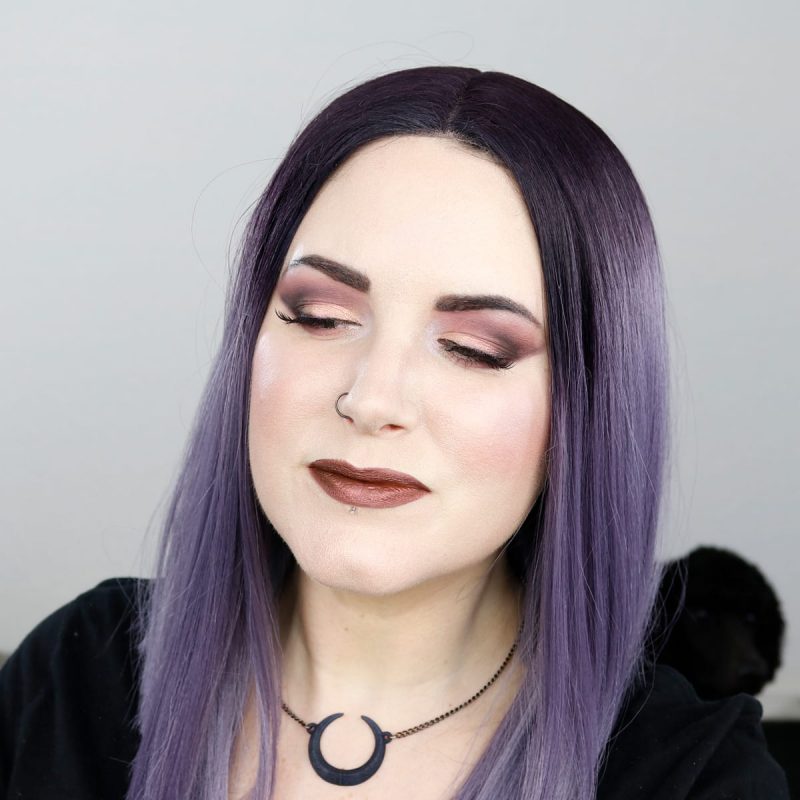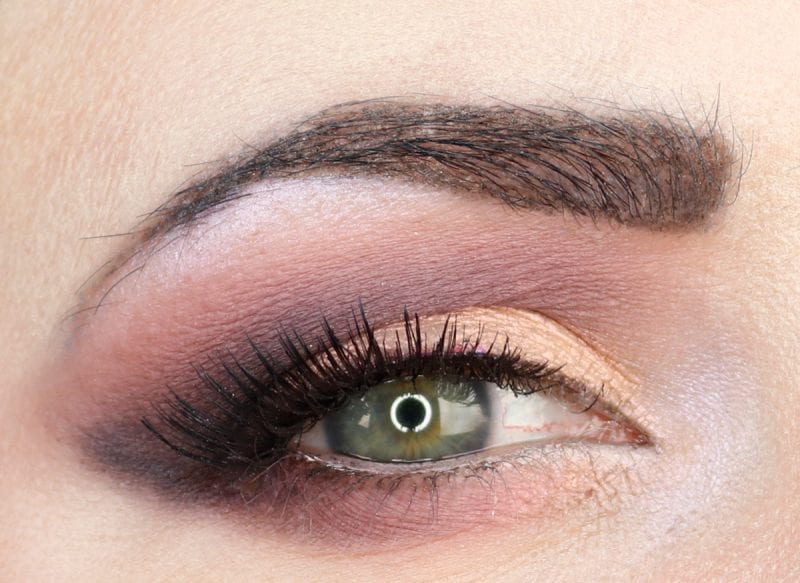 Melt She's in Parties Stack (indie brand)
The Melt She's in Parties Stack is so very good. I've got a video review coming up for it. Skeleton Kiss is a creamy toned yellow with a rose gold shift. Last Caress is a mauve taupe matte. She's in Parties is a burgundy frost with copper and pink flecks. Meanstreak is a true deep plum matte, none of that brown bullshit we see from other brands. I love that this stack has cool tones like Last Caress and Meanstreak. I've used Meanstreak more than any other color in the stack because it's the perfect shade for deepening at the outer v or for a shadow wing without being black. It's my favorite stack that Melt has released. (Gunmetal Stack is a close second, Love Sick third, Dark Matter fourth, Radioactive fifth, and Rust sixth. I don't have the Haze Stack.) If you love wearing mauves, pinks, purples, and reds, you need this stack and that's why it made my Best Eyeshadow Palettes of 2017 list. I hope Melt comes out with more awesome cool-toned stacks! (see looks with it here and here)