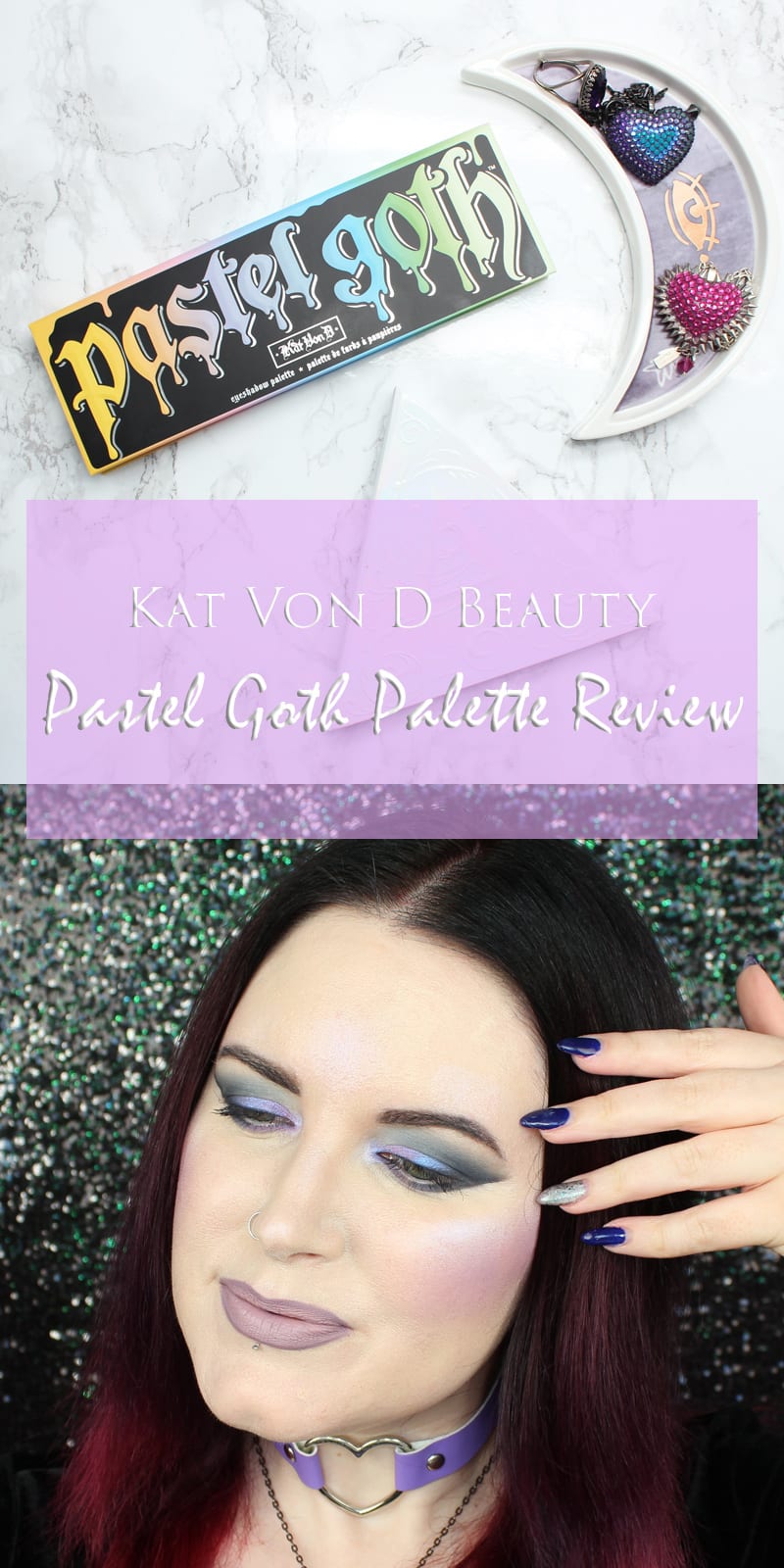 Happy Saturday! Today I'm sharing the Kat Von D Pastel Goth Palette. I've got a review and video, live swatches on my pale skin, a look on my hooded eyes, story time and drama to share with you. I recently purchased this palette from the Kat Von D Beauty website, however I do not recommend doing that. You're better off buying directly from Sephora. The Kat Von D Pastel Goth Palette is vegan. Sephora's site says that this palette is limited edition.
Kat Von D Pastel Goth Palette Review
Where to Buy
Sephora, Kat Von D
Price
$38
Kat Von D Pastel Goth Palette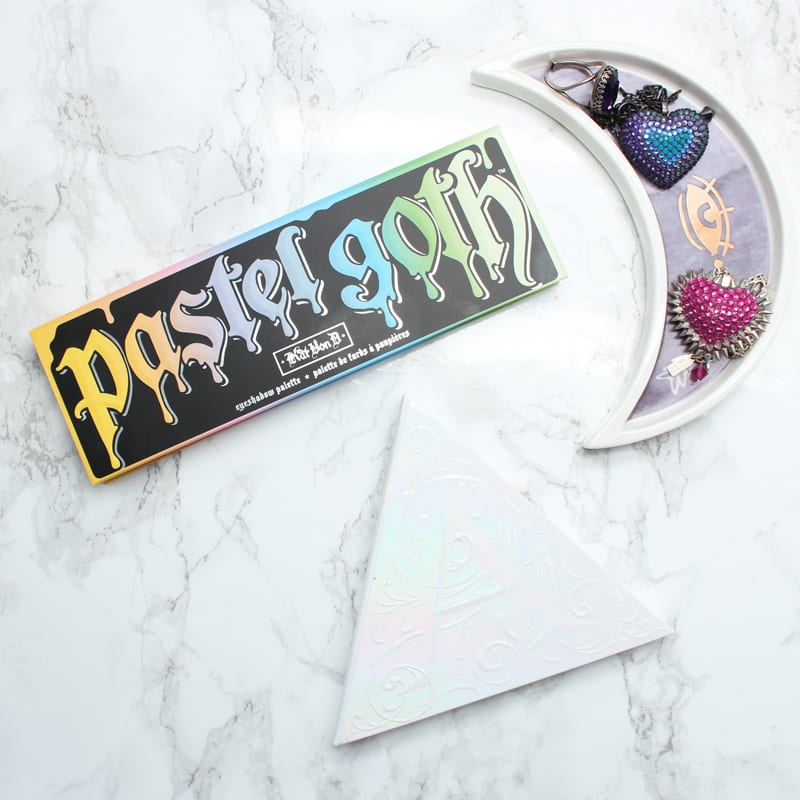 Pastel Goth Palette Swatches

Skull – white matte

Dagger – stone grey matte

Gloom – meadow green matte


Doom – sky blue matte

Dope – blue-toned lavender purple matte

Meow – pinky purple lilac matte

Clementine – pastel peach matte

Star – daffodil yellow matte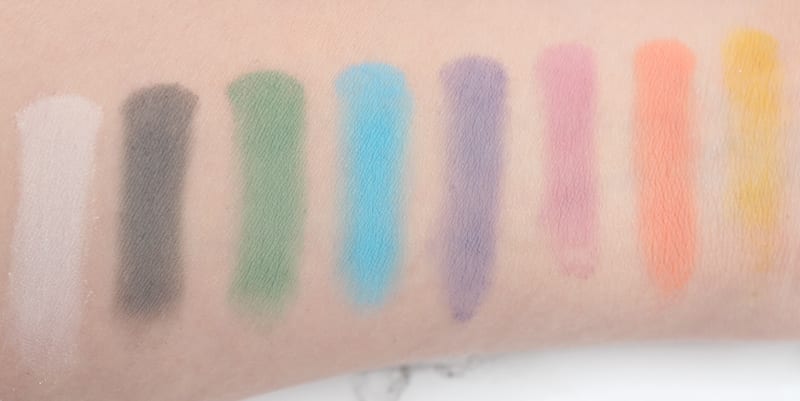 L to R – Skull – Dagger – Gloom – Doom – Dope – Meow – Clementine – Star
Pastel Goth + Alchemy Palettes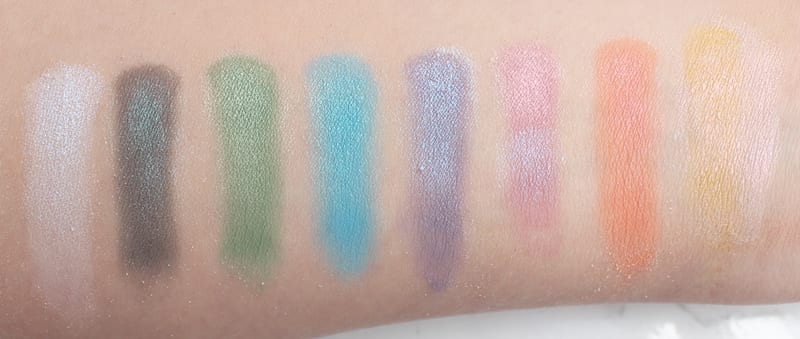 L to R – Skull+Amethyst – Dagger+Saphyre – Gloom+Emerald – Doom+Saphyre – Dope+Amethyst – Meow+1/2 Opal & 1/2 Amethyst – Clementine+Opal – Star+Opal
When you layer Clementine+Opal it looks similar to UD Fireball. Meow+Amethyst reminds me of UD Asphyxia or Tonic. Dope+Saphyre is gorgeous!
Pastel Goth Palette Look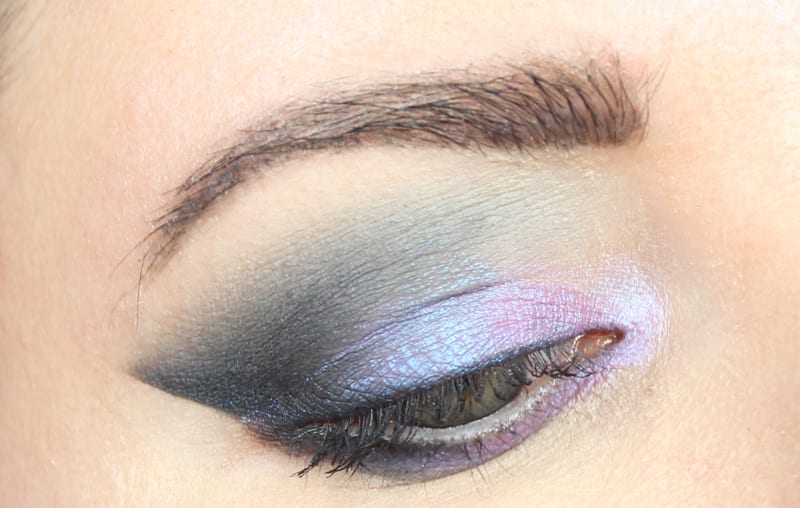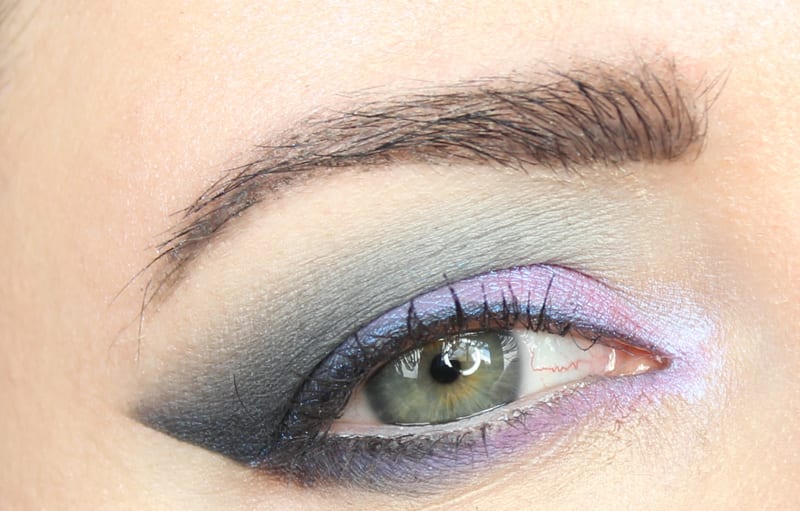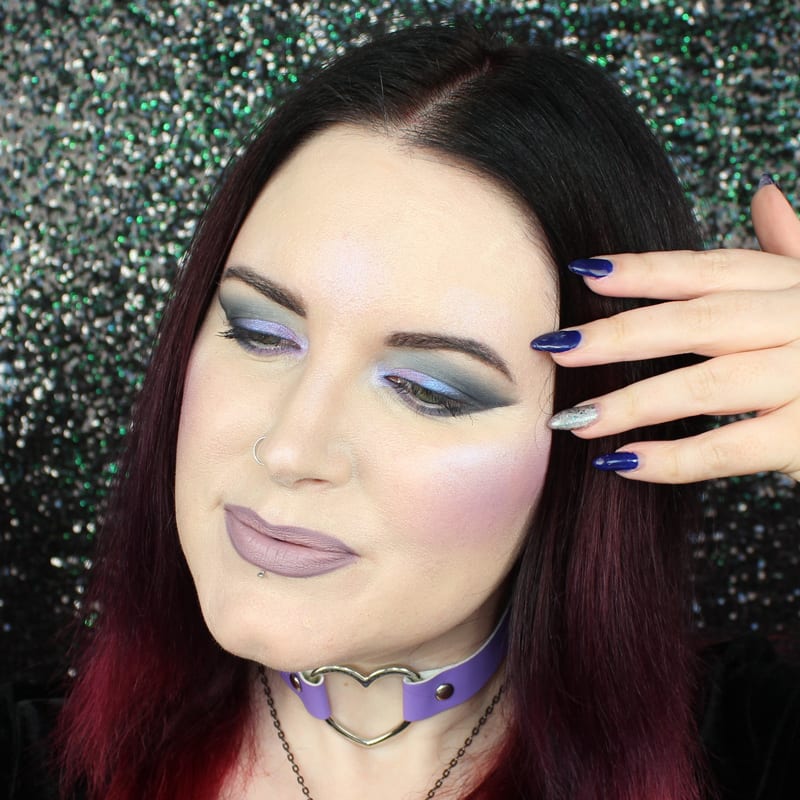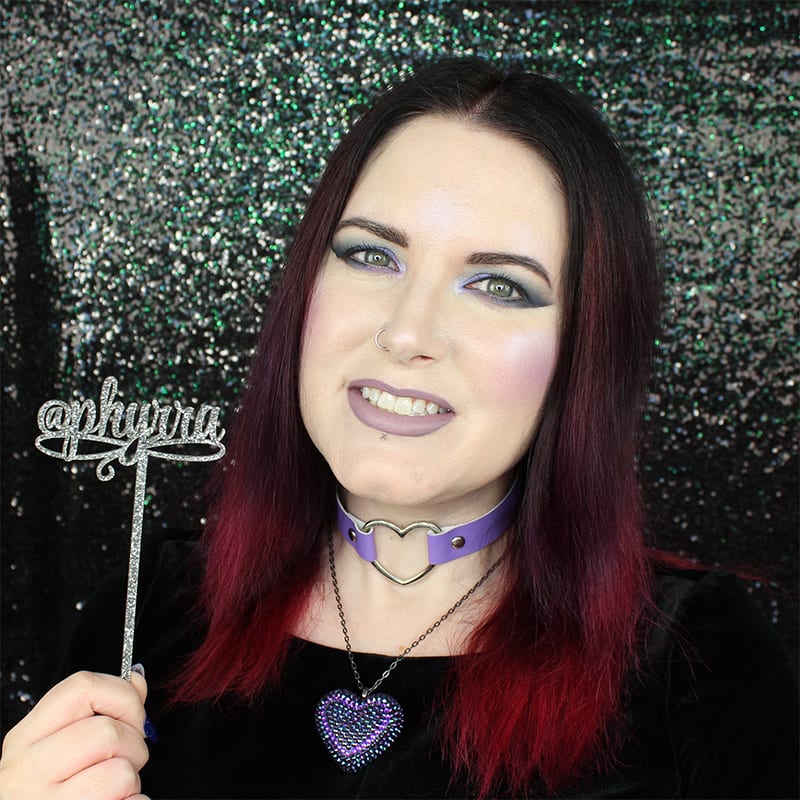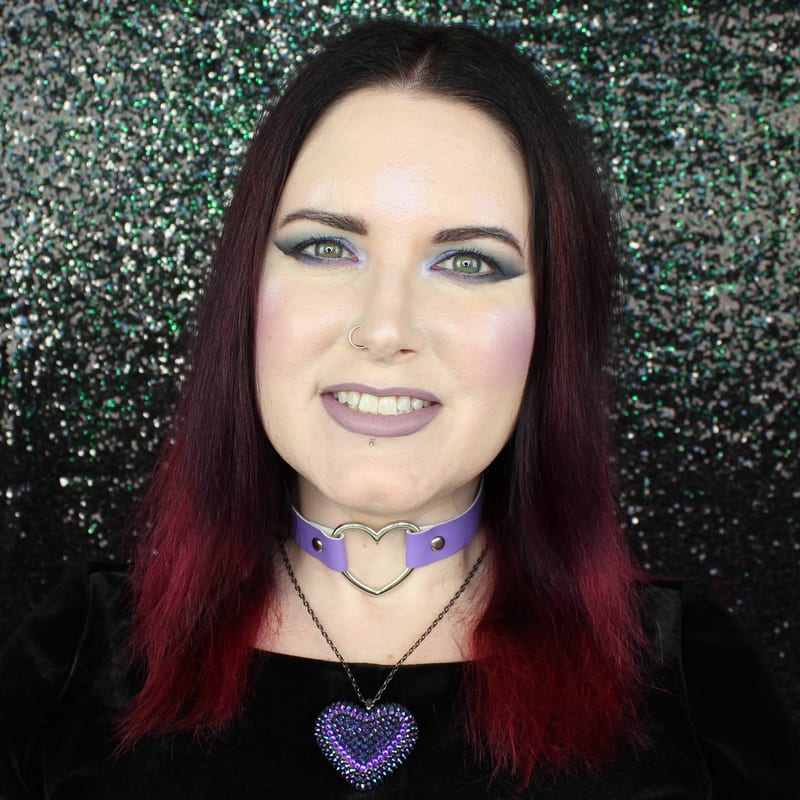 JEWELRY
Bunny Paige Heart Necklace
Heart Choker
FACE
Urban Decay Quick Fix Spray
Urban Decay Optical Illusion primer
Kat Von D Lock It Concealer in L1 – under the eyes
It Cosmetics Confidence in a Compact Cream Foundation SPF 50 in Fair – mixed with some KVD L1 to make it a perfect match
Milani Cream Contour in Fair – contour
Aromaleigh Digitalis Purpurea – contour
Aromaleigh Pharmakon – blush
My Pretty Zombie Niacin – blush
Kat Von D Alchemy Saphyre & Amethyst – highlight
Urban Decay All-Nighter Spray
LIPS
Colour Pop pencil in Marshmallow
Sugarpill lipstick in Kim Chi
EYES
Too Faced Shadow Insurance
Smashbox Brightening Under Eye Primer
Kat Von D Skull (pastel) – base shade
Kat Von D Dope(pastel) – outer lid, outer lower lid on top of Dagger
Kat Von D Meow (pastel) – inner lid, inner lower lid on top of Dagger
Kat Von D Dagger (pastel) – lower lid, hood/crease, blended outwards
Kat Von D Jet (metalmatte) – tightline upper lash line, outer lower lash line, blended out into cat eye shape and outer crease.
Kat Von D Amethyst (alchemy) – lid, inner corner highlight
Colour Pop Brow Pencil in Jet Set Black
Sigma Unclouded – waterline
Wander Beauty Unlashed Volume and Curl Mascara
Pastel Goth & Alchemy Video
Share this video if you find it helpful!
What I don't like about the Pastel Goth Palette is that it has Skull, which is a dupe for Linen from the MetalMatte. Since you may already have to reach for the Shade+Light or MetalMatte for a matte black, it made me sad to see a matte white in here too, even though it does work well with the colors.
There is so much to love about the Pastel Goth Palette though. I love the packaging. The design is gorgeous. The eyeshadows have a great formula that I love to work with. The colors themselves are perfect for lid or transitional colors on my skintone. It's very easy for me to create monochromatic looks by applying one of these colors in the smoky dome shape and then popping on an Alchemist shade on my lid. Or I can keep it matte and apply a soft wash of grey on top to deepen the tone. You can also lighten the shades by using white mixed with any of the colors. This is a completely hooded eye friendly palette, since it's all matte.
Overall, I definitely recommend the Pastel Goth Palette. While I like the Alchemist, I do think it's pretty easy to dupe it, as I mentioned in the video. To dupe the Alchemist palette with Fyrinnae, try Winter, Again for Saphyre, Jade Ghost for Emerald, Sakura for Amethyst and Crimson Ghost for Opal.
However, if you have the Shade+ Light, MetalMatte, Pastel Goth and Alchemist, you're set for makeup looks. You've got the rainbow at your finger tips.
Kat Von D Pastel Goth Makeup Tutorials
What do you think of the Kat Von D Pastel Goth Palette?
More to See