UD Naked Heat vs. ABH Modern Renaissance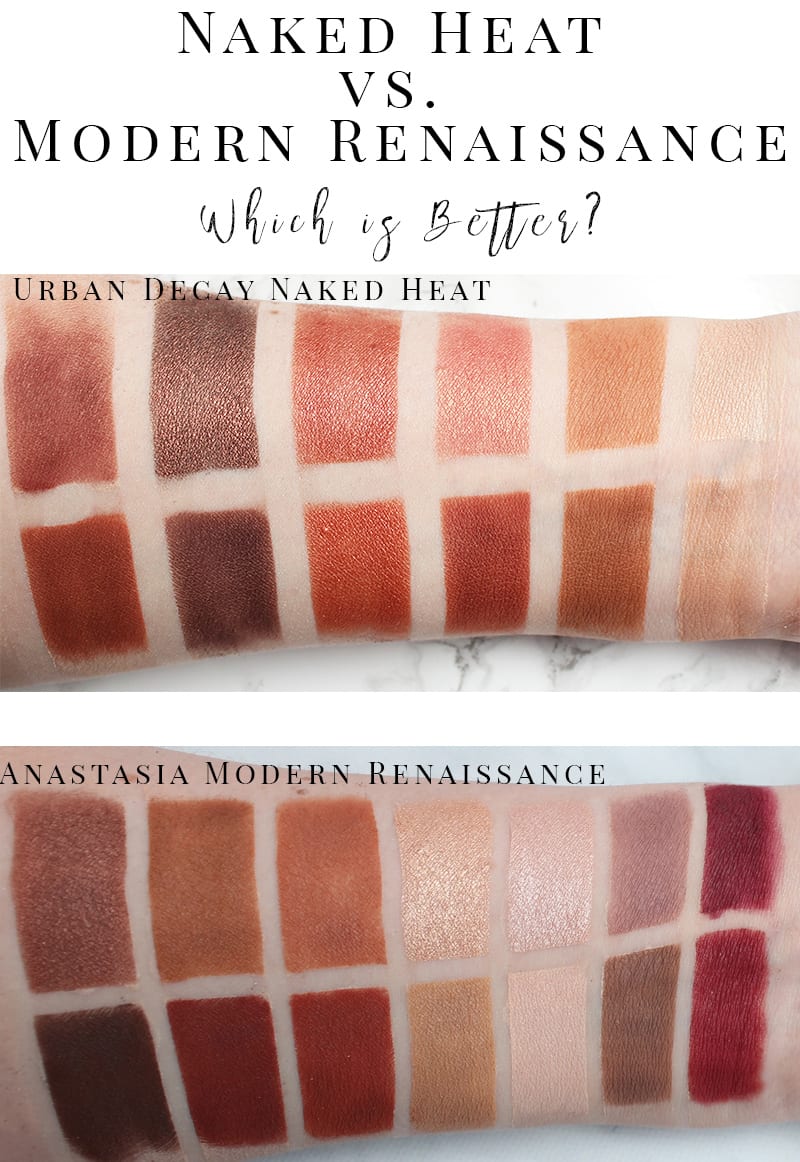 UD Naked Heat vs. ABH Modern Renaissance
The question of UD Naked Heat vs. ABH Modern Renaissance has come up a lot this past week! The Urban Decay Naked Heat palette was available for pre-order on the Urban Decay website yesterday and will be available soon to buy at other retailers. The Anastasia Beverly Hills Modern Renaissance palette has been available for over a year.
Where to Buy UD Naked Heat
Sephora, Ulta, UrbanDecay.com
Where to Buy ABH Modern Renaissance
Sephora, Ulta, Macys, Dillards
The UD Naked Heat palette is made up of peach, copper, terra cotta and brown shades. The ABH Modern Renaissance has cream, pink, red, terra cotta and brown shades. Both palettes have a lot of warm tones.
The ABH Modern Renaissance offers more versatility and variety with its reds and pinks. There are no shades like Buon Fresco (dusty mauve), Vermeer (pale metallic peach-pink), Primavera (pale metallic peach-gold), Love Letter (dark cool red matte) or Venetian Red (dark warm red matte) in the UD Naked Heat palette. Buon Fresco has become a go-to transition / crease shade for me. I love it so much I bought a single.
The UD Naked Heat palette doubles down on some gorgeous warm shimmers like Lumbre (copper shimmer with gold pearl), Scorched (metallic deep red with gold shimmer), and Dirty Talk (metallic burnt red). I personally feel that Dirty Talk and Scorched are very similar shades and I don't know of a situation where I'd reach for Dirty Talk over Scorched.
I would have liked to see Ashes as a true burgundy wine matte, En Fuego as a true burgundy red matte, and He Devil with slightly more red in it. Many of the shades end up looking similar on the skin, though that's the case with the Naked Palettes. I also think it would have been interesting to see Low Blow as a mustard yellow matte, which would work well with these colors.
Here are the ABH colors matched as closely as possible with their UD Naked Heat counterparts (as far as I can see):
Golden Ocre and Sauced, Tempera and Ounce, Realgar and He Devil, Cyprus Umber and Ashes, Antique Bronze and Ember, Red Ochre and Cayenne.
These aren't exact matches, but they are similar.
Now on to the size. You get a VERY small amount of product in the ABH Modern Renaissance palette. You're getting 14 eyeshadows that are .02 oz each for $42. The UD Naked Heat palette is 12 eyeshadows that are .05 oz each for $54. This makes the Naked Heat palette the clear winner when we're talking value for the price.
Do you need both palettes? If you wear warm neutrals all the time, then yes! If you rarely wear warm neutrals, you only need one of these. If you're afraid of color, skip the Modern Renaissance palette. You'll be happier with the tones of the UD Naked Heat. If you want to dip your toes into color, the Modern Renaissance may be your pick.
Check out my Anastasia Beverly Hills Modern Renaissance palette review or my Urban Decay Naked Heat Collection First Impressions video for more!
Which Will You Choose?
Makeup Looks & Tutorials
These tutorials and looks can be recreated with the UD Naked Heat or the ABH Modern Renaissance palettes.